Read full article at NHL
Defending Big D 16 July, 2021 - 08:00am
By 'rematch' I mean a return to the Stanley Cup Finals, but using the Tampa Bay Lightning as the standard to grade them against is a fun exercise with surprising results.
If there's a common ingredient in hockey, it's consistency. Outliers like St. Louis and Washington were teams that, up until that point, were strong teams with strong pedigrees. So sure, it can feel validating to see teams like Montreal and the Islanders be the plucky underdogs everyone roots for, but let's face it. Nobody wants to be the team that competes to lose last. They want to be the team soaked in celebration beer that everyone suddenly has strong opinions about.
And the Stars, of all people, should know the feeling. They were also Cup winners who encountered strong opinions about celebrating the Right Way when Guy Carbonneau chucked the Cup from a second-story window at Vinnie Paul's house (though he never admitted it). If the Stars want to make any of this happen, Dallas is gonna have to have something in common with Tampa.
Do they? Over the last seven seasons, the Lightning have seventy playoff wins. Dallas has twenty-eight. Tampa's in a league of their own. Even if Tampa doesn't return to the Finals for a potential threepeat (if any team has the capacity to do this, it's definitely this team), the blueprint is there. As I figured this could be a fun exercise, I found that Dallas stacks up against the Lightning surprisingly well in some very key categories.
Let's start with the leadership. If you're not familiar with Tampa's struggles in the 90's, please do yourself a favor and read on. Between the Yakuza, 'Jed Clampett', and Better Call Saul moments, their financial struggles have all the ingredients of a 90's noir thriller. While Steven Stamkos and Victor Hedman were drafted before the arrival of Steve Yzerman and Al Murray in 2010 (LA's former scouting director), a lot of new faces were brought in to flesh out the eventual Cup champs.
Despite what Pierre McGuire tries (and fails) to tell you, Tampa actually is one of those "analytics teams." Yzerman was brought in with Michael Peterson, their Director of Hockey Analytics. He came from baseball, having worked as a data consultant for the Tampa Bay Rays and Cleveland Indians. Olympic gold medalist and blade whisperer Barb Underhill was brought in to improve the skating of prospects and players who needed it, like — most critically — Brayden Point.
Along the way they did things that were considered 'against the grain': drafting a goalie in the first round (Andei Vasilevsky), being unafraid of less size and more skill with the drafting and signing of Palat, Kucherov, Johnson, and Gourde. They also haven't been afraid to build with someone else's blocks. Except for Hedman, their blueline was traded for. It cost them six picks total (including four firsts), four warm bodies, Ben Bishop, and Jonathan Drouin.
The Stars were dealt a different hand. They experienced financial struggles of the more milquetoast variety. No yakuzas or Beverly hillbillies: just good ole' fashioned bankruptcy. Tom Gaglardi took over from Tom Hicks' bankruptcy years in 2011. Then came Jim Nill. He brought Joe McDonnell with him to become the Director of Amateur Scouting. The most high profile hires were Rich Peverley in 2015 as Dallas' Player Development Coordinator and Jeff Reese as their goaltending coach. The Stars have experienced a marked improvement over the development of their players since then, and even though Anton Khudobin and Ben Bishop are veterans of the game, they've had career years under Reese's tutelage, which wouldn't be particularly notable if Jake Oettinger didn't look just as sharp.
It's not a lot. And it's not as sexy. But just because Dallas hasn't been as exciting in terms of internal movement and personnel doesn't make them inferior as a general rule (in principle at least, otherwise it's hard to argue against Tampa's results). Over the last several decades, Dallas has won more playoff series than most of their peers. Drafting wise, they've graded extremely well as a team that consistently finds talent outside the first round. And between Jason Robertson fighting for the Calder and Miro Heiskanen fighting for a Norris, the Stars seem poised to be a successful team with the current youth movement.
Still, it's important to note the differences. Figure skaters and data specialists might seem like odd points of contact to improve a hockey team, but this canopy approach is critical to development in general. I've always worried that Dallas doesn't have enough outside voices to contrast what sometimes feels like an insulated bunch. It's not a criticism so much as an observation. With that out of the way, what about the on-ice product?
I don't consider it a knock on Nill. I've seen fans make the argument that the turnabout was an overcorrection to their loss to St. Louis in 2016, but I suspect it's more nuanced than that. Especially since Nill didn't actually do anything the season directly after. He just let Alex Goligoski walk, and brought in some veteran stopgaps.
What's interesting about Dallas is how they're a contradiction even on ice. Since 2018, they're bad at even-strength goal-scoring, but elite at goal-scoring on the man advantage. They are elite at even-strength defending, but bad at defending on the man disadvantage. It's weird, but let's move on to the obvious point that Dallas just isn't as good offensively as Tampa.
This comparison might seem disingenuous. 'Well no duh Tampa has a better offense.' Sure, but if Dallas wants to be a better team, they have find to find ways to score more. In which case, let's talk about the Islanders. New York took Tampa to seven. It's not shocking to learn that NYI was a better goal-scoring team than Dallas in the regular season. But you might be shocked to learn that they were also 4th best in the playoffs this year in goals per game.
Here's something else: 26th, 30th, and 31st. That's been Dallas' rank the last three seasons in first period goals. Meanwhile — 10th, 24th, and 17th. That's Trotz' defense-first Islanders in first period goals. It's nothing spectacular, but it does imply that being defensive doesn't mean starting slow. You can be defensive and still set the tone. Dallas, on the other hand, often finds themselves trailing (they rank 20th in time spent playing from behind). The Islanders were also 1st in the regular season in expected goals-for per 60 when up by one, implying that they know to calibrate, and apply pressure at critical times instead of superficially shifting between 'take chances when you need a goal' versus 'lock it down when you don't.'
Conversely, McDonagh kept the front of the goal untouched. Barclay Goodrow didn't let anything through the royal road area. And Blake Coleman managed to track the entire scoring chance area of the ice. Either Dallas' goaltending is suffering because of the PK system, or because of the players it chooses to play on the PK. If Dallas can correct this part of their game, they look like real contenders in this area. Unfortunately everyone who underperformed is returning, but overall, Dallas compares well.
Then there's this. Last month, Elliotte Friedman interviewed Steve Valiquette, who works for Clear Sight Analytics. Valiquette's big statistical revelation was that high danger goals against at five-on-five (per 60) seemed to be a very good preliminary predictor of playoff success. Dallas was 4th last season, and 1st this season. Tampa was 18th this season (oops), but 1st last season. Meanwhile, Montreal was second this year. Looking at high danger goals against between the last two seasons, Dallas is right there with Tampa.
It's hard to say. For all the similarities with the on-ice product, there are a ton of differences elsewhere. Perhaps the biggest one is Tampa's willingness to part with assets. Tampa had six regulars they traded for. Dallas had three. Nill doesn't have the cap to sign whoever he wants. In fact, he may not be able to sign anyone. Although the Bishop news might clarify things. But a trade circumvents cap issues.
Is that Nill's style, though?
He's made big trades, but they happened when the team was young and had many needs. Is he willing to make a trade when the needs are less obvious? By all accounts, Dallas is a place Seth Jones would be willing to go. It's not as simple as giving the recently boughtout Ryan Suter some money, but Jones could clear up a lot of confusion about the blueline's future. Especially if, like me, you believe his 'bad analytics' aren't actually making that argument. What are the chances Nill wants to do anything other than run it back?
There's probably some justification to that approach. But if there's a common thread to Tampa's formula, it's that optics don't matter. They wanted a top four defenceman, so they went out and got one. They wanted to strengthen their middle six, so they went out and got two. Talking heads might call these moves "character signings" but in reality, they were just good players brought in to fill a need the team recognized it had. If Dallas wants to be more than just a dime-a-dozen challenger, they'll be honest about what they need, and go get it. There's nothing unclear about what they need either. They need another forward who can score at even strength (medium priority), a strong penalty killing forward (low priority), and a defender who can play tough minutes and be effective on the PK (I'd argue: high priority).
Teams are doing silly things right now. The real question is how Nill and management sees the team. Fans sometimes rib Nill for his 'I like where we're at' line. I find it revealing for different reasons. He's used that line in seasons where Dallas looked good, but not great. That's my question: is he okay with being the David that can one day beat Goliath? I certainly hope not. David might have beaten Goliath, but who would you rather be in the rematch?
Tampa Bay Times 16 July, 2021 - 04:30am
On behalf of a grateful community, I want to thank the players for working and playing hard in true Tampa fashion. From Nikita "Kuch" Kucherov playing in the Stanley Cup Final with a broken rib to Yanni Gourde sliding across the celebration stage on a ... trolley? ... dolly? Whatever you call that thing, it was pretty epic.
I want to say a special congratulations to Andre "Vasy" Vasilevskiy on the well-deserved Conn Smythe Trophy. Best goalie of all time right there! I told him the other day I feel bad for his young son, because he will never get anything past dad.
Victor Hedman gave Tom Brady a run for his money with a perfect beer toss to me during the boat parade. But the real MVP in my book is ThunderBug, who spent hours in the blazing Tampa Bay sun during Monday's boat parade without a single air conditioning break or complaint. I'm happy to report for anyone still asking — no, Stanley did not take a swim.
Our Bolts may have ended the season a little banged up — Stanley included — but with more fighting spirit than any other team in the nation. There is no better hockey community than Tampa Bay.
As a lifelong resident, I've seen Tampa change more over the last 10 years than it has in my entire lifetime, and a big part of that is thanks to the Tampa Bay Lightning, the Vinik family and all that this incredible organization has done for our community. The Viniks set the standard for other owners.
And finally, I want to thank the fans in our community. From being the distant thunder last year to packing Amalie Arena this year, you were there every step of the way. While it's ironic the Lightning Celebration got cut short by lightning, our fans never missed a chance to be the thunder. They stood in a deluge to cheer on our team, and if that doesn't speak to the heart of our Bolts fans, I don't know what does.
These back-to-back championships proved yet again that Tampa is a city on the rise, and no one is stopping us. When faced with challenges, we pull ourselves up by our bootstraps, or skate laces, and overcome any obstacle to get the job done. It's what's led to our growth, our shared sense of city pride, and our resilience as a community. Our momentum is electric, and people want to move here so that they can be part of our success story too.
To our Bolts, you gave us an incredible season and we are so proud. Here's a promise I make to each of you moving forward: When it comes to predicting games, I'll stick to being mayor and let you boys win on the ice. But I will say, a win was wonderful but a win at home was wonderfully sweet.
I had complete confidence in your path to victory — never a moment of doubt. You outplayed every team at every turn. And to anyone who had any doubt whatsoever about the grit and heart of Lightning players and fans, I must paraphrase Kuch. "That is the number one BS."
Pucks and Pitchforks 16 July, 2021 - 01:59am
Tampa Bay Lightning goaltender Andrei Vasilevskiy (88) and defenseman Mikhail Sergachev (98) celebrate after the Lightning defeated the Montreal Canadiens in game three of the 2021 Stanley Cup Final at the Bell Centre. Mandatory Credit: Eric Bolte-USA TODAY Sports
Tampa Bay Lightning head coach Jon Cooper: (Douglas DeFelice-USA TODAY Sports)
The Tampa Bay Lightning are coming off a Stanley Cup victory. It came with an epic boat parade that was fit for a college frat house. Once again, the Tampa Bay Lightning are up against the salary cap, and they can't put Nikita Kucherov on LTIR again. The entire league is looking at the Lightning after going $18 million over the cap (although some of those deals were trading for injured players).
Right now, the Lightning are already over the salary cap. They likely want to re-sign either Blake Coleman or Barclay Goodrow, but ideally both. They also have restricted free agents they have to re-sign. After trading away a lot of their top picks to go on these two Stanley Cup runs, the cupboard is bare when it comes to top NHL prospects. They need to make some moves to make all of this work.
The New Jersey Devils make a ton of sense in a deal with the Lightning. Tampa is stacked when it comes to defensive talent, and some of them are young. This would make them an ideal candidate to make a move with the Devils. Even after the Ryan Graves trade, the Devils need more defensive talent, especially if the Kraken might take P.K. Subban or Will Butcher in the expansion draft. Meanwhile, the Devils have the two things the Lightning desperately need; cap space and high-upside prospects.
These two teams have made trades before. The most recent example is when the Lightning traded Nolan Foote and a first-round pick for Blake Coleman. Coleman was a catalyst to the team's two Cup runs, and as we said before, now he's a free agent. It's ironic that deals with the Devils could lead to Coleman re-signing, but the Lightning need to make moves just to fill out that roster. Sure, maybe they can get saved in the expansion draft or with another surprise injury, but it's more likely they can move one of their very good players for a package that works as a win-win similar to the J.T. Miller deal.
Build your custom FanSided Daily email newsletter with news and analysis on New Jersey Devils and all your favorite sports teams, TV shows, and more.
Your favorite teams, topics, and players all on your favorite mobile devices.
Powered by Minute Media © 2021 All Rights Reserved.
Colorado Hockey Now 15 July, 2021 - 05:02pm
'…the offender and not the offense'- Kadri Speaks to CHN on officiating and controversial suspension
Cale Makar Gets Shafted in Norris Trophy Vote
What to make of Philipp Grubauer and the Avs goaltending situation
Jonas Johansson re-signs with Colorado Avalanche
OTR: Trade Market Set To 'Explode'; Seth Jones, Shea Weber | CHN+
Is Gabe Landeskog a lock to be re-signed by Avs? Maybe not
OTR: Offer Sheets, GMs Fear Lamoriello, NHL Trade Market | CHN+
OTR: NHL Trade Chatter On Seth Jones, Phil Kessel, Blackhawks | CHN +
Avalanche thoughts and attempted answers to questions
New pod: Avs trade deadline analysis and Covid worries
New Pod: Avs on fire, backup goalie situation and should Compher play ahead of LOC?
New Pod: Former Avs video coach Scott Masters, on life behind the scenes in NHL
The two-time defending Stanley Cup champion Tampa Bay Lightning were already expected to be major players on the NHL trade market as they try to become cap compliant again, but could they still acquire a high-end player?
The Montreal Canadiens aren't the Tampa Bay Lightning, and that's why the Shea Weber news is not a sign that they're about to pull a 2021 Lightning coup with the NHL salary cap.
The NHL trade market is expected to 'explode' in 3-2-1…
Here's the latest in 'Off The Record':
Is Gabe Landeskog a lock to be re-signed by Avs? Maybe not
With 20 years of experience (SiriusXM NHL Network Radio, ESPNBoston, NESN, NHL.com, etc.) covering the Bruins, the NHL, NCAA and junior hockey and more, Jimmy Murphy's hockey black book is full of Hall of Famers, current players, coaches, management, scouts and a wide array of hockey media personalities that have lived in and around this great game. For 17 of his 20 years as a hockey and sports reporter, Murph covered the Bruins on essentially a daily basis covering their victorious 2011 Stanley Cup run and their 2013 run to the Final as well. Murphy has hosted national and local radio shows and podcasts and also has experience in TV as well.
OTR: Offer Sheets, GMs Fear Lamoriello, NHL Trade Market | CHN+
OTR: NHL Trade Chatter On Seth Jones, Phil Kessel, Blackhawks | CHN +
OTR: Sticker Shock, GMs Gasp At Sabres' Trade Ask For Eichel | CHN+
If Seth Jones wants to come to the Avs, they should try to get him
OTR: Makar To Get Subban Money? Quinn And Sabres; NHL Trade Market | CHN+
The 7 Most Educated Ice Hockey Players
Enter your email address to get all of our posts in your inbox!
Help fund Adrian's travel! .95 cents of every dollar goes to the cost of getting to and from Avs road games and .5 cents goes to the Thornton Food Bank.
This site is in no way associated with the Colorado Avalanche or the NHL. Copyright © 2019 National Hockey Now and Adrian Dater.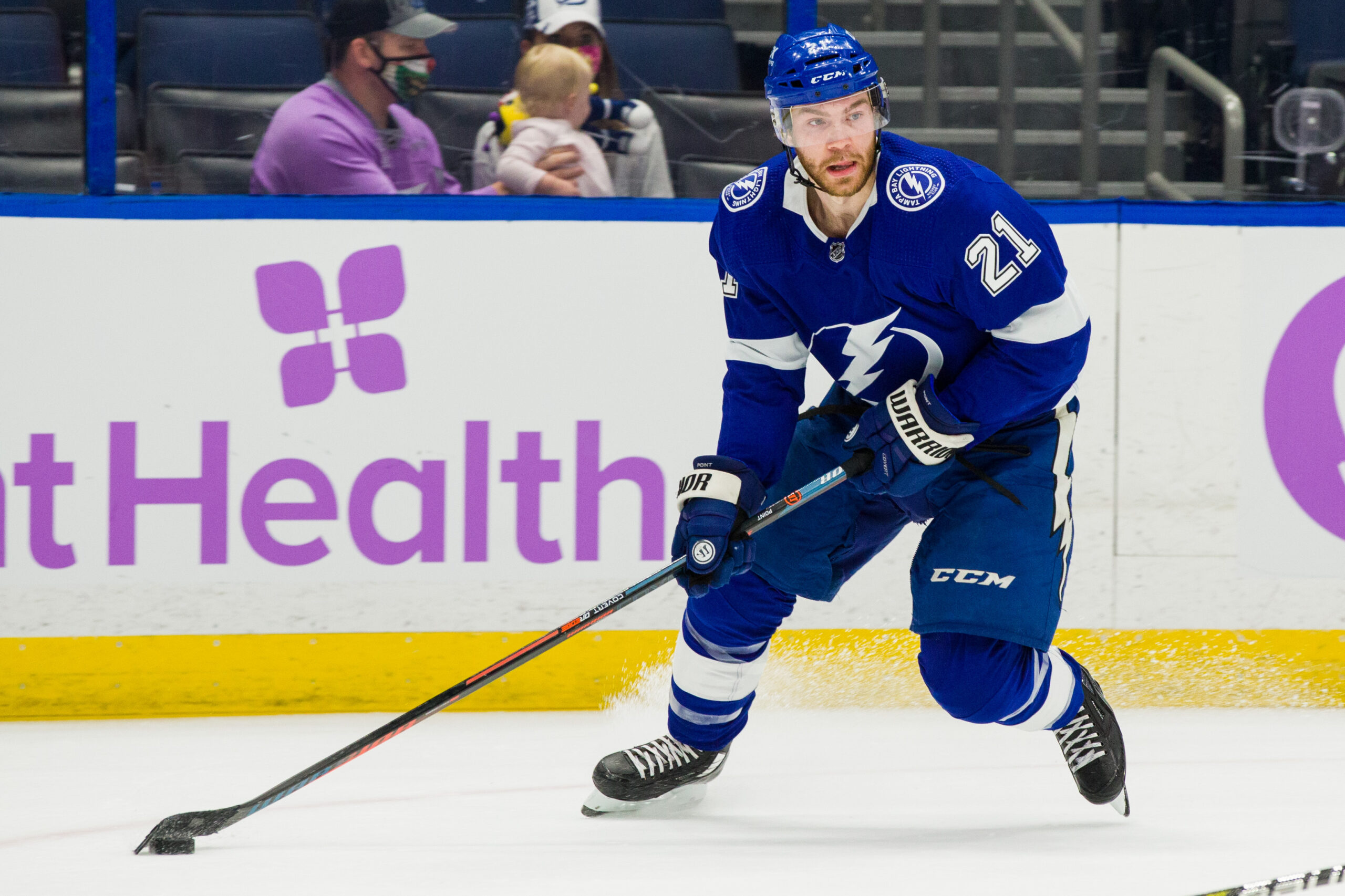 The Hockey Writers 15 July, 2021 - 01:35pm
Yahoo News 15 July, 2021 - 09:42am
Two Stanley Cups, a Super Bowl and a World Series berth never will occur in succession on our shores again — at least not in a dizzying span of nine months and change. And considering the Rays' record and Bucs' roster, this surreal wave we're riding may not crash any time soon.
But for deliberation's sake, let's narrow our time span from eras to hours and pose the following question: What is the best sports day this area has experienced?
Was it July 7, when the Lightning clinched the Cup at home hours after the Rays pulled off a pseudo-historic doubleheader sweep at Tropicana Field? Was it one of the Bucs' two triumphant Super Bowl Sundays? Does another area twin bill top the list?
We dug — and dug and dug — into our past and came up with what we deem the five most viable contenders. You won't find a single day featuring a win by the Bucs, Lightning and Rays; that trifecta never has occurred.
If this wasn't quite the most exhilarating day in local sports history, it certainly was the longest.
It began with the Lightning and Columbus Blue Jackets opening their Eastern Conference first-round series with the fourth-longest playoff contest in NHL history. Six hours and 13 minutes after the first puck was dropped, Brayden Point brought things to a merciful end with a goal midway through the fifth overtime for a 3-2 Tampa Bay triumph.
The marathon would serve as an extended opening chapter for the Lightning's Stanley Cup run. Meantime at Fenway Park, the Rays were putting the finishing touches on an 8-2 romp of the Red Sox for their fourth consecutive win.
Had the pandemic not put a mild damper on Super Bowl 55 festivities (such as limited attendance), this night may rank higher.
As it was, game MVP Tom Brady and the Bucs completed the franchise's mesmerizing one-year transformation with a 31-9 embarrassment of the Chiefs at Raymond James Stadium, making Tampa Bay the first NFL team to win a Super Bowl on its home turf.
Problem was, only 24,835 saw the game in person due to COVID-19 restrictions. Not that social-distancing guidelines did much to stifle the raucous celebration along Dale Mabry Highway afterward, or that pleasant little boat parade three days later.
Poignance, pomp and a dude named Price converged on a magical Sunday night to give the area one of its greatest sports evenings.
The Bucs honored fullback/folk hero Mike Alstott (forced to retire the previous year due to a neck injury) at halftime of a nationally televised 20-10 triumph against the Seahawks, which improved Tampa Bay to 5-2.
Conveniently, Jeff Garcia finished his dissection of Seattle (27-for-36, 310 yards) in plenty of time for he and his teammates to watch David Price and the Rays upstage him in Game 7 of the American League Championship Series at Tropicana Field.
Indeed, many Bucs were watching on locker-room TVs as Price was summoned with two out, the bases loaded, and his team up by two runs in the bottom of the eighth inning. The 23-year-old rookie left-hander struck out Sox all-star J.D. Drew with a 97-mph fastball to end the threat, then retired the side in the ninth to send Tampa Bay to its first World Series.
Subtract a USF women's basketball loss to Louisville at the old Sun Dome, and the area's second-greatest sports day was bereft of a home game. No matter.
Three time zones away in San Diego, the Bucs staged a Tampa-2 defensive clinic (five interceptions, three returned for touchdowns) in a 48-21 rout of the Raiders in Super Bowl 37. With respect to the original Rowdies (a North American Soccer League title in 1975), the triumph gave this community its first major sports title.
An old-fashioned street parade (remember those?) was held two days later in downtown Tampa.
On any other afternoon, the Rays' doubleheader sweep of the Indians — which included five pitchers teaming for a seven-inning no-hitter in Game 2 — would dominate the local sports news cycle.
But on this day, it regressed from preposterous to prelude in a few hours.
That evening, across the water at Amalie Arena, the Lightning clinched the franchise's third Stanley Cup (and second in a row) with a 1-0 victory against the Montreal Canadiens in Game 5. The triumph set off a raucous celebration inside and outside the arena, not to mention arguably the most memorable press conference in local sports lore (see Kucherov, Nikita).
The Tampa Bay Times will commemorate the Lightning's second consecutive Stanley Cup title with a new hardcover coffee table book, Striking Twice. Pre-order now.
Sign up for Lightning Strikes, a weekly newsletter from Bolts beat writer Eduardo A. Encina that brings you closer to the ice.
Never miss out on the latest with the Bucs, Rays, Lightning, Florida college sports and more. Follow our Tampa Bay Times sports team on Twitter and Facebook.
None of these are legit, even though they were shared widely on social media. CLAIM: The Democratic National Committee is working with the Biden administration to monitor private citizens' SMS communications in a move to crack down on anti-vaccine text messages. THE FACTS: The DNC has "no ability to access or read people's private text messages" and is "not working with any government agency (including the White House) to try to see personal text messages," according to Lucas Acosta, a senior spokesperson for the committee.
Archaeologists have discovered a rare stone delineating the city limits of ancient Rome that dates from the age of Emperor Claudius in 49 A.D. and was found during excavations for a new sewage system. Rome Mayor Virginia Raggi was on hand for the unveiling Friday of the pomerial stone, a huge slab of travertine that was used as a sacred, military and political perimeter marking the edge of the city proper with Rome's outer territory. It was found June 17 during excavations for a rerouted sewer under the recently restored mausoleum of Emperor Augustus, right off the central Via del Corso in Rome's historic center.
Following a lull in shower and thunderstorm activity on Thursday, AccuWeather meteorologists expect showers and thunderstorms to cause more problems associated with flash flooding this weekend in the Northeast. In a large part of the Northeast, an extremely wet first half of July has the ground saturated and streams running high. Both Boston and New York City have received well over 8 inches of rain during the first 15 days of the month. Normal rainfall for all of July in Boston is 3.43 inches,
Google has unveiled its emoji updates for Android 12, including a 'universal' pie — and it'll be easier to use emoji in apps, too.
Facebook is spending a billion dollars to win over creators as it tries to make up for lost time.
PORT-AU-PRINCE, Haiti (AP) — The attackers raided the private compound of Haiti's president before dawn, yelling "DEA operation!" and wielding high-caliber weapons. When it was over, Moïse lay sprawled on his bedroom floor.
Republicans' confidence in science has dropped significantly from 1975, poll finds
The ferocious 2021 wildfire season in the West showed no signs of letting up Friday as thousands of firefighters continued to battle dozens of blazes.
A year later, Iraqi police arrested the shooter in the killing of a prominent public commentator whose slaying sent shockwaves through the country, officials said Friday. Iraq's prime minister declared that with the arrest, his government has fulfilled its promise to bring the perpetrators to justice. Hisham al-Hashimi was gunned down last July outside his home in Baghdad in a drive-by shooting that involved two attackers on a motorcycle.
Australia's coronavirus vaccine rollout does not yet include a door-to-door vaccination effort.
General Milley was concerned that Mr Trump was planning a coup
Health experts are sounding the alarm as the number of unvaccinated individuals remains stagnant while COVID cases rise across the country.
It's Bethesda's first QuakeCon since joining Microsoft.
Atlantic City's casinos set a new monthly record for gross gambling revenue in June, winning more than $345 million from gamblers as pandemic fears eased somewhat and gamblers returned with their wallets. So far this year, the casinos and tracks have won more than $2.1 billion, twice the amount they had won over the same period last year, which included the 3 1/2 months that the casinos were shut down.
Movie lovers don't necessarily come to high concept horrors like "Escape Room" or its sequel "Tournament of Champions" for the acting. The 26-year-old is still a relative newcomer on the scene with a handful of roles in projects like Netflix's "Lost in Space," indies like "Waves" and the "Escape Room" movies, the latest of which is out this weekend. "She's incapable of hitting a false note," said "Escape Room" director Adam Robitel.
Days after she was fired under pressure from Republican legislators, Tennessee's former vaccinations director has issued a point-by-point rebuttal to a letter recommending her removal and to other claims by state officials about the program she ran that offers shots for children. The July 9 letter from the state's chief medical officer said Michelle Fiscus should be removed due to complaints about her leadership approach and her handling of a letter explaining vaccination rights of minors for COVID-19 shots, an effort that had GOP lawmakers fuming. Fiscus has accused Health Commissioner Lisa Piercey of terminating her "to appease a handful of outraged and uninformed legislators."
'We are seeing outbreaks of cases in parts of the country that have low vaccination coverage'
The king of Eswatini, Africa's last absolute monarchy, on Friday appointed a new prime minister, ignoring calls for democratic reforms as campaigners said at least two people had died in a new crackdown on protests.
Debris from areas burned by wildfires courses through city streets as one woman dies in flash flood on Colorado River A resident shovels back floodwater as monsoon rains fell on the Museum fire burn area causing flooding from the Paradise Wash in east Flagstaff, Arizona on Wednesday. Photograph: Jake Bacon/AP Parts of Arizona have been hit with devastating flooding, with the city of Flagstaff declaring a state of emergency after being inundated with torrents of water that turned streets into mur
Leaders of Asian Pacific nations agreed on Friday to step up COVID-19 vaccination sharing efforts as China said it has pledged $3 billion in international aid to support coronavirus response efforts in developing countries. The virtual retreat for Asia-Pacific Economic Cooperation leaders included U.S. President Joe Biden, Chinese Prime Minister Xi Jinping, Japanese Prime Minister Yoshihide Suga and Russian President Vladimir Putin, gathering at a moment when the delta variant is spurring a spike in infections around the globe.
WTSP.com 14 July, 2021 - 02:41pm
TAMPA, Fla. — We all saw the injury sustained to the Stanely Cup after the Tampa Bay Lightning boat parade, and now we know what happened.
Things just get slippery when wet.
"I'll tell you the real story because I want people to know the real story," Lightning left winger Pat Maroon said on 101 ESPN St. Louis, his hometown station.
"It was obviously raining and it was wet. I went to lift it, and I went fat backwards with it. I slipped and Phil helped me up and the Cup went back on its end."
A heavy thunderstorm rolled into the downtown area not long after the parade concluded but just in time to cancel the party at Julian B. Lane Riverfront Park. A picture circulating on social media showed the Cup's bowl with a little more than a dent.
That'll buff out. https://t.co/lpTMYYMBzq pic.twitter.com/25A11bdY2t
"People are saying we disrespected the Cup. Such BS because if they had a half a brain, you know it's wet outside and you'd think we'd be throwing the Cup around? No. We didn't disrespect it," Maroon said. "It was a complete accident, and we both got hurt. My back has been hurt all day today. So, that's what happened. Nothing crazy.
"You know when the Cup keeper said it's OK, don't worry about it. I'm sure there's way worse things that have happened to the Cup besides me just falling."
It's true: People have drunk out of the Cup, tossed it in a pool and, as the story goes, a baby went to the bathroom in it.
After the Cup's injury, Joe Smith of The Athletic reported it was heading to Montreal for repairs.
"They said it's an easy fix," Maroon said. "...It's back in Tampa on Thursday, so a quick fix. It wasn't even that bad. The picture looked like it was dented that bad, it wasn't."
"Whoever framed me — we were in the family section, too, there's no fans around us, there's nothing. So if someone in the family — I don't know who did it, but we're on to it — we're going to find them," Maroon said.
►Stay In the Know! Sign up now for the Brightside Blend Newsletter
Notifications can be turned off anytime in the browser settings.
Bay News 9 14 July, 2021 - 01:15pm
TAMPA, Fla. — Busch Gardens Tampa Bay has named its newest giraffe in honor of the Tampa Bay Lightning's recent championship win.
A giraffe calf was born at the theme park last week — on the same night the Lightning won the Stanley Cup for the second consecutive time. So of course, Busch Gardens decided to name him Stanley.
Stanley will stay behind-the-scenes with first-time mom Angel until he reaches certain growth milestones, according to Busch Gardens officials. The pair will then join the giraffe herd on the park's 65-acre Serengeti Plain.
In addition to celebrating the arrival of Stanley the giraffe, Busch Gardens is celebrating the Lightning's Stanley Cup win with the return of free beer at the park. For the rest of July, visitors ages 21 and older can get two free beer samples at the Garden Gate Café each day.
WKMG News 6 & ClickOrlando 14 July, 2021 - 10:29am
The giraffe's name, Stanley, is a perfect fit for the city that has won championship games for the NHL and NFL in recent months.
Stanley, was born to first-time mom, Angel, near the theme park's Serengeti Plain.
Busch Gardens said once Stanley reaches key growth milestones, the pair will join the giraffe herd on Busch Gardens' 65-acre Serengeti Plain, including Stanley's grandmother, Cupid.
To celebrate the big championship game, Busch Gardens is offering guests two free beer samples at the Garden Gate café each day through July 31.
Copyright 2021 by WKMG ClickOrlando - All rights reserved.
Landon joined News 6 in 2017. He grew up in Southern Illinois and graduated from Southern Illinois University with a bachelors degree in TV and digital media. When he is not at work you can catch him at one of Orlando's theme parks or the beach. Before working at News 6 he worked for stations in Miami and Fort Myers.
Copyright © 2021 ClickOrlando.com is managed by Graham Digital and pubished by Graham Media Group, a division of Graham Holdings.