Brian Stelter
brianstelter
Wednesday night's media newsletter: Arguably President Biden gave Fox News way too much credit during the CNN town hall... cnn.it/3BrQiNU
Donie O'Sullivan
donie
Checked in on a QAnon forum after Biden mentioned QAnon at CNN Town Hall. Discussion there has turned to how the person on stage isn't really Biden…. 😐
Sen. Marsha Blackburn
MarshaBlackburn
Biden's refusal to build the wall and secure the border show where his priorities lie: not with the American people. #BidenTownHall
Kyle Smith
rkylesmith
Joe Biden's Pointless, Contrived CNN 'Town Hall' www.nationalreview.com/corner/joe-bidens-pointless-contrived-cnn-town-hall/ @jackbutler4815
The New York Times 22 July, 2021 - 07:00am
"There's no reason to protect it other than you're going to throw the entire Congress into chaos and nothing will get done," he said at a CNN Town Hall in Cincinnati. "Nothing at all will get done."
Mr. Biden said there was too much at stake to risk that level of "chaos" that a fight over the filibuster would ignite, including voting rights legislation he still wants to see passed. He also said waging a war against the filibuster would play into the hands of Republicans seeking to hold up his agenda. "Wouldn't my friends on the other side love to have a debate about the filibuster instead of passing the Recovery Act?" he said.
At his first news conference as president last March, Mr. Biden thrilled progressives who want to change the rules governing the Senate's signature procedural weapon that require a 60-vote supermajority to advance a bill. Mr. Biden said the filibuster was "being abused in a gigantic way."
That month, he also endorsed a return to what is called the talking filibuster: the requirement that opponents of legislation be required to occupy the floor and make their case against it.
On Wednesday night, he reiterated his support for a return to the old form but made it clear that he thought a filibuster fight was only a distraction.
"I've been saying for a long, long time the abuse of the filibuster is pretty overwhelming," he said.
But when it came to passing voting rights legislation, he added, "I want to make sure we bring along not just all the Democrats, we bring along Republicans who I know know better. They know better than this. What I don't want to do is get wrapped up right now in the argument whether or not this is all about the filibuster."
Mr. Biden rejected the idea that overturning or changing the filibuster was the only way he would pass his agenda through a divided Congress.
"I'm trying to bring the country together," he said. "And I don't want the debate to only be about whether or not we have a filibuster, or exception to the filibuster, or going back to the way the filibuster had to be used before."
"We are now in the fourth week of negotiations since the bipartisan group of senators reached an agreement with the White House on an infrastructure framework — four weeks. According to the negotiators spurred on by this vote this afternoon, they are close to finalizing their product. Even Republicans have agreed that the deadline has moved them far more quickly. Given the process of the bipartisan negotiations, I believe senators should feel comfortable voting to move forward today." "These discussions have yet to conclude. There's no outcome yet, no bipartisan agreement, no text, nothing for the Congressional Budget Office to evaluate. And certainly nothing on which to vote. Not yet. So obviously, if the Democratic leader tries to force a cloture vote on a bill that does not exist, it will fail." "Is it the sense of the Senate that debate on the motion to proceed to H.R. 3684, an act to authorize funds for federal aid, highways, highway safety programs and transit programs, and for other purposes shall be brought to a close. On this vote, the yeas are 49, the nays are 51, three-fifths of the senators duly chosen and sworn not having voted in the affirmative the motion, the motion is not agreed to." "President." "Majority Leader." "I enter a motion to reconsider the failed cloture vote." "The motion is entered." "Madam President, I just want to explain what happened on the floor very briefly. At the end of the vote, I changed my response to a no. So that I may move to reconsider this vote at a future time."
Republicans blocked the Senate on Wednesday from taking up an emerging bipartisan infrastructure plan, raising doubts about the fate of a major piece of President Biden's agenda even as negotiators continued to seek a compromise.
The failed vote underscored the intense mistrust between the two parties, which has complicated the effort to complete a deal. Both Republicans and Democrats in the group seeking a deal say they are still making progress toward agreement on a package with nearly $600 billion in new funds for roads, bridges, rail, transit and other infrastructure, which could be the first major infusion of federal public works spending since the 2009 stimulus law.
Senator Chuck Schumer, Democrat of New York and the majority leader, forced the vote in a bid to intensify pressure for a swift resolution to the talks, acting over the pleas of centrist Republicans who said they needed more time to solidify their deal with Democrats. With many Democrats harboring concerns that Republicans will drag out the process only to withhold support from a final bill, he argued that there was still time to iron out final details.
"This vote is not a deadline to have every final detail worked out — it is not an attempt to jam anyone," Mr. Schumer said before the vote, adding that negotiators would have "many opportunities" to add their plan to the bill "even if they need a few more days to finalize the language."
But Republicans said they were not ready to commit to considering an infrastructure measure, and warned that putting the matter to a vote risked scuttling a potential bipartisan breakthrough.
With all 50 Republicans in the Senate opposed, Democrats fell short of the 60 votes that would have been needed to move forward with an infrastructure debate. All 50 members of the Democratic caucus initially voted to proceed, but Mr. Schumer switched his vote to enable him under Senate rules to bring up the measure again.
Republicans argued that Democrats had threatened their progress by rushing a vote on the package before the deal was ready. Democrats questioned why Republicans, many of whom have said they want a bipartisan infrastructure compromise, would be unwilling to simply allow a debate to move forward while the negotiations proceed.
Underlying the finger-pointing were longstanding worries by both parties about the political ramifications of a deal.
In an unusual move, Ms. Pelosi announced that she was rejecting Representatives Jim Banks of Indiana and Jim Jordan of Ohio, both of whom amplified Mr. Trump's false claims of election fraud, joined their party's efforts to challenge President Biden's victory on Jan. 6 and have opposed efforts to investigate the assault on the Capitol by Trump supporters. She agreed to seat the other three Republicans who had been chosen for the panel.
But Ms. Pelosi said she could not allow the pair to take part, based on their actions around the riot and comments they had made undercutting the investigation. Mr. Banks, who has equated the deadly attack to unrest during the racial justice protests last summer, said the Jan. 6 inquiry was created to "malign conservatives and to justify the left's authoritarian agenda." Mr. Jordan, one of the biggest cheerleaders of Mr. Trump's attempt to undermine the legitimacy of the 2020 election, pressed Mr. Trump's false claims of election fraud on the House floor as protesters breached the Capitol, and has called the select committee "impeachment Round 3."
The speaker's decision drew an angry response from Representative Kevin McCarthy of California, the minority leader, who announced that Republicans would boycott the panel altogether. He seized on Ms. Pelosi's intervention as confirmation of his charge that the investigation was nothing more than a political exercise to hurt the G.O.P.
The partisan brawl, unfolding even before the select committee has begun its work, underscored the difficult task it faces in scrutinizing an attack on the lawmakers now charged with dissecting it. It was also the latest evidence of how poisonous relations have become between the two parties, especially in the House, in the aftermath of Mr. Trump's defeat and the violent bid to block certification of the outcome.
Mr. Biden said he was not intervening in the decision of government scientists, but pointed toward a potential decision soon from the F.D.A. to give final approval for the vaccines, which are currently authorized for emergency use. Many medical professionals have pushed for the final approval, saying it could help increase uptake of the vaccines.
"My expectation talking to the group of scientists we put together, over 20 of them plus others in the field, is that sometime maybe in the beginning of the school year, at the end of August, beginning of September, October, they'll get a final approval" for the vaccines at the F.D.A., Mr. Biden said.
The president also said he expected children under the age of 12, who are not currently eligible to receive the vaccine, would be approved to get it on an emergency basis "soon, I believe."
The president's comments at the town hall came as the spread of the Delta variant has led to a national rise in coronavirus cases. Over the past week, an average of roughly 41,300 cases has been reported each day across the country, an increase of 171 percent from two weeks ago. The number of new deaths reported is up by 42 percent, to an average of 249 deaths per day for the past week.
In some states, such as Missouri, Arkansas, Louisiana and Florida, new infections have increased sharply, also driving an increase in hospitalizations. Cases are increasing more rapidly in states where vaccination rates are low.
In Ohio, where Mr. Biden traveled on Wednesday to talk up what he pitched as the good-paying union jobs that his infrastructure plan would create, the president found him fielding questions from audience members concerned about low vaccination rates in their communities.
"This is simple, basic proposition," he said. "If you're vaccinated, you're not going to be hospitalized. You're not going to be in an I.C.U. unit. And you are not going to die."
Later, Mr. Biden exaggerated the efficacy of the vaccine, even as some vaccinated staffers in the West Wing have recently tested positive for the coronavirus. "You're not going to get Covid if you have these vaccinations," he said.
In response to a move by Speaker Nancy Pelosi earlier Wednesday to bar two of former President Donald J. Trump's most vociferous Republican defenders in Congress from joining a select committee to investigate the Jan. 6 riot at the Capitol, Mr. Biden was unequivocal about what happened that day.
"I don't care if you think I'm Satan reincarnated, the fact is you can't look at that television and say nothing happened on the 6th," he said. "You can't listen to people who say this was a peaceful march."
But speaking in a red state that Mr. Trump won in the 2020 election, as he tries to build support for his infrastructure plans, Mr. Biden kept his criticism to some of the lawmakers elected to office, rather than Republican voters who got them there.
"I have faith in the American people, I do, to ultimately get to the right place," he said. "Many times Republicans are in the right place."
All five commissioners — two Republicans and three Democrats — voted to back a policy statement that promises to explore whether companies that make it harder for consumers to repair products are breaking antitrust or consumer protection laws, and to step up enforcement of the laws against violators.
"These types of restrictions can significantly raise costs for consumers, stifle innovation, close off business opportunity for independent repair shops, create unnecessary electronic waste, delay timely repairs and undermine resiliency," said Lina Khan, the commission's chairwoman. "The F.T.C. has a range of tools it can use to root out unlawful repair restrictions, and today's policy statement would commit us to move forward on this issue with new vigor."
The commission's vote on Wednesday falls in line with President Biden's policies to prioritize initiatives to increase competition between large corporations and to limit their power. In an executive order this month, Mr. Biden encouraged the commission to crack down on companies that make it harder for consumers to get equipment or electronics repaired by third-party shops. It singled out manufacturers of farming equipment — the tractor manufacturer John Deere, for example — that use license agreements that block farmers from repairing their tractors on their own.
Wednesday's vote was a victory for the "right to repair" movement, which has long been pushing for repair-friendly policies at the federal, state and local levels. Nathan Proctor, the senior director of the United States Public Interest Research Group's Right to Repair campaign, celebrated the agency's decision in a statement.
"They have pledged to assist states in making right to repair improvements, and to tackle illegal behavior from manufacturers," Mr. Proctor said. "The F.T.C. is no longer on the sidelines."
But TechNet, an advocacy group representing technology companies including Google and Apple, criticized the move by the commission, saying it would only jeopardize the safety of consumers.
"The F.T.C.'s decision to upend an effective and secure system for consumers to repair products that they rely on for their health, safety, and well-being, including phones, computers, fire alarms, medical devices, and home security systems, will have far-reaching, permanent impacts on technology and cybersecurity," Carl Holshouser, the senior vice president of TechNet, said in a statement.
It sent a report to Congress in May, titled "Nixing the Fix," in which it described how companies designed products to be harder to fix and how they narrowed repair options in order to push consumers to more frequently buy new products. There is "scant evidence to support manufacturers' justifications for repair restrictions," the report said.
It also noted that the limitations imposed by companies harmed the consumer, especially communities of color and low-income communities. According to the report, the cost of buying a new product or the difficulty of repairing a product can fall disproportionately on small businesses owned by people of color.
The Afghan security forces have the capacity to sufficiently fight and defend their country, and we will continue to support the Afghan security forces where necessary, in accordance with the guidance of the president and the secretary of defense. The future of Afghanistan is squarely in the hands of the Afghan people. There clearly is a narrative out there that the Taliban are winning. In fact, they are propagating an inevitable victory on their behalf. They're dominating a lot of the airwaves on that sort of thing. I would tell you that as of today, more or less, I guess it's about 212, 213. It's in that range, two hundreds, of the district centers are in Taliban control. It's about half of the 419 that are out there. You've got 34 provincial capitals in Afghanistan. None of them have been seized, as of today, by the Taliban. Although the Taliban is putting pressure on the outskirts of probably about half of them, 17 of them, in fact. And what they're trying to do is isolate the major population centers. They're trying to do the same thing to Kabul. And roughly speaking, order of magnitude, a significant amount of territory has been seized over the course of six, eight, 10 months, sort of thing, by the Taliban. So momentum appears to be, strategic momentum appears to be sort of with the Taliban. The Afghan security forces, though, are consolidating their forces. So part of this is they're giving up district centers in order to consolidate their forces because they're taking an approach to protect the population. And most of the population lives in the provincial capitals, in the capital city of Kabul. There's a possibility of a negotiated outcome. That's still out there. There's a possibility of a complete Taliban takeover or possibility of any number of other scenarios, breakdowns, warlordism, all kinds of other scenarios are out there. We are monitoring very closely. I don't think the endgame is yet written.
The nation's top military officer offered a glum assessment on Wednesday of the security situation in Afghanistan, saying the Taliban had seized "strategic momentum" over Afghan military forces who were falling back to prioritize the protection of important cities, including Kabul, the capital.
The comments by Gen. Mark A. Milley, chairman of the Joint Chiefs of Staff, echoed mounting reports from the ground in Afghanistan. But his sober, almost clinical, account of recent Taliban gains hammered home the point.
"There's a possibility of a complete Taliban takeover, or the possibility of any number of other scenarios," General Milley said. "I don't think the end game is yet written."
The Taliban have taken control of more than 210 of Afghanistan's roughly 420 districts in recent months, General Milley told reporters at a Pentagon news conference. They are also pressuring half of the country's 34 provincial centers and are aiming to isolate Kabul and other major cities, he said.
"Strategic momentum appears to be sort of with the Taliban," he said. "There clearly is a narrative out there that the Taliban are winning. In fact, they are propagating an inevitable victory on their behalf."
But General Milley, who appeared alongside Defense Secretary Lloyd J. Austin III in their first joint news conference since May 6, sought to reassure the Afghan government that the United States would continue to provide humanitarian and security assistance from afar. All American forces have left the country, except for about 650 troops assigned to guard the U.S. Embassy and the Kabul airport.
Both General Milley and Mr. Austin put responsibility for the country's fate on Afghans and their leaders, not the Biden administration. Mr. Austin said that American airstrikes after Aug. 31, the military withdrawal deadline, would be reserved for Al Qaeda and other terrorist targets, not Taliban fighters attacking Afghan forces.
"This is going to be a test now of the will and leadership of the Afghan people, the Afghan security forces and the government of Afghanistan," General Milley said.
In response to the Taliban offensives, hundreds of Afghan troops have surrendered, giving up their U.S.-supplied equipment and fleeing, sometimes into neighboring countries. Afghan government counterattacks have had limited success.
General Milley said that many other Afghan troops were falling back to protect larger provincial cities. Violence has waned in the past few days with the beginning of the Muslim celebration of Eid al-Adha, he said, but the country could reach a turning point as fighting resumes.
But officials added that evacuations were only taking place out of Kabul, the capitol, and any eligible Afghans in remote areas were on their own in figuring out how to make the difficult, and likely dangerous, journey if they wanted to take advantage of the offer.
"In order to come on an evacuation flight, they would have to get themselves to Kabul," a senior official, who requested anonymity in order to discuss the plan in detail, said on a call with reporters. "Obviously, we don't have extensive U.S. military presence. We don't have the ability to provide transportation for them."
"If they're staying in the north of the country and they don't feel safe staying in Afghanistan, they could go to a neighboring country" and finish their application process there, the official added.
The United States also will not provide security to applicants outside Kabul, many of whom are under direct threat from the Taliban for cooperating with coalition forces during the war.
With the American military in the final phases of withdrawing from Afghanistan, the White House has come under pressure to protect Afghan allies and speed up the process of providing them with special immigrant visas, and President Biden has vowed to do so. There have been about 20,000 applicants for the special visa program.
This month, 2,500 Afghans will be sent in stages to an Army base in Fort Lee, Va., south of Richmond, where they will wait roughly 10 days for final processing. The next 4,000 applicants, who need further approvals, will go with their families to other countries to complete the visa process before coming to the United States, the senior official said.
The official did not indicate which countries those applicants would be sent to complete the visa process.
The House is expected to pass legislation this week increasing the number of State Department special immigrant visas and streamlining the application process.
The 31 signers of the letter, who worked for more than 25 current and former Democratic lawmakers, conceded that they and their former bosses had embraced the filibuster in the past. But they argued that the maneuver is now being abused as a blunt-force instrument to stall most legislation.
"Over the course of the past 20 years, the filibuster has put a chokehold on the Senate,'' said the letter, to be published on the website of the anti-filibuster group Fix Our Senate. "Legislation is now routinely filibustered, transforming the Senate from a place of meaningful debate and progress into a legislative graveyard."
The letter also said that the main arguments typically cited for maintaining the filibuster — that it fosters bipartisanship, protects minority rights and prevents wild swings in policy with changes in power — no longer hold true.
The filibuster, once used sparingly, was never intended to be a way for the minority to routinely block legislation by preventing bills from advancing, they wrote.
"Many of us stood shoulder to shoulder with our former bosses when they filibustered legislation, and it was a valuable tool," said Eric Mogilnicki, a chief of staff to former Senators Edward M. Kennedy and Paul Kirk of Massachusetts. "But it shouldn't be that overwhelming the filibuster is the only way to pass legislation."
Mr. Mogilnicki organized the letter along with Drey Samuelson, once the top aide to former Senator Tim Johnson of South Dakota.
The former aides banded together on the issue after Senate Republicans in recent weeks blocked several top Democratic priorities through a filibuster, including a sweeping voting rights bill as well as bipartisan legislation to establish an independent commission to investigate the Jan. 6 assault on the Capitol by supporters of Donald J. Trump.
Like many Democratic senators who have backed the filibuster in the past, the aides said their views had evolved as the tool was increasingly employed to thwart critically needed legislation supported by a majority of senators. They conceded that eliminating or weakening the filibuster could lead to enacting laws they oppose.
"We know that repealing or reforming the filibuster rule will someday lead to policy outcomes that we deeply dislike, and that might have been blocked under current Senate rules," the letter states. "But we believe in a Senate where the people's business can be done."
While support has grown among Democratic senators for abolishing the 60-vote threshold for advancing legislation, filibuster opponents in the party currently lack the minimum 50 votes that would be required to overturn the rule.
Arkansas is one of several states that have passed abortion restrictions challenging the constitutional right to the procedure established in Roe v. Wade. Judges have temporarily blocked laws restricting abortions in states including Ohio, Arkansas and Texas.
If the Supreme Court overturned Roe, abortion would be likely to become illegal in 22 states. In May, justices agreed to hear a case concerning a Mississippi law in the court's next term, giving the court's conservative majority an opportunity to place new constraints on abortion rights.
On Tuesday, U.S. District Judge Kristine G. Baker said that the Arkansas law, which would have banned abortions in all cases except to save the life of a pregnant woman in a medical emergency, would cause "imminent irreparable harm" to doctors and their patients.
Judge Baker wrote that the law would prohibit doctors from providing abortions "unless and until the patient's condition deteriorates to such an extent that the very narrow 'medical emergency' exception is triggered."
She wrote, "This would pose serious risk to the physical, mental, and emotional health of these patients."
The decision, by the U.S. District Court of the Eastern District of Arkansas, was made in a case brought by Little Rock Family Planning Services, Planned Parenthood Great Plains and Dr. Janet Cathey, a gynecologist and obstetrician in Little Rock, who was representing her staff and her patients.
Just a day after the ruling, another federal judge temporarily blocked Arkansas from enforcing a ban on gender-confirming treatments for transgender youths, a first-in-the-nation law that passed as the legislature overrode Gov. Asa Hutchinson's veto.
Now they are carried out by an elite satellite network of contractors at front companies and universities that work at the direction of China's Ministry of State Security, according to U.S. officials.
On Monday, the United States again accused China of cyberattacks. The Biden administration's indictment for the cyberattacks, along with interviews with dozens of current and former American officials, shows how China has reorganized its hacking operations, Nicole Perlroth reports for The New York Times.
"What we've seen over the past two or three years is an upleveling" by China, said George Kurtz, the chief executive of the cybersecurity firm CrowdStrike. "They operate more like a professional intelligence service than the smash-and-grab operators we saw in the past."
China's new tactics include exploiting "zero-days," or unknown security holes in widely used software like Microsoft's Exchange email service and Pulse VPN security devices, which are harder to defend against and allow China's hackers to operate undetected for longer periods.
China has clamped down on research about vulnerabilities in widely held software and hardware, which could potentially benefit the state's surveillance, counterintelligence and cyberespionage campaigns. Last week, it announced a new policy requiring Chinese security researchers to notify the state within two days when they found security holes, such as the "zero-days" that the country relied on in the breach of Microsoft Exchange systems.
They have instead focused their message about the vaccine on disparaging President Biden, characterizing his drive to inoculate Americans as politically motivated and heavy-handed.
On Tuesday, Representative Steve Scalise of Louisiana, the No. 2 House Republican who said he had received his first Pfizer vaccine shot only on Sunday, blamed Mr. Biden and his criticism of Donald J. Trump's vaccine drive last year for hesitancy.
Some elected Republicans are the ones spreading the falsehoods. Representative Jason Smith of Missouri, a Senate candidate, warned on Twitter of "KGB-style" agents knocking on the doors of unvaccinated Americans — a reference to Mr. Biden's door-to-door vaccine outreach campaign.
Such statements, and the widespread silence by Republicans in the face of vaccine skepticism, are beginning to alarm some strategists and party leaders.
"The way to avoid getting back into the hospital is to get vaccinated," Senator Mitch McConnell of Kentucky, the Republican leader and a polio survivor, pleaded on Tuesday, one of the few members of his party to take a different approach. "And I want to encourage everybody to do that and to ignore all of these other voices that are giving demonstrably bad advice."
The political disparity in vaccine hesitancy is stark. The Kaiser Family Foundation reported at the end of June that 86 percent of Democrats had at least one shot, compared with 52 percent of Republicans. An analysis by The New York Times in April found that the least vaccinated counties in the country had one thing in common: They voted for Mr. Trump.
On Wednesday, the National Labor Relations Board ruled that unions can position large synthetic props like rats, often used to communicate displeasure over employment practices, near a work site even when the targeted company is not directly involved in a labor dispute.
While picketing companies that deal with employers involved in labor disputes — known as a secondary boycott — is illegal under labor law, the board ruled that the use of oversized rats, which are typically portrayed as ominous creatures with red eyes and fangs, is not a picket but a permissible effort to persuade bystanders.
Union officials had stationed the rat in question, a 12-foot-tall specimen, close to the entrance of a trade show in Elkhart, Ind., in 2018, along with two banners. One banner accused a company showcasing products there, Lippert Components, of "harboring rat contractors" — that is, doing business with contractors that do not use union labor.
Lippert argued that the rat's use was illegal coercion because the creature was menacing and was intended to discourage people from entering the trade show. But the board found that the rat was a protected form of expression.
"Courts have consistently deemed banners and inflatable rats to fall within the realm of protected speech, rather than that of intimidation and the like," the ruling said.
The rise of the rodents, often known as "Scabby the Rat," dates to the early 1990s, when an Illinois-based company began manufacturing them for local unions intent on drawing attention to what they considered suspect practices, such as using nonunion labor. The company later began making other inflatable totems, like fat cats and greedy pigs, for the same purpose.
The labor relations board had previously blessed rats in a 2011 ruling. But seven years later, its general counsel, Peter B. Robb, sought to reopen the debate.
Mr. Robb, a Trump appointee, issued an internal memo in 2018 arguing that erecting a rat near an employer that was not directly involved in a labor dispute amounted to "unlawful coercion" — an attempt to disrupt the business of a neutral party. His office subsequently intervened on behalf of the companies in a handful of cases in which firms sought to block unions from deploying large inflatable paraphernalia close to their facilities.
One of those cases was dismissed, while a successor to Mr. Robb sought to dismiss another. (A judge has yet to rule on the motion to dismiss that case.)
In the case brought by Lippert, an administrative law judge ruled against the company in 2019, arguing that the rat did not amount to a picket or illegal coercion.
The judge noted that the rat and banners, which were erected by members of a local branch of the International Union of Operating Engineers, were stationary and did not create confrontation with passers-by. There was no evidence that the two union representatives present marched in front of the trade show or blocked people from entering, the judge wrote. They appeared to merely sit beside the rat.
The company appealed to the labor board in Washington, which solicited public comment last fall on whether it should modify or overturn the precedent.
But the board's chairman, Lauren McFerran, a Democratic appointee, concluded that precedent required dismissing the complaint. Two Republican appointees indicated that they considered the precedent flawed but that banning inflatable rats would violate the First Amendment.
A lone Republican appointee, William J. Emanuel, argued that the precedent should be overturned.
The Cincinnati Enquirer 21 July, 2021 - 10:36pm
"We employ hundreds of hard-working team members throughout the state of Ohio and across the country," he said. "And we're looking to hire more every day as we try to restart our restaurant business. The entire industry, amongst other industries, continues to struggle to find employees. How do you and the Biden administration plan to incentivize those that haven't returned to work yet? Hiring is our top priority right now."
Biden, from the stage in the auditorium of Mount Saint Joseph University, responded at length. But Lanni, along with fellow attendee Taste of Belgium owner Jean-Francois Flechet, didn't love his answer.
"I think it really is a matter of people deciding now that they have opportunities to do other things and there's a shortage of employees," Biden said. "People are looking to make more money and to bargain. And so I think your business and the tourist business is really going to be in a bind for a little while."
But Lanni – whose restaurants include Bakersfield, Pepp and Dolores and The Eagle – and Flechet say they are paying, with tips, at least that in most cases.
"I feel like he didn't really answer the question," Lanni said.
Flechet agreed with Lanni, whom he attended the town hall with, and had his own list of prepared questions, should he have been called on.
He planned to ask about replenishing the restaurant revitalization fund, which he says is critical for minority and women-owned restaurant owners.
"I understand where the president was going; everyone deserves a living wage;" Flechet said. "But he was mixing answers. This wasn't about living wages. Anybody who works Thunderdome or Taste of Belgium make more than $15 an hour. I don't know that he fully understands the challenges we are facing."
"If we cannot find workers, restaurants cannot survive," Flechet said.
USA TODAY 21 July, 2021 - 09:24pm
As delta variant spreads, the seven-day average of daily vaccine doses in the US nationally dipped below 300,000, the first time since late December.
A link has been sent to your friend's email address.
A link has been posted to your Facebook feed.
President Joe Biden was fielded key questions on the economy, infrastructure and more in the CNN town hall. USA TODAY
President Joe Biden called for new – apolitical – messengers, including scientists, athletes and members of clergy, to help push people to get the vaccine during a CNN town hall Wednesday, as vaccine efforts plateau even as COVID-19 cases are again increasing.  
Among the messengers the country needs to get its vaccinations back on track, he said, were the nation's scientists - many of whom have been denigrated by anti-vaccination advocates and others recently.
"What we're doing is, number one, to restore America's faith in science, is listen to the scientists," Biden said Wednesday. "I'm not joking. I mean literally listen to the scientists and not interfere. Not rush anything. Just let the scientists proceed because they desperately want to get this right."
As the highly transmissible delta variant continues to spread, the seven-day average of daily vaccine doses administered in the United States nationally dipped below 300,000 on Thursday, the first time since late December. 
While vaccinations have slowed, COVID cases have risen. The seven-day average for daily new cases increased over the past two weeks to more than 37,000 cases on Tuesday. 
Biden also emphasized the importance of getting the support of "people of consequence" in specific communities in order to encouraged people to get vaccinated. 
"What we're getting is people of consequence, respected in the community, whether they're athletes, whether or not they're entertainers, whether they're just well respected," Biden added. 
One influential group helping encourage their community to get vaccinated is African American churches, according to Biden. 
"I have overwhelming support from the African American clergy," he said. "They are opening up their churches for vaccination centers."
More than 68% of adult Americans have received at least one dose of the COVID-19 vaccine, but the rate of vaccination has slowed significantly over the last month. Young adults aged 18-24 have the lowest vaccination rate and are the most likely to report they're unsure of getting vaccinated, according to a CDC Morbidity and Mortality Weekly Report.
Black Americans were also less likely to be vaccinated, with less than a quarter having been fully vaccinated as of mid-July, according to data from the CDC.
And according to a Kaiser Family Foundation report published in July, counties that voted for Biden had a vaccination rate of 46.7%, while those that voted for Trump had an average vaccination rate of 35%.
Both Republican and Democratic politicians have urged people to get vaccinated. 
"It never occurred to me after three highly effective vaccines were developed in under a year that we'd have difficulty getting Americans to take the shots, but that's obviously where we are," Senate Minority Leader Mitch McConnell, R-Ky., said Tuesday. "These shots need to get into everybody's arms as rapidly as possible or we're going to be back in a situation in the fall that we don't yearn for, that we went through last year."
Ron DeSantis, Florida's Republican governor, also pushed for vaccinations Wednesday. 
"Here's, I think, the most important thing with the data: if you are vaccinated, fully vaccinated, the chance of you getting seriously ill or dying from COVID is effectively zero," DeSantis said Tuesday in St. Petersburg, Florida. "If you look at the people who are being admitted to hospitals, over 95 percent of them are either not fully vaccinated or not vaccinated at all. These vaccines are saving lives. They are reducing mortality."
A link has been posted to your Facebook feed.
© 2021 USA TODAY, a division of Gannett Satellite Information Network, LLC.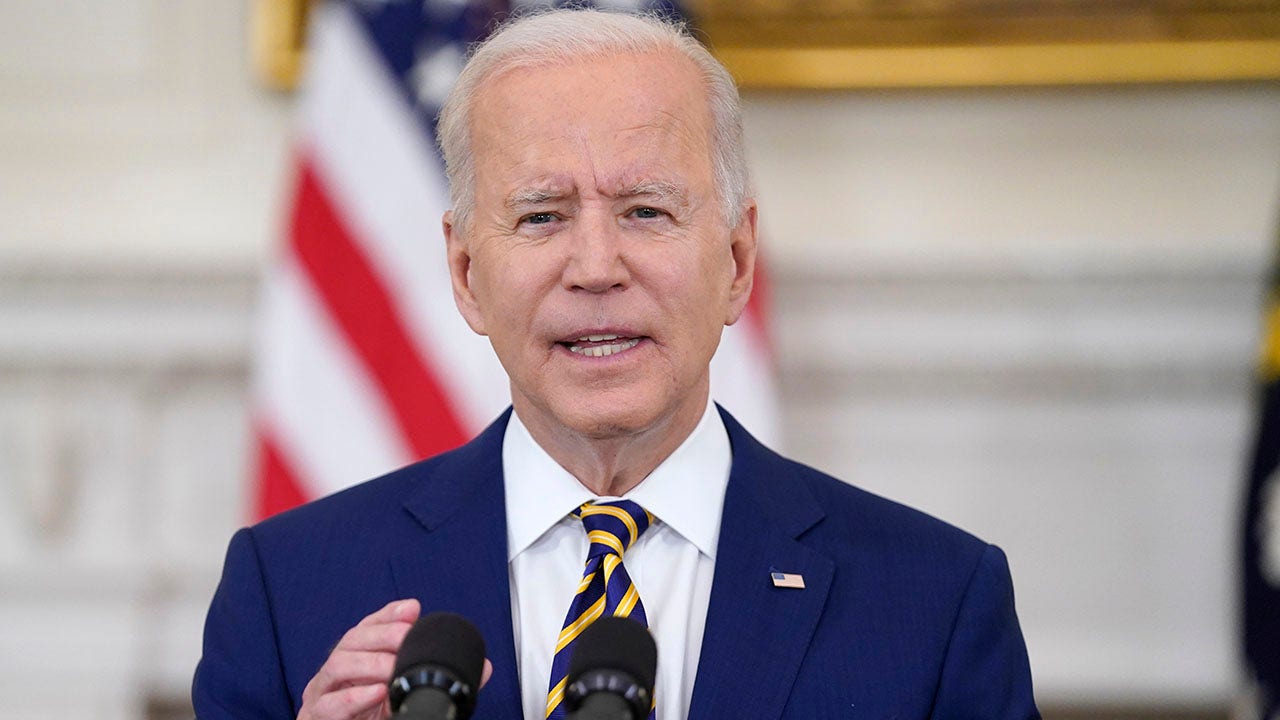 Fox News 21 July, 2021 - 08:41pm
This material may not be published, broadcast, rewritten, or redistributed. ©2021 FOX News Network, LLC. All rights reserved. Quotes displayed in real-time or delayed by at least 15 minutes. Market data provided by Factset. Powered and implemented by FactSet Digital Solutions. Legal Statement. Mutual Fund and ETF data provided by Refinitiv Lipper.
Paul Gigot interviews economist John Cogan
President Biden shot down calls to abolish the filibuster to clear the way for passage of the sweeping Democrat-backed elections overhaul, arguing that any effort to end use of the tactic despite a GOP outcry would jeopardize his entire legislative agenda.
"There's no reason to protect it, other than you're going to throw the entire Congress into chaos and nothing will get done," he said. "Nothing at all will get done. There's a lot at stake. The most important one is the right to vote, that's the single most important one."
Biden offered his stance during a CNN presidential town hall after an attendee and moderator Don Lemon pressed him to explain why he hasn't called for the filibuster to be abolished.
Demands among progressives to abolish the filibuster have escalated since June, when Senate Republicans blocked consideration of the "For The People Act" after Democrats failed to secure the 60 votes required to overcome the filibuster. Biden is a staunch advocate of the bill, arguing it is a necessary check on election integrity bills in GOP-led states that the president has likened to "Jim Crow in the 21st Century."
While he is unwilling to seek an end to the filibuster, Biden said "abuse" of the tactic is "pretty overwhelming" in the Senate. The president reiterated his stance that lawmakers should be required to "hold the floor," or deliver continued remarks in the Senate chamber, in order to maintain a filibuster.
Biden referenced former Sen. Strom Thurmond of South Carolina, who once conducted a 24-hour filibuster in a failed bid to halt passage of civil rights legislation in 1957.
"There were significantly fewer filibusters in those days, in the middle of the Civil Rights movement," Biden said.
In March, Senate Minority Leader Mitch McConnell warned that Biden risked a "scorched earth" Congress if he supported efforts to end the filibuster.
"I'm trying to bring the country together, and I don't want the debate to only be about whether or not we have a filibuster or exceptions to the filibuster or going back to the way the filibuster had to be used before," Biden added.
Get all the stories you need-to-know from the most powerful name in news delivered first thing every morning to your inbox
You've successfully subscribed to this newsletter!
This material may not be published, broadcast, rewritten, or redistributed. ©2021 FOX News Network, LLC. All rights reserved. Quotes displayed in real-time or delayed by at least 15 minutes. Market data provided by Factset. Powered and implemented by FactSet Digital Solutions. Legal Statement. Mutual Fund and ETF data provided by Refinitiv Lipper.
WJW FOX 8 News Cleveland 21 July, 2021 - 04:05am
WASHINGTON (AP) — President Joe Biden just can't quit Ohio — even if it rejected him in last year's election.
The president travels to Cincinnati on Wednesday to push his economic policies. It's the third visit of his presidency to Ohio, the only state Biden lost that he has visited multiple times as president.
Ohio was once an electoral prize that could decide who occupied the White House, but its embrace of Republicans has tightened over the past decade.
The visit is a testament to Biden's belief that going straight to voters will help to cross a barbed political divide.
Copyright 2021 Nexstar Media Inc. All rights reserved. This material may not be published, broadcast, rewritten, or redistributed.
Trademark and Copyright 2021 The Associated Press. All rights reserved.
LOS ANGELES, Ca. (WJW) -- Two men are seen in a surveillance video walking out of a TJ Maxx in California with arms full of stolen items.
CLEVELAND, Ohio (WJW) – Christmas in July is getting a bigger celebration this year.
"He gave his life for our country," said Lane Martin, Captain Edward Glenn Walker's nephew.