Matthew Yglesias
mattyglesias
Today's Biden executive order on competition seems to suggest more measures will come on prescription drug pricing, which I'd kind of thought was getting dropped. pic.twitter.com/sEPtYmoWJm
Maria Bartiromo
MariaBartiromo
Monica Crowley on Biden executive order targeting American economy, Big Tech video.foxbusiness.com/v/6263011793001/?playlist_id=3166411554001 @MorningsMaria @FoxBusiness @MonicaCrowley

nilay patel
reckless
New Biden executive order encourages the FCC to bring back net neutrality and enforce clearer pricing labels for ISPs, along with many other things to increase competition in tech www.theverge.com/2021/7/9/22569869/biden-executive-order-right-to-repair-isps-net-neutrality
Fakhr-e-Alam
falamb3
Biden to sign executive order aimed at cracking down on Big Tech business practices www.cnbc.com/2021/07/09/biden-to-sign-executive-order-aimed-at-cracking-down-on-big-tech-business-practices.html?__source=iosappshare%7Ccom.apple.UIKit.activity.CopyToPasteboard
All in the name of promoting competition in the US economy
That includes internet service providers, as Biden will encourage the Federal Communications Commission to restore net neutrality rules undone during the prior administration, require providers to report prices and subscription rates, and prevent ISPs from making deals with landlords that limit tenants' choices.
Right-to-repair efforts should get a shot in the arm as the Federal Trade Commission is now tasked with trying to "limit powerful equipment manufacturers from restricting people's ability to use independent repair shops or do DIY repairs." It also includes language spurring the FTC to place bans or limit on non-competes that have been common in the tech industry.
And when it comes to Big Tech, the administration's agenda now specifically includes a mandate to require "greater scrutiny of mergers, especially by dominant internet platforms, with particular attention to the acquisition of nascent competitors, serial mergers, the accumulation of data, competition by 'free' products, and the effect on user privacy." Via the FTC, the Biden administration plans a push to place more rules on surveillance and data collection, which should affect many of the largest tech companies in the world.
In the document, the administration claims that 72 initiatives are being undertaken to promote competition and raise wages, although it will be up to the various agencies, as well as Congress, to provide funding and action to make these things happen.
Subscribe to get the best Verge-approved tech deals of the week.
Check your inbox for a welcome email.
Read full article at Engadget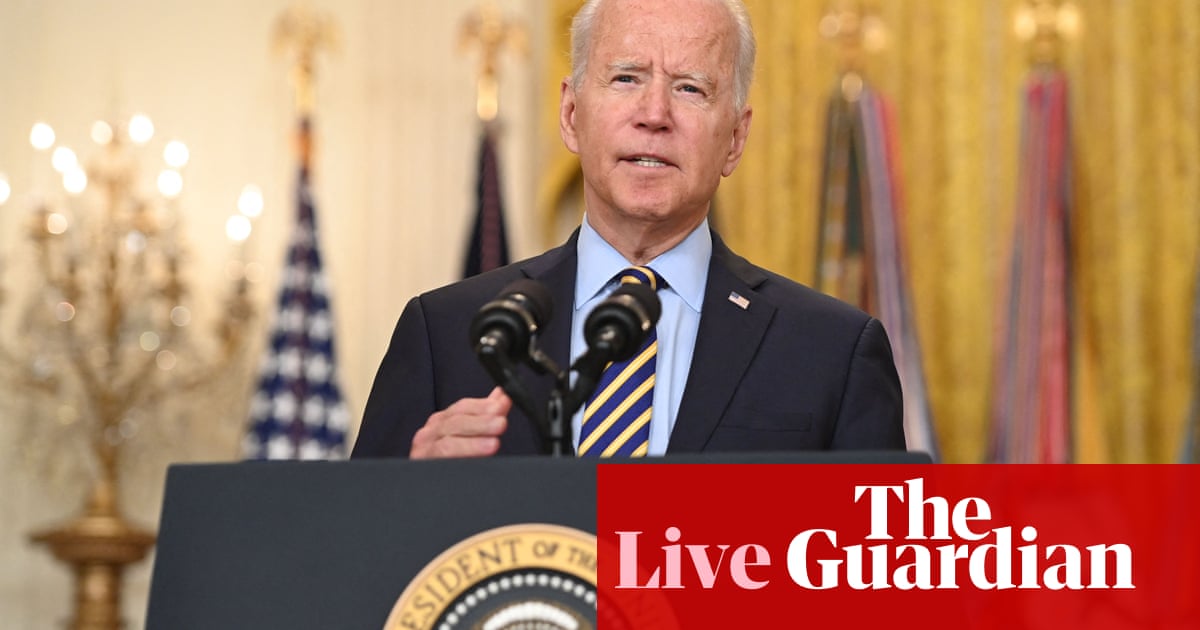 The Guardian 09 July, 2021 - 11:11am
The US Immigration and Customs Enforcement agency has officially announced its new policy to avoid detaining pregnant, nursing and post-partum women in its facilities.
"ICE is committed to safeguarding the integrity of our immigration system and preserving the health and safety of pregnant, postpartum and nursing individuals," the acting ICE director, Tae D. Johnson, said in a statement.
"Given the unique needs of this population, we will not detain individuals known to be pregnant, postpartum or nursing unless release is prohibited by law or exceptional circumstances exist."
The new policy reverses a Trump administration directive that resulted in thousands of additional pregnant and post-partum women being held in ICE facilities.
The announcement marks Joe Biden's latest effort to take a more humane approach to immigration than his predecessor did, but Republicans argue that the president's approach has encouraged more migrants to attempt to enter the US.
Another potential problem for schools: the CDC recommends that schools promote vaccinations for eligible students but not require them.
That will result in classrooms where some students are fully vaccinated and others aren't, complicating policies on mask usage.
On top of that, coronavirus vaccines are only available to students over the age of 12, so many elementary school students are not yet eligible to get their shot.
"It would be a very weird dynamic, socially, to have some kids wearing masks and some not. And tracking that? Teachers shouldn't need to be keeping track of which kids should have masks on," Elizabeth Stuart, a John Hopkins University public health professor, told the AP.
However, schools should still practice physical distancing between desks, the Centers for Disease Control and Prevention said in its latest guidance.
"CDC recommends schools maintain at least 3 feet of physical distance between students within classrooms, combined with indoor mask wearing by people who are not fully vaccinated, to reduce transmission risk," the agency said.
"When it is not possible to maintain a physical distance of at least 3 feet, such as when schools cannot fully re-open while maintaining these distances, it is especially important to layer multiple other prevention strategies, such as indoor masking."
The physical distancing recommendation underscores that schools will still have many logistical challenges when students return in the fall, even as officials emphasize the importance of in-person instruction.
Vaccinated teachers and children don't need to wear masks while in the classroom, the Centers for Disease Control and Prevention said today.
In its updated guidance on best coronavirus-related precautions for schools, the CDC indicated students and teachers can follow the agency's broader mask guidance, which says fully vaccinated people do not need masks in most settings.
K-12 administrators, teachers, and staff: CDC has updated guidance to support safe in-person learning at K-12 schools while preventing the spread of #COVID19. More: https://t.co/EY4kdEs1cg pic.twitter.com/Jo9ZugE7Hh
As of now, anyone 12 years of older can receive a coronavirus vaccine in the US, meaning many elementary school students are not vaccinated.
"Masks should be worn indoors by all individuals (age 2 and older) who are not fully vaccinated," the CDC said in its guidance. "Consistent and correct mask use by people who are not fully vaccinated is especially important indoors and in crowded settings."
The CDC also emphasized the importance of in-person instruction for children, as schools start to make their plans to return in the fall.
"Students benefit from in-person learning, and safely returning to in-person instruction in the fall 2021 is a priority," the agency said.
The Immigration and Customs Enforcement agency is enacting a new policy to avoid detaining pregnant, post-partum and nursing women in their facilities, according to multiple reports.
The Washington Post reports:
The policy adds to the growing list of immigrants exempt from arrest or deportation for violating civil immigration laws. Critics have said that Biden is abandoning his responsibility to enforce U.S. laws, but the president has said he wants a more humane approach to immigration, especially for parents and children arriving in increasing numbers from regions such as Central America. ...
The policy revokes a 2017 Trump administration directive that 'ended the presumption of release for all pregnant detainees.' ICE detained nearly 2,100 pregnant women the following year, a 52 percent jump over the last calendar year of the Obama administration, according to a Government Accountability Office report.
The agency is expected to formally announce the new policy later today, so stay tuned.
Chuck Schumer's letter to his fellow Democratic senators also included an interesting line about potential supreme court vacancies.
"As always, Senate Democrats stand ready to expeditiously fill any potential vacancies on the Supreme Court should they arise," the majority leader said.
Schumer's letter comes as many progressives urge supreme court Justice Stephen Breyer to retire in order to allow Joe Biden to fill his seat with a younger, liberal judge. (Breyer will turn 83 next month.)
But so far, Breyer has given no indication that he intends to retire. The supreme court wrapped up its most recent term last week.
Senate majority leader Chuck Schumer said today that efforts to pass two infrastructure bills could impact the chamber's planned August recess.
In a "Dear colleague" letter released this morning, the Democratic leader said, "My intention for this work period is for the Senate to consider both the bipartisan infrastructure legislation and a budget resolution with reconciliation instructions, which is the first step for passing legislation through the reconciliation process.
"Please be advised that time is of the essence and we have a lot of work to do. Senators should be prepared for the possibility of working long nights, weekends, and remaining in Washington into the previously-scheduled August state work period."
Senators are working to turn the bipartisan infrastructure framework into an actual bill, as Democrats simultaneously start the process to pass a separate infrastructure bill via reconciliation, meaning they can get it approved without Republican support.
Much work remains to be done, and it now appears the lawmakers' negotiations could spill over into the August recess, which will likely irk senators of both parties.
North Carolina members of the Sons of Confederate Veterans (SCV) collaborated with other neo-Confederate and far-right groups in failed efforts to preserve Confederate monuments in the state, according to emails, documents and videos reviewed by the Guardian.
Members of the coalition of groups protesting the removal of Confederate monuments include a man with simultaneous membership in SCV and League of the South (LOS), and at least one person who attended the rally at the Capitol in Washington DC on 6 January, which turned into an attack on the building.
The SCV is a neo-Confederate group dedicated to preserving what it sees as southern heritage, in particular Confederate statues and war memorials, in spite of the rise of Black Lives Matter antiracism protests, which frequently target such statues as memorials to racism and slavery.
James Smithson, a member both of SCV and the SCV's Mechanized Cavalry (SCVMC), a motorcycle-riding "special interest group" attached to the organization, sent an after-action email to members after a 14 September 2019 rally in Pittsboro, North Carolina, organized in defense of a statue of a Confederate soldier that had stood outside the city's courthouse since 1907.
The email reported on the rally as a "win" for the organization, though the statue was removed by the city the following November.
Take a listen to the latest Politics Weekly Extra podcast: After a rocky few weeks for Kamala Harris, I spoke to Lawrence Haas, former communications director for Al Gore, about the ins and outs of being a successful second in command to the president.
Sorry your browser does not support audio - but you can download here and listen https://audio.guim.co.uk/2021/07/08-51069-gdn.pw.210709.ds.Kamala_Harris_as_VP.mp3
According to a fact sheet released by the White House, the executive order that Joe Biden will sign today includes "72 initiatives by more than a dozen federal agencies to promptly tackle some of the most pressing competition problems across our economy".
Among other things, the order will ban or limit non-compete agreements to make it easier to change jobs and raise wages in certain industries.
In the airline industry, the administration is requiring companies to provide clear, upfront disclosures about add-on fees and making it easier for customers to get refunds.
The order will also ease the process of switching banks by requiring banks to allow customers to take their financial data with them to another company.
On the enforcement side, the order calls on the justice department and the Federal Trade Commission to "enforce the antitrust laws vigorously" and "challenge prior bad mergers" when appropriate.
The blog will have more details on the order coming up, so stay tuned.
Brian Deese, the director of the White House National Economic Council, described the executive order as an opportunity to reset anti-trust laws.
The economic expert noted some data suggests wages are as much as 17% lower in industries with more corporate consolidation.
"The impulse for this executive order is really around, where can we encourage greater competition across the board?" Deese said.
Greetings from Washington, live blog readers.
Later today, Joe Biden will sign an executive order "promoting competition in the American economy," according to his official schedule from the White House.
Politico reported on the executive order last week:
It would also mark a big shift in the government's approach to the concerns about monopolies that have swelled during the 21st century: No longer content to just enforce antitrust laws, the Biden administration would use federal power to actively spark competition in a vast array of businesses.
The executive order is the latest sign of Biden's focus on anti-trust issues, which has pleased progressives who have been pushing the federal government to crack down on corporate power for years.
Biden's efforts to rein in corporate power also extend to his infrastructure plans, as he has called on major companies to pay their "fair share" in taxes to help fund his proposals.
Yahoo Finance 09 July, 2021 - 11:10am
Yahoo Finance 09 July, 2021 - 11:10am
The president's order asks the Federal Trade Commission to limit or ban noncompete agreements, address unnecessary occupational license requirements, and revise guidance for sharing wage information between HR professionals.
"Barriers to competition are also driving down wages for workers," the White House said in a statement on Friday. "When there are only a few employers in town, workers have less opportunity to bargain for a higher wage and to demand dignity and respect in the workplace."
Noncompete agreements prevent workers from going to a competitor or starting a competing business within a certain period after leaving their previous job. Between 36 million and 60 million private-sector workers were subject to noncompete agreements in 2019, according to estimates by the Economic Policy Institute.
"The only economic leverage that non-unionized workers have is the implicit threat that they could quit and go somewhere else," Heidi Shierholz, senior economist and director of policy at the Economic Policy Institute, told Yahoo Money. "Noncompete agreements reduce wages. Your employer doesn't have to pay you bigger wages if they know that you don't have outside options."
Limiting noncompete agreements or making them unenforceable — as Biden's order sets out to do — may not be enough, according to Shierholz. Banning them instead would give workers more leverage, she said.
For instance, noncompete agreements are unenforceable in California, but some research has found that they still suppress wages because workers often don't know they can't be sued by their employers, according to a 2020 paper by the Journal of Law, Economics, and Organization.
Biden's order also asks the FTC to ban "unnecessary" restrictions on occupational licensing. About 30% of U.S. jobs require this kind of licensing, according to estimates by the Federal Trade Commission. But these restrictions stifle entry into these occupations, limit job growth, and make moves between states more difficult, according to Alexander Colvin, a labor relations law professor at Cornell University.
"Research has found that occupational licensing is quite widespread and really does inhibit a lot of workers from entry into jobs and business opportunities that they otherwise would be able to take advantage of," Colvin told Yahoo Money. "This is quite significant to these potential rules which would really affect the labor force a lot."
Such licensing particularly burdens military spouses, with 1 in 3 of them working in a field requiring a license while being subject to moves every few years, according to data by the Department of Defense.
The executive order also asks the FTC and the Department of Justice to strengthen guidance to prevent employers from sharing wage and benefit information with one another to suppress wages.
Current guidance allows third parties to make wage data available to employers without being subject to antitrust scrutiny. But workers aren't entitled to know how their compensation stacks up against the pay of other workers with similar experience and skills, key information that could help them negotiate better wages.
"As a package, [it's] clearly a coordinated effort to try and shift the labor market functions to give more power to workers," Colvin said. "It's clearly a pro-wage growth agenda that the administration is trying to push here."
Denitsa is a writer for Yahoo Finance and Cashay, a new personal finance website. Follow her on Twitter @denitsa_tsekova
Unvaccinated travellers shouldn't expect to come to Canada anytime soon, according to Prime Minister Justin Trudeau.
Noncompete agreements prevent employees who leave one job from taking another potentially better paid one at a competing company. "The executive order will call on the FTC (Federal Trade Commission) to adopt rules that could help to curtail (these) agreements," Psaki said.
The U.S. Capitol Police force's plan to open field offices in California and Florida in the wake of the Jan. 6 riot has critics warning of government overreach "nightmare scenario."
"There is no one-size-fits-all approach that will work for every single community," the health department said.
So what is it about our past relationships, situationships, or even just one night stands that makes us all sort of embarrassed?
FETHI BELAIDCoroners in Tunisia—which is experiencing its fourth and worst wave of the COVID-19 pandemic— have run out of space, meaning the dead are often left in crowded hospital rooms alongside still suffering patients for 24 hours. The morgues are full, the health ministry says. Even the dead, it seems, are suffering."We are in a catastrophic situation … the boat is sinking," Tunisia's health ministry spokesperson Nisaf Ben Alaya told reporters this week. "The health system collapsed, we can
Afghan Air Force Major Dastagir Zamaray had grown so fearful of Taliban assassinations of off-duty forces in Kabul that he decided to sell his home to move to a safer pocket of Afghanistan's sprawling capital. Instead of being greeted by a prospective buyer at his realtor's office earlier this year, the 41-year-old pilot was confronted by a gunman who walked inside and, without a word, fatally shot the real estate agent in the mouth. At least seven Afghan pilots, including Zamaray, have been assassinated off base in recent months, according to two senior Afghan government officials.
Stocks gained on Friday to reverse some of Thursday's losses, when the three major indexes pulled back from record levels as concerns over the pace of the economic recovery flared.
Former President Donald Trump called Democratic Virginia gubernatorial candidate Terry McAuliffe a "political HACK" as he railed against the commonwealth for critical race theory pushes in some of its public schools.
Why the prospect of cases in this country following the trajectory of the U.K. fills me with dread
Michigan Democratic Attorney General Dana Nessel agreed to open an investigation into individuals who may have personally profited off election fraud claims that a Republican-led state Senate committee determined to be false.
MEXICO CITY (Reuters) -A Mexican news outlet broadcast video on Thursday of a brother of President Andres Manuel Lopez Obrador receiving stacks of cash several years ago, just ahead of a national vote in which the now-ruling party was competing in its first election. The new video marks the second time that a brother of the president can be seen accepting large amounts of cash, several years before Lopez Obrador rode to a landslide presidential election victory in 2018 on a pledge to root out rampant corruption. In the video released late on Thursday by Mexican news outlet Latinus, Martin Jesus Lopez Obrador can be seen receiving an envelope stuffed with a large stack of bills, which a narrator says totaled 150,000 pesos ($7,500) and were part of a recurring set of payments.
Photo Illustration by The Daily Beast/GettyRepublicans will do just about anything to deflect from the seriousness of the Jan. 6 Capitol insurrection.First, it was the refusal by some to go through metal detectors. Then there was the claim that the riot was actually just an unruly tour—despite the entire world seeing otherwise. Now, Trump and his posse of far-right Republicans are trying to turn rioter Ashli Babbit's death into a whodunit and framing the Democrats as the perpetrators.Which, as S
President Joe Biden is set to sign on Friday an executive order that the White House bills as an effort to target anticompetitive practices in tech, health care and other parts of the economy while boosting workers' wages and consumer protections. The sweeping order includes 72 actions and recommendations that the White House says "will lower prices for families, increase wages for workers, and promote innovation and even faster economic growth." The order includes calls for banning or limiting noncompete agreements to help boost wages, allowing rule changes that would pave the way for hearing aids to be sold over the counter at drugstores and banning excessive early termination fees by internet companies.
James Solages is one of two Haitian Americans the government said it arrested in connection with the killing at the presidential residence The Haitian government has accused a Florida entrepreneur and former security guard of being involved in the assassination of Jovenel Moïse. James Solages is one of two Haitian Americans the government said it arrested in Port-au-Prince in connection with Wednesday's killing at the presidential residence. The other was named as Joseph Vincent, but there is li
They had argued the policy breached their human rights, but the Supreme Court dismissed their case.
"Everyone deserves to know who killed her," Greene said. Congresswoman Marjorie Taylor Greene (R-GA) has sparked outrage after comparing the death of White House insurrectionist Ashli Babbitt to the death of George Floyd. Speaking to Greg Kelly Wednesday night during an interview with Newsmax, the controversial lawmaker reacted to former President Donald Trump's defense of the white Americans who stormed the U.S. Capitol in January, including his comments on Babbitt's death.
Paypal (PYPL)co-founder Peter Thiel's $5 billion Roth individual retirement account balance has some members of Congress second-guessing the tax policies of these investment vehicles. Massachusetts Democratic Representative Richard Neal, who chairs the House Ways and Means Committee, has requested a proposal to "stop IRAs from being exploited," he told ProPublica, which first reported about Thiel's Roth IRA. ProPublica's report used tax documents to reveal the tech giant's account grew from less than $2,000 in 1999 to $5 billion today, thanks in part to investments in private securities.
When the coronavirus ravaged Florida, Gov. Ron DeSantis defiantly bucked mask mandates. In the two weeks since a 12-story condo tower in this coastal community suddenly crumbled, killing at least 64 people, DeSantis has stood somberly with local officials, including Democrats, as they assessed the damage.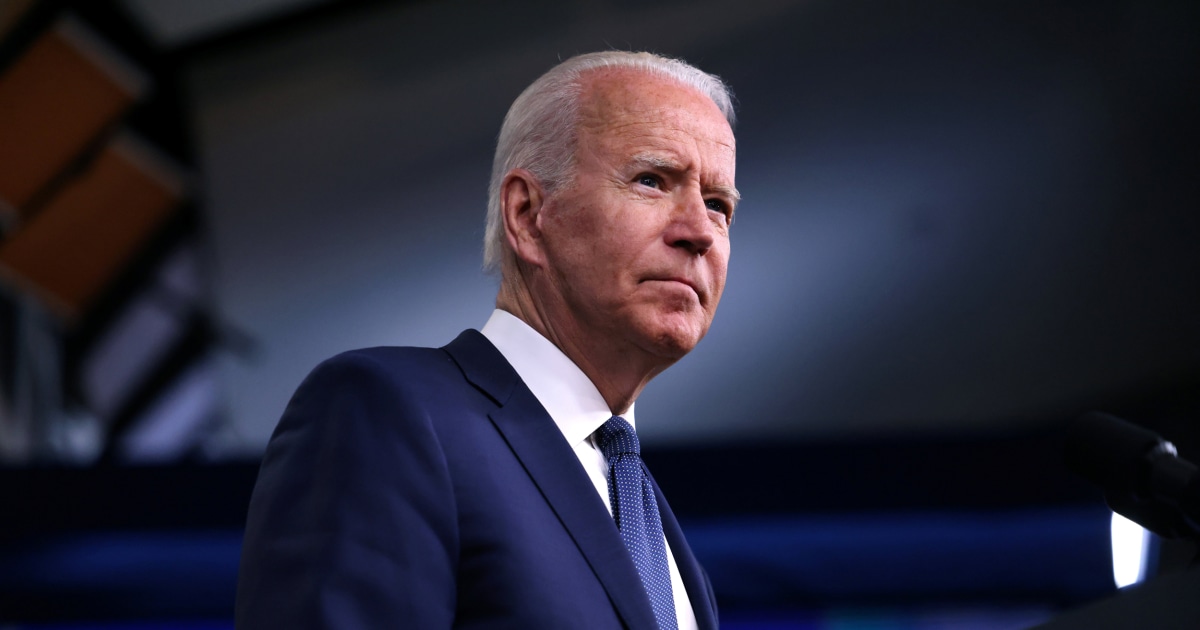 NBC News 09 July, 2021 - 06:58am
The executive order includes 72 initiatives across more than a dozen government agencies that address anti-competitive practices in the health care, transportation, banking and tech industries, according to a White House release.
Under the order, the federal government would ban or limit noncompete agreements to make it easier for people to switch jobs. It encourages the Federal Communications Commission to ban "excessive" fees for early termination of internet service, and to prevent these providers from "making deals with landlords that limit tenants' choices," the fact sheet said.
The order will also direct the Department of Transportation to issue rules that require airlines to clearly disclose fees on luggage and flight changes and requiring they refund fees when service isn't provided or baggage is delayed.
To reduce health care costs, the order will ask the Food and Drug Administration to work with states and tribes to import prescription drugs from Canada. It will also direct the Department of Health and Human Services to propose rules that would allow hearing aids to be sold over the counter.
Biden's order will direct his administration to scrutinize mergers of Big Tech platforms more closely and would allow the Department of Justice and the Federal Trade Commission to "challenge prior bad mergers that past administrations did not previously challenge." The order will also encourage the FTC to create rules on the accumulation of personal information and other data by these companies and would restore net neutrality rules that were undone during the Trump administration.
In the agricultural sector, the order will address anti-competitive industry practices with new rules aimed at making it easier for farmers to bring lawsuits, prohibiting the underpayment of chicken farmers and requiring transparency in meat labeling.
The president's order will also form a White House Competition Council that will monitor progress on these initiatives.