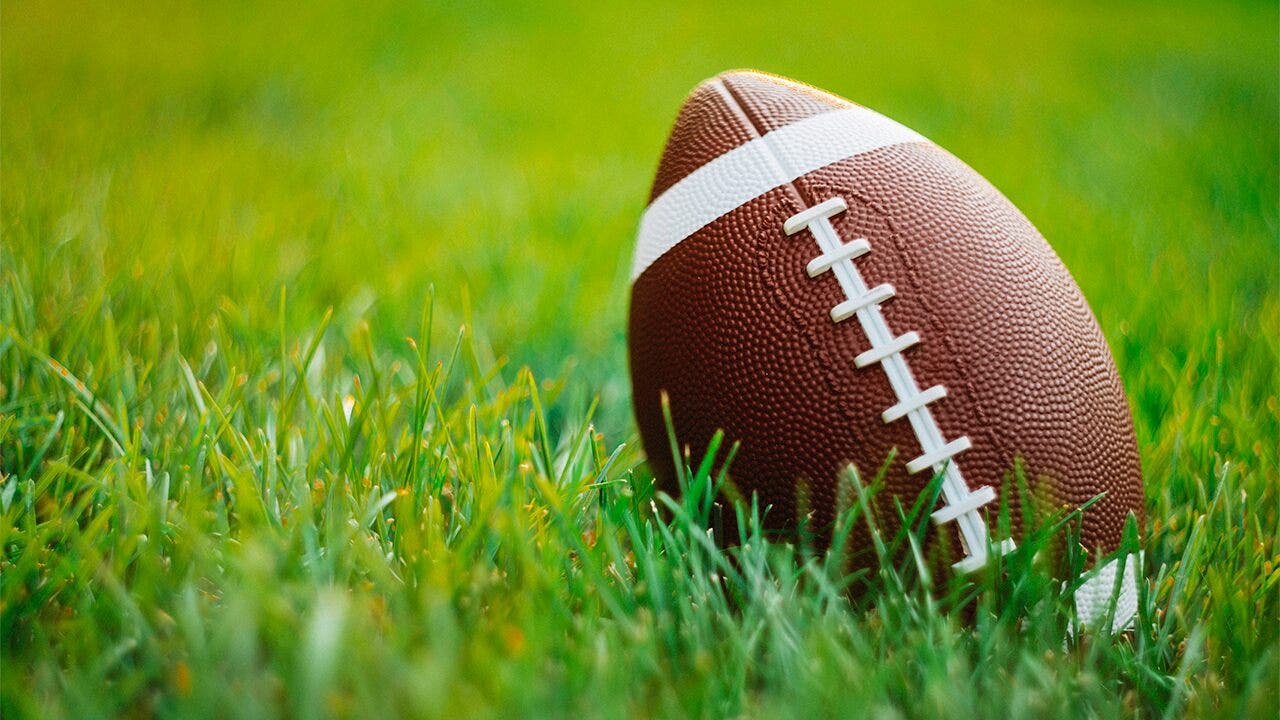 This material may not be published, broadcast, rewritten, or redistributed. ©2021 FOX News Network, LLC. All rights reserved. Quotes displayed in real-time or delayed by at least 15 minutes. Market data provided by Factset. Powered and implemented by FactSet Digital Solutions. Legal Statement. Mutual Fund and ETF data provided by Refinitiv Lipper.
Fox News Flash top headlines are here. Check out what's clicking on Foxnews.com.
Bishop Sycamore's football season appears to be in peril as the remaining opponents on its schedule dropped out of their matchups in the wake of the blowout loss against IMG Academy and the fallout afterward.
With four opponents dropping out earlier in the week, the mysterious Ohio school was still set to play St. Edward of Lakewood, Ohio, St. Thomas More of Oakdale, Conn., and St. Frances Academy of Baltimore.
Max Preps removed St. Frances Academy from Bishop Sycamore's schedule on its website. St. Frances athletic director Nicholas L. Myles told NBC News that Bishop Sycamore was not on its schedule anymore.
Fox News reached out to all schools mentioned but didn't immediately receive a comment.
DeMatha Catholic, Duncanville, Liberty and Johnson Central all decided to cancel games with Bishop Sycamore earlier in the week. Bishop Sycamore had a schedule filled with top-tier programs across the U.S., but after losing to IMG Academy 58-0 and the revelation the school duped a marketing agency to be put into a national television slot, the handful of teams has reconsidered playing the school.
Bishop Sycamore's new football coach, Tyren Jackson, asked on his Twitter whether there was anyone out there who wanted to play.
The Ohio school had come under fire after it appeared to dupe a marketing agency into putting it into a spotlight game on ESPN against IMG Academy. Paragon Marketing Group did the scheduling for the GEICO ESPN High School Football Kickoff, and not ESPN, according to the Columbus Dispatch.
Rashid Ghazi, the president of Paragon, told Awful Announcing he wishes he would've done more research into Bishop Sycamore before the game and said the organization was unaware the team had also played Friday night.
According to Awful Announcing, ESPN said it voiced its concerns about Bishop Sycamore when it couldn't find any information about the school. Bishop Sycamore reportedly bailed on a conference call and provided a fact sheet before Sunday's game claiming some of its players have been recruited by Division I schools.
Andre Peterson, the founder and director of the school, pushed back on allegations the school was a "scam."
"There's nothing that I've gotten out of this that would constitute it as a scam because I'm not gaining anything financially from what we're doing. The reality of it is that I have a son (Javan) that's also in the program and has been in the program for four years," he told USA Today.
"If it's a scam and the kids are not going to school and not doing what they're supposed to do, then I'm literally scamming myself. And most importantly, I'm hurting my own son. So when people say stuff like that … I would literally be taking my son's future and throwing it in the trash."
Ryan Gaydos is the Sports Editor for Fox News and Fox Business. Follow Ryan Gaydos on Twitter @Gaydos_ and if you got a tip you can email Ryan at Ryan.Gaydos@fox.com
This material may not be published, broadcast, rewritten, or redistributed. ©2021 FOX News Network, LLC. All rights reserved. Quotes displayed in real-time or delayed by at least 15 minutes. Market data provided by Factset. Powered and implemented by FactSet Digital Solutions. Legal Statement. Mutual Fund and ETF data provided by Refinitiv Lipper.
Read full article at Fox News
State College News 02 September, 2021 - 04:00am
Amid a controversy last weekend when the Bishop Sycamore High School football team played IMG Academy in football, a lot has been written about that school. But what about the Bishop Sycamore from which this school has drawn its name? What does anyone really know about Bishop Sycamore the man?
My "research" found the life of a holy man, but a man with a dark cloud shading his legacy. For that, many are calling for the cancellation of Bishop Sycamore, demanding that his name be taken off every school in the country bearing his name.
Bishop Sycamore was a French priest who came to North America in the early 1700s on a Catholic mission to New France.
As a young priest Father Foutaise, as he was known then, traveled across the Atlantic and arrived in Montreal. From there he traveled down the St. Lawrence River and over land to the French Fort at Detroit where he spent time converting the local indigenous population.
A few years later, he helped establish another French outpost on the future site of Toledo, Ohio. But he wanted to push his faith further eastward along Lake Erie. Thousands of miles away Pope Clement XI was so impressed by his missionary work that he elevated Father Foutaise to bishop to administer the area of New France along the Great Lakes.
He received the letter elevating him to bishop in 1710 while he was standing under a Sycamore tree. He was so moved that he took the name Bishop Sycamore. He built a small chapel and village on that site along the shores of Lake Erie not far from present-day Cleveland. They called it "Erreur Sur Le Lac."
The chapel stood on that site for a decade before a raid by English colonists burned it down, marking the first of many victorious raids into northeast Ohio by forces from western Pennsylvania. Local lore has it that the cedar-colored uniforms of Bishop Sycamore's militia were called "browns" and they referred to the thieving marauders from Pennsylvania as "stealers."
The post at Erreur Sur Le Lac was vibrant, trading in furs and lumber. But soon the surrounding area was cleared of fur-bearing animals, deforested of trees and the once-thriving settlement fell on hard times.
Around this time Bishop Sycamore fell in love with a French woman who'd become widowed when her fur trapping husband was killed in an attack by a group of rabid beavers. The bishop was so taken by her beauty at the funeral that he struck up a friendship. She and her two sons were so despondent that Bishop Sycamore renounced his vows to marry her.
Upon leaving Ohio, he and his wife lived in Montreal until his death in 1742. Now centuries later a trove of Bishop Sycamore's writings have been found in an archive of McGill University in Montreal.
During recent examinations of his archives, controversy has exploded around the life of the heretofore revered Bishop Sycamore. And the re-examination has led to calls to cancel Bishop Sycamore based on key documents from his life.
For his decision to support the fur industry, and wear fur, he has been labeled a "fur enabler." He has been attacked for cultural and arboreal appropriation for taking the name Sycamore. And environmental groups have denounced him for deforesting large tracts of land.
And now FIFA has weighed in with threats to sanction soccer teams from France, Canada and Vatican City in the next World Cup for violations committed by Bishop Sycamore. These sanctions stem from his conduct as a coach.
In Montreal he coached a private school team of players in a sport that was the forerunner to modern soccer. The team of players dominated the local leagues winning the New France Cup for five straight years from 1727 through 1731.
His papers now show that his team rosters were comprised of a small group of students from the private school where he taught, but also by a number of "ringers" who were local fur trappers and lumberjacks aged 23 through 30.
The papers also prove that the bovine bladders that were used as the soccer ball had less stuffing than the rules required. The deflation was a major advantage. The lower stuffing levels allowed his older team better bladder control against younger players for whom bladder control was not an issue.
These are just the controversies that have been uncovered so far. So, while the controversy over the high school that bears his name is likely to recede in time, the stain on Bishop Sycamore's personal legacy is certain to remain every bit as real as the biography written above.
StateCollege.com provides local news, entertainment, and information for State College, PA. We offer the latest breaking news and videos straight from the Centre County region in Central PA.
220 Regent Court, Suite B, State College, PA 16801
This site is protected by reCAPTCHA and the Google Privacy Policy and Terms of Service apply.
Deadline 02 September, 2021 - 02:41am
Days after a blowout loss on national television, Ohio Gov. Mike DeWine has launched an investigation into the high school football program at Bishop Sycamore and the school's legitimacy.
In a statement released by the governor's office, DeWine said the state Department of Education would investigate further into Bishop Sycamore regarding recent allegations against the charter school.
"Like many Ohioans, I am concerned by the recent reports and questions raised about Bishop Sycamore. While this weekend's football game brought concerns about the health and safety of players, it also raised red flags about the school's operations," DeWine said.
DeWine said schools like Bishop Sycamore "have an obligation under Ohio law to meet certain minimum standards," but whether Bishop Sycamore meets those standards is not entirely clear.
Bishop Sycamore High School, the supposed school in Columbus, Ohio, is not recognized by the Ohio High School Athletic Association and the Department of Education lists no charter school with its name, according to local TV station WCMH.
The school's official website, as of Wednesday, has been taken down for "site maintenance."
In an official filing to the Ohio Department of Education, Bishop Sycamore school officials say the school is "one of the best academic institutions in the country," according to The Columbus Dispatch.
However, concerns were raised after the school played against national football powerhouse IMG Academy in a prep football game this past Sunday on ESPN.
Both ESPN and Paragon, the marketing group that helps schedule and deliver high school matchups to the sports network, said they were unaware of the school playing on TV and "didn't have the number of highly recruited prospects" it said to have prior to the game scheduled.
"We regret that this happened and have discussed it with Paragon, which secured the matchup and handles the majority of our high school event scheduling," ESPN said in a news statement Tuesday. "They have ensured us that they will take steps to prevent this kind of situation from happening moving forward."
As of Wednesday, MaxPreps, an online website covering high school sports, had Bishop Sycamore scheduled to play several high school prep powerhouses this year, including St. Frances Academy in Baltimore, St. Thomas More in Connecticut and St. Edward in Lakewood, Ohio.
According to ESPN, Bishop Sycamore played six games last season, with a season record of 0-6.
WTAP-TV 01 September, 2021 - 01:28pm
Gov. Mike DeWine says he's asked Ohio's Department of Education to investigate whether Bishop Sycamore complies with minimum standards under Ohio law.
He says its 58-0 loss to Florida powerhouse IMG Academy on Sunday in Canton raised concerns about player safety as well as school operations.
Observers wondered how it ended up in the game in the first place.
The marketing group that scheduled the matchup says it was "misled" and should've had more thorough vetting.