After remaining range-bound for weeks, Bitcoin has once again lost the $30,000 support level for the first time since June 22 when the largest cryptocurrency touched a local bottom of $28,613.
It plunged to an intraday low of $29,547 on the Bitstamp exchange at 3:18 a.m. UTC.
Bitcoin's dominance, however, has spiked to nearly 46.8 percent, with altcoins of the likes of Binance Coin and XRP posting double-digit losses.
Ethereum, the second-largest cryptocurrency, is also down 8 percent.
The ongoing cryptocurrency bloodbath follows a recent stock market correction, which is believed to be a major catalyst behind a recent Bitcoin price drop.
Treasury Secretary Janet Yellen calling for a regulatory framework for stablecoins at a July 19 meeting of the President's Working Group on Financial Markets (PWG) might have also contributed to the strong bearish sentiment.
Last week, Scott Minerd of Guggenheim Partners predicted that the $30,000 support might crack under bearish pressure.
Minerd and some other analysts are predicting a drop to as low as $15,000.
Disclaimer: Any financial and market information given on U.Today is written for informational purpose only. Conduct your own research by contacting financial experts before making any investment decisions.
Read full article at U.Today
CNBC 20 July, 2021 - 04:00am
Bitcoin fell below $30,000 for the first time since Jun. 22 dragging other digital coins lower.
About $98 billion was wiped off the entire cryptocurrency market in 24 hours as of 12:29 a.m. ET on Tuesday, according to CoinMarketCap data.
Bitcoin was down more than 6% while ether fell nearly 9% and XRP tanked almost 10%, according to CoinDesk data.
The plunge in bitcoin came after a big sell-off in global stock markets. On Monday, the Dow Jones Industrial Average had its worst day since last October.
"There's been a broad sell-off in global markets, risk assets are down across the board," Annabelle Huang, partner at cryptocurrency financial services firm Amber Group, said.
There are "concerns of the quality and strength of economic recovery" and "broader risk assets turned weaker including high yields," Huang said. "Coupled with recent BTC (bitcoin) weakness, this just sent crypto market down further."
Since bitcoin's all-time high of nearly $65,000 in mid-April, its price has plunged over 50%.
A renewed crackdown in China on cryptocurrency trading and mining has weighed on the bitcoin price.
Major regions responsible for bitcoin mining in China have forced operations to shut down. Bitcoin mining is an energy-intensive process that facilitates bitcoin transactions and creates new coins.
China's central bank has also spoken to finance and fintech companies reminding them not to offer crytpo-related services to customers.
China banned local cryptocurrency exchanges in 2017 forcing them to move offshore. That did not stop Chinese traders buying and selling digital coins. But the tough actions this year from Chinese regulators has looked to further tighten restrictions on trading and mining.
"All signals are red as BTC (bitcoin) continues to be weighed down by China's ultimate crypto ban and worsening macro economic conditions from a surge in covid variants," said Jehan Chu, founder of cryptocurrency-focused venture capital and trading firm Kenetic Capital.
Regulators around the world are also looking more closely at the crypto space.
Binance, the world's largest cryptocurrency exchange, last month was barred by U.K. authorities from carrying out any regulated activities in the country. Regulators in Japan, Canada and Thailand have also issued warnings about Binance.
"In general we're seeing more regulatory focus on crypto and bitcoin," said Vijay Ayyar, head of business development at cryptocurrency exchange Luno.
Bitcoin's fall below $30,000 could be important, according to Ayyar, who said the sell-off could go lower to test the $22,000 to $24,000 level.
From then on, bitcoin could trade in a range.
"I would see bitcoin between 20-40K ($20,000 to $40,000) for a while now before any bullishness returns," Ayyar said.
Kinetic Capital's Chu also sees potential selling ahead.
"Q1's crypto market momentum has stalled and is threatening further reversal potentially below the $25K levels," Chu said.
Got a confidential news tip? We want to hear from you.
Sign up for free newsletters and get more CNBC delivered to your inbox
Get this delivered to your inbox, and more info about our products and services. 
Data is a real-time snapshot *Data is delayed at least 15 minutes. Global Business and Financial News, Stock Quotes, and Market Data and Analysis.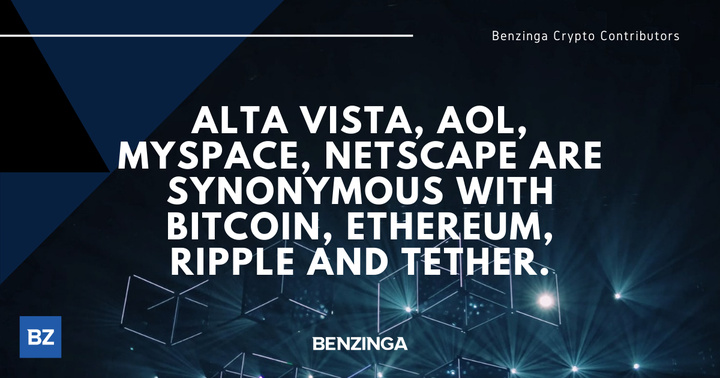 Benzinga 20 July, 2021 - 04:00am
Given the average age of crypto investors is under 30, the majority of the crypto community will have heard of MySpace and AOL but I bet a fair few have no idea what Netscape or Alta Vista were. Two of the biggest players in the early days of cyberspace have been all but removed from the living memory of the collective mind that is the current internet meta.
For those of you who were not around in the early days of the internet, AltaVista was the homepage of most people's browsers. It allowed a new world to open up before our eyes and allowed us to search for anything we wanted in a way that had never been possible before. The browser we were all using? Well, that would be Netscape! It came as a free CD on almost every computer magazine in the 90s and was bundled with most internet service provider packages.
You see, back then you had to use a CD to install your ISP settings onto your computer yourself. There was no cable guy coming around to install your fiber line and connect up your router. You just had a modem built into your PC and would dial a number to get onto the internet using your ISP CD. Netscape was the window to the world.
So why am I rattling on about Netscape and AltaVista? It is because they failed and disappeared into obscurity. Further, they weren't just "another search engine" or "another new browser" they were THE search engine and THE browser (granted there was healthy competition from Yahoo, Internet Explorer, etc) and they fell from the highest point to nothingness. At the time you could NEVER imagine Netscape, AOL, AltaVista, or Myspace going away. They were too big to fail and the technology was too revolutionary…
…wait a minute where have we heard that recently? Bingo…crypto.
So am I bearish on crypto? Do I think it's all going to zero? Well, how are you reading this article? You are using mostly likely Chrome, Firefox, or Safari over either a fiber, 3G, 4G, or 5G connection from an ISP that is less than 20 years old. The internet, the technology, everything that these failed companies stood for has become even bigger than we could even have imagined back then in the 90s. However, it is not the pioneers of the 90s who survive at the top today. When you look around the internet you quite often run into confirmation bias and echo chamber communities simply shouting about things that promote their own agenda. You only have to visit r/cryptocurrency, r/bitcoin or r/dogecoin to see posts that are unapologetically pro-crypto to the detriment of all other points of view. Conversely, if you visit r/buttcoin or r/cryptoreality you'll find people who believe bitcoin and blockchain will ultimately go to zero no matter what. If you try to argue the opposing points in their echo chamber you will likely be ridiculed, mocked, banned or all of the above (trust me I've had it happen from both sides). However, if you look at both sides of the argument you can start to paint a completely different picture, one that looks a lot like something out of the mid-90s to me.
Bitcoin (CRYPTO: BTC) is slow, energy-inefficient (compared to other cryptos, I'm not shilling the Elon argument here, I believe he's completely wrong on that), unregulated, volatile, easily manipulated, and has taken 12 years to get to where it is today. XRP (CRYPTO: XRP) is a lot faster, Ethereum (CRYPTO: ETH) has smart contracts, and we could go on with a list of crypto projects that are moving the blockchain space forward.
Still, is blockchain really the answer?
Many in the opposing corner argue that decentralized ledgers are nothing new and, in fact, centralized ledgers offer much more benefits than a decentralized system and that trustless architecture is never going to allow big business to scale.
From reading both sides of the argument my personal conclusion is that Blockchain may not be the final solution to changing the world that I originally thought it was. However, I do believe that it is the catalyst for a change as big as we saw in the 90s.
Blockchain has shown us that decentralization in entertainment, finance, supply chain management, art, music, and a hundred more industries have massive benefits when linked into an immutable record system like a ledger protected by either proof of work or proof of stake mechanisms.
However, no blockchain project comes close to the number of transactions per second possible on, say, the Visa network as it stands today. No company is going to accept slower payments, they want faster, more secure… better.
It is here that I started to learn more about Hashgraph. Now I'm not a Hedera shill by any means. However, Hashgraph is better than blockchain in pretty much every way except one… it is proprietary and patented by Hedera. Hashgraph can perform up to 5 million transactions per second compared to 100k on ETH 2.0 or the 7 on Bitcoin currently. There are talks that Bitcoin's lightning network could reach billions of transactions per second and Cardano claims it will reach 1 million. However, these are currently only theoretical for real-world implementation. My point? We are earlier than you might think to this next stage in our digital evolution. Could bitcoin disappear completely? Absolutely. Do I expect that to be the end of decentralized ledger-based data solutions? Not a chance. We are at a tipping point.
Personally, I have a stake in the traditional blockchain projects like Ethereum and Bitcoin but I'm hedging in other projects like Hedera Hashgraph (CRYPTO: HBAR), Vechain (CRYPTO: VET), Cardano (CRYPTO: ADA), Binance Smart Chain (CRYPTO: BSC) and keeping my ear to the ground for what comes next.
When it comes to investing in crypto projects, you can definitely get rich if you time the right investment into the next altcoin pump and dump project. But you're just as likely to lose it all on your next bet in the sh*tcoin casino. I have stopped referring to it as cryptocurrency as I feel it is wholly reductive to do so. Crypto and blockchain projects offer so much more to the world, why focus on one aspect, payments? Even DeFi doesn't really fit into the 'currency' sphere in the most part. We're not talking about CAKE, AAVE or UNI as being tokens to replace fiat. That talk only tends to really happen around a few projects, namely, Bitcoin, Ethereum, Tether, USDC, Dogecoin, Litecoin, BitcoinCash, BitcoinSV and XRP to name the major players.
Instead, I prefer "crypto" as a catch all term of everything decentralized ledger tokenization. I'm not trying to force terminology on anyone, I just think it's important to understand the stakes here. We have the potential to do amazing things with the basic tenants of this technology. A new monetary system is just one of them. Satoshi had a vision, but he had a vision of a tree, not the forest it could become.
So what to do? Well, right now? Read, watch, and listen. Take in everything that is going on around the space from all sides. I really think we're at the equivalent of the internet in 1994 (and there's data to suggest that) or even earlier than that. We're a long way off seeing what this technology can really do when it's sufficiently challenged and tested. Either way, I'm going to continue to produce content so feel free to follow me if you're interested in this. Alternatively, drop me a message on Twitter.
All of this means that the Facebook, Google, Amazon, and eBay of the decentralised ledger space hasn't been born yet! I want to watch out for the next game changing tech projects… because they are coming and it's highly likely it's not going to be the projects most people are betting on today.
Click here, or sign up for our newsletter to explore more of Benzinga's Cryptocurrency market coverage, in-depth coin analysis, data, and reporting.
© 2021 Benzinga.com. Benzinga does not provide investment advice. All rights reserved.
Read the Latest Sports Betting News, Analysis, and Odds on Benzinga!
$27 of crypto when you complete education
$25 in BTC when you deposit $100
4 free stocks when you depost $100
© 2021 Benzinga | All Rights Reserved
Cointelegraph 19 July, 2021 - 07:00pm
A lack of institutional demand and several bearish factors are complicating all efforts to pull Bitcoin price back above the $31,000 level.
Data from Cointelegraph Markets Pro and TradingView shows that a wave of mid-day selling pushed the price of BTC to a low of $30,400 before bulls arrived to provide support and lift the price back to $30,850.
The market as a whole continues to face an uphill battle as the miner exodus following China's crackdown on the mining industry has led to the fourth consecutive negative adjustment in the Bitcoin mining difficulty, a figure which has fallen by almost half since mid-May.
Insights into the current state of the Bitcoin network were provided in the newest report from Glassnode which set the stage by looking at the UTXO Realized Price Distribution, a metric that identifies on-chain volume profiles across different price groupings.
Current data shows that 10.5% of the circulating supply of BTC has transacted in the range between $31,000 and $34,300, the highest level seen since a price of $11,000.
While this indicates a healthy level of volume at the current level, it's important to note that should BTC price break lower, the next significant support levels are at $26,500, $23,300 and $18,800.
The market-wide pullback in May has led to a significant decline in interest from institutional investors, who now appear to be in risk management mode as BTC price struggles to climb higher.
Evidence of the decline in interest can be found by looking at the market price of GBTC, which continues to trade at an -11.0% to -15.3% discount, or by observing the net inflows to the Purpose ETF which has slowed down significantly. Data from Glassnode shows that the ETF saw a net outflow of -90.76 BTC, which is its largest outflow since mid-May.
Although institutional activity has been muted, on-chain deposits of BTC to exchanges continue with more than 28,700 BTC, the largest inflow in over a month and a half, taking place on July 16th.
Inflows during times of consolidation and corrections are often seen as a negative developments as they can result in increased selling which can lead to a short-term price breakdown.
Glassnode also pointed to the net inflow of 1,780 BTC to over-the-counter (OTC) trading desks in the past two weeks as "moving against the structural trend of outflows in place since November 2020."
Related: Institutions cautious as crypto products post weakest volume since October
The cryptocurrency market wasn't the only market that faced downward pressure on July 19 as a surge in Covid-19 cases led to a pullback in global financial markets.
The S&P 500, DOW and NASDAQ all closed the day down 1.59%, 2.09% and 1.06% respectively.
Out of the top 200 cryptocurrencies, the only two notable performances of the day were a 24% gain for Bitcoin Standard Hashrate Token (BTCST) and a 17% rally from Dash (DASH).
The overall cryptocurrency market cap now stands at $1.245 trillion and Bitcoin's dominance rate is 46.3%.
The views and opinions expressed here are solely those of the author and do not necessarily reflect the views of Cointelegraph.com. Every investment and trading move involves risk, you should conduct your own research when making a decision.