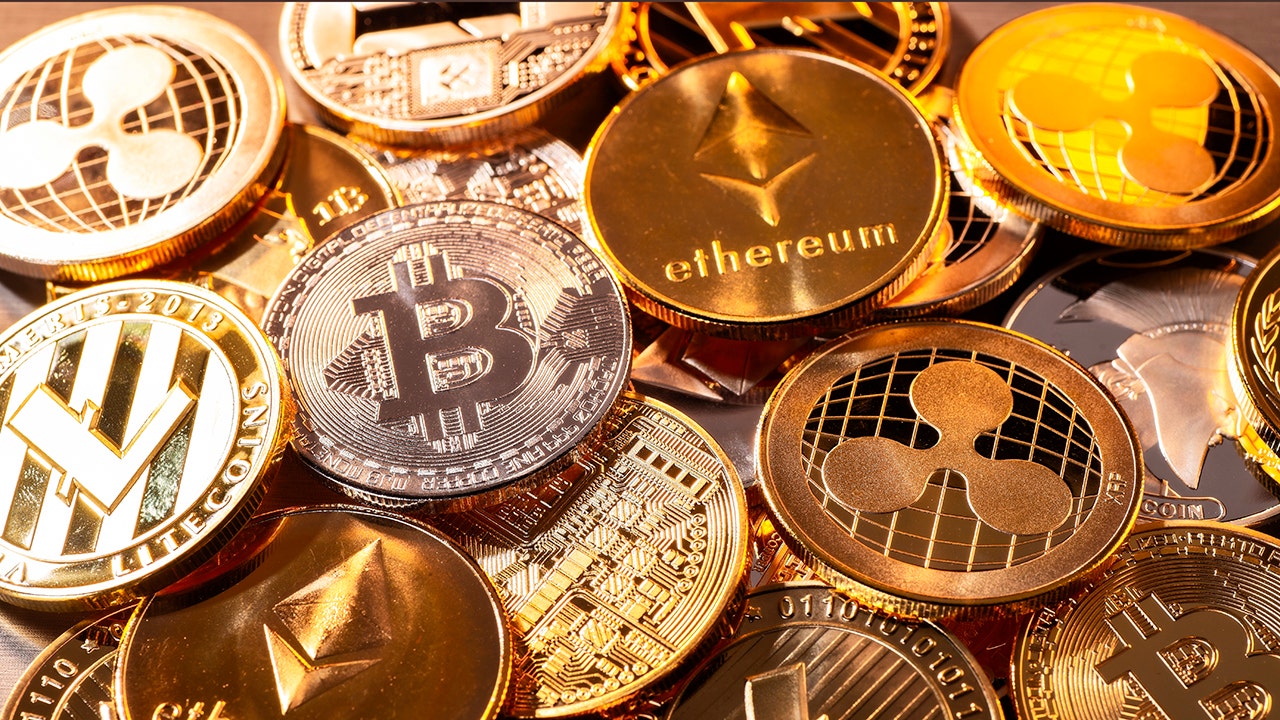 Quotes displayed in real-time or delayed by at least 15 minutes. Market data provided by Factset. Powered and implemented by FactSet Digital Solutions. Legal Statement. Mutual Fund and ETF data provided by Refinitiv Lipper.
This material may not be published, broadcast, rewritten, or redistributed. ©2021 FOX News Network, LLC. All rights reserved. FAQ - New Privacy Policy
United Wholesale Mortgage CEO Mat Ishbia says accepting cryptocurrencies as payments won't create added risk for the company.
Despite the S&P 500 and Nasdaq Composite closing out the month at all-time highs, the real winners were Bitcoin, Ethereum and other cryptocurrencies, fueled in part by more major companies – such as Visa and Walmart – signaling they would be expanding adoption.
Bitcoin was up 13% month-to-date while Ethereum was up 36% over the same period — on pace for Ethereum's best month since April 2021, when the price of Ether gained 42.47%.
Source: Dow Jones Market Data Group
In comparison, all three of the major averages also rose but by much smaller margins: the Dow was up 1.2% while the Nasdaq and the S&P 500 rose 4% and 2.9%, respectively.
Source: Dow Jones Market Data Group
The divergence reflects positive developments in the cryptosphere that have been fueled by announcements from major Fortune 500 companies.
Recently, Visa announced that it had purchased a non-fungible token, or NFT, which is similar to a Bitcoin as it is uniquely identified and stored on the blockchain, for a jaw-dropping $150,000 worth of Ether – the token of the Ethereum blockchain.
The piece of art is called CryptoPunk 7610 and is 1 of 10,000 algorithmically generated 24x24 pixel avatars from the CryptoPunk collection. The NFT depicts a female CryptoPunk avatar with a mohawk, green eyes and red lipstick.
In the announcement, Cuy Sheffield, the head of crypto at Visa explained, "We think NFTs will play an important role in the future of retail, social media, entertainment, and commerce. To help our clients and partners participate, we need a firsthand understanding of the infrastructure requirements for a global brand to purchase, store, and leverage an NFT."
Twitter and Square CEO Jack Dorsey, a longtime crypto endorser, continued his push of cryptos, tweeting TBD, Square's recently announced division aimed at starting an open-developer platform, is building a decentralized Bitcoin exchange.
Elsewhere, Microsoft was also awarded a patent for software it claims aids users in developing blockchain applications by making it easier to create tokens on various distributed ledgers. The company applied for the patent all the way back in 2019, showing the company's foresight into wider crypto adoption.
And Walmart created a job opening for a digital currency and cryptocurrency product lead, coming after Amazon began searching for their own crypto guru.
This material may not be published, broadcast, rewritten, or redistributed. ©2021 FOX News Network, LLC. All rights reserved. FAQ - New Privacy Policy
Read full article at Fox Business
Yahoo Finance 02 September, 2021 - 12:00am Investing.com 02 September, 2021 - 12:00am
This article was written exclusively for Investing.com
Over the past years, the burgeoning cryptocurrency asset class has provided market participants with a wild and volatile ride. The ascent of Bitcoin over the past decade has given new meaning to the term bull market. Ethereum, the second-leading cryptocurrency, has also been a bullish beast.
Cryptocurrencies reflect a libertarian philosophy that returns the power of money from governments, central banks, monetary authorities, supranational and private financial institutions to individuals. Prices come only from bids and offers in the market.
Detractors argue they have no intrinsic value but provide utility for nefarious endeavors. However, the opposition's criticism likely comes from the desire to maintain the status quo. After all, government power derives from control of purse strings. The ability to expand or contract the money supply is a crucial root of power.
Cryptocurrencies are a logical and rational result of technological progress. Blockchain technology is the backbone of fintech, which increases the speed and efficiency of settling transactions, providing a chain or record of ownership.
Cryptos reflect the trend towards globalism as they transcend countries' borders and are fungible instruments. Fiat currencies derive their value from the full faith and credit of countries that issue legal tender. Cryptocurrency values come solely from market participants that establish the prices. While government's monetary policy can impact fiat currency values, they play no role in the crypto universe.
The recent price action could mean we will see new highs in Bitcoin and Ethereum over the coming weeks and months. The overall asset class's market cap could head to a new peak by the end of 2021.
Bitcoin futures reached a record high at $65,520 on Apr. 14, the day cryptocurrency exchange Coinbase Global (NASDAQ:COIN) went public on the NASDAQ. New highs in cryptocurrency have been event-driven over the past years.
When futures burst on the scene in late 2017, the leading crypto rose to over the $20,000 level for the first time. Since COIN is a trading platform that enhances liquidity and execution, the listing pushed the price to its most recent high.
The weekly chart highlights Bitcoin's correction to a low of $28,800 per token during the week of June 21.
Meanwhile, it took the second-leading cryptocurrency longer to reach its high, but like Bitcoin, it fell to a low in late June.
The weekly chart shows Ethereum futures rose to a high of $4,406.50 in mid-May before falling to a low of $1697.75 during the week of June 21.
Both Bitcoin and Ethereum more than halved in value as the parabolic rallies turned into falling knives.
From May through early August, Bitcoin consolidated and digested the wild price action, with the price trading mainly below the $40,000 per token level.
The daily chart illustrates the consolidation with a bearish bias until late July.
Ethereum's consolidation was shorter, with the price below the $2440 level until late July.
Over the past weeks, both cryptos recovered. The midpoint of Bitcoin and Ethereum's trading ranges since the April and May highs are $47,160 and $3,052.125, respectively. At the end of last week, Bitcoin was trading at the $48,000 level, with Ethereum at $3,220. Bitcoin and Ethereum made a 50% retracement of the moves.
Meanwhile, on Aug. 23, Bitcoin probed above the $50,000 level for the first time since mid-May. Ethereum rose above $3,000 per token for the first time since May 17 on Aug. 9, reaching a high of nearly $3,390 on Aug. 23.
With the market cap of the cryptocurrency asset class back over the $2 trillion level at the end of last week, the bulls are back in control. Three factors continue to favor the upside for Bitcoin, Ethereum, and many other of the over 11,460 tokens trading in the asset class.
Afghanistan's collapse and return to the Taliban is a defeat for the US and NATO allies. The lives of those left behind are in danger. The foreign policy ramifications are substantial and could empower and accelerate moves by China and Russia. China plans are to reunify with Taiwan, which they consider a part of Chinese sovereign territory. Russia could use US foreign policy and perceived military weakness as a reason to increase its sphere of influence in Ukraine and other former Soviet bloc countries.
Hostile regimes in North Korea and Iran are likely to use the situation to provoke the US and allies over the coming months and years. Moreover, Afghanistan is again an area where terrorist groups can flourish. Last week, a terrorist attack killed a dozen US troops and many civilians.
Those who fear political change and violent outbreaks in their homelands are likely to look to cryptocurrencies as a way to protect and transport their wealth in times of upheaval.
I expect we will see higher highs in Bitcoin, Ethereum, and the cryptocurrency asset class by the end of 2021. However, there are risks in the volatile asset class.
At a cyber security summit of US technology companies and financial institutions at the White House on Aug. 25, the attending CEOs asked the President to crack down on cryptocurrencies. Cryptos have been the favorite monetary instruments for hackers and those demanding ransom.
Meanwhile, the digital currencies' role as flight capital in a dangerous world could trump any efforts to control the global cryptocurrency asset class. I believe that flight capital is now one of the most compelling reasons for people worldwide to hold at least part of their wealth in digital tokens.
Cryptocurrencies are still at the intraday highs, some of them, like Ethereum, jumped into new highs and something similar may happen to Ripple as well. However, keep in mind that...
Both tokens have put in double-digit gains over the last 24 hours. Polkadot and its canary network Kusama have rallied ahead of the second round of parachain auctions, which go...
Ethereum has kicked off September with a bang, as all major indicators suggest it is heading to $4,000.Key Takeaways Ethereum is up nearly 10% in the past 36 hours. The bullish...
We encourage you to use comments to engage with other users, share your perspective and ask questions of authors and each other. However, in order to maintain the high level of discourse we've all come to value and expect, please keep the following criteria in mind:
Are you sure you want to block %USER_NAME%?
By doing so, you and %USER_NAME% will not be able to see any of each other's Investing.com's posts.
%USER_NAME% was successfully added to your Block List
Since you've just unblocked this person, you must wait 48 hours before renewing the block.
I feel that this comment is:
Cointelegraph 02 September, 2021 - 12:00am
Ether showing strength, while Bitcoin is consolidating in a range beneath $50,000.
Meanwhile, Bitcoin's price faces a crucial resistance to break through, while Ether (ETH) is already cracking that resistance, hitting a three-month high versus BTC and facing a run toward the next resistance around the all-time high.
The primary question is now whether this Ether breakout is a signal for Bitcoin to follow suit and break through the resistance barriers in September. Historically, September has been a corrective month, meaning that such a breakout may catch many traders off guard.
The daily chart for Bitcoin shows a consolidation between $44,000 and $50,000. This consolidation resulted in a big breakout of altcoins across the markets as some already broke their previous all-time highs.
The resistance is quite clear for Bitcoin. If BTC can break this resistance, a big impulse move is likely, comparable to the breakout above $6,000 in the earlier phase of this cycle.
The bearish divergence in the chart will only be confirmed when the recent higher low is invalidated and broken downward. At that point, the uptrend is officially reversed.
Currently, the market is consolidating after the rally from BTC's July lows. In other words, the bearish divergence remains unconfirmed until Bitcoin loses the lower bound of the support range, which can be found at $44,000.
The total cryptocurrency market capitalization shows a bullish continuation with constant higher lows and higher highs.
The crucial breaker for the market cap to break through is the resistance zone around $2.12 trillion. Once that one breaks, more upside is likely toward new all-time highs. This structure might also foreshadow Bitcoin's price trajectory, as this chart is currently demonstrating even more bullish behavior than BTC/USD.
The daily chart for Ether shows a breakout above the crucial breaker at $3,400. This is a signal of strength for the entire market. The difference between Bitcoin and Ether right now is that ETH is hitting higher highs, while Bitcoin remains in a sideways range.
In this chart, the critical breaker for Ether is the previous resistance zone at $3,400. As long as that sustains support, continuation toward all-time highs becomes increasingly likely.
However, if a breakdown beneath $3,400 takes place, a potential bearish divergence comes into play, resulting in a correction to $2,600. Such a correction would also affect Bitcoin, which also has a few critical levels to watch as support.
The chart for Bitcoin shows a slight downtrend since the recent high at $50,300. However, the chart shows significant support at $46,400 as well, which may prevent any more downside to $44,000 and below.
Such a correction could harm the markets and bring the entire market down toward lower levels, which might mean that Ether could drop below $3,400.
On the other hand, if Bitcoin remains within this range between $44,000 and $51,000 (on the lower timeframes, $46,400 is also an essential level), the conditions for altcoins to rally will only get better.
Until Bitcoin doesn't go vertical or has a significant impulse wave, altcoins are in a good position to outperform BTC in the short term, and that's what the market is currently seeing.
The views and opinions expressed here are solely those of the author and do not necessarily reflect the views of Cointelegraph.com. Every investment and trading move involves risk, you should conduct your own research when making a decision.
The Motley Fool 02 September, 2021 - 12:00am
Founded in 1993 by brothers Tom and David Gardner, The Motley Fool helps millions of people attain financial freedom through our website, podcasts, books, newspaper column, radio show, and premium investing services.
Cryptocurrencies have experienced waves of volatility over the past year, but they're steadily gaining traction among investors.
Bitcoin (CRYPTO:BTC), Ethereum (CRYPTO:ETH), and Cardano (CRYPTO:ADA) are three of the biggest names in the crypto space, and they've all experienced explosive growth. The price of Bitcoin is up by more than 300% over the past 12 months, Ethereum has soared by roughly 700%, and Cardano has increased by a whopping 2,350% in that time period.
Each of these cryptocurrencies has unique advantages and disadvantages, and it's wise to do your research before you buy. Here's what you need to know when deciding which of these options is right for you.
Pros: One of the biggest advantages of Bitcoin is that it's one of the oldest cryptocurrencies and has the most name recognition. That first-mover advantage has also helped make it the most popular and the most widely accepted cryptocurrency.
For any cryptocurrency to survive over the long term, it will need to be widely adopted. Because Bitcoin is already the best-known cryptocurrency with the longest track record, it has a head-start in this department.
Bitcoin's limited supply is another advantage. There will only ever be 21 million tokens in existence, and that scarcity could potentially drive up its value. Bitcoin supporters consider the cryptocurrency "digital gold," and its increasing value could help hedge against inflation.
Cons: Like any cryptocurrency, Bitcoin is a risky investment. Nobody knows for sure whether crypto will ever become mainstream, and that uncertainty carries risk.
The Bitcoin mining process is also incredibly energy-intensive. In fact, Bitcoin uses more electricity than the entire country of the Philippines, according to data from the University of Cambridge.
This energy consumption is a problem that has many investors and regulators concerned about its future. Unless it finds a way to become more sustainable, Bitcoin may have a tough time staying competitive.
Pros: Ethereum is more versatile than Bitcoin, which is one of its most significant advantages. Not only does it have a native token, Ether, but the Ethereum blockchain also serves as a platform for smart contracts and decentralized applications.
Some of the best-known applications are decentralized finance (DeFi) and non-fungible tokens (NFTs), but because Ethereum is an open-source technology, anyone can create new applications, and the opportunities are endless.
Ethereum also processes transactions faster than Bitcoin, and it's less energy-intensive. While Bitcoin uses a proof-of-work (PoW) mining protocol, Ethereum is moving to a proof-of-stake (PoS) network.
With a PoW network, crypto miners must use high-powered computers that solve complex puzzles to verify transactions -- which is why the process is so energy-intensive. Also, because Bitcoin has a limited supply, the more tokens that are mined, the harder these puzzles become -- and the more energy they require.
With PoS networks, on the other hand, miners validate transactions by putting their own crypto holdings at stake for a chance at earning rewards. Not only does this process use significantly less energy, but it also processes transactions much more quickly.
Cons: While Ethereum does have a lot of potential, it's not as popular as Bitcoin. Ether isn't as widely accepted among merchants as Bitcoin, which gives it a disadvantage.
In addition, the Ethereum blockchain is undergoing a lot of changes as it grows. Developers are working on releasing Ethereum 2.0, which will move it from a PoW network to a PoS network. These growing pains could result in greater volatility.
Finally, the PoS protocol also has its downsides. Miners with the most cryptocurrency tokens have the most power when it comes to verifying transactions, so it's possible that a small number of wealthy individuals could have majority control over the blockchain.
Pros: Cardano was created by one of the co-founders of Ethereum, so it shares many similarities to its crypto competitor. It also serves as a platform for smart contracts, which is one of the biggest advantages of Ethereum.
Also, while Ethereum is currently transitioning from a PoW network to a PoS network, Cardano already uses a PoS system. That makes it more environmentally friendly and faster than its competitors.
Like Bitcoin, Cardano also has a limit on how many tokens can be produced, which creates a sense of scarcity and can help drive up its value over time.
Cons: Widespread adoption is the biggest hurdle Cardano is facing. It's the newest of the three cryptocurrencies, and its market cap is significantly lower than both Bitcoin and Ethereum. Its native cryptocurrency, ADA, also isn't as widely accepted as Bitcoin or Ether.
That doesn't necessarily mean Cardano won't be able to catch up to the competition. But at the moment, it's more speculative than Bitcoin and Ethereum, making it a riskier investment.
As you're weighing your options, consider how much risk you're willing to take. All cryptocurrencies are risky investments, but by doing your research and thinking about how much speculation you're comfortable with, it will be easier to decide which option is best for you.
Discounted offers are only available to new members. Stock Advisor will renew at the then current list price. Stock Advisor list price is $199 per year.
Stock Advisor launched in February of 2002. Returns as of 09/01/2021.
Making the world smarter, happier, and richer.
Market data powered by Xignite.