by Jamie Redman
Bitcoin dropped to a low of $30,400 on July 19, losing approximately 8.64% during the last week as the leading crypto asset slid 3.3% in 24 hours. Bitcoin's market valuation is $575 billion at the time of writing and there's $19 billion worth of BTC trade volume on Monday.
The top five trading pairs with BTC include USDT, USD, BUSD, JPY, and EUR. The stablecoin tether (USDT) commands over 56% of today's BTC trades. Out of the $1.25 trillion, BTC captures 46.4% of the overall valuation, while ethereum (ETH) commands 17% of the entire crypto economy.
The second-largest crypto asset, in terms of market capitalization, is ethereum (ETH) and ether has lost over 13% this week. ETH is also down over 6% during the last 24 hours and has around $14 billion in global trade volume.
The biggest seven-day losers on Monday include thorchain (RUNE) which is down over 40% and synthetix (SNX) down over 37%. The top three leading crypto assets on Monday include nem (XEM) up 6.8% this week, unus sed leo (LEO) up 1.9%, and hedera hashgraph (HBAR) which is up 1.4%.
In a note sent to Bitcoin.com News, Pankaj Balani, CEO of the crypto trading platform Delta Exchange, explains the risk of dropping below $30K is now higher.
"Bitcoin failed above $33,000 and is trading around $31,800 on the spot market," Balani said. "Bitcoin has been in a consolidation phase and is trying to settle in the $30,000-$40,000 range. Having said that, BTC has found it challenging to move higher and the upper end of this range has been converging gradually." The Delta Exchange executive further added:
Bitcoin failed above $36,000 last week and $33,000 this week. We have also continuously tested the bottom end of the above range which shows weakness in price and opens up the risk of a breakdown below $30,000. Overall, the risk of downside below 30,000 on Bitcoin is much higher now than what it was in the months of May and June.
Alex Kuptsikevich, the Fxpro senior financial analyst, told Bitcoin.com News that an S&P 500 correction could negatively affect the overall crypto economy. At the time of writing, the Dow Jones Industrial Average is down 700 points, while Nasdaq, NYSE, and tech stocks have also shed significant value on Monday.
"The Bitcoin network's hash rate has never recovered to its peak and is currently at levels of late October 2019," Kuptsikevich said. "An automatic decline should soon follow this in complexity. It is accepted that Bitcoin's price follows the hash rate/complexity of mining, so the investment outlook is deteriorating for now." Kuptsikevich's analysis continued:
A correction in the S&P 500 could negatively contribute to the short-term dynamics of the crypto market. In this case, a correlation of the benchmark equity index and Bitcoin may well show its full potential, as similar cautionary sentiment prevails in both markets.
Etoro's senior analyst, Simon Peters, says that despite short-term corrections, long-term outlooks are still quite positive.
"Recent harsh conditions for bitcoin and ether continued last week as both crypto assets saw significant sell-offs continue," Peters explained to Bitcoin.com News on Monday. "Bitcoin's recent woes deepened as the crypto asset slumped across the week, starting trading above $34,000 before losing ground. Likewise, ether has come down heavily from recent highs. ETH began the week above $2,000 but saw a quick sell off to trade below $1,900 at times," the Etoro analyst added.
"With yet another poor performing week," Peters added, "speculation on the short-term price direction of major crypto assets is rife, with mixed opinions on price depending on what metric/indicators analysts are looking at." Peters' investors note to Bitcoin.com News concluded: "Long-term confidence remains high, however, with a recent survey of Fintech experts revealing more than half believe bitcoin is capable of becoming the global reserve currency by 2050."
Disclaimer: This article is for informational purposes only. It is not a direct offer or solicitation of an offer to buy or sell, or a recommendation or endorsement of any products, services, or companies. Bitcoin.com does not provide investment, tax, legal, or accounting advice. Neither the company nor the author is responsible, directly or indirectly, for any damage or loss caused or alleged to be caused by or in connection with the use of or reliance on any content, goods or services mentioned in this article.
Adding to the exchange platform's existing cryptocurrency derivatives products, Bybit will now offer spot cryptocurrency trading in four pairs, with additional pairs set to be rolled out in the near future. Bybit Adds Spot Trading The recent weakness in crypto ... read more.
On July 14, IOHK, the Cardano network developers, announced the project's latest testnet called Alonzo white has been deployed. IOHK detailed that it has onboarded new participants and the move will help the project move "closer to smart contracts." Two ... read more.
Get Bitcoin News stories in Telegram
Read full article at Bitcoin News
NewsBTC 19 July, 2021 - 05:10pm
Bitcoin has recently fallen below a $32,000 critical hold point and in response, retail investors have taken this as an opportunity to make money from the falling bitcoin price. So far, retail investors have started loading up on shorts, an incredibly bearish metric for the market.
According to this Twitter post, retail investors have been consistently short squeezing the digital asset as the market struggles to rebound. This might show that the digital asset now more than ever might be close to the famed bitcoin bottom.
Investors poured in their opinions on the longs being placed by retail investors. A user posted that this might lead to more of a cascading bottom that will be much greater than anything reversal.
Chances of cascading bottom much greater than any reversal here. Money on retail for once.
— Crazy Tuliped (@TonyD0214) July 16, 2021
Forecasts remain that the digital asset might break the $30,000 stronghold that it has held for weeks now. Speculations abound that this is the point institutional investors would up their investments and the bulls would come storming back in.
If the digital asset breaks $30,000 before the week is over, then it might as well be very well in bear territory for bitcoin. Regardless, other investors believe this will spark a weekend relief rally.
The shorters hope to break the current bitcoin support but so far, bitcoin has held out. But there's no telling how the rest of the weekend will play out.
Despite the continued fall of the price of the digital asset, bitcoin maximalists continue to remain steadfast in their resolve for bitcoin's future. Exchanges have reported plummeting crypto reserves on their balance as investors take out coins from exchanges into hold wallets. Holders continue to stand by the coin.
There are likely to be large accumulation events taking place if bitcoin does break the $30,000 support. Whales will use this opportunity to buy back the assets they had sold during the height of the market and retail investors alike will want a piece of that action.
Calling the bottom for the digital asset has been a debated topic for a while now. Forecasts hound the market of when the bitcoin bottom will be reached. But so far, bears seem to have a chokehold on the price as the asset has not been able to post any meaningful recovery in the past weeks. Just barely holding on to its current position on the charts.
At this time, BTC continues to aim for the $32,000 price point while bears drag the price down. The digital asset has shown strong rebound patterns so far as it now trades at a little over $31,900.
NewsBTC is a cryptocurrency news service that covers bitcoin news today, technical analysis & forecasts for bitcoin price and other altcoins. Here at NewsBTC, we are dedicated to enlightening everyone about bitcoin and other cryptocurrencies.
We cover BTC news related to bitcoin exchanges, bitcoin mining and price forecasts for various cryptocurrencies.
© 2020 NewsBTC. All Rights Reserved.
© 2020 NewsBTC. All Rights Reserved.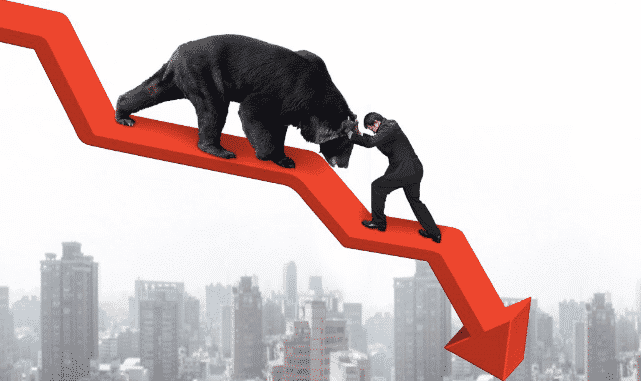 NewsBTC 19 July, 2021 - 05:10pm
Bitcoin has so far enjoyed a good amount of success these past years, and so it is not surprising that investors want to continue to believe that the digital asset will continue its growth spurt. But what could very well be faith in the market might also be a denial of the obvious, which is that bitcoin has finally entered a bear market.
For about two months since bitcoin hits its $64K all-time high, the pioneer digital asset has suffered losses and corrections that have seen the price dip even further down than anticipated. About a month after setting a new price record, the digital asset saw several dips that led to the loss of over 50% of its all-time high value.
Massive sell-offs have seen the price plummet and with institutions showing more interest in the digital asset, the price has responded negatively. There has not been any remarkable recovery since the asset had fallen below the $30,000 price point last month. And thus, with the current market trends, it is not a far stretch to say that bitcoin might have finally succumbed to the bear.
A major factor contributing to the recent price crashes has been the crackdown by China on mining. The country had banned mining leading to an exodus of bitcoin miners out of the mining capital out of the world. Before the crackdown, it was estimated that approximately 70% of all crypto-mining was carried out in China.
This reduced the bitcoin hash rate to dangerously low levels and thus, affecting the price and increasing panic in the market. With miners still looking for where to set up their operations, the market was very uncertain as to the future of the digital asset. And as such, investors had started getting out of the market.
Whales had also taken advantage of bitcoin's high price to offload their coins in order to buy back in when the coin dipped. Of note is Jim Cramer saying that he had sold almost all of his bitcoins and had planned to get back in when the price of the digital asset had dipped below $30,000.
Right now, bitcoin sits at a very critical point. The next couple of weeks will most likely decide where the price of the digital asset will end up facing. Market factors right now are looking incredibly bullish as more and more FUD floods the market.
Several countries have begun crackdowns on top crypto exchange Binance, saying that the crypto exchange does not have jurisdiction or permission to operate in their countries. Sadly, this has led to doubts in investors' minds.
China, along with the mining crackdown, had ordered all financial institutions in the country to stop allowing crypto purchase and trading. Shutting off one of the biggest crypto markets from the wider crypto space.
Following the massive FUDs coming out of the market, the Fear and Greed Index remains firmly in the extreme fear quadrant. Old and new investors alike are very wary when it comes to putting money into the market for fear of a downturn.
Bitcoin is currently trading at $31,365 and the market cap of the digital asset has now fallen below $600 billion.
NewsBTC is a cryptocurrency news service that covers bitcoin news today, technical analysis & forecasts for bitcoin price and other altcoins. Here at NewsBTC, we are dedicated to enlightening everyone about bitcoin and other cryptocurrencies.
We cover BTC news related to bitcoin exchanges, bitcoin mining and price forecasts for various cryptocurrencies.
© 2020 NewsBTC. All Rights Reserved.
© 2020 NewsBTC. All Rights Reserved.
Yahoo Finance 19 July, 2021 - 05:10pm
The cryptocurrency was trading around $31,000 at press time and is down about 5% over the past week.
The 50-period moving average on the four-hour chart is sloping downwards, which indicates a declining trend over the past month.
Immediate resistance is seen around $32,000 and $34,000, which could limit upside if buyers return at support.
The relative strength index (RSI) is not yet oversold on the four-hour and daily charts. This means sellers are in control as buyers await lower support levels.
If $30,000 is broken, the next level of support is seen around $27,000, which is a 60% retracement from the March 2020 price low.
Bitcoin's current sideways trading is similar to the June-November 2018 range between $5,900 and $7,400, which preceded further selling as the bear market advanced.
Investing in crypto may be easier and faster than ever — you can now opt to invest through online brokers like Robinhood and SoFi Invest or crypto exchanges like Coinbase and Gemini— but it's far from being a foolproof venture. Here are a few mistakes that new crypto investors often make when they get started, as well as some things to consider before taking the plunge. One of the biggest mistakes new investors make is buying the wrong coin.
"The last four adjustments have been downward, and it now looks like the blockchain is back to normal," one analyst said.
It's a bearish start to the week for the majors. A move through the week's pivot levels would bring resistance levels into play, however.
Bank of America may be loosening its stance on bitcoin.Driving the news: Bank of America has approved the trading of cash-settled bitcoin futures for some clients, Coindesk's Will Canny and Tanzeel Akhtar report.Get market news worthy of your time with Axios Markets. Subscribe for free.Why it matters: This would be a change in tone from a bank that's historically distanced itself from the cryptocurrency business. Flashback: "Currently, we do not lend against cryptocurrencies and do not bank comp
According to a report by Cointelegraph, the price of Bitcoin (CRYPTO: BTC) has been falling since May. Its value has shrunk by half since its April peak of $63,745. Analytics service Ecoinometrics, in its recent tweet, has said that this year's correction from its all-time highs is the second-longest in the bull market history. So bitcoin price may stay in the range of $30,000 for a while. In May, the price of bitcoin plummeted after Tesla Inc (NASDAQ: TSLA) owner Elon Musk said that Tesla would
The new fund joins a growing number of offerings seeking to help investors easily bet on growth in decentralized finance (DeFi).
Warren Buffett doesn't always beat the market. Investors don't have to scratch their heads in consternation about how Buffett makes his money. Here are three no-brainer Buffett stocks to buy right now.
In this article, we discuss the 10 stocks Reddit's WallStreetBets is now targeting. If you want to skip our detailed analysis of these stocks, go directly to Beyond GameStop: Reddit's WallStreetBets is Now Targeting These 5 Stocks. Retail investors have been exercising ever greater influence on the overall market dynamics the past few months, as […]
(Bloomberg) -- For two decades Chinese tech firms have flocked to the U.S. stock market, drawn by a friendly regulatory environment and a vast pool of capital eager to invest in one of the world's fastest-growing economies.Now, the juggernaut behind hundreds of companies worth $2 trillion appears stopped in its tracks.Beijing's July 10 announcement that almost all businesses trying to go public in another country will require approval from a newly empowered cybersecurity regulator amounts to a d
Following the lifting of restrictions on June 30, Citigroup was one of the only large major banks not to raise its dividend.
Dow futures fell hard amid reviving Covid fears and oil prices down on an OPEC+ deal. Tesla FSD subscriptions launched.
THE MONEYIST Dear Quentin, I read your column on a regular basis and feel almost out of league to be writing. Unlike most of your writers, I don't have a huge or impressive portfolio. I am 61 years old.
No, it's the S&P 500 index, for a good reason: The index always includes the 500 largest companies that trade on U.S. stock exchanges. As it turns out, another biotech stock is set to take Alexion's spot: Moderna (NASDAQ: MRNA). S&P Global announced last Thursday evening that Moderna would be added to the S&P 500, effective prior to the market open on July 21.
Rather, the buzz has been about the retail movement and the desire to seek out the next short squeeze. In simple terms, short-sellers are investors betting on a lower share price. Since a company's share price can't go below $0, gains are capped at 100% for pessimists.
(Bloomberg) -- Stocks in Europe headed for the biggest selloff this year and U.S. equity-index futures tumbled as the spread of the delta variant cast a pall over the global economic recovery. Treasuries gained along with the dollar as investors scampered for havens.Contracts on the S&P 500 and Nasdaq 100 dropped 1% or more, pointing to a stormy open for U.S. stocks as investors flee cyclical sectors. Airlines and banks were among the biggest decliners in pre-market trading in the U.S. Meanwhile
These companies are making big moves in their respective markets -- and investors should take notice.
Concerns of spreading coronavirus, tumbling oil prices and circumstances in China sent the Dow Jones today down almost 500 points.
We feel now is a pretty good time to analyse Desktop Metal, Inc.'s ( NYSE:DM ) business as it appears the company may...
These high-octane growth stocks from the technology sector should serve you well in the long run, and they are on fire sale right now.
Investors are struggling to calibrate a strong recovery against rising prices, and resurgent COVID-19 infections.