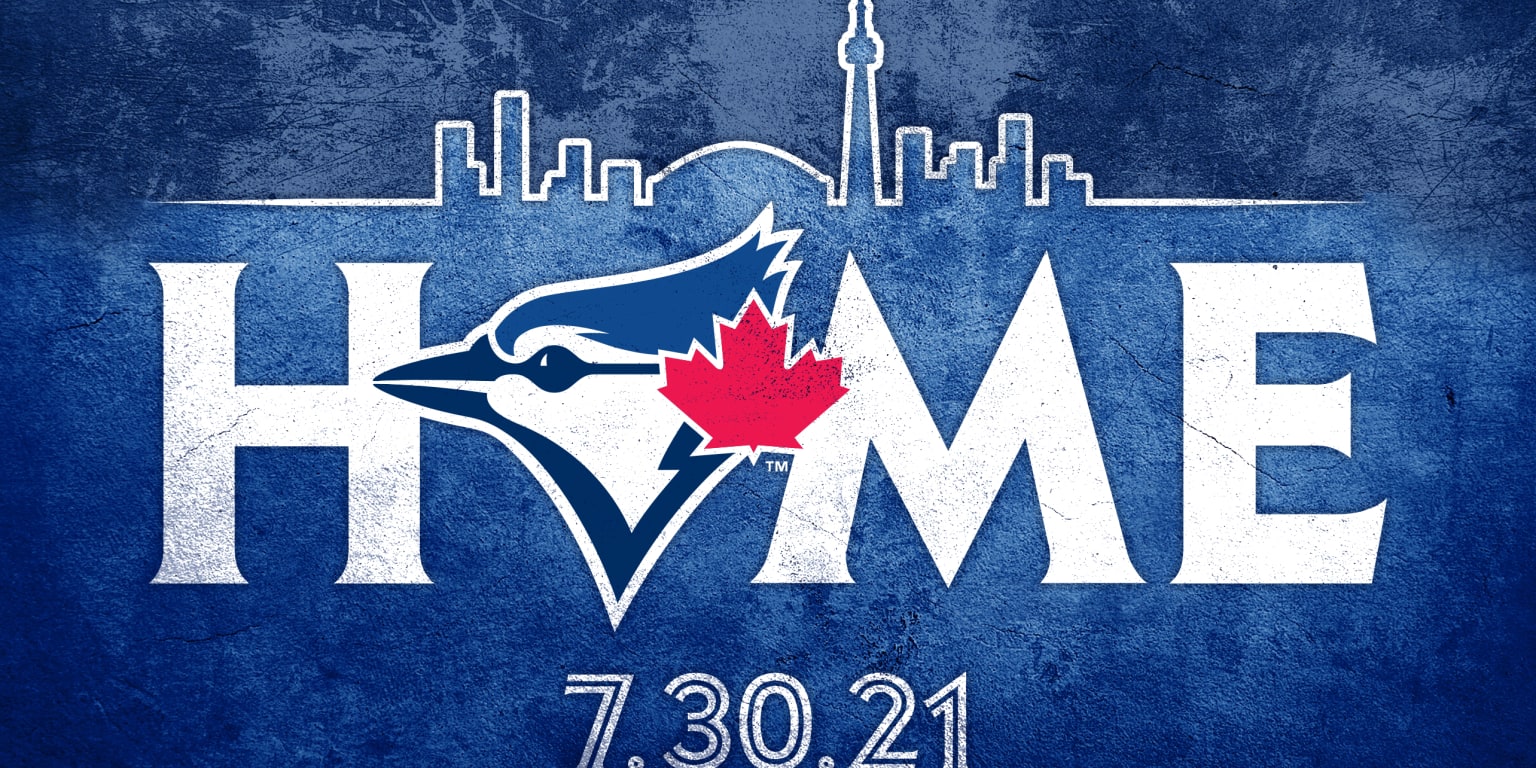 Toronto Man(oah) and JD are ready to come home ❤️🇨🇦 pic.twitter.com/3TqqdCw5ht
After parts of two seasons spent playing out of Buffalo, N.Y., and Dunedin, Fla., unable to return home to Rogers Centre throughout the COVID-19 pandemic, the Blue Jays announced Friday that they have received a National Interest Exemption from the Canadian federal government and will return home on July 30 to resume their season.
When the Blue Jays take the field that day to face the Royals, Major League Baseball will be played in Canada for the first time in 670 days, stretching back to their final game of the 2019 season. The club announced that their home games in Toronto will be played with "robust health and safety protocols in place" as visiting teams come in and out of Canada.
"First and foremost, the Blue Jays wish to thank Canadians for their unprecedented public health efforts and support for the team. Without you, Blue Jays baseball would not be coming home this summer," the club said in a release. "In addition, the organization wishes to acknowledge Blue Jays staff and players for their tireless efforts and dedication during a franchise-defining chapter of team history, and whose resilience never wavered through immense challenges and times of uncertainty."
In a statement Friday, Marco Mendicino, Canada's minister of immigration, laid out some of the protocols that visiting teams will need to follow under this plan. Beginning with pre- and post-arrival testing of all players and team personnel, unvaccinated players and team personnel will receive an additional four tests each week.
There will be strict rules in place for unvaccinated individuals, who will undergo a "modified quarantine." This means that they will not be allowed to leave Rogers Centre or the attached hotel, similar to how the Blue Jays quarantined their own players and staff through Summer Camp last summer.
Each team will have a designated "Compliance Officer," Mendicino announced, and any individual who breaches the conditions will have their exemption revoked by the federal government and be subject to fines or prosecution under Canada's Quarantine Act.
This is the moment that the Blue Jays' organization has been working towards since COVID-19 caused baseball to shut down during Spring Training in 2020. The Blue Jays held their Summer Camp at Rogers Centre in July of 2020, but were eventually denied permission to play their home games in Canada. After exploring multiple options at other MLB parks, the club settled down at Sahlen Field in Buffalo.
The 2021 season presented another layer of challenges, as the Blue Jays opened the season in their Spring Training home of TD Ballpark before eventually moving back to Buffalo on June 1. Extensive renovations were done to Sahlen Field for the club's second season there, most of which will be permanent and benefit the organization's Triple-A affiliate moving forward, but returning to Toronto as quickly and safely as possible has been the club's No. 1 priority throughout the process.
Toronto Man(oah) and JD are ready to come home ❤️🇨🇦 pic.twitter.com/3TqqdCw5ht
July 30 could align well with an upswing for the Blue Jays, too. With the Trade Deadline near and the Blue Jays expected to be active in their push for the postseason, returning home to Toronto will only add another layer to the emotional boost this club could benefit from.
This will also represent a delayed home debut for many of the Blue Jays' regulars. Robbie Ray and Ross Stripling, both acquired during the 2020 season, have yet to play in a Blue Jays uniform at Rogers Centre. The same goes for George Springer and Marcus Semien, Toronto's two biggest offseason signings. Even Hyun Jin Ryu, signed on Dec. 27, 2019, will be taking the mound at Rogers Centre for the very first time.
Read full article at MLB.com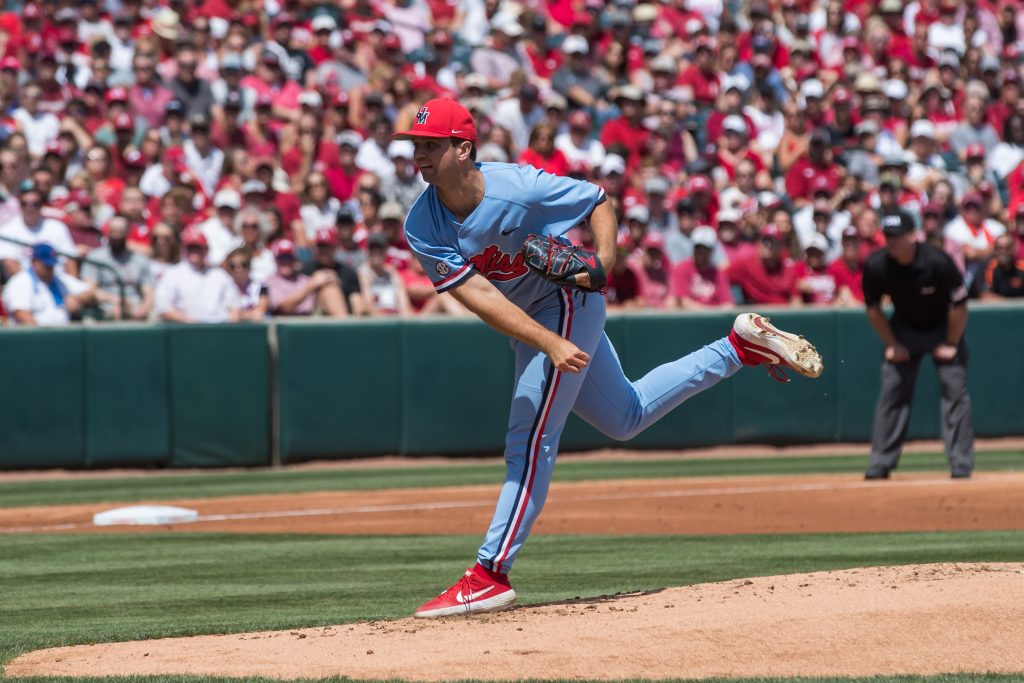 MLB Trade Rumors 16 July, 2021 - 08:00pm
The Blue Jays have agreed to terms with first-round pick Gunnar Hoglund, reports Baseball America's Carlos Collazo (via Twitter). The former Ole Miss righty will receive a $3,247,500 bonus that clocks in about $111K south of his slot value at No. 19 overall.
That slightly under-slot price point is likely due in large part to the fact that Hoglund underwent Tommy John surgery about two months before the draft. Prior to that elbow injury, Hoglund was regarded as one of the top college arms on the board and considered a potential top 10 pick. While he'll miss the remainder of the 2021 season and won't be able to begin pitching for a Jays affiliate until sometime next summer, at the earliest, Hoglund nevertheless adds a high-profile arm to an already strong Jays system.
Hoglund, 21, pitched 62 2/3 innings with the Rebels in 2021 before sustaining the elbow injury that necessitated his surgery. In that time, he pitched to a 2.87 ERA while striking out 38.9 percent of his opponents against a 6.8 percent walk rate. Dating back to the shortened 2020 season, in which he tossed 23 1/3 frames, Hoglund carries a 2.41 ERA with a sensational 133-to-21 K/BB ratio in 86 total innings.
Even with that injury, Hoglund landed 14th on FanGraphs' final draft rankings, 19th at Baseball America, 20th at ESPN, 22nd at MLB.com and 30th at The Athletic. Scouting reports on Hoglund credited him with the best command in the draft and a plus slider. The Athletic's Keith Law noted that Hoglund's ceiling might not be as high as that of the draft's top college arms (Jack Leiter and Kumar Rocker), but the consensus was there's a "high probability that he'd at least develop into a fourth starter." ESPN's Kiley McDaniel adds that Hoglund was "locked in" as a top 10 pick prior to his elbow injury.
and he even went underslot. DD, cmon man.
By the time Hoglund is ready to pitch in the majors, DD will be running the New Orleans Devil Rays-Pelicans.
Not a fan of Painter? He sounds super intriguing to me. But I'm pretty happy with what Toronto landed given the small pool they were working with.
David Duchovny, star of "Moneyball 2, Boston Ain't All That."
Wheres the clap emoji, rarely does a comment make me actually lol
I believe he is an attorney by day and a vigilante at night…
Good on the Jay's FO, they have done a good job signing the players they dafted over the past several seasons
so wish he was a Razorback tho.
Here's hoping the Jays will be back at Rogers center soon.
I see these idiots keep closing comments
basballfanno1, There was a poll done asking MLBTR's commentor's what topics they wanted comments available on and those they did not want comments on, Domestic violence was one chosen by a majority on here not to have comments on!
MLBTR actually polled the site users a few months ago and a large majority of users preferred to keep comments closed on matters such as domestic violence and covid.
There are plenty of other places on the internet to discuss those topics.
This kid turned down 2 million from the Pirates in 2018 to go back to school for 3 years to sign for 3.2.. Not sure if he ends up getting the best out of that deal. It's very possible despite the difference in the signing bonus that he ends up making less than if he would have taken the Pirates offer in 2018.
Considering he may never draw an major league paycheck, he might have done quite well.
And that is anyone who plays pro baseball though. With the Pirates ability to draft well with HS pitchers in the past and develop them well (albeit only in the minor league levels prior to NH's departure, BC's development team is still TBD) I think he would have reached the majors faster than his current path.
Hopefully he heals from his surgery well and is able to have a long prosperous career. I was super hopeful to see him with the Bucs in 2018. His college numbers were off the charts.
He lost out big time if he is smart. Whether he put that 2 million in stocks, crypto, collectibles, the returns were huge to gigantic. Now if he gets to the majors he gets to hit free agency 3 years older. Now if he would have bought a house cars cloths jewelry etc then it was best he got the 3 million.
Yea and if he never doest he has a college education so he can get a career
He must've thought that he HAD signed with the Bucs. Hence the TJ which seems to be standard for Pirate pitching prospects.
MLB Trade Rumors is not affiliated with Major League Baseball, MLB or MLB.com
KSBY News 16 July, 2021 - 08:00pm
CP24 Toronto's Breaking News 16 July, 2021 - 12:44pm
TORONTO - It's been nearly 22 months since Toronto Blue Jays fans have been able to see Vladimir Guerrero Jr., tear the cover off a fastball down the middle at Rogers Centre.
They haven't seen lefty ace Hyun-Jin Ryu or big free-agent signing George Springer live in a Blue Jays uniform at all.
After nearly two years as baseball nomads, however, the Blue Jays are finally coming home after getting approval to play in Toronto from the federal government on Friday.
The team said in a statement that it will begin playing home games at Rogers Centre again starting July 30 after receiving a so-called National Interest Exemption.
The exemption, confirmed by the federal immigration minister's office, will allow players to cross the border without being subject to Canada's COVID-19 travel restrictions.
"Following a careful review by public health officials at every level of government, a National Interest Exemption has been approved that will permit the Toronto Blue Jays to return to Toronto and play home games at the Rogers Centre," Immigration Minister Marco Mendicino said in a statement.
"This decision was made in conjunction with the Public Health Agency of Canada, with the approval of provincial and municipal public health officials."
Mendicino said the plan includes pre- and post-arrival testing of everyone crossing the border, and additional testing four times a week for unvaccinated individuals.
"It also includes significant limitations on unvaccinated individuals, who will have to undergo a modified quarantine, not be permitted to go anywhere but the hotel and stadium and have no interaction with the general public," he said.
Toronto is scheduled to start a three-game homestand against the Kansas City Royals on July 30. The Jays haven't played at Rogers Centre since Sept. 29, 2019, an 8-3 win over Tampa Bay.
The team played its home games during the shortened 2020 season in Buffalo, N.Y., and started this season in Dunedin, Fla., before returning to Buffalo.
"First and foremost, the Blue Jays wish to thank Canadians for their unprecedented public health efforts and support for the team. Without you, Blue Jays baseball would not be coming home this summer," the team's statement said.
The team added it would reach out to 2021 and 2022 season ticket holders in the coming days, and additional ticket information and health and safety guidelines are coming soon.
"So grateful for the support and hospitality in Dunedin, and Buffalo but after over 650 days, we will finally be coming HOME," Blue Jays president Mark Shapiro said on Twitter. "Cannot tell you how excited we are to play in front of our fans and in our city and our country.
"Get ready Toronto -- we are coming back!"
So grateful for the support and hospitality in Dunedin, and Buffalo but after over 650 days, we will finally be coming HOME. Cannot tell you how excited we are to play in front of our fans and in our city and our country. Get ready Toronto - we are coming back! https://t.co/aXYq0bv4Z8
The Blue Jays' return is the latest step in professional sports returning to normal north of the border.
Ottawa gave the NHL a travel exemption for the final two rounds of the Stanley Cup playoffs and recently approved a plan that allowed CFL players and staff to return to Canada without undergoing a full 14-day quarantine.
Major League Soccer teams Toronto FC and CF Montreal are hosting games against U.S.-based opponents Saturday. While a quarantine exemption has not been granted to MLS, fully vaccinated athletes with work permits can enter the country without completing a 14-day quarantine.
The Blue Jays entered Friday night's game in Buffalo against the Texas Rangers third in the American League East standings with a 45-42 record, and four-and-a-half games out of an American League wild-card spot.
While the team is fighting to emerge out of the middle of the pack, they are arguably one of the most entertaining teams in the league.
Guerrero is having a breakout season, and on Tuesday was named the MVP of the all-star game after his rocket home run helped lead he American League to a 5-2 win over the National League.
He forms a solid offensive core with Marcus Semien and Teoscar Hernandez -- also all-stars -- as well as Bo Bichette and Cavan Biggio. It could be augmented further if Springer, beset in his debut Jays season by injuries, starts rounding into form.
Ryu and talented rookie Alek Manoah highlight a decent starting rotation that is often let down by a mediocre bullpen.
The big off-season signings of Ryu in December 2019 and Springer a year later, and the Blue Jays return to the post-season in 2020 after a three-year absence, were among the recent highlights Jays fans had to take in from afar.
If the Jays are going to make another playoff run this year, they will be doing it at home.
NBA players and fans pay tribute to NBA great Kobe Bryant.
The Tiger-Cats and Blue Bombers battle for the championship.
A look at the Raptors' new championship rings.
Use of this Website assumes acceptance of Terms & Conditions and Privacy Policy
Toronto Sun 15 July, 2021 - 09:26pm
At best it has been an uneven 87 games for the Jays, who clearly need to be better if they are to return to the post-season in the latest phase of the grandiose makeover well under way.
If you go with the premise that it's going to take 92 wins to secure an American League wild card spot — which is not even close to a stretch — manager Charlie Montoyo's team will need to go 47-28 the rest of the way.
Is it doable? Canadian baseball fans from Georges River, N.S., to Victoria, B.C., are about to find out. But with the Vlad Guerrero Jr.-led offence and the prospect of George Springer being a huge contributor at the plate, of course it is possible..
To do so, however, the Jays will need to be more consistent and have a handful of lengthy winning runs. Some more reliable defence will help, but more critically, the bullpen will need some serious bolstering by the end of the month. A boost to some starting pitching depth wouldn't hurt either, which makes the off-field work as important as on it.
With the buzz around the Jays building following Guerrero's MVP performance at this week's all-star game in Denver, the Jays will return to Buffalo for a six-game home stand on Friday, starting with three against the Texas Rangers.
The Jays are in third place in the AL East, eight games behind the division-leading Boston Red Sox, and 4.5 games out of a wild card spot.
The prognosis of 92 wins as a target certainly isn't random and makes some sense given recent history in the AL. Tossing out the shortened 2020 season, the previous 10 campaigns have required a high of 97 victories to secure a wild card to a low of 85.
In 2016, the most recent time the Jays made it to the playoffs following a full season, they finished with 89 wins to earn a wild card spot. In 2019 it took 96 to snag a spot, one less than the previous year. In the past 10 years, it has taken 91 wins or more six times.
Baseball Reference takes a deeper analytical dive and gives the Jays a 39.9% chance to make it to the playoffs, including a 4.1% shot at winning the division.
The website's thorough projections portray a best-case record of 94-68 and a worst of 80-82. Safe to say that somewhere in the middle won't cut it either, as the precise mathematical predictions are for the Jays to go 42.1-32.9 the rest of the way to finish at 87.1-74.9.
The good news from the Baseball Reference calculations figure that the Jays chances have improved by 13.5 per cent over the past 30 days. The good news from inside the Jays clubhouse remains to be seen.
While baseball can be a game of streaks, it's difficult to envision Guerrero slowing down in any noticeable way, providing he remains healthy. It's also not a stretch to suggest that his talented offensive teammates will continue to feed off of his prowess. And once Springer kicks into all star form, that part of the output will continue to take care of itself.
Pitching — and most specifically the bullpen woes — are another story, as has been obvious through too many collapses and too much frustration to get to this point. How the front office addresses that in the short term will factor into any projection exercise.
Meanwhile, the next two weeks are rather critical for the Jays front office on a couple of fronts.
With the all-star game and the draft in the rear-view, the next order of league-wide business is the July 30 trade deadline. General manager Ross Atkins has been active in June and July, adding a couple of bullpen pieces, but it has become clear that more will be needed.
Expect Atkins and his lieutenants Joe Sheehan and Mike Murov to remain active over the next couple of weeks. The narrative from the front office has been consistent since last off-season with Atkins maintaining that the team would be aggressive in the two immediate opportunities to improve — this trade deadline and next winter.
The other order of business is determining where the Blue Jays will be playing their home games, and for how long? As the team said this week, there is still hope of a July 30 return to the Rogers Centre, although time is ticking on federal government approval to make that happen.
As of Thursday, the team wasn't selling tickets for the opener of that next series as it awaits word from Ottawa.
Should a July 30 return not happen, the target would shift to Aug. 20, which would give the Jays a true home-field advantage for the first time in almost two years. How that will factor into the post-season pursuit is impossible to handicap, but it would certainly add to the buzz of meaningful September baseball.
The Jays need to get moving upward soon to make that happen and continue to reduce the margin of error, but for the first full season since 2015, the possibility exists.
A welcome email is on its way. If you don't see it, please check your junk folder.
The next issue of The Toronto Sun Headline News will soon be in your inbox.
We encountered an issue signing you up. Please try again
Postmedia is committed to maintaining a lively but civil forum for discussion and encourage all readers to share their views on our articles. Comments may take up to an hour for moderation before appearing on the site. We ask you to keep your comments relevant and respectful. We have enabled email notifications—you will now receive an email if you receive a reply to your comment, there is an update to a comment thread you follow or if a user you follow comments. Visit our Community Guidelines for more information and details on how to adjust your email settings.
365 Bloor Street East, Toronto, Ontario, M4W 3L4
© 2021 Toronto Sun, a division of Postmedia Network Inc. All rights reserved. Unauthorized distribution, transmission or republication strictly prohibited.
This website uses cookies to personalize your content (including ads), and allows us to analyze our traffic. Read more about cookies here. By continuing to use our site, you agree to our Terms of Service and Privacy Policy.
Toronto Star 15 July, 2021 - 12:00am
With the MLB draft and all-star break in the rear-view mirror, it's time for teams to get to work on improving — either now or for the future — as the July 30 trade deadline approaches.
The Blue Jays picked up relievers Adam Cimber and Trevor Richards along with currently injured outfielder Corey Dickerson in early deals with the Marlins and Brewers at the cost of bottom-of-the-roster players Joe Panik and Rowdy Tellez, plus minor-league pitcher Andrew McInvale, but there's still work to do.
In order to make a serious bid for a playoff spot, they need to shore up the pitching staff — both starting and relief — and could stand to add a quality left-handed, middle-of-the-order bat (Joey Gallo, anyone?). That's much easier said than done, of course, and a healthy Dickerson will help some on that end.
Knowing what they need, the question is less "What do the Blue Jays have to trade?" and more "What are they willing to move?"
Look, if Wayne Gretzky can get traded no one is untouchable, but these guys are close:
Anyone can read Conversations, but to contribute, you should be registered Torstar account holder. If you do not yet have a Torstar account, you can create one now (it is free)