SEATTLE (Reuters) - Jeff Bezos may have been beaten to space by rival Richard Branson, but the billionaire American businessman is poised to make history next week aboard what would be the world's first unpiloted suborbital flight with an all-civilian crew.
Bezos, the former CEO of Amazon.com Inc, is due to be part of a four-person crew for a planned 11-minute ride to the edge of space on Tuesday inside his company Blue Origin's New Shepard spacecraft, another milestone in the nascent and potentially lucrative space tourism sector.
He is set to be joined by his brother and private equity executive Mark Bezos, trailblazing octogenarian woman aviator Wally Funk and an as-yet-unidentified person who paid $28 million for a spot aboard the spacecraft, scheduled to launch from a West Texas site.
New Shepard is a 60-foot-tall (18.3-meters-tall) and fully autonomous rocket-and-capsule combo that cannot be piloted from inside the spacecraft. The crew is set to include only civilians and none of Blue Origin's employees or staff astronauts, three people familiar with the company's plans told Reuters.
Blue Origin's astronauts include NASA space shuttle veteran Nicholas Patrick.
"To see the Earth from space, it changes you, it changes your relationship with this planet, with humanity," Bezos said in a video last month discussing the flight.
There has never before been a fully autonomous suborbital or orbital flight with an all-civilian crew, Teal Group space industry analyst Marco Caceres said.
Branson, the British billionaire businessman, was aboard his company Virgin Galactic's rocket plane for its pioneering suborbital flight from New Mexico on Sunday. The Virgin Galactic flight included two pilots, as well as the company's chief astronaut instructor and its lead operations engineer.
New Shepard lifts off from a standing position on a launch pad, like traditional rocket launches. With Virgin Galactic, a rocket-powered spaceplane was dropped from a carrier plane in mid-air.
New Shepard, like Virgin Galactic's flight, will not enter into orbit around Earth, but will take the passengers some 62 miles up (100 km) before the capsule returns by parachute. Virgin Galactic's flight reached 53 miles (86 km) above Earth.
Billionaire businessman Elon Musk's space transportation company SpaceX is planning an even-more-ambitious mission in September, sending an all-civilian crew for a several-day orbital flight aboard its Crew Dragon capsule.
Blue Origin's flight is two decades in the making. Bezos founded the company in 2000. A pilotless craft was a financial strategy adopted by Blue Origin executives years ago.
"It's simple math," said one of the people familiar with the company's thinking. "If you design a system so that you don't need a pilot or a co-pilot you can have more paying customers."
New Shepard can accommodate six people. Blue Origin and industry insiders had previously discussed company employees going up on the first flight.
A Blue Origin spokesperson confirmed the decision was made for four seats to offer an enhanced customer experience for the first flight.
The decision to skip over Blue Origin's staff astronauts and technical experts has caused frustration for some company insiders who viewed the first crewed flight as a crucial opportunity to gather data and technical feedback for a program in its infancy, and to evaluate the experience for future paying customers, the sources said.
A seasoned astronaut would provide a calming presence for civilian crew members as New Shepard blasts off at speeds upwards of 2,200 miles (3,540 km) per hour, the sources added.
The crew members will receive two days of training. Blue Origin has assigned two staff members, on the ground, to help the passengers strap in and to provide point-by-point instructions over headsets during the mission.
"It's kind of like getting on a ride at an amusement park," Caceres said. "You just trust that everything has been checked out, is in good working order ... and you just sit back and enjoy the ride."
Some industry sources have expressed concerns that passengers - overwhelmed by the experience or in a state of euphoria - could be rattled by routine noises, miss key instructions, pass out or injure themselves floating around the cabin, potentially dangerous scenarios a trained astronaut could respond to.
Funk, 82, was one of 13 women who passed the same rigorous testing as the Mercury Seven male astronauts in NASA's 1960s space program but were denied the chance to become astronauts because of their gender.
Proving the safety of space travel is important to developing what Swiss investment bank UBS estimates will be a $3 billion annual tourism market a decade from now.
"One of the main goals of the New Shepard mission is to demonstrate that going to suborbital space is perfectly safe for the average person," Caceres said. "So there is a benefit to having as many average people on these flights as possible."
(Reporting by Eric M. Johnson in Seattle; Editing by Will Dunham)
The FAA has approved Blue Origin's maiden crewed rocket voyage set for July 20th with the company's chief executive Jeff Bezos aboard.
Facebook says 32-year-old Lina Khan "has prejudged" an antitrust case brought against it by the federal government.
With aims to reduce China's dependency on foreign technology, the People's Republic has unveiled Comac, its debut passenger jet
Next week, Amazon founder Jeff Bezos is planning to fulfill a childhood ambition, one made possible by virtue of his status as one of the richest men in the world. Bezos, who stepped down as Amazon's CEO in recent days exactly 27 years after founding the e-commerce giant, also leads his own private space company, … The post How to watch Amazon founder Jeff Bezos fly to space next week appeared first on BGR.
General Motors is telling owners of some older Chevrolet Bolts to park them outdoors and not to charge them overnight because two of the electric cars caught fire after recall repairs were made. The company said Wednesday that the request covers 2017 through 2019 Bolts that were part of a group that was recalled earlier due to fires in the batteries. The latest request comes after two Bolts that had gotten recall repairs caught fire, one in Vermont and the other in New Jersey, GM spokesman Kevin Kelly said.
We have narrowed down our search to five large-cap stocks with current dividend yield of more than 3%. These are: REG, ET, MET, IP and BX.
What is the situation surrounding LSU head coach Ed Orgeron ahead of the 2021 season?
The FIFA World Cup Finals and the Summer Olympics are without a doubt the two biggest sports events in the world. But which is bigger?
LOS ANGELES (Reuters) -Britain's Duchess Meghan has created an animated family series for streaming platform Netflix Inc that she will also executive produce, her production company said on Wednesday. Archewell Productions, the company formed by Meghan and her husband, Prince Harry, said in a statement the series would be centered on the adventures of a 12-year-old girl, who is inspired by a variety of influential women from history. The series, called "Pearl," is one of the first to be announced by Netflix and the British couple, formally known as the Duke and Duchess of Sussex.
As we already know from media reports and hedge fund investor letters, hedge funds delivered their best returns in a decade. Most investors who decided to stick with hedge funds after a rough 2018 recouped their losses by the end of the fourth quarter of 2019. A significant number of hedge funds continued their strong […]
Jeff Bezos and Richard Branson insist that the advances made by their companies will benefit everyone, but critics say their interplanetary ambitions come from a combination of vanity and greed.
The Justice Department has accused Iranians of plotting to kidnap Masih Alinejad, an activist in Brooklyn who ran an anti-hijab campaign on Facebook.
An Insider reporter booked a room on an Amtrak train and found the small space not to be worth the $550 price tag.
After visiting the themes parks my whole life and working at them for two years, here's my ultimate list of must-dos at Walt Disney World in Florida.
Once considered the "French Riviera of Cyprus," the resort locale of Varosha in the city of Famagusta lay abandoned and decaying for decades.
Seattle-based Ultra Safe Nuclear Technologies and its partners are among three teams winning $5 million contracts from NASA and the Department of Energy to develop reactor designs for space-based nuclear thermal propulsion systems. USNC-Tech's partners include its parent company, Ultra Safe Nuclear Corp., and Amazon founder Jeff Bezos' Blue Origin space venture — as well as General Electric Hitachi Nuclear Energy, General Electric Research, Framatome and Materion. The team will work under the di
Thrill seekers are ready to return to theme parks, but they have different expectations at this point in the pandemic, according to a new survey.
Beach vacations and theme park trips are fun, but mountain towns offer majestic views of nature's splendor plus outdoor exploration opportunities.
Read full article at CNBC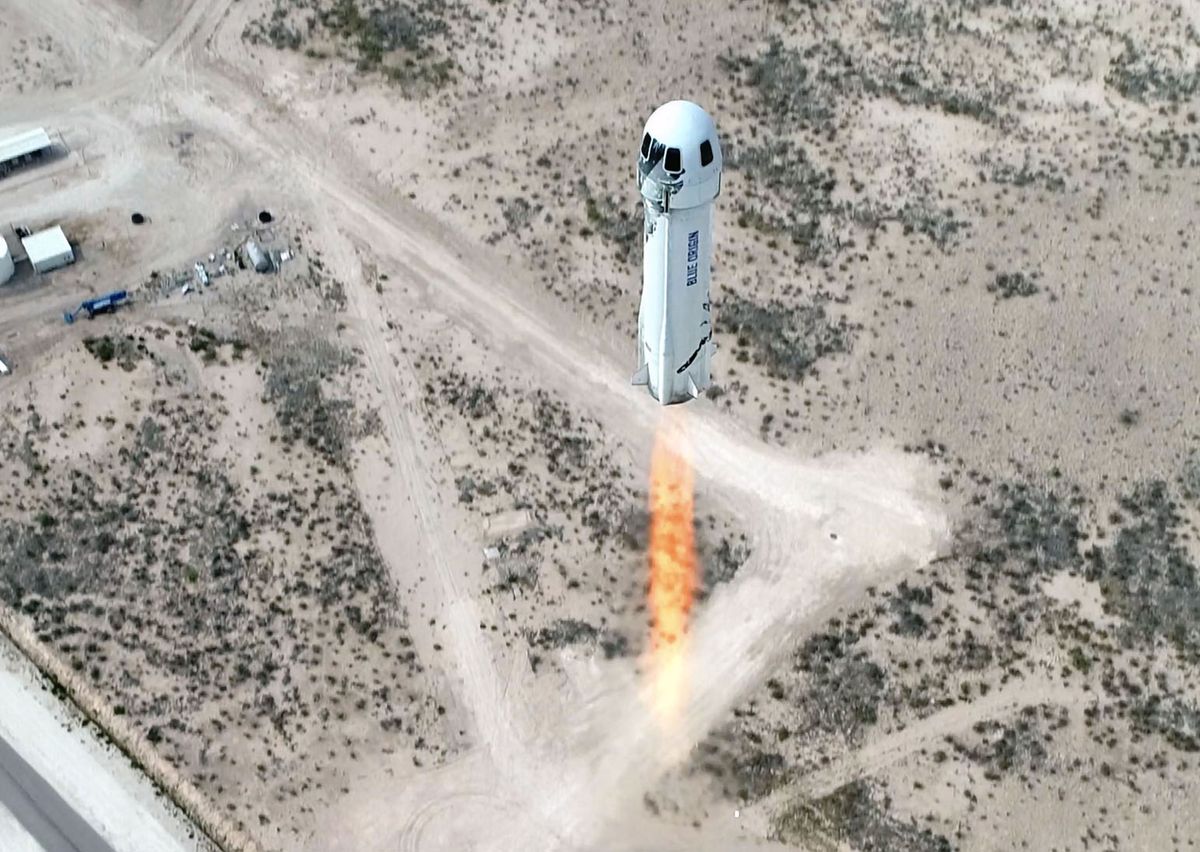 Space.com 15 July, 2021 - 10:02am
The money was raised by auctioning off a seat on Blue Origin's upcoming spaceflight.
The 19 organizations are AstraFemina, the AIAA Foundation, the Astronaut Scholarship Foundation, the Brooke Owens Fellowship, the Challenger Center, Higher Orbits, the International Astronautical Federation, the National Space Society, SciArt Exchange, Space Camp, Space Center Houston, the Space For Art Foundation, Space For Humanity, the Space Generation Advisory Council, Students for the Exploration and Development of Space, Teachers in Space, The Mars Society, The Planetary Society and The Space Frontier Foundation. You can read a brief description of the goals of each group in the Blue Origin statement.
Blue Origin plans to use the rest of the auction money to fund Club for the Future's curriculum and its Postcards to Space program, which has sent tens of thousands of kids' postcards to suborbital space on uncrewed New Shepard flights, company representatives said. The company founded the Club for the Future in 2019.
Also on Wednesday, it was announced that Bezos is personally giving $200 million to the Smithsonian Institution— the largest single donation to the huge museum, education and research complex since James Smithson's "founding gift" in 1846. Seventy million will go toward renovating the National Air and Space Museum, and $130 million will support a new education center, Smithsonian representatives said.
"The Smithsonian plays a vital role in igniting the imaginations of our future builders and dreamers," Bezos said in a statement. "Every child is born with great potential, and it's inspiration that unlocks that potential. My love affair with science, invention and space did that for me, and I hope this gift does that for others."
Thank you for signing up to Space. You will receive a verification email shortly.
There was a problem. Please refresh the page and try again.
© Future US, Inc. 11 West 42nd Street, 15th Floor, New York, NY 10036.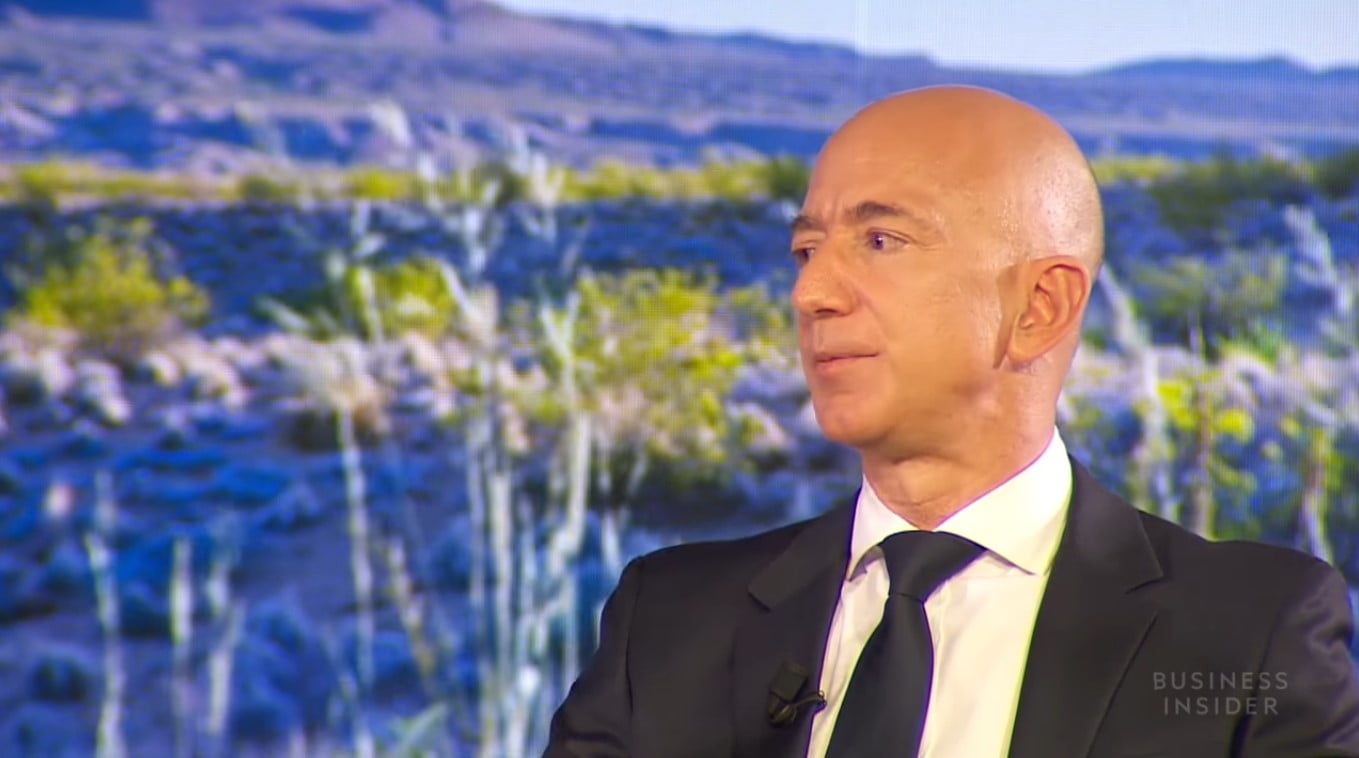 ValueWalk 15 July, 2021 - 10:02am
Jeff Bezos is making waves in the market after he announced via Twitter he has completed a buyout of Richard Branson's Virgin Galactic Holdings Inc (NYSE:SPCE) and will be shutting down its space program and plans to incorporate talent from Virgin Galactic into Blue Origin. This news spelled disaster for Virgin Galactic investors who already were hit hard this morning, expecting a huge increase in share price after Branson's successful test flight over the weekend, but were met with an early morning filing showing a sale of over 500,000,000 shares causing the share price to plummet.
Get The Full Walter Schloss Series in PDF
Get the entire 10-part series on Walter Schloss in PDF. Save it to your desktop, read it on your tablet, or email to your colleagues.
Virgin Galactic was down almost 20% at market close, during the evening of Monday the 12th when the announcement was made, massive after hours selling started plummeting Virgin Galactic even more before the SEC halted all after hours trading of Virgin Galactic, $SPCE is now down almost 65% in one trading day, an almost unheard of amount for a company of its size.
Many Wallstreetbets users who have weekly calls on Virgin Galactic are beyond mad. Some have threatened to "put Bezos on the local FOX-11" while some are more accepting of the grim future and are considering suicide.
In other news, Chief Keef was named brand ambassador for Blue Origin and is expected to accompany Bezos on his flight to space.
Disclaimer: This is a satirical article.
Subscribe to ValueWalk Newsletter. We respect your privacy.
ValueWalk.com is a highly regarded, non-partisan site – the website provides unique coverage on hedge funds, large asset managers, and value investing. ValueWalk also contains archives of famous investors, and features many investor resource pages.
Mission: Providing a framework to improve your investing PROCESS, while collecting newsworthy information about trends in business, politics and tech areas.
Subscribe to ValueWalk Newsletter. We respect your privacy.
Subscribe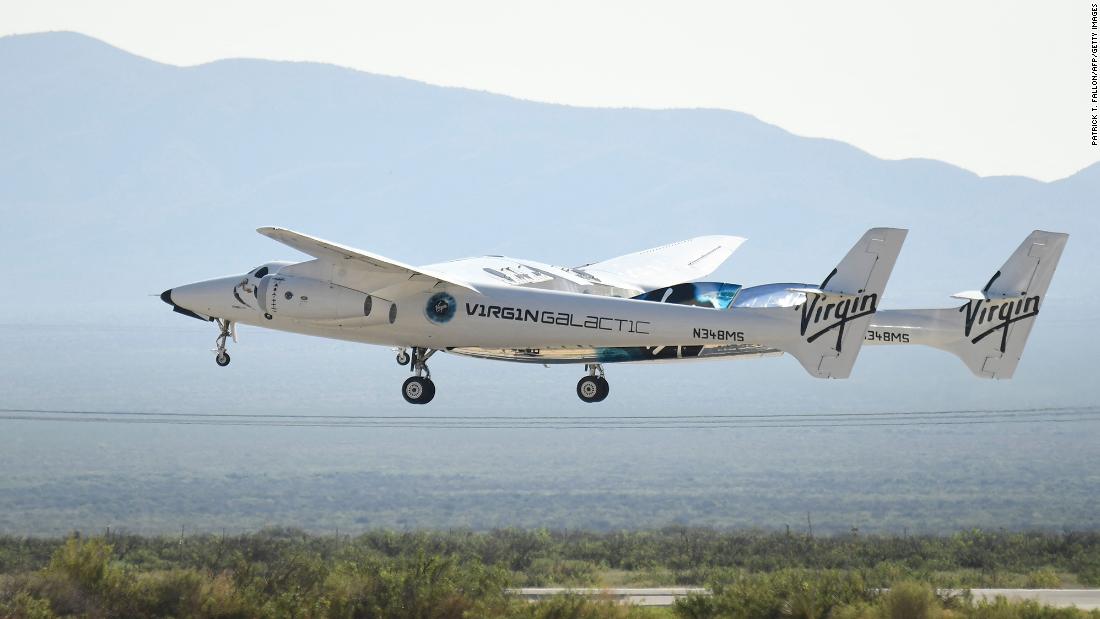 CNN 15 July, 2021 - 10:02am
Updated 7:39 AM ET, Wed July 14, 2021
The Verge 15 July, 2021 - 09:42am
18-year-old Oliver Daemen replaces the mystery winner of a $28 million auction
Blue Origin's launch, scheduled for July 20th, marks the company's first crewed mission to the edge of space. Four people will launch aboard its suborbital New Shepard rocket from a remote desert site in Van Horn, Texas. Blue Origin founder Bezos, his brother Mark, aviation icon and astronaut candidate Wally Funk, and Daemen will be New Shepard's full crew. The company received Federal Aviation Administration approval to fly passengers on Monday.
Welcome to the crew, Oliver! We're grateful to have you as our first customer to mark the beginning of commercial operations. #NSFirstHumanFlight https://t.co/gwZ6qBOFpi pic.twitter.com/SuOwxe2353
Blue Origin said Daemen marks the company's first paying customer, but it's unclear how much the ticket cost. "We're not disclosing the price paid," a Blue Origin spokeswoman said in response to questions from The Verge. "He was a participant in the auction and had secured a seat on the second flight. We moved him up when this seat on the first flight became available."
Subscribe to get the best Verge-approved tech deals of the week.
Check your inbox for a welcome email.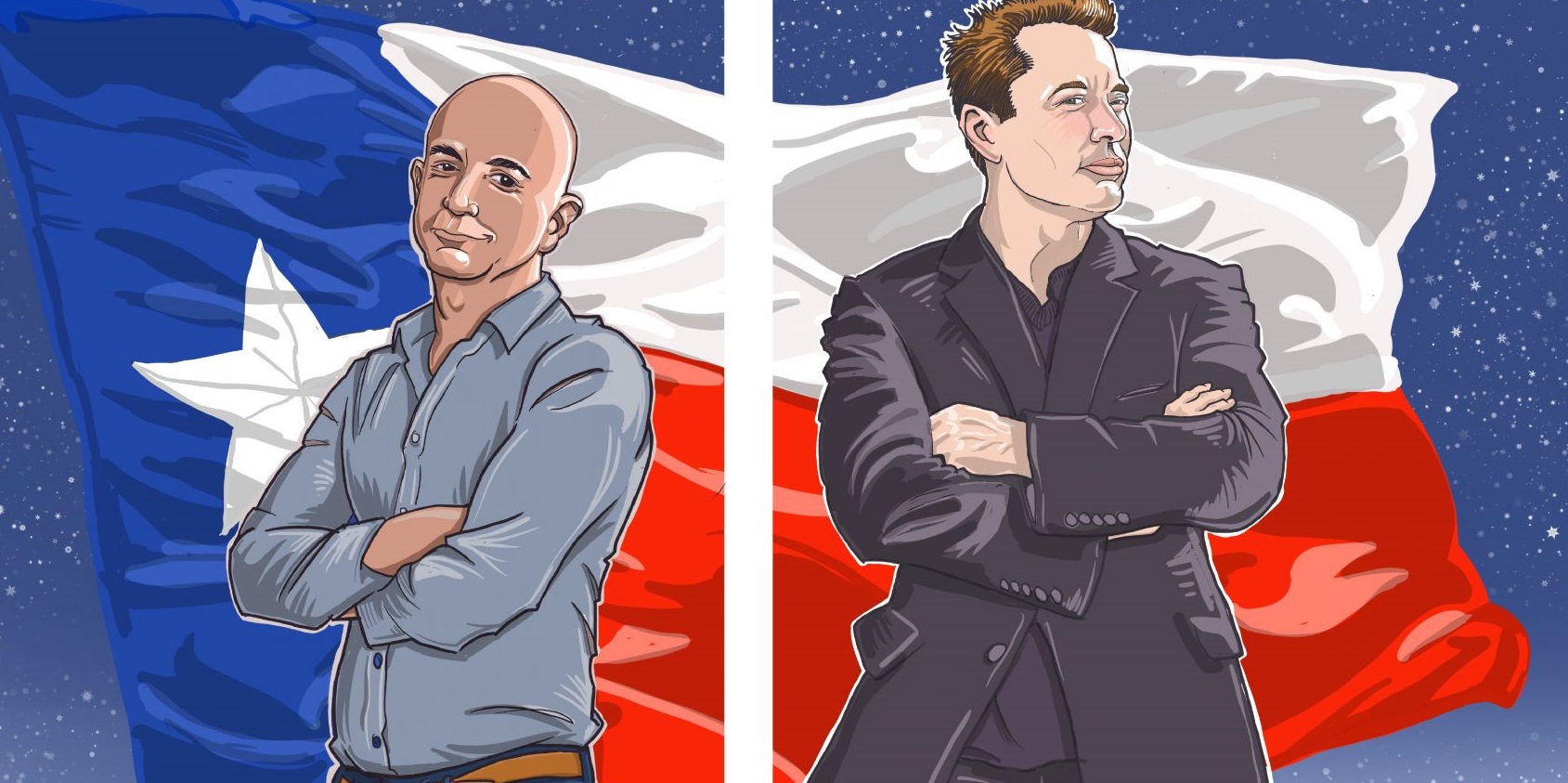 Houston Chronicle 15 July, 2021 - 06:00am
Along the southern beaches and western mountains of Texas, two of the world's richest men are launching rockets.
Geography, wealth and an obsession with space have fueled the enterprises of Elon Musk and Jeff Bezos. But other than murals depicting their skyward-gazing faces in Brownsville and Van Horn, respectively, the two have little in common.
"These are egos engaged," said John Logsdon, who founded George Washington University's Space Policy Institute. "There are individual aspects to this competition. It transcends normal business."
PRIORITIZING SPACE: TexSpace debuts to solidify Houston as Space City
Musk, 50, founded SpaceX in 2002. His more than 14,800 tweets have created a loyal fan base as he shares technical insights, answers direct questions and publishes random thoughts and memes.
Bezos, 57, founded Blue Origin in 2000. His Instagram is a more careful curation of family photos, celebrity selfies and information on his companies and causes.
SpaceX recently launched five Starship prototypes outside of Brownsville — the first four of these spacecraft exploded spectacularly. Success was measured by how much the company learned. Musk celebrated the first failure, "Mars, here we come!!"
Blue Origin had one partial failure out of 15 New Shepard rocket system launches north of Van Horn. On the first New Shepard launch, the rocket did not land in a gentle, upright position, but the capsule did land safely.
"If New Shepard had been a traditional expendable vehicle, this would have been a flawless first test flight," Bezos said.
SpaceX has been fast and aggressive, not afraid to butt heads with regulators. Blue Origin has moved slowly and methodically. There's an underlying rivalry, yet both companies are strengthening the state's commercial space industry. Texas is increasingly known for more than just NASA's Johnson Space Center.
And they're working toward the same lofty goal: giving more people access to space.
"I've never thought of it as anything other than a healthy competitive spirit," said Phil Smith, a space industry analyst at the analytics and engineering firm BryceTech, "and not unlike the kinds of competition that occurred with railroads, newspapers and that sort of thing in ages past."
There is an important distinction between the two companies. SpaceX has developed a tried-and-true rocket, the Falcon 9, that has launched satellites and NASA astronauts into Earth's orbit. Blue Origin is still developing a rocket that could push payloads into orbit, and its suborbital New Shepard system has not yet launched people.
That's set to change July 20, when Blue Origin sends its first crew on an 11-minute journey to space and back.
It's a simpler mission than flying people to the International Space Station. But this New Shepard flight will have its own accolade — it's sending the boss into space. Bezos is flying with his brother Mark, 82-year-old female aerospace pioneer Wally Funk and 18-year-old Oliver Daemen.
FINALLY GOING TO SPACE: Wally Funk of the 'Mercury 13' will join Jeff Bezos on landmark Blue Origin space flight
He was almost the first billionaire to ride his own creation into space. But shortly after Bezos announced his July 20 flight, Virgin Galactic said its billionaire founder, Richard Branson, was headed into space. Branson took his flight from New Mexico on July 11.
Musk was there to cheer him on. Blue Origin originally released an aggressive tweet about how New Shepard would fly higher, but Bezos later congratulated Branson on Instagram.
"Can't wait to join the club!" Bezos said.
In Texas, SpaceX and Blue Origin are using the state's waterfront property and wide-open spaces to chase much different goals.
"It's an accident of geography," Logsdon said.
SpaceX is developing and testing a system that could carry people to Mars. Its location on a South Texas beach means SpaceX can launch over water — away from most people — and to the east, where the Earth's spin provides a boost. SpaceX also might launch from former oil rigs converted into ocean spaceports.
Blue Origin is targeting the suborbital space tourism market. There is plenty of uninhabited West Texas land to launch and then come back down.
This is the first of three articles exploring the two men vying to dominate the commercial space industry and the two Texas towns where they are launching their spacecraft.
Part 1: Elon Musk and Jeff Bezos have little in common other than wealth, an obsession with space and Texas.
Part 2: Elon Musk brought exploding rockets and soaring real estate prices to Brownsville.
Part 3: Jeff Bezos brought Blue Origin to Van Horn. It changed the town.
Blue Origin has not said what it will cost to go into space. It held an auction for a seat on its first flight, and nearly 7,600 people registered to bid from 159 countries. The winning bid was $28 million. This is being donated to Blue Origin's foundation, Club for the Future, that's dedicated to STEM education.
PRACTICE RUN: Blue Origin gets crew dress rehearsal before launch from West Texas
The two companies compete more directly outside of the Lone Star State. They were among four companies, including Northrop Grumman and United Launch Alliance, to compete for a contract to launch national security missions.
SpaceX went into the competition with two flight-proven rockets: the Falcon 9 and Falcon Heavy. Blue Origin proposed using its New Glenn rocket. In February, Blue Origin said this rocket could have its first flight in late 2022.
"SpaceX has a pretty strong ground to justify its confidence," Smith said.
The Space Force, which became the sixth branch of the military in 2019, awarded contracts to SpaceX and United Launch Alliance in 2020.
United Launch Alliance, which has a proven track record with its Atlas V and Delta IV rockets, is planning to use its Vulcan Centaur rocket. The Vulcan Centaur has not yet launched. But when it does, it will use BE-4 rocket engines provided by Blue Origin.
"Folks in government like to see the activity and the competition," said Brendan Curry, chief of Washington operations for the Planetary Society, a nonprofit that seeks to get more people engaged with space. "If the federal government has a need for a space service and you have competition between a variety of players, you know at the end of the day it should work out ideally best for the taxpayer."
More recently, SpaceX and Blue Origin have gone head-to-head for a NASA contract to land astronauts on the moon. A third company, Dynetics, also was being considered.
SpaceX proposed using Starship for NASA's human landing system. Blue Origin designed a lander in partnership with Lockheed Martin, Northrop Grumman and Draper.
NASA was expected to select two companies, but it ultimately chose just SpaceX. Congress didn't provide enough funding to support two landers.
Blue Origin is protesting this decision, and it has found a sympathetic ear in Congress. When the Senate passed the U.S. Innovation and Competition Act in June — a bill designed to keep America technologically competitive, particularly with China — there was a provision that would authorize $10 billion for NASA to select a second human landing system.
It is unclear if the legislation will get lost among other national priorities or if the desire to stay abreast of China will carry this bill through the house, Curry said.
"The Human Landing System program needs competition, not the delay of starting over," Blue Origin said May 27 on Twitter.
Feisty tweets are a new style for Blue Origin, which until recently had been quiet about its operations.
And SpaceX, which was initially more open, now is moving in the opposite direction, said Greg Autry, a clinical professor of space leadership, policy and business for Arizona State University. The company has grown to a point where its technology and national security missions could attract the attention of foreign adversaries.
"SpaceX is, for very practical reasons, becoming less accessible," Autry said, "and Blue is getting smarter about the value of public exposure."
Public perception of the billionaire founders also affects the companies.
Both are recognized as technology innovators. They're also extremely wealthy. According to Bloomberg, Bezos was the world's richest man as of July 13 and Musk was the second-richest man..
Bezos also is viewed as someone who makes lavish purchases, including a superyacht, Logsdon said. He had a high-profile divorce, and Amazon gets criticized for its treatment of warehouse workers. More than 155,000 people have signed a petition titled "Do not allow Jeff Bezos to return to Earth."
Musk has created a quirkier image. He's become "kind of a folk figure," Logsdon said, "that's mainly positive."
TEXAS RESIDENT: Elon Musk confirms that he has moved to Texas
People like how Musk interacts with fans on Twitter. He jokes and feels more approachable than the typical billionaire.
"Elon's gone through the trouble to make them love him," said Autry, who also is launching an ASU executive master's program in global space management, "where Bezos chose to be super secretive about his company to the point where it really irritated people in the space community early on."
Musk's prolific use of Twitter also has gotten him into trouble. In 2018, Musk (who is also Tesla's CEO) said he was considering taking the electric vehicle company private. The U.S. Securities and Exchange Commission charged Musk with securities fraud; this was settled with Musk agreeing to step down as Tesla's chairman and to pay $20 million. Tesla also paid $20 million to settle its charge.
Still, SpaceX has a cult-like following that Blue Origin lacks. This can be seen on Louis Balderas' LabPadre YouTube channel, which provides 24/7 livestream video of SpaceX in South Texas. His channel has 190,000 subscribers; ads and contributions from global SpaceX fans have doubled Balderas' income.
His eight South Texas cameras have captured the company's launches, explosions and exponential growth.
"It could be at 3 o'clock in the morning and absolutely nothing going on, but a crane starts coming down the highway," Balderas said. "'Oh my God, there's a crane coming. What kind of crane is it? Where's it going and how tall is it?' People freak out on the littlest thing. They count cars. When there's nothing else going on, they count cars."
More people are traveling to the Brownsville area to see SpaceX. Someone even stayed in town for weeks driving Uber and waiting for a launch, said Ramiro Gonzalez, director of government and community affairs for the city of Brownsville.
"You can tell there's a lot of excitement," Gonzalez said.
In April 20 comments sent to the Army Corps of Engineers, Sidney Maddock highlighted Blue Origin's ability to launch and land rockets that don't explode. She also noted that Blue Origin is not located near valuable wetlands.
"The recent successful activities of Blue Origin launching a rocket into space demonstrate that there are practicable alternatives for rocket launch activities that do not involve fill of valuable wetlands," wrote Maddock, an independent contractor who has done non-breeding piping plover research for agencies, universities and environmental organizations.
"If there were an explosion with a Blue Origin launch similar to what occurred multiple times at Boca Chica with SpaceX, the Blue Origin rocket debris would not be falling in valuable habitats used by the threatened piping plover and other shorebirds and waterbirds," Maddock said.
GROWTH: SpaceX gives notice on expansion plans in South Texas
SpaceX initially sought at least $36 million in state and local tax subsides — $31.3 million for its launch site in South Texas and $5 million for its rocket engine testing facility in McGregor — and potentially millions more in property tax relief, records show.
Blue Origin said it did not receive any incentives or tax breaks.
"They never asked," said Culberson County Auditor Mark Cabezuela.
Cabezuela and Van Horn Mayor Becky Brewster said Blue Origin was a welcome newcomer to their community — but also a secretive one. Signing tax-incentive agreements with the city or county would require disclosing financial information that Blue Origin probably prefers to keep to itself, they said.
In the case of SpaceX, which did not respond to a request for comment, it's unclear exactly how much in tax incentives Musk's company ended up receiving. SpaceX backed out of some deals or failed to provide proof that it met its job-creation requirements, officials said.
"The reason we never paid out anything to SpaceX is because they never provided (enough) documentation," said Raudel Garza, manager and chief executive officer of the Development Corporation of Harlingen Inc., which had agreed to pay SpaceX $450,000 if it could show at least 10 percent of its new hires were Harlingen residents.
The largest incentive pledged to SpaceX was $13 million from the state's Spaceport Trust Fund. Gov. Greg Abbott's office didn't answer questions about how much has been spent by the trust fund, and it declined to immediately provide payment documentation to the Houston Chronicle after the newspaper filed an open records request for the information.
Brewster doesn't pay too much attention to SpaceX, though she has seen its explosions on the news. She prefers how Blue Origin is developing New Shepard north of her community.
"I tend to be a little bit more cautious," Brewster said.
As a fan of both Star Wars and Star Trek, she's excited to see people launch into space. Others in the community also have become ardent Blue Origin fans. Local business owner Vance Cottrell hears the word "SpaceX" and responds, "Who are they?"
Of course, Twitter is full of Blue Origin mockery. "Nice carnival ride. How long before you achieve orbit?" @mobileheath said May 18.
But both companies are flying and will continue to fly, helping to make Texas the state of space.
Read Parts 2 and 3 of this series Monday, as Bezos prepares for launch:
Andrea Leinfelder is the space reporter for the Houston Chronicle. Andrea writes about NASA and the commercial space sector, where her coverage spans human spaceflight, robotic exploration and operations in low-Earth orbit. For six months of the year, she keeps an eye on the Atlantic hurricane season. Andrea graduated from the University of Florida in 2012 and has lived in Houston since 2014. She enjoys traveling, eating her way across Houston and walking her dog Lizzy. She can be reached at andrea.leinfelder@chron.com. Follow her on Twitter.
Jon Shapley is a staff photographer for the Houston Chronicle, and he's interested in meeting people and telling stories. A native Houstonian, he joined the Chronicle in 2015. He previously worked at the NPR affiliate in Austin, as well as monthly magazines in Austin and San Antonio. He can be reached at jon.shapley@chron.com. Follow him on Instagram and Twitter.
Andrea writes about NASA and the commercial space sector, where her coverage spans human spaceflight, robotic exploration and operations in low-Earth orbit. For six months of the year, she keeps an eye on the Atlantic hurricane season. Andrea graduated from the University of Florida in 2012 and has lived in Houston since 2014. She enjoys traveling, eating her way across Houston and walking her dog Lizzy.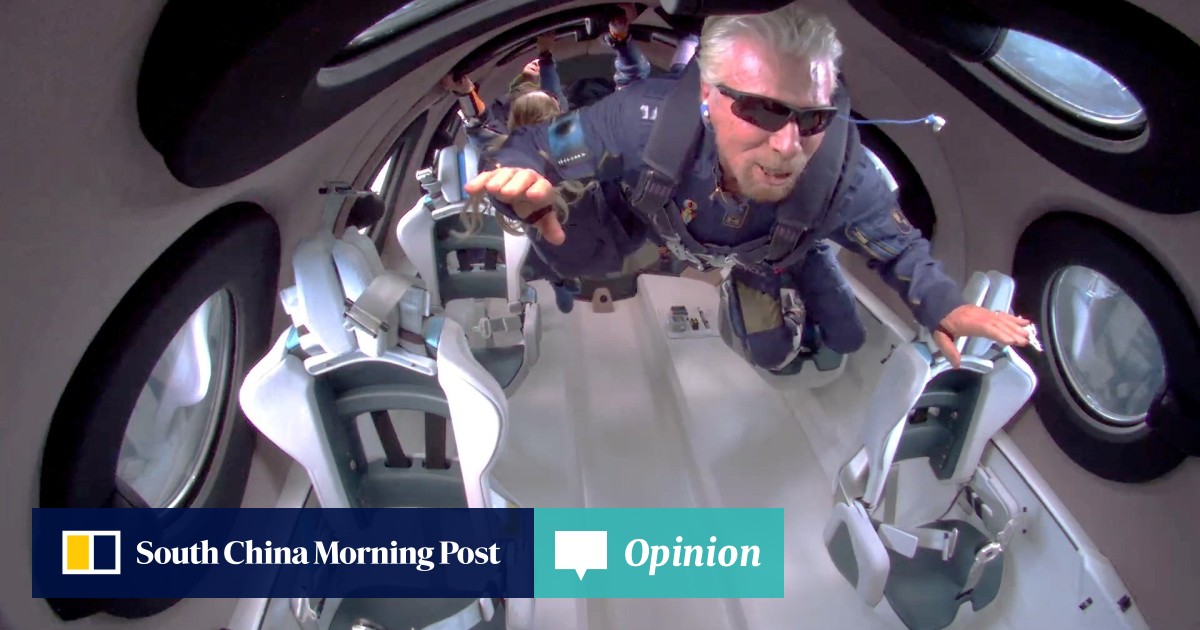 South China Morning Post 15 July, 2021 - 04:05am