Gov. Asa Hutchinson
AsaHutchinson
Today's report of 41 new hospitalizations should be of concern to unvaccinated Arkansans. 98.3% of those hospitalized since January were not vaccinated. I'll be in Forrest City this evening for another Community COVID Conversation. pic.twitter.com/I6TmqO9oc9
Annastacia Palaszczuk
AnnastaciaMP
BREAKING: Queensland will declare Victoria as a COVID-19 hotspot following an increase in locally acquired cases. From 1am Saturday 17 July, anyone arriving into Queensland from Victoria will not be allowed to enter Queensland without an exemption. pic.twitter.com/YC3grUi5qS

Eric Feigl-Ding
DrEricDing
BREAKING—With #COVID19 cases and hospitalizations surging, Los Angeles will now *require* indoor mask again, **regardless of vaccination status**. @CountyofLA's mandate is what needs to be done to slow #DeltaVariant—where is our @CDCgov? @CDCDirector—please rules update ASAP. pic.twitter.com/9vxQJbANES

Bob Wachter
Bob_Wachter
If you're wondering how bad Delta really is, even in highly vaccinated SF (76% of >age 12 fully vaxxed) & still w/ a lot of masking (most folks in stores), we're seeing a pretty steep Covid uptick. Daily cases up 4-fold (10->42; Fig L), hospital pts doubled (9->19; R)(Thread 1/4) pic.twitter.com/6JC2UlA0Sf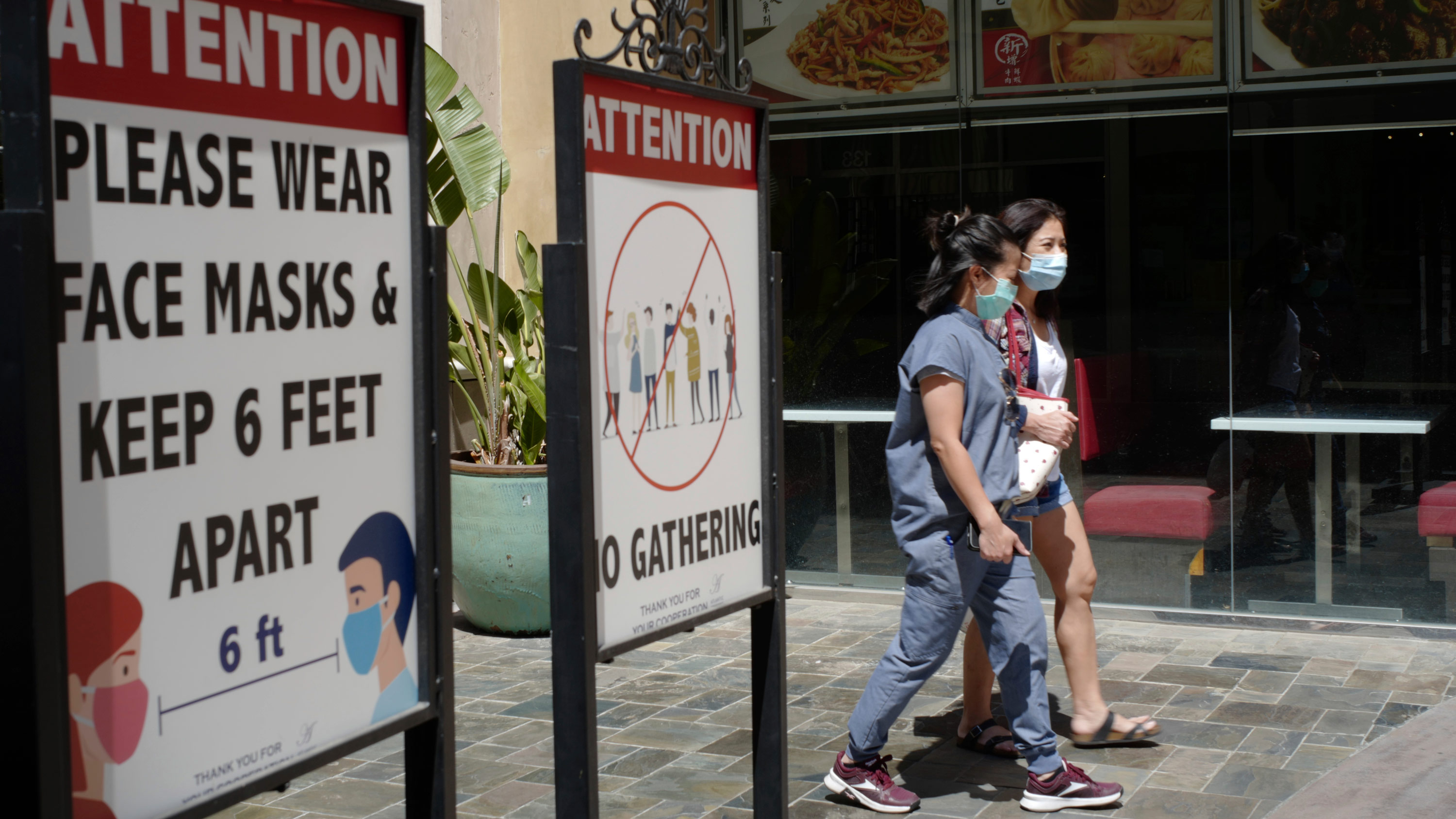 Los Angeles County will reinstate its mask mandate regardless of vaccination status starting 11:59 p.m. Saturday night amid a rise in coronavirus cases and hospitalizations. 
The new health officer order will require masking indoors regardless of vaccination status, Los Angeles County Health Officer Dr. Muntu Davis said in a news conference Thursday. 
The daily test positivity rate in Los Angeles County has risen to 3.75%, an increase from 1.2% on June 15. 
The county has seen more than 1,000 new coronavirus cases each day for the past seven days, an alarming new rise as the Delta variant spreads, Davis said.
He explained that the county was at a low level of transmission when it reopened last month. 
"We're in a different situation," Davis emphasized. "This is not the same situation as it was June 15."
Los Angeles County reported 1,537 new cases on Thursday, an 83% increase over the last week.  
"Anything is on the table if things continue to get worse," Davis said in response to a question about whether the county would consider more restrictions. 
The new health officer order, which requires the use of masks indoors regardless of vaccination status, will add that extra layer of protection where the risk is higher, he said.
The county is urging all residents to get vaccinated and has launched mobile clinics for easier access. 
Los Angeles County has administered more than 10.7 million doses of the vaccine and over five million residents are fully vaccinated, according to Davis.
President Biden says he'll soon be able to answer persistent questions about travel to the US from Europe after German Chancellor Angela Merkel raised the matter in the Oval office.
Biden said he brought in members of his Covid team when Merkel raised the question during their bilateral talks.
"It's in process now," Biden said, adding he'd be "able to answer that question...in the next several days." 
While Europe eased restrictions for American travelers last month, the US has maintained strict travel restrictions put in place under former President Trump. Officials have said the spread of the Delta variant has put a hold on reopening to country to Europe.
Merkel said she'd received similar assurances from Biden in their meeting that he was looking into the matter.
She said she had "every confidence in the American Covid team."
Tonight's New York Yankees home game versus the Boston Red Sox has been postponed due to positive Covid-19 tests within the Yankees organization, according to Major League Baseball (MLB).
The Red Sox-Yankees game was the lone MLB game on tonight's schedule following the annual All-Star Game break.
Rhode Island has become the first state where all public and private colleges and universities require their students to be fully vaccinated against Covid-19 before returning to campus this fall, Gov. Dan McKee announced this week.
"Thank you to our institutions for taking proactive steps to keep our communities safe," McKee tweeted Tuesday.
Dr. Nicole Alexander-Scott, Rhode Island's health director, said in the state's news release that vaccinations are "key" to having a successful academic year.
Almost 100% of people tested positive for antibodies 14 or more days after their second Covid-19 vaccine dose, an English study has found.
More than 207,337 participants in England took part in the home surveillance study for Covid-19 antibodies between May 12 and May 25.
Participants tested themselves at home using a finger prick test 14 days after their second dose of either the Pfizer/BioNTech or the AstraZeneca vaccine as part of a study being conducted by Imperial College London and Ipsos MORI.
The researchers tested the blood for antibodies specifically generated by the vaccines – antibodies that researchers believe protect people against the worst effects of the virus. It's a different test from the commercial tests used to detect evidence of past coronavirus infection. 
Some context: England is scheduled to lift all restrictions on social contact on Monday despite a rise in cases. On Thursday, 48,553 new cases and 63 Covid-related deaths were reported across the UK, according to government figures.
Following one dose of either vaccine, the proportion of people testing positive for antibodies peaked at four to five weeks after first dose and then started to decline before rising substantially in those who had a second dose, according to the news release.
On Wednesday, the government announced more than two in three adults in the UK have now received both doses of a Covid-19 vaccine.
Misinformation and mistrust continue to play a key role in Covid-19 vaccine hesitancy, according to a CNN analysis of data from the US Census Bureau's Household Pulse Survey. 
Nearly half (48%) of people who said they will "definitely" or "probably" not get a Covid-19 vaccine cited mistrust in the vaccines as a reason for not getting vaccinated, according to the latest data, published Wednesday and based on survey responses from June 23 to July 5. That's an increase from about a month ago, when 46% of people who said they did not plan to be vaccinated gave the same reason. 
And in the latest survey, more than a half (51%) of people who said that they "definitely" or "probably" would not get a Covid-19 vaccine because they were concerned about side effects, up from 49% about a month ago. 
According to the latest Household Pulse Survey data, the top reasons people who said they "definitely" or "probably" will not get a Covid-19 vaccine are: 
Additionally, 14% said that they don't think Covid-19 is a serious illness and 18% said they don't know if a vaccine will work. 
The White House is ramping up efforts to push back more aggressively on vaccine disinformation, and US Surgeon General Vivek Murthy warned in a new advisory published Thursday that health misinformation is "a serious threat to public health."
Tedros Adhanom Ghebreyesus, the director-general of the World Health Organization, said access to raw data was a challenge at the start of the investigation into the origins of Covid-19 and called on countries to be cooperative with future phases. 
"We have done the phase one, and the phase one has shown some progress, but there are also some challenges that have to be addressed," he said during a news briefing in Geneva Thursday. "One of the challenges is what you mentioned, you know, access to raw data, especially the data at the start of the pandemic, the raw data was not shared." 
Tedros later said that he didn't think momentum had been lost on the origins investigation. 
"We need to continue the study in order to know what exactly happened," he said. "If we know what happened, then we can prevent future similar crises or problems." 
The investigation is one of the basics for outbreaks, regardless of their size, he said, and what is done when any outbreak happens, so that the origins can be understood.
"There is the other part of it, especially considering the unprecedented nature of this pandemic, the number of people that died and the number of people that suffered," Tedros said. "Take the number of deaths alone, more than four million, I think we owe it to them to know what happened. And everybody should cooperate to know what happened, and to prevent the same crisis from happening again. And that's why we need cooperation." 
Misinformation about health and health care frequently comes from people trying to share helpful information, US Surgeon General Dr. Vivek Murthy said Thursday.
Murthy released an advisory warning of the threat posed by the spread of health misinformation earlier Thursday.
Not all of it is spread deliberately, he told the Stanford panel.
"Yes, there are some nefarious actors who are actively and willfully trying to harm others or generate an advantage to themselves politically or financially by spreading misinformation. But much of what we are seeing is people who think they're helping sharing misinformation," he said.
Murthy said this means fighting misinformation can be a personal objective. The surgeon general recommended first making sure that you yourself are not spreading misinformation, and then having conversations with the people around you.
"So, when my parents shared something, show something to me, and I realize it's false, I often will tell them, 'Talk to your friend. Not judgmentally, not with blame, but let them know, because they may be unaware, that what they shared actually isn't true,'" Murthy said. "Doing that with our family and friends respectfully, kindly, is actually an important step that we can take also to slow the spread of misinformation."
Peer-to-peer sharing of information is a powerful and essential way to fight vaccine misinformation, US Surgeon General Dr. Vivek Murthy said Thursday.
"It's about peers talking to peers," he said during a Stanford University panel event on Thursday. "That is actually extraordinarily important."
Murthy released an advisory earlier Thursday in which he called misinformation a serious threat to public health. "I am urging all Americans to help slow the spread of health misinformation during the COVID-19 pandemic and beyond," Murthy wrote in a 22-page advisory released Thursday.
College students can help, he told the Stanford panel later. "The trust that you have with your peers is absolutely essential. It's very powerful," he said.
"Know that you yourself may be doing that, inadvertently. So pausing before you share to check sources, to make sure it's coming from a scientifically credible source, is really important," he said.
Read full article at Vox.com
8 News NOW Las Vegas 15 July, 2021 - 11:02pm
KVUE 15 July, 2021 - 11:02pm
WJTV 12 News 15 July, 2021 - 11:02pm
THV11 15 July, 2021 - 11:02pm