Annastacia Palaszczuk
AnnastaciaMP
BREAKING: Queensland will declare Victoria as a COVID-19 hotspot following an increase in locally acquired cases. From 1am Saturday 17 July, anyone arriving into Queensland from Victoria will not be allowed to enter Queensland without an exemption. pic.twitter.com/YC3grUi5qS

Eric Feigl-Ding
DrEricDing
BREAKING—With #COVID19 cases and hospitalizations surging, Los Angeles will now *require* indoor mask again, **regardless of vaccination status**. @CountyofLA's mandate is what needs to be done to slow #DeltaVariant—where is our @CDCgov? @CDCDirector—please rules update ASAP. pic.twitter.com/9vxQJbANES
Vijay Inder Singla
VijayIndrSingla
Yesterday's 15/7/2021 Covid data of my Sangrur district: Active cases- 37 ✅ Recovered- 9 🔴 We can safeguard Sangrur from the impending 3rd wave by adhering to all the #Covid safety protocols. Most important is to get vaccinated at the earliest. #JimmewaarSangrur #COVID19 pic.twitter.com/C8Hrhm5U47

Bob Wachter
Bob_Wachter
If you're wondering how bad Delta really is, even in highly vaccinated SF (76% of >age 12 fully vaxxed) & still w/ a lot of masking (most folks in stores), we're seeing a pretty steep Covid uptick. Daily cases up 4-fold (10->42; Fig L), hospital pts doubled (9->19; R)(Thread 1/4) pic.twitter.com/6JC2UlA0Sf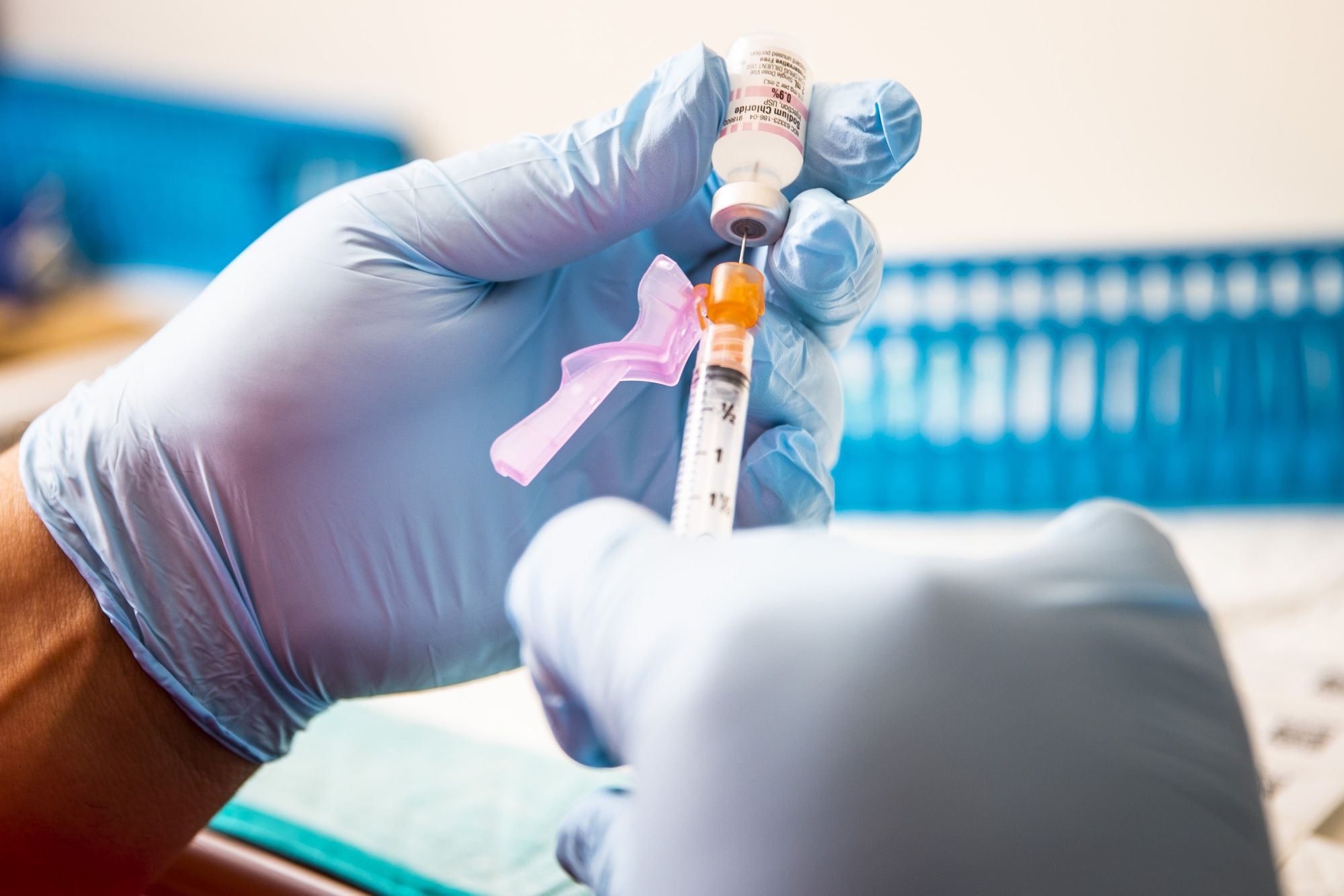 For the first time in months, COVID-19 trends in Massachusetts seem to be trending, if slightly, in the wrong direction.
Infections and even hospitalizations due to COVID-19 have begun to increase since the Fourth of July weekend. And it turns out that those vaccinated against the disease aren't completely immune, as state officials revealed that there have been thousands of breakthrough infections — and even dozens of deaths — among people who have gotten their shots since the rollout began.
But how much is this recent news cause for alarm?
Health experts and officials stress that the number of breakthrough infections is incredibly low — and somewhat expected — given the sheer volume of people in Massachusetts who have been vaccinated.
And while the slight uptick in cases comes as the Delta variant has fueled spikes across the country, particularly in under-vaccinated states, COVID-19 rates in Massachusetts for now remain nowhere even approaching their previous peaks.
The reality is that breakthrough infections do happen, but they are incredibly rare. And cases in which vaccinated individuals are hospitalized or even die due to COVID-19 are even rarer.
As of July 10, 4,450 vaccinated people in Massachusetts had tested positive for COVID-19 since the rollout began this past winter, according to the state's Department of Public Health.
That 's just over 0.1 percent — or one in a thousand — of the 4,195,844 people in Massachusetts who were fully vaccinated at the time.
Of that tiny faction, the overwhelming majority of cases weren't severe.
DPH officials say that 303 — or 6.8 percent — of the breakthrough infections involved hospitalization and a total of 79 vaccinated individuals in Massachusetts have died.
In other words, the most recent data shows that 0.007 percent — or seven in 100,000 — of fully vaccinated individuals in Massachusetts have been hospitalized. Likewise, less than two in 100,000 have died.
For comparison's sake, there has been a total of 5,057 deaths due to COVID-19 in Massachusetts since early January; 4,986 of them were people who were unvaccinated.
"These numbers show the reason to get vaccinated," Todd Ellerin, the director of infectious diseases at South Shore Health, told the Boston Herald this week.
"It's unbelievable actually," Ellerin said. "It's mind-blowing."
State officials echo that sentiment. Given the high vaccination rates in Massachusetts, DPH says they expect to see breakthrough cases, since the three COVID-19 vaccines authorized in the United States — Pfizer, Moderna, and Johnson & Johnson — are't quite 100 percent effective against preventing infections, even if they are highly effective.
"I think it's really consistent with what we expect," Tufts epidemiologist Dr. Shira Doron told WCVB. "When you have a highly vaccinated population, you're going to see a lot more cases in vaccinated people."
State officials stress that the vaccines are the best protection against COVID-19.
The evidence is in the state's overall COVID-19 rates, which have dropped dramatically since the beginning of the year when the vaccine rollout began — even as nearly all restrictions have been lifted. Hospitalizations are down 96 percent since the beginning of January; deaths due to COVID-19, which were averaging above 70 a day, are down to less than one a day.
"These results provide even more evidence that the vaccines are excellent, not just good, in preventing severe illness and death," Dr. Howard Koh, a professor at Harvard's Chan School of Public Health and former Massachusetts health commissioner, told The Boston Globe.
"We need to accelerate vaccination momentum going forward especially in light of rising national threats from the Delta variant," Koh added.
Breakthrough infections may have been expected, but Massachusetts is also seeing an unexpected rise in overall COVID-19 rates over the past week.
Since June 25, the average number of new positive COVID-19 tests in the state has nearly doubled, from 64 to 122. DPH officials also reported 208 new confirmed COVID-19 cases Wednesday, the first single-day report over 200 since early June, a time when the state's testing rate was nearly a third higher.
Over the same time period, the state's positivity rate more than doubled from 0.31 percent to 0.72 percent.
Following a steady decline this spring, hospitalizations have also increased from a low of 80 statewide COVID-19 patients on July 4 to 102 as of Tuesday. Deaths have continued to fall to an average of less than one a day, though experts have long said that fatalities lag behind other indicators.
All of the rates remains very low — lower than they ever were through all the ups and downs of the pandemic from March 2020 through this past May — but the trends appear similar to the national, Delta-variant-fueled uptick since the beginning of July.
It's unclear exactly how much of the recent uptick in Massachusetts has been caused by the Delta variant, which officials say is the most contagious iteration of the virus yet.
Nationally, it rose from just 3 percent of new cases in mid-May to over 31 percent of new cases by mid-June, according to the Centers for Disease Control and Prevention. According to the CDC, the Delta accounted for 10 percent of new cases in Massachusetts as of June 22, but that data is now nearly a month old — and predates the current uptick.
Cassandra Pierre, a Boston Medical Center epidemiologist and Boston University professor, says the recent uptick in overall cases in "somewhat concerning" given the national rise of the Delta variant.
"We have some data to show that the delta variant is responsible for more hospitalizations than the previous dominant variant and while the jury is out on whether it's also more virulent (capable of causing severe illness) we've begun to see COVID-related death rates rise in some of the hardest hit states," Pierre told Boston in an email.
"All this is to say, we still need to keep a close eye on the number of cases, hospitalizations and deaths among different age, race and ethnicity demographics (particularly in undervaccinated communities) to ensure we're not caught by surprised by a small spike this summer," she said.
While experts have predicted a mild, seasonal uptick in COVID-19 cases this fall, Pierre says the recent increase is earlier than anticipated. She noted that the rainy weather over the Fourth of July weekend may have pushed more gatherings and activities indoors.
DPH guidance says that unvaccinated resident should continue to wear masks when near people outside their household, especially indoors. While the Delta variant has caused some cities and organizations to extend that mask guidance to all individuals, regardless of vaccination status, the still-low case rates have yet to induce such a move in Massachusetts.
State officials say they don't have a breakdown of the recent infections among vaccinated and unvaccinated individuals, in part because the data on breakthrough cases is reported separately (while health care providers report all positive tests directly to the state, breakthrough cases are first reported to the CDC, and then to state officials).
However, earlier data on breakthrough infection obtained by the Herald through a public records request suggests that there have been 543 breakthrough cases between June 19 and July 10. That's roughly 30 percent of the 1,809 positive cases reported by the state over the same time period, meaning 70 percent of new cases were among the minority of residents who were not fully vaccinated.
While over 83 percent of Massachusetts adults have gotten at least one shot, vaccination rates are still hovering around 50 percent for Black and Latino residents, as well as in many lower-income communities.
Pierre notes that even in the most under-vaccinated communities in Boston, positive test rates for COVID-19 remain around 1 percent. Still, those gaps are a worry, Pierre said, as she's seen hospitalizations shift to the younger 20s-40s demographic and an increased percentage of that group with severe symptoms.
"Given the significant racial disparity in vaccination in our patient population, this signals concern that younger people of color will bear the brunt of infection as COVID slowly becomes endemic in our communities," she said.
Stay up to date on all the latest news from Boston.com
©2021 Boston Globe Media Partners, LLC
Stay up to date with everything Boston. Receive the latest news and breaking updates, straight from our newsroom to your inbox.
Read full article at Boston.com
USA TODAY 15 July, 2021 - 11:10pm
Vox.com 15 July, 2021 - 11:10pm
Covid-19 cases are on the rise in the United States again. But this time, the story is more complicated than it was in previous waves.
Since early January, when the United States hit a peak of 260,000 new cases every day on average, case numbers have been in more or less constant decline. Tens of millions of people were inoculated against Covid-19 in the following months. By late June, the country was averaging just 11,000 new cases per day, according to the New York Times tracker.
But as of July 13, the US is seeing about 25,000 new cases daily on average, double the case levels of just a few weeks ago.
Confirmed cases are a leading indicator. Somebody tests positive for the disease, but it may take two weeks for them to become sick enough to go to the hospital and even longer for them to die if they do not recover. (One caveat: Testing rates have dropped significantly in the past few months, so we may not be detecting every new case. But that only makes the rise in confirmed cases more concerning.)
This is still true — when cases accelerate, so do deaths, eventually — and the current trends reflect that basic reality.
Vox's German Lopez is here to guide you through the Biden administration's burst of policymaking. Sign up to receive our newsletter each Friday.
But this time, about half of the country is now fully vaccinated against Covid-19. Some of those people could still contract the virus, but their illness is much more likely to be mild if they have received the vaccine. The Biden administration announced last week that nearly all the Covid-19 hospitalizations and deaths being reported now are of unvaccinated people.
"The decoupling between cases and deaths has really occurred," Andrew Pavia, who specializes in infectious diseases at the University of Utah, told reporters at an Infectious Diseases Society of America briefing this week. "We're seeing an increase in deaths but not nearly to the degree previously."
Still, so long as the virus is circulating, there are risks, especially to the half of the population who haven't been vaccinated. The delta variant appears more transmissible and virulent than those that came before it, and, while the vaccines seem to be holding up well against it, it is still accounting for a bigger and bigger share of cases in the US.
Hospitalizations and deaths are also becoming more prevalent among younger people, another distinction from prior surges.
All in all, the situation is much messier than it was last year, when hospitalizations and deaths would grow like clockwork following a rise in cases. Here are three factors to keep in mind going forward.
If you have not been vaccinated, you do not have protection against the coronavirus — and the increasingly prevalent delta variant appears more dangerous than previous iterations of the virus. Right now, it accounts for nearly half of new cases in the US, and it is expected to become the dominant strain.
As Vox's Umair Irfan explained, the delta variant appears to be 60 percent more transmissible than the alpha variant first identified in the United Kingdom — which was likely already 60 percent more transmissible than the version of the virus first identified in humans.
Early evidence is mixed, but some suggests the delta variant may also be more virulent: A study conducted in Scotland found that people who had contracted the delta variant were twice as likely to end up in the hospital, though the death rate did not appear to be significantly worse.
"As greater numbers of non-vaccinated persons acquire the delta variant, hospitalizations may indeed rise," David Celentano, an epidemiologist at the John Hopkins School of Public Health, told me.
Different states also have different degrees of vulnerability, with vaccination rates by state ranging from 78 percent of Vermonters being fully vaccinated to just 42 percent of Alabamians. That has translated to the growth in cases: The states seeing the most new cases (including parts of the South, Midwest, and the West) per capita all rank in the bottom half of states in vaccination rates.
These trends contain both good and bad news. The bad news is self-evident: Because younger people and people in certain states are less likely to have been vaccinated against Covid-19, they remain more likely to contract the disease. Especially as the delta variant becomes more dominant, a higher share of them will end up in the hospital. Some will die.
According to CDC data, the share of people hospitalized with Covid-19 who are ages 18 to 49 has grown from 20 percent of the total in January to more than 40 percent now. Americans 65 and over made up more than half of Covid-19 hospitalizations in January; they now account for less than 30 percent.
To be clear: Overall hospitalizations are still way down from their peak, so the raw number of young people getting seriously ill is not as large as the number of hospitalizations among older people during the worst of the winter surge. But, relatively speaking, younger people are now making up a bigger share of hospitalizations.
The good news is the other side of this trend: The people who are the most vulnerable to dying of Covid-19 have much more robust protection than they did last year. We have known from the start of the pandemic that age, as much as anything, is the best proxy for a person's risk of succumbing to Covid-19.
That's why nursing home residents and workers were prioritized when mass vaccinations began in early 2021. According to an AARP analysis of federal data, nearly 80 percent of people residing in nursing homes were fully vaccinated against Covid-19 as of late June.
Over the course of the pandemic, they have accounted for a disproportionate share of Covid-19 deaths — 133,482 out of 608,000 total US deaths. But death rates among that population slowed significantly once vaccinations took off. In early January, US nursing homes reported more than 5,000 resident deaths every week, according to federal data.
In the last week of June, nursing homes reported just 147 resident deaths. That represents remarkable progress in protecting the most vulnerable.
The Covid-19 vaccines are very good, but they aren't perfect. Some number of people who have been fully vaccinated will contract the coronavirus, and they may also account for some of the rising case numbers.
When the Pfizer/BioNTech and Moderna vaccines were first approved, it was the astounding 95-percent efficacy rates that got all the attention. But even then, that meant a very small number of vaccinated people did get sick.
That share will grow as the delta variant becomes more dominant; as Irfan reported, the initial evidence suggests the Pfizer/BioNTech vaccine is still 80 percent effective in preventing illness. But that means a larger number of vaccinated people may contract the virus and feel symptoms as the variant continues to spread.
That is still a high success rate. The World Health Organization said this week that most vaccinated people who do contract the delta variant experience no symptoms. They may also be less likely to spread the virus, as they appear to shed less of it, CDC Deputy Director Jay Butler told reporters at the Infectious Diseases Society of America briefing.
And the vaccines are still providing impressive protection against severe illness, which is reflected in the minuscule number of vaccinated people being hospitalized or dying of Covid-19.
"Breakthrough infections tend to be milder," Butler said. "Even if infection occurs, [vaccination] decreases the risk of hospitalizations and death."
Rising cases are not ideal. Millions of Americans are still vulnerable to Covid-19, and a more dangerous variant of the virus is taking hold. The number of deaths occurring each day is still the equivalent of a jetliner crashing every 24 hours.
But this is a different kind of wave than the ones that preceded it, with nearly 160 million Americans and counting now fully vaccinated. The solution is the same as it's been for the past six months, as Celentano told me over email: "The best way to avoid the acquisition of SARS-CoV-2 is to get vaccinated now!"
Otherwise, as long as the virus is circulating, there are risks.
"The more virus that circulates, the more mutations that occur, and greater chance of the emergence of yet another new variant," Jen Kates, director of global health at the Kaiser Family Foundation, told me.
A new variant that is more deadly, more transmissible, or more resistant to vaccines "would of course have more severe public health implications."
Millions turn to Vox to understand what's happening in the news. Our mission has never been more vital than it is in this moment: to empower through understanding. Financial contributions from our readers are a critical part of supporting our resource-intensive work and help us keep our journalism free for all. Please consider making a contribution to Vox today from as little as $3.
Check your inbox for a welcome email.
DW News 15 July, 2021 - 11:10pm
KFOR Oklahoma's News 4 15 July, 2021 - 11:10pm
UC Davis 15 July, 2021 - 11:10pm
CBS Denver 15 July, 2021 - 11:10pm
WATE 6 On Your Side 15 July, 2021 - 11:10pm
Yahoo News 15 July, 2021 - 09:33pm
The startling change, announced exactly a month after California became one of the last in the country to reopen and drop coronavirus mandates, aims to stunt an uptick in new cases combined with the spread of the highly infectious delta variant. It will go into effect at 11:59 p.m. Saturday.
"This is an all-hands-on-deck moment," the county's health officer, Dr. Muntu Davis, said during a Thursday afternoon press briefing.
The news out of California comes as the U.S. is once again reporting more than 1,000 new coronavirus infections every hour, according to a USA TODAY analysis of Johns Hopkins University data for the week ending Wednesday.
The nation is averaging about 25,300 new cases per day, more than double the rate of the week of June 22. The total rose in 48 states – all but Iowa and South Dakota. Still, the totals represent only about 10% of the numbers reported in the U.S. in its worst week in January.
Deaths also rose in most states, and deaths and infections are also once again rising globally. The World Health Organization reported deaths climbed last week after nine straight weeks of decline. It recorded more than 55,000 lives lost, a 3% increase from the week before. Cases rose 10% last week to nearly 3 million, WHO said.
Low vaccination rates, the relaxation of mask rules and other precautions, and the swift spread of the more-contagious delta variant are blamed. Sarah McCool, a professor of public health at Georgia State University, said the combination amounts to a "recipe for a potential tinderbox."
►Joining a growing list of medical centers across the country, St. Jude Children's Research Hospital will require all employees to be vaccinated against COVID-19, the hospital confirmed in an email Thursday.
►The number of Americans applying for unemployment benefits has reached its lowest level since the pandemic struck last year.
►Rich Eisen, who anchors special event coverage for the NFL Network, is quarantining with COVID-19 despite having received both doses of the Pfizer vaccine in February, according to an Instagram post Thursday.
►USA Basketball national team guard Bradley Beal, one of the NBA's leading scorers, has been placed in health and safety protocols just days before the start of the Olympics, a person familiar with the development told USA TODAY Sports. His availability for the games was uncertain.
►Coronavirus infections in the Britain hit another six-month high Thursday, while the number of COVID-19 deaths was the highest since late March. The government warned that 100,000 daily infections may be possible this summer.
►Nebraska will resume reporting coronavirus statistics after dropping the practice a week ago after public health experts widely criticized the decision. The updates will be weekly rather than daily.
►New coronavirus cases leaped in New York in the week ending Sunday, rising 66%, state and national records show.
►The U.S. is shipping more than 3.2 million doses of Johnson & Johnson's COVID-19 vaccine to the Philippines.
►Australia's second-largest city, Melbourne, began a five-day lockdown on Thursday night due to growing COVID-19 clusters.
►Italy is sending more than 25 tons of ventilators, masks, surgical gowns, disposable gloves and hand gel to Tunisia. Last month, Tunisia had one of the highest per capital infection rates in Africa. Matshidiso Moeti, the WHO's Africa director, says some hospitals across the continent of 1.3 billion people are at the breaking point.
►COVID-19 vaccinations will be required of students and faculty at the University of California before the fall term begins, making UC the nation's largest public university system to mandate the vaccines without full federal approval.
►NFL teams from Washington, Indianapolis, Arizona and Los Angeles face potential competitive disadvantages, as the teams currently have the four lowest COVID-19 vaccination rates in the league.
►Some 15 million households will now receive the child tax credit, a series of monthly payments that's part of the Biden administration's $1.9 trillion coronavirus relief package. Payments amount to $300 for each child who is 5 and younger and $250 for those between the ages of 5 and 17.
📈 Today's numbers: The U.S. has had more than 33.9 million confirmed COVID-19 cases and more than 608,300 deaths, according to Johns Hopkins University data. The global totals: more than 188.7 million cases and more than 4 million deaths. More than 160.4 million Americans — 48.3% of the population — have been fully vaccinated, according to the CDC.
📘 What we're reading: Internet dead zones and thick homework packets took an emotional toll on Navajo students during the COVID-19 school year. But they didn't give up.
The Yankees' post-All-Star break opener against the Boston Red Sox on Thursday night was postponed because of positive COVID-19 tests among vaccinated New York pitchers Jonathan Loaisiga, Nestor Cortes Jr. and Wandy Peralta.
Yankees general manager Brian Cashman said three additional tests were pending and he assumed they would come back positive. Cashman said all three were fully vaccinated, as are most of the players on the team. While vaccinations do not prevent a person from contracting COVID, it prevents severe effects. Read more.
Los Angeles County has been averaging more than 1,000 new cases a day over the last week. That's significantly higher than before the state officially reopened its economy and dropped most of its coronavirus mandates on June 15. One day before the state reopened, Los Angeles County reported 135 new COVID-19 cases.
When asked about next steps, Davis, the health officer, said everything was "on the table" when it came to other COVID-19 precautions, including the possibility of businesses being required once again to reduce capacity. But, he added, this was a first step in hopes of curbing the "substantial" increase in cases over a short period of time so additional mandates wouldn't be required.
Health leaders in Springfield, Missouri, implored the state for funds to create an "alternate care site" on Wednesday, so local hospitals aren't overrun amid the surge of COVID-19 in southwest Missouri.
Gov. Mike Parson told the Springfield News-Leader, part of the USA TODAY, Network, that he couldn't commit to state funding for the site at the moment. Parson claimed his administration had only been notified five minutes before a joint news conference announcing the request.
"We're in the process of kind of going through that right now to see what we can deliver and what we can't," Parson said. "Those are things we've done before, so I think we'll be able to do [the funding]."
At the news conference, Katie Towns, interim health director at Springfield-Greene County Health Department, described this facility as one that delivers "transitional care to patients who are stable enough to be released from the hospital."
"Over the past week, we have seen dramatic increases in COVID-19-related cases," Towns said. "We need help." Read more.
Hundreds of protesters gathered outside the Idaho Capitol Thursday to oppose the COVID-19 employee vaccine mandates of a few state health care systems.
Kayla Dunn, the organizer of Thursday's Stop the Mandate Idaho Rally, said the protest "was not an argument over whether the vaccine is good or bad," but rather a demand for bodily autonomy, according to the Idaho Statesman.
One of the protesters, who said she was a nurse, likened the anti-mandate demonstration to the activism of civil rights leader Rosa Parks. Dentist Samuel Petersen compared the vaccine mandates "to the medical experiments conducted by Josef Mengele in Nazi Germany."
Many of the protesters carried signs with messages such as: "'We are nurses not lab mice'" and "'If your vaccine works, why do I need one?'"
Saint Alphonsus and St. Luke's, two of Idaho's largest health systems, both announced in early July that they will require COVID-19 vaccinations of all staff members. Both hospitals said they will allow exemptions for individuals with religious objections or medical conditions; employees who don't meet exemption criteria, however, could be terminated if they don't get vaccinated.
A naturopathic physician in California has been arrested and charged after federal prosecutors said she sold fake COVID-19 immunization treatments and fraudulent vaccination cards that made it seem like customers received Moderna vaccines.
Juli A. Mazi, 41, of Napa, was charged with one count of wire fraud and one count of false statements related to health care matters, the U.S. Department of Justice said in a statement Wednesday.
The case is the first federal criminal fraud prosecution related to homeoprophylaxis immunizations and fraudulent Centers for Disease Control and Prevention COVID-19 vaccination cards, the department said.
The head of the World Health Organization acknowledged it was premature to rule out a potential link between the COVID-19 pandemic and a laboratory leak, and he said Thursday he is asking China to be more transparent as scientists search for the origins of the coronavirus.
In a rare departure from his usual deference to powerful member countries, WHO Director-General Tedros Adhanom Ghebreyesus said getting access to raw data had been a challenge for the international team that traveled to China earlier this year to investigate the source of COVID-19. The first human cases were identified in the Chinese city of Wuhan.
Tedros told reporters that the U.N. health agency based in Geneva is "asking actually China to be transparent, open and cooperate, especially on the information, raw data that we asked for at the early days of the pandemic."
He said there had been a "premature push" to rule out the theory that the virus might have escaped from a Chinese government lab in Wuhan – undermining the WHO's own March report, which concluded that a laboratory leak was "extremely unlikely."
Dr. Anthony Fauci called Missouri's renewed struggle with COVID-19 "entirely predictable" but urged vaccination through local and community initiatives in the Show-Me State to quell rising case loads and hospitalizations.
In a Thursday interview with the Springfield News-Leader, part of the USA TODAY Network, the director of the U.S. National Institute of Allergy and Infectious Diseases and president's chief medical advisor cited the state's lagging vaccination rate as a key indicator for the delta virus variant's surge.
Missouri continues to lag behind the national vaccination rate average, with 39.9% of the population fully vaccinated as of Thursday, according to state data. Springfield and southwest Missouri have seen the brunt of rising infections and hospitalizations within the state in recent weeks, with hospitals straining close to capacity and the Springfield/Greene County Health Department requesting an alternate care site from the state this week. Read more.
New coronavirus cases surged to 1,308 in Tokyo on Thursday, a six-month high, as fears rise of a possible dramatic increase that could flood hospitals during the Olympics that start in eight days.
Tokyo is under a fourth state of emergency, which began Monday and requires restaurants and bars to close early and not serve alcohol through the Olympics, which start July 23. Read more.
More than 600,000 white flags will cover the National Mall this fall in a public art installation honoring of the victims of COVID-19 in the U.S.
Maryland artist Suzanne Brennan Firstenberg announced the "In America: Remember" project Thursday to create "a national opportunity to reflect upon the enormous toll of the pandemic of 2020 and 2021."
"This fall as employers bring workers back to office buildings and students return to school, it will be too easy to 'go back to normal,'" Brennan Firstenberg said in a press release. "But for one in three American families, there is no normal."
The installation will run from Sept. 17 to Oct. 3. Visitors will be allowed walk through the 3.8 miles of paths and dedicate a flag for a loved one. People who cannot visit in person can dedicate a flag online to appear in physical form on the Mall.
Brennan Firstenberg first installed the project last fall at a site at D.C.'s Robert F. Kennedy Memorial Stadium, where she placed more than 267,000 flags before the exhibition ran out of space.
Essential workers have borne the brunt of a pandemic poisoned by politics. BuzzFeed News found at least four frontline employees who died in fights over masks. Here are their stories.View Entire Post ›
A 24-year-old man is urging young people to get vaccinated after he underwent a double lung transplant after contracting COVID-19.
Verknipt festival near Utrecht became a symbol of the Netherlands' resurgent coronavirus outbreak, which has worsened since restrictions were lifted.
(Reuters) -Los Angeles County will reimpose its mask mandate this weekend in the latest sign that public health officials are struggling with an alarming rise in coronavirus cases tied to the highly contagious Delta variant. The county, home to 10 million people and the nation's second-largest city, Los Angeles, is one of several jurisdictions to recommend or mandate wearing masks or other pandemic restrictions in recent days as cases rise to worrisome levels in many parts of the United States. "We're requiring masking for everyone while indoors at public settings & businesses, regardless of vaccination status so that we can stop the increased level of transmission we're seeing," the Los Angeles County Department of Public Health said on Twitter Thursday.
SPRINGFIELD, Mo. - The worst of the pandemic seemed behind Mercy Hospital, those weeks last winter when the coronavirus wards were full of people struggling to breathe. But after months of reprieve, the virus has come roaring back, sending unvaccinated young adults and middle-aged patients from across southwest Missouri there in droves as the highly transmissible delta variant tears through the region. The hospital has been treating more than 130 covid-19 patients each day since Sunday - more th
Los Angeles County will again require masks be worn indoors in the nation's largest county, even by those vaccinated against the coronavirus, while the University of California system also said Thursday that students, faculty and staff must be inoculated against the disease to return to campuses. The announcements come amid a sharp increase in virus cases, many of them the highly transmissible delta variant that has proliferated since California fully reopened its economy on June 15 and did away with capacity limits and social distancing. The vast majority of new cases are among unvaccinated people.
The debt will be paid using federal money distributed because of COVID-19.
Some regions are beginning to tighten entry restrictions to get a handle on the spread of the delta variant.
SAO PAULO/BRASILIA (Reuters) -Brazilian President Jair Bolsonaro said on Thursday his condition had improved, making him less likely to face surgery for an obstructed intestine linked to a 2018 stabbing, and that he might leave the hospital on Friday. "I arrived here yesterday with a very strong chance of surgery, but surgery is now far less likely," Bolsonaro said in his first spoken comments since his hospitalization on Wednesday morning. Appearing in an interview on Rede TV with his doctor, Antonio Luiz Macedo, by his bedside, Bolsonaro said he might leave Sao Paulo's Vila Nova Star hospital on Friday.
The death of a Black man in a high-speed chase with Indiana deputies has raised questions about the severity of the police response.
"We're not where we need to be for the millions at risk of infection here," Los Angeles County Health Officer Dr. Muntu Davis said.
Finishing high school is a significant moment in life. For some, it marks the end of schooling forever, and for others, it marks the beginning of the next level of school. Both of these options are viable choices for what to do after getting that high school diploma, but how do you know what the right choice []
The film landed on Paramount+ this week, adding to a massive library of movies, TV shows, and exclusive releases.
CBS News spoke with Ramakrishnan about South Asian representation, her dream of playing Rapunzel, and the show's second season.
Daily schedule highlights and events to watch during the Tokyo Olympics, which open on July 23 and close on Aug. 8.
COVID-19 deaths and cases are on the rise again globally in a dispiriting setback that is triggering another round of restrictions and dampening hopes for a return to normal life. The World Health Organization reported Wednesday that deaths climbed last week after nine straight weeks of decline. Cases rose 10% last week to nearly 3 million, with the highest numbers recorded in Brazil, India, Indonesia and Britain, WHO said.
Some Black Lives Matters activists say a double standard is being used as people blocked busy roadways in Florida this week in support of antigovernment demonstrations in Cuba, with limited action taken by law enforcement despite a new law enhancing penalties against disruptions by protesters. Gov. Ron DeSantis signed into Florida law a measure earlier this year that boosts penalties against demonstrators who turn violent and creates new criminal penalties for those who organize demonstrations that get out of hand.
Merkel is expected to leave office this year, stepping down from a position she's held since 2005, spanning four U.S. presidents.
"I applaud the police for using discretion ... but I want that same energy carried forward when the protesters have more melanin in their skin," said one lawyer.
The swift spread of the Delta variant across Europe has upended wishful thinking of a quick return to normal from the COVID-19 pandemic — and is offering a warning to the U.S.
KFOR Oklahoma City 15 July, 2021 - 11:12am
OKLAHOMA CITY (KFOR) – Health officials say there were more than 700 new COVID-19 cases reported in Oklahoma.
On Thursday, data from the Oklahoma State Department of Health shows that the state has had 463,857 confirmed cases of COVID-19 since March of 2020.
That's an increase of 705 cases since Wednesday, July 14.
At this point, officials believe there are 4,089 active cases of COVID-19 in Oklahoma.
According to the Centers for Disease Control and Prevention, Oklahoma has seen 8,660 deaths as of Thursday.
Officials say there were 288 Oklahomans hospitalized with COVID-19 on average over the past three days.
Health leaders say over 1.80 million Oklahomans have received their initial COVID-19 vaccine, while 1.55 million have completed the series.
To learn more about guidelines regarding the pandemic, visit the CDC's website.
Copyright 2021 Nexstar Media Inc. All rights reserved. This material may not be published, broadcast, rewritten, or redistributed.
"Whether you're a user or a dealer, you don't know what's in it," said Mark Woodward with the Bureau. "One of those 7,900 pills could've killed someone."
The saga continued Thursday with a tale of two superintendents. The state now has full control over the embattled Western Heights School District. They announced Monty Guthrie would be the school's interim superintendent Tuesday.
The company distributed $25,000 worth of free electric fans, donated $161,000 worth of personal protective equipment (PPE), established Cool Zones and provided meals for local senior citizens.