F1 Sprint: What the teams and drivers had to say about F1's exciting new format
Russell hit with three place grid penalty for Sunday's British GP after Sainz clash in F1 Sprint
FIA post-Sprint press conference - Great Britain
Who gained the most positions – and British GP grid spots – in F1 Sprint?
Raikkonen makes up four places in F1 Sprint despite damage to Alfa Romeo floor following Stroll tangle
• Verstappen has a 4th consecutive pole position and extends his championship lead by 1 additional point.
• Verstappen ended Mercedes' run of 9 consecutive Silverstone poles (a record for 1 constructor at a circuit).
• Verstappen has led 144 consecutive laps in Grands Prix this year - and now every lap of the first ever F1 Sprint. He has now passed 1,000 laps led in his career if you take both formats into account.
• Tomorrow will be Verstappen's first-ever front row start for a Grand Prix at Silverstone.
• Hamilton has now have gone 6 races without a pole – his longest such streak since 2019.
• Valtteri Bottas will be 3rd on the grid for the 5th time in 2021 – he has only had 1 front-row start this year.
• Verstappen-Hamilton-Bottas were the top 3 in the Sprint, having previously been the top 3 (in various orders) 17 times in Grands Prix, an F1 record.
• Charles Leclerc will start from P4 for Ferrari tomorrow – his highest grid position since taking consecutive poles in Monaco and Azerbaijan.
• Leclerc finished on the podium from 4th on the grid in last year's British GP.
• Team mate Daniel Ricciardo will start 6th to mark the 10th anniversary of his F1 debut.
• That grid slot ties Ricciardo's highest start of the 2021 season, which he achieved in Bahrain and Imola.
• With 7th in the Sprint, Alpine's Fernando Alonso secured his highest start of 2021 to date.
• And with team mate Esteban Ocon in P10, it will be only the 2nd time this season after Spain that both Alpines will start in the top 10.
• Sebastian Vettel's 8th for Aston Martin ties his highest start of the season so far.
• P11 for Carlos Sainz means the Ferrari star faces a 3rd consecutive race where he has started 10th or lower – he went on to finish in the top 6 in both of those previous races.
• Pierre Gasly's P12 for AlphaTauri ties his lowest start of the year, which was in Spain, the only other time he's started outside the top 10.
• With P13, Kimi Raikkonen bagged his highest start of 2021 as he becomes the first man to race at the same track 20 times in his F1 career.
• Red Bull's Sergio Perez is set to start last tomorrow after his off in the Sprint – his previous best finish when starting a GP 20th or lower was 8th from 22nd on the grid in Australia 2012.
FIA post-Sprint press conference - Great Britain
F2: Ferrari junior Robert Shwartzman triumphs in Silverstone Sprint Race 1
Wolff ready for things to get feisty in F1 Sprint, as Hamilton promises to 'bring out the lion'
Who gained the most positions – and British GP grid spots – in F1 Sprint?
Ricciardo says McLaren have 'work to do' to fight Ferrari at Silverstone as he targets first 2021 top 5 finish
© 2003-2021 Formula One World Championship Limited
Read full article at Formula 1 RSS UK
Formula 1 RSS UK 17 July, 2021 - 04:01pm
Raikkonen makes up four places in F1 Sprint despite damage to Alfa Romeo floor following Stroll tangle
Leclerc targeting podium push after enjoying 'flat-out' run to P4 in F1 Sprint
Ricciardo says McLaren have 'work to do' to fight Ferrari at Silverstone as he targets first 2021 top 5 finish
British GP Sprint Facts & Stats: Verstappen halts Mercedes run, and a new record for Raikkonen
Alonso says Sprint 'felt like a marathon' after brilliant start helps him claim P7 on the grid for British GP
It also ended a ruthless run of form from Max Verstappen and his Red Bull crew, to breathe life back into a championship fight that was starting to struggle for oxygen.
And it came on a day when Formula 1 tore up its traditional schedule, moving qualifying to Friday, with just one hour of practice to prepare, to allow space for a new event – the Sprint – which will define the grid for Sunday's Grand Prix. Here are six things we learned from practice and qualifying...
Lewis Hamilton and Mercedes have been at pains to play down the significance of an upgrade package they were bringing to Silverstone, but it appears the developments have played some role in thrusting the W12 back into the fight with Red Bull.
The Mercedes was not a match for Red Bull's RB16B at the recent two Austria races, Hamilton pushing his car to the limit and simply not having any answer to Verstappen's brilliant performance in both qualifying and race trim.
And it looked, on paper, like they could be in for more of the same at Silverstone after Friday practice, with Verstappen beating Hamilton by a staggering 0.780s. When I spoke to Red Bull boss Christian Horner after that session, he insisted the gap was nowhere near that big, and instead that Mercedes were focusing more on race pace rather than qualifying.
Had Red Bull delivered based on pre-event and practice simulations, the graph shows they should have been the quicker package, by under half a tenth.
Where did Mercedes, who have made Silverstone a Silver Arrows fortress in the hybrid turbo era, gain the edge on Red Bull I hear you ask? It was the slow corners and significantly on the straights, with Red Bull gaining in the medium and high-speed corners.
While it's only one third of the job done, it's nonetheless an encouraging recovery from the reigning world champions, and the first sign in weeks that they are hanging on in the fight.
There was no way he was giving up the fight, but for the first time since 2016 – when his team mate Nico Rosberg beat him – the prospect of not ending the year with F1's crown was something Hamilton was being forced to entertain.
That didn't sit well with him of course, so he upped the ante, leaving no stone unturned in his bid to ward off the Verstappen attack. And that included getting into a simulator and clocking up the miles. You might say that all drivers spend days in simulators, preparing for Grands Prix, especially with the lack of testing. Most do – but not Hamilton. He hasn't needed to.
Nothing is below Hamilton, evidently. It's difficult to quantify how significant such a move was, but in a title race where Hamilton admits they have to "squeeze every ounce" out of everything, every little helps.
He ended up 0.075s clear of Verstappen, but had he avoided the little slide wide at the penultimate corner, that advantage would have been more than a couple of tenths – as our ideal qualifying analysis (below) shows. There's just something about this place that brings out the best in him (he's won seven times).
There's more work to do, though, with long run data to be gathered in the morning. But Mercedes have already got a good bank of information after spending a large chunk of FP1 running the medium tyre, with Hamilton and Bottas running 11 and 12 lap stints respectively on that rubber. And insiders say the pace was very impressive.
The Briton had finished dead last in first practice and expecting life to be very tough come qualifying. Silverstone is a windy track, and their car has been susceptible to the wind, so they were anticipating a challenging weekend – but not that bad.
But it was something of a surprise when Russell continued his extraordinary qualifying form by first making it into Q2, as team mate Nicholas Latifi once again missed out, and then shocking everyone – including himself – by making the top-10 shoot-out.
It was perhaps the perfect lap in that car – and what he described as his best qualifying performance – to seal eighth for the inaugural Sprint. As others made mistakes – our ideal qualifying analysis put Russell two places lower down in 10th, behind Carlos Sainz and Fernando Alonso – Russell kept it clean and was rewarded.
Whether or not he will be able to fight for his first points for Williams depends on how successful their long runs are in FP2 and whether he's able to stop a slide in the Sprint. But track position counts for a lot and his confidence is high. In his mind, his only thought is about how he can move forward, as he feels he has nothing to lose.
Daniel Ricciardo reckoned he could have finished fifth in qualifying had he hooked everything up, but will instead start the Sprint two places further back in seventh, and our data backs that claim up.
But in a super tight midfield, small mistakes can cost you places. Our qualifying simulation data dive suggests seven teams – Ferrari, McLaren, Williams, Alpine, Aston Martin, AlphaTauri and Alfa Romeo – are separated by just 0.7s.
In a race which is flat-out for 17 laps, without any pit stops, and on a track where overtaking is certainly possible, things could get very exciting. Even gaining just a single place would mean a better grid slot for the main event on Sunday.
So there's plenty of reason to attack (sensibly) on the first lap when the field is bunched and then see what you can pick off as the race intensifies.
The Sprint format delivers that challenge – without the need to rely on the weather Gods - with teams left with just one hour to run their cars, on what was a very green track, before having to make decisions about the set-up they would have to keep for the remainder of the weekend.
Teams took different approaches, with some putting a large focus on low-fuel running, some on race data gathering and others on a balance of the two.
It mixed things up – and created a qualifying session that yielded plenty of unpredictability. Who expected a car that finished last in practice to end up eighth fastest? Did anyone think Mercedes – and specifically Hamilton – could challenge for P1 based on practice pace and recent form?
And who would have thought McLaren, who were second quickest in practice, would end up as the fourth fastest package in qualifying?
This time, home support fell on Hamilton, Norris and Russell's shoulders, and boy did they make the most of it, with the trio shining in qualifying with first, sixth and eighth.
The joint was packed out on a Friday and the numbers set to rise as the weekend goes on – so the atmosphere is only going to get better.
The fanzones were buzzing with fans leaning over barriers, peeking over walls or squinting from whatever vantage point they could find to catch a glimpse of their heroes.
If you were wondering how well Russell was doing, as he went on his sole run in Q3, you did not need a TV as the roar that came from the grandstands was enough to tell you the boy had done good. Same with Hamilton, who was deafened as he waved to the fans having secured the quickest time.
You could see the drivers feeding off the atmosphere. It felt like a proper sporting event once more, the way Formula 1 Grands Prix should feel, rather than a test session.
It may not be like this at every race that comes later this season, as the Covid 19 pandemic continues, but it is a welcome bright light in what has been a dark time – and one which offers hope that normality is edging ever closer.
'I was a passenger' – Perez laments big spin in F1 Sprint as he faces back-row start in British Grand Prix
F2: Rookie Verschoor cruises from pole to maiden victory in Race 2 at Silverstone
'We are all going into an unknown' says Leclerc after securing P4 for Saturday's F1 Sprint
Ricciardo rues 'missed opportunity' after qualifying just 0.002s adrift of team mate Norris
AS IT HAPPENED: Follow all the action from second practice for the British GP at Silverstone
© 2003-2021 Formula One World Championship Limited
Daily Mail 17 July, 2021 - 04:01pm
By Charlotte Daly and Harry Howard For Mailonline
Formula One fans who today descended on Silverstone for the British Grand Prix appear to have largely ignored Lewis Hamilton's call for the 'small sacrifice' of wearing masks.
The seven-time and current world champion took to Instagram yesterday to ask fans attending the race weekend to cover their faces to 'keep others around us healthy'. 
He added that he had heard of people 'getting Covid and being ill' even after receiving two vaccinations.    
However, race organisers insisted that masks do not have to be worn because the race meeting is part of the Government's Events Research Programme (ERP). 
And most of the thousands of fans who turned out today to watch Friday Practice and qualifying clearly took the chance to ditch masks, as they were seen sitting in stands without their faces covered.  
The seven-time and current world champion was concerned the rate of infection could surge at the Northamptonshire circuit, as the UK's biggest crowd since the pandemic began gathers for the race meeting from today.
Silverstone will open its doors to 140,000 people on Sunday, with a total of 350,000 in attendance during the three days. 
Formula One fans who today descended on Silverstone for the British Grand Prix appear to have largely ignored Lewis Hamilton's call for the 'small sacrifice' of wearing masks
The seven-time and current world champion took to Instagram yesterday to ask fans attending the race weekend to cover their faces to 'keep others around us healthy' 
The circuit is allowed to accommodate a capacity crowd ahead of Freedom Day, when social distancing rules will be lifted on Monday, because it is part of the third phase of the ERP, set up to test Covid Passports.
As a result, usual Covid restrictions do not apply, and in this case scientists want to test whether certification is able to limit the spread of the virus.
Fans must show they have had two vaccinations against Covid, a negative lateral flow test in the previous 48 hours or they have natural immunity from a previous infection. They can do this using the NHS covid app.
However, the race comes as the the country's third wave of coronavirus infection continues to gather pace, driven by the Delta variant, which was first identified in India.
He added that he had heard of people 'getting Covid and being ill' even after receiving two vaccinations 
However, race organisers insisted that masks do not have to be worn because the race meeting is part of the Government's Events Research Programme (ERP). And most of the thousands of fans who turned out today to watch Friday practice and qualifying clearly took the chance to ditch masks, as they were seen sitting in stands without their faces covered
Motor racing fans soak up the atmosphere during Qualifying at the British Grand Prix at Silverstone
It was difficult to spot any fans wearing masks at Silverstone as revellers took the chance to go without the face coverings
As well as the absence of the normal rules mandating the wearing of face masks, fans welcomed the good weather at the Silverstone circuit
Britain is now on the brink of breaching the 50,000 daily cases mark, as infections close in on levels seen at the start of the year. Hospitalisations are also rising. 
Hamilton said in his message: 'It was so nice to see everyone today,' wrote Hamilton. 'So refreshing to see people and the energy already is so uplifting. 
But he added: 'Can I please ask you to wear your masks, be safe.  I know of people getting Covid and being ill even with double jabs. So please please stay safe this weekend. 
'Wearing a mask is a small sacrifice to stay healthy and keep others around us healthy. With love.'    
Early arrivals at Silverstone sought out vantage points to watch the drivers practice today
Fans are  arriving at Silverstone today for the three-day race meeting culminating the British Grand Prix on Sunday, when 140,000 people are expected to be in attendance
It is 'very difficult to tell' whether the Indian 'Delta' variant spreads better outdoors than other strains, an expert said today.
Officials have warned Britons against socialising indoors with people outside their household, saying this is the main way the virus spreads.
But they have said it is much safer to meet outdoors, because the circulating air blows virus particles away if one person is infected.
Dr Julian Tang, a virologist at Leicester University, told MailOnline it was hard to estimate whether the mutant strain spreads better outdoors.
But he said if someone was in a crowd outside and surrounded by other people who are infected they may be more at risk.
The virologist said: 'If you are in a crowd like Wembley or Wimbledon and you are exposed to eight people around you that are carrying the virus and dont know it, on a still and cloudy day you may be more exposed.'
He said the weather outdoors was a key factor in how well the virus transmits outdoors.
'Cloudy days when there is no wind are more of a risk,' he said. 'Sun rays have a direct effect on the virus.'
Studies show sunshine 'kills' virus particles, hampering its transmission. But this doesn't happen when there is cloud cover. 
Nevertheless, organisers insist the event will be safe. In addition to the requirement of a Covid Passport, they point out the site is large and in the open air, unlike other sporting or arts venues.
Silverstone is a 550-acre site with grandstands that seat as many fans as a large Premier League stadium, but are spread out over three and a half miles.
In addition, the vast majority of fans attend the Northamptonshire circuit - which is wedged between the M1 and M40 motorways - by car, reducing the risk of spread on public transport.
With 19 entry gates over a five-and-a-half mile perimeter, people can remain spread out while entering and leaving the site, which is not always the case in urban settings.
'I have complete confidence in our ability to run this safely,' Stuart Pringle, Silverstone's managing director told The Guardian.
'For all the challenges we have had with our finances over the last 18 months we are not the type of business that sticks its neck in the noose and rolls the dice, we would not do this unless we believed we could do it.
'If we thought for some reason Public Health England and all the other bodies that have signed off on this in some way had got it wrong or we were not capable of delivering it in a way that complies with their requirements we would not do this.'
Silverstone has ramped up its operation to stage the event at full capacity.
'There are 128 staff here normally, which expands to 7,000 for the race,' said Pringle. 'We have the manpower but we have had to adapt.'
'Twenty-thousand fans in the two nearest campsites will have their Covid documents checked in advance.'
But masks will not have to be worn inside the track.
'The masks were not a Silverstone decision, that is the view of the directorate of public health Northamptonshire and Public Health England,' said Pringle. 'As part of ERP, Covid regulations are disapplied; this is a scientific, data-gatheirng exercise and they want to understand what happens. They are taking a view on the risk and the view is that in a large-scale, open-air, outdoor venue it is not necessary to wear masks.' 
Hamilton's caution resonates with some experts, including England's Chief Medical Officer, who yesterday admitted the country may have to face new restrictions within weeks.
Fans were rewarded with a glorious, sunny day at the Northamptonshire circuit on Friday
Hamilton has called on race fans, like this one at Silverstone today, to wear masks at the track
Professor Chris Whitty said Britain is 'not out of the woods yet' and could face another lockdown.
Speaking at a Science Museum event, he said: 'I don't think we should underestimate the fact that we could get into trouble again surprisingly fast. We are not by any means out of the woods yet on this,.
'[But] we are in much better shape due to the vaccine programme, and drugs and a variety of other things.'
He called on Britons to 'take things incredibly slowly' after July 19, amid warnings from transport operators across the country that they will still ask people to wear face masks next week.
In terms of the competition, the British Grand Prix provides Hamilton with the best opportunity to make up ground in the title fight. 
He is currently trailing Max Verstappen by 32 points in the championship and has not won a race since Spain in May.
As a result, Red Bull have won all five grands prix since Barcelona - taking a 44-point lead over Mercedes in the championship.  
Hamilton will look to narrow that gap this weekend by getting off to a flying start in Saturday's first ever F1 Sprint session - a short 17-lap race which is replacing traditional qualifying.
Should he finish well, he will be in pole position on the grid for Sunday's showpiece race.  
England players belt out 'Sweet Caroline' whilst on Mykonos holiday
Wedding photographer calls bride by her groom's EX's name TWICE
Blake Lively steps out with her daughters James, Inez and Betty
Detroit woman drags alleged car thief by the hair out of barbershop
Shocking moment child dragged by school bus in Kentucky
Nathan the kitten spotted swimming in clear water in Queensland
Jennifer Lopez and Ben Affleck tour mansion with a realtor
Lil Nas X jokes about court case as he makes viral TikTok
Italian Euro 2020 star Marco Verratti marries model Jessica Aidi
Royal duties for George as he goes from joy to despair at Euros
Moment family with baby is rescued from the roof of their SUV
Dramatic moment car washes away during flash floods in Arizona
Shut up Hamilton and concentrate on the race! Hami...
The comments below have not been moderated.
The views expressed in the contents above are those of our users and do not necessarily reflect the views of MailOnline.
By posting your comment you agree to our house rules.
Do you want to automatically post your MailOnline comments to your Facebook Timeline?
Your comment will be posted to MailOnline as usual.
Do you want to automatically post your MailOnline comments to your Facebook Timeline?
Your comment will be posted to MailOnline as usual
We will automatically post your comment and a link to the news story to your Facebook timeline at the same time it is posted on MailOnline. To do this we will link your MailOnline account with your Facebook account. We'll ask you to confirm this for your first post to Facebook.
You can choose on each post whether you would like it to be posted to Facebook. Your details from Facebook will be used to provide you with tailored content, marketing and ads in line with our Privacy Policy.
Part of the Daily Mail, The Mail on Sunday & Metro Media Group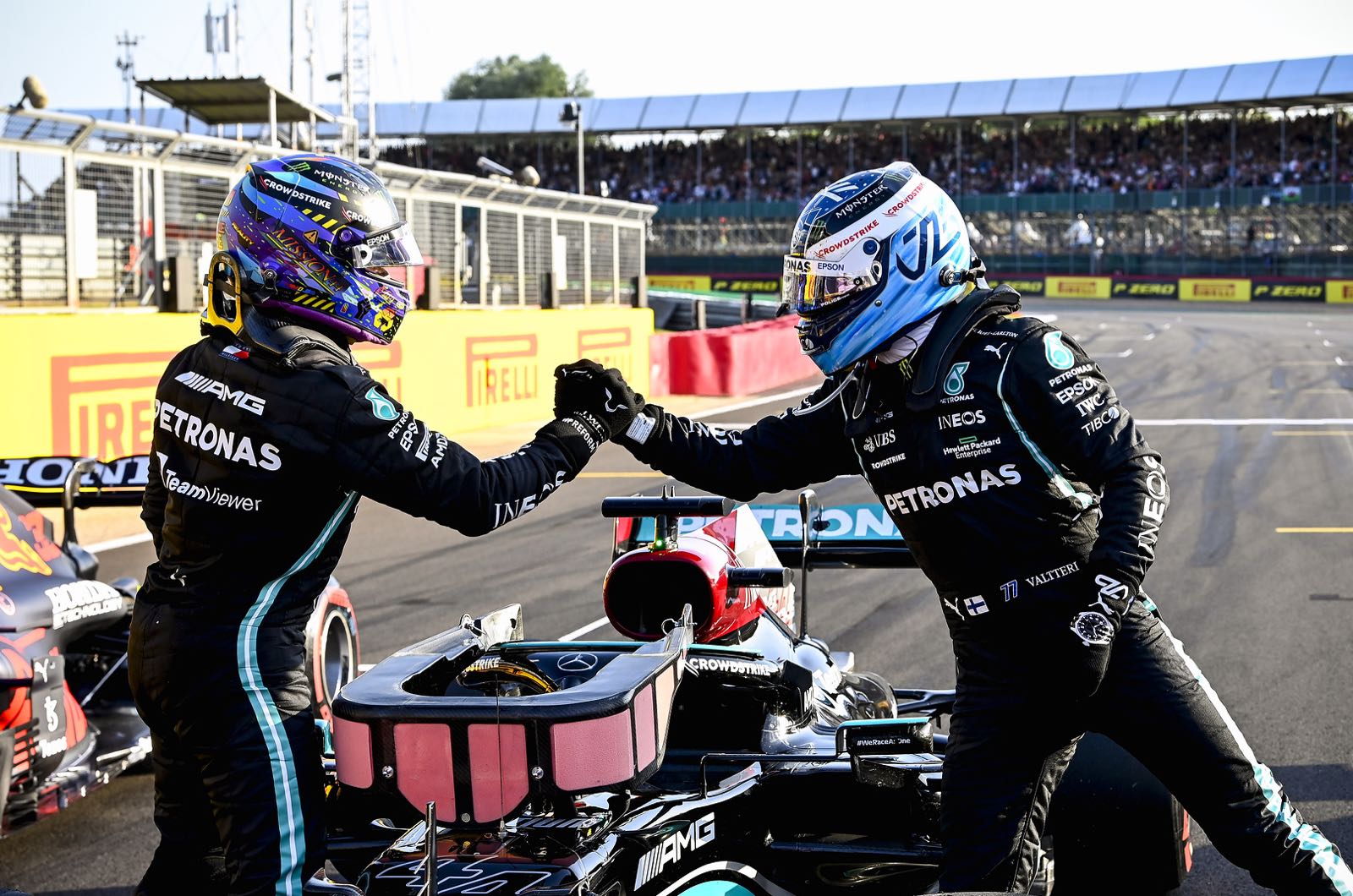 GrandPrix 17 July, 2021 - 04:01pm
Toto Wolff has denied that Mercedes' car upgrades explain Lewis Hamilton's shock pole position for the first-ever 'sprint qualifying' F1 race.
After just an hour of practice at Silverstone, the 2021 field headed into the sport's first Friday qualifying session since 2003 - and championship leader Max Verstappen could only manage second best.
"I couldn't really attack in a lot of corners because of understeer," said the Dutchman.
"It was a very strange feeling on the wheel."
Hamilton's surprise quickest time was helped by a slipstream from his teammate Valtteri Bottas, who admitted: "Against a Red Bull like this, we can only do it with good team play."
Verstappen, though, admitted that the new 'sprint qualifying' format may have put him on the back foot.
"The whole day felt a little strange," he said. "You do a practice session and then qualifying starts.
"But actually the fastest times don't mean much, because it's about the (sprint) race rather than pole position. So it's a completely different feeling.
"But we can still do well from here. We know we have a good car."
Verstappen isn't even worried about Hamilton's home advantage, smiling to De Telegraaf newspaper: "Italy managed to win at Wembley, remember."
Former Red Bull driver Robert Doornbos told Ziggo Sport: "They (Red Bull) think it's the tyres. Maybe they got the temperatures wrong.
"But if you have some understeer and you're a few hundredths behind 'the king' Lewis Hamilton, then I don't think you can say you had a bad day.
"The car is good," he added.
The feeling in the paddock is that Mercedes' decision to introduce a car upgrade had paid dividends, with Wolff having earlier said the team was fully focused on 2022.
"I don't think it's because of that," Wolff insisted on Friday. "I think it's more the result of many small detailed changes in every area."
Seven time world champion Hamilton has also been busy in the simulator, despite not usually enjoying it.
"I thought 'why am I sitting here wasting time?' So we did the practice session on the simulator to give the team as much data as possible," he said.
RaceFans 17 July, 2021 - 12:16pm
Advert | Go ad-free
Lewis Hamilton said he was disappointed to finish second to Max Verstappen in today's sprint qualifying race after being beaten off the line by the Red Bull driver.
Hamilton said he "gave it everything" during the 17-lap sprint and apologised to fans in the 100,000-strong crowd at Silverstone that he wasn't able to deliver the result he had started qualifying with.
Explaining his slow move off the grid, Hamilton said "I hit target on my start. It's just not good when you lose from P1 but we will try and turn a negative into a positive tomorrow."
"I'm grateful to have finished," he added. "And tomorrow we'll fight again."
"But I mean, [Red Bull are] just so strong in the race. He was pulling away, there was nothing I could do to hold onto him. So we've really got to try and be in front somehow."
Hamilton believes Red Bull have made gains with their starts this season, compared to Mercedes.
"They've done a great job with their engine, their starts are really great this year," he said. "We've lost a bit of performance on our start, so we've got to work a bit harder to try and improve that because losing positions is never a great thing."
Verstappen increased his lead over Hamilton in the championship by one point in today's qualifying sprint, but Hamilton has the chance to make amends in tomorrow's grand prix.
"I wish we could redo the start again," he added. "Luckily, we have it tomorrow."
Despite his disappointment at the result, he praised Formula 1's experiment with a change of format, despite having been pessimistic of its chances of success before the weekend.
"I don't know how it was to watch for the fans. I think this weekend has been awesome, yesterday was such a fun day to have qualifying on the Friday, way more enjoyable.
"I don't know whether that was the most exciting race or not, but we should do more like that, maybe a different version of it in future, because this makes the weekend more enjoyable, I think."
Advert | Become a RaceFans supporter and go ad-free
Got a potential story, tip or enquiry? Find out more about RaceFans and contact us here.
Promoted content from around the web | Become a RaceFans Supporter to hide this ad and others
He's right about Friday qualifying being more intense and more fun to watch, wrong about the race starts given Bottas didn't have any apparent issue off the line. Verstappen also seemed to have put a lot of heat into the tyres on his way to the grid and made it work.
Are you saying the qualifying would have been less fun to watch on Saturday? I fail to see the difference
To be fair Valterri had soft tyres on. But Lewis could take ownership at least once in a while.
He did a superb lap yesterday on pace, traded fastest laps with Verstappen all-race long. Even his start wasn't that bad.
Why on Earth does he have to do this every single time he gets beaten? I swear, it irks sometimes.
Doing what Niefer described, that's what!
Downplaying his machinery or overplaying his opponent so that he poses as immaculate and his cultists as Dave right here can bear his "sufferings" with peace of mind.
Yes, it's a very unappealling habit. Win as a team, lose as a team excluding Lewis.
It's just one start and Lewis already saying they improved. Come on Lewis…. You can't come into conclusions after one launch…
Well, Bottas being on soft tyres doens't make it quite the equal circumstances comparison it otherwise might have been @liko41
In a different car @liko41, what was the point you seem to be shifting around?
despite Merc still being quicker (or at least on par) with RB performance wise
What a load of rubbish! And please discard the myth that Bottas vs Perez can tell you anything about the overall car performance.
I don't recall Bottas having a better start than Max given he was on the better tyres?
So it wasn't him. It was the car. That was good to have cleared up immediately.
I guess Mercedes must find out why only his car had this problem.
Unsurprisingly, a lot of people seem to have missed the fact that BOT was on soft tyres.
Yet he took the checkered 5 seconds after Lewis.
What does that have to do with the start?
But that's what will secure him the 2022 seat. I suspect that is the deal he's been given.
"No more Spain antics, no more passion, be a good #2 and you'll get another year."
That start was visibly poor. He has had better ones just this season, so he should be taking the blame he deserves here. This being a W12 with a raft of updates on it, I reckon HAM just realised VER will continue to beat him regardless of whether he manages to grab pole.
© 2021 Collantine Media Ltd | About RaceFans