Berline's family posted on his Facebook page that he had been recovering from a stroke. "Byron suffered a stroke in the cerebellum which affected his coordination and vision. He was making improvements with his eyes and coordination, and getting stronger. After a few weeks he began aspirating food into his lungs which led to increased invasive treatments which he couldn't recover from. Eventually his lungs gave up and so did his heart. He passed at 7:30 p.m. Saturday, July 10, as his band was going on stage at the Music Hall."
Berline was a member of Bill Monroe's Blue Grass Boys — with whom he co-wrote and recorded the bluegrass standard "Gold Rush" in 1967 — before going on to become aligned with a generation of country-rockers as well as traditionalists.
He's known to Rolling Stones fans for having played on "Country Honk," a variation on "Honky Tonk Women" that appeared on the band's classic 1969 "Let It Bleed" album, and to Dylan enthusiasts for taking part in the "Pat Garrett and Billy the Kid" film soundtrack sessions. In the early '70s, he briefly join the Flying Burrito Brothers and Stephen Stills' Manassas.
Other artists Berline recorded with include Elton John, the Byrds, the Band, Gram Parsons, the Dillards, the Doobie Brothers, Lucinda Williams, Rod Stewart, Gene Clark, Emmylou Harris, Earl Scruggs, the Eagles, Bill Wyman, Joe Diffie, Tammy Wynette and Doc Watson.
Berline owned the Double Stop Fiddle Shop in downtown Guthrie, Oklahoma, where famous musicians like Marcus Mumford were known to stop in for a jam. The store burned to the ground in 2019, taking hundreds of invaluable instruments with it. "They all have souls and personalities," he told Oklahoma City's KOCO 5 after the devastating blaze. With the support of the community, he subsequently opened a new instrument shop and performance space across the street.
In the film and TV worlds, he had cameos in the Bette Midler feature "The Rose" and "Star Trek: The Next Generation."
Of recording with the Stones, Berline recalled in a 1997 interview with BlueGrass West: "Gram Parsons suggested to them to get me to play on it, and I just barely knew him. This was in October of '69… We went down to the studio, Electra Studios, in L.A. I was in the studio for a couple of passes through, and they said, 'Hey, we want you to come in, we want to talk to you,' and I thought, oh, they don't like it, they're going to dump it. But I went in and they said, 'We want you to stand outside in the street on the sidewalk and record it . . . . we'll get a nice ambiance, we think,' and I kind of giggled and said, 'Well, whatever you want to do.' So that's what we did. That's where they got the car horn."
He added, "People were just experimenting around with music, and mixing different instruments, you know, rock and roll with bluegrass instruments, traditional instruments. … It was a big change. The music is closely related, but you had to really study it in a way. Be able to improvise enough to get by with it. And naturally, playing with (Bill) Monroe, I listened as much as I could to his past recordings, to see what those fiddlers did, how they approached it. You couldn't just get up there and start sawing away. You had to stay with the melody, and do what he wanted. He'd let you know if something was really off line. But for me he was easy to work with. Other people won't say that, but I had a good time with him. He just loved the old time tunes. He always featured me on the Grand Ole Opry; every time we got on there; he'd have a fiddle tune."
Berline flourished in L.A. after moving there shortly after doing the Stones session. "The Troubadour was a big melting pot," he said in an interview with WMOT in 2019. "Every time I went down there in the evening, I don't care what day it was, I'd get a session from it."
In 2013, he published an autobiography, "Bryon Berline: A Fiddler's Diary." It goes without saying that the violin was the instrument he was renowned for, although he also played a considerable amount of mandolin on stage.
The same year he published his memoir, Berline was inducted into the National Fiddler's Hall of Fame. In 2012, he received the International Bluegrass Music Association's Distinguished Achievement Award.
The family said that in lieu of flowers, donations may be made to the http://OIBF.com scholarship fund.
Sign up for Variety's Newsletter. For the latest news, follow us on Facebook, Twitter, and Instagram.
The exclamation point seen in the title cards of the new musical comedy "Schmigadoon!" isn't just a nod to Rodgers & Hammerstein (a short overture even figures in), it's a full-on attitude in this fitfully jubilant slice of whimsy. A six-episode summer trifle — much like the various pies and pastries fervently pushed by locals in the nominal town — it can sometimes be a bit of a toothache, but the series is also just as often irresistible, with a tremendously committed, blue-chip cast working at
Henry Nicholls/ReutersAfter losing a tense 3-2 penalty shoot against Italy in the final of the Euro 2020 championship on Sunday night, the young English soccer team's high hopes of "bringing home" the trophy were dashed at the last minute. The close result has shaken up London, where, despite surging coronavirus case numbers, every single pub was fully booked.Almost immediately after the match, England players Bukayo Saka, Jadon Sancho, and Marcus Rashford, all of whom are Black, were subjected
Come for their super cute engagement story, stay for the period dry humping.
One of the 186 campers who stayed at Omaha's Henry Doorly Zoo and Aquarium awoke on the night of July 4 to find a wild bat flying around her head.
In the most exciting meeting between a Stooge and ancient Egypt since Larry, Curly, and Moe faced down an undead mummy back in the 1930s, Iggy Pop has been announced as the narrator for an upcoming documentary about the tomb of New Kingdom pharaoh, Tutankhamun.
As-yet-untitled film will explore the musician's life and career in relation to his hometown of New Orleans
At Sweet Girl Farms, Liset Garcia seeks to be as resilient as her sunflowers, as she tends a bustling fruit stand amid a dire dry period.
Must-hear songs by Randall King, Kate Vargas, and Firerose with Billy Ray Cyrus
The first photo is WOW. 🔥🔥
Gone are the days of her oversize shirts and shorts.
It should've been an emotional moment, and yet...
Britney Spears is turning heads again on social media with her risque outfits.
Kim Cattrall's former "Mannequin" co-star cannot imagine "And Just Like That" without Samantha Jones.
Listen carefully if you want to catch it.
Here's how to watch the hit horror sequel from home.
The answer lies in your Instagram feed.
Read full article at Variety
KOCO 5 News 12 July, 2021 - 05:09pm
KFOR Oklahoma's News 4 12 July, 2021 - 05:09pm
The New York Times 12 July, 2021 - 04:53pm
Mr. Berline's updated version of an old-timey sound enhanced recordings by everyone from Bill Monroe to the Rolling Stones.
Byron Berline, the acclaimed bluegrass fiddle player who expanded the vocabulary of his instrument while also establishing it as an integral voice in country-rock on recordings by Bob Dylan, the Rolling Stones and others, died on Saturday in Oklahoma City. He was 77.
His death, in a rehabilitation hospital after a series of strokes, was confirmed by his nephew Barry Patton.
Mr. Berline first distinguished himself as a recording artist when he was 21 on "Pickin' and Fiddlin'," an album of old-time fiddle tunes set to contemporary bluegrass arrangements by the innovative acoustic quartet the Dillards. The album features Mr. Berline's heavily syncopated playing, along with long bow strokes that incorporate more than one note at the same time.
Later in the decade, Mr. Berline's lyrical phrasing was heard on pioneering recordings by country-rock luminaries like the Flying Burrito Brothers and the duo Dillard & Clark, featuring the Dillards banjoist Doug Dillard and the singer-songwriter Gene Clark, late of the Byrds. He also recorded with Elton John, Rod Stewart and Lucinda Williams, among many others.
Weaving elements of pop, jazz, blues and rock into an old-timey approach to his instrument, Mr. Berline contributed instrumental selections to Bob Dylan's soundtrack to Sam Peckinpah's 1973 anti-western, "Pat Garrett and Billy the Kid." He also overdubbed Nova Scotia-style fiddle on the Band's 1976 single "Acadian Driftwood" and played on the albums "GP" (1973) and "Grievous Angel" (1974) by Gram Parsons, the country-rock progenitor Gram Parsons and founding member of the Burrito Brothers.
Mr. Parsons recommended Mr. Berline for what would become undoubtedly his most famous session appearance: the freewheeling fiddle part he added to "Country Honk," the Rolling Stones' down-home take on their 1969 pop smash "Honky Tonk Women." Recorded in Los Angeles, the song was included on "Let It Bleed," the group's landmark album released that December.
"I went in and listened to the track and started playing to it," Mr. Berline said of his experience with the Stones in a 1991 interview with The Los Angeles Times.
When he was summoned to the control booth, he recalled, he feared the band was unhappy with his work. Instead, they invited him to recreate his performance on the sidewalk along Sunset Boulevard, where the Elektra studio, where they were recording the track, was located. Hence the car horns and other ambient street sounds captured on the session.
"There was a bulldozer out there moving dirt," Mr. Berline said. "Mick Jagger went out himself and stopped the guy."
But Mr. Berline was not merely renowned for his work accompanying other artists; he was considered a musical visionary in his own right, providing leadership to, among others, the progressive bluegrass band Country Gazette.
In 1965, after hearing his playing on "Pickin' and Fiddlin'," the folklorist Ralph Rinzler invited Mr. Berline and his father, a fiddler himself, to appear as a duo at the Newport Folk Festival.
While at Newport, Byron also had a chance to jam with the singer and mandolinist Bill Monroe, widely regarded as the father of bluegrass, who invited him to become a member of his band, the Blue Grass Boys. Then a student at the University of Oklahoma, Mr. Berline demurred; after completing his degree, he joined the Blue Grass Boys two years later.
Mr. Berline spent only a few months with Monroe before being drafted into the Army, but bluegrass aficionados regard two of the three songs he recorded with him, "The Gold Rush," written with Monroe, and "Sally Goodin," as matchless performances.
Mr. Berline was the winner of three national fiddle competitions and a member of the National Fiddler Hall of Fame.
Byron Douglas Berline, the youngest of five children of Lue and Elizabeth (Jackson) Berline, was born on July 6, 1944, in Caldwell, Kan., near the Oklahoma border. His father worked a farm and played banjo and fiddle at barn dances and other events. His mother, a homemaker, played piano.
Young Byron started playing a three-quarter-sized fiddle when he was 5; he won his first public competition at 10, outplaying his father. Among his early influences was Eck Robertson, the first old-time fiddler to appear on record.
A gifted athlete, Mr. Berline earned a football scholarship to the University of Oklahoma, where he enrolled in 1963, only to fracture his hand that fall. The injury caused him to focus on music, although he maintained his athletic scholarship by joining the track team as a javelin thrower.
Mr. Berline attracted the attention of the Dillards while playing in a campus folk group at Oklahoma. They invited him to play on "Pickin' and Fiddlin'." After graduating from college in 1967 and completing his military service in 1969, Mr. Berline moved to Los Angeles with his wife, Bette (Ringrose) Berline, at the urging of Doug Dillard, who recruited him to record with Dillard & Clark.
After three years of session work in California, along with time in the Flying Burrito Brothers, Mr. Berline formed his own group, Country Gazette, and signed with United Artists Records. The band's bluegrass blend proved influential, and it recorded for almost two decades, but Country Gazette never achieved mainstream success.
Another project, Byron Berline & Sundance, likewise secured a deal with MCA Records. But the group's three founding members, guitarist Dan Crary, banjo player John Hickman and Mr. Berline — later billing themselves as Berline, Crary & Hickman — fared best in a traditional bluegrass market, releasing records on independent labels like Rounder and Sugar Hill into the 1990s.
Over the years Mr. Berline's music also provided music for television shows like "Northern Exposure" and movies like "Basic Instinct." He also had a minor role as a musician in the Bette Midler movie "The Rose" (1979) and appeared, as part of a string quartet, in an episode of "Star Trek: The Next Generation."
In the mid-'90s, Mr. Berline and his wife moved to Guthrie, Okla., and opened the Double Stop Fiddle Shop, its name taken from the fiddle technique of playing two strings at the same time. The shop burned down in 2019, consuming its inventory of antique instruments. Several months later, Mr. Berline opened another shop on the same street.
Mr. Berline is survived by his wife; a daughter, Becca O'Connor; a sister, Janice Byford; and four grandchildren.
Although uncredited, Mr. Berline remarked in interviews that he did more than play the fiddle on Mr. Dylan's soundtrack to "Pat Garrett and Billy the Kid."
"He said, 'Can you sing?,'" Mr. Berline recalled, referring to Mr. Dylan in his 1991 interview.
"I said, 'Sure.' So I got up and helped sing background vocals on 'Knockin' on Heaven's Door.'"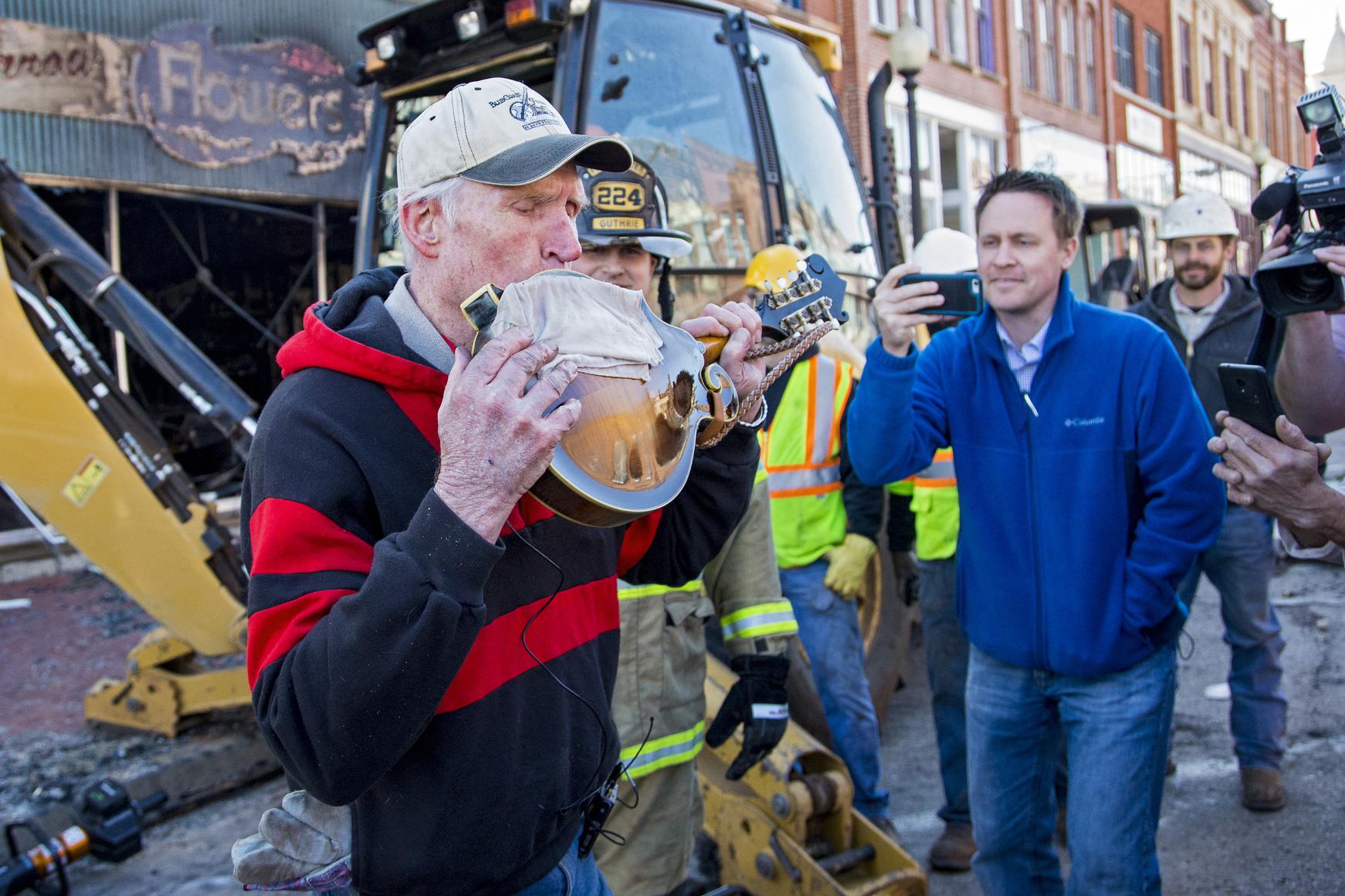 Associated Press 12 July, 2021 - 03:30pm
OKLAHOMA CITY (AP) — Byron Berline, a renowned fiddler and owner of a popular Oklahoma instrument shop, has died in a hospital. He was 77.
Bette Berline, Byron's wife, confirmed his death to The Associated Press. She said he was hospitalized after suffering a stroke and that over the weekend his "lungs gave up and so did his heart." He died Saturday.
Bette recalled her husband as a fun and loving father and husband, who until soon before his death looked and acted like a man twenty years younger.
"He was more than a musician, an incredibly gifted musician," she said. "He was a good, good man."
A three-time National Fiddle Champion, Berline grew up in Grant County along the Oklahoma-Kansas state line and worked with music greats like Vince Gill, Bob Dylan, Elton John and the Rolling Stones.
Berline was also survived by his daughter and four grandchildren, Bette Berline said.
KFOR Oklahoma City 12 July, 2021 - 09:19am
GUTHRIE, Okla. (KFOR) – A beloved Oklahoma musician who is well-known for his contributions to bluegrass music has passed away.
Byron Berline was a Grammy-nominated artist who has worked with musicians like Vince Gill, Bob Dylan and Elton John.
In American music circles, Berline's name is synonymous with anything fiddle-related, and he is renowned for his contribution to bluegrass music.
In addition to his work on the music scene, he also had a well-known store called the Double Stop Fiddle Shop in Guthrie.
"He's literally everywhere," Stephen Tyler, a managing partner at the Tower Theatre, told KFOR in 2019. "Everybody knew what the Double Stop was, everybody knew who Byron was."
Berline's Double Stop Fiddle Shop was home to the largest collection of violins and bows in Oklahoma.
On Sunday, the American Banjo Museum announced that Berline passed away.
"Along with many musicians, fans and family, the museum lost a great friend with the passing of Byron Berline. Casting pride on Oklahoma anywhere and anytime he performed, Byron's storied career is legendary. Yet he was as accessible and kind as a person could be. Already missed, Byron left this world a better place than he entered," the museum posted.
Copyright 2021 Nexstar Media Inc. All rights reserved. This material may not be published, broadcast, rewritten, or redistributed.
Just before 5 a.m. on Monday, dispatchers received a 911 call about a burning apartment near S.W. 59th and McKinley.
The Centers for Disease Control and Prevention said in a statement it has received reports of 100 people who got the shot developing Guillain-Barré syndrome, an immune system disorder that can cause muscle weakness and occasionally paralysis.
Eduardo Bonilla-Lopez has been arrested on complaints of Murder in the First Degree and Kidnapping for the death and disappearance of Haylie Gonzalez.
Bluegrass Today 11 July, 2021 - 04:51pm
And sometimes, we say goodbye to incredibly kind and loving people, who leave an indelible imprint on our hearts.
Byron Berline, who died Saturday at 77 — just four days after his birthday — was both of those. His resume, his kindness, and his talent made him seem larger than life. That makes his passing, after a short hospitalization, sting even more. Berline had suffered a stroke a few weeks ago, and while in recovery, encountered a number of complications which weakened his heart and lungs to the point that he slipped away on Saturday evening.
Anecdotes and first-hand stories poured in late Saturday and all day Sunday, from well known musicians and casual fans alike.
"He was the quintessential bluegrass gentleman, superb musician, wonderful human being, and hero to so many bluegrass musicians and fans," said bandleader Greg Cahill of Special Consensus.
We like to claim Berline for bluegrass, and indeed his bluegrass resume alone would make him one of the greatest fiddlers we've known. He played, briefly, with Bill Monroe and The Blue Grass Boys, and had stints with the Dillards, Dillard and Clark, and others before co-founding Country Gazette, one of the most powerful instrumental bands to grace bluegrass stages. With him on stage, his later group, California, won three straight instrumental band of the year awards from the International Bluegrass Music Association. He later toured with his own band.
Berline was a walking encyclopedia of fiddle tunes, some that he learned, some, like Huckleberry Hornpipe that he wrote, all that he mastered and passed along to new generations of bluegrass and old time performers. Along the way, he won the national fiddling championship three times, was elected to the National Fiddlers Hall of Fame, and received a Distinguished Achievement Award from IBMA in 2012.
Berline will one day join the Bluegrass Hall of Fame. Alas, that honor was not bestowed while he was alive to enjoy it.
But those are merely his bluegrass accomplishments. As banjo player and bluegrass DJ Ned Luberecki put it, "Byron had the greatest and most diverse musical resume one could imagine."
He played with household-name performers in other genres, including Gram Parsons and the Flying Burrito Brothers, Bob Dylan, members of the Byrds, and the Rolling Stones. Check out his sidewalk fiddle work, complete with blaring car horn, on Country Tonk on the Let It Bleed album. The song will sound familiar to even casual Stones fans. A later arrangement, with a new title, Honky Tonk Woman, became a hit.
But all of that still only gives your part of the story. He also popped up in movies, including The Rose, starring Bette Midler, Stay Hungry, starring Arnold Schwarzenegger and Junior Bonner, featuring Steve McQueen. His resume includes television roles as well, including a brief, fiddle-playing appearance in a first-season episode of Star Trek: The Next Generation in 1987. That episode, fittingly, was titled, Where No One Has Gone Before.
Berline continued to tour, including a few post-COVID shows in support of his three-CD homage to fiddle tunes that came out earlier this year. Those recordings were set to come out a few years back, but were delayed by life-altering events. First, on February 29, 2019, a devastating fire destroyed Double Stop, his pride and joy music shop in Guthrie, OK. Bent but not broken, Berline and his wife, Bette, opened a new shop across the street. Then, of course, came COVID and the temporary halt to all things music.
Through it all, Berline kept up his cheerful demeanor. He wasn't Byron Berline, superstar. He was a guy who enjoyed making music and always — always — taking a minute for someone with a question or a request for a photo.
Among the many stories being told today about Berline, one of my favorites comes from my friend and songwriting partner, Gordon Roberts. Roberts supplied strings for Berline's Double Stop shop, and could have become just another voice on the end of the phone. But Berline knew Roberts played guitar, and when they would meet in person at fiddle events or music conferences, they'd end up picking for hours in a hotel room, with a bunch of aspiring young fiddle kids crowding in, soaking up some wisdom and enjoying breathing the same air as a master.
Many of stories about Berline's life can be found in A Fiddler's Diary, in which he teamed up with Jane Frost. The entertaining book was published in 2013.
Berline would blush at many of these memories and characterizations. But he is worthy of the memories and all the accolades that will be thrown at him in the coming days.
Long ago, a journalism professional warned me against using the word unique. No one and no thing is unique, he said. But I think that's the perfect word to describe someone who repeatedly went "Where No One Has Gone Before."
So sad to hear this news of Byron's passing. He was truly one of the great, second generation fiddlers who contributed ...
love your bluegrass movie titles. Here are a few offerings about which I pondered.Rebel Soldier without a ...
powered by AhSo
Oklahoman.com 11 July, 2021 - 03:01pm
"On behalf of the American Banjo Museum, along with many musicians, fans and family, we lost a great friend with the passing of Byron Berline," Johnny Baier, executive director of the American Banjo Museum in Oklahoma City, said in a statement. "Casting pride on Oklahoma anywhere and anytime he performed, Byron's storied career is legendary. Yet he was as accessible and kind as a person could be. Already missed, Byron left this world a better place than he entered."
He was born July 6, 1944, in Caldwell, Kansas, one of five children in a musical family. His family owned a farm with land in both Oklahoma and Kansas, but they resided in Grant County, Oklahoma, according to the Oklahoma Historical Society.
Berline started playing the fiddle at age 5.
He earned a teaching degree in physical education from the University of Oklahoma, where he also ran track.
At age 19, he met The Dillards, a group that performed on "The Andy Griffith Show" as the fictional bluegrass band The Darlings.
Berline said The Dillards were playing a gig in Oklahoma City and he got to perform with them. Two years later he recorded "Pickin' and Fiddlin'" with the group.
In 1965, he met Bill Monroe at the Newport Folk Festival. After Berline graduated from OU in May 1967, he joined Monroe and his band, the Bluegrass Boys.
After his discharge in 1969, Berline moved to California and played with several bands, including his own — Byron Berline and Sundance, and Country Gazette. He played music all over the world, including Europe, Asia, Australia, North Africa and the South Pacific.
Berline recorded with numerous musical acts, including Bob Dylan, Elton John, The Flying Burrito Brothers and The Rolling Stones.
The Rolling Stones flew him to California to record "Country Honk," a country version of "Honky Tonk Women," for the album called "Let It Bleed."
Berline also contributed work to several movies, including "Back to the Future III" and "Basic Instinct."
He and his wife, Bette, lived in Los Angeles until April 1995 when they returned to Oklahoma after the death of his father-in-law.
In 1996, he opened the Double Stop Fiddle Shop and Music Hall in Guthrie. Berline's father had been a fiddle collector for many years. Berline started collecting in 1987.
"That was one of my worst days," Berline told The Oklahoman. "All those really old 17th-century and 18th-century violins, they can't be handed down now."
Benefit shows on Berline's behalf were organized at the Tower Theatre, OKC Jazz Festival and Guthrie's historic Scottish Rite Masonic Temple.
A few days after the blaze, a family from Michigan contacted him about their father's collection of about 30 fiddles and almost 50 bows; not only were they willing to make a deal but also to drive 500 miles to meet him with the merchandise. Recently, the son of his late friend Terry Carroll showed up in Guthrie unannounced to pass along about 40 fiddles he inherited from his father.
Berline secured a new location at 211 E Oklahoma Ave. and re-opened a new Double Stop Fiddle Shop, without the music store.
"He would not only pull you up with him, he would push you forward," Ross said. "I will greatly miss him. Oklahoma was fortunate to have him."
Ross planned to spend Sunday playing a banjo he bought from Berline.
The family's Facebook post suggested that memorial donations be made to the Oklahoma's International Bluegrass Festival scholarship fund.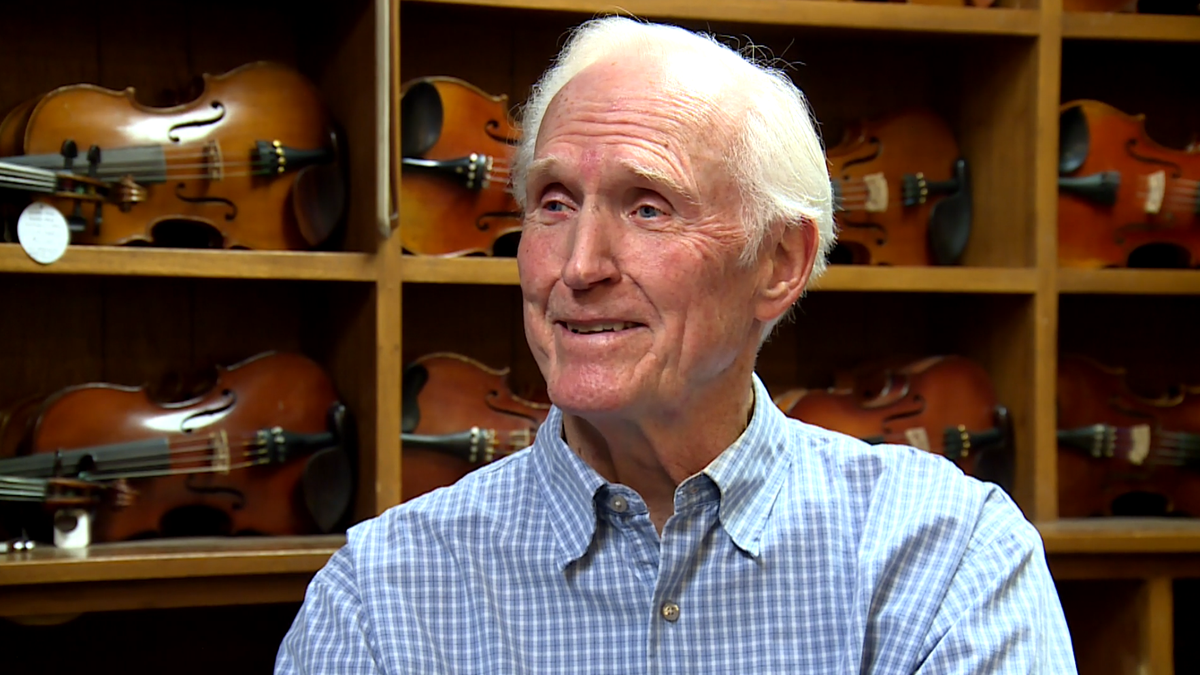 KOCO Oklahoma City 11 July, 2021 - 12:05pm
The latest breaking updates, delivered straight to your email inbox.
Famous fiddler Byron Berline, who owned the Double Stop Fiddle Shop in Guthrie, has died at the age of 77.
"We lost a great friend with the passing of Byron Berline," American Banjo Museum officials tweeted. "Casting pride on Oklahoma anywhere & anytime he performed, Byron's storied career is legendary. Yet he was as accessible & kind as a person could be. Already missed, Byron left this world a better place than he entered."
"We are deeply saddened to hear of the passing of the great fiddler Byron Berline," International Bluegrass Music Association officials also posted on social media. "Our thoughts and prayers go out to Mr. Berline's family and friends. Rest in peace."
Berline rose to prominence in the late 1960s. He recorded with a variety of artists, including The Rolling Stones, The Dillards and The Flying Burrito Brothers.
He was a member of Bill Monroe and the Blue Grass Boys and was a founder/member of several bands, including the Country Gazette, California and the Byron Berline Band.
Berline was the three-time champion at the National Oldtime Fiddlers' Contest and Festival in Idaho, and he was inducted into the National Fiddler Hall of Fame in 2013. He received the IBMA Distinguished Achievement Award in 2012 for his substantial contributions to bluegrass and fiddle music.
Berline, who was born on July 6, 1944, in Caldwell, Kansas, eventually moved to Guthrie and made central Oklahoma his home. Berline helped establish the annual Oklahoma International Bluegrass Festival.
In February 2019, a devastating fire destroyed Berline's fiddle shop in downtown Guthrie. The Double Stop Fiddle Shop was one of two stores destroyed in the fire.
Berline was on vacation when he learned about what happened to his shop, but hundreds of instruments he collected over the years and decades of memorabilia were destroyed.
"They all have souls and personalities," Berline told KOCO 5 shortly after the fire. "That's what's sad. They won't have another life. They're done."
Members of the Guthrie community rallied around Berline, holding a benefit concert and helping in any way they could before he eventually opened a new venue.
Hearst Television participates in various affiliate marketing programs, which means we may get paid commissions on purchases made through our links to retailer sites.
KTUL 11 July, 2021 - 09:34am