When the popular video game NBA 2K releases its new edition on Sept. 10, Chicago Sky superstar Candace Parker will make history as the first WNBA player to grace the cover.
Parker, who was selected as the first overall pick in the 2008 draft, will appear on the cover for the WNBA 25th anniversary special edition of the game.
"It's a step in the right direction," the 35-year-old told Bloomberg. "Being able to see women on the cover, visible in leadership positions, it helps not just in sport but also just in the boardroom, in business or everything."
The former WNBA MVP says she's "humbled to be the first female cover athlete" and she hopes that "there will be many more badass females to follow."
Parker joins a short list of female athletes who have graced the covers of other sports games including gymnast Shawn Johnson who was on a Gymnastics by Wii game in 2010 and former tennis player Jelena Dokic who was on the cover of a tennis game in the early 2000s, according to the Associated Press.
In addition to putting Parker on the cover, Take-Two Interactive, the company that owns NBA 2K, has agreed to work with the WNBA to give the league more exposure as it tries to attract more fans, financial backing and sponsors. Right now, due to a number of factors, including sponsorship and financing, the average yearly cash compensation for WNBA players is roughly $130,000. That's only a fraction of the average $8.32 million salary NBA players made in the 2019-2020 season.
"I think it's a benchmark of women's basketball for sure," Parker told the Associated Press about her NBA 2K opportunity. "I think most importantly it speaks to visibility and how important it is and how important the WNBA is...Now more than ever, fans want to follow the athlete. Through social media, through video games, it's adding and benefiting the WNBA."
On Wednesday's episode of "The Big Podcast with Shaq," Parker shared that being in a video game is a childhood dream of hers and while she's the first WNBA player to make it happen, she surely hopes that she won't be the last.
"I hope that there's many more young women and young girls that look and say 'We can do this,'" she says.
Joined by Parker on the covers of NBA 2K's new releases will be NBA star Luka Doncic, who will be the cover athlete for the game's regular edition, and Kevin Durant, Dirk Nowitzki and Kareem Abdul-Jabbar, who will be the cover athletes for the NBA's 75th anniversary edition.
Sign up now: Get smarter about your money and career with our weekly newsletter
Don't miss: Natasha Cloud, Breanna Stewart and other WNBA stars on continuing the fight for social justice and equality
Get Make It newsletters delivered to your inbox
Learn more about the world of CNBC Make It
Read full article at CNBC
The Spun 14 July, 2021 - 04:20pm
What's trending in the sports world today.
WNBA superstar Candace Parker made history this week, becoming the first female basketball player to grace the cover of NBA 2K.
"Extremely proud and humbled to be the first female cover athlete in the history of NBA 2K," Parker wrote. "I'm honored to work with a company that's investing in women and betting on us to succeed. I'm hopeful there will be many more badass females to follow."
Parker, who became a professional basketball player in 2008, has won a WNBA title, WNBA MVP and has made the All-Star Game six times over the course of the career. She's undoubtedly one of the best players of her generation.
When it was announced that Parker will be on the cover of NBA 2K22, Shaquille O'Neal let out tears of joy. He was obviously excited for Parker, which makes sense because they've developed a strong working relationship at TNT.
A video of Shaq crying was released by 'The Big Podcast with Shaq.' It was pretty cool to see O'Neal get emotional over this announcement.
Shaq's reaction to finding out that Candace is on the cover of @NBA2K 🤣
Full interview: https://t.co/9ubdcTYVCj pic.twitter.com/CHnZQGcaU0
— Bleacher Report (@BleacherReport) July 14, 2021
"Get out of here, Shaq" Parker jokingly said after she saw O'Neal wipe his tears with a tissue.
Parker is hopeful that this decision by NBA 2K will benefit women's basketball moving forward in a major way.
"I think it's a benchmark of women's basketball for sure. I think most importantly it speaks to visibility and how important it is and how important the WNBA is," Parker said, via ESPN. "Everyone is looking at it that it's impacting little girls, but it's also impacting little boys and young men and young women and men and women. I think our game is different than the NBA; now it's embracing that fact. Now more than ever, fans want to follow the athlete. Through social media, through video games, it's adding and benefiting the WNBA."
Congratulations to Candace Parker on this incredible achievement.
Chris is a writer at The Spun.
Copyright © 2021 The Spun · All Rights Reserved · Powered by BizBudding Inc.
Sporting News AU 14 July, 2021 - 04:11pm
Aligned with recent years, there are multiple editions of the game, featuring different cover athletes. The NBA 75th Anniversary Edition of the game celebrates three of the game's greatest scorers: Kareem Abdul-Jabbar, Dirk Nowitzki and Kevin Durant.
In conjunction with the announcement of the game's cover, Abdul-Jabbar spoke at length with various reporters on numerous topics, including his immersion with the gaming world and the continual advancements of the modern-day NBA.
"Being on the cover of NBA 2K22 is just a very special achievement for me," Abdul-Jabbar told the media. "You know, I've loved this game all my life and to be significant in the way that people who love the game and play on games, you know, to be in their world is a real honour."
The NBA's all-time leading scorer continued, providing more context on why he sees it as such an honour to be asked to grace the cover of a globally popular gaming franchise, adding that "I was very pleased when I was asked to be on the cover of NBA 2K22, because it's something that associates with the game around the world, and I've felt that I've earned my place in basketball around the world."
Abdul-Jabbar is arguably the most decorated player in the history of the game, winning three NCAA titles during his time at UCLA before moving on to the NBA, where he won six NBA titles, a record six NBA MVP awards and retired as the league's all-time leading scorer with 38,387 points, a mark that still stands in 2021, although 36-year-old LeBron James is just over 3,000 points away.
"I don't know if he's going to be able to catch up to me," Abdul-Jabbar said of James becoming the all-time leading scorer. "He's going to have to stay healthy. We've had a few incidents where he's injured himself. So, it's all about how long you can play safely without risking your health permanently. And I wish him well. I hope he stays healthy and we'll see what happens."
Abdul-Jabbar later added that "when it gets close, I'm probably going to have to say a few words, and I'll be happy to congratulate him because the records are only there to see how well we're doing, as a race. Any one person who holds a record has to understand that it's a very temporary thing."
After being selected with the No. 1 overall pick in the 1969 NBA Draft, Abdul-Jabbar enjoyed a 20-year career, retiring at the age of 42 in 1989. In the 32 years since his retirement, the game has evolved in many ways, specifically the evolution of the big man, as evidenced by players like league MVP Nikola Jokic, Joel Embiid, Giannis Antetokounmpo and Anthony Davis.
Abdul-Jabbar spoke on the growth of the game and the gifts of said big men: "I think the NBA big men will distinguish themselves as they have gifts. So, the ones that want to go and dominate in the paint will do that and the ones that can go inside and outside will do that.
"Anthony Davis is a great example of that. Because the Lakers wouldn't have won their last championship if it hadn't been for his outside shooting. So, that is a new factor in the game and I'm glad the big men are all involved."
While Abdul-Jabbar began his career with the Milwaukee Bucks, he is a Laker for life, as evidenced by his donning the purple and gold on the game's cover. His Laker fandom shone through when asked whether or not he had a favourite big man in the league today.
"I have a favourite big man and he happens to play in LA and wear No. 3, Anthony Davis. I think he's the most talented. Defensively in the paint, he's awesome, offensively in the paint, he's awesome, and then he can go out on the perimeter and be a problem."
Abdul-Jabbar continued, adding that "[Davis] can hit the three consistently or the mid and long-range jumper. So, I would have to go with him. But, as you said, Embiid ... he's tough, Jokić ... he's tough. I haven't seen them play a lot. I might change my mind if I get a chance to see them play more, but I'm going to have to go with AD because I'm a Laker through and through and he's proved it so far.
In an era where many modern-day gamers may not be aware of Abdul-Jabbar's accomplishments, this honour of gracing the special edition cover of NBA 2K22 could implore many to learn more about his legendary status as arguably the greatest basketball player of all time.
It's something that Kareem made sure to acknowledge as his time with the media came to a close.
"I'm happy they are getting a chance to see me play this way. I remember when I was playing in the old NBA, I used to play video games in the airports.
"So, now I guess I'm happy I'm in a game that's more or less like a video game and it's being sold around the world. That's quite an honour and I'm very pleased to have survived this long … It's an incredible honour and I'm so happy to be on there and recognized. That's all I can say, there's not much else to it, man. It's an incredible honour and the recognition really makes me feel good."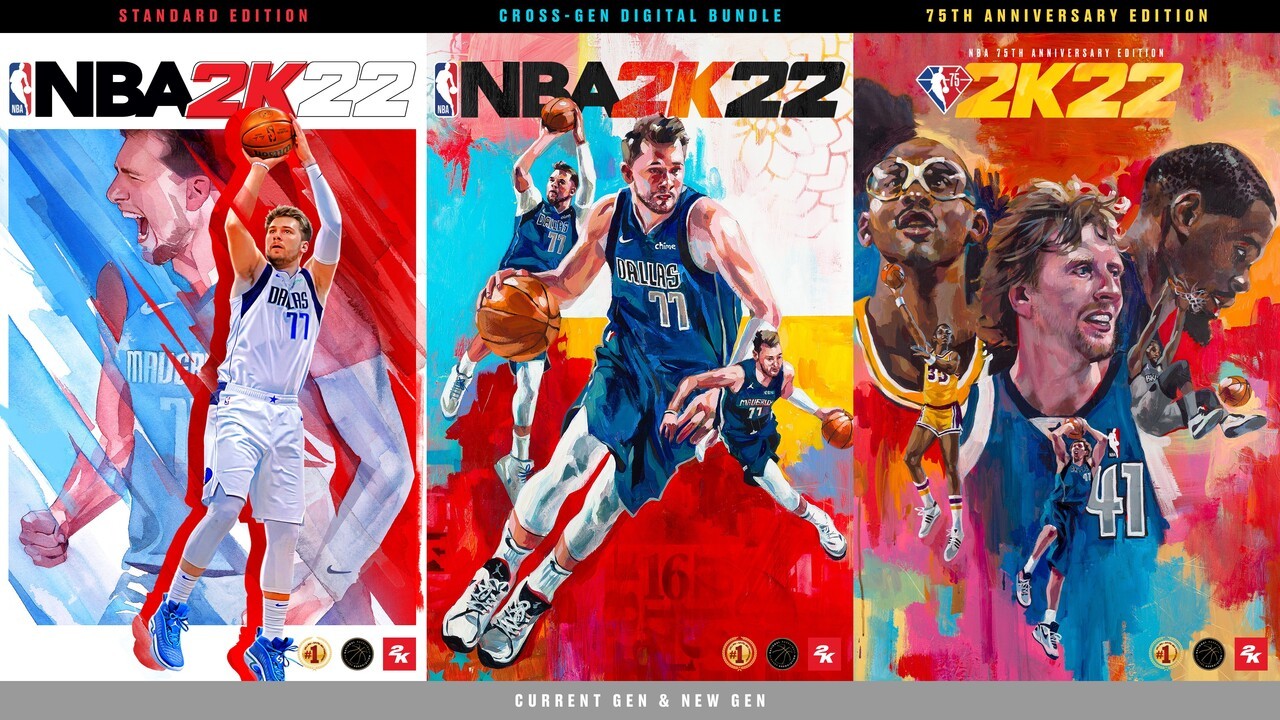 Push Square 14 July, 2021 - 04:11pm
Well, it was inevitable really, but Dallas Mavericks' versatile guard Luka Dončić is the star of NBA 2K22, fronting the Standard Edition and its Cross-Gen Digital Bundle. As that sentence already implies, there are no free PS4 to PS5 upgrades here – just like FIFA 22 and Madden NFL 22 – so you'll need to purchase a pricier bundle if you want to play the basketball sim across both consoles. More on that later.
A third version, the NBA 75th Anniversary Edition, will focus on a trio of the league's most impactful bigs: Kareem Abdul-Jabbar, Dirk Nowitzki, and Kevin Durant. All three versions are due out on 10th September, and are available to pre-order from today. Sony once again has marketing rights, as PS Plus subscribers will receive three free monthly MyTeam packs throughout the course of the season.
"Making the global cover of NBA 2K22 is special for me," Slovenian star Dončić said. "I'm proud to represent my country in a special cover that honours the Colors of the Slovenian flag. Basketball has given me so much, and I'm excited to give back and work together with 2K Foundations this year to help the lives of young kids around the globe."
So, what about those three distinct editions, then. Well, here's the lowdown, direct from the press release:
So, what do you get? Well, pre-orders for the Standard Edition include 5,000 VC, 5,000 MyTeam points, 10 MyTeam Promo Packs (delivered weekly), boosts in MyCareer, a Luka Dončić MyPlayer jersey, and a 95-rated Luka Dončić MyTeam Free Agent card. Plump up for the Cross-Gen Digital Bundle and you'll also get 10,000 MyTeam points, 10 MyTeam Tokens, Sapphire cover star MyTeam cards, a Diamond MyTeam shoe pack, and some bonus MyPlayer items – including a custom skateboard.
Then there's the most expensive NBA 75th Anniversary Edition, which includes 100,000 VC and 10,000 MyTeam points in addition to the items from the Cross-Gen Digital Bundle. You can find out more information on the game's official website, with future gameplay and soundtrack updates due in the coming weeks.
[source nba.2k.com]
About Sammy Barker
A true PlayStation veteran, Sammy's covered the world of PS gaming for years, with an enormous Trophy count to prove it. He also likes tennis games way more than you.
Comments (12)
Why is there a basketball minigame in my gambling simulator?
Disgusting to charge extra just for a next gen upgrade. EA are even worse with FIFA.
Luckily I don't play sports games but feel sorry for those who do. These games are also stuffed with micro transactions so it's not like they don't make enough money.
I'm not pleased that Sony are charging extra just to upgrade games when I have already paid for a PS5. I don't expect features to be locked behind a pay wall I should of just kept my PS4.
Man, those covers are way better than what EA barf up these days.
These covers are awesome! Looking forward to this year's entry!
Cover art looks so nice. Like it better than FIFA's cover art
NBA 2K21 Next gen was so bad, the gameplay was so awful. I don't care about the cover art, if the gameplay is trash. 2K22 is going to make us spend £40 extra for our player to be 85 overall, same old crap. Personally for me, I am not getting hyped until the gameplay is good like 2K16.
As a Mavericks fan it's amazing to see Luka on the cover and Dirk on the Legendary Edition Cover, also all three covers look great.
The PS5 version of 2K21 was great and I assume they will improve it a bit for 2K22. I probably won't buy it ASAP, the same with FIFA 22 because the PS5 Versions of those games are fine and I can play them for a bit longer.
Also FIFA goes on sale for half off every Black Friday so that helps lol. 2K might get a little discount.
Not a Basket Ball fan but love the covers.
covers are cool, game will be trash.
2k21 on ps5 was a noticeable upgrade from the ps4 version. Look forward to seeing the changes in 22. No problems with Luka on the cover. Hopefully Jayson Tatum can grace one in next few years!
Covers look great still laughing about someone who called the Mamba edition a free upgrade. 🤪
Hold on there, you need to login to post a comment...
The company's doing its own thing
F1 2021! Where the Heart Leads! More!
Join 368,139 people following Push Square:
© 2021 Nlife Media, partner of ReedPop. Hosted by 44 Bytes.
PlayStation Universe 14 July, 2021 - 11:21am
The NBA 2K22 release date has been officially announced by 2K Sports, with the game coming to PS5, PS4, PC, Xbox Series X/S, Xbox One, and Nintendo Switch on September 10, 2021. Yep, that earlier leak was spot on!
What's more, there's going to be a Cross-Generation bundle and a 75th anniversary edition to grab if you feel like splashing out. The bundle features access to PS4 and PS5 standard versions of NBA 2K22 (or Xbox Series X/S & Xbox One if you're on those platforms), and will cost $79.99.
Meanwhile, the $99.99 NBA 2K22 75th Anniversary Edition will feature both generation versions f the game within the same console family, and will celebrate multiple cover stars such as Kareem Abdul-Jabbar, Dirk Nowitzki, and Kevin Durant.
2K Sports has revealed that Luka Dončić will grace the Standard Edition and Cross-Gen bundle, making it the first game to feature a female cover star. Nice!
More details on NBA 2K22 will be revealed "in the coming weeks," and 2K has teased that this year's entry will boast the "best-in-class visual presentation and player AI, historic teams, and a wide variety of hoops experiences."
NBA 2K22 will ship for PS5, PS4, PC, Xbox Series X/S, Xbox One, and Switch on September 10, and is now available for preorder. As expected, it's $59.99 for PS4 and $69.99 for PS5 versions.
Destiny 2 developer Bungie is getting ready to celebrate 30 years in the industry, which could mean some Halo easter eggs on PlayStation.
Former Call Of Duty director Glen Schofield says that players "Don't realize how much goes into making a Call Of Duty game". Check out the full story here.
Battlefield 2042's just announced cross-play functionality will be split between console generations beyond the launch of the game.
Lost At Sea (PC / PS5 / Xbox Series S/X)
Little Witch Academia: VR Broom Racing (Oculus Rift / PSVR / Steam VR)
F1 2021 (PC / PS4 / PS5 / Xbox One / Xbox Series S/X)
Cris Tales (Google Stadia / Nintendo Switch / PC / PS4 / PS5 / Xbox One / Xbox Series S/X)
Last Stop (Nintendo Switch / PC / PS4 / PS5 / Xbox One / Xbox Series S/X)
Orcs Must Die! 3 (Google Stadia / Nintendo Switch / PC / PS4 / PS5 / Xbox One / Xbox Series S/X)
Samurai Warriors 5 (Nintendo Switch / PC / PS4 / Xbox One)