Baz Bamigboye 💙
BazBam
Saturday night red carpet fever ⁦@Festival_Cannes⁩ for special screening of #SeanPenn film #FlagDay pic.twitter.com/vhLqjDAwky
Juste Zoé
JusteZoe_Ytb
Festival de Cannes 2021 🤩 pic.twitter.com/McGNWvdtO9
Laurence Farreng
laurencefarreng
🎞🇪🇺 At Cannes Festival with my colleague ⁦@nnienass⁩ to promote european cinema and to exchange with european professional of the filmmaking sector ⁦@CultCreatorsEU⁩ ⁦@RenewEurope⁩ pic.twitter.com/SgIK9Mx6dK

Namrata Joshi
Namrata_Joshi
This was so thoughtful @anuragkashyap72 Visiting my fave eatery at Cannes—Le Troquet a Soupes—and making me connect with the kind & quirky chef-owner Sylvie. Hope you enjoy the raclette, soups, apple lemon pie & limoncello! Have a great @Festival_Cannes pic.twitter.com/AkgFZ6iU42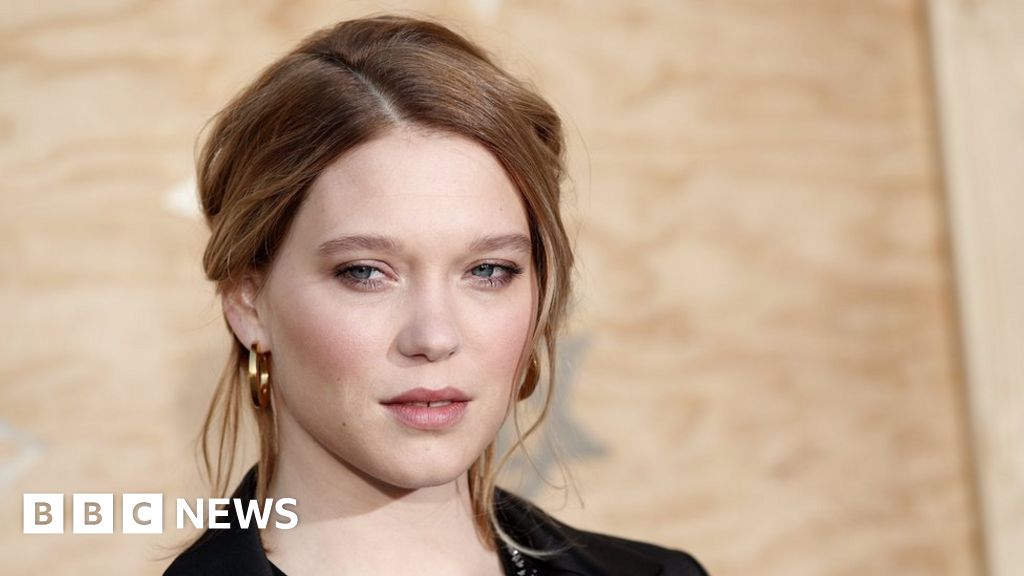 The James Bond star - who is double-vaccinated and asymptomatic - is appearing in four films at the world's most famous movie festival.
The event is being held in-person on the French Riviera, with organisers insisting they have strict measures to avoid infections.
Even so, rumours of a possible "Cannes cluster" have been circulating.
These have been strongly denied by festival director Thierry Fremaux.
"Yesterday we did more than 3,000 tests (on festival-goers) and we have no positive cases," he said on Saturday. "We are having to say this to show that the rumours of a Cannes cluster are unfounded."
Ms Seydoux, 36, had yet to arrive at the festival when she discovered she had tested positive. Representatives for the actress say she will only travel if given the okay by doctors.
All four of her films are being shown next week. First up is director Wes Anderson's star-studded The French Dispatch, which has already been heavily delayed by the pandemic but will have its world premiere on Monday.
This is followed by Arnaud Desplechin's Deception on Tuesday, Ildiko Enyedi's The Story of My Wife on Wednesday and Bruno Dumont's France on Thursday.
Three of the titles are in the running for the Palme d'Or, the top prize at Cannes. Seydoux previously won the prize in 2013 for her performance in Blue is the Warmest Colour.
Haitian officials want US and UN forces to protect key infrastructure in the country in turmoil.
15 sayings from around the world
Read full article at BBC News
FRANCE 24 English 10 July, 2021 - 03:13pm
AP Archive 10 July, 2021 - 03:13pm
Al Jazeera English 10 July, 2021 - 03:13pm
Variety 10 July, 2021 - 08:55am
The return to business at the Cannes Film Market hasn't necessarily marked the return to business as usual, as sluggish foot traffic and empty stalls in the Palais des Festival can attest. But AGC Studios CEO Stuart Ford says the past year has hardly dimmed his confidence in the indie film business.
"The independent financing and sales marketplace is still an incredibly fertile ground to finance content at a significant level," he said. "It's a very attractive business model, and it's a very efficient business model."
Ford appeared Saturday at the Cannes Film Market as part of an international film finance forum hosted by Winston Baker to discuss how the worlds of film finance and distribution will emerge from the uncertainty of the pandemic year.
"It has been a tremendously difficult period for international distributors internationally," said Ford. "It's been a period where changes that were already very much afoot in the international industry have been accelerated and may well lead to a new normal as we come out of the pandemic, back to whatever the new normal actually looks like."
Nowhere has that flux been more evident than in the streaming industry, whose explosive growth in the past year was largely fuelled by cinema closures and the need of restless homebound audiences to find fresh forms of entertainment.
Coming out of the pandemic, the theatrical business model—already under threat pre-pandemic—looks even more uncertain, leaving indie distributors to grapple with how to build a profitable business model around a film's release.
Ford stressed that "diversification will be the key," with many indies already shifting away from a "core business" built around theatrical and home entertainment release to a "slightly more rounded" model that incorporates film and TV production as well as theatrical releasing.
The technological shift that spurred the streaming boom has also had an upside for the indie movie biz. "Virtual markets have been an absolute game-saver for the independent industry," Ford said. Still, he praised the face-to-face encounters of physical markets like the Cannes Marché as the "connective tissue" holding the industry together. "I think we could happily live with two [physical markets] a year, and perhaps a couple of virtual markets each year."
Two years ago, AGC Studios launched Roland Emmerich's $140 million sci-fi blockbuster "Moonfall" on the Croisette, which the company subsequently financed "almost entirely out of the independent space," said Ford.
"In the space of 10 days we came to Cannes, and we absolutely built the entire financial and distribution foundation for that commercial venture in 10 days, start to finish, $140 million, and that's distributed worldwide," said Ford. "That's incredibly efficient."
This year Ford has been bolstered by his time on the Croisette, even on a somewhat downbeat year. "It was incredibly helpful, and has been very helpful, because this is a slightly more sedately paced festival than usual, to have the time to sit down and really listen to what's going on with [my partners'] business and in their marketplaces amidst this year or 18 months of huge change and challenges for everybody," he said. "It's very important for me to understand what's actually happening out there."
Speaking to Variety after the event, Ford added that there were encouraging signs of life in an otherwise low-key market. "All the major U.S. buyers are here for all the competition entries, and they're active. There have been deals," he said. "Obviously, for the international buyers we had the virtual market two weeks ago, but I get the impression there's plenty of follow-through going on here. Generally, I think that the wheels are turning, and this has been a really constructive exercise."
Variety 10 July, 2021 - 06:58am
French actor Lea Seydoux is supposed to be the toast of this year's Cannes Film Festival with four films, including three in competition. But sources say that the French star may cancel her trip to the South of France after testing positive for COVID.
Seydoux has not made the trip to Cannes yet; she's currently on the production of a film, during which she contracted COVID. A source close to the actor says she's most asymptomatic and has been self isolating for over a week at her Paris home.
A spokesperson for Seydoux confirmed she tested positive for COVID-19 despite being fully vaccinated and asymptomatic. She will remain in quarantine until her doctors deem her safe to travel to Cannes and attend festival events.
In a plot twist worthy of an episode of "Call My Agent!," Seydoux is getting tested every day. She is waiting for negative test results for two consecutive days in order to make the trip to Cannes for the world premiere of Wes Anderson's "The French Dispatch" on Monday night.
Seydoux's other films in competition are Ildiko Enyedi's "The Story of My Wife," and Bruno Dumont's "France." She also stars in Arnaud Desplechin's film "Deception." The critically acclaimed actor has been talked about as a strong contender for a best actress award at Cannes due to the number of films she has playing at the festival. She won the Palme d'Or for her performance in Abdellatif Kechiche's 2013 film "Blue is the Warmest Color," which she shared with Kechiche and her co-star Adèle Exarchopoulos.
Cannes Film Festival's general secretary Francois Desrousseaux told Variety yesterday that there was no COVID-19 cluster at Cannes four days into the festival. He said that out of several thousand people getting testing here on a daily basis, there are an average of three cases per day. Salivary RT-PCR tests have been carried on at a 300 square-meter lab tent adjacent to the Palais des Festivals.
The festival's organizers have slightly ramped up the health protocol in view of the COVID cases reported. Cannes' organizers have now demanded that every festival staffer undergo a test every two days, rather than every five days which is the normal requirement for event employees. However, a new system of sanitary passes means fully vaccinated attendees won't have to be tested as often.
PEOPLE 10 July, 2021 - 05:00am
The Washington Post 10 July, 2021 - 03:20am
"There are people everywhere," said a sweating Brahiman, in his 50s. "I had to park far away and walk."
The resumption of the 12-day Cannes Film Festival last week, after a pandemic hiatus in 2020, marks a moment of optimism for an industry battered by closed cinemas and difficult working conditions. For film fans in Cannes and around the world, it also represents a moment of hope that normality — on and off the screen — may be returning.
Unlike this year's Sundance Film Festival, held online and at satellite venues as vaccines were just being rolled out in the ­United States, Cannes is fully in-person.
"You can't really keep the virus out," one festival participant advised another over dinner. "You just have to follow a few rules and stop being angry about it all the time."
Beneath the glittering festivities, though, in the underground Cannes vaccination center, French doctors are trying to prevent a deadly fourth wave of covid-19 and another shutdown of the economy and cultural life.
The festival, usually held in May, was postponed to July to allow time for France's most recent coronavirus outbreak to subside. But it now coincides with increasing fears about the highly contagious delta variant. And continued travel restrictions have depressed attendance. This year at Cannes, 28,000 participants have been accredited, compared with 40,000 in 2019. Hotel rooms are cheaper and more available, even on short notice, than in past years of the festival.
Cannes has often reflected broader societal trends, right from its founding in 1939 as an act of defiance against the Nazis and Italian fascists who had co-opted the Venice Film Festival for their propaganda purposes.
In 2018, as the #MeToo movement raised questions about power and its distribution, the festival's jury president, Cate Blanchett, led a women's march up the red-carpeted steps of the palais to bring attention to how few female directors had ascended those stairs.
This year, the festival mirrors the awkward emergence from the pandemic happening in much of Europe and the United States.
As Marion Cotillard, the lead actress of the festival's opening film, walked into the palais on Tuesday night for the premiere of "Annette," she initially put on a face mask, then looked confused when others didn't. She eventually took it off.
The French cheek kiss — "la bise" — is more difficult to spot on the red carpet than in typical years. Saying hello or goodbye can throw off even the most experienced Cannes festivalgoer. Should we shake hands? Fist-bump? Or perhaps only wave?
At the entrances, festivalgoers have to produce vaccination certificates, proof of immunity acquired through infection, or negative test results. Vaccinated Europeans can simply flash a digital health pass — a QR code that's accepted across the European Union. But Americans, even those who have been vaccinated, still have to submit to a test every 48 hours through their time at the festival. A PCR testing site has movie executives spitting into tubes behind a Ferris wheel.
Cannes Mayor David Lisnard said the rules — based on French government guidelines for large gatherings — should help the city show that a mass event can be "festive while also protecting the health" of participants.
Dogs trained at sniffing out traces of the coronavirus are positioned outside the festival as an additional layer of protection.
Some of the screening venues, though, have direct entrances and aren't imposing testing requirements or capacity limits. Masks are supposedly mandatory, but that's been inconsistently enforced.
Some in Cannes are enjoying this year's more intimate version of the festival — and relishing the chance to interact.
Fans perched in wait on their suitcases outside luxury hotels have had better luck than in the past catching actors for signatures or selfies. The manager of the celebrity-saturated Martinez hotel, Yann Gillet, said the stars staying there seem to "have more time and they have more desire to talk. They are less stressed."
"I think they've been missing the contact with the crowd, with the people," he said.
"People changed," assessed Stephan Bender, the interim chief executive of Film France, an agency that seeks to attract foreign film productions to the country.
He said the festival had seemed progressively busier and more frenetic in each of the 20 years he attended. But the pandemic forced a fundamental rethink, he said, looking out onto the Mediterranean Sea and the anchored mega-yachts in the bay. "A lot of people are saying: 'I'm not going to have a crazy Cannes with 25 appointments a day. I'm going to have more deep discussions with people — and this quiet Cannes will give me the opportunity to have real discussions with people and to make real connections.'"
But after 16 months of economic uncertainty, some miss the pace of Cannes in previous years.
Monique R. White, senior vice president of distribution at California Pictures, said Cannes is usually a crucial opportunity for her company to sell film rights to buyers around the world. "Cinephiles all come here to Cannes to celebrate film," she said, calling it "the pinnacle of filmmaking."
But this year, she estimated that as many as 80 percent of buyers may stay away because of travel restrictions or the sense that a toned-down version of Cannes wasn't worthwhile.
White said that she had set up several meetings with potential buyers in the online version of the Cannes film market but that she missed the in-person interactions. "We understand that [the organizers] wanted everybody spaced out, but now it almost feels like the energy level is really low," she said, standing in a vast and largely empty exhibit hall.
When potential buyers do show up, the conversations are still often dominated by the pandemic. White had just met with French movie distributors who have "so many movies in the queue that they just have to get these movies out before there's another variant," she said.
In the Bay of Cannes, the uncertainty that has accompanied the film festival was most visibly on display at night last week. Instead of turning on blinking party lights, many yachts remained dimly lit.
On the southeastern edge of Cannes, the only people partying on the water at 11 one night were four locals in a small motorboat, anchored next to imposing yachts called "Crazy Me" or "La Titude."
One of the locals, Antony Lapalus, said he frequently hosted Cannes parties as a professional yacht captain.
"Usually during the Cannes festival," he said, "you got parties everywhere."
"Everything is changing," he said, chewing a piece of delivery pizza.
Coronavirus maps: Cases and deaths in the U.S. | Cases and deaths worldwide
Vaccines: Tracker by state | Guidance for vaccinated people | Kids | How long does immunity last? | County-level vaccine data
What you need to know: Delta variant | Other variants | Symptoms guide | Masks FAQ | Personal finance guide | Follow all of our coverage and sign up for our free newsletter
Got a pandemic question? We answer one every day in our coronavirus newsletter
FRANCE 24 English 09 July, 2021 - 07:27pm
It is hard to imagine "Parasite" taking such a trajectory without the Cannes springboard. The glitzy festival hosts the world's biggest film market, and the Cannes imprimatur is still the most coveted in the trade. Last year, several big auteurs chose to feature in the Cannes 2020 line-up, knowing the festival wouldn't even take place due to the pandemic, rather than head to Venice. Others waited a full year before submitting their work, in the hope of making it to the French Riviera this summer.
Naturally, the movie world is looking to Cannes to jolt it awake after more than a year of forced hibernation – and the festival is relishing the challenge and attention. Announcing this year's lineup, Cannes' artistic director Thierry Frémaux declared: "Cinema is not dead." 
Once again, Netflix was nowhere to be seen in Frémaux' selection of films. But the streaming giant is still the elephant in the room – all the more so now that the pandemic has accelerated profound transformations in the movie industry, strengthening the hand of digital platforms.
Cannes and Netflix have been at loggerheads since 2017, when the festival kicked off a very French fracas by including Bong Joon-ho's Netflix-produced "Okja" in the race for the Palme d'Or. The decision prompted a furious backlash by the country's theatrical exhibitors, who see Cannes as the guardian of the big screen and Netflix as a mortal threat.
Scrambling to stem the furore, Cannes warned Netflix that it must allow its productions on the big screen, where films are meant to be shown. But when it proceeded to show how at the screening of "Okja", the result was an embarrassing fiasco: the curtain only half-raised, Tilda Swinton's head chopped off, a deafening chorus of jeers and boos, and a forced interruption 10-minutes into the film, in the hallowed Grand Théâtre Lumière, of all places.
The next year, Cannes told Netflix it would only get an invite if it complied with French distribution rules. When the digital upstart refused, festival organisers offered it an out-of-competition slot, which Netflix also turned down. Instead, it took Alfonso Cuaron's Oscar-winning "Roma" to Cannes' oldest rival, the Venice Film Festival, which has no beef with the streamers.
When quizzed on the subject earlier this week, Frémaux took a swipe at rival film festivals. Without naming them, he said some had been too quick to allow movies made by streaming giants into their main competitions, without requiring a theatrical release. This, he said, had harmed cinema as a whole.
"2019 was a great year for cinema. Then 2020 was the most catastrophic year in the story of filmmaking," Frémaux told journalists. He said the crisis had helped platforms like Netflix score a "deserved victory", but left the rest of the cinema industry with little means of fighting back. 
"Some festivals were first to open their doors a bit too freely, to people of whom we are not sure if they actually want cinema to survive," Frémaux snapped. Citing Cannes' record at discovering filmmakers, he added: "What directors have been discovered by [streaming] platforms?"
Cannes' hardline stance has won the respect and admiration of many cinema lovers, particularly in France, which cherishes its thriving film industry and abundance of movie theatres.
"Cannes has adopted a courageous position that is coherent with its own definition of what constitutes a cinema feature, as opposed to a TV movie," said French filmmaker and screenwriter Nathalie Marchak. "It's a strong stance in defence of the movie theatres."
The continuing standoff, however, is proving costly for both Cannes and Netflix. The world's biggest film festival is surely aching to get hold of films like Jane Campion's "The Power of the Dog", which is distributed by Netflix, while the streaming giant is missing out on Cannes' unrivalled prestige and media glare. But it's the filmmakers and producers caught up in the tussle who are paying the real price.
"Of course it is unfair for films that are bought up by the digital platforms and therefore cannot enjoy theatrical distribution," Marchak told FRANCE 24. "There are marvellous movies that only find space on the streaming platforms and you can't blame the producers for making that choice."
And what about the viewers' choice? According to filmmaker Mark Cousins, giving people the ability to choose between the big screen and the small screen should be a guiding principle of the industry as it tackles the challenges of the post-pandemic world.
A decade after releasing his epic 15-hour documentary series "The Story of Film: An Odyssey," Cousins returned to Cannes this week with an intriguing follow-up that examines where cinema has been heading in the 21st century. Created during lockdown, "The Story of Film: A New Generation" discusses more than 90 films that have extended the language of film and taken the medium in new directions.
"For the benefit of the audience, people should have a choice, whether to see something for the first time on the big screen or on the small," Cousins told FRANCE 24. "If people want to stay home, especially if they have kids and want to eat pizza or whatever they want to do, that's fine and I do that. But people who want to see a film on the big screen should be given a chance to do so."
The Belfast-born, Edinburgh-based director said France should be proud of its robust cinema attendance and had every right to defend a cherished part of its culture.
"If here in France you've got an audience that wants to see the epic, the sublime of cinema, then 'bravo', long may it last," he said. "It does damage cinemas if the big films have only one channel to audiences. Cinemas are quite right to say this is hurting them. The reason they're right is because it's unnecessary hurt. People should be given the choice."
Netflix should also be credited for doing "a lot of good stuff", Cousins said, urging both sides to compromise. "There's a touch of machismo here, a bit of sabre-rattling between Cannes and Netflix," he added. "They should kiss and make up."
It's a view shared by this year's Cannes jury head, US filmmaker Spike Lee, who made "Da 5 Bloods" for Netflix last year and was unfazed when quizzed on the subject earlier this week.
"Cinema and screening platforms can coexist," Lee told reporters at the Palais des Festivals. "At one time, there was a thinking that TV was going to kill cinema," he added. "So, this stuff is not new."
Daily newsletterReceive essential international news every morning
In pictures: Paul Verhoeven, Virginie Efira, Aïssa Maïga storm the red carpet at Cannes
Cannes Film Festival tackles nunsploitation, gender bias and the male gaze
Cannes films and jurors take angry swipe at 'world run by gangsters'
In pictures: Matt Damon, Camille Cottin light up the red carpet at Cannes
'Dream' comes true as Bangladeshi film makes history at Cannes Film Festival
In pictures: Sophie Marceau owns the red carpet at Cannes
Slideshow: Spike Lee, Marion Cotillard, Adam Driver hit red carpet as Cannes reawakens
Summer festival fever: Something for everyone as France's culture events return
Bolstering its transatlantic ties, France announces new cultural residency in the US
Yahoo Lifestyle 09 July, 2021 - 05:56pm
Abigail Breslin sparkled — literally — at the Cannes Film Festival.
The "Scream Queens" star made a statement at the photocall for her new film, "Stillwater," in a multicolored floral dress by Oscar de la Renta. The dress featured a gathered asymmetric hemline and sleeveless silhouette. Breslin and her stylist, Sonia Young, paired the ensemble with a dazzling pale blue crystal Judith Leiber clutch to match several similar hues in her dress, as well as minimalist pair of silver hoop earrings.
On the footwear front, Breslin donned a sleek pair of pointed-toe pumps by Sophia Webster. The Coco style featured shiny silver metallic leather, which coordinated with her earrings and clutch detailing. The pair's biggest statement, however, was a 4.3-inch heel embellished with stacked crystal beads. This dazzling detail complemented Breslin's clutch, as well as adding a dash of elegant glamour to her ensemble. Breslin's sparkly pumps retail for $299 (on sale from $498) on Farfetch.com.
On the red carpet, Breslin's style is colorful and glamorous. The "Dirty Dancing" actress favors dresses in both bright and tonal colors, usually accompanied by details like crystals, structured hemlines, and feathers, from labels like Christian Siriano, LouLou, Jill Stuart and Stello. While off-duty, she favors similarly bright pieces with a punchy edge from layered denim, colored lace, and graphic prints by Trina Turk and Coach. At this year's Cannes Film Festival, she also showed off her penchant for a statement look in a custom green Dolce & Gabbana dress and matching platform sandals.
As for shoes, Breslin's preferences are similarly edgy and bold. Chunky combat styles and block-heeled ankle boots by Jeffrey Campbell are a favorite, as well as Dr. Martens. While on the red carpet, Breslin has been seen in minimalist sandals and platform pumps by Stuart Weitzman, Alexandre Birman, and Christian Louboutin. However, she also favors budget friendly options, like pointed-toe and platform pumps like Aldo and Chinese Laundry.
Shine on this summer in a pair of silver pumps, inspired by Abigail Breslin.
Launch Gallery: Cannes Film Festival 2021 Red Carpet Arrivals
Sign up for FN's Newsletter. For the latest news, follow us on Facebook, Twitter, and Instagram.
Izabel Goulart wore a white Etro gown and shiny silver sandals at the 2021 Cannes Film Festival.
The first lady paid a visit to Savannah, Ga.
So far, stars like Bella Hadid, Helen Mirren, and Jessica Chastain have hit the red carpet in glamorous gowns.
The model wowed at the "Stillwater" premiere.
Goulart wore Amina Muaddi sandals with a green knit set at Cannes.
The film festival brought together Bella Hadid, Spike Lee, Marion Cotillard and many others for the 74th edition.
Mirren wore sustainable green sneakers with a chic navy dress in Cannes.
While some celebrities wear ball gowns to the annual Cannes Film Festivals, others opt for sheer dresses, corsets, and more.
Chastain wore patent Versace 5-inch heels at the 2021 Cannes Film Festival.
"I'm comfortable. I like me. That's where you get to by the time you're my age."
On Day 1, Marion Cotillard made an appearance for the "Annette" photocall.
Cannes Film Festival is the place to be right now for some of the biggest international stars in the entertainment industry. And there's one person who is totally having the time of her life while feeling herself on the red carpet: Andie MacDowell! The longtime actress and model has been gracing the red carpet of […]
Diane Kruger looked as graceful as ever on the red carpet at the Cannes Film Festival 2021.
If you're looking for a subtler (or, perhaps, more obvious) way to show off some skin in your summer one-and-done look, then consider the open-back dress. It's like the mullet of outfits; biz in front, party in the back. Plus, a backless frock is a clever way to defy the heat when your skin needs that open access to the breeze. From plunging scoop backs to knotted straps and ties, we lined up 23 open-back dresses that caught our attention — and will surely initiate double-takes from curious pass
Cotillard wore Chanel overalls and peep-toe pumps at the 2021 Cannes Film Festival.