Thomas Pesquet
Thom_astro
Cannes is famous for its @Festival_Cannes and much more. The coast is distinctive with the two half moons and the Iles de Lérins islands. #MissionAlpha pic.twitter.com/TRpPRVkrjF
Kat Graham
KatGraham
My @lorealparis red carpet look for the premiere of Les Intranquilles at the #CannesFilmFestival. I'm wearing my L'Oreal Colour Riche red lip in 350 (British Red), Lash Paradise, and of course my infallible fresh wear foundation. pic.twitter.com/BCo6qO2MVh

Geo English
geonews_english
#Cannes film festival shaken by mid-air bio-terrorist attack flick #EmergencyDeclaration #GeoNews www.geo.tv/latest/360450-cannes-film-festival-shaken-by-mid-air-bio-terrorist-attack-flick-emergency-declaration

erickohn
erickohn
I spoke to Palme d'Or winner Julia Ducournau (!!!) about a bunch of stuff, but this may be the highlight. www.indiewire.com/2021/07/julia-ducournau-interview-palme-dor-titane-1234652010/ #cannes pic.twitter.com/fwvaygSAzc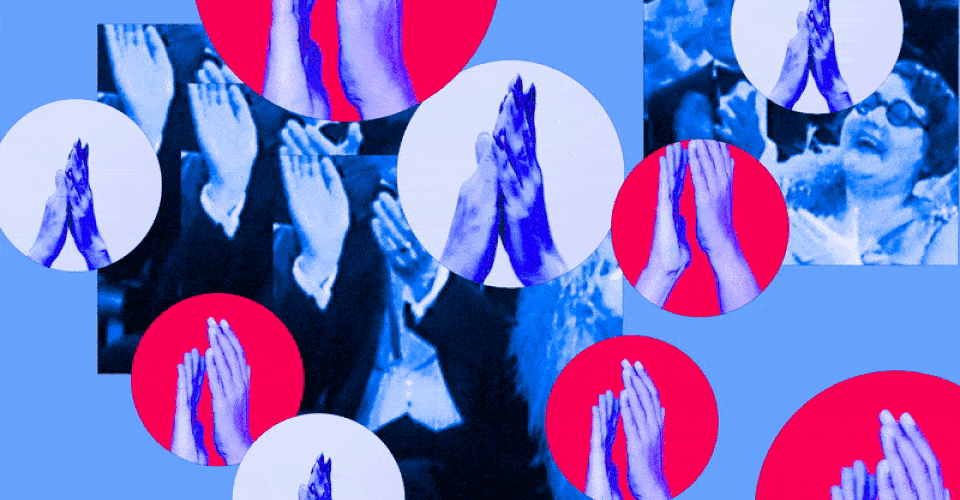 The Atlantic 17 July, 2021 - 04:00pm
Four minutes for Flag Day. Five minutes for Aline. Nine minutes for The French Dispatch.
The Cannes Film Festival, which concludes today, has long held an unusual reputation for its lengthy standing ovations. The tradition—which perhaps reached an apotheosis when Pan's Labyrinth received 22 minutes of applause in 2006—has at times attracted mockery. Although standing ovations are common responses to great art, a prolonged ceremony can get awkward—just watch the Once Upon a Time in Hollywood team grimace its way through seven minutes of clapping in 2019. Other times they turn performative: This year, Adam Driver lit a cigarette as the camera panned over to him during Annette's five minutes of acclaim.
The practice doesn't merely infuse the Croisette, the scenic boulevard where Cannes takes place, with extra pomp and glamour. Audiences might genuinely share appreciation for a film. For the industry, the length of applause serves as a proxy for how potentially buzzy a title might be. And every year—but particularly this one—the cheers are a reminder of the pleasures of slowing down and appreciating art. Yet, as in the world of theater, the standing ovation can come to feel like an obligation. When such effusive displays greet every film, what is the audience truly expressing? Kellie Lail, a critic and Cannes attendee who caught the five-minute ovation for Stillwater, voiced a common criticism: "The fact that it is not such a given at other festivals makes me wonder if the standing ovations received in other places are more honest audience reactions."
When I spoke with Cristina Bicchieri, a professor at the University of Pennsylvania who studies social norms, over the phone—for 15 minutes, the amount of time a Cannes audience applauded Capernaum in 2018—she told me the gesture can be traced to an ancient Roman celebration, "a sign of respect" for generals returning from campaigns. At a film festival, and at the old-fashioned Cannes specifically, a similar reverence is at play.
In fact, Cannes' remarkably long ovations offer excellent models for the way humans subconsciously influence one another. They illustrate how we initiate group actions, signal approval, and either reciprocate those signals or reject them. "It's fun to kind of watch them as a sociological exercise," Scott Page, a professor at the University of Michigan who has studied standing ovations as a model of social behavior, told me. During our chat—of 20 minutes, roughly the amount of time a Cannes audience applauded Fahrenheit 9/11 in 2004—Page suggested that the audience inside a theater at the film festival is a microcosm of a social network. "There is a real asymmetry to who has influence," he explained.
At the head of the social hierarchy are the film's cast and crew, who are likely to be high-profile names, seated in a position that is visible (perhaps on-screen) to the rest of the audience. That audience is usually made up of movie buffs inclined to show respect, even if they found the film lacking. Because ovations typically begin at the front of the audience, those who could afford the best seats—perhaps friends of the film's team, or the wealthiest attendees—prompt the rest of the audience to leap to their feet. Those with no such clout are helpless to follow. Even if they decide not to engage, they're in no position to influence anyone else.
The pageantry of Cannes, then, has a specific effect: Because it emphasizes the status difference among attendees, the audience members in the back rows are more likely to follow the crowd's opinion. "If people are really secure in their own evaluations, then they're not going to stand," Page said. "But if you're not sure, and you think the other people [around you] are smarter than you, then you are going to stand … I imagine Cannes to be a place [where if I ask myself,] 'How confident am I, sitting near movie stars and directors?' The answer is 'Not very.'"
Nicholas Christakis, the director of the Human Nature Lab at Yale University, explained in our conversation—which lasted 12 minutes, about the amount of time a Cannes audience applauded The Artist in 2011—that Cannes demonstrated "prestige hierarchy," a distinctly human phenomenon in which we seek connection more than we seek survival. In a social setting such as a film festival, where auteurs and A-listers sit among the audience, attendees have the chance to imagine—or even make—a social connection with celebrities. "It's about coming closer to animals that can confer a benefit," he said. "This is an extreme illustration of our unavoidable desire to be social animals." Anna Smith, the host of the podcast Girls on Film, who went to Cannes this year, told me: "If you're standing near the cast and crew, and you loved the film, it can be exhilarating."
So if you find yourself facing a wall of apparently uninterruptible applause, how can you, well, interrupt it without ostracizing yourself and losing all social status? Cannes attendees told me it's possible to stray from the tribe and stop clapping, or to slip away before the end of the screening. Often, though, the filmmakers have to take the mic and signal for the applause to end so they can deliver a speech. This, Bicchieri explained, is the best way for such lengthy plaudits to conclude anyway, because most audiences will take cues from the most important figures in the room. "They seek permission to stop, and then little by little you can have a bandwagon effect," she said. It's simply human to seek approval—even when it comes to methods of expressing approval. "The fact is," Bicchieri said, "you don't want to be the one who stops."
Snopes.com 17 July, 2021 - 04:00pm
The awards ceremony for the 74th Cannes Film Festival has started where it should have ended, with jury president Spike Lee mistakenly announcing that the serial killer odyssey "Titane" as the winner of the festival's top honor, the Palme d'Or.
If confirmed at the end of the show, it would make French director Julia Ducournau only the second female filmmaker to win the festival's top honor.
Shouting and several moments of confusion ensued after Lee announced "Titane," but Ducournau did not come to the stage to accept. The ceremony continued and other awards were handed out while Lee was seen with his head in his hands.
Nadav Lapid's "Ahed's Knee" won the jury prize, while Caleb Landry Jones took home the best actor prize.
The Croatian coming-of-age drama "Murina," by Antoneta Alamat Kusijanović, took the Camera d'Or award, a non-jury prize, for best first feature. Kusijanović was absent from the ceremony after giving birth a day earlier.
Cannes' closing ceremony caps 12 days of red-carpet premieres, regular COVID-19 testing for many attendees and the first major film festival to be held since the pandemic began in almost its usual form. With smaller crowds and mandated mask-wearing in theaters, Cannes pushed forward with an ambitious slate of global cinema. Last year's Cannes was completely canceled by the pandemic.
Twenty-four movies are in contention for the Palme. The jury's deliberations are private and unknown, but that never stops a wide spectrum of predictions, guesses and betting odds. This year featured a strong slate of many top international filmmakers, but no movie was viewed as the clear favorite.
Among the best-received films at the festival were: Iranian director Asghar Farhadi's portrait of honor and social media "A Hero"; Chadian filmmaker Mahamat-Saleh Haroun's abortion drama "Lingui"; Thai director Apichatpong Weerasethakul's meditative, Tilda Swinton-led "Memoria"; French director Julia Ducournau's wild, high-octane serial-killer odyssey "Titane"; Sean Baker's "The Florida Project" follow-up, "Red Rocket"; Japan's Ryusuke Hamaguchi's Haruki Murakami adaptation, "Drive My Car"; and Russian director Kirill Serebennikov's influenza tale "Petrov's Flu."
In 2019, the Palme went to Bong Joon Ho's "Parasite," which later took best picture at the Academy Awards, too. Only one female filmmaker has ever won Cannes top award (Jane Campion for "The Piano"), so a win for Ducournau or Mia Hansen-Løve ("Berman Island") would be history making. If Haroun were victorious, it would be the second time a film from Africa won.
Lee is the first Black jury president at Cannes. His fellow jury members are: Maggie Gyllenhaal, Mélanie Laurent, Song Kang-ho, Tahar Rahim, Mati Diop, Jessica Hausner, Kleber Mendonça Filho and Mylène Farmer.
Before the ceremony, Lee and the jury posed for photographers holding hands on the red carpet.
___ Follow AP Film Writer Jake Coyle on Twitter at: http://twitter.com/jakecoyleAP
This material may not be reproduced without permission.
Snopes and the Snopes.com logo are registered service marks of Snopes.com
Variety 17 July, 2021 - 04:00pm
The Deauville American Film Festival is set to reteam with Cannes to showcase five movies that have played on the Croisette during its next edition and will launch a mini-strand dedicated to anticipated French movies.
Cannes joined forces with Deauville last year following the cancellation of its physical edition due to the pandemic. The partnership allowed Deauville to host world premieres for nine movies that were part of the Cannes 2020 official selection, including Maiwenn's "DNA" and Marie-Castille Mention-Schaar's "A Good Man."
The initiative was a big success for Deauville, and it also worked well for local distributors who were able to build up some buzz and garner reviews at the festival. Rolling off this positive experience, Deauville is creating a new strand called "Fenêtre Sur" ("Rear Window") to screen five new French films which will world premiere at the festival and will "reflect the richness of French cinema," said Deauville's artistic director Bruno Barde. He added that unlike Cannes which mostly caters to film professionals and artists, Deauville is a public-driven festival with an audience that includes two-thirds locals.
"Deauville is the second biggest festival in France behind Cannes and it's always proven to be a solid local launchpad for distributors handling American movies so they were naturally enthused by the prospects of coming to the festival with their French releases," said Barde, who added that "Fenetre sur" was a reference to Alfred Hitchcock's "Rear Window." "These movies will not only be watched by French people in the audience but also by American filmmakers who will be there to present their films in competition," said Barde, who's in Cannes watching films non-stop.
Meanwhile, Deauville will expand its alliance with Cannes to screen five American films which are playing at the festival this year.
"At Deauville, we have forged a symbolic dialogue between French and American perspectives, and it works as a sort of shot-reverse-shot, for instance with the Prix d'Ornano where a French movie receives a prize from the American press, or through the jury which almost entirely comprises French artists, and sometimes Europeans, who discover and judge independent American films," said Barde, who also pointed to a new prize which he created to honor a French filmmaker who have made a movie shot in the U.S. or about the U.S. Since its recent inception, this prize has gone to Jacques Audiard with "The Sisters Brothers" and Olivier Assayas with "Personal Shopper."
Barde said the number of films submitted was down 20% from previous years, mainly due to the pandemic and the timing of Cannes which was pushed from May to July. The artistic director said he had nevertheless managed to choose nine out of the 14-title competition which will include several high-profile U.S. movies. This year's selection will present 40 American movies and will pay tribute to 30 artists.
The Deauville festival will be presided over by Charlotte Gainsbourg ("Melancholia"); while the Revelation jury will be presided over by Clemence Poesy ("The Tunnel"). Last year's festival opened with "Minari" and saw Sean Durkin's "The Nest" win three awards. Speaking of the health crisis which is still looming over France, Barde said he hopes Deauville will be a place of reunion and rejoicing as Cannes has been, and chose this year's poster — which shows two people kissing — as a hopeful symbol.
Showbiz411 17 July, 2021 - 04:00pm
Apparently, Spike Lee gave away the name of the Palme D'Or winner by accident ahead of time– "Drive My Car," aka "Titane," directed by Julia Ducournau. The second woman to ever win.
The Grand Prix winner ex-æquo is Asghar FARHADI for GHAHREMAN (HERO)– tied with Juho KUOSMANEN for HYTTI N°6 (COMPARTMENT n, 6)
And the Palme d'or winner is Julia DUCOURNAU for TITANE#Cannes2021 #Awards #PalmedOr #TITANE pic.twitter.com/JHyqI8TUwx
— Festival de Cannes (@Festival_Cannes) July 17, 2021
The Award for Best Director goes to ANNETTE by Leos CARAX. (Quite surprising. LOL)
The Award for Best Screenplay goes to HAMAGUCHI Ryusuke and TAKAMASA Oe for DRIVE MY CAR
On a frôlé la catastrophe et une annonce un peu prématurée de la Palme d'or 😱 #Cannes2021 pic.twitter.com/8uBfYl2orI
— CANAL+ (@canalplus) July 17, 2021
The Jury Prize winner ex-æquo is HA'BERECH by Nadav LAPID
The Jury Prize winner ex-æquo is MEMORIA by Apichatpong WEERASETHAKUL
Renate Reinsve wins best actress at #Cannes2021 for "Verdens Verste Menneske"
The Award for Best Actor goes to Caleb LANDRY JONES in NITRAM by Justin KURZEL
The Special Mention of the Jury for short film goes to CÉU DE AGOSTO by Jasmin TENUCCI
The Short Film Palme d'or winner is TIAN XIA WU YA by TANG Yi
Winner of the Camera d'Or for best first film is MURINA, directed by Antoneta Alamat Kusijanović
Italian director Marco Bellocchio has been given a Lifetime Palme D'or.
Screen International 17 July, 2021 - 04:00pm
Sorry but it looks as if your browser is out of date. To get the best experience using our site we recommend that you upgrade or switch browsers.
This site uses cookies. By using this site you are agreeing to our privacy and cookie policy.
Ducournau becomes the first solo female filmmaker to take home the Palme d'Or (Jane Campion's The Piano shared the award in 1993 with Chen Kaige's Farewell My Concubine).
Titane is Ducournau's follow-up to her debut Raw, which screened in Critics' Week 2016. Described as delivering "a deranged cocktail of outrage, excess, conceptual ferocity and sheer silliness" by Screen's critic, it stars Vincent Lindon and newcomer Agathe Rousselle.
During Saturday's closing ceremony at the Grand Théâtre Lumière, jury president Spike Lee appeared to accidentally let slip Titane's win early on stage, before several of the other awards had been announced.
On a frôlé la catastrophe et une annonce un peu prématurée de la Palme d'or 😱 #Cannes2021 pic.twitter.com/8uBfYl2orI
Elsewhere, two of the major prizes were shared. The Grand Prix was won by Asghar Farhadi's A Hero and Juho Kuosmanen's Compartment No. 6.
The jury prize was also split, between Nadav Lapid's Ahed's Knee and Apichatpong Weerasethakul's Memoria.
Leos Carax won best director for Annette, which opened the festival and stars Adam Driver and Marion Cotillard.
Hamaguchi Ryusuke and Takamasa Oe won best screenplay for Drive My Car.
Best actor went to Caleb Landry Jones for his portrayal of a mass murderer in Jurstin Kurzel's Nitram, whilst best actress was awarded to Renate Reinsve for Joachim Trier's The Worst Person In The World.
Antoneta Alamat Kusijanović's Murina won the Camera d'Or award for debut feature.
The Short Film Palme d'Or went toAll The Crows In The World by Tang Yi, with a special mention going to August Sky by Jasmin Tenucci.
This year's festival marked Cannes' comeback following its cancellation due to Covid-19 in 2020. The previous Palme d'Or winner was Bong Joon-ho's Parasite in 2019.
The jury also included Mati Diop, Mylène Farmer, Maggie Gyllenhaal, Jessica Hausner, Mélanie Laurent, Kleber Mendonça Filho, Tahar Rahim and Song Kang-ho.
The winners of Un Certain Regard, Directors' Fortnight and Critics' Week were announced earlier this week.
Palme d'Or: Titane, dir. Julia Ducournau
Grand Prix: (shared) Asghar Farhadi, A Hero and Juho Kuosmanen, Compartment No. 6
Best Director(s): Leos Carax, Annette
Best screenplay: Hamaguchi Ryusuke and Takamasa Oe, Drive My Car
Best Actress: Renate Reinsve, The Worst Person In The World
Jury Prize: (shared) Ahed's Knee, dir. Nadav Lapid, and Memoria, dir. Apichatpong Weerasethakul
Best Actor: Caleb Landry Jones, Nitram
Camera d'Or:Murina, dir. Antoneta Alamat Kusijanović
Short Film Palme d'Or:All The Crows In The World, dir. Tang Yi (special mention: August Sky, dir. Jasmin Tenucci)
Justin Kurzel's 'Nitram' and Joachim Lafosse's 'The Restless' were the final two films to land on the grid.
A seemingly perfect marriage begins to collapse under the weight of mental illness
Chow's documentary offers an unflinching look at Hong Kong's latest pro-democracy movement.
The 27th edition of the festival will run August 13-20.
The streamer and distributor has also picked up Benedetta , Memoria , Cow and other titles. 
The jury was headed by UK director Andrea Arnold. 
Screen International is the essential resource for the international film industry. Subscribe now for monthly editions, awards season weeklies, access to the Screen International archive and supplements including Stars of Tomorrow and World of Locations.
Site powered by Webvision Cloud
EW.com 17 July, 2021 - 02:12pm
In a slight alteration to the usual run-of-show, this year's jury president Spike Lee seemingly made a premature announcement that the Raw director's latest film Titane — about a serial killer impregnated by a car — had won the prestigious Palme d'Or prize, according to multiple reports from those covering the event.
Nearly 20 years later, a Steven Spielberg-fronted jury awarded the film festival's prize to Blue Is the Warmest Colour helmer Abdellatif Kechiche and his two leading actresses, Léa Seydoux and Adele Exarchopoulos, who became the first stars to share the Palme victory with their film's director.
Elsewhere at the 2021 festival — pushed back to July from its usual May slot due to coronavirus complications altering last year's Cannes rollout — Lee's group of industry voters named Leos Carax as Best Director for his work on the Adam Driver/Marion Cotillard musical Annette. They also awarded Best Actor to Caleb Landry Jones for Nitram and Best Actress to Renate Reinsve for The Worst Person in the World. Since 2010, four men have gone on to win or be nominated for the Oscar after taking Best Actor at Cannes, including Javier Bardem (Biutiful), Jean Dujardin (The Artist), Bruce Dern (Nebraska), and Antonio Banderas (Pain and Glory); that number dips to only one among women, when Carol's Rooney Mara won Best Actress at Cannes and received a Best Supporting Actress nomination at the following year's Oscars.
Lee's 2021 Jury Prize — voted on by such members as Maggie Gyllenhaal, Melanie Laurent, and Tahar Rahim, among others — went to Ahed's Knee by Nadav Lapid and the Tilda Swinton-led Memoria by Apichatpong Weerasethakul, the latter of which won the Palme back in 2010 for his feature Uncle Boonmee Who Can Recall His Past Lives.
Though not a reliable portent of Oscar tastes, Cannes has vaulted key contenders into the race in recent years, with Palme winners like The Tree of Life, Amour, and Parasite making headway in the Best Picture race over their respective years of release.
See the full list of 2021 Cannes Film Festival competition winners below:
Subscribe to EW's BINGE podcast for full recaps of RuPaul's Drag Race, including our new season diving into all five All Stars seasons, featuring exclusive interviews with Jujubee, Alexis Mateo, Shea Couleé, Alaska, Detox, BenDeLaCreme, Kennedy Davenport, and more. And be sure to catch up on our BINGE recaps of RuPaul's Drag Race seasons 1-13 with Symone, Jaida Essence Hall, Trixie Mattel, Katya, Peppermint, Bianca Del Rio, Bob the Drag Queen, Sasha Velour, and more!
The Daily Beast 17 July, 2021 - 02:01pm
Variety 17 July, 2021 - 12:41pm
CANNES — Spike Lee jumped the gun, announcing Palme d'Or winner "Titane" before the other prizes at the Cannes Film Festival awards. The unplanned goof could have robbed the awards of their usual suspense, but instead, created a thrillingly unpredictable energy as presenters and attendees alike tried to imagine how to get the train back on track and what the jury president might do next … while holding their breath for the festival's second-ever female Palme d'Or winner to accept her prize.
With "Titane," French genre original Julia Ducournau ("Raw") delivers a radical horror vision — a portrait of a serial killer impregnated by a car who disguises her gender and goes incognito as a lonely fireman's long-lost son — sure to make waves as it rolls out in the wider world.
Turns out, the run-of-show slip was the first of many surprises, which included two ties. When it came time for Ducournau to accept her prize, she described watching the Cannes awards each year as a child. "At that time, I was sure that all the films awarded must have been perfect because they were on the stage. And tonight, I'm on that same stage, but I know my film is not perfect — but I think no film is perfect in the eyes of the person who made it. You could even say mine is monstrous."
Noting that "the world is becoming more and more fluid," Ducournau thanked the jury for embracing diversity and "for letting the monsters in."
Earlier in the night, the jury honored another monster with "Nitram," the unconventional portrait of a mass killing. The first winner to accept an award was that film's star Caleb Landry Jones, who appeared so nervous at the podium that declined to give a speech, lest he throw up. Jones earned the best actor prize for his stunning performance as the perpetrator of Australian Port Arthur Massacre.
Best actress honors went to Norwegian thesp Renate Reinsve for her luminous turn in "The Worst Person in the World," about a young woman who judges herself harshly for being unable to decide between lovers, career paths and whether she wants to raise a family.
The jury spread the wealth by giving the Grand Prix — second place only to the Palme d'Or in importance — to two different films: Asghar Farhadi's "A Hero" and Juho Kuosmanen's "Compartment No. 6."
Leos Carax earned the director prize for "Annette," a tragic musical about a celebrity couple (played by Adam Driver and Marion Cotillard) whose clashing careers create rifts in their relationship.
Japanese director Ryûsuke Hamaguchi was awarded best screenplay for his three-hour adaptation of Haruki Murakami's "Drive My Car," which finds new depths in author's 40-page short story.
In another tie, special jury prizes were given to Nadav Lapid "Ahed's Knee" and Apichatpong Weerasethakul's "Memoria."
Jury president Spike Lee presided over a majority-female group that included French-Senegalese actor-director Mati Diop, American actor-filmmaker Maggie Gyllenhaal, Austrian director Jessica Hausner, French actor-helmer Mélanie Laurent, Brazilian helmer Kleber Mendonça Filho, French actor Tahar Rahim, South Korean actor Song Kang-ho and cult French singer Mylene Farmer.
Cannes' prestigious first-feature prize, the Camera d'Or, was awarded to Antoneta Alamat Kusijanović's "Murina," a Croatian coming-of-age story about a young woman negotiating her attraction to a stranger who arrives on her remote island. Selected by a special jury headed by Mélanie Thierry ("Tralala") from among 31 debut features across all sections of the festival, the Directors' Fortnight discovery was produced by Martin Scorsese.
The prizes are being updated live below…
Palme d'Or: "Titane"
Grand Prix — TIE: Asghar Farhadi, "A Hero" AND Juho Kuosmanen's "Compartment No. 6"
Director: Leos Carax, "Annette"
Actress: Renate Reinsve, "The Worst Person in the World"
Jury Prize — TIE: Nadav Lapid "Ahed's Knee" AND Apichatpong Weerasethakul's "Memoria"
Screenplay: Ryûsuke Hamaguchi, "Drive My Car"
Short Films Palme d'Or: "All the Crows in the World," Tang Yi
Short Films Special Mention: "August Sky," Jasmin Tenucci
Queer Palm: "The Divide"
Un Certain Regard Award: "Unclenching the Fists," Kira Kovalenko
Jury Prize: "Great Freedom," Sebastian Meise
Prize for Ensemble Performance: "Bonne Mere," Hafsia Herzi
Prize for Courage: "La Civil," Teodora Ana Mihai
Prize for Originality: "Lamb," Valdimar Johannsson
Special Mention: "Prayers for the Stolen," Tatiana Huezo
Europa Cinemas Label: "A Chiara," Jonas Carpignano
Society of Dramatic Authors and Composers Prize: "Magnetic Beats," Vincent Maël Cardona
Nespresso Grand Prize: "Feathers," Omar El Zohairy
Society of Dramatic Authors and Composers Prize: Elie Grappe and Raphaëlle Desplechin, "Olga"
GAN Foundation Award for Distribution: Elie Grappe and Raphaëlle Desplechin, "Zero Fucks Given"
Louis Roederer Foundation Rising Star Award: Sandra Melissa Torres, "Amparo"
First Prize: "The Salamander Child," Theo Degen
Second Prize: "Salamander," Yoon Daewoon
Third Prize — TIE: "Love Stories on the Move", Carina-Gabriela Dasoveanu AND "Cantareira," Rodrigo Ribeyro
Yahoo Singapore News 17 July, 2021 - 12:15am
Here are some of the movies making "le buzz", and what some of the world's top cinephiles thought about them:
The latest Wes Anderson, about expat journalists in the fantasy French city of Ennui-sur-Blase, is everything you either love or hate about the king of quirkiness, dialled up to 11.
"The sheer level of detail that bedecks the screen will slacken your jaw in awe," said The Playlist, while Spain's El Pais called it "an unfunny joke from a clown". Ouch! The BBC nailed it: "There is nothing quite like 'The French Dispatch', except Anderson's other films, of course."
Cannes always needs a shock-fest and this insane tale of a woman on a brutal rampage of revenge, while also having sex with cars, was it.
The critics were shell-shocked, mostly in a good way. "The whole way home, I noticed my teeth were chattering from the adrenaline," said Vulture, while British magazine Little White Lies said it was an "intoxicating mix of grease, gore and gasoline."
Norway's Joachim Trier combines female coming-of-age, rom-com joy with unflinching emotional drama, and has turned its lead Renate Reinsve into an overnight star.
Variety described it as "just lovely (with) its own bittersweet poetry" while Britain's Daily Telegraph critic used a quote from the film to describe his feelings on Twitter: "Pretty cerebral, but it turns me on too".
A highly sexed, keenly observed take on modern love is new terrain for France's Jacques Audiard, but The Telegraph said it was "fabulous, heady stuff -- one of the best films of a great Cannes."
France's Premiere magazine said it was "romantic and connected to the moment, but also like a meeting of past classics 'Chungking Express' and (Woody Allen's) 'Manhattan' -- love at first sight."
US indie director Sean Baker strikes gold with little-known actor Simon Rex as a motormouth porn star trying to claw his way back to success in small-town Texas.
Though the character is a monster, the film "never loses its vibrancy or skewed humour" and is a "raucous good time", wrote Variety, while IndieWire called it "a roman candle of a movie that wonders if America's pathological narcissism will ever burn itself out."
France's mad genius Leos Carax will always sharply divide audiences, but his starry English-language debut about a celebrity couple (Adam Driver and Marion Cotillard) and their strange daughter was an early favourite for the Palme d'Or.
France's Telerama called it a "flamboyant rock opera", and Le Monde "heart-breaking and inspired". By contrast, Vanity Fair said it was a "dull and long -- really long -- piece of preening self-regard."
Lesbian nuns in a 17th-century convent was bound to grab attention, especially when critics saw how they put a handheld Virgin Mary statue to use.
The Playlist found it "a hoot, but... it isn't particularly penetrating", while Deadline argued it mixes "impudent and outrageous conceits with serious smarts". The Guardian was unimpressed, warning that Dutch director Paul Verhoeven "may have to do some contrite murmuring in the confessional for this one."
Iran's two-time Oscar winner Asghar Farhadi is on familiar territory with a knotty moral drama about a man finding a bag of gold and choosing to return it despite his own debts -- or did he?
The Hollywood Reporter said it was "a very fine film about honesty, honor and the price of freedom", though Variety felt it "speaks to our heads (and sometimes has us scratching them) more than it does our hearts."
One of the top tips played outside the main competition but is already seen as an Oscar contender: the latest animation from Japan's Mamoru Hosoda follows the rollercoaster emotional life of a shy adolescent girl in a 21st century take on "Beauty and the Beast".
It got a 14-minute ovation this week and The Hollywood Reporter said its "wildly imaginative futureworld takes your breath away".
High coverage, no-fuss application and early benefit payout makes this a great plan for those seeking cancer protection. As many as 1 in 4 Singaporeans could develop cancer in their lifetimes. Hence, getting a protection plan specifically for cancer may be a prudent move, especially […] The post FWD Cancer Insurance (Review): Fuss-free Plan That Pays Out At All Stages appeared first on SingSaver Blog - We Compare, You Save.
Co-living in Singapore is rising in popularity, especially amid COVID-19 in 2021. Operators are reporting occupancy rates of over 90%, and a three-fold increase in local demand. But why? And how does co-living compare to renting?
World Dream cruise ambassador Ivan Choong is quarantined and cannot be with his wife, whose mother just passed.
Japanese authorities were searching for a Ugandan weightlifter on Friday after he went missing just a week before the Tokyo Olympics, which have sparked public opposition over their coronavirus risks.
Owner-occupiers, landlords and tenants, a heads up: These are some of the hottest home insurance promotions in the house right now. Are you an owner-occupier, landlord, or tenant? Regardless which one you are, you will benefit from home insurance. As we've discussed in our comprehensive […] The post Home Insurance Promotions And Discounts To Protect Your Home (July 2021) appeared first on SingSaver Blog - We Compare, You Save.
While enforcement efforts will be ramped up in the wake of the ongoing KTV lounges/clubs cluster, it remains a "cat and mouse" game, with illegal gatherings taking place in many other settings too, said Finance Minister Lawrence Wong on Friday (16 July).
The first COVID-19 case linked to the growing KTV cluster is a short-term visit pass holder from Vietnam, said the Immigration & Checkpoints Authority (ICA) on Friday (16 July).
Those who have visited hotspots at the same time as a COVID-19 case will be legally required to get tested for the virus and self-isolate until they get a negative result.
Jeff Bezos sets his sights on a new frontier in space in the coming days after building a gargantuan business empire which has in many ways conquered the Earth.
Buying property in Singapore is expensive, and lately, even HDB flats are crossing the million-dollar mark. There were 87 such transactions in the first five months of 2021 alone. If you had $1mil, is it enough? What can you buy?
Ethiopia's war in Tigray is entering a new phase, with rebels advancing to the region's western and southern edges and the army vowing to repel them, leaving a government-declared ceasefire in tatters.
President Joe Biden said Friday that social media disinformation about Covid-19 and vaccinations is "killing people."
More than 400 nightlife establishments that have pivoted into food and beverage (F&B) outlets will be suspended for two weeks from Friday (16 July) amid a rise in locally transmitted COVID-19 cases linked to KTV lounges/clubs that were operating as F&B outlets.
Australian authorities ordered more businesses to close Saturday along with a slew of new restrictions in the country's largest city as a weeks-long lockdown failed to quash an outbreak of Covid-19.
Enjoy The Good Life® with Standard Chartered credit cards. Here's a roundup of the best deals in town when you swipe, tap or click checkout with your Standard Chartered card. With Standard Chartered, you'll find a card for every need. A fuss-free cashback card with […] The post Standard Chartered Credit Card Promotions and Deals: July 2021 appeared first on SingSaver Blog - We Compare, You Save.
Representatives of the Afghan government and Taliban insurgents met in Doha for talks Saturday as violence raged in their country with foreign forces almost entirely withdrawn.
Mosques were jammed across virus-wracked Indonesia on Friday despite warnings against mass gatherings as the daily death toll in the world's biggest Muslim-majority nation soared to a record high.
Looking for travel insurance? Save more with these promo codes and discounts from insurers such as FWD, MSIG, AXA, and more! To find out if your travel insurance covers COVID-19, read this article for the latest updates. No matter your travel itinerary, travel insurance is […] The post Travel Insurance Promotions and Discounts (July 2021) appeared first on SingSaver Blog - We Compare, You Save.
People who received BioNTech's coronavirus vaccine had ten times the amount of antibodies than those given China's Sinovac, a Hong Kong study has shown, adding to growing data on different jabs' effectiveness.
China's President Xi Jinping on Friday promised $3 billion in aid to developing countries to fight Covid-19 at an unprecedented emergency online meeting of APEC heads of state.