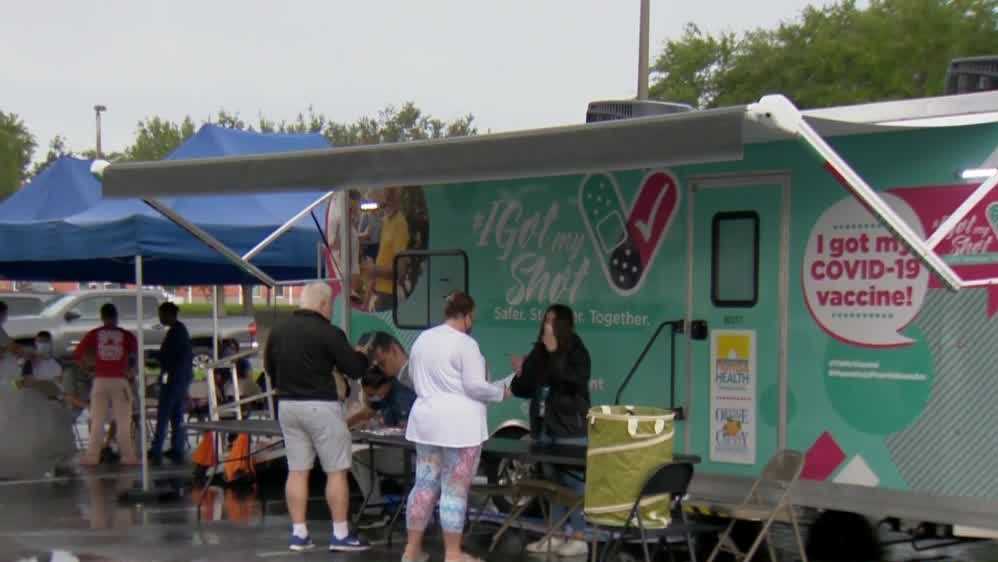 WKMG News 6 ClickOrlando 27 July, 2021 - 11:10pm
Sign up for daily emails with local updates and other important news.
Central Florida leaders are on high alert as more positive cases of COVID-19 are popping up across Central Florida.
Orange County leaders said recently that everyone should wear masks indoors now due to the recent spike in positive cases.
A recent report from the health department said that Orange County is in roughly the 14% range when it comes to the COVID-19 positivity rate.
In Seminole County, officials said the positivity rate went from 14% to 18%. They say that over the last two weeks, there has been a slight increase in people getting vaccinated there.
Related: More than 73,000 new COVID-19 cases reported in Florida, positivity rate increases
During a news briefing on Monday, Orange County Mayor Jerry Demings said one month ago, the COVID-19 positivity rate was at 4.28% in Orange County, and now, as of Saturday, it was at 13.96%.
Demings also said officials are looking into opening an additional vaccine and testing site, since the site at Barnett Park has become so busy with people wanting to get tested lately.
"We need to move the needle faster," Demings said, referring to getting people vaccinated. He went on to say that local businesses are being encouraged to "make decisions on what they value."
Over the next 48 hours, Demings said he and other officials will be considering whether or not to make new changes on mask wearing rules.
AdventHealth has been put on "level red" status, meaning some medical appointments and procedures will be postponed or rescheduled.
According to health officials who spoke Monday, hospitalizations are up in Orange County and the age range of those who have died are between ages 27-85.
Health officials also urged pregnant women to get vaccinated, because they said currently they are treating pregnant women who have been intubated at local hospitals.
Related: Vaccinating Florida: Tracking rates, restrictions and latest guidance
Hearst Television participates in various affiliate marketing programs, which means we may get paid commissions on purchases made through our links to retailer sites.
WESH 2 News 27 July, 2021 - 11:10pm
KKTV 11 News 27 July, 2021 - 07:24am
Officials in Orange County, the home of Walt Disney World and Universal Studios, said the number of new COVID-19 cases is beyond alarming.
"Now these numbers are extraordinary," Demings said. "We are seeing nearly 1,000 new cases in Orange County daily. Those are the numbers we saw at the highest peak last year."
The vast majority of the new cases - the bulk of the people ending up sick in the hospital - have not had a vaccine.
"It is hard to see and, in some ways, frustrating to see people dying in the hospital from a disease that at this point can be prevented with a vaccine that we have," Dr. Victor Herrera of AdventHealth said.
Advent Health now says across its Central Florida healthcare system, 862 people are admitted and being treated for COVID-19, just a little lower than the 900 being treated in January.
"The numbers are alarming," said Alan Harris, Seminole County's emergency manager. "They're going up, I would say, exponentially at this point. We're seeing the numbers in the hospitals double each week for the last three weeks."
Seminole County officials have been saying a vaccine can be easily found at pharmacies, doctor's offices and local health partners, but vaccines will be available at a different library branch every day this week, as they are trying to reverse the case spike with shots.
"The more hosts we give the virus, the more opportunity it has to continue to grow," Seminole County Emergency Manager Alan Harris said.
The health department said it hasn't been this concerning in months.
"For just the last week alone, the total number of cases reported were 1,865, far more than the cases for the entire month of June," said Donna Walsh of the Florida Department of Health.
The new mobile vaccine site was just the ticket for some.
"I would do it if it was easy and convenient," Cindy Summers said. "Today was easy and convenient, so I came and did it."
"Friend of mine got COVID recently, and he's my age and the new version seems to take people down longer than the old version of COVID, so I was a little concerned there," Daniel Combs said.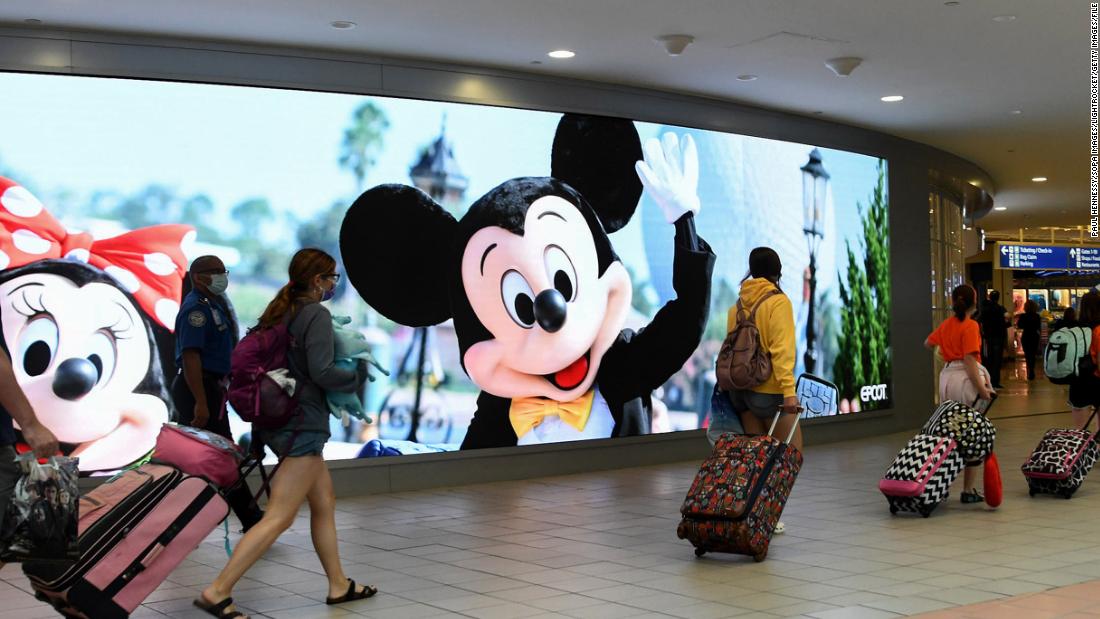 WESH 2 Orlando 26 July, 2021 - 09:14pm
WFLA 26 July, 2021 - 01:35pm
Orange County mayor Jerry Demings briefs county residents on the status of Hurricane Dorian during a press conference at the Orange County Administration building in Orlando, Fla. (Joe Burbank/Orlando Sentinel via AP) FILE – This May 4 2021 file photo shows Florida Gov. Ron DeSantis, center, speaks during a news conference at West Miami Middle School in Miami. Several states scaled back their reporting of COVID-19 statistics this July 2021, just as cases across the country started to skyrocket, depriving the public of real-time information on outbreaks, cases, hospitalizations and deaths in their communities. (Matias J. Ocner/Miami Herald via AP, File)
Orange County Mayor Jerry Demings said Monday that Florida has accounted for a fifth of the nation's new infections.
The county that's home to Walt Disney World and Universal Orlando Resort is seeing about 1,000 new cases a day.
Demings says area hospitals are approaching capacity.
Orange County's positivity rate for the virus has tripled to 14% from about 4.3% a month ago. Demings said central Florida hospitals are approaching capacity.
Copyright 2021 Nexstar Media Inc. All rights reserved. This material may not be published, broadcast, rewritten, or redistributed.
Ledecky has won the 1,500-meter freestyle, which made its Olympic debut for women this year. That helped the American star make up for what has so far been the worst showing of her Olympic career.
Right now, critical race theory is not taught in public schools in Florida, but during a Polk County School Board meeting Tuesday, community members shared their opinions about the topic.
The largest school district in the Tampa Bay area is preparing to welcome back students into the classroom on Aug. 10 with an optional mask policy.