Real Madrid C.F. 🇬🇧🇺🇸
realmadriden
📋✅ Our starting XI 🆚 @ChelseaFC! #UCL pic.twitter.com/0YaXclD4vD
Chelsea FC
ChelseaFC
Your all-important team news for #CHERMA. Up the Chels! ✊ 🔵 pic.twitter.com/vlUUXS9cOB
Mason Mount
masonmount_10
See you soon Istanbul! pic.twitter.com/bxyWgSRhBm

Didier Drogba
didierdrogba
Let's goooooooooooooo💙💙💙💙💙💙💙💙💙💙💙💙💙💙💙💙💙💙💙💙💙💙💙💙💙💙💙💙💙💙💙💙💙💙💙💙💙💙💙💙💙💙💙💙💙💙💙💙💙💙💙💙💙💙💙💙💙💙💙💙💙💙💙💙💙💙💙💙💙💙💙💙💙💙💙💙💙💙💙💙💙💙💙💙💙💙💙💙💙💙💙💙💙💙💙💙💙 @ChelseaFC @ChampionsLeague We are going to Istanbul my People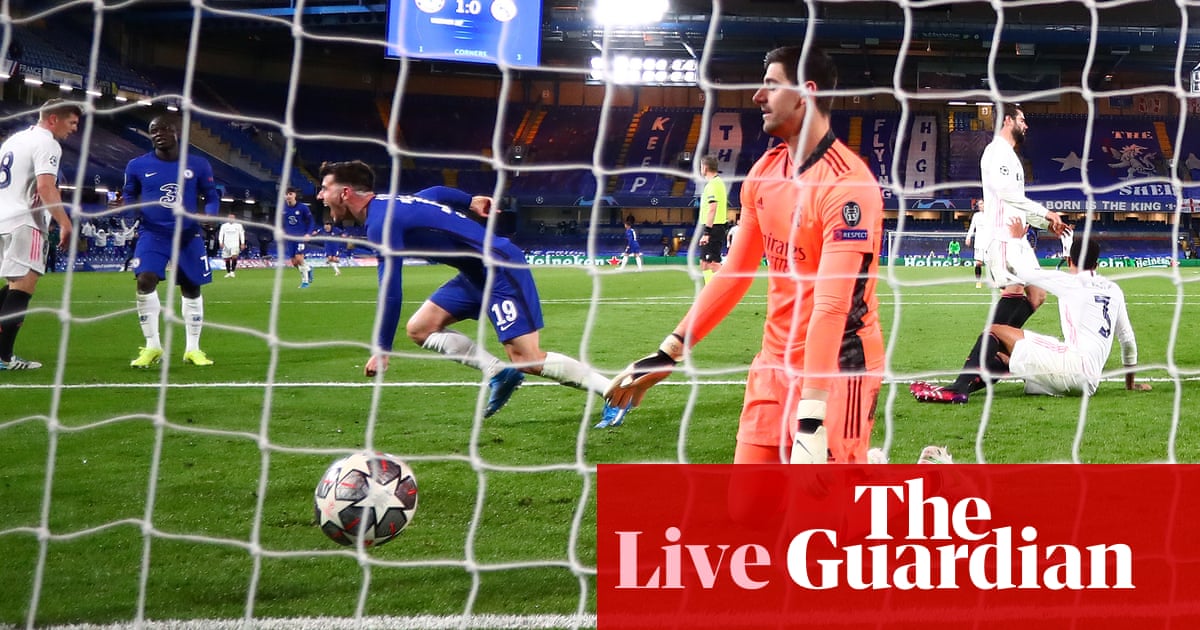 The Guardian 06 May, 2021 - 09:01am
Congratulations to Chelsea, then. They thoroughly deserved to progress to the final, having proved themselves better than Real Madrid in both legs, and by quite some distance tonight. They've set up an all-English final against Manchester City on 29 May. No doubt you'll be hearing about that soon. In the meantime, thanks for reading this MBM. Stay safe. Nighty night!
A delighted Thomas Tuchel speaks to BT Sport. "We deserved to win. The first half was difficult, they had a lot of possession and made us suffer, but every ball from us was dangerous. We were dangerous with counter attacks. We never lost the hunger, the desire to defend. In the second half, it was an even better structure to defend. We could have scored so much earlier, so much more to be safe, but now is no time for criticism. It is a fantastic achievement and big congratulations to the team. To hang in there, even if you miss big chances, you never lose focus. It was a huge performance. I am very happy that we achieved this. I am very grateful to have the opportunity to live my life in football. This passion as a profession, I am more than grateful. It is not done yet, we want to go all the way, we arrive in Istanbul to win!"
A word with Thomas Tuchel is surely in the pipeline ... but while we wait, David Hytner's report has landed. Clickity click!
Chelsea captain Cesar Azpilicueta, his smile sparkling, speaks to BT. "It was a massive performance for the team. We knew we had a tough opponent but we performed really well and could have scored more goals. In the second half we were clearly better. We had to suffer but we fought really hard. We have one more step, we want to go to the final to try to win it. For me, this is massive, we have plenty of things to fight for with some massive weeks coming up. We have played Manchester City a lot of times, but we believe in ourselves and are ready for it!"
Glass-half-empty dept. "This creates a bit of a headache for Tuchel at the weekend now, doesn't it (not that he'll worry about that this evening)?" begins David Wall, with reference to the Premier League fixture between Chelsea and City. "He'll not want to give City a psychological advantage in the head to head (especially after their home result), and can't afford to ease up in the chase for a top-four finish. But on the other hand, will he want to mothball some of his better players in case of injury before the final?"
A delighted Mason Mount talks to BT. "I can't put it into words at the moment. It was a great performance. We should have had about five, but the most important thing is that we won. To get that goal late on, you could see by the celebrations how massive it was, giving us breathing space in the last five minutes. We gave it everything, we had that desire, we wanted to win. I haven't won anything yet, but we have two massive cup finals, and hopefully we can win. The final is going to be a stunning game."
Chelsea gambol around Stamford Bridge as One Step Beyond blares out of the PA. They were certainly quite a few steps ahead of Real Madrid tonight, who were as impotent as Chelsea were superb. Sure, the hosts passed up quite a few gilt-edged chances, but at least they made them in the first place, and in a more clinical mood they could easily have thrashed the 13-time champions of Europe by five or six. Two will do, though. A second all-English final in three years is on!
Chelsea can book their tickets to Istanbul! They'll face Manchester City at the Ataturk Stadium on May 29 in the 2021 Champions League final!
90 min +4: Giroud comes on for the excellent Havertz.
90 min +3: Chelsea have been sensational tonight. A 6-0 scoreline wouldn't have flattered them. James tries to make it three with a low drive that sails just wide left.
90 min +2: What a job Tuchel has done! A penny for Frank Lampard's thoughts. Should Chelsea win the Champions League, he'll become the Andre Villas-Boas de nos jours.
90 min +1: Thomas Tuchel will become the first manager to contest back-to-back European Cup finals with different clubs, having taken PSG there last season.
90 min: Valverde is booked for a frustrated trundle into the back of Pulisic. There will be four added minutes, though this is all over.
89 min: Eden Hazard won't have enjoyed his return to Stamford Bridge. He trudges off, to be replaced by Mariano Diaz.
88 min: Mount is sensibly replaced by Ziyech - nobody wants to see him red-carded and suspended for the final - while James comes on for Azpilicueta.
87 min: Chelsea celebrated that clincher in the expressive style. Joy abounds. Mount, still high on life, is booked for an over-enthusiastic lunge on Militao.
Kante wins the ball in the Real half and drives down the inside-right channel. He slips Pulisic into the box. Pulisic considers shooting from a tight angle, but draws Courtois instead, executes a dragback, and rolls into the centre for Mount, who slams home from six yards! If any goal had ever been coming, it was this one. Istanbul ahoy!
84 min: "Barring an absolute howler I think Per can relax," writes Mary Waltz. "Chelsea is constantly threatening, even when Real begins an attack Chelsea calmly nicks the ball back and goes to attack. Real is completely undone." Mary knows what she's talking about, too, because ...
83 min: Asensio probes down the left but can't get the better of Azpilicueta, who knocks out for a throw. From that, Nacho whips to the far post, where Rodrygo lurks. He competes for a header, but is never going to beat Rudiger. And yet that's the closest Real have come for quite some time.
81 min: Pulisic has been a complete menace since coming on. He's slipped into space down the right by Kante, then swivels and pulls a shot across the face of goal and wide left. Just a half-chance, that one, but they keep on coming.
79 min: A long ball down the middle nearly opens up Chelsea, as Benzema traps and turns elegantly into space, only to lose control of his own feet just as a chance to shoot beckoned. A reminder that, while this should have been over a long time ago, it isn't quite yet.
77 min: Pulisic causes more bother down the right and whistles a peach of a ball along the corridor of uncertainty. Mount can't bundle home. The sheer number of chances Chelsea have created, and passed up, is quite astonishing, and you can understand their fans beginning to worry. "Is it only me that's getting STRONG whiffs of THAT semifinal against Barca 2009?" wonders a concerned Per Vestlund. "For each clear chance we spurn it's getting closer and closer to that. Oh, the humanity!"
76 min: Zidane has to roll the dice now, and he makes an attacking change, replacing the holding midfielder Casemiro with the young Brazilian winger Rodrygo.
75 min: Courtois shanks a simple clearance out of play for a throw. Real have shown very little composure in this second half.
73 min: Pulisic shimmies down the right and wins a corner off Nacho. Mount takes. Silva wins a header, six yards out, but glances it wide left. On target, and Courtois was beaten all ends up. How on earth have Chelsea not scored a second goal?
72 min: Kroos goes in the book for a crude whack on Pulisic.
71 min: Pulisic turns on the jets to zip past Casemiro. He reaches the byline on the right and cuts back. Nobody's kept up with him and Courtois claims easily. Once again, though, the Real defence was broken through with absurd ease.
69 min: Chelsea slow things down a little, the clock their friend. Real have done very little to worry the hosts. They've been staggeringly impotent so far.
67 min: A shot of Tuchel responding to that latest miss. I'm no lip-reader, but it looked like he was effing and jeffing in the grand style. And so Chelsea make their first change. Werner is replaced by the hero of the first leg, Pulisic.
66 min: ... miss another huge chance! Werner drives at the Real back line before slipping wide left for Kante, who enters the box and slams straight into Courtois. The opportunities Chelsea have wasted! If Real do manage to score, these misses are going to eat away at them.
65 min: Nothing happens at the corner, but Werner clips Nacho down the right and it's a free kick. Kroos takes. Azpilicueta clears. Chelsea fly up the other end and ...
64 min: Real mix it up, replacing Mendy and Vinicius Junior with Asensio and Valverde. Immediately things start to happen, Asensio driving hard from a tight angle to instigate some pinball in the Chelsea box. Corner.
62 min: Nacho and Havertz wrestle on the ground. No rug or fireplace. Nacho takes Havertz by the collar, in the old why-I-oughta style. He's risking a red, but the referee just shows yellow. Not entirely sure why that threatened to escalate so quickly, it started as a garden-variety tussle.
61 min: Vinicius diddles Chilwell down the right with an exquisite spin and burst of speed. His dinked cross is easily cleared by Chelsea, but that's better from Real. Some proper attacking intent at last.
59 min: Chelsea spurn another huge chance. A simple ball over the top down the middle, and Havertz is clean through! He looks to sidefoot into the bottom left, and is denied by Courtois, who hacks away brilliantly. He shouldn't have been given the chance, though. Havertz was unlucky upon hitting the bar twice, but that's a bad miss.
58 min: Casemiro tries to up the tempo a bit, barging down the middle only to be denied by Rudiger's sliding tackle, then crossing from the right, his cross plucked from the sky calmly by Mendy. It's an improvement, but it's been a low bar.
57 min: Chelsea look extremely comfortable. Real are finding it very difficult to get passes to stick in Chelsea's half.
55 min: At the moment, Real are a shapeless, low-energy rabble. You wouldn't put it past them to snap into gear spectacularly, but they'll have to get their gamefaces on quicksmart if that's to happen.
53 min: The centre of Real's defence opens obligingly, allowing Werner to flick Mount into acres of space. He romps into the box and should dink the ball over Courtois and into the net ... but opts for power instead, and blooters deep into the Matthew Harding Stand. That's a huge opportunity spurned.
52 min: The free kick's whipped in. Thiago Silva rises highest, on the penalty spot, but can't keep his header down. The ball sails harmlessly over the bar. Chelsea will be more than pleased, though; they've been the better team since the restart, with Real showing no signs of applying any pressure and seeing if they can exploit any Chelsea nerves.
51 min: Chilwell drifts in from the left and is clipped by a frustrated Vinicius Junior. A free kick in a dangerous position, and a chance to load the box. Chilwell to get up and take it himself.
50 min: Real stroke it about, but Chelsea hold their shape. "This is where Tuchel's defensive mind should excel," writes Arnav Salu. "Could say he was hired for these moments alone."
48 min: You have to say Havertz has already more than justified his selection over Pulisic, having hit the bar twice now. A matter of inches away from his second two-goal haul in five days.
47 min: Azpilicueta is given all the time he needs to size up a cross from the right. He finds Havertz on the penalty spot. Havertz steers a fine header towards the top right, the ball pinging off the top of the bar and out for a goal kick. So close to making life extremely difficult for Real Madrid!
Chelsea get the second half underway, having been kept waiting awhile by their tardy guests. No changes by either side.
Half-time entertainment. Why not take a look back at PSG's quite spectacular collective meltdown in Manchester in the other semi-final last night? The usual think-of-the-kids caveats apply, naturally, though of course we all enjoyed it very much.
There's no added time, and so no time to take the corner. Both teams walk off with this tie still very much in the balance ... but it's currently advantage Chelsea, who are 45 minutes away from an Istanbul meeting with Manchester City!
45 min: Havertz tears down the right at speed, Real light at the back. He's got Werner and Chilwell free in the middle, but puts his head down, enters the box, and shoots himself. It's deflected out for a corner, but that was a glorious opportunity to set up a team-mate for Chelsea's second.
43 min: Mount dribbles in from the left and works a little bit of space for a shot. His effort is deflected into the air. Werner tries to scoop it further goalwards, but it's an easy claim for Courtois. Chelsea are enjoying the run of this left flank.
41 min: Madrid, not for the first time this evening, make a meal of playing out from the back. Chelsea's high press is causing them all sorts of bother.
39 min: Christensen goes in the book, as he should have done in the early exchanges, for a late clip on Ferland Mendy. A fair chance that this match won't end with 22 players.
38 min: A slight sense that Real are getting agitated. There's no need for them to panic yet, not least because, despite their defensive travails, they're getting a few efforts on target, with Mendy having made a couple of big saves.
36 min: ... and now he goes into the book after tangling with Azpilicueta at a Real corner and hauling him to the ground. A pointless loss of noggin, that came seconds after Benzema forced Mendy into tipping over the bar with a flashed header from close range. Sandip Vyas's mate (17 min) was only six minutes out.
34 min: Ramos purchases a cheap foul from Havertz, and goes over in spectacular style, his leg stretching and boot connecting with the Chelsea player on the back. Not entirely sure there was any need for that, but it's all priced into the Ramos Experience.
32 min: Rudiger wins a scrap in the centre circle and feeds Werner, who makes off down the left. Rudiger keeps going at warp speed, demanding the return pass. Werner tries to deliver it, but plays the ball behind his team-mate. Rudiger would have been clear in the box. Real are living on the edge here.
30 min: In some respects, that changes nothing for Real, who needed a goal tonight, and still need a goal. But if they score it, now they'd only force extra time. Another Chelsea goal, and they'd be in a whole world of bother.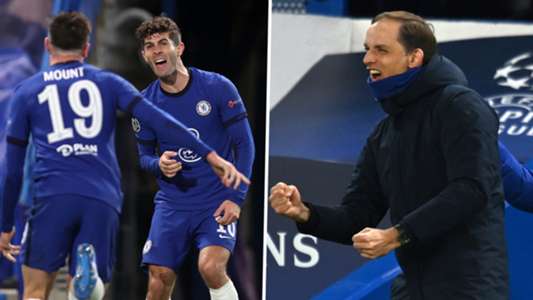 Goal.com 06 May, 2021 - 02:00am
When Thomas Tuchel walked through the door at Chelsea's Cobham training ground for the first time on January 26, he was quietly confident of what he could achieve in west London.
Despite his new team being 10th in the Premier League, with new signings struggling to settle and a defence that was horribly out of form, the ex-Paris Saint-Germain boss believed he could turn them around, and quickly.
By the time his four-month anniversary rolls around at the end of May, he will be preparing his side for the Champions League final.
Tuchel was meant to improve Chelsea, but what he has achieved is remarkable given how low on confidence the Blues squad were upon his arrival.
A top-four finish and FA Cup could also be secured before the season is out, but leading his side to European football's showpiece event in Istanbul on May 29 will headline Tuchel's first half-season in charge.
Chelsea fans lit blue flares to guide their team into the stadium for Wednesday evening's semi-final second leg against Real Madrid - doing all they could short of being inside Stamford Bridge to cheer the team on in person.
This inexperienced Chelsea side were supposed to be no match for 13-time champions, but across both legs the Premier League team were dominant, and should have won by more than the eventual 3-1 aggregate score.
It all feels a long way from the dire 0-0 draw with Wolves that began Tuchel's tenure following the sacking of Frank Lampard.
"When I came in, I was pretty happy with what I saw from the first training session ahead of Wolves," Tuchel said as he reflected on his achievements so far after his side's 2-0 win over Zinedine Zidane's almost-perennial finalists.
"I was very happy with what I saw individually and it was very strong and brave behaviour. That never stopped.
"It is a pleasure to be in this dressing room and be part of this. I feel part of this. It is my job to give my energy, knowledge and guidance, and to lead this group. I do what I can in the best way I can.
"We have so much support. I don't have the feeling that it is only me. I play my part but the players did what we see here. What we saw was pretty strong because we adapted to multiple situations.
"We have answers to a lot of questions that are asked."
Dynamic pressing, the blocking of passing lanes and quick transitions have been the cornerstones of Tuchel's Chelsea success, and they were all on show again against Madrid.
Driven by their V8 engine in midfield, N'Golo Kante, the Blues overpowered their Spanish visitors, with Timo Werner and Mason Mount providing the goals. Kai Havertz and Thiago Silva will also feel they too should have got on the scoresheet.
A couple of top-class saves from Edouard Mendy in the first half apart, Chelsea were barely troubled in defence as they kept their 18th clean sheet of Tuchel's 24-match reign.
Andreas Christensen - one of the many players who have taken their game to a new level under Tuchel - had called on Chelsea to be "horrible to play against" ahead of kick-off, and Tuchel felt they followed through on that notion in a performance that belied the difference in experience between the two XIs.
"Today, for example, we cannot always find a skilful solution," Tuchel said. "At times, we hang in and fight.
"We use our bodies, we use our work rate and if we couldn't out-play them, we were ready to out-work them with hunger and energy."
Hunger and energy were two words not normally associated with Lampard's Chelsea, and in truth a number of the club's summer signings were brought in to take the club to the next level in terms of quality on the ball, rather than off it.
But Tuchel's fun training sessions have allowed him to bring a previously fractured squad together and build a bond between his players that means they will put their bodies on the line for one another.
While it feels like he is closing in on a preferred XI, he has mastered the art of rotation, ensuring all members of the squad are kept happy, which in turn has lifted the intensity levels in training as players fight to regain their starting spots.
His ability to communicate his tactical requirements, meanwhile, must be heralded during a season where there is precious little time on the training field to drill changes, like his switch to a 3-4-3 formation, into a group.
He now possesses Europe's meanest defence, and as such has the best-equipped team to keep Manchester City at bay in Istanbul, like they did in April's FA Cup semi-final win at Wembley.
The final of that competition offers the chance of silverware, as too will the trip to Turkey a fortnight later. Given Tuchel's primary mission was to secure a top-four finish, he is not doing too badly.
He joins Avram Grant and Roberto Di Matteo as the only Chelsea managers guide the club to the Champions League final, with all three having taken over the coaching reins midway through the campaign.
Unlike his predecessors, though, Tuchel should be around for the long haul.
Chelsea are Champions League finalists. But their manager is only just getting started.
Copyright © 2021 Goal (United States) All rights reserved. The information contained in Goal (United States) may not be published, broadcast, rewritten, or redistributed without the prior written authority of Goal (United States)
Yahoo Sports 05 May, 2021 - 03:55pm
Dan Wetzel, Pat Forde, Pete Thamel
Christian Pulisic and Zack Steffen have a chance to change that.
Pulisic's assist on Mason Mount's goal in the 85th minute sealed Chelsea's 2-0 victory over Real Madrid in the second leg of their semifinal, which the Blues won 3-1 on aggregate.
Chelsea went ahead in the 28th minute after Timo Werner cleaned up a Kai Havertz chip off the crossbar from point-blank range, and a gassed, disconnected Real Madrid rarely threatened to surge back into the affair.
Mount sealed it after great work from Pulisic and N'Golo Kante helped set him up:
Jovan Kirovski is the only American male to earn a Champions League winner's medal, having been on Borussia Dortmund's squad in the 1996-97 season. But he never played in the knockout stages.
Pulisic started last week's first leg against Real Madrid and scored Chelsea's away goal, becoming the first U.S. male to score in a Champions League semifinal. He's been one of the Blues' most effective players when healthy, so if he's fit, he stands a great chance to start the final.
Steffen faces a taller task, as Ederson has been firmly entrenched as City's first-choice keeper for multiple seasons now. But it still represents a historic moment for American men's soccer, as they'll likely become the first Yanks to make the matchday squads opposite each other in the Champions League final.
Chelsea has won the competition before, with a stirring comeback against Bayern Munich back in 2012 in Bayern's home stadium. Man City has never won it.
Chelsea also becomes the first club to send men's and women's teams to their respective Champions League finals in the same season. The Chelsea women beat Bayern Munich on Sunday to reach May 16's final against Barcelona.
After a tough battle against Brooklyn the night prior, Milwaukee was able to hang on at home against Washington in a 135-134 win.
A team-building gesture might backfire for Lionel Messi and Barcelona.
Chelsea's decision to fire a club legend suddenly doesn't seem so callous after all. While Frank Lampard's name has hardly been forgotten by the Chelsea fans — there were chants outside Stamford Bridge before kickoff on Wednesday — new manager Thomas Tuchel is quickly creating his own legacy after leading the London club into the Champions League final against Manchester City. Chelsea even made record 13-time European Cup champion Real Madrid look ordinary as goals from Timo Werner and Mason Mount sealed a 2-0 victory that ousted Madrid 3-1 on aggregate.
Juventus, Real Madrid, Barcelona, and AC Milan are reportedly refusing to decommit from the Super League and could face serious discipline.
The first period between the Washington Capitals and New York Rangers featured several fights, in an ugly moment for the NHL.
Rodgers wasn't making Michael Jordan's point by bringing up Krause, he was making Krause's.
The PGA is allowing distance-measuring devices at its championships this year. What does one past PGA champ think?
Riyad Mahrez struck twice as Manchester City reached the Champions League final for the first time thanks to a 2-0 victory over Paris St Germain at the Etihad Stadium on Tuesday that secured a 4-1 aggregate win. City were dominant against their French opponents, who lost their heads in the second half and finished the semi-final, second leg with 10 men after Angel Di Maria was sent off in the 69th minute for an off-the-ball stamp on Fernandinho. Pep Guardiola's City side will now face the winner of Wednesday's last-four match between Chelsea and Real Madrid in the May 29th final in Istanbul.
Sergio Aguero will be a wanted man this summer and it appears Barcelona have made their move for the Argentine superstar.
The firings come just one day after the Rangers put out a scathing release ripping the NHL DoPS and calling for George Parros' job.
Timo Werner admitted he was relieved to redeem himself with a goal against Real Madrid which helped put Chelsea into the Champions League final against Premier League rivals Manchester City.
Mount became the second-youngest Englishman to score in a Champions League semi-final as Chelsea dumped Real Madrid out of the competition.
Luca Vildoza was praised by Kobe Bryant a few years ago.
Jose Mourinho joins Roma after a rough 17 months with Tottenham.
If you dropped Prescott into an NFL game right now, he thinks he'd be ready.
Aaron Rodgers' future with the Packers is unclear, which means it's hard to assess the fantasy value of other elite options in Green Bay. See how the news impacted our 10-round mock.
Who should be the top fantasy pick? How many Chiefs should be the first player taken at their respective position? Our analysts examine the draft landscape with their rankings.
John Means threw the 10th no-hitter in Orioles history Wednesday.
Kyrie Irving was fined back in December, too, after he avoided meeting with reporters, who he described as "pawns."
Daily Mail 05 May, 2021 - 03:53pm
Rio Ferdinand praised the work of 'majestic' Chelsea goalkeeper Edouard Mendy as he pulled off a brilliant close-range save to earn the Blues a spot in the Champions League final. 
The Blues goalkeeper made a finger-tip stop from Karim Benzema's rasping shot in the first-half to keep Chelsea in charge at Stamford Bridge - one of two brilliant stops he produced in the first-half. 
Mendy then acrobatically parried Benzema's header over the bar a few minutes later to prevent another golden Real Madrid chance on Wednesday night. 
Rio Ferdinand hailed Edouard Mendy's 'majestic' save in Chelsea's Champions League semi-final victory over Real Madrid
The Chelsea goalkeeper tipped Karim Benzema's (left) rasping effort wide in the first-half
Chelsea held on for the victory in west London and Ferdinand hailed the Senegalese international's first stop as it came to his side's rescue when they needed him most. 
Ferdinand told BT Sport: 'That was a majestic save from Mendy. When we talk about moments, they're the moments we are talking about. 
'It isn't just about strikers, it's goalkeeper who have to step up too.' 
The 29-year-old the tipped over Karim Benzema's header from close-range minutes later
Former Blues midfielder Joe Cole echoed Ferdinand's sentiments and claimed the 29-year-old, who moved to Stamford Bridge at the start of the current season, has been an inspired signing.  
Cole added: 'Mendy has been a revelation since he's come in. No matter how good you defend, when he's been needed he steps up.'
Fellow BT Sport pundit Michael Owen, however, claimed the focus should be on French striker Benzema for not finding the net for the second of his first-half chances.
The 34-year-old had 28 goals to his name this season going in to Wednesday's semi-final second-leg but Owen claimed Benzema's execution was not good enough. 
Ferdinand claimed the save was a big moment in Chelsea's Champions League bid this season
Speaking about the chance, the former Liverpool striker claimed: 'Benzema will be kicking himself. 
'That's why I hate when people say hit the target, you can hit the target all you want but a player of his quality has got to find the corners and it's not good enough at this level.' 
Chelsea booked an all-English Champions League final with Manchester City in Istanbul later this month and opened the scoring in the first-half through Timo Werner's tap-in after Kai Havertz's chip over Thibaut Courtois had come off the bar.
The Blues had several second-half chances to double their lead, but Madrid's second-half resolve was broken when Mason Mount tapped home Christian Pulisic's cross late on. 
The comments below have not been moderated.
The views expressed in the contents above are those of our users and do not necessarily reflect the views of MailOnline.
By posting your comment you agree to our house rules.
Do you want to automatically post your MailOnline comments to your Facebook Timeline?
Your comment will be posted to MailOnline as usual.
Do you want to automatically post your MailOnline comments to your Facebook Timeline?
Your comment will be posted to MailOnline as usual
We will automatically post your comment and a link to the news story to your Facebook timeline at the same time it is posted on MailOnline. To do this we will link your MailOnline account with your Facebook account. We'll ask you to confirm this for your first post to Facebook.
You can choose on each post whether you would like it to be posted to Facebook. Your details from Facebook will be used to provide you with tailored content, marketing and ads in line with our Privacy Policy.
Part of the Daily Mail, The Mail on Sunday & Metro Media Group