Why is there flooding in China?
Because of the enormous demand for food and housing (China population) in China, the natural drainage system has been damaged, water logging leading to problems in inner city development. Many dams have been built along the Yangtze river, reducing the amount of water which could flow through the river. wikipedia.org2016 China floods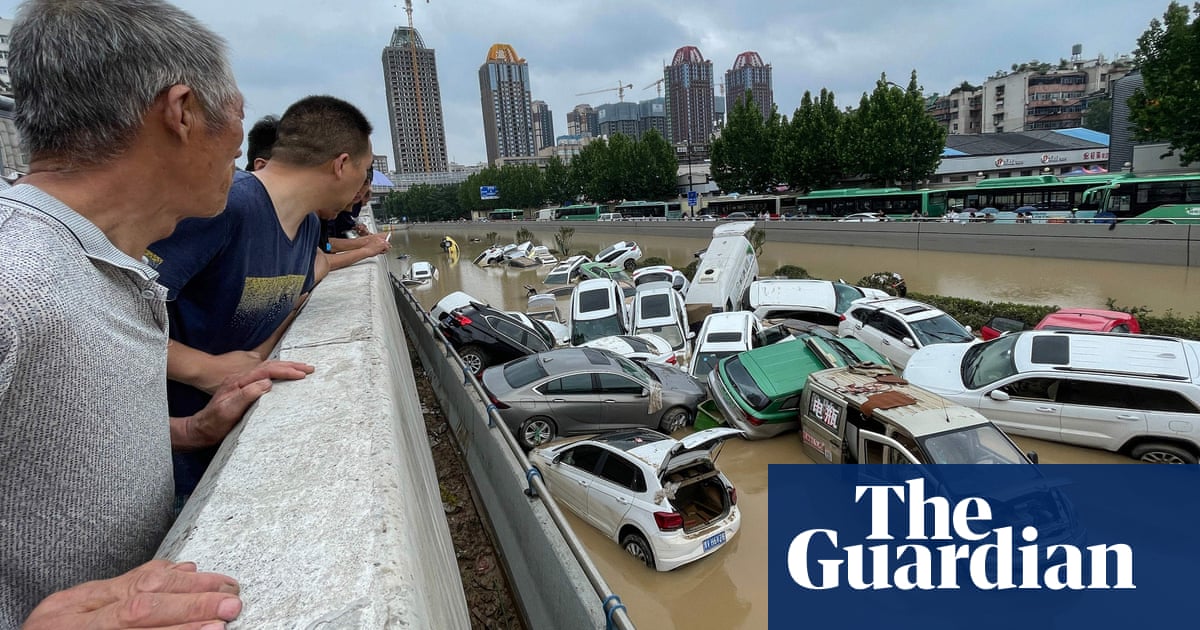 Cleanup efforts were under way in Henan province and the capital city Zhongzhou on Thursday, after a record breaking rain storm flooded the city's streets and subway, damaged dams and reservoirs, collapsed roads, cut power to at least one hospital and was linked to a massive explosion at a factory in Dengfeng city.
Authorities said 200,000 people were displaced by the floods and more than three million people were affected.
The Henan disaster has prompted public scrutiny over the preparedness of authorities, in particular the apparently inaccurate weather forecasts, and the decision to keep the subway operating throughout the deluge.
Meteorological bodies have referred to the rainstorm – which saw a year's worth of rainfall in three days – as a one-in-1,000-year weather event. The rainfall broke hourly and daily records of the 70 years of collected data.
Local authorities said the heavy rain caused water to accumulate in the parking lot near Line 5 of the metro, breaking through a retaining wall at around 6pm and flooding the line, stopping trains between Shakoulu – where at least five deaths are believed to have occurred – and Haitainsi stations.
The Chinese government has ordered local authorities to make immediate improvements to urban flood controls and emergency responses, including hidden risks on the rail system.
"They must take emergency measures such as suspending trains, evacuating passengers, and closing stations in atypical situations such as excessively intense storms," the ministry said in a statement viewed at least 190m times on Weibo.
Hawkish state-owned tabloid, the Global Times, said it was "absolutely impossible to keep Zhengzhou from flooding" in such heavy rains but greater mitigation efforts were needed to reduce the loss of life.
"Why didn't you close the subway in advance when it was raining so heavily," asked one.
"I only see loads from Mr and Ms Hindsight," said another in response to the ministry's statement. "We can't control the flood, but they should have suspended the operation when numerous alerts were released."
The Henan Business Daily newspaper reported staff at one station told a man all passengers had been evacuated but had to acknowledge that wasn't true after he started a video call with his wife who was still trapped on board a train. She told her husband the water had almost reached her neck and passengers were struggling to breathe, the report said.
A widely shared WeChat article noted early contradictory statements from local state media, including that no passengers were in danger, while at the same time footage – later blocked from China's internet – was being shared of dead bodies at Shakoulu station, including by the national state media outlet, Xinhua.
The WeChat article also noted premature declarations that the rescue mission was complete, while trapped passengers continued to post about their predicament. The article – which also questioned whether it was a man-made disaster linked to the blasting of a dam late Tuesday near the city of Luoyang – was later censored for "violating regulations", according to a Twitter user, Matt Knight, who collected online posts.
Knight noted multiple examples of the stark differences between some posts by state media and authorities, which emphasised rescue efforts and heartwarming community acts, and those shared by the public.
Public scrutiny has also fallen on the timing of warnings from the local meteorological services. The provincial weather bureau told state media it had issued a report warning of the coming torrential rains two days in advance.
The impact of the floods spread beyond the capital.
Zhengzhou's flood control headquarters said water storage at the Guojiazui reservoir was at "major risk" of dam failure and the local government ordered evacuations.
At least four were killed in Gongyi city, about 80km from Zhongzhou, where the rains caused flooding and landslides.
Some worry that given the scale of the damage, the post-disaster reconstruction will be particularly challenging for one of the most populous provinces in China. Zhengzhou alone is home to 12 million people.
Henan province – which is situated between Beijing and Shanghai in central China – has many cultural sites and is a major base for industry and agriculture. It is crisscrossed by multiple waterways, many of them linked to the Yellow River, which has a long history of bursting its banks during periods of intensive rainfall.
China routinely experiences flooding in the summer months, but rapid urbanisation, and conversion of farmland, as well as the worsening climate crisis has exacerbated the impact of such events.
Read full article at The Guardian
Oneindia News 22 July, 2021 - 01:10am
iMore 21 July, 2021 - 08:59pm
Save $99 on Apple's iPad Air: Now just $500 at Amazon
The flooding in central China has temporarily affected Apple's largest iPhone manufacturing site.
As reported by The Wall Street Journal, Foxconn has been impacted by flooding with temporarily cut power to production. Workers at the production center say, however, that the damage appears to be limited.
The damage to the manufacturing hub in Zhengzhou city, Henan province, however, appeared limited, the workers said. Taiwan-based Foxconn Technology Group operates three factories in the city with hundreds of thousands of workers—many of them living on factory campuses—producing more than half the world's iPhones, according to analysts.
Foxconn said that it has implemented an emergency response plan for flood control but there had been no direct impact to its facilities from the flooding.
Despite the flooding, it appears that production on Apple's upcoming iPhones is right on schedule for its usual September release. A report from earlier today said that mass production of the iPhone 13 lineup is on target for Apple's pre-pandemic release schedule.
Mass production of this year's new iPhones is also set to begin in August, in line with Apple's usual pre-pandemic production schedule. Apple could produce as many 95 million units between then and the end of January, though sources stressed that such forecasts are subject to review. For all of 2021, Apple aims to build up to 230 million iPhones, including both the existing and new models, an 11% growth from last year, sources told Nikkei Asia.
Apple is expected to announce the new iPhone 13 in September. The latest iPhone is expected to feature a new 120Hz display, smaller notch, upgraded battery life, and enormous camera system.
If you'd rather keep your iPhone 12 but take the battery to the next level, check out our list of the Best iPhone 12 battery cases 2021.
The Witcher: Monster Slayer hopes to provide a more mature version of Pokémon Go by upping the RPG elements and adding gore and cursing. Unfortunately the developers failed to understand what made that game great and have delivered a pay-to-win title that requires far too much work to play.
A year before Steve Jobs joined Atari and a long time before Apple was founded, a now-famous job application was penned by the man himself. That application most recently sold for more than $200,000 — and it's up for auction again. Oh, and there's an NFT version as well!
Skyward Sword HD is an upgraded version of the original Wii game from 2011. The reworked mechanics, controls, and visuals make it an amazing game for any Switch owner.
In need of a great stylus for your iPad, but don't want to pay the steep cost of an Apple Pencil? These great alternatives are just as good, if not better in some aspects!
Sign up now to get the latest news, deals & more from iMore!
I would like to receive news and offers from other Future brands.
I would like to receive mail from Future partners.
No spam, we promise. You can unsubscribe at any time and we'll never share your details without your permission.
Joe Wituschek has been in the technology industry for over a decade. Formerly Apple, Joe now covers the company as a news writer for iMore. Connect with Joe on Twitter @joewituschek.