Why is China flooding?
Causes of floods Hu Xiao from the China Meteorological Administration (CMA) indicated that the rains were caused by increased vapors arising from the Indian and Pacific oceans. Some experts claim climate change is partly to blame and such events may become more frequent in the future. wikipedia.org2020 China floods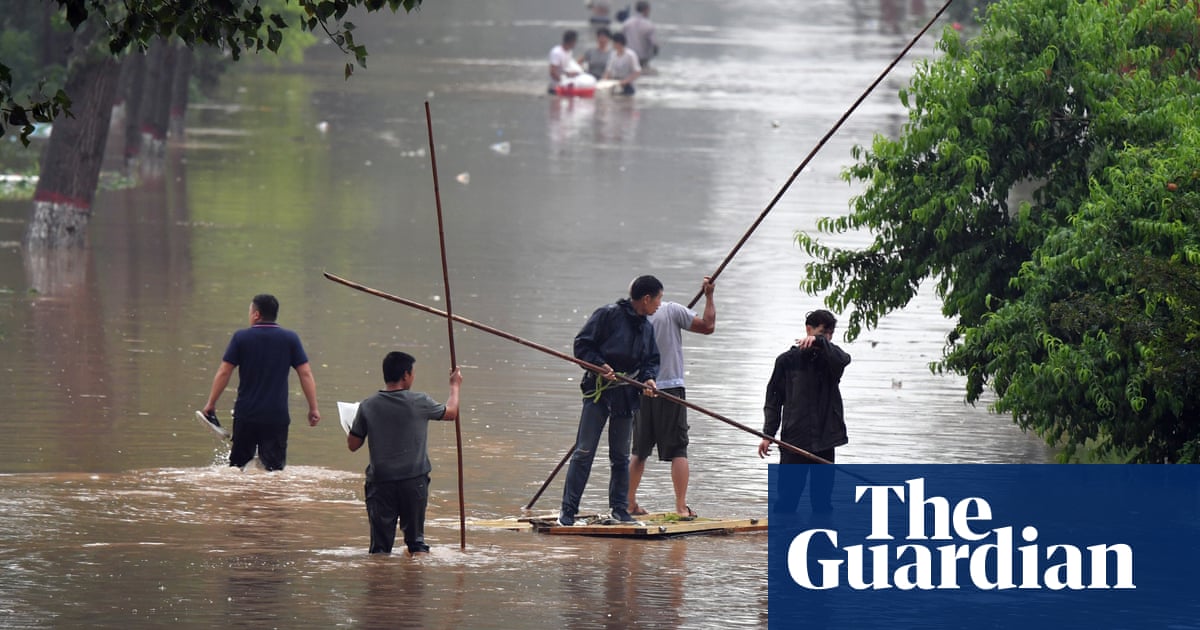 Record-breaking rainstorms – which dumped a year's worth of rain on and around the capital of Henan province, Zhengzhou, earlier this week – have since moved north, affecting outer cities and regional areas, trapping people without electricity or fresh water, including at hospitals.
On Friday afternoon state media reported the death toll had risen from 33 to 51, citing local authorities, and a financial toll of of more than 65 billion yuan (£7.3bn). More than a million people had been relocated, half of them having lost their homes.
Local reports suggested the city of Xinxiang, home to 5.8 million people, had been hardest hit, with more than 260mm falling in a two-hour window. State media reported the Wei river had burst its banks and flooded villages near Hebi. Local authorities pushed at least half a dozen trucks into the breach in an attempt to block it, without success.
"Presently, nearly 9,000 people have been safely transferred," state broadcaster CCTV said, adding authorities were evacuating "the remaining 19,000 people."
On Friday afternoon Henan authorities sought to emphasise a strong emergency response and the return of utilities to some neighbourhoods. They kept the death toll at 33, apparently contradicting state media, saying assessment was ongoing.
But the true scale of the disaster is not yet clear, and the press conference prompted some scepticism from residents online. Many areas of Henan remained cut off, without power, fresh water or mobile phone signal. A massive recovery effort had begun in areas where the rain has passed, including the capital Zhengzhou, where at least 12 people died when the subway system flooded.
Focus is on the entrance to a major cross-city tunnel in the city, which was completely submerged in up to 13 metres of water. More than 100 trapped cars were counted after the water was drained on Friday morning. Authorities confirmed just two bodies recovered, but a heavy police presence and reports from media on the ground suggested the toll was unlikely to stay so low.
As the waters have receded from the 4km tunnel running along Zhengzhou City's JingGuang Ave. #京广路隧道—people ⬆️ wonder how many ppl were likely trapped & killed in that underground traffic tunnel. #ChinaFloods #郑州大雨pic.twitter.com/ipMz6LZ0iz
Local media reported there were still people missing, with The Paper identifying at least 25 individuals, the youngest just 12 years old. One woman named Ms Ma said she had lost contact with her 14-year-old son and his two friends who had been playing near the tunnel.
On Chinese social media some journalists also noted there was little information yet from affected rural areas.
On Friday 29 of the region's 30 reservoirs had overflowed, local authorities said, and 65 others were at full capacity. At least two major reservoirs near Zhengzhou were also damaged or at risk of collapse earlier this week, but authorities have refuted suggestions the dams have played a role in subverting the regular water flow.
China's leader, president Xi Jinping, said there had been a "significant loss of life and damage to property". Xi has not yet visited the affected areas. On Friday morning state media reported Xi had instead made a surprise visit to Tibet, the first such visit to the politically sensitive area by a Chinese leader in more than three decades.
"Around 40 or 50-something calls flooded in, from the local and other provinces from Jiangsu and Jiangxi. They asked for our details and help to contact rescue teams. I saw some lights through my window around 1130pm, it was the rescue team. That was so unreal to hear their voice."
As Henan's disaster continues, eyes are already moving to China's east coast and an approaching typhoon. Typhoon In-fa has brought heavy rain to northern Taiwan and Japan's southern islands, and is predicted to make landfall near Shanghai over the weekend. In-fa was credited with partly driving Henan's rainstorm even while hundreds of kilometres to the east of Taiwan.
During Saturday and Sunday's high tides "coastal areas should guard against the combined impact of wind, rain and tides," the National Meteorological Center said, warning the public to prepare for a major weather event.
Read full article at The Guardian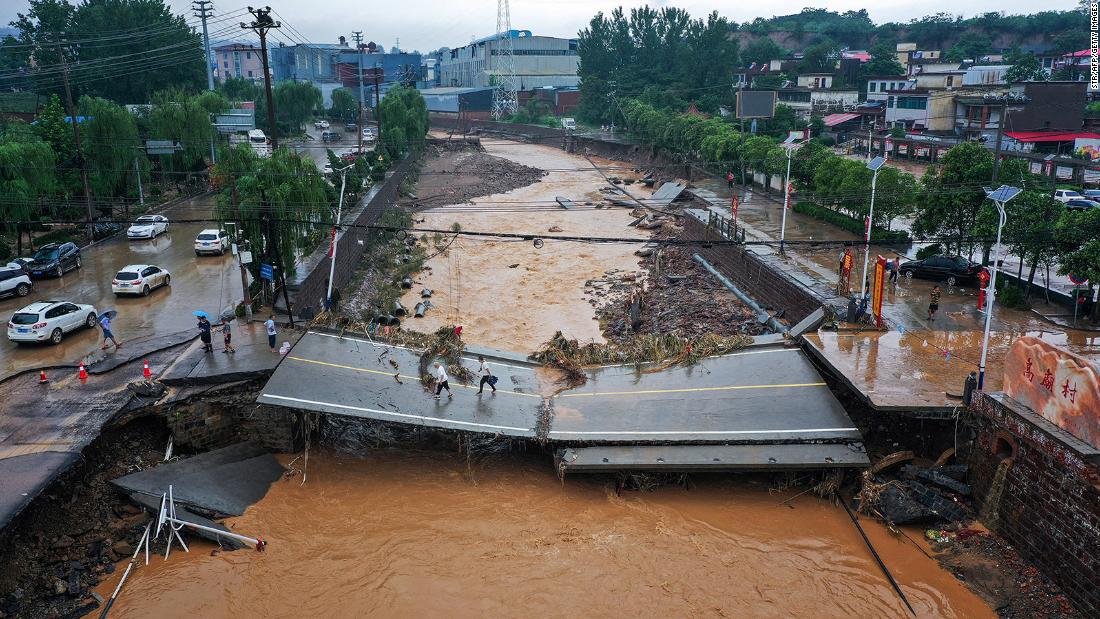 CNN 23 July, 2021 - 09:01am
Updated 6:09 AM ET, Fri July 23, 2021
Global News 23 July, 2021 - 09:01am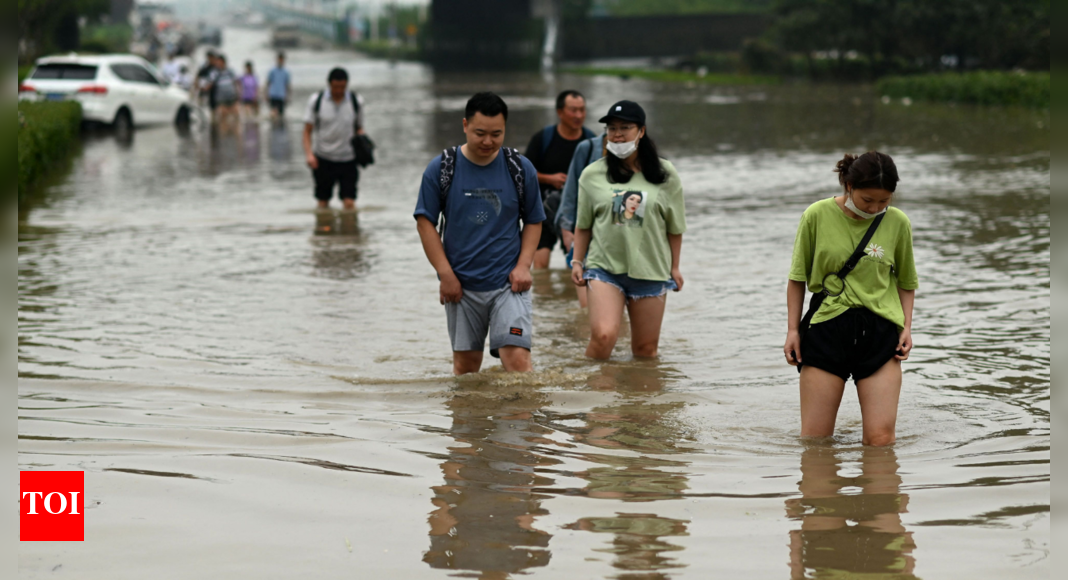 Times of India 23 July, 2021 - 01:16am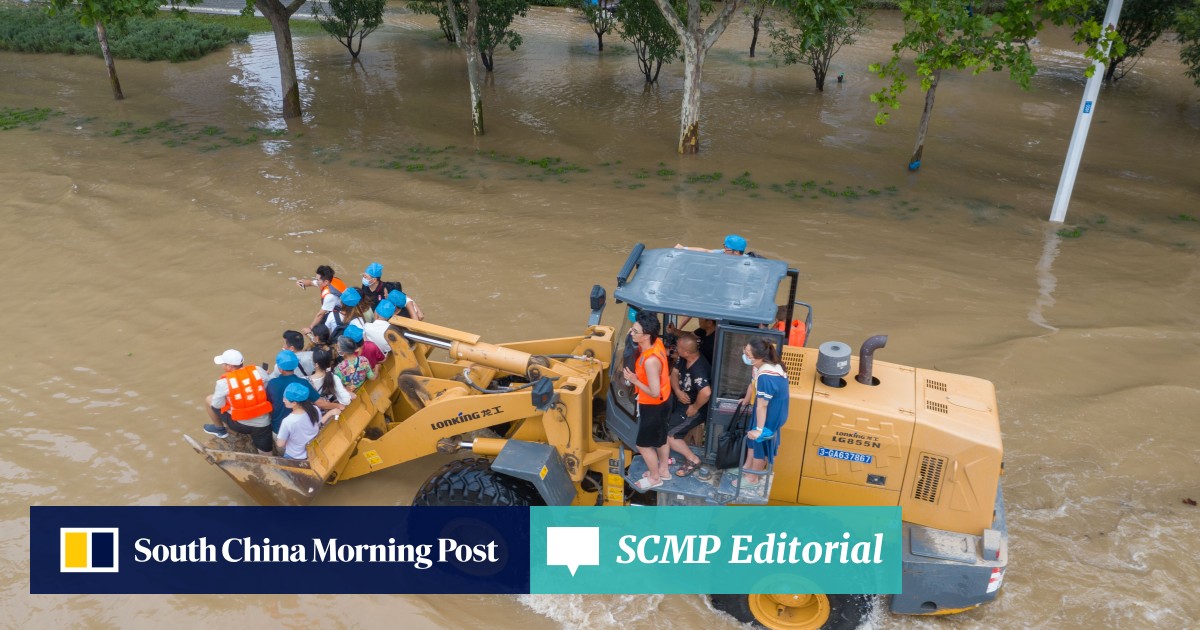 South China Morning Post 22 July, 2021 - 04:27pm
Editorials represent the views of the South China Morning Post on the issues of the day.
Yahoo News 22 July, 2021 - 02:16am
At least 25 people have died in China's central province of Henan, a dozen of them in a subway line in its capital Zhengzhou, and more rains are forecast for the region.
More rain is forecast across Henan for the next three days, and the People's Liberation Army has sent more than 5,700 soldiers and personnel to help with search and rescue.
People traveling by subway wer trapped, often with water past their waists, when flash flooding struck the city of Zhengzhou, China.
12 of those who died were killed when a subway tunnel flooded according to state media
Belgian authorities raised the death toll on Thursday from last week's burst rivers and flash floods to 37, with a further six people missing. Belgium's crisis centre, which is coordinating the rescue and relief operation, raised the number of fatalities from a previous 32. The Belgian centre added that, of 473 people reported missing, there was still no trace of six.
The Uyghur inmates sat in uniform rows with their legs crossed in lotus position and their backs ramrod straight, numbered and tagged, gazing at a television playing grainy black-and-white images of Chinese Communist Party history. This is one of an estimated 240 cells in just one section of Urumqi No. 3 Detention Center in Dabancheng, seen by Associated Press journalists granted extraordinary access during a state-led tour to China's far west Xinjiang region. The detention center is the largest in the country and possibly the world, with a complex that sprawls over 220 acres — making it twice as large as Vatican City.
This mother-daughter duo went viral for sharing their adorable girls' day to celebrate Children's Day in Korea.
Developed countries are moving too slowly to slash greenhouse gas emissions and fight climate change.
Shortages of basic goods have hit Lebanon as its leaders do little to resolve a long-running currency crisis that has sparked despair and desperation.
Thousands of wildfires engulf broad expanses of Russia each year, destroying forests and shrouding regions in acrid smoke. Many other regions across the vast country also have battled wildfires. In recent years, Russia has recorded high temperatures that many scientists regard as a clear result of climate change.
With temperatures in Dubai regularly surpassing 115 degrees Fahrenheit, the government is now using drones to zap clouds with electricity, creating rainstorms.
WASHINGTON (Reuters) -A 22-year-old British citizen was arrested in Spain on Wednesday in connection with a July 2020 Twitter hack which compromised the accounts of high-profile politicians and celebrities, the U.S. Justice Department said on Wednesday. It named the British man as Joseph James O'Connor and said he faced multiple charges. An unnamed second person, identified only as "Juvenile 1" in the criminal complaint, was also charged in connection with the hack on July 30, 2020, in the Northern District of California for playing a "central role" in the Twitter attack and used the moniker Kirk#5270.
BRUSSELS (Reuters) -EU countries have so far donated just a tiny portion of excess COVID-19 vaccines to poor nations, mostly AstraZeneca shots, less than 3% of the 160 million doses they plan to give away in total to help tame the global pandemic, an EU document shows. The European Union has committed to helping inoculate the most vulnerable across the world but, like other wealthy countries, EU states have so far focused on buying shots to inoculate their own citizens, contributing to a shortage of vaccines elsewhere. EU states, with a combined adult population of 365 million, have so far received about 500 million doses from drugmakers and expect nearly a billion by the end of September.
Google botched Chromebook logins due to a buggy Chrome OS update with a typo.
Readers are dismayed by people in wetter parts of the country writing as if they wish for California's failure because of the drought.
A significant and far-reaching heat wave is poised to build across much of the continental U.S. during the next few weeks, and it could be the most expansive in the country so far during this unusually hot summer, aggravating drought and wildfires. The big picture: Forests across the West are already burning at a scope and intensity that's unusual for this time of year. Drought data released Thursday showed that what is already the worst Western drought so far this century is only intensifying.
With almost all of the debris removed from the Surfside condo collapse, the oceanfront town expects Collins Avenue to reopen soon around the site of the former Champlain Towers South complex. That's caused another worry: can the hollowed-out condominium site still support the adjoining road?