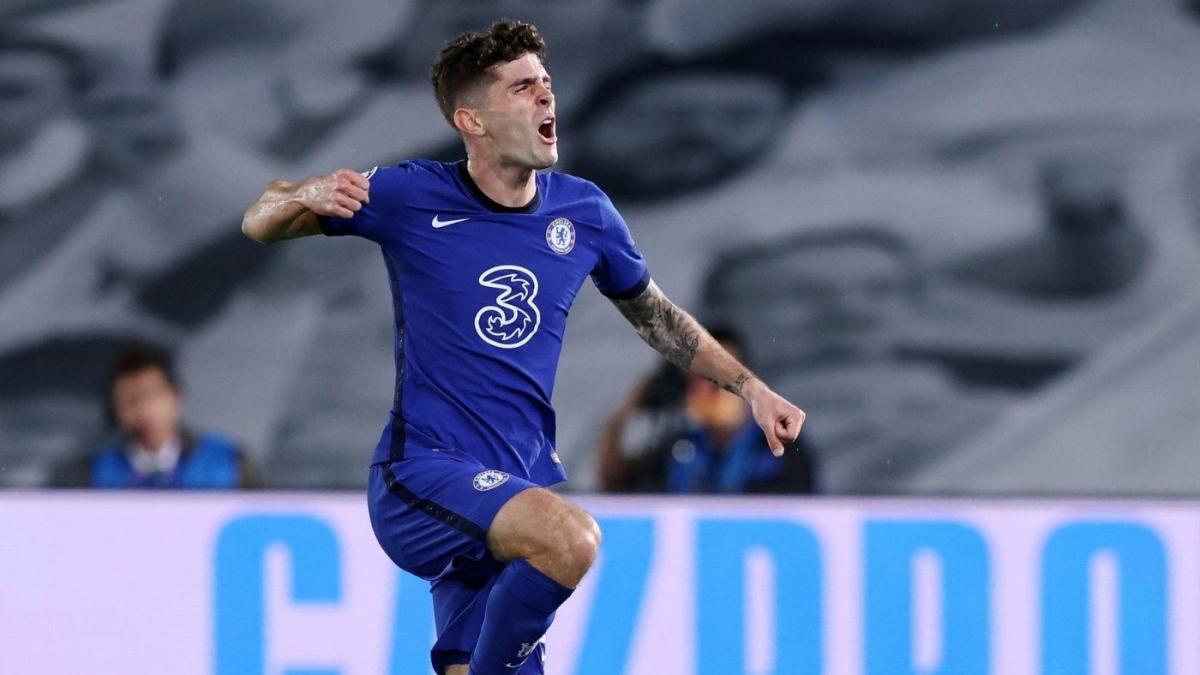 After fine recent performances, it seemed like a lock for American Christian Pulisic to start for Chelsea on Wednesday against Real Madrid in the Champions League semifinal. After all, he was fantastic in the first leg and scored a vital away goal with a fine finish. So, most people were surprised when we reported that he would begin the match on the bench in favor of Timo Werner, Mason Mount and Kai Havertz. 
Pulisic, who came off the bench and bagged an assist to help Chelsea advance to the Champions League final with a 2-0 win, was just as surprised, it seems, saying he was very frustrated. Here he is speaking to CBS Sports after the game, touching on his relationship with Mason Mount, who he assisted, and then explaining how he felt to be on the bench:
"Very frustrated," he said. "Umm, yeah, there's not much else to say. I wanted to play from the beginning, as I always do. I've had to continue to prove myself over and over again. But, as always I reach out to God and he gives me strength. With that behind me, nothing can stop me really."
Though any hard feelings Pulisic might have had sure seemed to have evaporated by the time he started celebrating whit his teammates. At least that's how it seemed on Edouard Mendy's Instagram feed.
Pulisic is so happy lmao 😂pic.twitter.com/EJ7GJHY2EO
At this point, he certainly feels far from a lock to start the final, though he does feel deserving. It depends on how Thomas Tuchel approaches the final, where he'll likely field a team similar to the second leg rather than the first leg. That defense-first mentality and playing with caution is needed against Manchester City. Perhaps Tuchel sees Werner, Mount and Havertz as superior when it comes to applying pressure in attack.
There's no doubt Pulisic has been one of the team's better players as of late, but it will be up to Tuchel to decide if he warrants a start or to be that super sub. 
© 2004-2021 CBS Interactive. All Rights Reserved.
CBS Sports is a registered trademark of CBS Broadcasting Inc. Commissioner.com is a registered trademark of CBS Interactive Inc.
Images by Getty Images and US Presswire
Read full article at CBS Sports
Goal.com 05 May, 2021 - 10:20pm
Zinedine Zidane will take the blame. He often does for Real Madrid defeats, even when it is not his fault.
The Blancos boss went with his gut over his head against Chelsea, bringing back captain Sergio Ramos for only his third game since January 9, and his first in nearly two months.
The 35-year-old was badly exposed throughout, as the home side overran their visitors from Spain, particularly during the second half.
Zidane also went with Eden Hazard, encouraged by the Belgian's recent form, but he was unable to produce a shred of the magic he so easily conjured during his time at Chelsea.
The coach's greatest crime, however, was his extremely unusual formation. Madrid have played 3-5-2 at times this season, but not like this.
On paper, Zidane picked a team that best fit a 4-3-3, but they lined up with Eder Militao, Ramos and Nacho at the back.
Instead of the usual set-up, though, Nacho and Militao pushed wide left and right respectively, leaving Ramos isolated in the middle.
The only help he had came from Casemiro or Luka Modric running back to help out, or his other alleged centre-back partners shuffling across. Was it any wonder that Chelsea tore Madrid's defence to pieces, time and time again?
Only profligate finishing stopped Thomas Tuchel's side from turning their 2-0 win into a far more embarrassing scoreline for Zidane's charges.
Madrid had more of the ball in the first half, but that was all they had to smile about, with Chelsea breaking the deadlock before the half hour mark.
Ramos was exposed for the goal, left on his backside by Timo Werner, and unable to catch up with the Germany international, who headed home after Kai Havertz's chip beat Thibaut Courtois and bounced back off the crossbar.
Werner had already seen another goal ruled out for offside, and even he could not fail to find the net from such close range, making up for the gilt-edged chance he missed in the Spanish capital eight days ago.
Karim Benzema twice came close for Madrid, forcing Edouard Mendy into two fine saves, but beyond the French outlier, Zidane's side offered nothing.
Hazard was muzzled on his return to Stamford Bridge, although Jorginho was booked for clipping his heels after a clean turn early on, while Vinicius Junior was fouling Ben Chillwell more often than vice versa; not an ideal state of affairs for Madrid.
The Brazilian showed nothing of the magical display that saw him net twice against Liverpool in the previous round, and was brought off in the second half for Marco Asensio, while Ferland Mendy made way for Fede Valverde.
At 1-0 down, this was a chance for Zidane to change his system and find a breakthrough, but his moves were like for like. It was only when he took Casemiro off for Rodrygo late on that the coach tried to change the system, which clearly had not been working from the start.
By this time it was too late, the game's dynamic could not be stopped and neither could N'Golo Kante.
The Chelsea midfielder, who helped set up the first goal, was vital in the second too, eventually dispatched by Mason Mount from close range.
The English midfielder made amends after missing a golden chance earlier, but most of Chelsea's team were guilty of that, with Madrid ripped to shreds.
At times this looked more like a group-stage game, with Chelsea facing one of Europe's minnows, not the record 13-time European Cup winners.
In the first leg, Madrid were lucky to escape with a 1-1 draw. Here, they can consider themselves fortunate that this did not finish, four, five or six nil.
Zidane's set-up was to blame, because even in their weakest performances of the season, nothing of this ilk had occurred.
Zidane has long warned that his team is running low on gas, and here Madrid reaped the fruits of that, perhaps, after an exhausting season.
But he did nothing to help them either on a chastening night for Florentino Perez and co.
Copyright © 2021 Goal (United States) All rights reserved. The information contained in Goal (United States) may not be published, broadcast, rewritten, or redistributed without the prior written authority of Goal (United States)
Football Espana 05 May, 2021 - 10:20pm
You are using an outdated browser. Please upgrade your browser to improve your experience.
Real Madrid travelled to London this evening to take on Chelsea in the Champions League semi-final second leg. Los Blancos drew the first leg 1-1 last week, Karim Benzema equalising after Christian Pulisic's opener. Whoever progresses will take on Manchester City after they knocked out Paris Saint-Germain in the other semi-final last night.
Zinedine Zidane was able to select three men who were doubts beforehand in Sergio Ramos, Ferland Mendy and Eden Hazard. They set up in a 4-3-3 system, with Thibaut Courtois in goal behind a back four of Nacho, Ramos, Eder Militao and Mendy. Casemiro sits in midfield, with Luka Modric and Toni Kroos either side, while Karim Benzema leads the line, flanked by Vinicius and Hazard.
It was Chelsea, however, who took the lead in the 28th minute. Ngolo Kante did excellently to carry the ball deep from midfield, before Timo Werner popped up to score after good work from compatriot Kai Havertz in the meantime. The hosts' goalkeeper, Edouard Mendy, was on fire in the early stages, saving spectacularly from Benzema.
El paradón de Mendy. #LaCasadelFútbol pic.twitter.com/i4810YFgRw
— Fútbol en Movistar+ (@MovistarFutbol) May 5, 2021
This site uses Akismet to reduce spam. Learn how your comment data is processed.