Zain Chagla
zchagla
mRNA technology being used now for a quadrivalent flu vaccine - with hopes for an RSV vaccine and COVID vaccine, and even a combined shot. Really big advance in vaccinology. investors.modernatx.com/news-releases/news-release-details/moderna-announces-first-participant-dosed-phase-12-study-its

Lenise Ligon
LeniseLigon
Nightside Report July 7, 2021: Health officials report spike in RSV cases after COVID restrictions are lifted, EPA administrator visits Flint www.clickondetroit.com/news/2021/07/08/nightside-report-july-7-2021-health-officials-report-spike-in-rsv-cases-after-covid-restrictions-are-lifted-epa-administrator-visits-flint/
Hayley Wielgus
HayleyWielgus
Parents, be aware! COVID social distancing delayed the RSV season @wkrn www.wkrn.com/news/pediatrician-warns-children-hospitalized-with-rsv-virus-spreading-in-nashville/
Eli Perencevich, MD MS🧼 😷
eliowa
Even if you're vaccinated and covid test negative, you still need to STAY HOME 🏠 🏙 if sick and telework if possible. Spreading RSV or other respiratory viruses in the workplace is very disruptive. Your coworkers will need to stay home and get covid tested if they get sick too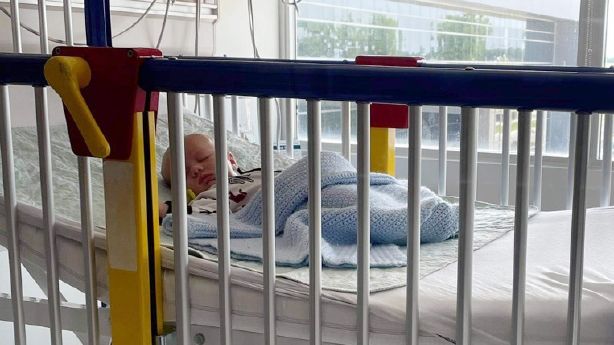 RSV, or respiratory syncytial virus, is a common cause of cold-like symptoms but can be serious for infants and the elderly. Cases dropped dramatically last year, with people staying home and social distancing, but began cropping up as pandemic restrictions eased.
"I've never seen anything like this before,'' Dr. Kate Dutkiewicz, medical director at Beacon Children's Hospital in South Bend, Indiana, said after treating two RSV-infected infants recently. Both needed oxygen treatment to help with breathing. ''I've never seen cases in July, or close to July.''
The U.S. Centers for Disease Control and Prevention issued a health advisory on June 10 about an increase in RSV cases across parts of the South. Cases have appeared in many other states, too.
LaRanda St. John grew worried when her 6-week-old son, Beau, developed a bad cough a few weeks ago. The Mattoon, Illinois, mom has a medical background and suspected RSV when she opened his sleeper and saw his chest heaving with labored breathing.
"The doctor's office couldn't get me in because they were flooded with people calling'' about kids with similar symptoms, St. John said.
A positive test in the ER confirmed RSV. The infant developed a rapid heart rate and had to be hospitalized overnight. His 16-month-old sister, Lulabelle, also contracted the virus but was not as sick and didn't need hospitalization.
St. John said she wondered if it might be COVID-19 because it's the wrong season for RSV.
"I can't say I was relieved, because I know RSV is just as bad,'' she said.
Children infected with either virus usually develop only mild illness but for some, these infections can be serious.
Among adults aged 65 and up, RSV can lead to pneumonia and causes almost 180,000 hospitalizations and 14,000 deaths yearly. Cases in kids and adults usually occur in fall through early spring.
Off-season cases in Australia were a tip-off that the same might happen in the United States, said Dr. Larry Kociolek, an infectious disease specialist with Chicago's Lurie Children's Hospital.
Typically, infants are exposed to RSV during the first year of life, often when older siblings become infected in school and bring the virus home, Kociolek said. But, he added, ''there were a lot of kids and babies who were not exposed to RSV in winter of 2020 and winter of 2021. That just leaves a much larger proportion of susceptible infants.''
In infants, symptoms may include fussiness, poor feeding, fever and lethargy. Children may have runny noses, decreased appetite, coughs and wheezing.
But in very young infants and those born prematurely, the virus can cause small airways in the lungs to become swollen and filled with mucous. Babies who develop this condition, called bronchiolitis, may require hospitalization and oxygen or ventilator treatment.
There is no approved treatment for RSV, although a once-monthly injection of an antibody-based medicine is sometimes prescribed before and throughout RSV season to help prevent severe RSV lung problems in premature infants and other babies at risk for serious disease.
Reinfections are common but typically cause milder symptoms than the initial illness.
Kociolek said the recent unusual surge in cases could be partly due to more testing because of COVID-19 fears. In usual times, parents may dismiss RSV symptoms as nothing serious but now may fear they signal the pandemic virus.
RSV spreads through contact with airborne droplets from an infected person, but it's much more likely than COVID-19 to linger on skin and other surfaces including toys, which can also be a source of transmission.
RSV is among reasons why day care centers and preschools often have strict policies about keeping kids with coughs home from school.
"A lot of parents think, 'Oh well, it's just a cold, they're fine to go to school,'' said Diana Blackwell, director of children's programs at Auburn University-Harris Early Learning Center in Birmingham, Alabama.
Despite strict cleaning measures, several children at her center have become sick with RSV in recent weeks, including her own 4-month-old son. He had violent coughing spells and was prescribed medicine often used to treat breathing problems in asthma, but did not need to be hospitalized.
She called the summertime outbreak at her center "just weird.''
"It didn't even cross my mind that it would end up being something like RSV,'' Blackwell said.
Dr. Mary Caserta, a member of the American Academy of Pediatrics' infectious diseases committee and a professor at the University of Rochester, said parents should be aware of the unusually timed virus activity and seek medical care if babies appear very ill or have trouble breathing.
RSV is one reason why pediatricians often caution parents of young babies to avoid crowds in winter cough and cold season.
"COVID has made people so hungry to be with other people that it would be hard now'' to make the same recommendation, Caserta said.
Whether the unusual summertime virus activity foreshadows less-than-usual RSV this coming winter is uncertain, she said.
"I've given up in any way trying to forecast the future,'' Caserta said.
Follow AP Medical Writer Lindsey Tanner at @LindseyTanner.
The Associated Press Health and Science Department receives support from the Howard Hughes Medical Institute's Department of Science Education. The AP is solely responsible for all content.
Read full article at KSL.com
Daily Express 08 July, 2021 - 12:09pm
Hospitals across the country have been flooded with babies with a potentially-deadly respiratory virus. Wellington has recorded 46 children hospitalised with respiratory illnesses including respiratory syncytial virus - also known as RSV.
Doctors have warned New Zealand's outbreak is likely due to children not developing immunity to other viruses suppressed by Covid lockdowns.
Epidemiologist and public health professor Michael Baker said: "What we're seeing now is we've accumulated a whole lot of susceptible children that have missed out on exposure - so now they're seeing it for the first time."
Lockdowns in New Zealand last winter led to a 99.9 percent reduction in flu cases and a 98 percent reduction in RSV.
But over the past five weeks, New Zealand has reported nearly 1,000 RSV cases, according to the Institute of Environmental Science and Research.
Middlemore hospital in Auckland has converted a playroom into a clinical space with 11 special care baby cots.
Heath boards across Auckland and Canterbury have also postponed surgeries to divert resources into children's wards.
According to the Guardian, some hospitals have asked children under 12 not to visit in a bid to stop the spread of the virus.
John Tait, chief medical officer for the Wellington area's district health boards, said the region had 46 children hospitalised.
He confirmed two were in intensive care and the numbers were "continually changing as patients are discharged and others admitted."
Professor Baker added: "If you get a big peak it can overwhelm your health system, or put real pressure on it, which we're seeing with RSV."
He added how people experience near-universal exposure to RSV as children and said most are exposed in their first year of life.
Professor Baker continued: "If you remove that exposure for a period then you will have a bigger cohort of unexposed children, and therefore - as you can see we have happening at the moment - it can sustain a much bigger outbreak when they are eventually exposed to the virus."
New Zealand's director-general of health, Dr Ashley Bloomfield, said he was "certainly concerned about the sharp surge in RSV cases".
He said: "We had very little RSV last year.
"There's some speculation that [the current outbreak] may be partly exacerbated by the fact we didn't have any last year and so there is a bigger pool of children who are susceptible to it."
Back in May, a collective of French doctors wrote a study of immunity debt and said: "This positive collateral effect in the short term is welcome, as it prevents additional overload of the healthcare system.
"The lack of immune stimulation… induced an 'immunity debt' which could have negative consequences when the pandemic is under control and [public health intervientions] are lifted.
"The longer these periods of 'viral or bacterial low-exposure' are, the greater the likelihood of future epidemics."
Australia has also experienced a surge, with hospitals in Victoria being overcrowded by unusually high rates of RSV.
New Zealand has managed to curb the spread of the coronavirus pandemic.
To date, there have been 2,408 confirmed cases of the virus with just 26 deaths.
As of 25 June 2021, a total of 1,090,651 vaccine doses have been administered.
WDIV ClickOnDetroit 07 July, 2021 - 05:26pm
The situation had led to an increase in an illness that is not normally seen much in the summer months. Respiratory Syncytial Virus (RSV) is a common respiratory illness from September to April.
According to the CDC the number of cases has skyrocketed this summer. They want parents and pediatricians to be on guard, especially in very young children.
Read: Common cold starts to spread fast as COVID restrictions are lifted
When all three of their children developed runny noses, Jenna Giddens said she and her wife didn't think much of it.
"We kind of thought the season changed and it's just allergies, except it didn't go away," Giddens said.
When one of their 5-month-old twins started struggling to breathe they became concerned. They went to the ER where Everett tested positive for RSV and was admitted to the ICU. Twin sister Murphy soon followed.
After three days of oxygen and fluids the Giddens and their girls returned home where they were reunited with their big brother Hayes. He also tested positive but is on the mend. Giddens urges other parents to be aware.
RSV usually causes mild cold symptoms but it can be very serious for babies because it can cause inflammation in the small airways of the lungs. It also is the most common cause of pneumonia in children under the age of 1. Doctors believe the unusual summer surge is connected to the pandemic.
Symptoms of RSV in infants may include irritability, poor feeding, lethargy and sometimes fever. Older children may develop a runny nose, decreased appetite, cough, sneezing, fever and sometimes wheezing.
Read: Continuous health coverage
Copyright 2021 by WDIV ClickOnDetroit - All rights reserved.
Dr. McGeorge can be seen on Local 4 News helping Metro Detroiters with health concerns when he isn't helping save lives in the emergency room at Henry Ford Hospital.
CBS7 News 07 July, 2021 - 05:10pm
The Center for Disease Control has now issued a health advisory for the Respiratory Syncytial Virus or RSV. Doctors at Medical Center Hospital say it's odd to see so many cases in the summer, as the virus usually spreads during the colder parts of the year.
"This year, it is very unusual. We saw no RSV-positive patients last year during the summer, but we are seeing two to three this year, every day."
Here's what doctors say parents should look out for.
Pediatrician Dr. Atul Poudel says the virus may be making the rounds now that COVID-19 health restrictions are loosening, and more people are ditching their masks.
"We think that it could be because of the mask use and the COVID thing which happened last year. Because of that now, the kids are—everyone is getting out of masks, that's why this virus is getting transmitted," said Dr. Poudel.
Dr. Poudel says the virus spreads when people cough or sneeze on surfaces, which would be blocked if they wear a mask.
Those water droplets are landing on surfaces in daycares, schools and playgrounds where kids might touch them and get infected.
The good news is that RSV is not known to be fatal, but you should still be wary as it can cause severe symptoms.
"This disease gets worse between three to five days of illness. That's when the infection may go from the upper respiratory tract to the lower respiratory tract. That's when you have a condition called RSV bronchiolitis," said Dr. Poudel.
How can you keep your kiddos from catching RSV?
Start with hygiene - make sure they're using hand sanitizer and washing their hands after playing. Keep surfaces that children can reach clean.
Anyone who notices these symptoms should book a doctor's appointment.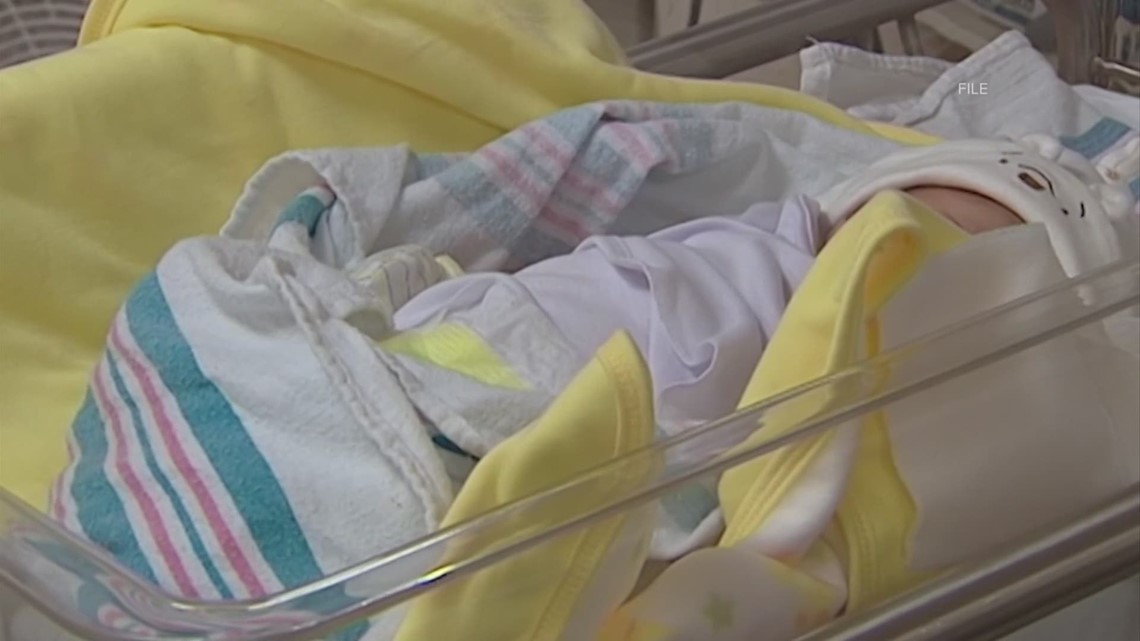 10TV 07 July, 2021 - 04:41pm
Doctors around the world, including in Central Ohio, are starting to see an uptick in a respiratory virus, but it's not COVID-19.
According to the Centers for Disease Control (CDC) Respiratory syncytial virus, or RSV, is a common respiratory virus that usually causes mild, cold-like symptoms.
Increased respiratory syncytial virus (RSV) is being seen across parts of the Southern U.S. #RSV commonly causes mild illness, like a common cold. It is leading cause of hospitalizations due to respiratory illness among children under one & can be dangerous for older adults.(1/2) pic.twitter.com/LeIMgRAhRn
The CDC says more people recover from the virus in a week or two, but RSV can escalate into a more serious issue, especially for infants and older adults.
It did escalate for Shanisty Ireland, a New Albany mother of three, in 2017.
She thought her then, 5-week-old son, Adam was developing a cold.
"[He had] a runny nose. He had a slight fever. He had some cough and congestion, and then it started to get progressively worse," she said.
Adam eventually had to spend five days in the hospital.
"It was the scariest five days of my life, hands down," Ireland said.
Shanisty's son had RSV a few years ago. Like a lot of moms, she didn't know what it was before her son was hospitalized. I'll have info on how parents can catch the differences between RSV and COVID and how they can protect their kiddos coming up on @10TV news at 5! pic.twitter.com/trf1XbYXy4
"Watching my small child who was not even five months old yet fight for his life and struggling to breathe."
Adam luckily ended up recovering from his diagnosis, RSV.
"It's a respiratory virus that causes infection every single year in all children," said Nationwide Children's Doctor, Asuncion Mejias,
"It's the number one cause of hospitalization in infants."
Dr. Mejias said usually, RSV spikes in the winter, but her colleagues are seeing more cases this summer.
At first, RSV symptoms are pretty similar to COVID-19.
Both viruses start with a runny nose and fever.
"Usually children with COVID, they resolve the disease," Dr. Mejias said.
"It's self-limited, but not with RSV. It's generally more severe than COVID in infants"
Doctor Mejias said after a few days with RSV, babies won't want to eat. They will start breathing fast, and their general appearance will get worse.
When parents do see those signs she said, "they really really need to seek medical attention. It's better to have another set of eyes evaluating these children than waiting longer."
Doctor Mejias said parents can protect their babies from RSV by not letting other people kiss, hug or touch them when they are less than six months old.
She also advises practicing good hand hygiene.
Notifications can be turned off anytime in the browser settings.