In a text message exchange posted online by fellow comedian Brian Redban, Quigley wrote: "I'm alive. I'm not great. But I'm OK."
Quigley's agent did not respond to requests for comment on her condition Monday.
When Los Angeles police officers arrived at the scene in the 200 block of Carroll Canal in Venice, they found three people dead and one woman who was taken to a hospital. Officer Mike Lopez, a spokesman for the LAPD, said there "was no indication of foul play." Police suspect that the victims overdosed but did not identify the drugs that might have been involved.
TMZ reported that the people found dead had taken cocaine laced with fentanyl and that the woman who was taken to the hospital was comedian and actor Kate Quigley. She regularly performs stand-up at venues around L.A. and has appeared in shows such as "The Office" and "Star Trek: Hidden Frontier."
The Los Angeles County coroner's office identified the deceased as Fuquan Johnson, 43, of North Hollywood; Natalie Williamson, 33, of Los Angeles; and Enrico Colangeli, 48, of Medford, Mass.
Johnson was a stand-up comedian and a writer on the TV program "Comedy Parlour Live."
Friend Danielle Collins provided a statement to The Times about the "heartbreaking news."
"Fuquan is love and light he was filled with laughs and had a huge passion to smile; he definitely left behind a legacy," Collins said. "I will always love my friend until the end of time. Beyond grateful to have known and be loved by him all these years. May he rest eternally in peace."
Another friend, Jean Chang, said "Fu" — as everyone called Johnson — was the "most authentic person that most people would have ever met in their lives."
"He would call himself out, owning up to his mistakes. He was someone who knows his strengths as well as his weaknesses. He was a very genuine person and very giving," she said.
Actor and producer Luke Barnett told The Times that Johnson was "the nicest guy in the Valley, with a smile that lit up the room and made anyone instantly feel comfortable." Johnson, he said, "could roast you so bad you were in tears, confused whether they were from laughing or crying.
"He was always the first person to push you to keep going, to create something new, to put yourself out there," said Barnett, who met Johnson 10 years ago while working at a cocktail bar in North Hollywood where the comedian was a regular. "The world just lost a great comedian and an even better dude."
This story originally appeared in Los Angeles Times.
Comedian Fuquan Johnson has died from a suspected overdose, along with two other people, according to a report from TMZ. He was 42. Reports indicate that Johnson and the other victims are believed to have unknowingly used cocaine laced with fentanyl while attending a party in Venice, California, on Friday night. TMZ says that fellow comedian and model Kate Quigley survived but was taken to the hospital in critical condition. Quigley was reportedly dating country singer Darius Rucker last year, b
Comedian Fuquan Johnson died after overdosing at a Venice home Friday night, TMZ reports. Two other victims were pronounced dead at the scene.
CHICAGO — Shortly after arriving in Chicago to celebrate Labor Day weekend, 4-year-old Mychal "MJ" Moultry Jr. was getting his hair braided when bullets shattered the large picture windows of a Woodlawn apartment late Friday, striking the Alabama boy in the head. Authorities confirmed the child, who loved trips to the beach and the movie "Cars," was pronounced dead just before 5 p.m. Sunday ...
A 34-year-old Virginia woman who was reported missing Wednesday was found dead Sunday in a "steep and rocky area" in Montana's Glacier National Park. Jennifer Coleman, who grew up near Richmond but was on vacation in Montana, was last heard from last Monday by text message. When she failed to pick up her dogs from the boarding facility on Tuesday, her family reported her missing. Her car was ...
The man refused to leave the property after being asked to do so, witnesses told police.
Police said "some sort of unknown phenomena" seem to have caused the shaking and explosion.
"I just did what I thought was right. I wanted to make sure that nobody got killed."
Fuquan Johnson, comedian and writer for the Comedy Parlour Live television series, has died at the age of 42 following […] The post Comedian Fuquan Johnson among three dead after suspected fentanyl overdose appeared first on TheGrio.
An inmate who was transferred to one of the most secure federal prison facilities in the U.S. was stabbed to death within hours of arriving, raising fresh questions about the government's ability to keep prisoners safe amid severe understaffing and a myriad of crises plaguing the federal prison system. Stephen Dwayne Cannada was killed in an altercation with a fellow inmate the same day he arrived at USP Terre Haute, a high-security prison in Indiana, two people familiar with the matter told The Associated Press. The 47-year-old was stabbed repeatedly by a fellow inmate, according to the people, who could not discuss the investigation publicly and spoke to the AP on condition of anonymity.
Rodrigo Varela/GettyActor Michael K. Williams, famous for his roles in The Wire and Boardwalk Empire, was found dead in his New York City apartment on Monday—leaving his family, co-stars, and fans in shock.Williams, who was 54, was up for an Emmy for best supporting actor in a drama series for his performance in the HBO show Lovecraft Country at the time of his death.His representatives released a statement asking for privacy for his family "while grieving this unsurmountable loss."The Brooklyn-
The body of an American man who died while climbing one of Bolivia's highest peaks arrived Sunday in the country's capital after a two-day recovery effort. Rescue workers said Daniel Granberg, 24, died atop the Illimani mountain. Condori said Granberg died at an altitude of 6,216 meters (20,391 feet) on the second day of a trek across the mountain, an iconic part of the view from Bolivia's capital, La Paz.
The actor, best known for his role as Omar Little in the hit HBO series, was reportedly found dead in his Brooklyn apartment on Monday afternoon.
In the weeks after officials in the Florida Keys shut the island chain down because of the then-new COVID-19 pandemic, Mike Forster began mobilizing to feed those he knew would be among the most in need. Restaurant workers.
Miami Dolphins sign familiar face to 2021 practice squad
The five-time Emmy Award nominee was found dead Monday afternoon at around 2 p.m. in his Brooklyn penthouse apartment
Actor Michael K. Williams, who as the rogue robber of drug dealers Omar Little on "The Wire" created one of the most beloved and enduring characters in a prime era of television, died Monday. Williams was found dead Monday afternoon by family members in his Brooklyn penthouse apartment, New York City police said. Little, a "stick-up boy" based on real figures from Baltimore, was probably the most popular character among the devoted fans of "The Wire," the HBO show that ran from 2002 to 2008 and is re-watched constantly in streaming.
The U.S. is ready to launch its coronavirus vaccine booster program as of Sept. 20. Vaccine leaders Pfizer (NYSE: PFE) and Moderna (NASDAQ: MRNA) have been preparing for this moment for months. The FDA is likely to issue a decision on the Pfizer booster, however.
Read full article at USA TODAY
FOX 11 Los Angeles 07 September, 2021 - 07:10pm
ABC7 07 September, 2021 - 07:10pm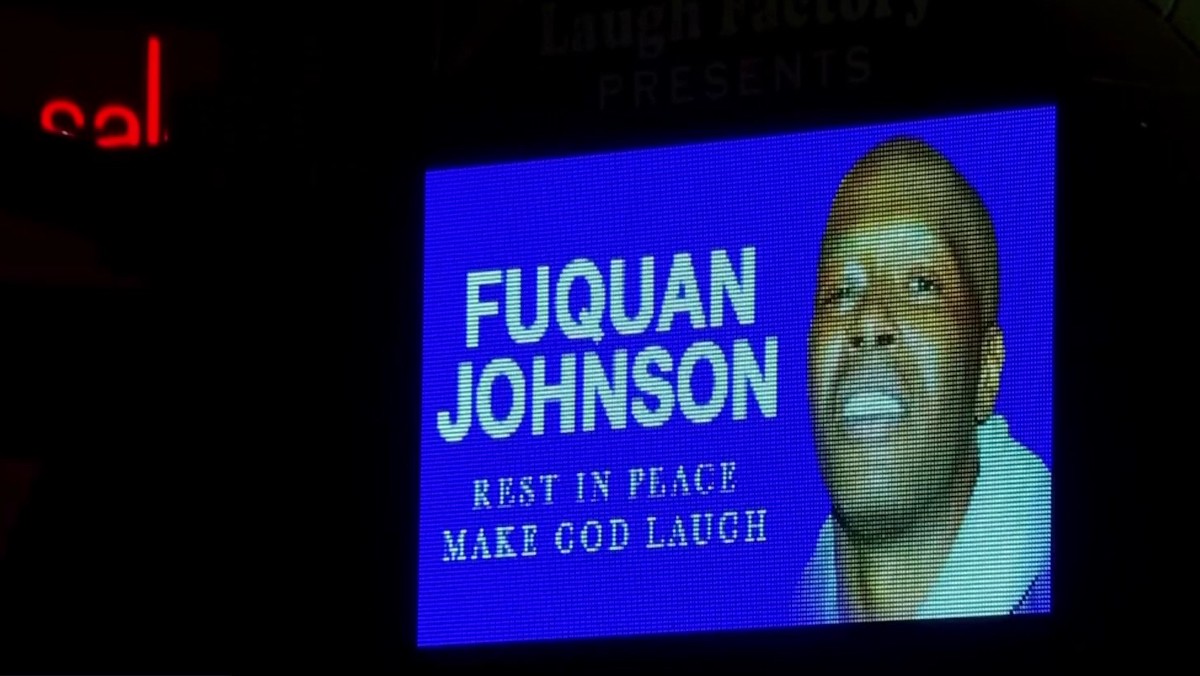 NBC Southern California 07 September, 2021 - 07:10pm
Colleagues remembered 43-year-old comedian Fuquan Johnson Sunday night following performances at the Laugh Factory in West Hollywood.
Johnson was among three people found dead early Saturday morning at a home in Venice after apparent drug overdoses.
"He was like family to the comedy community, and this club," said comedian Ron G. At the Laugh Factory. "Just a great guy. Every time somebody had a special or an open mic or a showcase, he was there in the front row cheering for everybody.
"Super-cool guy, reckless, always honest and very authentic, no matter what."
Local news from across Southern California
TMZ, which first reported the story, reported that all the victims appeared to have ingested cocaine laced with fentanyl. The powerful painkiller has been blamed for millions of overdose deaths across the United States over the last several years.
The coroner's office has not determined a cause of death. Toxicology tests generally take weeks to complete.
Police said it is too early to determine whether there will be a criminal investigation.
Firefighters and paramedics were dispatched at 12:04 a.m. Saturday to a home in the 200 block of Carroll Canal. Three people died at the scene and another person was rushed to a hospital, according to the Los Angeles Fire Department.
The three fatalities were later identified as Johnson, 43, of North Hollywood; Natalie Williamson, 33, of Los Angeles; and another comedian, Enrico Colangeli, 48, of Medford, Massachusetts, according to the Los Angeles County coroners' office.
Johnson was a standup comedian and writer for "Comedy Parlour Live.''
"I love you Fuquan Lateef Johnson! #FuFacts RIP,'' actor and director Damien Dante Wayans tweeted Sunday.
CBS Los Angeles 07 September, 2021 - 07:10pm
NORTH HOLLYWOOD (CBSLA) – The marquee at the Ha Ha Comedy Club on Lankershim Boulevard in North Hollywood displays an uncharacteristically somber message, reading "Rest In Peace Fuquan Johnson and Enrico Colangeli."
In an Instagram post, the club called both standup comics, who were regulars on the local comedy circuit, legends.
LOS ANGELES, CA – MAY 15: Fuquan Johnson is seen on May 15, 2018 in Los Angeles, California. (Photo by gotpap/Bauer-Griffin/GC Images)
The Los Angeles comedy community is in mourning after 43-year-old Johnson and 48-year-old Colangeli were discovered dead in a home along the Venice Beach canals Saturday, victims of a reported drug overdose. Another victim, 33-year-old Natalie Williamson of Los Angeles was also discovered deceased.
Comedian and model Kate Quigley, also regular performer on the LA comedy scene, was the fourth person found at the home. She was rushed to the hospital in critical condition, though she is expected to pull through as she's currently recovering in the hospital.
LOS ANGELES, CA – MAY 15: Kate Quigley is seen on May 15, 2018 in Los Angeles, CA. (Photo by GP/Star Max/GC Images)
Quigley's parents released a statement, saying, "We appreciate all the positive thoughts and prayers for our daughter. At this time, we ask that you respect our privacy as we concentrate on Kate's health and wellbeing."
TMZ was the first to break the story, reporting that the group overdose after ingesting cocaine laced with fentanyl.
"It doesn't take much fentanyl to cause you to overdose in a significant way," says Dr. Michael Daignault.
Dr. Daignault is an emergency room physician at Providence St. Joseph Medical Center and say he's seen far too many patients after they've taken drugs laced with fentanyl.
"That's always concerning for us because fentanyl is 50 times more potent than street heroin. It's a lot stronger than other narcotics," the ER doctor says.
The incredibly potent narcotic has been linked to several high-profile deaths, including Angels' Pitcher Tyler Skaggs in 2019 and music legend Prince, who passed after an accidental fentanyl overdose in 2016.
"I think we're going to see a lot more of this accidental overdose," Dr. Daignault said. "People looking to do traditional party drugs like cocaine are going to be surprised that it's going to be laced with fentanyl and they're going to be in trouble."
An official cause of death for Johnson, Colangeli and Williamson has not yet been released.
Online, the Ha Ha Comedy said they hope Johnson and Colangeli "make everyone laugh in heaven," and that the club has scheduled a memorial for them on September 15.