(((Howard Forman)))
thehowie
Israel New high for this wave (521 cases, 40 serious condition). 0.7% pos rate; 90+% Delta variant. No new deaths. The good news: Israel (66% vaccinated) looks VERY different from 18% vaccinated Russia, where deaths at record level; cases not yet peaked. www.haaretz.com/israel-news/covid-infections-in-israel-reach-another-peak-as-delta-wave-continues-1.9977082

Eric Topol
EricTopol
2 countries, Delta is dominant, UK (99%) and Israel (now 90%) Israel seems to be faring better to date for cases & outcomes. Possible explanations: —Higher & faster to 2-dose vaccination —All mRNA (higher efficacy vs infections) —Less time w/ Delta dominant —Too early to assess pic.twitter.com/opezplIYMT
Michael Fabricant 🇬🇧
Mike_Fabricant
Good to see other European countries catching up on #COVIDVaccination though #Israel is way ahead on fully vaccinated (all as of July 6th). But why does #France lag so far behind? pic.twitter.com/mXJpKSG8pF
Saad B. Omer
SaadOmer3
I talked to @robsteinnews of @NPR about the latest mRNA vaccine effectiveness data from Israel. www.npr.org/player/embed/1013496220/1013496221
Founded in 1993 by brothers Tom and David Gardner, The Motley Fool helps millions of people attain financial freedom through our website, podcasts, books, newspaper column, radio show, and premium investing services.
Think back to one year ago. No one knew then whether any of the COVID-19 vaccines in development would actually work. Fortunately, several of them did.
Pfizer (NYSE:PFE) (along with its partner, BioNTech (NASDAQ:BNTX)), and Moderna (NASDAQ:MRNA) never experienced the worst-case scenario of their vaccines failing miserably. These companies have gone on to generate billions of dollars in sales for their respective vaccines, and hope to make a lot more money.
But there are some new study results that just might put a damper on how much recurring revenue these vaccines will make. Could Pfizer and Moderna now face their second-worst scenario?
The worst-case scenario for Pfizer and Moderna was that their COVID-19 vaccines wouldn't work. The second-worst scenario might be that their vaccines work too well.
Washington University School of Medicine immunologist Ali Ellebedy led a team of researchers attempting to determine how long the protection provided by messenger RNA (mRNA) vaccines would last. Their findings were recently published in Nature magazine.
The key takeaway from this research was that the Pfizer-BioNTech vaccine could provide immunity for years. And while Moderna's vaccine wasn't included in the study, Ellebedy thinks it would likely provide similar longevity because of its similar mRNA approach.
There's a major financial implication with this recent finding for Pfizer and Moderna. If their vaccines provide protection against COVID-19 for years, the companies won't sell nearly as many vaccine doses in future as they will in 2021 and 2022.
Don't write off the prospects for these vaccine stocks too quickly, though. There are several things to consider about the results published in Nature.
First, the study conducted by Ellebedy and his team was really small: Only 41 participants were included. And the lymph-node samples that were key to the team's findings about potential longevity for mRNA vaccines were collected from only 14 people.
Also, the researchers didn't actually prove that any COVID-19 vaccine provided immunity for years. Instead, they extrapolated based on an observation that immune-system cells were being trained to fight SARS-CoV-2, the novel coronavirus that causes COVID-19, for at least 15 weeks after the first dose of the Pfizer-BioNTech vaccine. Ellebedy and team theorized that memory cells would likely last for years because of this response lasting for months.
More importantly, these findings could be a moot point because of the emergence of coronavirus variants. Even if the mRNA vaccines provide immunity for years against the virus strain that has been prevalent in the U.S., it doesn't mean that they will do so against new strains.
There has been some reason to be optimistic about the efficacy of the Pfizer-BioNTech and Moderna vaccines against new variants, including the highly contagious Delta variant. Studies have found that the mRNA vaccines produce neutralizing antibodies against the emerging variants. One study conducted by Public Health England found an 88% efficacy for two doses of the Pfizer-BioNTech vaccine against the Delta variant.
Is this good news for vaccine recipients potentially bad news for Pfizer's and Moderna's hopes of generating strong recurring revenue from their vaccines? Not necessarily. There's some additional bad news for the vaccinated that could be good news for the companies.
The Israeli Ministry of Health recently announced that based on real-world data, the Pfizer-BioNTech vaccine appears to be only 64% effective against the Delta variant. That's much lower than the 94% efficacy for the vaccine reported in May.
On one hand, Pfizer doesn't seem to have any worries that its vaccine is ineffective against the deadly new variant. However, the lower efficacy increases the likelihood that governments will want booster doses and new versions of the vaccines that target the variants.
Pfizer and Moderna want their vaccines to be highly effective, but they also hope that booster doses are needed at least annually. That's the best-case scenario for both companies. And it's a scenario that seems more likely to happen, thanks to the recent data from Israel.
Discounted offers are only available to new members. Stock Advisor will renew at the then current list price. Stock Advisor list price is $199 per year.
Stock Advisor launched in February of 2002. Returns as of 07/07/2021.
Read full article at Motley Fool
WION 07 July, 2021 - 11:12am
WPRI 07 July, 2021 - 11:12am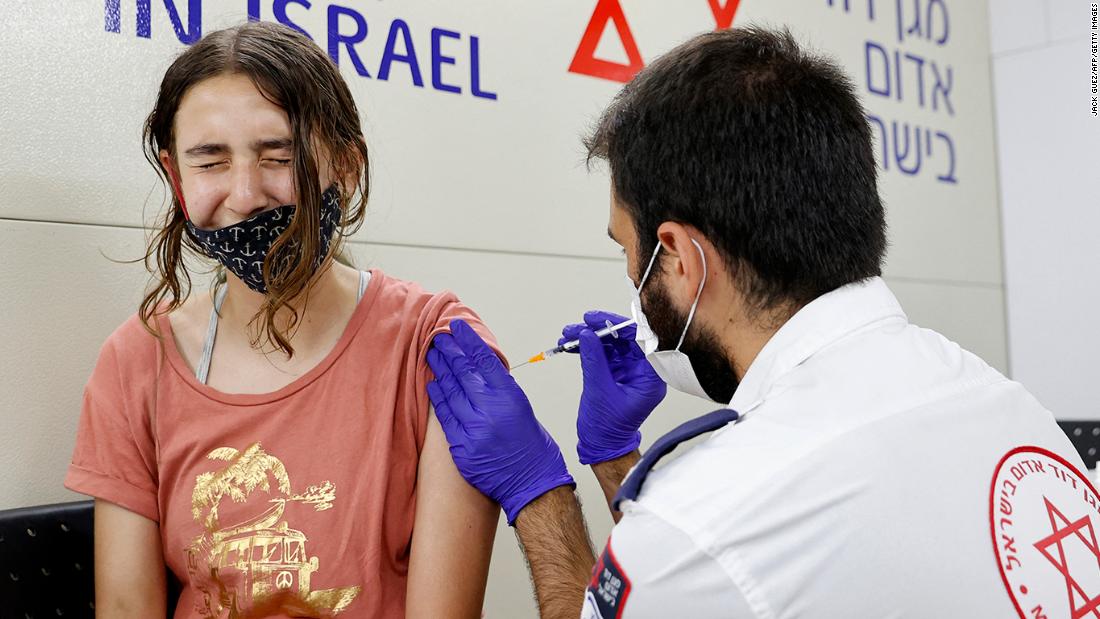 CNN 07 July, 2021 - 11:12am
Updated 10:53 PM ET, Tue July 6, 2021
CNN's Maggie Fox, Amir Tal and Lauren Kent contributed reporting.
WCVB Channel 5 Boston 07 July, 2021 - 11:12am
The Washington Post 07 July, 2021 - 11:12am
New data from Israel suggest the effectiveness of Pfizer-BioNTech's mRNA vaccine declines sharply when it's pitted against the hyperinfectious delta variant. Last week, more than half of all covid-19 cases in Israel reportedly occurred in people who were vaccinated; the vaccine appears to prevent only about two-thirds of symptomatic cases, compared with preventing almost 100 percent among older variants.
But that doesn't mean that any of us can be complacent. Covid-19 is not an imaginary problem, as too many on the right seem to believe — nor is it a solved one, as many blue states were hoping. We're still engaged in a global war against an enemy that will keep seeking new ways to kill us unless we unite to respond with overwhelming force.
Undoubtedly, many readers are rolling their eyes. Haven't they already survived two waves of this pandemic, after repeated warnings that we all might die? Didn't the states that took a relatively relaxed approach do at least as well as those with draconian mandates? Why should the hesitant jab an experimental vaccine in their arm on the say-so of the same coastal elites who practically accused them of belonging to a death cult just because they refused to act like the world was ending?
For many who are vaccine hesitant, the thought process goes something like: "The vaccines are new, and we haven't had a chance to see all the side effects, and besides, covid-19 isn't that bad unless you're old, so I'm better off taking my chances on getting the disease than jabbing that stuff into my arm."
That's perfectly understandable, particularly if you've already had covid-19. The problem is that with the delta variant, the odds of contracting covid-19 have gone up. Your odds of getting very sick if you do get covid may have gone up too. And those odds may be elevated even if you've already had covid.
Delta is clearly much more infectious than the variants that powered earlier waves — about 50 percent more than the alpha variant that first appeared in Britain, which was itself up to 50 percent more transmissible than the virus that first spread worldwide in spring of 2020. So if there is an outbreak in your area, you are more likely to catch it. One transmission in Australia, seemingly caught on CCTV, may have occurred when two people passed each other in a shopping mall.
The delta variant may also make people sicker when they do catch it, though it can be hard to distinguish the effects of a virus that is making people sicker from those of a virus that is just making more people sick. And then, of course, there's the Israeli data suggesting that the delta variant is somewhat better at infecting people who've been vaccinated.
Vaccination with the Pfizer mRNA vaccine seems to be at least as effective at preventing disease as the natural immunity acquired by surviving covid-19. It may even be better, particularly for people who had a mild case of covid-19. So if the virus is getting better at evading vaccine-acquired immunity, we also have to worry that it is getting better at reinfecting people who already had covid-19.
But those are individual calculations. The group calculations are also worrying: The more transmissible a virus is, the harder it is for the population to reach herd immunity, where the epidemic dies out because the virus keeps dead-ending at people who can't be infected. And the more cases there are, the more opportunities the delta variant will have to change into delta-plus: something more contagious, even better at making people very sick and more adept at evading whatever immunity we've acquired.
So this isn't a decision you're making just for yourself. It's a decision you're making for other people too. Are you going to hope for the best while covid-19 spreads? Or are you going to do everything in your power to defeat our common enemy?
And while the vaccinated may be nodding along at this plea to the hesitant, that's not a question merely for them. It's something we all need to demand of ourselves.
Even if you and everyone you know are vaccinated, there are still billions of people in the world who aren't. Have you investigated what charities are on the job, and given generously? Have you called your legislators and told them you want the United States to fund vaccine production and distribution for countries that can't afford it themselves? We are all in this together, and none of us will be safe until everyone is, everywhere.
Coronavirus maps: Cases and deaths in the U.S. | Cases and deaths worldwide
Vaccines: Tracker by state | Guidance for vaccinated people | Kids | How long does immunity last? | County-level vaccine data
What you need to know: Variants | Symptoms guide | Masks FAQ | Personal finance guide | Follow all of our coverage and sign up for our free newsletter
Got a pandemic question? We answer one every day in our coronavirus newsletter
Oneindia News 07 July, 2021 - 11:12am
The Washington Post 07 July, 2021 - 03:40am
The fight against the pandemic in some wealthier nations has now turned into a race between the highly contagious delta variant first identified in India and the rollout of vaccines most scientists say still provide strong protection against infection.
Some studies, however, hint at the nightmare scenario that the seemingly miraculous shots developed last year may not be quite as effective as they were against the original virus strain.
Israel's Health Ministry this week announced that the Pfizer-BioNTech vaccine — one of the world's most effective shots — was offering only 64 percent protection against infection and symptomatic illness caused by the delta variant.
The vaccine was still highly effective at preventing severe illness and death, the ministry said.
Israel has fully inoculated about 60 percent of its population, the vast majority of whom received the Pfizer-BioNTech vaccine. Some health experts criticized the Israeli study, however, and said that a number of factors — from testing to an individual's risk profile — could have contributed to the result.
But if true, such a substantial drop in the vaccine's protection level could have serious implications for countries betting almost entirely on mass immunization campaigns — as well as poorer nations that have barely started their own vaccine drives.
In Britain, where the variant now accounts for at least 95 percent of new infections, government officials have admitted that cases will soar after covid-related restrictions are lifted, despite the fact that more than 50 percent of the population has been fully vaccinated.
Officials maintain that high vaccination rates will keep hospitalizations and deaths low. In May, researchers affiliated with Public Health England found that two doses of the Pfizer-BioNTech vaccine were 88 percent effective against symptomatic illness caused by the delta variant.
"We will soon be able to take a risk-based approach that recognizes the huge benefits that the vaccines provide both to people who get the jab and their loved ones too," British Health Secretary Sajid Javid said Tuesday.
His opposition counterpart, Jonathan Ashworth, however, expressed fear that the vaccine wall the government was relying on to protect the country was "only half built."
The most important news stories of the day, curated by Post editors and delivered every morning.
The Times of Israel 06 July, 2021 - 07:27pm
Israeli health workers vaccinated with the Pfizer shot were still showing very high levels of antibodies six months after their shots, the Kan public broadcaster reported Tuesday.
The report, based on serological studies conducted by Israel's four health maintenance organizations on health care workers, who were the first Israelis to get the shots in December, found that most had antibody levels above 700. The report said a level of 150 was needed to be considered protected.
One of the health organizations also conducted a second serological study in care homes, and found that even elderly, immunocompromised patients on ventilators who were vaccinated were showing high antibody levels.
Meanwhile, a third study from Sheba Medical Center in Tel Hashomer found that vaccinated individuals who test positive for COVID-19 are less contagious than their unvaccinated counterparts.
According to the study of 9,650 workers at Sheba — conducted in conjunction with Harvard University over a period of several months — those who have received at least one dose of the COVID vaccine, and then test positive, pass the disease on to fewer people in their surroundings.
The reports come as Israel has begun debating the need for a third booster shot amid a spike in cases and signs that the vaccine was slightly less effective against the Delta variant of the coronavirus.
Top ministers met with senior health officials on Tuesday as Israel mulled the return of some restrictions aimed at curbing a recent resurgence of COVID-19 cases.
The meeting came as the number of active coronavirus cases climbed to 3,102, the highest tally since April 14, with 503 new infections Monday and another 262 infections from midnight to early evening Tuesday.
While the number of deaths and hospitalizations has remained relatively low, the figure has begun to climb. The 38 people in serious condition is the highest total since late May.
Health Ministry figures showed that the average daily caseload over the last seven days is 322, compared to a seven-day average of just 205 a week ago.
The resurgence of the virus has become a major issue for Prime Minister Naftali Bennett's new government, coming less than two months after the numbers of cases had dwindled, allowing Israel to lift most restrictions and reopen public life.
Health Minister Nitzan Horowitz said Tuesday during a conference at Ben-Gurion University in Beersheba that Israel was trying to battle the virus while avoiding "panic" and keeping restrictions to a minimum to enable the continuation of near-normal life.
The comments came after the Health Ministry released data on Monday showing that the Pfizer-BioNTech COVID vaccine appears to largely prevent hospitalization and serious cases, but is significantly less effective against preventing the spread of the Delta variant of the coronavirus.
According to the ministry, the Pfizer vaccine's effectiveness in preventing symptomatic COVID-19 has dropped by some 30 percent to 64%, given the spread of the Delta variant. The data shows that during May, when the strain was less prevalent, the vaccine was 94.3% effective.
The Delta variant, which is believed to be twice as contagious as the original strain of COVID-19, is thought to be responsible for 90% of new cases in Israel over the past two weeks.
The data, however, also shows that the vaccine is still highly effective against preventing serious symptoms and hospitalization. During May, that figure stood at 98.2%, and during June, it was 93%.
Amid the rise in COVID cases across the country, Bennett along with Horowitz instructed the Health Ministry on Monday to promote two medical studies on the need for a third vaccine shot against the coronavirus, which they said will provide decision-makers with "vital information."
The Prime Minister's Office said that the studies, which will be overseen by the head of public health services in the Health Ministry, Dr. Sharon Alroy-Preis, will "evaluate the efficacy of the vaccine and the rate at which it wears off over time."
One study will examine the effectiveness of the vaccine over time in various age groups and in various states of health. The other will examine cellular immunity (an immune response not involving antibodies) over time.
On Sunday, it was reported that the Health Ministry will recommend immunocompromised Israelis take a third dose of the Pfizer-BioNTech vaccine, even though the pharmaceutical company has not yet sanctioned the booster shot.
Health officials are concerned by data that shows immunocompromised people develop an insufficient antibody response from the two-shot vaccine to shield them from the virus. Immunocompromised individuals include organ transplant recipients and cancer patients.
On Monday, however, the Health Ministry clarified that "there is no recommendation or decision at this stage to vaccinate the general public in Israel with a third dose."
Warning of the dangers posed by the Delta variant, opposition leader Benjamin Netanyahu last week urged Bennett and Horowitz to start giving Israelis a third coronavirus vaccine dose in August, despite Pfizer tests on the third shot having not yet been completed.
Netanyahu said in a video released on his social media channels that "from conversations I've had with some of the best experts in the world, I believe the third vaccine [dose] should be given to the over-50 population starting in August, in order to finish the task by the end of September."
He said that no one currently knows when a drop in immunity will leave the population susceptible to infection once again.
"The price of being late… could be deadly and cost many lives," he said.
Israel purchased millions of vaccines from Pfizer and was among the first countries to receive them late last year. Despite having millions of unused doses, it inked a deal in April under Netanyahu for 18 million more doses, in case they were needed for booster shots. Those doses have yet to arrive.
Do you rely on The Times of Israel for accurate and insightful news on Israel and the Jewish world? If so, please join The Times of Israel Community. For as little as $6/month, you will:
That's why we come to work every day - to provide discerning readers like you with must-read coverage of Israel and the Jewish world.
So now we have a request. Unlike other news outlets, we haven't put up a paywall. But as the journalism we do is costly, we invite readers for whom The Times of Israel has become important to help support our work by joining The Times of Israel Community.
For as little as $6 a month you can help support our quality journalism while enjoying The Times of Israel AD-FREE, as well as accessing exclusive content available only to Times of Israel Community members.