By Dan Martin
July 16, 2021 | 10:34pm | Updated July 16, 2021 | 11:23pm
Even with six players on the COVID-19 injured list, a handful of new players on the roster and a season slipping away, Gerrit Cole said the Yankees' attitude heading into Friday night's game against the Red Sox was "business as usual."
The Yankees then went out and played like it, losing another game to Boston, 4-0, in The Bronx.
If you're keeping score, they're down six players due to COVID-19, have lost all seven games against the Red Sox and are nine games back of Boston in the AL East, in fourth place. And they're just two games over .500 (46-44).
Playing without Aaron Judge and Gio Urshela after they were placed on the COVID-19 IL Friday, the Yankees used a ragtag lineup to start the second half of the season, and it was about as productive as their regular lineup had been in the first half.
"We're in a hole,'' manager Aaron Boone said after the latest defeat. "We've got to play really good baseball to get back into this. We've got to have that focus walking into the ballpark every day. Rinse and repeat."
Friday presented a different challenge, as the Yankees had to start Chris Gittens and Trey Amburgey, who was making his MLB debut.
After Gittens walked with two outs in the seventh and the Yankees tried to get back in the game, they used Greg Allen and Hoy Jun Park — who was also making his MLB debut — as pinch-hitters.
Allen came up with a single, but Park grounded out.
Jordan Montgomery started strong, needing just eight pitches to get through a perfect first inning.
But after Giancarlo Stanton hit into a double play in the bottom of the first, Montgomery opened the second by walking Xander Bogaerts and giving up a double by Rafael Devers, which Brett Gardner couldn't run down in left-center.
Bogaerts scored on a groundout to short by Hunter Renfroe. After Christian Vazquez flied to the warning track in left, Christian Arroyo homered to right-center to make it 3-0.
That resulted in a chorus of boos from the crowd as Montgomery needed 36 pitches to get out of the inning.
Their biggest issue came on offense, as they were shut down by left-hander Eduardo Rodriguez, who tossed 5 ²/₃ scoreless innings.
After DJ LeMahieu's leadoff single in the first, the Yankees didn't get another hit until Rougned Odor doubled with two outs in the sixth to end Rodriguez's night.
The Yankees managed their first threat against Rodriguez with two outs in the fifth.
Gittens walked and Amburgey grounded to third, but Bobby Dalbec couldn't handle Devers' throw and was charged with an error.
With runners on the corners, Tim Locastro struck out to end the inning.
The Yankees managed just three hits, and were shut out for the second time in five games.
"It's hard,'' Montgomery said. "We lose Judge, we lose Gio. We come back from the All-Star break after a pretty good run in Seattle and Houston. To lose those bats is tough. We have to go out there, keep playing hard and rebound as best we can."
Regardless of who is — or isn't — in the lineup, Boone knows time is of the essence.
"We've got to find a way,'' Boone said. "Tonight starts with the offense. We've got to be able to mount something to give ourselves an opportunity."
Instead, the Yankees fell further behind in the division and certainly didn't look like a team that's poised to make a run. That's especially true with six of their next eight games scheduled against the Red Sox, who had lost four of five heading into the break, but played like a first-place team on Friday.
Read full article at New York Post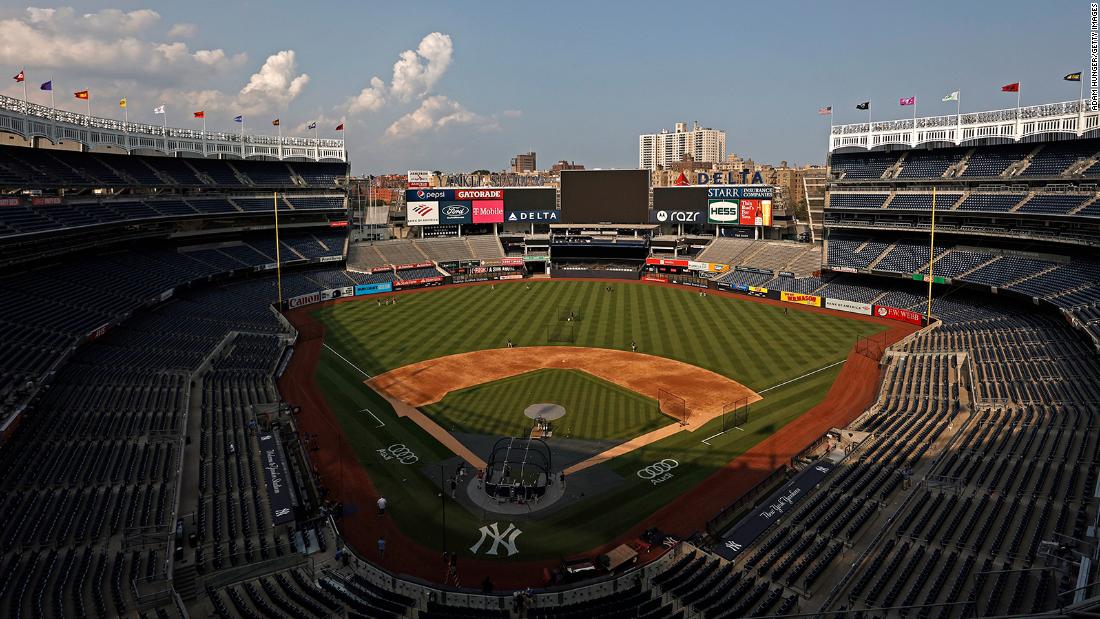 CNN 16 July, 2021 - 11:00pm
Updated 3:21 AM ET, Fri July 16, 2021
Worcester Telegram 16 July, 2021 - 10:37pm
Before anyone comments about the parking situation, the vibe inside Polar Park, and around the Canal District on a warm July night just feels right.
"It's really satisfying to see the people of Worcester really enjoying this and soaking up a beautiful summer night," Augustus said. "I think about three years ago, and could (this site) turn into something that's so much a part of the fabric of the community? So many people are creating memories here. They're coming with their parents, grandparents and it's going to be part of their family and a life experience, so it's pretty rewarding."
WooSox principal owner Larry Lucchino's vision of Polar Park becoming the jewel of the city is beginning to take shape as the area around the ballpark will positively impact the economy.
The WooSox are also using their inaugural season to work out the kinks, while changes and upgrades are continually made inside and outside Polar Park.
The Red Sox finally made Jarren Duran's promotion to Boston official before Friday's game against the New York Yankees at Yankee Stadium. Originally, he was slated to make his major league debut Thursday night, but the game was postponed due to the Yankees' positive COVID tests. Since New York started lefty Jordan Montgomery Friday in the Bronx, Red Sox manager Alex Cora decided to give the left-handed hitting Duran the night off. The 24-year-old outfielder will make his debut Saturday and face Yankees right-hander Gerrit Cole. To make room on the 40-man roster, the Red Sox designated right-handed pitcher Austin Brice for assignment.
The Red Sox also added right-handed pitcher Tanner Houck from Worcester and placed infielder/outfielder Marwin Gonzalez on the 10-day injured list with a right hamstring strain. The WooSox placed reliever Zac Grotz on the seven-day IR (retroactive to July 15) with right elbow inflammation. Houck was outstanding in his appearance against the Yankees Friday night. He worked three shutout innings and allowed only one hit to earn the save in the Sox' 4-0 win. In six starts for Worcester, the right-hander was 0-2 with a 5.14 ERA with 26 strikeouts and seven walks.
The Red Sox' Danny Santana officially began his 20-day rehab assignment Friday. He started at first base and led off for the WooSox. He began the game with an 11-pitch plate appearance that resulted in a walk. He finished 0 for 3 with one run scored and was replaced in the top of the seventh inning by Chad De La Guerra. Santana was placed on Boston's injured list on July 9 (retro to July 7) with a left quad strain. In 31 games with the Red Sox, he was hitting .167 with three homers and 10 RBIs. He also rehabbed with the WooSox from May 12-19 and batted .450 in five games with two homers and four RBIs.
ESPN Australia 16 July, 2021 - 12:00pm
Here are Saturday's top streaming options, focusing on players rostered in fewer than 50% of ESPN leagues.
Adbert Alzolay (R), rostered in 18% of ESPN leagues, Chicago Cubs at Arizona Diamondbacks: The results haven't always been there with Alzolay, due in part to his struggles keeping the ball in the park, but he's shown glimpses of promise. Despite the 4.66 ERA, he possesses a 3.73 xFIP and a wipeout slider - a pitch he throws 44.1% of the time - that fuels a 10.0 career K/9 rate. His walk rate this season is also a career best 2.6 BB/9. Even if Alzolay doesn't have his best stuff on Saturday, he gets a soft landing spot against a Diamondbacks offense that ranks 29th in baseball with an 84 wRC+ this season.
Jake Odorizzi (R), 52%, Houston Astros at Chicago White Sox: A road start against the White Sox is obviously a less than ideal matchup, but Odorizzi still deserves consideration despite the tough spot. The veteran right-hander has surrendered just three earned runs over his last five starts combined, giving him a miniscule 1.04 ERA during that stretch. Odorizzi doesn't miss a ton of bats and is allowing more hard contact than you'd like to see, so there is some risk here against a potent lineup. Then again, he's been relatively stable all season, and the Astros offense always puts him in good position to pick up a win.
Kwang Hyun Kim (L), 26%, St. Louis Cardinals vs. San Francisco Giants: One of the few stable pieces in the Cardinals rotation, Kim has been the picture of consistency lately, allowing zero or one run in five of his last six starts. He sports a 1.95 ERA over that stretch, lowering his season-long ERA to 3.11. Kim isn't a guy who's going to rack up Ks, but he's done a good job avoiding hard contact, as his 4.2% barrel rate ranks top-20 in baseball. The first-place Giants do pose a decent threat, but they're less effective against lefties, and Kim spun seven shutout frames against them earlier this month.
Alex Cobb (R), 23%, Los Angeles Angels vs. Seattle Mariners: Cobb has produced up-and-down results this season, but ultimately, there are more positives here than negatives. His 4.23 ERA is backed up by a 2.60 FIP and 3.03 xFIP, he's keeping the ball in the yard with a 56.5% ground ball rate, and his K/9 sits at a career-best 10.1. Cobb allowed zero earned runs in 5 2/3 frames against Seattle right before the break, and he draws the Mariners again on Saturday. The Mariners have been a bottom-tier offense all season long, and the return of Jarred Kelenic isn't enough to make this lineup intimidating.
Zach Thompson (R), 39%, Miami Marlins at Philadelphia Phillies: It's been only five starts, but those five starts have been awfully impressive for the 27-year-old right-hander. Thompson owns a 2.25 ERA, 1.00 WHIP and 11.6 K/9 across his first 24 big-league innings. That includes three combined starts against the Red Sox and Braves, so he's not simply taking advantage of weak offenses. Thompson will undoubtedly hit some speed bumps in the second half, but the Phillies have been well below average against right-handed pitching this season, putting him firmly in the streamer discussion on Saturday.
Ian Kennedy is a candidate to be traded in a couple of weeks, but for now he's the locked-in closer in Texas, so there's still time to squeeze some value out of him. The veteran right-hander has secured 15 saves this season to go along with a 2.67 ERA, 1.05 WHIP and 9.5 K/9, and he's still available in nearly 50% of ESPN leagues.
Catcher -- Sean Murphy (R), 49%, Oakland Athletics vs. Cleveland (RHP Cal Quantrill): Murphy has been a top-10 fantasy catcher over the last month, and his 43 RBI rank him second among catchers, so it's no surprise that his rostership is creeping closer to the 50% mark. On Saturday, the Oakland backstop has a good chance to tee off Quantrill, who owns a 6.27 ERA as a starter this season.
First Base -- Garrett Cooper (R), 27%, Miami Marlins at Philadelphia Phillies (RHP Vince Velasquez): You wouldn't know it from his rostered percentage, but Cooper has been one of the best hitters in baseball over the last month. Cooper's last 33 games have seen him hit .388/.492/.680 with seven homers, 22 RBI and 20 runs. After producing a nice stretch in May, Velasquez has fallen apart with a 7.82 ERA over his last eight outings.
Second Base -- Brad Miller (L), 5%, Philadelphia Phillies vs. Miami Marlins (Undecided): Miller hit a cold stretch in June, registering a 0.59/.256/.147 triple slash. However, he's turned things back on in July, hitting .375/.444/1.000 with three dingers in nine games. Getting the platoon edge in an offense-friendly park with eligibility at four different positions, Miller carries plenty of streaming value on Saturday.
Third Base -- Yandy Diaz (R), 14%, Tampa Bay Rays at Atlanta Braves (LHP Max Fried): Fried presents a tough challenge on Saturday, but Diaz has historically fared much better against southpaws in his career. He's also ended the first half on a strong note, batting .333/.419/.630 with two homers in his last eight games.
Shortstop -- Jonathan Villar (S), 23%, New York Mets at Pittsburgh Pirates (Undecided): If you can get past the .235 batting average, Villar can provide plenty of production in the other categories. In 68 games this season, he's posted nine homers, eight steals, and a double-digit walk rate. The fact that he can be used at three different positions only boosts his value as a streaming option.
Corner Infield -- C.J. Cron (R), 47%, Colorado Rockies vs. Los Angeles Dodgers (RHP Walker Buehler): Cron continues to flirt with the 50% rostered mark. Over the last 23 games, he's put up a .987 OPS with seven homers, five doubles, and 17 RBI. A tough bout against Walker Buehler is on tap, but I'll still take the Coors Field matchup.
Middle Infield -- Cesar Hernandez (S), 34%, Cleveland at Oakland Athletics (LHP Sean Manaea): Hernandez is hitting .300/.364/.600 with four home runs over the last 13 games as Cleveland's leadoff hitter. Not only does he get the platoon advantage on Saturday, but most of his power numbers this season have come versus lefties, as he's popped nine dingers in just 117 at-bats against them.
Outfield -- Andrew Vaughn (R), 43%, Chicago White Sox vs. Houston Astros (RHP Jake Odorizzi): Fantasy managers have been waiting all season for Vaughn to meet his sky-high expectations as 2019's No. 3 overall pick. The 23-year-old surely has some more growing pains ahead, but he's mashing right now. Vaughn's last 12 games have seen him hit .395/.417/.744 with four bombs, nine RBI and 10 runs.
Outfield -- Darin Ruf (R), 4%, San Francisco Giants at St. Louis Cardinals (LHP Kwang Hyun Kim): Ruf only enters the streaming discussion when there's a lefty on the hill, and that's the case on Saturday. The Giants outfielder has produced a whopping .476 wOBA against lefty pitchers this season, while Kim has been much more susceptible to right-handed swingers.
Outfield -- Jace Peterson (L), 28%, Milwaukee Brewers at Cincinnati Reds (RHP Luis Castillo): At 31 years old, Peterson is unlikely to reinvent himself, but he's at least made himself fantasy relevant over the last few weeks. He's hitting .353 with a pair of homers and three steals over his last 18 games, and he's been a top-15 fantasy outfielder over the last month. Castillo has righted the ship after a rough April and May, but lefty batters have hit him much harder in his career.