Also? No one is allowed to masturbate anymore.
However, our Bachelorette is intent on breaking that social construct. Katie famously entered the last season of The Bachelor with a vibrator, a move that turned her into a sex-positive hero and gave her a sole personality trait for ABC to focus on. But now she's apparently changed her positive opinions about self-gratification: Katie claims that she's heard through the grapevine that her contestants are jerking off a lot—who told her this?!?!?! And why?!—and thus imposes a masturbation moratorium. (A masturboratorium?) I guess she's hoping they'll show their dedication to her by saving their sexual energy for fantasy suites? Or something? Katie, Tayshia, and Kaitlyn talk about forcing a bunch of adult men to go celibate like it's a normal thing. They also overtly copy one of the most famous episodes of Seinfeld.
After a lot of jerkoff jokes, Katie names this the "WOWO Challenge," for "Week Off Whacking Off." The men, meanwhile, begin policing each other and calling one another out for taking suspiciously long showers.
But the burden is too much to bear for new contestant Blake. Although he's had significantly less time with Katie than contestants who have been on the show since the beginning, he uses a brief conversation with Katie to complain. "I'm really built up," he tells her. Blake elaborates that he's used to masturbating a lot, especially on weekends. (It's unclear why a "wildlife manager" has such a firmly defined work schedule—I assume wildlife still needs managing on Saturdays and Sundays, unless woodland creatures have begun observing the conventional human workweek.)
He then later shows up at Katie's room with a boombox after she has an emotional night. Blake is soaring on this season: Katie cracks up at pretty much everything he says, and they always end up kissing a lot. After Blake and Katie make out extensively, the show gives us an extended montage: Blake says it's "time for my happy ending" before placing a "do not disturb" sign on his door and turning off his lights. Then there's a shot of a sprinkler rising out of the ground and spewing water. The montage is meant to mirror the way fantasy suite dates end, except instead of portraying the consensual, romantic lovemaking the show builds toward, it's portraying a dude in his own room going to town on himself.
Overall, the challenge raises a lot of questions: Why did Katie, once a masturbation enthusiast, prohibit others from masturbation? Where exactly are these guys jerking off, considering they're all living in communal spaces while being subject to nonstop filming? Are they allowed to use the hotel TVs to order porn? Is it OK if we acknowledge that it's healthy and normal for people to masturbate, but just all mutually agree not to talk about it, like we were doing before this episode? That would be great.
But most importantly: Why the celebratory tone for Blake? Everybody on the show agreed to stop jacking it—and Blake gets a damn montage for making a withdrawal from the wank bank? Does Katie know that he's blatantly breaking her beat-off ban? Blake should suffer consequences for his inability to manage his own wildlife—instead, while all the other men are practicing self-denial for Katie's sake, Blake gets to make out with Katie and masturbate while becoming a front-runner for the season. What a jerkoff!
Last episode, Hunter was criticized for his aggression. Monday night, a new element was added to the Hunter hatred: Several contestants accused him of being a Bachelorette obsessive, claiming that he has an encyclopedic knowledge of the show he is using to scheme his way through the season. From time to time, the show has played up certain contestants for their fandom of the franchise—on JoJo's season of The Bachelorette, one contestant's listed profession was "Bachelor Superfan," but I can't remember it being used as an insult like it was Monday night.
The group gangs up on Hunter on a date hosted by Shea Couleé and Monét X Change, a pair of former winners of RuPaul's Drag Race. I kind of assumed when the drag queens walked out, the date was going to be drag-related—but no, for some reason it's a "debate"-themed date, during which all the men stand behind lecterns and say mean things about each other. It's completely unclear why Shea and Monét have been brought in to serve as debate moderators, although they do a fine job, wisely encouraging everybody to roast Hunter as aggressively as possible. James accuses Hunter of commenting on Bachelor fan message boards, a truly devastating zing.
The animosity grows, as several men personally address Katie about Hunter. At the end of the episode, Katie says that she doesn't need to have a cocktail party because she knows who she's going to pick—then she starts the rose ceremony by pulling Hunter aside for one last conversation to get final "clarity" on her choice before making him get back on the stage. (Katie's good at the whole drama thing.) But when all is said and done, Hunter gets sent home, unable to sufficiently refute the superfan slander.
When the men started bringing up Hunter's fandom, I loved it. "Holy crap," I thought, "that's so embarrassing! Imagine being outed as caring obsessively about this dumb TV show!" Then I remembered … I care obsessively about this dumb TV show! I have the encyclopedic Bachelor knowledge they're making fun of Hunter for having! I frequently post online about this show! I tell anybody who will listen who I think will be this season's top four! (Andrew, Blake, Greg, Michael.) They're not just roasting Hunter—they're roasting me! And if you're reading this, they're roasting you too!
I wasn't a fan of Hunter—until his fellow contestants started attacking him for watching too much of this show. It's unclear how accurate the accusations are, but I resent that anybody would be so mercilessly mocked for our perfectly normal, not-at-all-weird habits of overanalyzing this perfectly banal show which probably doesn't require overanalysis.
And by the way, the other guys are lying if they claim they don't also watch this show obsessively. (Remember last episode when Blake walked into the room and Aaron immediately knew who he was? HOW'D YOU PULL THAT OFF, BUDDY? DO YOU KNOW HIM FROM SAN DIEGO TOO?) But more importantly, Bachelor superfans are people too! We deserve love even though our perception of love has been permanently skewed by this TV show! Don't insult us, or else … or else we'll write lengthy posts online about your show!
As a white person, I feel strongly that it should be illegal for white people to play the ukulele. It's a rule which Connor repeatedly broke on this season, making him my least favorite guy on the show. But even I felt a little bit bummed by the way Connor got axed Monday night.
Connor hit it off with Katie from the moment he walked out of a limo wearing a cat costume, so Katie decided to put their relationship to the test with a one-on-one date. It was a fun date—a grilling session with Kaitlyn and her man Jason, a great couple that proves the best outcome from being on The Bachelorette isn't actually winning, but becoming famous enough to meet other hot people who have been on different seasons of The Bachelorette. Everybody has a great time—and Katie and Connor make out voraciously, as they have several times before—but Katie then announces that she firmly feels that her vibe with Connor is a friendship rather than a relationship.
So Katie visits Connor before the dinner portion of the date. She's crying, and Connor knows what's up—at one point he says "I know where this is going, it's OK." She eventually tells Connor that she simply doesn't feel a spark when they kiss, a feeling she expresses over and over again. (This is possibly related to the fact that the first time they kissed, Connor was wearing full cat makeup, which smeared all over her face.) Connor is heartbroken and starts to cry.
There is no good way to tell someone you get along with that there's no romantic component to your relationship. It's obviously unfair, and it's obviously going to hurt their feelings, and it's obviously going to make them feel bad about things they can't change. But Katie really focused on the kissing element, leading Connor to shout in an interview: "How bad of a kisser am I? Fuck!"
This could ruin his future. He's going to go home and turn himself into the world's worst kisser in an attempt to fix the kissing problem. He'll get radicalized by "how to kiss" videos on YouTube and the next time he's with a woman he's probably going to shove his entire tongue down her throat while wildly gyrating his lower jaw. But I'm thinking all he has to do is not wear full cat makeup the next time you have a first kiss with somebody. It's probably hard to get that image out of your head!
This was the second straight episode featuring tertiary Bachelor character Franco. Last week, he helped explain the sport of Bash Ball to the contestants, which is strange, because in every other episode he'd ever been on, he'd been the photographer in a wedding-themed photo shoot. Luckily, on Monday night … he was a photographer in a wedding-themed photo shoot.
By my count, Franco has now been on the Bachelor franchise four times. Considering the show is now including him on non-photography dates, it's clear the producers are trying to make Franco a thing. So it's time for us to have a talk about something: Why do all the pictures Franco takes suck?
I'm not actually sure Franco is a photographer. On his Instagram—where all the pictures are suspiciously in focus—he calls himself a "designer, creative director, writer, and producer." Maybe his lack of photography gigs explains why he's dependent on reality TV appearances?
The contestants on this season got really good at banding together and deciding which guy they wanted to get eliminated. It started with Aaron warning Katie about Cody, but the whole cast got in on it when the men alerted Katie that Karl's accusations were all bogus. Next it was Thomas, who supposedly wanted to become the next Bachelor; and Monday night it was Hunter, the Bachelor superfan. Each time, men alerted Katie to the fact that something was supposedly off with their enemy's behavior or motivations—and each time, she listened to them, and kicked the accused contestant off. (Most of them deserved it, but I still believe Thomas got done dirty.)
But Monday night, the wheel turned. In the rose ceremony, Katie did eliminate Hunter—but she also eliminated Aaron, James, and Tre, the three men who specifically used their time in Monday night's episode to warn Katie about Hunter. All three were extremely devoted to crafting drama—especially Aaron, whose entire stint on the show revolved around getting upset at other guys.
Maybe someday, there will be a Bachelorette who's just looking for someone who'll spend all day every day complaining about other people—but until then, this remains a strategy for unserious contestants. Hating on everybody might help you outlast the show's skeeziest guys, but eventually, they run out, and then you've got nothing else.
Juliet and Amelia recap Episode 6 of 'The Bachelorette'
Kevin, Danny, and Warren weigh in on who's most prepared to lead their teams going into the new NFL year
Musa and Ryan are joined by Ian Wright to discuss the impact of the weekend's finals and react to Lionel Messi winning his first major international tournament
Plus, Mike and Jesse give an NBA Finals update, discuss Novak Djokovic's card value, and answer mailbag questions
Danny, Danny, and Craig decide which fantasy players are worth the risk in 2021
Read full article at The New York Times
PEOPLE.com 13 July, 2021 - 04:00pm
At the halfway point in her journey, Bachelorette Katie Thurston felt she had a "solid group of guys," she declared at the top of Monday's episode.
"There are more than one guy right now that I feel a strong connection with, maybe even falling for," she told co-hosts Tayshia Adams and Kaitlyn Bristowe. Among those men: Andrew S., Blake, Greg and Michael A.
Katie also wanted to issue her remaining suitors a challenge to "withhold their self-care as long as possible." Tayshia and Kaitlyn needed some clarification on what that meant, so Katie explained that a "friendly handshake with themselves" was off-limits.
"I cannot wait to see the boys and give them little look, make it a little hard for them," Katie told the cameras of the Seinfeld-style contest she devised.
Kaitlyn then informed the men that Katie wanted them to stop pleasuring themselves. "Stay off the lotion, stop running the shower," she ordered.
Some of the guys, like Blake, thought this would be a tough challenge, but virgin Mike P. said, "I've been mastering this my whole life."
Katie selected Justin for her first one-on-one date of the week and they got a glimpse of their potential future when Bachelor Nation photographer Franco took their wedding photos. Katie wore a white wedding dress and Justin put on a suit; they exchanged vows at an outdoor ceremony.
"You are the paint that colored our world. Our marriage is a canvas, so let's paint something beautiful," Katie said to Justin at the altar.
No one officiated the wedding, so Katie took it upon herself to cue the "you may kiss the bride" moment, and then Franco snapped photos. The fake newlyweds posed for the camera and smashed cake in each other's faces. "We have this connection that is so strong," Katie said of Justin.
When Katie and Justin sat down for dinner afterward, she opened up about how she finds weddings difficult because her dad is no longer around to walk her down the aisle. "It does bring up a lot of pain," Katie told the investment sales consultant. "My dad won't be able to do that for me. Even when it comes down to a proposal, he's not around to give his blessing."
Katie also shared that, to complicate matters, "Before my dad passed away, I also found out he was not my biological father. My mom kept that a secret." Her biological dad wanted to have a relationship, but Katie said she found it hard to form a connection with her biological dad while mourning the man who raised her. "Anytime I tried to get close with him, it's just a reminder of the fact that my dad who raised me is no longer here," she said.
After hearing Katie's story, Justin said he wanted to be there to comfort her. "You continue to amaze me with the strength that you have," he said.
They wrapped up the night by dancing to a private performance by singer Max. "Justin is someone I can see myself falling for," Katie said in an on-camera interview.
Blake, Andrew, Michael A., Greg, Aaron, Mike P., Brendan, James, Tre and Hunter embarked on the group date, hosted by RuPaul's Drag Race All Stars' Monét X Change and Shea Couleé. The queens poked fun at some of the men before informing the guys that they'd be competing in The Great Royal Debate, where they had to share why they deserved to be there with Katie in the end — and why the other guys didn't.
Monét X Change and Shea Couleé helped the men brainstorm their presentations and jokes, and a lot of the guys planned to make digs at Hunter. During the prep process, Shea Couleé asked Hunter whether he loved Katie, and he said he didn't feel ready to use the L word quite yet. "I don't think that I'm in a place right now where I've been able to explore that enough to say that," he said.
Having overheard Hunter's conversation with Shea Couleé earlier, Tre called out Hunter for flip-flopping, and Aaron and Brendan piled on insults, too. Hunter tried to be the bigger man, though. When asked by the drag queens if he had any insults to dole out, Hunter declined and instead used his time during the debate to share his feelings about Katie.
"When I do find the woman I'm going to spend the rest of my life with, I will never take it for granted," he said. "And I think that woman's you."
After the debate wrapped, Katie told the queens she felt "surprised" by what she learned about Hunter. So during the afterparty, she gathered more information about the situation.
Tre recounted the story of overhearing Hunter telling Shea Couleé before the debate about how he didn't feel like he loved Katie. And Aaron told Katie of Hunter, "The things he says really don't match up."
Katie walked out of their conversation declaring, "I need to like throw up" — and then went to the restroom and did exactly that. When she returned, Katie informed the men she did not want to continue the night and would not be handing out a group date rose.
Following their initial spark, Katie picked Connor — who showed up dressed as a cat on the first night — for her second one-on-one date of the week. "I've never been this excited for a first date," Connor told the cameras.
But Katie felt that she and Connor were only in the friend zone. "We are missing this physical connection," she said in an on-camera interview. "When we kiss, I don't feel that spark or that passion. My hope is that we can get beyond that."
For their day together, Katie and Connor went double dating with Kaitlyn and her fiancé Jason Tartick. They played two-on-two volleyball and a trivia game about their relationship, and later grilled up some hot dogs and hamburgers.
Meanwhile, Katie told Kaitlyn, "I really just love everything about Connor."
Then Katie and Connor shared that all-important kiss. "It could not have gone better," Connor said in an on-camera interview.
As Connor spruced up for the evening portion of their date in his room, Katie couldn't bring herself to get ready. She knocked on Connor's door looking visibly upset. Though Connor likely sensed the breakup coming, he embraced Katie as she cried and told her, "It's okay."
"It's hard for me because, I don't know, I just feel like with us, I want it to feel like you are someone I could walk away with at the end of this," Katie told Connor. "And it's like the most heartbreaking thing, because I remember how I felt when we first meant … You've done nothing wrong in this."
Katie and Connor said their tear-filled goodbyes and to the cameras, he wondered, "How bad of a kisser am I?"
Connor paid the other men a final visit to bid them farewell, and his departure shocked the group. "I'm shook right now," a crying Tre told the cameras.
Blake used the moment to build his relationship with Katie, who'd been crying back in her suite. He showed up outside her balcony and held up a boombox, à la Say Anything. Katie invited Blake up and they kissed passionately in the hallway. "To see Blake standing outside, am I dreaming?" she said in an on-camera interview.
Blake said when he saw Connor return in tears, he couldn't help but think about Katie and wanted to comfort her. "This is just one of those moments where, if we're going to be together, being there, being supportive and just kind of coming in to hopefully soothe you, like … I was looking forward to come and see you," he said.
"That was the greatest surprise ever," Katie replied.
Impressed by the romantic gesture, Katie continued to kiss Blake. "With Blake and I, there's just overflowing passion," she told the cameras. "There's this undeniable chemistry. With Blake, this is what I'm looking for."
Blake felt the passion as well. "I'm certain that I'm falling for Katie and she's falling for me, too," he said. "It's impossible to deny that Katie and I are going to fall in love."
After what Katie called a "hard" and "emotional" week, she headed into the rose ceremony with her mind set on the future.
"I'm at the point where time really isn't going to make a difference tonight," she told the men. "I have strong relationships with men in this room and I owe it to them, I owe it to myself to just be very intentional with where my heart is and what I want to do with my time going forward. So that being said, the cocktail party is canceled. I know within my heart exactly what I want to do."
Hunter assured her again that he came to find love, but he returned inside without a rose and rejoined the group. Katie ultimately gave roses to Blake, Andrew, Greg, Michael A., Mike P. and Brendan — sending Hunter home, as well as Aaron, James and Tre.
"I don't think she made the right decision," Hunter told the cameras. "I want her to want me, and she didn't. She didn't 100 percent want me here, so f--- that."
The Bachelorette airs Mondays (8 p.m. ET) on ABC.
Entertainment Tonight 13 July, 2021 - 04:00pm
The episode began with Katie and Justin growing both their physical and emotional connections, but the second man to receive a one-on-one wasn't so lucky.
The group date saw one man's integrity being questioned, before a canceled cocktail party and a small number of available roses made all the guys wonder where they stood.
Keep reading for the full recap of episode six of The Bachelorette.
While speaking to co-hosts Kaitlyn Bristowe and Tayshia Adams, Katie revealed that she came up with "a fun challenge" for the guys that involves waiting until Fantasy Suites to have any sort of sexual release as they "withhold their self-care as long as possible."
Kaitlyn was the one to break the news to the men, much to her delight. While Katie didn't expect the guys to "last 24 hours," Mike P., who previously told the Bachelorette that he's a virgin, was up for the task.
"These guys are screwed," he joked. "I've been mastering this my whole life."
The dates for the week started on a high note, when Katie and Justin donned wedding attire, exchanged vows and posed for pictures, as they pretended it was their wedding day.
Justin was "nervous" going into the one-on-one, a feeling Katie shared as she looked to discover if her spark with the investment sales consultant is "actually a connection that could lead to an engagement."
Katie found just that, though, when Justin vowed to support her "through all of life's ups and downs and do everything in my power to keep that infectious smile on your face." A wedding dress-clad Katie likewise gushed over Justin, promising "to chase you, to cherish you, to protect you."
When they arrived at the nighttime portion of their date, Katie said that the date had been challenging for her because it reminded her that her late dad won't be there to walk her down the aisle on her actual wedding day.
She got even more personal from there, revealing that, before her dad's death, she found out that he was not her biological father, and that the man who is wants to have a relationship with her.
"How do I build a relationship with this man I knew nothing about, while also mourning the passing of the man who raised me?" Katie asked Justin. "Anytime I try to get close with him, it's just a reminder of the fact that my dad who raised me is no longer here."
Justin responded by praising Katie's "strength," and leaving the Bachelorette feeling "happy and comforted." After offering Justin the rose, Katie and her date extended their night with a private MAX concert.
In confessionals after the fact, Justin celebrated taking things to "another level" with Katie, while she remarked that the date was "the beginning of what could be love."
After greeting her group date suitors, Katie led them into a room where drag queens Shea Couleé and Monét X Change explained that the guys would be participating in a roast of sorts called The Great Royal Debate.
Aaron predicted that much of the attention would turn to newly-emerged villain Hunter, but the software strategist planned to "leverage" such negativity in order to set himself apart.
When things officially got underway, James and Greg were blasted for being "too nice" and "lame" respectively, before Brendan upped the ante by pointing to Hunter as the man who's least compatible with Katie.
Brendan continued by calling out Hunter for having a top four list of the remaining men. Though Hunter denied such a list, viewers saw him share exactly that with Greg earlier in the episode. After hearing the list, Greg said that Hunter was "calculated" and "a super-fan of the show," feelings that were supported by Aaron and James.
"You're a super-fan. You're commenting on the Bachelorette blogs and forums," James said to Hunter during the group date, before Aaron referred to the man in question as "a leprechaun."
Hunter didn't fire back with insults of his own, which left Aaron feeling like he was "phony."
On the nighttime portion of the date, Andrew S. told Katie that he's "really starting to feel this," before Greg asked Katie how she felt about their relationship.
"I am falling for you," Katie told Greg. "It's exciting. It's scary."
The romance came to a rapid stop there, when James, Aaron and Tre all expressed their concerns about Hunter to Katie. The Bachelorette went to the source next, and Hunter claimed that he's "not being calculated."
All the drama made Katie physically ill, as she rushed to the bathroom to vomit. She quickly ended the date after that, opting not to hand out a rose at all.
Connor B., who stole Katie's heart night one when he showed up dressed as a cat, felt like he was in "a dream" when he was invited on the second one-on-one date of the week. Katie, though, decided to use the date as "the final test" to her and Connor's relationship.
"I love who he is. I love talking to him. But I've been in somewhat of a friend-zone," she explained in a confessional. "We are missing this physical connection. When we kiss, I don't feel that spark or that passion. My hope is we can get beyond that."
The pair met up with Kaitlyn and her fiancé, Jason Tartick, where they enjoyed an afternoon of games and grilling. As the double date progressed, Jason said he was "a huge fan" of Connor, while Kaitlyn told Katie about how she and her fiancé had a friendship bond before a romantic one.
Katie was willing to give Connor one last chance in hopes of a "magic kiss" that would change everything. The pair did make out while Kailtyn and Jason watched on, but it didn't change things as Katie had hoped.
While Connor was getting ready for the nighttime portion of the date, he was looking ahead to his future with Katie. "I want her to meet my family. I definitely see myself falling in love with her. I feel like she can see a future with me," he said.
Katie didn't feel the same way, though, and showed up to Connor's door crying.
"The more I learn about you the more I realize just how great of a man you are. The song you wrote me, that meant the world to me," Katie said, before breaking down as she told him, "I can't even look at you right now."
"It's OK. I know where this is going. It's OK. It is. It's OK," Connor replied, before offering Katie a hug and wiping her tears.
"I really wanted to feel like you were someone I could walk away with at the end of this. It's, like, the most heartbreaking thing, because I remember how I felt when we first met. I hope you know that. You've done nothing wrong in this," Katie told Connor, before explaining her reason for the split.
"When we kiss, there was something missing in that kiss," she said. "That was hard for me, because everything about you, everything about us, was so easy, so good. But when we kiss, that was the one and only time when something was missing."
Through tears, Connor told Katie, "It's OK, because it's worth it to have met you." After exchanging hugs and good wishes, a sobbing Katie broke down as she left Connor's room.
"I knew saying goodbye to Connor would be hard, I just didn't expect it to be this hard. He's such a good guy. He knew walking in there I was probably about to break his heart, I was about to say goodbye, and he still put me first. He put me first," she said in a confessional. "That's a man you'd be lucky to be with. I just hope that when he leaves here tonight, that he knows just how worthy he is of finding love."
Meanwhile, Connor called the breakup "heartbreaking," before asking himself, "God, how bad of a kisser am I? F**k."
Connor made his way to the guys next to say his goodbyes. His tearful exit left Tre, Greg, Hunter and Brendan crying, while James admitted, "It suddenly just feels so much realer and scarier."
While Katie was still crying over Connor, Blake showed up outside of her window, where he played the song they danced to on their one-on-one date in a speaker over his head. Katie invited him up, and they made out all over the place.
"I had no idea how romantic he could be. When I'm with Blake I don't think about anything else except him and I. I'm in trouble," Katie said. "With Blake and I, there's just overflowing passion. There's this undeniable chemistry. With Blake, this is what I'm looking for."
"I'm certain that I'm falling for Katie and she's falling for me too," Blake said. "It's impossible to deny that Katie and I are going to fall in love. It's so exciting to think that that's gonna happen, and it's going to happen soon. I feel like Katie's going to be my fiancée."
Katie delighted the men when she arrived to the cocktail party, but quickly changed the mood when she announced that she was canceling the event and heading straight to a rose ceremony because she had already made her decision.
As the men filed into the rose ceremony, they noticed that only six roses were out, meaning four of them would be departing. Katie shocked everybody when she called Hunter's name first, but, instead of giving him a rose, she asked to speak to him for "clarity." The pair returned shortly thereafter, without a rose for Hunter.
Blake, Andrew S., Greg, Michael A., Mike P., and Brendan all received roses, while Aaron, Hunter, Tre, and James were sent home.
"Mom and Dad, I'm the same kid you raised. Grew a little bit, got hurt," Tre told the cameras after his elimination. "It's been a beautiful journey. I learned a lot. I'm never going to forget Katie."
Hunter wasn't so gracious, stating, "I don't think she made the right decision. I want her to want me here and she didn't. She didn't 100 percent want me here. So f**k them."
By signing up, you agree to our Terms of Use and Privacy Policy
® & © 2021 CBS Studios Inc. © 2021 CBS Television Distribution and CBS Interactive Inc. All Rights Reserved.
E! News 13 July, 2021 - 04:00pm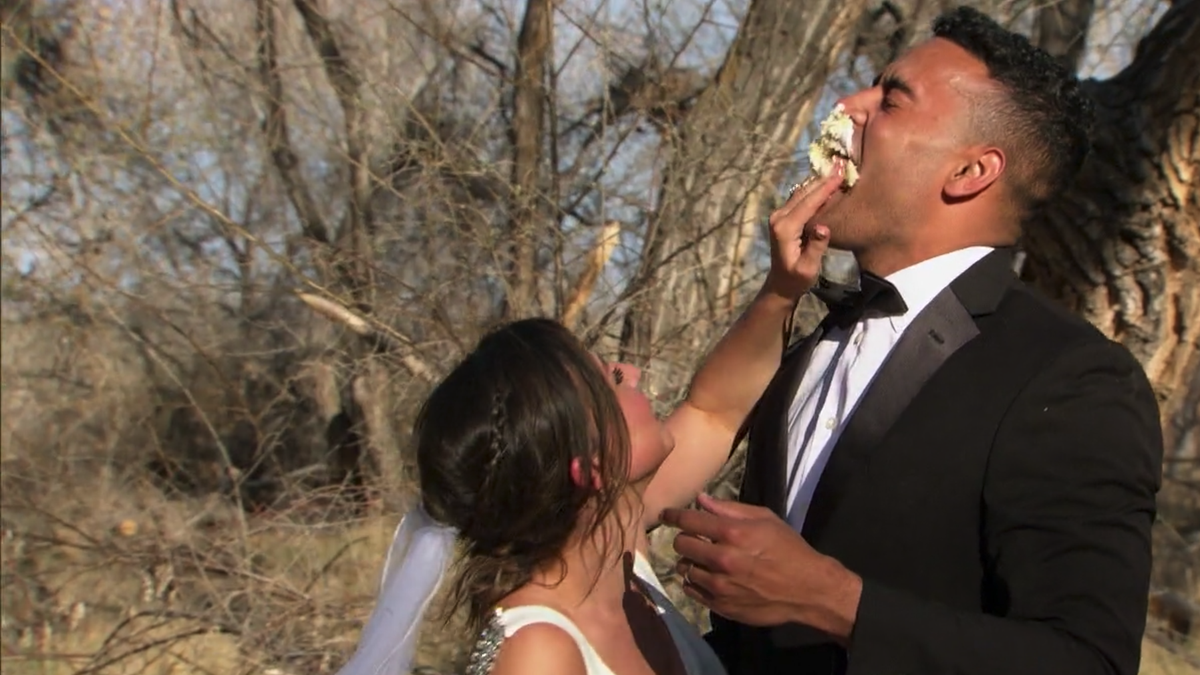 The Takeout 13 July, 2021 - 04:00pm
She ate cake out of a man's nostrils.
Perhaps y'all think I am exaggerating for comic effect. Friends, I am not.
She also ate cheese, but only the metaphorical sort and only the portion Blake was serving. We'll get to that later.
Oh, and one more thing, as a fun little bonus for the six of you who fall in the center of the Venn diagram connecting "Reads column about food in Bachelor franchise" and "knows all the words to Les Misérables": Change the words "heart"and "love" for "nose" and "cake." It has brought me joy for several hours now.
A deep-fried tentacle of eldritch horror, a bad roast, crispy hot dogs, cheese from Connor, and cheesier cheese from Blake. Also, there were many, many euphemisms for masturbation. She didn't eat euphemisms for masturbation, but if she had, it would have been a veritable feast.
Before the episode gets cracking, Katie challenges all the dudes to go a week without masturbating. It is very weird, but not as weird as the fact that the woman who brought a vibrator to her limo entrance on the last season of The Bachelor uses a series of increasingly awkward euphemisms for masturbation instead of just saying "masturbation." It's also pretty weird that they're aping a 1992 Seinfeld episode, but hey, whatever makes you happy, girl. But it does lead to Connor trotting out an increasingly surreal (and thus funny) series of euphemisms of his own, among them:
The dudes are correct in that Hunter is, in fact, full of shit, and we know that to be true because Hunter is the latest in a long line of Bachelor Nation also-rans to somehow forget that if they lie in front of a bunch of cameras those lies will definitely wind up on television. No one—I repeat, no one, not even sweet Michael A. or good ol' Greg—gets the rose. Oh, and in the post-credits scene, Shea makes a solid Stagecoach joke. Make Shea Coulée the new host of Bachelor In Paradise, sign the petition now at change.org.
But neither of them cries as much as the other dudes in the house. Seriously, they WEEP.
Should you run into Connor in real life, please keep that dear sweet man away from any barricades you might encounter.
Seriously, mark it down: Blake is going to win. Apologies, Greg/Michael A./Justin/Andrew S./other people whose names I don't remember because you're for sure not actually in the running, but you're all just lining up for a Connoring now. And at the rose ceremony, Katie sends all but six of the dudes—plus Justin, who already had his rose—packing. Bye, Tre. Bye, Aaron. Bye, Hunter. Bye, Turtleneck Guy.
After all is said and done, Katie looks around at the destruction she hath wrought. Somewhere offscreen, poor sweet doomed Greg contemplates the massacre:
Is this even a question?
Access 13 July, 2021 - 04:00pm