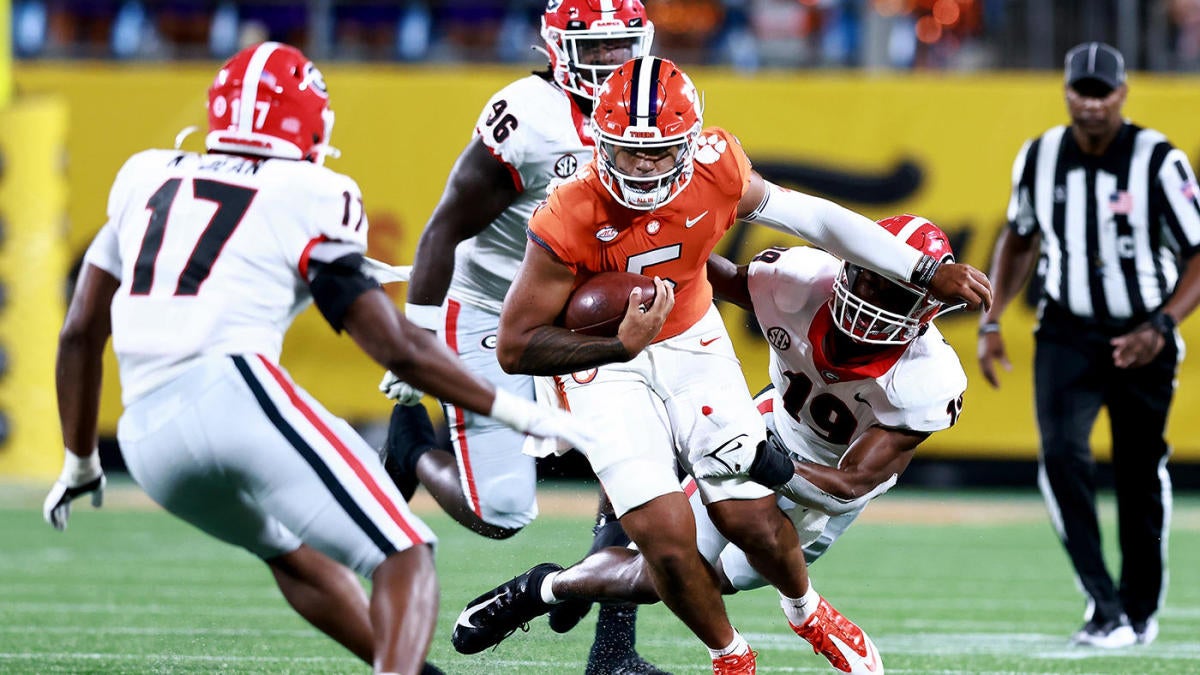 CBSSports.com 05 September, 2021 - 05:41pm
No result in college football during Week 1 left a bigger impression than No. 5 Georgia taking down No. 3 Clemson 10-3 in Charlotte on Saturday night. The Bulldogs were a short underdog, so the win won't get categorized as a major upset as much as the kind of victory that sends a message to the the SEC and rest of the country as to where this team, with its "unfinished business," stands among the top five.
Georgia's defense was touted as one of the best in the country, and it lived up to that reputation, limiting Clemson to just 180 yards of total offense. The three points scored by Clemson on Saturday night were the fewest since 2007 (coach Dabo Swinney took the reigns in 2008).
Quarterback D.J. Uiagalelei, in his third career start for Clemson, threw for 178 yards on 19 of 37 passing as the team netted just 2 rushing yards. Most of the evening saw Uiagalelei scrambling to avoid pressure from Georgia's defensive front, failing to do so to the tune of seven sacks that totaled 46 lost yards.
Georgia's defense has been all over D.J. Uiagalelei tonight 😅 pic.twitter.com/XqH3TDoIy7
For much of the game, Georgia was riding the advantage of its lone touchdown being a pick six of Uiagalelei with 2:58 left in the second quarter. But compared to Clemson, it had threatened more often -- missing one field goal and then later converting another -- while generally having more success that helped the ongoing field position battle.
GEORGIA PICK-SIX 🏡☎️ pic.twitter.com/z8afd8J0Ua
Clemson now faces a situation it hasn't dealt with in quite some time, battling back from an early regular season loss in its pursuit of a College Football Playoff appearance. The Tigers haven't backed down from aggressive scheduling and often face SEC opponents in the non-conference schedule beyond their annual finale against South Carolina, but now the pressure is on Clemson to run the table if Swinney is going to be back in the College Football Playoff for a seventh straight season.
Georgia, meanwhile, now has a victory against another top-five opponent that cannot be matched when comparing national championship contenders at this time. Should the Bulldogs slip up in the regular season or even take a loss in the SEC Championship Game, this win against Clemson could prove to be a tiebreaker that keeps them alive in the playoff race.
Let's dive into three takeaways from the game and what to know about each team moving forward.
We enter nearly every season tapping Georgia as one of the handful of teams with enough talent to win a national championship. The Blue Chip Ratio measures how many five- and four-star players you have in your recruiting classes compared to three-star prospects or lower-rated players. Georgia regularly finds itself not only over the 50% threshold believed as a necessity to win a national title but with a number that makes it one of the two or three most talented teams in the entire country. But translating that talent into on-field success in a sport with razor-thin margins can be tough. The programs that find ways to do so end up winning championships, which is why Georgia relished this opportunity.
"You're either elite or you're not; that's what we've been saying all week," Kirby Smart told ESPN after the game, noting that the entire team had pointed to this game as a chance to test itself against one of the nation's best programs.
If Georgia had lost but played just as well, it still would have a path that involves accomplishing all of its goals: SEC East title, SEC championship, College Football Playoff berth. But now, it walks down that path with a quality win and the confidence from having played in a playoff-like atmosphere, faced adversity and emerged on the other side victorious.
Officially, Georgia's starting defensive tackle finished with just three tackles, two of them for a loss and one sack, but the senior from Charlotte made his impact felt nearly every time he was on the field. The pocket was constantly collapsing as No. 99 -- at 6-foot-6 and 340 pounds -- overwhelmed the interior of Clemson's offensive line and forced Uiagalelei to either throw the ball into traffic or extend plays with his legs.
To be fair, it wasn't just Davis but also fellow defensive linemen Devont'e Wyatt and Jalen Carter, linebackers Adam Anderson and Nolan Smith, and so many more Bulldogs that deserve credit in the stellar team effort. But for the senior, who could have gone to the NFL Draft last year, to return and dominate in his hometown made for a special moment.
How you define "tough test" depends what you think about a trip to NC State later this month, but considering how Week 1 went for both programs, let's say that's the target date. Clemson's offensive line has to do a better job of winning battles that will establish the ground game. The wide receivers turned in a performance that echoed some of the frustrations around Clemson's offense over the last couple of seasons, and Uiagalelei himself showed the impact of being under duress in his pass attempts.
No defense on Clemson's schedule is going to overwhelm the line of scrimmage like Georgia, but with little success to build on from Saturday's game, we move forward only with examples of how this Tigers offense can get better. Three points, 2 net yards rushing and 178 yards through the air on 19 of 37 passing shows Clemson has to get better in nearly every phase of the game offensively.
CBS Sports was with you the entire way providing score updates, analysis and highlights from the game. Check out those updates below.
𝗧𝗨𝗥𝗡 𝗨𝗦 𝗨𝗣 🔊 https://t.co/TVrr1o5Vpl
🐶 @GeorgiaFootball beats down No. 3 Clemson pic.twitter.com/OkIZOIjAn7
No. 5 Georgia takes down No. 3 Clemson 10-3 in the season opener 😎 pic.twitter.com/AeYQrNse7L
No. 5 @GeorgiaFootball knocks off No. 3 Clemson‼️ pic.twitter.com/w2Wa0viHGV
Kings of the Queen City! #ATD #GoDawgs pic.twitter.com/VqKY61oAC2
DAWGS take over on downs!#ATD #GoDawgs pic.twitter.com/XzDil6b5ce
Put another one on the board, @jordanxdavis99 #ATD #GoDawgs pic.twitter.com/PJTcjioVX3
😤😤😤 pic.twitter.com/hPENju6wxH
Georgia's defense has been all over D.J. Uiagalelei tonight 😅 pic.twitter.com/XqH3TDoIy7
One more to go!#ATD #GoDawgs pic.twitter.com/xMthddcjU3
.@44Ytw joins the party 🥳#ATD #GoDawgs pic.twitter.com/Wit0RXa0vm
After Clemson struggles to do anything with the good field position off Spector's interception, Georgia marches right down the field to extend its lead with a short field goal. The Bulldogs now lead 10-0, and Clemson now sees the outcome hanging in the balance as it gets the ball back with just 2:38 left in the third quarter. The last time Clemson got shut out was 2003 (against Georgia, how about that) and the last time the Tigers haven't scored a touchdown in a game was 2007. D.J. Uiagalelei now takes the field hoping to avoid breaking either record.
🙌 @JackPodlesny#ATD #GoDawgs pic.twitter.com/AFzVVUnsTk
DEFENSE CAME TO EAT!#ATD #GoDawgs pic.twitter.com/0IgvHjRjEg
.@breadmanjalen A BULLY 😤#ATD #GoDawgs pic.twitter.com/KdgRTjVzcl
.@NakobeDean adds another!#ATD #GoDawgs pic.twitter.com/aHRz7Dib1p
.@cpsmithdb 🏠📞 https://t.co/YEIwyuofRM
All 𝗗𝗘𝗙𝗘𝗡𝗦𝗘 at the break! #ATD #GoDawgs pic.twitter.com/S9yVgtUA7f
GEORGIA PICK-SIX 🏡☎️ pic.twitter.com/z8afd8J0Ua
Joe Ngata keeping the chains moving on this drive with two big catches! @josephngata pic.twitter.com/XxvXAnp6I0
MASSIVE turn of events as we go from Clemson driving with some its most success of the night to the first points of the game as DJ Uiagalelei's toss is picked off by Christopher Smith and returned 74 yards the other way for a touchdown. Georgia suddenly finds itself with a marked advantage in a game that has already proven will make points difficult to obtain. Clemson will get the ball with just under 3 minutes left in the first half, needing some points before halftime to feel good heading to the locker room.
74 YARDS T-O T-H-E 🏠 @cpsmithdb!#ATD #GoDawgs pic.twitter.com/snhTb62BqU
© 2004-2021 CBS Interactive. All Rights Reserved.
CBS Sports is a registered trademark of CBS Broadcasting Inc. Commissioner.com is a registered trademark of CBS Interactive Inc.
Images by Getty Images and US Presswire