Brett McMurphy
Brett_McMurphy
UF coach Dan Mullen: "Been to 3 straight New Year's 6 bowl games. Hopefully we can go one step further into playoff game this year"
Dan Mullen
CoachDanMullen
That's a wrap from #SECMediaDays pic.twitter.com/x8FQuqnveq
Dan Mullen
CoachDanMullen
Thomas Goldkamp
ThomasGoldkamp
Dan Mullen said he'd like to see the SEC do away with permanent cross-divisional rivals like LSU for Florida, so the #Gators and other league teams could get more interesting contests like the Tide coming to the Swamp this year more often - 247sports.com/college/florida/Article/Florida-Gators-Football-SEC-Media-Days-2021-Florida-Gators-Central-167956819 pic.twitter.com/MeYlWPHYtO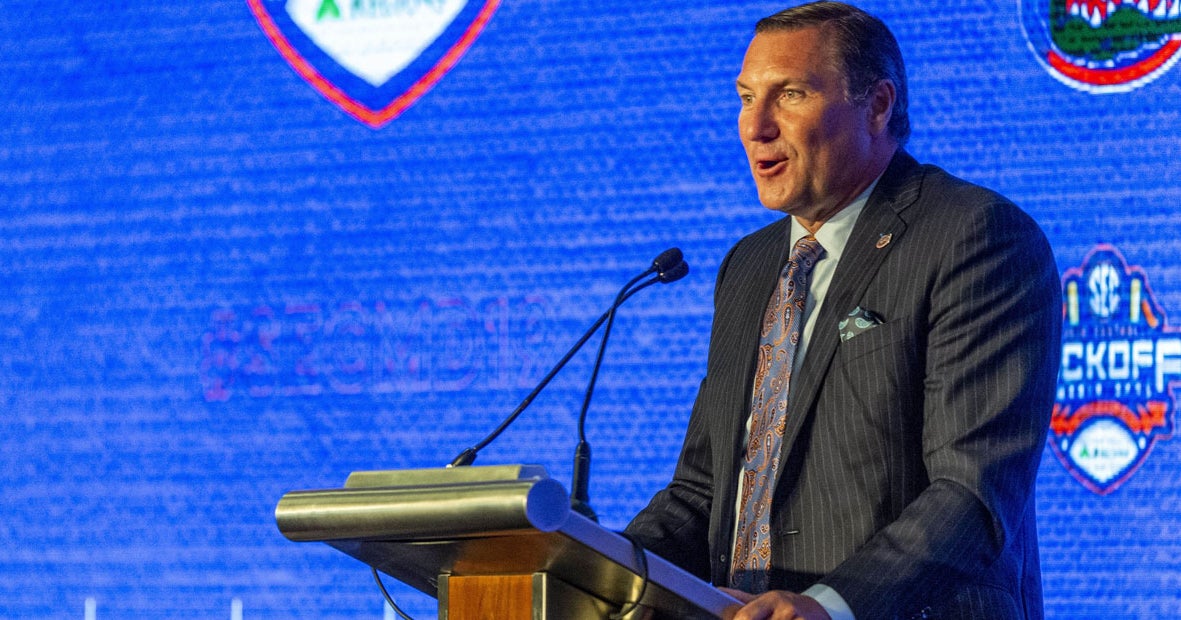 50% off Annual VIP Pass first year
Florida is set to lead things off on the first day of the event shortly after SEC commissioner Greg Sankey makes some opening remarks, with coach Dan Mullen, defensive end Zachary Carter and linebacker Ventrell Miller present to go through the media gauntlet signifying the unofficial start of the 2021 campaign.
You can stay up to date with all the latest right here on Swamp247. We'll have live updates on the message board whenever possible, as well as post-interview recaps in the form of articles.
We'll keep this page as a central hub for all things 2021 SEC Media Days, so be sure to check back throughout the day for updates.
Also, if you're not already a Swamp247 VIP subscriber, we're running a promotion during SEC Media Days to let you get in on the ground floor at a great rate before the 2021 season begins. We'll have plenty of in-depth coverage of fall camp, insider nuggets from team scrimmages and all the latest behind-the-scenes action you crave as a diehard fan.
Be sure to take advantage of this promotional offer to get 50% OFF AN ANNUAL VIP SUBSCRIPTION to Swamp247 today!
-- Demarkcus Bowman is eligible to play in 2021. Florida has expected for some time that Bowman would be cleared by the NCAA to play in 2021, but because he transferred into Florida prior to the NCAA's decision to grant a one-time free transfer, the Gators had to file paperwork to obtain a waiver for him. Mullen confirmed on Monday to local reporters that Bowman will be eligible this fall. Bowman missed the majority of spring practice with a minor knee injury.
-- Jaydon Hill expected to be a starting cornerback. The role opposite junior cornerback Kaiir Elam has been the subject of plenty of discussion this offseason after Florida added five-star prospect Jason Marshall and second-year player Avery Helm put together a strong spring. But Mullen, asked directly about Hill at SEC Media Days, said he's expecting him to jump in as a starter this fall. "I expect him to jump into being a starter, being an every down player. And I'm so excited to see his growth and development."
-- Dan Mullen would like to do away with permanent cross-divisional games. Asked about Alabama showing up on Florida's schedule at home for the first time in 10 years, Mullen made it clear that he'd prefer to meet opponents like that a little more often. Unfortunately, since the SEC moved to 14 teams in 2012, teams only get to travel to non-permanent cross-divisional opponents once every 12 years. If the SEC got rid of permanent cross-division games like LSU for Florida, teams would get to play more interesting games like Alabama more often. Mullen, before making the comment, noted he didn't want to get himself in trouble with league commissioner Greg Sankey.
"I'd like to see us do away with the permanent crossover so we get to see more of these types of games more often," Mullen said.
50% off Annual VIP Pass first year
Read full article at AL.com
Alabama Football 19 July, 2021 - 06:02pm
AL.com 19 July, 2021 - 06:02pm
Saturday Down South 19 July, 2021 - 12:59pm
when it's all said and done mullet will walk away with 10+ million of turd nation's money, at least. Heck, Muschamp took UF for over $13 million.
How do I get one of those gigs?
Be an overweight, middle age member of a country club that your local university's AD is also a part of.
Imitation – the greatest form of flattery – even when a cretan is doing the imitating
Cretan? Is that someone from Crete
Amazing how ungrateful some teams fans are. UF has a gem in Mullen, and some are complaining about his lack of success in the SEC? You never heard MSU fans complaining about him or UGA fans complaining about Smart. We at Tennessee would kill for a coach like Mullen.
Most of us are really really happy with Mullen. We know how hard it can be to find the right guy. Unfortunately, some of us get starved for football and get a little too caught up in recruiting rankings of 16 year old kids. Mullen doesn't recruit super well but there isn't much else to gripe about.
The last UT coach to win SECE Titles, SEC Championships and a National Championship – didn't UT fire him?
Fulmer got Majors fired, then wins everything and gets canned, then gets brought back as AD, only to have the NCAA show up…
Not to mention Champions Of Life and Derek Dooley, the Knoxville Soap Opera will continue with the OU reject….
We are 100% fine with Mullen. It's the envious Georgia Morons who make all this noise and a very few number of real fans fall for it, like Phil
I personally can't wait for year 5 – and more program defining bullet points to add to the list
In all seriousness, how many Mullen posters do you have in your bedroom/basement?
It's amazing yet concerning how many minute details you exaggerate about the Gators program. Couldn't tell you squat about Georgia football outside of their production on the field… Keep your enemies close I guess…
Which bullet point is an exaggeration?
when did we get our arse kicked? That was actually you guys last year. we spotted you 14 points and mossed your overrated secondary. Cant wait til it happens again!
So mullet gets hired at UF and makes his "I'd think we did a poor job recruiting …" comment and his 39476 attendance remark then proceeds to lose the next 2 games to UGA.
What other college football coaches have made a buffoon of themselves by making goofy comments about a rival then get beat by the rival???? Nick Saban, Dabo Swaney, Lincoln Riley, Ryan Day, Kirby Smart, Jimbo Fisher etc, how many times have they had to eat crow because they juvenile comments about a rival?
The real kicker on the "I'd think we did a poor job recruiting …" comment was shortly after making that comment mullet and UF lose their #1 recruit because mullet ignored the assault reports made by his #1 recruit. mullet may be a decent offensive coach but as an executive and leader he is an idiot.
"when did we get our arse kicked?"
52-44, just pick a year turd!
Thoughtful essay, Neil. Enjoyed reading it, especially that little Hobbesian wig-bubble.
Neil, good article and "the anchor" analogy is spot on. It really is on Grantham's shoulders and the seniors experience/leadership can go a long way.
Keeping Fat Slob Todd will be the reason Mullen leaves UF, either by choice for the league or not.
Zero excuse to not be Top 10 in recruiting, if not Top 5 yearly when you could recruit by car within a two hour radius. That's laziness. Period.
Coach had an interesting comment on the 5* that leave Florida. "They didn't ask him to rate them".
Mullen is undoubtedly a talented offensive mind. Over the years he clearly preferred to run the ball much more than UF did in 2020.
His ability to adapt his game plan and strategy in accordance with the talents of his players says a lot about him. Too many coaches try to shove square pegs into round holes.
I expect UF to be a contender in 2021 and the defense to be much better. To quote John Lennon, it can't get no worse.
Gators Wire 19 July, 2021 - 10:51am
Coach Dan Mullen confirmed to reporters at SEC Media Days Monday that former Clemson running back Demarkcus Bowman will be eligible for the Gators this season. Florida snagged the former Lakeland, Florida standout after he entered the NCAA transfer portal early last season.
The NCAA recently passed a one-time free transfer to student-athletes on April 28, but Bowman had to apply for a waiver since he entered the portal before it was passed.
Coach Mullen and running backs coach Greg Knox secured a significant victory when they grabbed Bowman from the portal even with a lack of production with the Tigers. Because they added another five-star running back to their offense. 247Sports rated Bowman as the 20th overall player in the class of 2020.
He told Swamp247 that he chose Florida because UF has always been close to home and that he was always a Gators fan.
"They have always been a major factor growing up," Bowman said about Florida, according to Swamp247. "We had a pipeline from Lakeland High School long before I was there. I just felt it was closer to home and have former high school teammates I played with and it's always been a dream school."
Because of Bowman's talent, he should find a way to carve out snaps for himself this season despite a loaded backfield with Dameon Pierce, Malik Davis, Nay'Quan Wright and Lorenzo Lingard.
Defensive end Zachary Carter already noticed the impact he had on the team during spring practices.
"He's a guy that came in during the spring and he's done some really good things for us," Carter said. "I'm excited to see how he can help our offense. He's definitely a versatile weapon and a pretty good kid."
Sign up for the Gators Wire newsletter to get our top stories in your inbox every morning
At SEC Media Days, coach Mullen said the Gators haven't reached the SEC vaccination threshold yet.
Davis signed a one-year "prove it" contract with the New York Jets after his play stagnated in four seasons with Detroit.
UF has to go back to the drawing board after it missed on offensive tackle Tyler Booker because he was considered a must-get recruit.
Start every day with our most popular content waiting in your inbox.
Please re-enter your email address.
You'll now receive the top Gators Wire stories each day directly in your inbox.
Please enter an email address.
Please check your email for a confirmation.
247Sports 19 July, 2021 - 07:38am
50% off Annual VIP Pass first year
Clemson transfer Demarkcus Bowman had to work through some paperwork with the NCAA after transferring to Florida in early October last year and has been approved for immediate eligibility in 2021. Bowman had to obtain a waiver because he transferred before the NCAA approved a one-time free transfer for college athletes on April 28.
Bowman was a five-star prospect in the 2020 recruiting class in the 247Composite, but he chose to go to Clemson over Florida.
The Gators were a major factor in his original recruitment and came back into play quickly when Bowman decided to transfer. Bowman played in two games for the Tigers and racked up 32 yards rushing on nine carries before deciding to transfer.
Florida running backs coach Greg Knox was instrumental in helping land Bowman after he decided to transfer.
"Florida has been close to home and I have always been a Florida fan and they have always been a major factor growing up," Bowman told Swamp247. "We had a pipeline from Lakeland high school long before I was there. I just felt it was closer to home and have former high school teammates I played with and it's always been a Dream School. I wanted to go to Clemson just for my grandad to see me play and he wasn't able to."
Though Bowman didn't see a ton of action at Clemson, the Tigers were reportedly high on his potential after seeing him in action in relief behind Travis Etienne in limited work.
"He looks great," Clemson head coach Dabo Swinney said of Bowman in August. "Just the first day out here, but he's in great shape. He's thicker than I thought he might be at this point. The weight room has been good for him. He put in a lot of work before he got here. He spent a lot of time on the track on his own, too. He's as advertised. He is a fast, fast dude, and I can't wait to see him once we get the pads on and see how he picks things up."
Bowman will compete for snaps at running back in a crowded backfield. The Gators return all three major ball-carriers from a year ago -- Dameon Pierce, Malik Davis and Nay'Quan Wright -- as well as former five-star prospect Lorenzo Lingard, so competition will be stiff.
The Clemson transfer didn't get to participate in spring practice much after suffering a minor knee injury, so he'll have ground to make up.
But there's little doubt he has the skill to make a major difference in the backfield if he can show the kind of explosive running style that made him the No. 20 overall prospect in the 2020 recruiting class.
50% off Annual VIP Pass first year