Helen Branswell
HelenBranswell
Smart take from @carlzimmer about how to think about conflicting study results on whether the Delta variant is eroding the power of #Covid19 vaccines. www.nytimes.com/2021/07/06/science/Israel-Pfizer-covid-vaccine.html

Eric Feigl-Ding
DrEricDing
📍MILESTONE—The #DeltaVariant has just become the new reigning variant—now 51.7% dominant in US, up from 30% just 2 weeks ago. #DeltaVariant is the world's fastest #COVID19 variant to date, >4x higher hospitalization risk, & more partial vaccine evasive.🧵 covid.cdc.gov/covid-data-tracker/#variant-proportions pic.twitter.com/IKKUo9z1L0

Warren Kinsella
kinsellawarren
Many Canadians are now protected against COVID-19. Thanks to the delta variant, others are even more at risk | CBC News www.cbc.ca/news/health/why-the-delta-variant-means-some-canadians-now-more-at-risk-from-covid-19-than-ever-before-1.6092203?__vfz=medium%3Dsharebar
Amanda Palmer 🎹
amandapalmer
July, 2021. The UK lifts covid restrictions as case numbers rise due to delta variant and @MileyCyrus covers Cocteau Twins. I cannot understand anything anymore. I bask in the confusion, and i wish the engineer had added more reverb to her vocals. youtu.be/O2he5Q2Tsn4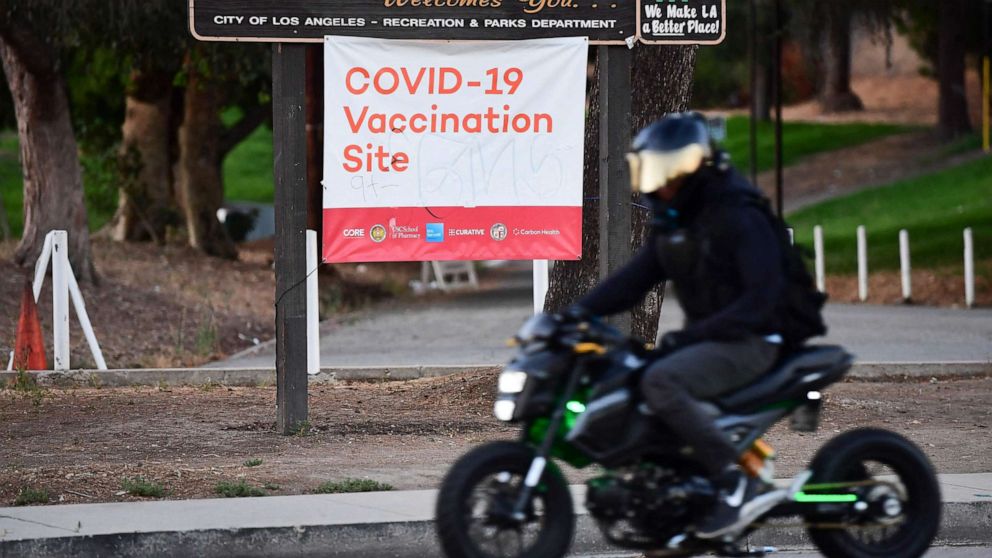 Estimates show the variant accounts for over 51% of all new cases nationwide.
A highly contagious variant of the novel coronavirus that was initially identified in India is now the dominant strain in the United States, according to the Centers for Disease Control and Prevention.
Data updated by the CDC on Tuesday evening shows the so-called delta variant, also known as B.1.617.2, was estimated to account for 51.7% of all new cases of COVID-19 across the country as of July 3.
The variant, which has been detected in all 50 states, was also estimated to account for more than 50% of new cases in five of the 10 regions into which the U.S. Department of Health and Human Services divides the country. HHS Region 7 -- compromising Iowa, Kansas, Missouri and Nebraska -- had the highest at 80.7%.
"Variant proportions are dynamic and difficult to predict due to reporting delays, the presence of multiple variants, and changing incidence," the CDC told ABC News in a statement on Tuesday evening.
A little over a month ago, CDC data showed the delta variant was estimated to account for just 3% of all new cases in the U.S..
However, current evidence suggests that the full dosage of a COVID-19 vaccine is highly effective in preventing hospitalizations and serious illness.
After being initially identified in India in October, the delta variant has since been reported in at least 98 countries around the globe, according to the World Health Organization. It was first detected in the U.S. in March.
The WHO declared delta a "variant of concern" in May, and the CDC upgraded its classification of the strain last month from "variant of interest" to a "variant of concern." Both the WHO and the CDC say that variants of concern have shown to spread more easily than others and cause more severe disease.
"We are in a very dangerous period of the pandemic," Tedros said.
CDC director Rochelle Walensky said health officials are concerned about the delta variant mutating to a point where it evades the existing COVID-19 vaccines.
"That's really what we're actively trying to prevent, which is why we're really encouraging people to get vaccinated," Walensky told ABC News in an interview last month. "I will say, as worrisome as this delta strain is with regard to its hyper-transmissibility, our vaccines work. Right now, they are working and they require actually two doses or to be fully vaccinated to work. So I would encourage all Americans to get your first shot and when you're for your second, get your second shot and you'll be protected against this delta variant."
Since the start of the pandemic, the U.S. has reported more than 33.7 million confirmed cases of COVID-19 and over 605,000 deaths from the disease, according to data collected by Johns Hopkins University.
More than 182 million people in the U.S. have received at least one dose of a COVID-19 vaccine, including over 157 million -- 47.5% of the population -- who are fully vaccinated, according to the CDC.
24/7 coverage of breaking news and live events
Read full article at ABC News
CTV News 07 July, 2021 - 10:00am
KCRA Sacramento 07 July, 2021 - 10:00am
Arirang News 07 July, 2021 - 10:00am
The Washington Post 07 July, 2021 - 10:00am
We rely on readers like you to uphold a free press.
The new European data protection law requires us to inform you of the following before you use our website:
This content is currently not available in your region.
MSNBC 07 July, 2021 - 09:20am
The mere existence of the variant, along with other related offshoots, such as delta plus, suggest that each set of significant mutations comes with increased transmissibility and possibly resistance to immunity from vaccination. Today's concerns about the delta variant were yesterday's worries about the alpha variant, and tomorrow they could be replaced by fear of the epsilon or zeta variants. Media coverage of the delta variant's spread has been rife with contradictory messaging from public health officials, adding to the confusion.
So what do Americans really need to consider with the Fourth of July past us and summer truly underway? Let's start with what the delta variant actually is: The delta variant (also known as B.1.617.2, first identified in India in October) has rapidly spread around the world, becoming both a variant of concern and the dominant strain for new Covid-19 cases in the U.S.
Case reports from the U.K. indicate that some people can be infected in as little as five minutes of exposure to a carrier.
In the United Kingdom, cases of the delta variant doubled over two weeks in June, a strong signal that this is a more transmissible strain. Case reports from the U.K. indicate that some people can be infected in as little as five minutes of exposure to a carrier. This translates to larger numbers of people who can be infected overall — if, for example, the original strain infected 10,000 people, this strain could infect 40,000 or more in the same population.
Our only defense mechanisms against this and future variants are just that — defensive — and in rank order, they are vaccines, vaccines and vaccines. Recent studies indicate that the Pfizer-BioNTech-manufactured vaccine is effective against the variant but less so than in its protection against the alpha variant that was first identified in the U.K. These data suggest that all three of the vaccines available in the U.S. are likely to confer some immunity, but less than indicated in clinical trials.
So far, we do not believe that the delta variant results in a greater proportion of hospitalizations or deaths — but those data are still being collected and evaluated. Based on what we know so far, here are five practical implications:
The delta variant is here, and it is likely to result in an increase of new cases throughout the U.S., the majority of which will be among unvaccinated people. But the more concerning threat is what an active reservoir of humans in which the virus can replicate and slowly mutate means for the world. Until global vaccination is reached, more mutations will lead to variants that could lead to chances to escape immunity. The rise and spread of the delta variant show us that it is about more than individual choices about whether to get vaccinated — it is about people's role in protecting the world.
KPRC Click2Houston 07 July, 2021 - 05:23am
The new and highly contagious Delta variant of the coronavirus may have sparked the recent outbreak of 125-plus cases of COVID-19 linked to a Houston-area youth church camp, and a Texas virologist says the breakout should be a wake-up call for communities.
"Clearly, COVID is not over," said Dr. Benjamin Neuman, a virologist and professor at Texas A&M University.
"COVID isn't ever gone until it's completely gone," Neuman said. "And I think we've made the mistake of assuming that the virus would go away or assuming that the virus wouldn't affect children … We keep stumbling into the same mistakes over and over, and that is not a way out of COVID-19."
The Galveston County church camp took place in June with more than 450 adults and youth in attendance, according to the Houston Chronicle. More than 125 COVID-19 cases have been reported, of which three thus far have been confirmed to be the Delta variant.
The Delta variant is poised to become the leading strain in the United States in coming months according to Texas health experts, whose top concern is the risk it represents for those who are unvaccinated.
That strain, known by scientists as B.1.617.2, now accounts for about a quarter of virus infections in the nation, according to the Centers for Disease Control and Prevention. First discovered in India, it triggered a devastating outbreak there in April and May and has since spread to 85 other countries, attacking areas where vaccination rates are the lowest.
While dozens of strains have spawned from the original COVID-19 virus, the Delta variant is the most transmissible so far, said Dr. Rebecca Fischer, an infectious disease epidemiologist and assistant professor at Texas A&M University's School of Public Health. It is also leading to higher rates of hospitalization for those infected, according to research.
Fischer called the strain "a perfect storm of a variant" because of how easily it can pass from person to person. Because of limited testing, there is little concrete information about its prevalence in Texas. However, Fischer said there's a clear way to prevent uncontrollable surges: vaccinations.
As of July 4, according to The Texas Tribune's COVID-19 tracker, about 41.5% of Texans had been fully vaccinated. That compares to the current national rate of 47% for complete vaccinations, according to the CDC. But rates of administered shots in Texas have slowed in the past few months — at a time when Fischer says protection is needed more than ever.
"Don't let your guard down," she said. "We're so close to getting our lives back, and we are, in some way, moving in that direction … but this is another curveball by this virus."
Here's what is known about the Delta variant so far.
Proteins on the outer spikes of the Delta variant are "stickier," making it more transmissible than other strains, said Dr. Katelyn Jetelina, an epidemiologist at the University of Texas School of Public Health in Dallas.
"It's more contagious," she said. "The key change about this variant is that it has a better way of getting into our cells and latching onto them."
Studies have shown that the Delta variant is up to 60% more transmissible than the previously leading strain, the Alpha variant — and the percent of COVID-19 tests coming back positive in the past seven days is 5.53%, compared to 4.35% seven days prior.
A study from Scotland found that the hospitalization rate of those who contracted the Delta variant was about 85% higher than those fighting the Alpha variant.
The variant's symptoms more resemble those of a cold — headaches, sore throat, runny nose and fevers — than common COVID-19 symptoms such as coughing and loss of smell, according to the Covid Symptom Study, a project by doctors and scientists to track the symptoms and spread of the virus.
The Delta variant has already planted itself in several cities across the state, including Houston and Dallas, according to the Chronicle and The Dallas Morning News.
But the number of Delta cases in Texas is "sorely underestimated," Fischer said, because of a lack of testing for variants.
Regular COVID-19 tests do not detect which variant is involved, which requires genomic sequencing, a process separate from regular virus tests and one that not all labs are able to do. Neuman, the virologist at Texas A&M University, said sequencing is rare and can cost up to $100 per test.
"So it's expensive, and it doesn't really improve patient care," Neuman said. "It's a good thing to know for public health people, but knowing the kind of strain wouldn't change the way we treat a person."
Sequencing takes about six weeks to process, he added.
The Texas Department of State Health Services is aware of 15 labs in Texas that have detected the Delta variant. However, labs are not required to report sequencing results to the agency, "so there may be additional labs conducting sequences that are not reporting their results to public health," the agency said in a statement.
According to DSHS's dashboard, which tracks the number of cases across the state by variants, 120 of the 4,982 sequencing tests, or .02% of the cases, found the Delta variant.
"This is not a comprehensive count of variant cases on this page and we have explained in many interviews that only a small sample of cases are sent for sequencing," the statement read.
Vaccines appear to retain high levels of protection against the Delta variant, according to research.
Jetelina, the UTHealth epidemiologist, said the Pfizer vaccine offers around 87% protection against the variant and the Moderna vaccine results are similar to Pfizer's. The Johnson & Johnson vaccine also retains much of its efficacy against the Delta variant at around 60%, according to recent research.
Those who are fully vaccinated, however, can still be carriers of the Delta, Fischer emphasized.
"This is why vaccination is so key," Fischer said. "It could travel around those who are vaccinated, but they won't get sick. But then once it reaches someone who is unvaccinated, that's when it could really permeate."
DSHS said it recommends people protect themselves from the variant the same way they do for other strains of the virus.
"The best protection from all strains of COVID is getting fully vaccinated," the statement said. "People who are not vaccinated should continue to follow COVID precautions, like wearing a mask and social distancing."
Though the CDC says people who are fully vaccinated do not have to wear masks in public spaces, Neuman is pleading for everyone to continue wearing them, especially with the Delta variant spreading in Texas.
"The only confirmed cases that we know are cases that spread through the air," he said, and those are "from somebody's mouth to somebody else's mouth.'' Because of that, "blocking one or both of those mouths is really the ultimate way to stop the virus from spreading."
Yahoo News 06 July, 2021 - 10:23am
A more contagious variant of the coronavirus, known as Delta, has spread to more than 80 countries around the world and now accounts for at least 20 percent of COVID-19 cases in the United States.
First identified in India, Delta is believed to be between 40 and 60 percent more transmissible than the Alpha variant that was first identified in the United Kingdom, which itself was substantially more contagious than the original coronavirus strain that started the global pandemic. The Delta variant has fueled outbreaks around the globe and forced a growing number of countries to impose new restrictions to reduce its spread. Even nations that had been lauded as models for pandemic containment and vaccine distribution — such as South Korea, Australia and Israel — have throttled back reopening plans in response to the variant. Delta is believed to be a factor in major surges reported in developing countries in Africa, Asia and South America.
Delta is expected to become the dominant strain in the U.S. in the coming weeks and poses the "greatest threat" to America's efforts to eliminate COVID-19, according to Dr. Anthony Fauci, the nation's top infectious disease expert. Despite these concerns and the aggressive response taken in some of America's peer countries, Fauci and other top government health officials say the variant probably won't dramatically change the course of the U.S. virus response. "Where people have gotten the two shots, the Delta variant is highly unlikely to result in anything," President Biden said in mid-June.
The key factor that distinguishes the U.S. from other nations that have responded aggressively to the variant, Fauci said, is the relatively high percentage of Americans who have been vaccinated against COVID-19. There's evidence that fully vaccinated people enjoy similar levels of protection against Delta as they do from other variants, though those who have only had one dose appear to face greater risk. Administration officials argue that the best way to stamp out Delta is to stay the course on the campaign to get as many Americans vaccinated as possible, rather than spend time and resources on other, less effective mitigation efforts.
Some experts, however, say the U.S. should amend its approach in response to the Delta variant. Though more lockdowns seem far-fetched, some have called for the Centers for Disease Control and Prevention to reverse its guidance that vaccinated people can go maskless indoors — at least until there's clear evidence that they can't pass the Delta variant along to the unvaccinated. Others say the Biden administration should do more to inform the public of the dangers posed by Delta. While the U.S. is ahead of most countries on vaccinations, only half of the total population is fully protected, which could leave ample room for Delta to cause severe outbreaks — especially in communities with low vaccination rates.
Global health experts argue that the Delta variant should serve as a wake-up call for rich nations like the U.S. about the dangers of letting the virus run rampant in the developing world. Beyond the moral imperative of preventing unnecessary death among the world's poor, wealthy countries risk allowing a vaccine-resistant form of the virus to evolve unless they dramatically ramp up foreign aid efforts, they argue.
Areas of the country with low vaccination rates and high summer temperatures that force people to congregate indoors could serve as a test case for the dangers of the Delta variant, scientists say. "Watch the South in the summer," one epidemiologist told the Atlantic. "That'll give us a flavor of what we're likely to see in the fall and winter."
"While no strain yet has proven too much for vaccines to resist, it would be best to avoid that possibility altogether. If nothing else, it would be nice to silence liberal talking heads who incessantly drone on about how each new variant will definitely be the one that brings civilization to its knees." — Robert Schmad, Washington Examiner
"If, God forbid, there was a new variant that our existing vaccines proved helpless against, then reinstating mask-wearing for vaccinated people would make sense. But that's not the case. So far, the vaccines are working against the Delta variant." — Jim Geraghty, National Review
"Despite the risks from Delta, the overall public health strategy used throughout the pandemic remains effective." — Umair Irfan, Vox
"The virus is disproportionately dangerous to the elderly. People have assessed their risk level and acted accordingly. Even if cases go up, this data suggests hospitalizations and deaths won't skyrocket like they did last summer." — Victor Joecks, Las Vegas Review-Journal
"The CDC needs to act quickly, without waiting, to follow the WHO guidelines and ask everyone to put the masks back on so we can stay open, protect folks, and keep the economy going." — Public health expert Shad Marvasti to Yahoo Finance
"The old assumptions about … children [not] driving community spread were based on the original strain of this virus. With these new, more contagious variants, I think we're going to see that children and schools do become more of a focal point of spread." — Former FDA commissioner Dr. Scott Gottlieb to CNBC
"President Biden set a goal of 70 percent of Americans getting at least one shot by July 4. The hope was that once the nation reached herd immunity, the virus would die out. Thanks to the Delta variant, it is time to reconsider. … Since it began, SARS-CoV-2 has evolved to become far more contagious. The goal posts must move when the virus moves. The higher the contagion, the larger share of the population must be immune. — Editorial, Washington Post
"National policy goals should no longer focus on the percentage of people who have received at least one vaccination shot, but rather the percentage of people who are fully vaccinated. This may seem like a subtle difference, but it is key when evaluating the level of immunity against the Delta variant." — David Holtgrave, CNN
"99 percent of residents in low-income countries remain unvaccinated, raising the possibility of more variants, beyond the 11 already identified by WHO, developing in the months to come. With full global vaccination not likely until at least 2024, vaccine drives need speeding up." — Colm Quinn, Foreign Policy
"The WHO's decision to name variants after the Greek alphabet means that at some point, we'll probably be dealing with an Omega variant. Our decisions now will determine whether that sinister name is accompanied by equally sinister properties, or whether Omega will be just an unremarkable scene during the pandemic's closing act." — Ed Yong, Atlantic
"Although it's all too easy for those of us who have been vaccinated to say, 'No need to worry,' I'd urge us to still take the Delta variant seriously. If not for ourselves, then for our country." — Megan Ranney, NBC News
"There's still a big problem with people not having easy access [to vaccines]. … We should start going door to door." — Virologist Angela Rasmussen to Scientific American
Life is starting to feel normal, but Covid-19 is still with us.
Delta plus has been identified in nearly a dozen countries including the U.S., according to The New York Times.
Will Biden's pandemic approval hold up?
People not yet vaccinated are at highest risk of infection and illness from the "hyper" transmissible Delta strain, state and federal experts say.
The CDC reports that the highly contagious Delta variant makes up for 51.7% of COVID cases in the U.S. as of Saturday, up from 30.4% two weeks prior
The surge of infections due to the delta variant of the coronavirus causing COVID-19, notably among the young and the unvaccinated, is upsetting governments' plans to ease pandemic restrictions and help their economies recover.
More bodies were found at the Surfside, Florida, condo collapse site. Wind, rain and possible tornadoes from Elsa could complicate efforts.
With kids under 12 still ineligible for the COVID-19 vaccine, how worried should parents be about the Delta variant?
President Biden repeated his ongoing vaccination message on Tuesday. "We can't get complacent," he said. "Now, the best thing you can do to protect yourself and your family and the people you care about the most is get vaccinated."
Hey, Flo comes when she wants to.
The U.S. left Afghanistan's Bagram Airfield after nearly 20 years by shutting off the electricity and slipping away in the night without notifying the base's new Afghan commander, who discovered the Americans' departure more than two hours after they left, Afghan military officials said. Afghanistan's army showed off the sprawling air base Monday, providing a rare first glimpse of what had been the epicenter of America's war to unseat the Taliban and hunt down the al-Qaida perpetrators of the 9/11 attacks on America.
As expected, the console has a larger OLED screen, but it doesn't output at 4K while docked.
HandoutThe family of a college football star who died in an apparent suicide after being thrown out of a hospital told The Daily Beast that they think he was refused care because of the color of his skin.A Canadian health authority has admitted that it "failed" in caring for Samwel Uko, a 20-year-old football player who was found dead in a lake after reportedly seeking care from a local hospital twice.Last spring, the young university athlete posted a Snapchat video in a hospital lobby in the Ca
The incentives for people to get the COVID-19 vaccine are piling up. Chipotle (CMG) has announced it will give free burritos and other entrees to customers who have been vaccinated in the latest example of companies trying to boost vaccine rates. Chipotle joins Krispy Kreme (DNUT) Anheuser-Busch, Taco Bell (YUM) and many others who are trying to entice people to get a COVID vaccine with various incentives.
If Botox brow lift before and after posts have you curious about the treatment, here's the answers to all your questions.
A photo shoot with a sweet-smelling, yellow bloom ended in sleep paralysis and vivid nightmares for singer-songwriter Raffaela Weyman.
L.A. County's new masking guidance suggests that vaccinated people somehow are responsible for keeping unvaccinated people safe.