Janelle Bitker
JanelleBitker
What does the Bay Area's new mask guidance mean for indoor dining? Is it no longer safe? I talked to a few health experts to find out www.sfchronicle.com/food/restaurants/article/Is-indoor-dining-still-OK-under-new-mask-16325357.php
Kellie Hwang
KellieHwang
Solano County is the only one in the Bay Area that has not recommended all residents wear masks indoors. www.sfchronicle.com/health/article/Four-more-counties-in-the-Greater-Bay-Area-16324967.php

Aaron Glantz
Aaron_Glantz
Great interview worth reading 'Focus on Getting the Unvaccinated Vaccinated': UCSF's Dr. Monica Gandhi on the Bay Area's New Masking Recommendations www.kqed.org/news/11881535/focus-on-getting-the-unvaccinated-vaccinated-ucsfs-dr-monica-gandhi-on-the-bay-areas-new-masking-recommendations
Jill Tucker
jilltucker
Bay Area mask recommendations bring a mix of frustration and acceptance www.sfchronicle.com/bayarea/article/Bay-Area-mask-recommendations-bring-a-mix-of-16321849.php?utm_campaign=CMS%20Sharing%20Tools%20(Premium)&utm_source=t.co&utm_medium=referral via @sfchronicle
With the delta variant prompting several Bay Area health officials to recommend everyone once again wear masks indoors, many people may be wondering if indoor dining is still a wise idea — even if they are vaccinated.
Public health experts have long maintained that indoor dining is one of the riskiest activities even if you are vaccinated, since diners are bound to take masks off to eat. The highly infectious nature of the delta variant and rising case counts across the Bay Area make the risk level of indoor dining that much higher.
However, vaccinated people are unlikely to get seriously ill even if they do get infected.
New mask guidance arriving with no restrictions to indoor dining is creating some understandable confusion among diners. If we're being recommended to wear a mask indoors again, where does indoor dining fit in that equation?
For one, this isn't all that different from just a few months ago when there was a statewide mask mandate alongside indoor dining. But to get more clarity on what's changed, The Chronicle interviewed some local public health experts to help break it down.
San Francisco health officer Dr. Susan Philip said she's advising people to be vigilant about masking at indoor restaurants whenever they're near other diners or employees whose vaccination status is unknown.
"Keep a mask on while you're ordering and when you get up to go to the restroom," she said. "We want to encourage people without having to take the drastic step of restricting activity or closing sectors."
The health officials urging universal indoor masking are in Alameda, Contra Costa, Marin, San Francisco, San Mateo, Santa Clara and Sonoma counties. Napa and Solano counties did not join the other seven in recommending a return to masking.
Health experts agree indoor dining isn't safe for unvaccinated people. If every single person in a restaurant is fully vaccinated, then it's perfectly safe, said UCSF infectious disease expert George Rutherford. The problem is it's impossible to know if everyone is vaccinated in a public setting, and there are rare instances where a fully vaccinated person can get infected.
"It's not as bad as it was (months ago), but it's not as good as it was two weeks ago, either," he said. "We need to hit a middle ground of caution."
As with much of the pandemic, whether to dine indoors is a personal decision. Robert Siegel, a Stanford infectious disease expert, said everyone should ask themselves three questions: What is your risk? What is your level of exposure? And what is your comfort level with that level of risk and exposure?
"The level of risk is changing right now because of the fact that there's a more contagious variant and more virus in the air," he said.
No. The risk is still small that you'll get seriously ill, public experts say. The question is, do you want to risk getting sick at all or transmitting the virus to others? If not, mask up when you're not eating or drinking.
"It's an added layer of protection. Why should anyone want to be infected if they could easily avoid it by wearing a mask?" said UC Berkeley infectious disease expert John Swartzberg.
It's a precautionary measure intended to make sure unvaccinated people wear masks and thus slow the spread of COVID-19, according to officials. Most restaurants aren't equipped to enforce masking for unvaccinated people or even determine a diner's vaccination status.
The vaccine protects elders just as well as young adults, according to health experts. It's a more difficult calculation for immunocompromised people, who may want to be more cautious and choose outdoor dining right now.
Children under 12 still can't get vaccines. While it's highly unlikely a kid would die from COVID-19, it's possible young children could become sick. Swartzberg recommends avoiding indoor dining for now.
It's also worth masking up now for purely selfish reasons, health experts say. That's because vaccines are still not 100% effective.
Though you probably won't get seriously ill, if you get exposed to an infected person, there is a 1 in 20 chance you'll develop symptoms from COVID-19, Siegel said. So if you're in a crowded 40-seat restaurant where no one is masked, it's possible a couple of fully vaccinated people still get infected. It's already happening at restaurants where vaccinated workers are testing positive and forcing temporary shutdowns.
"It would be great from a public health standpoint if we instituted more restrictions, but then businesses would complain," Siegel said. "Of all the things you could do that wouldn't impact the economy, wearing a mask is the easiest."
It's a mix: Some restaurants are enforcing masks for employees and customers, but others aren't making any changes since there's no mandate.
To prevent the spread of COVID-19, Rutherford said it would be helpful for restaurants to have staff mask up and require vaccines for employees.
Siegel would like to see restaurants only serve vaccinated people, something a small handful of bars and venues are doing in the Bay Area. He acknowledged that it would be an incredibly controversial policy across the board, but it could be effective at getting more shots in arms. In France last week, almost 1 million people registered for vaccines after the government announced that proof of vaccine would be required in all restaurants and other nonessential places.
"You take away the croissants and that's enough motivation to vaccinate people," Siegel said.
Janelle Bitker is a San Francisco Chronicle staff writer. Email: janelle.bitker@sfchronicle.com Twitter: @janellebitker
Read full article at NBC Bay Area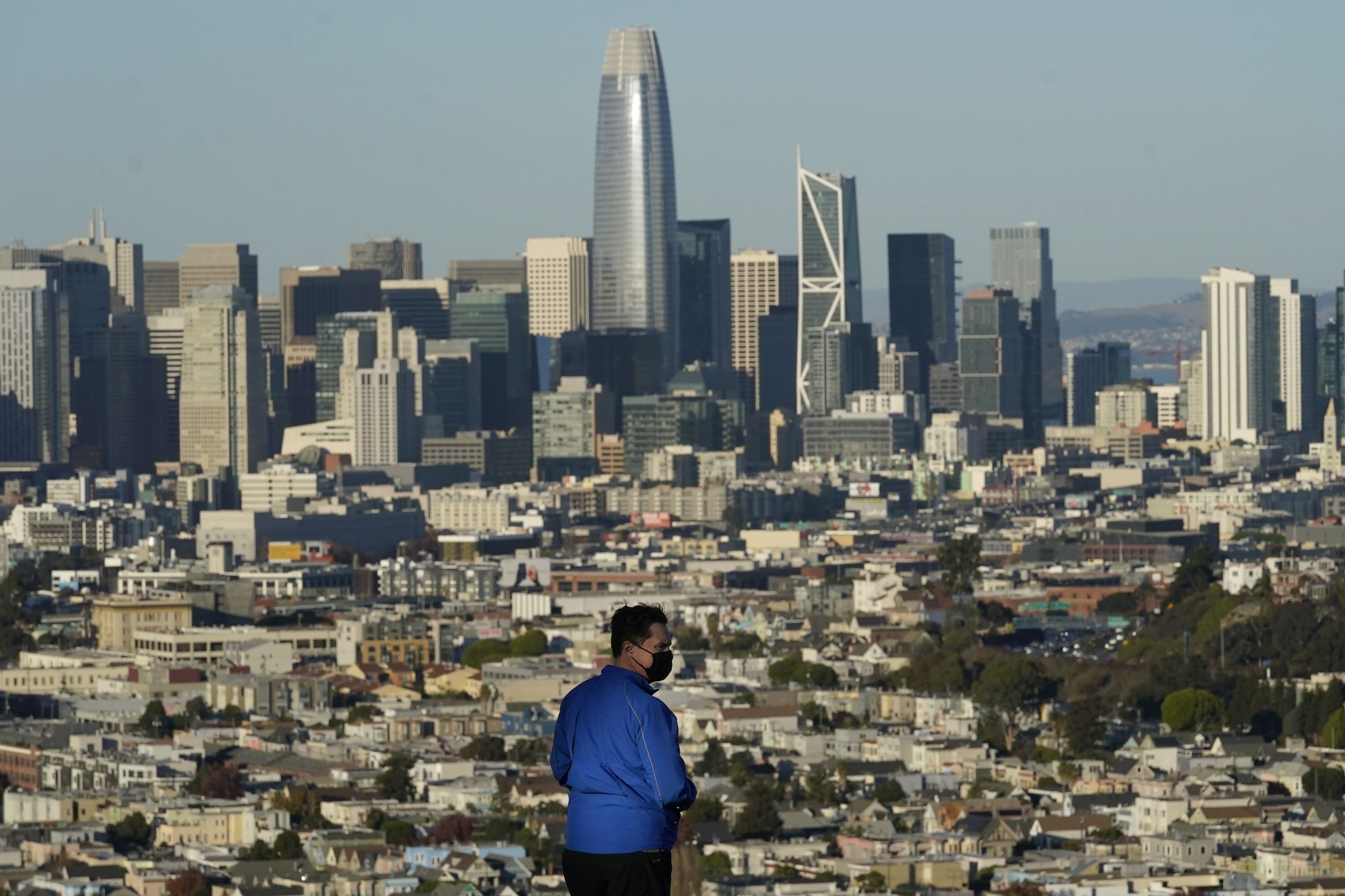 SF Gate 20 July, 2021 - 01:01pm
You may have heard over the weekend that masks are coming back to the San Francisco Bay Area due to a surge in COVID-19 cases driven by the highly contagious delta variant.
While the U.S. Centers for Disease Control and Prevention says that fully vaccinated individuals can generally forgo masks, public health departments in seven Bay Area counties and one city issued an advisory Friday recommending that all individuals, regardless of vaccination status, wear masks in indoor public space.
Alameda, Contra Costa, Marin, San Francisco, San Mateo, Santa Clara, Sonoma and the city of Berkeley issued a joint statement saying that out of an abundance of caution, they are recommending masks indoors in settings like grocery or retail stores, theaters and family entertainment centers — even if individuals are fully vaccinated — as an added layer of protection for unvaccinated residents. The advisory is a recommendation, not a requirement, and went into effect immediately.
"We are asking our residents to collectively come together again in this effort to stem the rising cases until we can assess how our hospital capacity will be impacted," said San Francisco health officer Dr. Susan Philip.
Napa County waited until Monday to issue a recommendation. Just outside the Bay Area, Monterey, Santa Cruz and San Benito counties issued similar mask guidance on Monday. Solano is the only Bay Area county to not update its mask recommendation.
Last week, Sacramento and Yolo counties issued similar voluntary rules. Los Angeles County reinstituted a mandatory mask requirement for public indoor spaces at midnight on Saturday.
The delta variant of the coronavirus accounted for 43% of all COVID-19 specimens sequenced in California in June. The latest data from the Centers for Disease Control and Prevention reveals the delta variant is responsible for 58% of new infections across the country.
"Breakthroughs are more common than initially thought for the delta variant," Willis said.
Willis noted that one in three new cases in Marin County are breakthrough infections where a fully vaccinated individual tests positive.
"We're not seeing corresponding surges in hospitalizations or deaths," Willis said. "While we are seeing an increase in the proportion of our cases that are breakthrough cases, the protection of the vaccine is clear in preventing severe disease. That's what we're most interested in in the first place."
KPIX CBS SF Bay Area 20 July, 2021 - 01:01pm
SFist 20 July, 2021 - 01:01pm
While many Bay Area residents have continued wearing their masks to go grocery shopping and even walk down the street, many others have relished in tossing the masks away when shopping, dining, and drinking — even though we've had to keep our masks in pockets and purses for use in rideshare vehicles and on public transit, and at certain businesses that never dropped their mask mandates.
KPIX spoke to a couple of people on the street in San Jose, with one man scoffing at the new voluntary guidance and saying, "Why would I wear a mask indoors? A lot of data has been published that it's not really necessary to wear a mask at this time."
Speaking to the Chronicle on on Friday, one Pleasanton resident, Mark Richardson, compared telling vaccinated people to put masks back on is like "asking Superman to wear a bulletproof vest." And, he lamented, "I thought we were the 'Follow the science' state?"
At El Rio on Sunday, where the ten-year-old party Daytime Realness made a comeback after a 21-month hiatus, a worker managing the door announced to everyone in line outside that they would have to wear masks while walking through the indoor part of the bar and ordering drinks.
"And I don't want to argue about it," she said.
Still, the larger portion of the venue is outdoors on the back patio where all the masks came off.
At the cozy, historic Twin Peaks Tavern in the Castro on Saturday, no patrons or staff had masks their masks on inside.
The vast majority of new COVID cases being found are still among the unvaccinated, and outbreaks appear to be concentrated in pockets Bay Area cities where vaccination rates are low. In San Francisco, the highest number of recent new cases happened in ZIP code 94124, which is Bayview/Hunters Point; in the East Bay, a cluster was found in East Oakland and across the border in San Leandro, with ZIP codes 94603 and 94621 the hardest hit.
On Thursday, SF Mayor London Breed held a press conference in the Bayview to urge residents to seek out vaccinations if they had previously been reluctant, saying that Black residents of the city represented 28% of hospitalized COVID cases right now, despite representing only 5.6% of the city population overall.
But some breakthrough COVID cases among the vaccinated have been reported, with the state now saying that post-vaccination cases have happened in 0.07% of vaccinated people — up from 0.039% last month. That amounts to 14,365 breakthrough cases in California to date.
Restaurants, some of which were, up until June 15, requiring diners to mask up every time a server approached their table, are now in the awkward position of deciding whether to take the Bay Area health officers' voluntary guidance and enforce it indoors.
"I just don't feel like we're in a position to make requirements beyond what is mandated," says Bob Cina, executive chef of District restaurants, speaking to the Chronicle. "People can make their own decisions."
Still, many restaurants and bars are taking this in stride, and we're likely to see varied responses and levels of precaution at different businesses in the coming weeks, based on the preferences of owners and staff.
One owner, Yuka Ioroi of Cassava restaurant in the Outer Richmond (which is actually closed for remodeling until August 13), tells the Chronicle that patrons should consider the fact that a little more masking now might save us for more stringent orders in the coming weeks if the surge intensifies.
"I don't think a lot of restaurants can handle another shutdown," Ioroi says. "[Masking] might mitigate the risk of that."
Related: Bay Area Health Officers Urge Residents to Wear Masks Again in Indoor Public Spaces, Voluntarily
Jay C. Barmann is a fiction writer and web editor who's lived in San Francisco for 19 years.
KTVU San Francisco 20 July, 2021 - 01:01pm
The new recommendation from Bay Area health officers to mask up indoors conflicts with CDC and state guidance saying if you're vaccinated you don't have to wear a mask. The recommendation has led to some confusion.
SAN JOSE, Calif. - The new recommendation from Bay Area health officers to mask up indoors conflicts with Centers for Disease Control and Prevention and state guidance saying if you're vaccinated you don't have to wear a mask. The recommendation has led to some confusion.
Health experts want to stress wearing a mask indoors adds another layer of protection on top of getting the vaccine. It also helps slow the spread.
"It's been a little tough with customers," said Pairings Wine Bar & Restaurant Manager Erick Cardenas.
Cardenas said customers are split over new guidance in the Bay Area urging everyone to wear a mask indoors.
"Some of them don't really want to wear it, I think right now it's 50/50," said Cardenas.
The servers at the restaurant are all donning their masks since not all staff are vaccinated. Some patrons are also playing it safe.
"We are all kind of just starting not to get used to wearing it anymore and I actually still have been for the most part," said Michelle Chang of Pleasanton.
"First it's take it off, put it on, take it off, put it on," said Gary Farfan of San Jose.
The Farfan family from San Jose said the mask guidance has been confusing.
"How I feel, it's mixed messages," said Farfan.
"The problem is we don't know who's vaccinated and who's not when you are indoors," said Dr. John Swartzberg of U.C. Berkeley School of Public Health.
Dr. Swartzberg said the honor system businesses rely on isn't working as COVID infections rise throughout the Bay Area. He also said unvaccinated individuals are driving up numbers due to the highly contagious Delta variant.
"Over 99 percent of the hospitalizations and deaths are due to people who are not vaccinated or partially vaccinated," said Dr. Swartzberg.
Dr. Monica Gandhi from UCSF said most of the transmission is likely caused by private gatherings among the unvaccinated.
She also said Bay Area health officials are recommending masks not requiring them since hospitalizations are low with less than five COVID hospitalizations per 100,000 people.
 "It's just safer to put your mask on when you go in indoor spaces, they are really trying to stress the effectiveness of the vaccines," said Dr. Gandhi.
"I'm thinking all the news coming out right now with the Delta variant," said Susan Raphael of Pleasanton. "I heard there's another one also, maybe more people will take more heed to it."
Experts said Bay Area health officers are reluctant to go back to restrictions that could hurt people's livelihoods. Instead, they are pushing people to get vaccinated and tracking hospitalizations closely.
This material may not be published, broadcast, rewritten, or redistributed. ©2021 FOX Television Stations
CBS San Francisco 20 July, 2021 - 01:01pm
SAN JOSE (CBS SF) — On Sunday, the nation's top doctor said he's "worried" about the trajectory of the pandemic in the United States as the highly-transmissible Delta variant tears through the country.
"I am worried about what is to come, because we are seeing increasing cases among the unvaccinated, in particular," said U.S. Surgeon General Dr. Vivek Murthy.
According to the L.A. Times COVID-19 tracker, cases increased by 213.1% over a 14-day span. On Friday, California reported 4,651 new cases.
"We're pretty much paralleling the United States," said University of California Berkeley Prof. and Infectious Disease Public Health Expert Dr. John Swartzberg. "That's disappointing because in the middle of June, California was doing much better than the rest of the United States."
Sunday marked one full weekend after Friday's announcement from seven Bay Area county public health officers recommending that people wear masks indoors regardless of vaccination status. Solano and Napa counties are the only counties that didn't join the collective advisory.
But not everyone got the message about the recommendation, and some couldn't care less.
Dave, who didn't want to release his last name, said he'd rather not listen to one source of data when it comes to the pandemic.
"Why would I wear a mask indoor," he said. "A lot of data has been published that it's not really necessary to wear a mask at this time."
But others, including Jenny Chung, have kept their masks on despite the Centers for Disease Control and Prevention's guidance that those who are vaccinated do not need to wear a mask.
"Just to be safe," said Jenny Chung who was wearing a mask outdoors while at the busy Santana Row.
"It's pretty clear now after a year and a half of this discussion that masks work," Swartzberg said. "I think people know that."
In Los Angeles County, an indoor mask mandate went into effect on Saturday.
Bay Area public health leaders said they would review the region's case count in a few weeks before deciding what next step to take.
San Francisco Chronicle 20 July, 2021 - 01:01pm
Good morning, Bay Area. It's Monday, July 19, and several Bay Area athletes are worth watching at the Olympic Games starting Friday. Here's what you need to know to start your day.
On Friday, seven Bay Area counties issued new guidance recommending that even fully vaccinated people wear masks indoors, which adds to unpredictability for workplaces.
The standards board of the California Occupational Safety and Health Administration had voted last month to update workplace rules so that vaccinated people no longer have to wear masks at work. The board talked about updating the rules if the pandemic worsened but has no plans to vote on changes.
Read more from Chase DiFeliciantonio.
• Los Angeles County reimposed its mask mandate because of a sharp increase in coronavirus cases. So where does the Bay Area stand?
• Here's why Bay Area health officials want residents to start masking again, regardless of vaccination status.
• Bay Area restaurants are scrambling to respond to the new masking guidance.
• Here's what has actually changed amid the new mask guidance from Bay Area officials.
• San Francisco has seen a small rise in coronavirus cases in the past few weeks. Who is getting infected?
The Olympic Games in Tokyo start Friday after being delayed a year because of the pandemic. Keep an eye out for these 10 Bay Area and Northern California athletes who will be competing in gymnastics, fencing, skateboarding and more.
This year's Games will also include some dramatic and inspiring story lines to watch unfold during a spectator-less Olympics under strict protocols where athletes arrive, compete and must leave the country within 48 hours after their events.
• Rapidly spreading: The Tamarack Fire south of Lake Tahoe grew more than 18,000 acres as of Sunday evening. Check The Chronicle's wildfire tracker for updates. Also: A red flag warning has been issued for parts of the Bay Area through Monday evening.
• From Heather Knight: Charges against a man who followed and grabbed a 15-year-old girl were dismissed by an S.F. judge.
• Swindled or saved? Chronicle Editorial Page Editor Matthew Fleischer details his experience selling his home to Redfin.
• Taking legal action: DoorDash and Grubhub have sued San Francisco over its permanent cap on third-party delivery fees.
• Stadium showdown: Oakland and the A's continue to disagree on waterfront stadium terms as a key vote from the City County nears Tuesday.
• That's all, folks: The window to express interest in running against Gov. Gavin Newsom in the recall campaign has closed.
Like most people, David Gans' life changed dramatically when the pandemic hit in 2020.
"I missed five or six days last September because my wife and I went on a camping trip," he said. "I missed a day for a colonoscopy. I missed a couple of days for technical difficulties here and there."
And even after he's begun booking live shows again, Gans said he doesn't plan to stop his virtual performances anytime soon. Read more from Peter Hartlaub.
Bay Briefing is written by Taylor Kate Brown, Anna Buchmann and Kellie Hwang and sent to readers' email inboxes on weekday mornings. Sign up for the newsletter here, and contact the writers at taylor.brown@sfchronicle.com, anna.buchmann@sfchronicle.com and kellie.hwang@sfchronicle.com.
ABS-CBN News 20 July, 2021 - 01:01pm
CBS San Francisco 19 July, 2021 - 06:40pm
MARIN COUNTY (KPIX 5) – Health metrics point to a spike in COVID-19 cases, but this is a much different kind of surge than we've seen in the past, according to doctors.
There are more breakthrough cases among the vaccinated, but what's reassuring for those who have gotten the shots, is hospitalizations and severe cases, are still very low.
In Marin County, health officials say about one in four recently infected have been vaccinated. About half of those are showing no symptoms.
"While we're seeing the Delta Variant can break through and cause infection among vaccinated people, it is not leading to severe illness or death," said Marin County Public Health Officer Dr. Matt WIllis.
Feelings about another uptick are mixed.
Linda Trung, who has been operating Cherry Blossom Salon for nearly 30 years, is asking customers to mask up, once again.
"I'm very nervous and very worried about the coronavirus coming back," said Trung.
"I'm not terribly concerned. I know the numbers are up but I am concerned about kids under the age of 12 carrying the virus around," said rideshare driver David White.
Health experts, though, emphasize the vaccine is still highly effective. Before, a spike in infections was followed by a surge in hospitalizations.
But only two of the 137 recently confirmed cases among vaccinated county residents ended up in hospitals and most notably, no one has died.
"Now cases and hospitalizations in highly vaccinated regions like the Bay Area are becoming de-linked and hospitalizations are mostly among the unvaccinated," said UCSF infectious diseases professor of medicine Dr. Monica Gandhi.
For months, the rolling average of daily new cases remained in the low single digits, now it's closer to 18. The majority of cases is among the unvaccinated.
"When we see cases going up right now, which is natural because we opened up society, it is not the same thing as cases going up before high rates of vaccination," said Gandhi.
In Los Angeles County, where an indoor mask mandate has been reinstated, the hospitalization rate is about twice that of the Bay Area. That's one of the reasons, the mask rule indoors for those vaccinated is still just advice in the Bay Area, rather than a mandate.
If that number reaches closer to 5 per 100,000 according to Gandhi, mask rules could change again.