July 21, 2021 | 9:14am | Updated July 21, 2021 | 9:45am
Blue Origin founder Jeff Bezos is being slammed for his "despicable" comments following his space flight Tuesday, in which he thanked Amazon employees and customers for financing his trip — including from many lawmakers who have urged the billionaire to pay his share of taxes here on Earth.
The show of appreciation by Bezos Tuesday to Amazon employees and the customers who "paid for all this" following his record-setting space flight did not dazzle the likes of Sen. Bernie Sanders (I-Vt.), Rep. Alexandria Ocasio-Cortez (D-NY) and Sen. Elizabeth Warren (D-Mass.).
"Am I supposed to be impressed that a billionaire went to space while he's paid zero in federal income taxes some years and the workers at his company struggle to afford their medical bills, rent, and food for their kids?" Sanders tweeted. "Nope. It's time to invest in working people here on Earth."
Sanders' tweet included a 54-second video showing Richard Branson winning the "billionaire space race" on July 11 in his Virgin Galactic passenger rocket plane. The footage then features a quote Sanders gave the New York Times about Branson and Bezos, saying they're the "richest guys in the world" who aren't worried about Earth anymore.
"At a time when the very rich and large corporations are often not paying anything or very little in taxes, they're going to have to pay their fair share so that we can protect working families in this country and deal with climate change," Sanders said in the clip.
Warren echoed that take, tweeting: "It's time for Jeff Bezos to take care of business right here on Earth and pay his fair share in taxes."
The politicians were apparently referring to a Pro Publica report that found Bezos, who stepped down from Amazon in July, paid no income tax in 2007 and 2011. He finances his rocket company by selling $1 billion in Amazon stock annually.
Ocasio-Cortez, meanwhile, said Amazon customers paid for Bezos' trip while alleging the online giant abused its "market power" to decimate small businesses.
"Yes, Amazon workers did pay for this – with lower wages, union busting, a frenzied and inhumane workplace, and delivery drivers not having health insurance during a pandemic," the New York lawmaker tweeted.
Robert Reich, former secretary of labor for President Bill Clinton, also took aim at Bezos and Branson, saying their flights were a sign of "grotesque inequality" that allows some people to leave Earth as others suffer.
Bezos awarded $100 million each to political commentator Van Jones and chef Jose Andres during a press conference following his trip, telling the pair to donate it to charities and nonprofits.
But that didn't apparently win over Rep. Earl Blumenauer, an Oregon Democrat on the tax-writing Ways and Means Committee who proposed legislation Tuesday to tax space travel for non-scientific research purposes.
"Space travel isn't a tax-free holiday for the wealthy," Blumenauer tweeted. "We pay taxes on plane tickets. Billionaires flying into space – producing no scientific value – should do the same, and then some!"
Some Amazon customers also criticized Bezos' nod to them for paying for his trip, saying he's officially lost their business.
"I don't buy very much from Amazon (certainly not books), but after seeing Jeff Bezos & his gang laugh about his minimum wage employees & customers paying for his trip into space, I just cancelled my Amazon Prime account," former Amazon customer Jules Swain tweeted Tuesday, later calling Bezos "despicable" in a follow-up post.
"I've just done the same Jules!" one reply read.
Read full article at New York Post
TODAY 21 July, 2021 - 09:00am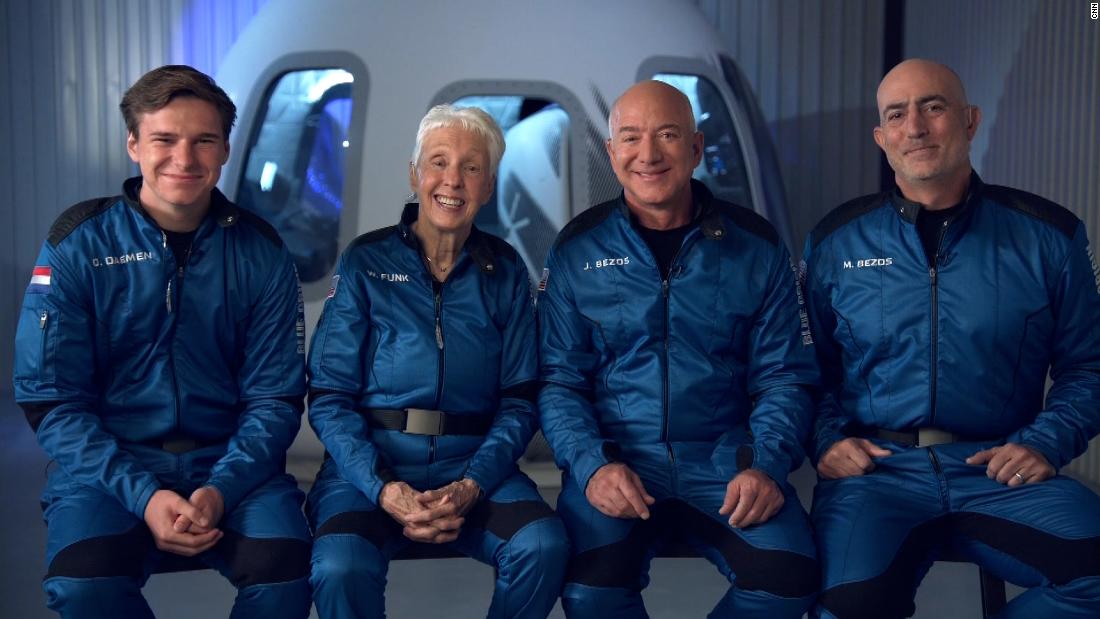 CNN 21 July, 2021 - 09:00am
Latest on Covid-19 and Olympics
By Jackie Wattles, Aditi Sangal, Melissa Macaya, Melissa Mahtani, Meg Wagner and Adrienne Vogt, CNN
Our live coverage of Blue Origin's spaceflight has ended. Read more on the flight here.
Jeff Bezos thanked Amazon employees and customers for funding Blue Origin's trip to space during a press conference today.
Bezos also thanked the engineers at Blue Origin for building the New Shepard, along with the town of Van Horn, Texas for allowing the company to utilize the area.
Wally Funk, the 82-year-old pilot who is now the oldest person to travel to space, said she felt "great" during the Blue Origin spaceflight.
"I've been waiting a long time to finally get it up there, and I've done a lot of astronaut training through the world — Russia, America — and I could always beat the guys on what they were doing because I was always stronger and I've always done everything on my own," Funk said during the press conference.
She thanked Bezos and indicated that she's not slowing down any time soon.
Each passenger aboard the New Shepard rocket was presented with Blue Origin's own wings to commemorate their trip.
Jeff Ashby, the senior director of safety and mission assurance and a former space shuttle commander, presented the pins to Jeff Bezos, Mark Bezos, Wally Funk, and Oliver Daemen after the flight on Tuesday.
The pins are in the shape of the letter "A." The side pieces represent "the road to space and our feather logo is the crossbar," Ashby said.
"At the top, a tiny blue sapphire to remind these folks that they are from planet Earth and that they have a mission to protect this home," he added.
For context: It is important to note the pins are not Federal Aviation Administration commercial astronaut wings. The FAA awards wings to "crewmembers" but not "spaceflight participants." The passengers on the New Shepard were only in space for a few minutes, and coupled with Virgin Galactic's flight, it has led to debate on what exactly constitutes an "astronaut."
Asked how it felt during the space flight, Jeff Bezos let out an excited "Oh my god!" at a press conference today.
"It felt so — like, almost like we were as humans evolved to be in that environment. That's impossible, but it felt peaceful," he said.
He called it a "very pleasurable experience."
Rep. Pramila Jayapal, chair of the House Progressive Caucus, retweeted CNN's story on Blue Origin, this morning adding, "On a related note, a wealth tax would generate at least $3 TRILLION for our communities." And Rep. Jerry Nadler called the space flight "self-indulgent" and joins Jayapal and other progressives in calling for a wealth tax "on mega billionaires like Bezos." 
Last month, Sen. Elizabeth Warren said of Bezos' trip into space, "He's laughing at every person in America who actually paid taxes ... Jeff Bezos' trip to outer space is being financed by all the rest of the US taxpayers who paid their taxes so that Jeff Bezos didn't have to."
Warren and Jayapal together introduced legislation for a wealth tax along with Rep. Brendan Boyle.
The crew members aboard Blue Origin's New Shepard are holding a news conference following their successful spaceflight this morning.
On board today's flight were Jeff Bezos, his brother Mark Bezos, pilot Wally Funk and 18-year-old Oliver Daemen.
The 10-minute flight went up more than 60 miles above Earth.
After landing safely back to Earth, the crew went through a procedural status check. Jeff Bezos could be heard saying inside the capsule that it was the "best day ever." Mark Bezos said he was feeling "unbelievably good."
CNN's Anderson Cooper spoke with Jeff Bezos and his brother moments after they landed back on Earth. Bezos said the experience of flying to space was "amazing" and nearly impossible to express in words.
Seeing planet Earth from his New Shepard rocket "was more profound for me than I expected," Jeff Bezos told Cooper.
"The thing that was most different for me was the view of Earth. That is the thing that I was surprised by," he said.
Bezos said he and his crew had some "traditional" zero-gravity fun by tossing Skittles at each other and trying to catch the candy in their mouths.
"Zero-G was certainly different than I thought it was going to be. But it was surprisingly natural to move around in that environment, which is not what I was anticipating," Mark Bezos said.
Jeff Bezos said his flight underscores his goal of space exploration, which he views as moving heavy industry to space and keeping Earth for residents and light industry. He said that could take "many decades."
"What we need to do is build a road to space so that future generations can take all heavy industry and polluting industry on Earth and move it up into space. So that we can keep this gem of a planet as it is, instead of ruining it, which unfortunately we might do," he said.
As we wait to hear from Jeff Bezos at a 11 a.m. ET post-flight press conference, it's worth remembering that in the grand scheme of things, what Bezos did today and what fellow billionaire Richard Branson did earlier this month is nothing new. Not really, anyway.
Sure, they're the first billionaires to ride rockets that they've funded themselves to touch the edge of space, but humans have been doing that with publicly-funded programs for decades now.
The first person to go to space, Soviet cosmonaut Yuri Gagarin, went on a 108-minute orbital flight in 1961. The United States government followed shortly after, launching Alan Shepard on a quick suborbital flight — much like Bezos and crew.
It's taken 60 years for billionaires to accomplish the same feat, though they hope to launch a bit more frequently than NASA or the Soviet Union ever did.
After decades of waiting, Wally Funk finally accomplished her dream of flying to space, becoming the oldest person to do so.
The 82-year-old pilot volunteered as a member of the "Mercury 13" program, otherwise known as the "Women in Space Program," in February 1961, which was a privately-funded effort intended to begin training women to fly in NASA's earliest space programs.
Funk has extensive experience piloting aircraft, logging over 19,600 flying hours and teaching more than 3,000 people how to fly private and commercial aircraft.
Also making history in the Blue Origin spaceflight was 18-year-old recent high school graduate Oliver Daemen, who became the youngest person to travel to space.
Daemen was Blue Origin's first paying customer, and his father, an investor, purchased his ticket.
Daemen replaced a mystery bidder who agreed to pay $28 million for a ticket, but who had to reschedule for a later mission because of "scheduling conflicts."