Can Deshaun Watson play this year?
The Texans do not plan to play quarterback Deshaun Watson during the 2021 NFL season, according to ESPN's Adam Schefter. Watson is currently facing 22 active civil lawsuits and 10 criminal complaints alleging sexual misconduct. ... The NFL is investigating Watson's conduct as is local police. Sports IllustratedReport: Texans Do Not Plan to Play Deshaun Watson in 2021 Season
Texans quarterback Deshaun Watson was inactive on Sunday vs. the Jaguars, and reportedly might not play another down for Houston.AP
CLEVELAND, Ohio — The Browns opened their season on Sunday in Kansas City. But there were 13 other games going on in the NFL on Sunday. There were storylines abound on Sunday, and plenty of them have an impact on the Browns.
Each week throughout the season, I'll pick a handful of notable moments that happened, whether they are injuries. big performances or other newsworthy events, and analyze them and what they mean for the Browns.
Here are seven from Week 1.
What happened: Fox Sports' Jay Glazer reported on Sunday that the Texans have kept Deshaun Watson separate from the rest of his teammates even though he is working out with the team. Glazer speculated that Watson may never play another down for the Texans.
Watson is facing 22 active civil lawsuits, accusing him of sexual misconduct. The team is looking to trade him, but ESPN's Adam Schefter reported that there is a very high price tag on Watson. He has not been suspended, but it's clear the Texans are trying to move on from Watson.
What it means for the Browns: The Browns host the Texans in Week 2. Houston had a surprising blowout win vs. the Jaguars at home. But playing in Cleveland after hosting Jacksonville is a massive jump in difficulty.
It also means Tyrod Taylor will get the start against his former team. It will be the first time he faces Baker Mayfield, three years after the two were together on the Browns.
What happened: One of the favorites to win the AFC ran into a roadblock at home when the Steelers stifled the Bills, 23-16.
Buffalo outgained Pittsburgh, 371-251. But Pittsburgh limited Buffalo to just one touchdown in four trips to the redzone.
The Steelers took control in the fourth quarter with a TD pass from Ben Roethlisberger to Diontae Johnson to take a 13-10 lead. On the next drive, they blocked a Buffalo punt and recovered it for another TD.
What it means for the Browns: It's hard to truly gauge how good a team will be in Week 1. But we saw that the Bills can be slowed down on offense, especially against teams who are disruptive up front like the Steelers.
Pittsburgh also showed that it can still win even when its offense isn't good. The Steelers were always going to be tough this year, but this was a surprising win for Pittsburgh. As for Buffalo, the Browns won't see them unless they meet in the playoffs.
What happened: Tennessee entered the season as the favorite to win the AFC South again. But the Titans' season is not off to a good start after they were blown out by the Cardinals, 38-13.
Kyler Murray was sensational, throwing four touchdown passes and running for one more. Chandler Jones was a force on the other end for Arizona with five sacks, four tackles for loss and two forced fumbles.
What it means for the Browns: Arizona comes to Cleveland in Week 7. The Cardinals are always a tough team to gauge. But when they are good, as they clearly were on Sunday, they are as tough as anyone to beat. They showed how good they can be in Tennessee.
What happened: Mac Jones made his NFL debut for the Patriots and played well, completed 29 of 39 passes for 281 yards and a touchdown.
But a late Damien Harris fumble recovered by Xavien Howard of the Dolphins spoiled the debut as Miami won, 17-16. New England scored just one touchdown in four trips into the red zone.
Tua Tagovailoa threw for 202 yards and a TD and rushed for another score.
What it means for the Browns: The Browns will get a look at Mac Jones in Week 10 in New England. Jones should only get better as he goes along.
But these are both teams the Browns could end up playing at some point in the playoffs. They are both a step behind the Bills in the AFC East. But Miami has the defense to get into the playoffs and needs Tagovailoa to continue to grow for that to happen. As for the Patriots, everyone knows never to count out Bill Belichick.
What happened: The Bengals blew a 14-point lead early in the third quarter against the Vikings. But in overtime, Joe Burrow converted a 4th-and-short, leading to a game-winning 33-yard field goal from Evan McPherson as the Bengals won, 27-24.
In his first game back after suffered a torn ACL against Washington last season, Burrow threw for 261 yards and two touchdowns. Joe Mixon added 127 yards and a touchdown.
Minnesota got 351 yards passing and two TDs from Kirk Cousins, but was hurt by 12 penalties for 116 yards.
What it means for the Browns: The Browns will see both teams this season. Burrow being back and looking good means this matchup could be just as tough as they were a year ago. He's also got a new weapon in Ja'Marr Chase, who rebounded from a bad preseason with 101 receiving yards and a touchdown.
Cleveland will be in Minnesota in three weeks and will have to slow down a Vikings' offense with plenty of weapons on both sides of the ball. They also sacked Burrow five times, so pass rush will be something to watch in that matchup.
What happened: Sunday was a bad day at the office for Aaron Rodgers and the Packers. Green Bay was dominated by the Saints, 38-3, and Rodgers was pulled for second-year quarterback Jordan Love.
Rodgers threw for 133 yards and two interceptions. On the other side of the ball, the Green Bay defense gave up five touchdown passes to Jameis Winston.
It was not the performance they wanted after a tumultuous offseason.
What it means for the Browns: Green Bay has plenty of time to get things corrected before the Packers host the Browns on Christmas. But this result is a troubling one.
The Packers could do nothing on either side of the football, even with Rodgers in the lineup. It's one game, but given the drama that happened in Green Bay with Rodgers, it'll be interesting to see if Sunday was an anomaly or if it becomes a trend.
What happened: Teddy Bridgewater was impressive in his Broncos' debut, throwing for 264 yards and two touchdowns in a 27-13 win vs. the Giants. However, the Broncos lost Jerry Jeudy, who led the team with six receptions for 72 yards, to injury.
NFL Network's Tom Pelissero reported that Jeudy suffered a high ankle sprain in the game.
What it means for the Browns: Benjamin Allbright of KOA Radio in Denver tweeted that the projected timeline for Jeudy's recovery is 6-8 weeks.
Six weeks from now is Week 7, which is when Denver travels to Cleveland for a Thursday night matchup. The Broncos have a 4:25 p.m. game the Sunday prior at home vs. Las Vegas. So that's a short turnaround for Jeudy and the Broncos if that timeline holds true.
If Jeudy can't go, Denver loses a quality receiver against a Browns team that can score early and often against most teams.
Get the latest Browns merchandise: Here's where you can order Cleveland Browns gear online, including jerseys, T-shirts, hoodies, hats and much more.
Buy Browns gear: Fanatics, NFL Shop, Amazon, Lids
Note to readers: if you purchase something through one of our affiliate links we may earn a commission.
These cookies are necessary for the website to function and cannot be switched off in our systems. They are usually only set in response to actions made by you which amount to a request for services, such as setting your privacy preferences, logging in or filling in forms. You can set your browser to block or alert you about these cookies, but some parts of the site will not then work. These cookies do not store any personally identifiable information.
These cookies allow us to count visits and traffic sources so we can measure and improve the performance of our site. They help us to know which pages are the most and least popular and see how visitors move around the site. All information these cookies collect is aggregated and therefore anonymous. If you do not allow these cookies we will not know when you have visited our site, and will not be able to monitor its performance.
These cookies enable the website to provide enhanced functionality and personalisation. They may be set by us or by third party providers whose services we have added to our pages. If you do not allow these cookies then some or all of these services may not function properly.
These cookies may be set through our site by our advertising partners. They may be used by those companies to build a profile of your interests and show you relevant adverts on other sites. They do not store directly personal information, but are based on uniquely identifying your browser and internet device. If you do not allow these cookies, you will experience less targeted advertising.
These cookies may be set through our site by us or our partners. These are cookies that may allow us to count visits and traffic sources so we can measure and improve the performance of our site. If you do not allow these cookies we will not know when you have visited our site, and will not be able to monitor its performance.
Read full article at cleveland.com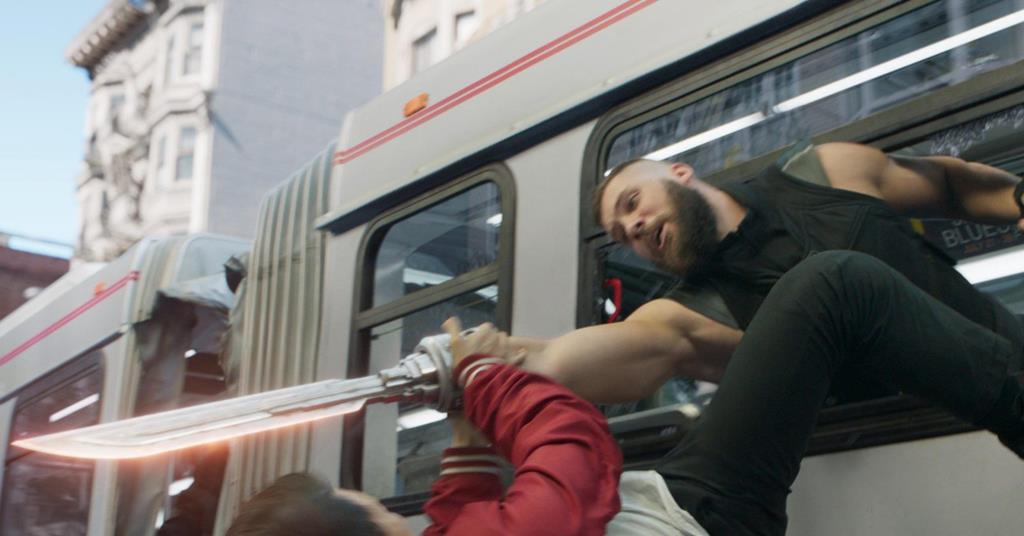 NBC Sports 13 September, 2021 - 08:00am
Sorry but it looks as if your browser is out of date. To get the best experience using our site we recommend that you upgrade or switch browsers.
This site uses cookies. By using this site you are agreeing to our privacy and cookie policy.
'Shang-Chi and the Legend of the Ten Rings'
Disney's blockbuster Shang-Chi And The Legend Of The Ten Rings is racing towards the £12m mark, topping the UK-Ireland box office for a second consecutive weekend.
It is one of only nine titles released in 2021 to pass the £10m mark, with four of these released by Disney. It is also one of just three films in that time, alongside Black Widow and Fast & Furious 9, to pass the £10m after two weekends, and has higher takings from that time than either of those two titles (Black Widow was at £11.2m, Fast & Furious 9 at £10.8m).
Disney will be looking for Shang-Chi to kick on past the £20m mark, in the two-and-a-half weeks before James Bond title No Time To Die eats up cinema screens.
Fellow Disney title and former number one Free Guy held second spot, falling 27.8% with £689,906 taking it to £14.3m from five weekends – a decent performance for a rare blockbuster not based on or connected to pre-existing material.
Universal's Aretha Franklin biopic Respect was the highest-grossing new title this weekend, opening to £424,060 from 605 locations at a modest average of £700.
The studio also had the number four title, with horror Candyman dropping 44.5% with £418,414 taking it to £3.76m total from three weekends.
Warner Bros' Malignant opened to £409,449 from 524 locations at an average of £783, just making it into the top five.
The PAW Patrol Movie moved to sixth spot for Paramount, dropping 31% in its fifth weekend with £324,000 taking it to £7.29m.
Grow Creative UK scheme will train 1000 people to tackle skills shortage.
Audrey Diwan's film won the top prize at Venice this weekend.
The psychological thriller is Sebastian Godwin's feature directing debut.
Click to add new email alerts
Streamers generating more work but offering fewer rights to filmmakers.
Spanish producer and Bulgarian filmmaking duo have been collaborating organically since debut feature 'Cat In The Wall'.
Modest US deals are expected to close in the coming days but for now buyers are taking their time and surveying what is on offer.
Screen International is the essential resource for the international film industry. Subscribe now for monthly editions, awards season weeklies, access to the Screen International archive and supplements including Stars of Tomorrow and World of Locations.
Site powered by Webvision Cloud
NFL Draft Diamonds 13 September, 2021 - 07:25am
A couple things happened on Sunday to Jacksonville quarterback (QB) Trevor Lawrence. He experienced his first loss ever and he revealed why he will become a bust.
Since before the draft, I have been screaming through the keys on my keyboard, that Lawrence does not have what it takes. I was so sure of myself prior to the draft, I went as far as to put a 90 percent bust rate on him.
However, after watching his first NFL game against Houston, I am even more sure of myself. Granted, Lawrence is one of the more difficult players I have ever evaluated.
His size and cannon for a right arm is what makes him challenging, because that is what the free world has fallen in love with. However, it is all the little things that have shown me he has no chance of actually succeeding in the NFL.
The first big clue was that he led the nation last year at Clemson with 87 screen passes (PFF College). As I watched every one of his passes last season, I noticed he did two things extremely well – – and one thing very poorly. He was great at throwing short and deep passes, but he really struggled at the intermediate route level, not throwing to receivers until either they were were open or not throwing until after they made their break.
Houston cashed in on that Sunday by picking him off three times – – all in the intermediate route level. Houston's three interceptions against Lawrence matched their total amount of interceptions they had as a team all of last season.
I will be the first to admit Lawrence had some great looking passes Sunday. However, he then reminded me why I have steadily believed he will be a bust all along.
I saw it in his first two preseason games against Cleveland and New Orleans, and I saw it again against Houston. It shows up in the stat line too. In those two preseason games, Lawrence was 5/13 converting third downs and on opening day he was 6/14. For every great looking pass he threw, there was another that sailed high or one where it looked like he had a brain fart. For example, the interception Lawrence locked in with and telegraphed into double coverage on the left side of the field.
For every beautiful pass he zipped perfectly right between coverages, there were several other short passes his receivers could not handle because he lacked touch.
However, the one pass that proved to me why Lawrence is a bust was this one.
It is not like Lawrence did not see the defender – – he was starring at him the whole time and there was not a receiver anywhere around him. These kinds of passes will not go away either. This is not a rookie thing. These are momentary complete lapses of judgement that will continuously show up.
He threw three picks and he flirted with five with two other dangerous looking passes – – it is these kinds of passes that will get everybody in Jacksonville's building eventually fired, and it will get Lawrence on his second NFL team sort of like QB Jeff George.
George was another big, strong armed first pick of the draft once upon a time, who never could put it all together either. George had arm everyone fell in love with – – but also the lack of judgement that caused him to bounce around the league on five different teams, while throwing 154 career touchdowns and just about as many interceptions (113).
Lawrence does not fit Jacksonville. As the team's leader, he has developed little to no synergy with his eligible receivers with the exception of Marvin Jones. With Lawrence at the helm, Jacksonville looks like an orchestra playing seven different songs at the same time – – and they did not look like that in the preseason when back-up C.J Beathard was in the game. This proves to me the problem is not the play calling; the problem is Lawrence. He just does not bring a steady rhythm or tempo to the offense as their leader. The only thing that gave Jacksonville and the Lawrence led offense any distinct look and feel of rhythm, was at the end of the game on that last touchdown drive when Jacksonville was up against the game clock.
Looking back, the same thing showed at Clemson too – – but it was better covered up there. In the NFL, it has been exposed right off the bat – – and defenses will continue to expose it.
Lawrence really does have a cannon for an arm, but it's a loose cannon.
You must be logged in to post a comment Login
You must be logged in to post a comment.
Jacksonville QB Trevor Lawrence struggled in his first two preseason games, but he played...
Simply put, Dallas linebacker Micah Parsons was an embarrassment against Tampa Bay on opening...
It is time for the off-season hype and hoopla to end as the regular...
After charting all 100 of 49ers' quarterback (QB) Trey Lance's preseason plays he participated...
Trey Lance vs. Kansas City Chiefs (8/14/21) (UC) = under center (SG) = shotgun 1-10...
Starting right tackle Penei Sewell is going to get Lions' quarterback Jared Goff killed...
When Cleveland Browns owner Jimmy Haslam personally wrote and asked me my ideas in...
All three have shown failure in their eyes when I have looked into them....
Copyright © 2021 NFL Draft Diamonds. All rights reserved. Privacy Policy
Thank you for letting us know.