Robbie Collin
robbiereviews
Delighted to report that Paul Verhoeven's Benedetta is an absolute riot: a good old fashioned art-house costume shagathon with a ferocious satirical streak. #Cannes2021
Baz Bamigboye 💙
BazBam
Movie love: Legendary producer & filmmaker #JeremyThomas with #MarkCousins (l) , the director of The Storms of Jeremy Thomas which had a special screening ⁦@Festival_Cannes⁩ .Super film about a man who dared to make fab independent pictures with a hint of danger about them. pic.twitter.com/SzF9voB3Wl
Isabel Sandoval
Isabelvsandoval
BENEDETTA (Verhoeven): CHAOTIC Sensual Cinema. Its bawdiness invigorates what could've been another dour, holier-than-thou take on religious history, and I'm all for defiant nuns putting the Church in its place. Why shouldn't Catholicism get its own SHOWGIRLS? pic.twitter.com/ci4DBguxhG
rachel handler
rachel_handler
here's my take on Paul Verhoeven's deranged lesbian nunsploitation movie Benedetta, which is like if Showgirls took place during the plague: www.vulture.com/2021/07/the-wildest-moments-from-the-nunsploitation-movie-benedetta.html
But in the end, the French approved. The period drama screened on Friday night at the 74th annual Cannes, where it was showered with a robust five-minute standing ovation.
The foreign-language movie — loosely adapted from the book "Immodest Acts: The Life of a Lesbian Nun in Renaissance Italy" — stars Belgian actress Virginie Efira as Benedetta Carlini, an 1800s French nun who believes she is possessed by Jesus Christ.
As she grapples with that revelation, she falls in love with her caretaker, a young nun named Bartolomea (Daphne Patakia). Their explicit love affair unravels with racy love scenes reminiscent of "Blue Is the Warmest Colour" and a sex toy that's carved out of a wooden figure of the Virgin Mary.
There's also enough violence in "Benedetta" to give "The Passion of the Christ" a run for its money, although it's unlikely that this movie will play to the same religious crowds that bought tickets to that 2004 blockbuster.
Verhoeven, whose last movie "Elle" played in Cannes in 2016, entered the Palais with a spring in his step, as he cheered back — clapping his hands in enthusiasm — on his way to his seat. When the movie ended, Verhoeven hugged and kissed Efira on the cheeks, as a black mask dangled below his nose.
"There are so many very talented people in the cast and the crew," he said in brief remarks to the crowd, as he acknowledged both Efira and Patakia.
The Cannes Film Festival began earlier this week, with expanded COVID-19 protocols on the most glamorous red carpet in the world. Spike Lee and Maggie Gyllenhaal, both jurors at this year's festival, attended the black-tie premiere.
"Benedetta" will be released in the United States by IFC Films.
Sign up for Variety's Newsletter. For the latest news, follow us on Facebook, Twitter, and Instagram.
Marvel Studios' Kevin Feige recently said he's "excited to continue working with" Scarlett Johansson "in any way possible"
Paul Verhoeven's lesbian nun drama "Benedetta" just premiered at the 2021 Cannes Film Festival, and early viewers took to social media to praise the film and the filmmaker's direction. "Absolute Verhoeven," World of Reel's Jordan Ruimy said. "Erotic, violent, religiously sinful and absurdist. You have never seen a movie quite like this one. It's a feminist take on Christ. If Virginie Efira doesn't win Best Actress then there is no God." Fandango's Brian Formo added: "Is 'Benedetta' one of Paul V
The rainbow-colored snack has social media extremely confused.
"I get starstruck really easily," the Aquaman star admitted.
That post-credits scene is fueling some theories...
Here's everything we know about the next installment right now.
Matt Damon went deep into red state identity politics to build his character in Tom McCarthy's Cannes premiere "Stillwater." To portray Oklahoma oil rig worker Bill Baker — a father who sacrifices everything to help free his daughter from a French prison, after she is convicted of murdering her roommate while studying abroad —— Damon […]
The long-standing tradition of Stan Lee appearing in every Marvel Comics film, television show and video game has come to an end – "The Simpsons" showrunner, Al Jean, says Marvel prevented them from adding a cameo appearance of the comic book legend in their new animated short, "The Good, the Bart, and the Loki."In the short, Tom Hiddleston, as Loki, makes his debut appearance in "The Simpsons" universe for a cartoon that makes an array of allusions to other MCU prominent characters. But there i
Caitlyn Jenner held her first news conference Friday as a Republican candidate for California governor, but it was devoid of any detailed policy discussion 77 days after announcing she was entering a recall election that could remove first-term Democratic Gov. Gavin Newsom. Meeting with reporters for just under 15 minutes, Jenner asserted she is a serious candidate in the Sept. 14 election and claimed she is leading the field of Republican candidates, even though no independent polling has been done that shows that. Jenner, who won the Olympic decathlon in 1976 and decades later became a reality TV personality and came out as a transgender woman, said she is better known than any other GOP candidate and even Newsom.
Press Secretary Jen Psaki said the failure of states like South Carolina to provide accurate public health information about the vaccine is "literally killing people."
Keough and Taylour Paige play strippers in "Zola," based on King's viral tweet thread recounting a trip she took with a girl she met at Hooters.
The reboot is dead as a movie, but Tarantino said it could find a second life on the stage.
MLB barred Dion Cini for hanging "Trump Won" banners at games. He used it as a marketing tactic to sell his Trump merchandise.
"Oh no, I'm afraid to look..."
"Howard the Duck" could be getting his MCU close-up, courtesy of Lea Thompson. The actress, who starred in the universally panned 1986 film of the same name, has volunteered to direct Howard in a "Marvel reboot." "Howard the Duck" was trending worldwide on Twitter on Thursday following the release of a trailer for Marvel Studios' upcoming TV series "What If," which features a cameo from the disgraced duck. Although much of the commentary centered around the absurdity of his inclusion (despite th
In "Captain America: The Winter Soldier," Johansson said that her character was initially written to arrive in tennis whites and a blond wig.
A claim on Facebook brings back an incident from a 2017 NFL game, but it gets the original story partly wrong.
Trucking has rooted out more than 40,000 drivers who tested positive for marijuana in a new clearinghouse. Resources ought to go elsewhere.
Following 'The Masked Dancer' and 'Sexy Beasts,' Jeong has his own idea for a masked spinoff show. But the notorious bad guesser says, "I'm sure I would get that wrong too."
Read full article at Daily Mail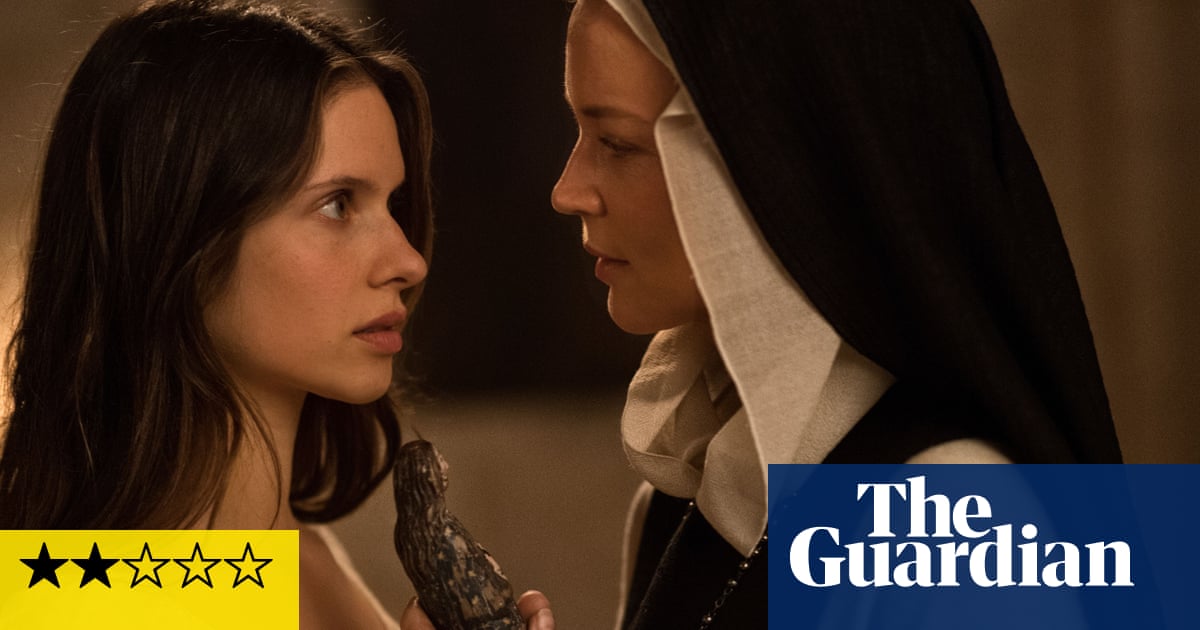 The Guardian 10 July, 2021 - 01:02pm
As ever, Verhoeven has a great love of showing his female leads in a state of softcore nakedness and stages some raunchy lovemaking scenes, one of which is spiced up with a wooden statue of the Blessed Virgin. This object turns out to be Exhibit A when Benedetta is finally confronted with her misdemeanours.
This isn't to say there aren't some big scenes: Benedetta's hallucinatory battle with snakes in the church is entertainingly gruesome, and Rampling's final moment is a showstopper of sorts. But Verhoeven may have to do some contrite murmuring in the confessional for this one.
Benedetta screened at Cannes film festival on 9 July.
FRANCE 24 English 10 July, 2021 - 01:02pm
Variety 10 July, 2021 - 01:02pm
Lest anyone think Paul Verhoeven's latest shocker was intended to be a serious look at sexuality in religious service, the promotional poster for the film plastered around the Cannes Film Festival — where "Benedetta" bowed in competition — depicts actor Virginie Efira dressed as a 17th-century Italian nun, her white habit pulled open to reveal an airbrushed nipple. This is an erotic film, full stop, and though "Benedetta" is smarter in various respects than such sisters-in-exploitation as "Put Your Devil Into My Hell" and "The Killer Nun," in others, it's much, much dumber.
Let's begin with the wooden statue of the Virgin Mary that is young Benedetta's most prized possession when she enters the Theatine convent as an 8-year-old novice, and that, by the film's end, will have been whittled into a shape through which ecstasy is far more easily achieved. Everything is either obvious, vulgar or some smarmy combination of the two in this racy follow-up to Verhoeven's rape-themed 2016 thriller "Elle." In that film, it was as if Isabelle Huppert's character were pushing back on a depraved male fantasy as it unfolded, reclaiming her agency by taking control of the situation and flipping it for her own pleasure.
Here, Verhoeven reteams with "Elle" screenwriter David Burke to adapt Judith C. Brown's rigorously researched "Immodest Acts: The Life of a Lesbian Nun in Renaissance Italy," and while the project will also be read as a feminist statement by some — the book details a true, high-profile case of homosexuality at a time when such records were scarce — the film is far less ambiguous about its intentions. With its haters-be-damned approach to all things carnal, "Benedetta" is intended to arouse, thereby satisfying the most basic definition of pornography, even if Verhoeven (who claims a certain scholarly interest in the subject as well) does surround the titillating bits with illuminating insights into Renaissance religious life.
Since the days of "Turkish Delight," this has been the subversive essence of Verhoeven's oeuvre. Indeed, the director has spent his entire career challenging the societal notion that the representation of something as fundamental to the human experience as sex (without which none of us would be here) should be verboten. But it's not sex that seems to interest Verhoeven so much as kink, and though cultural values are changing fast when it comes to LGBTQ acceptance, it's doubtful that the 82-year-old director would have much interest in Benedetta Carlini's story if her bedroom exploits were not so controversial.
Simply put, "Benedetta" intends to offend, and Verhoeven sets about that mission from the outset, showing a commedia dell'arte street theater troupe lighting their farts for the amusement of unsophisticated crowds. Verhoeven's career descends from this tradition, even if he's intelligent enough to offset the profanity with blunt social critique — the "Showgirls" strategy. In the opening scene, young Benedetta stands up to a group of outlaws, claiming a direct line of communication with heaven ("The Virgin does all I ask of her"). The bandits mock her, and then, as if on command, a bird evacuates in one of their faces.
Is this some kind of sign? Once you start looking for miracles, they become surprisingly easy to find, the Reverend Mother (Charlotte Rampling) of the Theatines warns, and though "Benedetta" loosely derives from documented history, on-screen every seemingly supernatural event occurs at the screenwriters' will. In cinema, the filmmaker is God, after all, and Verhoeven's strategy is to inspire a level of doubt over whether his protagonist is really getting support from upstairs, as each new marvel seems more extreme, from visions and trances to speaking in tongues and receiving the stigmata. At one point, she prophesies that she can spare the town of Pescia from the plague, raging all around.
The abbess and her followers are skeptical at first, but that's the paradox of all religions: So much of it must be taken on faith. Verhoeven invites a certain ambiguity so as to have it both ways, where believers won't feel that he's attacking their religion outright, while skeptics have enough clues to reach their own conclusions (like the shards of pottery Benedetta may have used to inflict her own wounds). The director further armors himself against detractors by embracing camp, pushing the plainly outrageous elements to such extremes as to elicit ironic laughter: the sexy Jesus and knowingly bad CGI of Benedetta's visions, the relish with which the Papal Nonce (Lambert Wilson) presents "the pear" — a gruesome vaginal torture device.
It all amounts to a very transgressive form of divine comedy for those willing to join Verhoeven on his sacrilegious wavelength. And why watch "Benedetta" in any other way? The helmer operates in the same broad, manipulative strokes that Mel Gibson brought to "The Passion of the Christ," reducing all but Benedetta to one-dimensional agendas. The men of the church may seem pious, but their actions are all motivated by political advantage. The women submit to the patriarchy, but find cunning ways to grasp power as it comes, as represented by the brave but futile stand taken by the abbess' most faithful servant (Louise Chevillot).
But what of the notorious lesbian love story? One could presumably tune out all the religious scandal and choose to see "Benedetta" as nothing more than the story of two women passionately attracted to one another in an environment where, as one nun puts it, "your worst enemy is your body." Efira plays Benedetta as a sincerely devout member of the Theatine order who experiences a strong and inexplicable connection to a peasant girl, Bartolomea (Daphné Patakia), who seeks shelter from her abusive father within the convent.
Verhoeven's never been one for subtlety, but there's a tenderness to these early scenes as the women establish a tentative intimacy. Bartolomea isn't shy about her body, whereas Benedetta wrestles with her guilt as she steals glimpses of the tomboyish new arrival. (She also holds a mirror to the hidden corners of her own anatomy.) To think that Cannes turned down Pedro Almodóvar's "Dark Habits" back in the day but awarded a shared best actress prize to the cloistered co-leads of Christian Mungiu's 2012 "Beyond the Hills." And now this!
Say what you will about religion, but "Benedetta" argues that there has been no more repressive force on human sexuality than those rules attributed to God yet agreed upon and enforced by men. Verhoeven comes down on the side of personal gratification, and that's the problem: It's all well and good to stick up for a pair of 17th-century lesbians, but as their plight is presented here, we're keenly aware that they're being ogled by a pervy old man.
It's the "Blue Is the Warmest Color" problem all over again — not so much the male gaze (DP Jeanne Lapoirie is a woman; she has shot several queer classics, including "Wild Reeds" and "BPM") as the conceit that two inexperienced female lovers, deprived of role models, would have porn-caliber sex their first time out, changing positions multiple times for the benefit of a steamy montage. It's in these scenes that Verhoeven's agenda seems most apparent, revealing "Benedetta" to be not a groundbreaking film, but just another entry in the tawdry nunsploitation genre.
Telegraph.co.uk 10 July, 2021 - 01:02pm
How anyone else might do it is moot. But Paul Verhoeven, director of Showgirls? Take a wild guess. Outrageous impudence and a winking relish for bad taste are more or less his religion. So, indeed, this film, unleashing orgasms so loud it's a wonder the entire sisterhood don't come a-running, is every bit the very naughty, Carry On Up the Convent romp you might salaciously imagine.
Loosely adapted by Verhoeven and David Birke from a 1986 biography called Immodest Acts, this is the director's second French-language picture in a row after 2016's rape thriller Elle, a project which thrillingly danced on the borderline between art and trash.
This is a bit more of an open-and-shut case, which is not to say that it isn't intermittently, if not always convincingly, serious, too. Verhoeven zhuzhes things up from time to time between vigorous sessions of dildo sex using – wait for it – a whittled statuette of the Virgin Mary. His film poses a lot of questions and prompts even more.
How did Carlini (an impressively passionate Virginie Efira) actually gain the top spot at this nunnery, despite the unrestrained Sapphic tastes herein ascribed to her, specifically for boobs? That's sort of explained. Amid mystical visions of a seductive Christ and nightmares in which she's violently attacked by would-be rapists, she reveals a nearly complete set of gory stigmata to her sisters. Evidence of the missing crown of thorns then shows up too – if it took a shard of broken pottery to clinch the deal, so be it. She's hailed as a holy emissary, however disconcertingly mad her outbursts. 
The outgoing abbess Sister Felicita (crafty-as-ever Charlotte Rampling) has her doubts, but then she's a doubting figure in general, who runs the place as a business, emptying the pockets of the young Benedetta's dad when she takes the veil. 
Things are relatively sedate until the arrival of Sister Bartolomea (Daphné Patakia), a feral wild child begging to be rescued from the deeply unsavoury clutches of her father. You wouldn't call this one cut out for a higher calling: she does a loud performative fart on the first night she's inside, and from then on offers more carnal temptations than Carlini can possibly withstand. The first to intuit anything untoward is Felicita – of course, as Rampling hints by way of warning, a Reverend Mother always knows. Before giving away her office chamber, she digs a peephole through the wall, and it would be quite the understatement to say her suspicions are confirmed when she spots where the figurine is going. 
Could anything be more Verhoeven than using a wooden Mary as a sex toy? A surprising amount of these details are historically attested, which must be what attracted him most to the material. The real-life Carlini, as this actually doesn't say, claimed to be possessed in bed by the spirit of a male demon called Splenditello. In Verhoeven's version, when she imagines disrobing Christ to caress him on the cross, he's revealed to have a Ken-doll crotch, a moment (among many others) which seems semi-calculated to cause maximum offence in St Peter's Square. Our girl isn't disappointed in the slightest.
While the sex scenes aren't numerous, they match Basic Instinct thrust for thrust in animal intensity, and if anything, they're the film's least ridiculous element, which wasn't the case with Basic Instinct. True, only under a pretty lax interpretation of her chastity vow could Carlini spin all this as respectable abbess behaviour – she's equally horny for Christ in her visions, but didn't all this nun fun count as cheating on him? 
What gave this pair cover, for a while, was the sheer bafflement back then that greeted the notion of two women having sex at all, and the specific mechanics thereof. As he's proved numerous times by now, Verhoeven is obviously well into it, with a female cinematographer (Jeanne Lapoirie) as his putative alibi this time against any charges of Blue is the Warmest Colour-style perving behind the camera. His two yet-to-complain actresses perform it more than credibly. 
In its take on Carlini herself, Benedetta tips shamelessly down the exploitation route, but then shamelessness is thematically key to the whole enterprise. As she remarks to Bartolomea while masturbating, "shame does not exist under God's love", and all bodily expressions of her own love are, in their way, divine offerings. She certainly sets about trying to prove those assertions, even as the bubonic plague laps at Pescia's gates amid cartloads of bodies, and a papal nuncio (Lambert Wilson), who hasn't been tested, vaccinated or *anything*, charges inside to put her on trial. 
To an almost Name of the Rose degree, but with uglier cinematography, it gets messy and fraught in the convent, even before a vaginal torture device called the "pear of anguish" is whipped out to elicit a confession, and those orgasms turn to screams of agony howling down the corridors while Rampling vomits up blood. Brace yourselves.
The plague stuff feels bizarrely current here, given that Verhoeven had the film ready for Cannes a whole year ago. "Anyone who comes in must be tested by our doctors," shouts a guard at the city gates – every hack passing through Palais security has had to do the same. 
Benedetta has the odd drab scene but is hardly ever dull, and only falters in playing a coy game about whether she was faking it or not – her faith, that is. She has a shard stashed handily about her person for any emergency stigma situations, though we never see her use it. 
This means Efira, good as she is, has to stay slightly opaque, juggling all the possible Benedettas from scene to scene while Verhoeven teases us about how mad, devout, or dissembling she may have been. Rampling, able to make total sense of her part, is strangely moving instead. 
There are tiny moments of supreme hilarity, such as the latter's expression when the nuncio's pregnant concubine squirts breast milk in her general vicinity. As a statement, Benedetta won't win any awards for coherence, but there's just Too Much Verhoeven going on here for sensation hunters ever to feel short-changed.
We urge you to turn off your ad blocker for The Telegraph website so that you can continue to access our quality content in the future.
Visit our adblocking instructions page.
BBC News 10 July, 2021 - 01:02pm
But Verhoeven's new French film, his first since he made a comeback with Elle in 2016, is a reminder that he is a lot more than a gleeful purveyor of sex and violence. Benedetta, for much of its running time, is a restrained, handsome, and even traditional period drama, a stately parade of elegant costumes and beautifully candle-lit stone buildings, set to a dignified orchestral score by Anne Dudley. It's a thoughtful examination of politics and organised religion, and a searing exploration of faith. The nudity and the blood-splashing are just a bonus.
Co-written by Verhoeven and David Birke, the film is adapted from a book by Judith C Brown, Immodest Acts: The Life of a Lesbian Nun in Renaissance Italy. But that title and subtitle don't do the scale of the story justice. It's the story of Benedetta Carlini (Virginie Efira), the daughter of a wealthy merchant. As a little girl, Benedetta is convinced that the Virgin Mary talks and listens to her, but that isn't enough to get her into the Theatine Convent in the city of Pescia. The Abbess (a wonderfully wily Charlotte Rampling) has no qualms in stating that a convent isn't a place of charity: anyone who wants their daughter to be a bride of Christ has to pay a whopping dowry.
Benedetta's father ends up paying twice over – once for Benedetta, and once, 18 years later, for a farm girl, Bartolomea (Daphné Patakia), who begs for sanctuary from her abusive family. Benedetta has already been having erotic visions of a handsome Jesus, but when this earthy, forthright novice smiles at her, she begins to have other hankerings. Could sacred love and carnal love be related?
It isn't long before Verhoeven delivers the kind of sensuous, explicit, and narratively gripping sex scene that was in Basic Instinct. He then delivers another one, in which the nuns make sacrilegious use of a carved wooden figurine of the Virgin Mary, and someone else makes use of a peephole. There's no getting around it: whether you approve or not, Verhoeven loves his films to have naked women in them. But Benedetta's secret relationship is only a part of the plot. What really causes a stir is her appearance in chapel one morning with deep stigmatic wounds. The Abbess and various other church bigwigs (Lambert Wilson, Olivier Rabourdin) are in a quandary that recalls the satire in Verhoeven's RoboCop and Starship Troopers. Could they be witnessing a miracle? Or are the wounds self-inflicted? But if they are self-inflicted, could God still have been responsible? And does any of that matter, considering that miracles can be good for business? After all, at a time when a plague is creeping through the land, rumours of a divine nun could be more valuable than ever. "Perhaps," suggests the Abbess, "God sent us a madwoman to spout nonsense and serve our ends".
Far from being a steamy nun-sploitation thriller about women with bad habits – well, it's partly that, to be honest – Benedetta is a substantial, sophisticated, yet briskly paced and always highly entertaining drama, which balances quiet scenes of shrewd backroom politicking with lurid scenes of wild religious madness. Allegiances and priorities keep shifting as a rich cast of characters struggles to work out what's best for them and best for the convent, and viewers struggle to work out the latest of Verhoeven's defiant blondes. Is the poised and confident Benedetta a Joan of Arc, a Catherine Tramell, or something in between?
The film is also eerily topical, with all its talk of plagues and lockdowns – I say "eerily", because Verhoeven shot it three years ago. Some of the plague sequences have the parodic feel of Monty Python and Jabberwocky about them: that's inevitable whenever walled cities and pustulent peasants are on screen. But Benedetta has plenty of mischievous humour of its own, even as it takes its heroine and her beliefs seriously. The control that Verhoeven has over so many characters, threads and tones is almost a miracle in itself. The director is nearly 83, and his new film is up there with the best of his long career.
AFP News Agency 10 July, 2021 - 01:02pm
IndieWire 10 July, 2021 - 10:30am
One film that has plenty of people fired up at the Cannes Film Festival this week is Paul Verhoeven's lesbian nun drama "Benedetta." Centered on the horny dynamic between two nuns in a 17th-century Italian convent, the film has generated quite the stir for its sex scenes, including one where a character uses a wooden statue of the Virgin Mary as a dildo. To some at the festival's press conference, the film's sex scenes came across as blasphemous — a response that director Verhoeven would hear none of. (Via Variety.)
According to the Variety report, Verhoeven grew defensive as questions homed in on everything from feminism to nudity. "I don't really understand how you can really blaspheme about something that happened, even in 1625," he said. "You cannot change history, you cannot change things that happened, and I based it on the things that happened. So I think the word blasphemy in this case is stupid."
When asked by one reporter how Verhoeven achieved the already notorious scene involving using an effigy as a sex toy, Verhoeven remarked, "Well, you saw the movie." The director has never shied away from in-your-face sexual content, from "Basic Instinct" to "Elle."
When asked about the film's unabashed nudity, Verhoeven said, "Don't forget, in general, people, when they have sex, they take their clothes off. So I'm stunned basically by the fact that we don't want to look at the reality of life. Why this puritanism has been introduced — it is in my opinion wrong."
As for the question of whether Verhoeven would ever use an intimacy coordinator of the sort that are now standard in Hollywood, he said, "[The actors] themselves were the intimacy coordinators. I felt it. Sometimes it might be necessary but for the time being I believe not in France."
IndieWire's David Ehrlich was not so shaken by the film according to his review out of the festival: "Despite a handful of headline-worthy moments and a generally blasphemous — or perhaps just humanistic? — attitude toward the dogmas of the Catholic Church, 'Benedetta' can't help but feel like one of Verhoeven's tamer efforts. You get the sense that's by design to a certain extent: While certainly not making any concessions to the puritan crowd, Verhoeven is only interested in provocation so far as it might slap people into appreciating how 'God's will' tends to reflect the self-interests of those who see fit to enforce it (anyone who would be outraged by the content of this movie will already be outraged by the mere idea of it)."
Sign Up: Stay on top of the latest breaking film and TV news! Sign up for our Email Newsletters here.
This Article is related to: Film and tagged Benedetta, Cannes, Paul Verhoeven
Interviews with leading film and TV creators about their process and craft.
Yahoo News 10 July, 2021 - 09:38am
"Benedetta" predictably stirred the French Riviera festival over the weekend. In it, the Belgian actor Virginie Efira stars as Benedetta Carlini, a 17th-century French nun who communicates directly with Jesus and who falls in love with a farm girl saved by the convent (Daphné Patakia). An entertaining riot of eroticism, violence, Catholicism and plague, Verhoeven's movie has been both dismissed as "nun-sploitation" and hailed as "a good old fashioned art-house costume shagathon."
Cannes, where movies like "Taxi Driver" and "Blue Is the Warmest Color" have made controversial premieres, loves a jolt of violence or a splash of sex. The arrival of "Benedetta" has sent nun puns flying around the Croisette.
"When people have sex, they take their clothes off," Verhoeven said Saturday. "I'm stunned, basically, how we don't want to look at the reality of life. This purity that has been introduced is, in my opinion, wrong."
Verhoeven, the 82-year-old director of "Basic Instinct" and "Showgirls," found an art house comeback in the acclaimed 2016 French-language thriller "Elle." He has long advocated for sexuality as part of nature, and thus of cinema too.
"People are interested in sexuality," said Efira. "There aren't that many directors who know how to film it. But Paul Verhoeven, since the very beginning, is someone who has dealt with this major topic in an amazing way. Nudity is of no interest when it's not depicted in a beautiful way. That's not what Paul does. Everything was very joyful when we stripped off our clothes."
Written by Verhoeven and "Elle" collaborator David Birke, "Benedetta" is inspired by Judith C. Brown's non-fiction book "Immodest Acts: The Life of a Lesbian Nun in Renaissance Italy." Carlini was a real 17th-century abbess who was tried and imprisoned in the early 1600s for her claims of mystical visions.
Verhoeven strongly disagreed that anything about his film could be labeled "blasphemous."
"It's true, mostly. I mean, of course we changed a little bit, but it's (a true story)," said Verhoeven. "You can talk about what was wrong or not, but you cannot change history."
"So," he added," "I think the word blasphemy for me in this case is stupid."
Instead, Verhoeven sees "Benedetta," which IFC Films has acquired to release in North America, as a progressive film.
"We see what's happened in 1625, how people — our people, the Western European people — how they were thinking about a lesbian love story and where we are now, isn't it?" said Verhoeven. "We're probably not completely there, but I think we have made a lot of progress. And I saw the differences between then and now was also a reason to do the movie."
Follow AP Film Writer Jake Coyle on Twitter at: http://twitter.com/jakecoyleAP
Paul Verhoeven's lesbian nun drama "Benedetta" just premiered at the 2021 Cannes Film Festival, and early viewers took to social media to praise the film and the filmmaker's direction. "Absolute Verhoeven," World of Reel's Jordan Ruimy said. "Erotic, violent, religiously sinful and absurdist. You have never seen a movie quite like this one. It's a feminist take on Christ. If Virginie Efira doesn't win Best Actress then there is no God." Fandango's Brian Formo added: "Is 'Benedetta' one of Paul V
Racy sex in a convent? Explicit dreams about Jesus Christ? A coming-of-age lesbian love story? Paul Verhoeven's "Benedetta" featured all that and more, leaving its premiere audience at the Cannes Film Festival searching for words to describe the movie they'd just seen. But in the end, the French approved. The period drama screened on Friday […]
Verhoeven's 17th-century lesbian nun drama had some viewers fired up on the Croisette earlier this week.
Batman's secret cave, Harry Potter's cupboard under the stairs and the apartment from "Friends" are major centerpieces to the huge Warner Bros. studio lot expansion. Warner Bros. Studio Tour Hollywood recently reopened more than a year after doors were shuttered because of the coronavirus pandemic. Now, attendees will have a chance to explore the studio's nearly 100 years of television and filmmaking history, highlighting the DC Universe and "Harry Potter."
Léa Seydoux, one of France's most famous actors, may miss the Cannes Film Festival after testing positive for COVID-19. Seydoux has been fully vaccinated but she tested positive while working on a film, her publicist Christine Tripicchio confirmed Saturday. Seydoux was set to be one of the most ubiquitous stars at Cannes this year.
Our trip through the week's stories, including an electric Dodge, an electric Ram, and more promises from Elon Musk.
Ever the bad boy even into his 80s, director Paul Verhoeven stirs the pot and turns the heat up to the boiling point in Benedetta, a medieval brew of religious fervor, illicit lesbian sex in a convent, Catholic church politics and — to incidentally add a contemporaneous touch — a plague sweeping the land. Shot […]
The Australian triumphed 6-3 6-7 (4) 6-3 on Centre Court.
For anyone who's ever got drunk on bad schnapps with a stranger, for anyone who's ever been properly alone in a nowhere-town and spoken to a dial tone just to look like they had something to do, for anyone who's ever been asked how to say "I love you" in their language and has patiently […]
Marvel Studios has dropped the first trailer for its upcoming Disney+ series What If…?, based on the popular comics. The […] The post Chadwick Boseman stars in final performance as T'Challa in 'What If…?' trailer appeared first on TheGrio.
The Bad Boy Records label head took to Twitter and Instagram on Wednesday to air out his frustrations with the Olympic organization
This year there are slim pickings if a team is looking for a big man in the first round. Here's who they can choose from.
Two airline cargo employees working at Los Angeles International Airport pleaded guilty to stealing approximately $224,000 in gold from a New York-bound international shipment of 2,000 gold bars.
Scott Brooks and the Wizards parted ways after five seasons last month.
For Jeff Timmons, it barely took a second to recognize his bandmate Nick Lachey's voice behind the piglet costume on "The Masked Singer." "I knew as soon as I heard it – then went right down to The Strip and bet!" laughs the Vegas resident. It's no wonder since Lachey's was the same powerful, masked […]
They're breathable, lightweight, and sustainably made.
Rory McIlroy could only look on in amazement as a brazen golf fan stepped up to his bag, grabbed a club, and started taking some practice swings.