Charlie Bilello
charliebilello
Here are the top 30 stocks in the S&P 500 over the past 30 years. You'll never guess #1... Data via @ycharts pic.twitter.com/D7MmCiAUpg

Matt Krantz
mattkrantz
Some #investors think it's smart to dump stocks in May — as the following six months are usually the weakest for the S&P 500. But that kind of "sell in May and go away" thinking is costing you money. $NVDA Insights from @StovallCFRA @RyanDetrick www.investors.com/etfs-and-funds/sectors/sp500-heres-what-happens-to-investors-who-sell-their-stocks-in-may/

Ben Carlson
awealthofcs
Apple, Microsoft, Amazon, Google & Facebook have a combined market cap of roughly $8.3 trillion That's as big as the combined market caps of the bottom 370 stocks in the S&P 500 Apple alone (at $2.2 trillion) is equal to the smallest 157 or so stocks in the S&P

Paul R. La Monica
LaMonicaBuzz
Weird day for the markets. Nasdaq down 0.4% but S&P 500 up 0.4% and Dow surging 0.8%, or nearly 275 points. Behold, once again, the power of price weighting. Triple digit Dow stocks $IBM $TRV $HD $CVX $UNH $AXP $WMT $JNJ $PG $GS $MMM all enjoying a solid day of gains.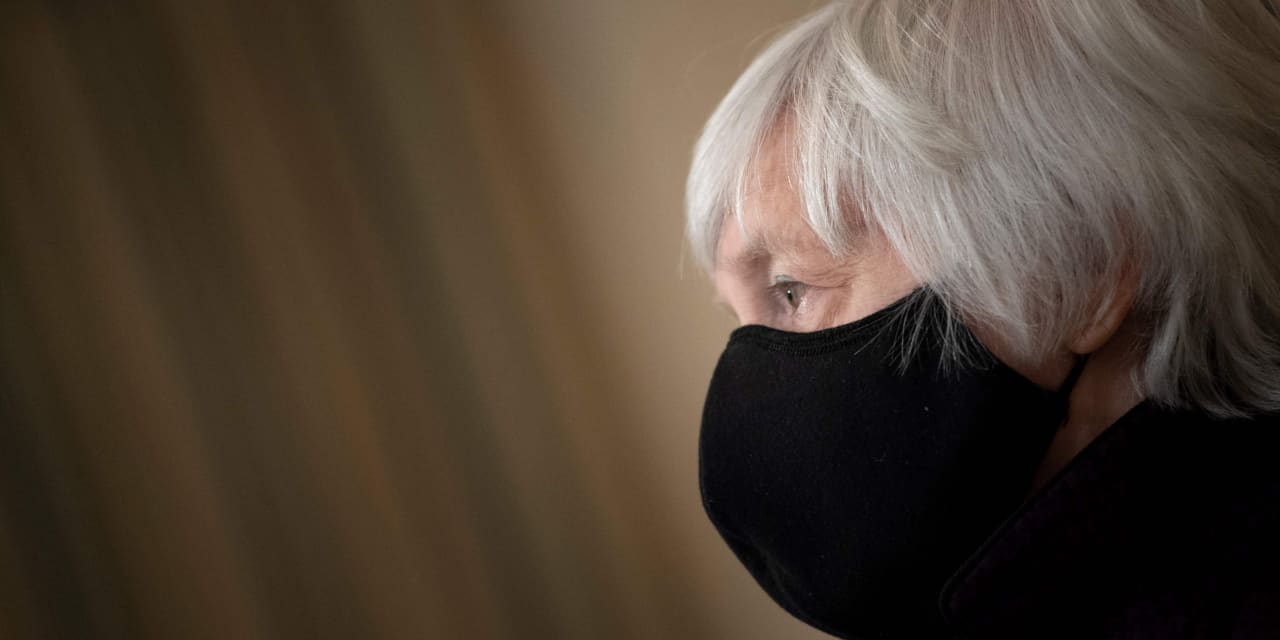 Investors eyed comments from U.S. Treasury Secretary Janet Yellen, who said interest rates could rise a bit if the economy overheated.
On Monday, the Dow advanced 238.38 points, or 0.7%, ending at 34,113.23, its third-highest close in history; the S&P 500 added 11.49 points, or 0.3%, to close at 4,192.66, its second-highest finish ever; while the Nasdaq Composite fell 67.56 points, or 0.5%, finishing at 13,895.12, as it posted back-to-back declines.
Investors honed in on comments by Yellen, in an interview with the Atlantic magazine that was recorded Monday and aired Tuesday, saying interest rates may have to rise a bit to prevent the economy from overheating, but those remarks were made in the larger context of a speech where she also said inflation would not be an issue.
"The stock market is cautious," said Kristina Hooper, chief global market strategist at Invesco, in a Tuesday note.
"After all, stocks have already rallied dramatically, and there are concerns about the unsustainability of the current very positive environment given that government debt is growing and higher taxes are expected," she wrote. "This caution is also borne of being monetary policy-dependent, because sticky inflation could be around the corner, and that might force the Fed to remove the punch bowl."
See: Epic CEO: I decided to sue Apple because of App Store's 'negative impact'
Investors are weighing the strength of corporate earnings and the economic resurgence from the COVID pandemic against worries about inflation and concerns that prices for equities don't have much further room to run higher given current valuations.
MarketWatch's Mark Hulbert notes that by one measure stock valuations are higher than 98% of monthly readings since 1881, and more than double the 140-year average, suggesting an extremely overvalued market.
Read: Stock market peak? The 'easy money' has been made, but there's still room for gains
On Monday, a closely watched manufacturing report from the Institute for Supply Management for the U.S. disappointed, falling to 60.7% in April from a 38-year high of 64.7% in the prior month. Economists surveyed by Dow Jones and The Wall Street Journal had forecast the ISM index to edge up to 65%.
In economic data Tuesday, the U.S. trade deficit rose 5.6% in March to a record $74.4 billion, reflecting a robust appetite for consumer goods as the economy gains speed. Data also showed U.S. factory orders rose 1.1% in March.
On the public health front, the U.S. Food and Drug Administration is expected to authorize Pfizer's COVID-19 vaccine for ages 12 to 15 by next week, according to the Associated Press, citing a federal official and a person familiar with the process, setting up shots for many before the beginning of the next school year. Meanwhile, India is second to the U.S. by cases at 20.3 million and third by fatalities at 222,408.
Dogecoin prices make a fresh run again, pushing the popular crypto to an all-time high above 50 cents, as enthusiasm for the hottest digital asset on the planet refuses to abate.
Mark DeCambre is MarketWatch's markets editor. He is based in New York. Follow him on Twitter @mdecambre.
Read full article at MarketWatch
TheStreet 04 May, 2021 - 08:39am
Losses gained momentum after Treasury Secretary Janet Yellen was quoted as saying that big spending plans by the U.S. government could mean "interest rates will have to rise a little bit to make sure our economy doesn't overheat."
Yellen's comments came in an interview with the Atlantic that was broadcast Tuesday.
The Dow Jones Industrial Average dropped 219 points, or 0.64%, to 33,893, the S&P 500 declined 1.21% and the tech-heavy Nasdaq tumbled 2.52%, led lower by Apple  (AAPL) - Get Report, Tesla  (TSLA) - Get Report and Amazon.com  (AMZN) - Get Report. High-growth tech shares are especially vulnerable to interest rate increases.
Stocks finished mixed Monday as Wall Street kicked off the first trading day of May with investors betting on a strong U.S. recovery. The Nasdaq, however, ended down 0.48%, led by declines in tech giants.
Stocks have risen in recent weeks as a recovery gathers pace in the U.S. and abroad thanks to vaccination programs that have helped people get back to work and allowed for restrictions to be lifted.
A bevy of solid earnings reports also has given stocks a boost.
According to FactSet, more than 60% of the companies in the S&P 500 have posted results, with the blended S&P 500 earnings growth rate in the first quarter at 45.8%, up from 24.5% at the start of earnings season and the 15.8% expected at the start of the quarter. About 86% of companies have surpassed analysts' expectations, a record high.
Federal Reserve Chairman Jerome Powell said Monday the economic outlook in the U.S. has "clearly brightened" but the recovery has been uneven. The Fed chief said the "economic downturn has not fallen evenly on all Americans and those least able to bear the burden have been the hardest hit."
Pfizer  (PFE) - Get Report posted stronger-than-expected first-quarter earnings and lifted its full-year profit guidance as it expects to generate around $26 billion in worldwide sales for its BNT162b2 coronavirus vaccine. 
Meanwhile, the Food and Drug Administration likely will authorize use of the Pfizer and BioNTech  (BNTX) - Get Report coronavirus vaccine in adolescents 12 to 15 years old by early next week, The New York Times reported, citing federal officials familiar with the agency's plans.
Oil prices were rising with news of state reopenings in New York, New Jersey and Connecticut taken as a signal for higher fuel demand in the coming months.
Ethereum, the second-largest cryptocurrency, set another record high Tuesday, eating further into bitcoin's dominance of the total cryptocurrency market.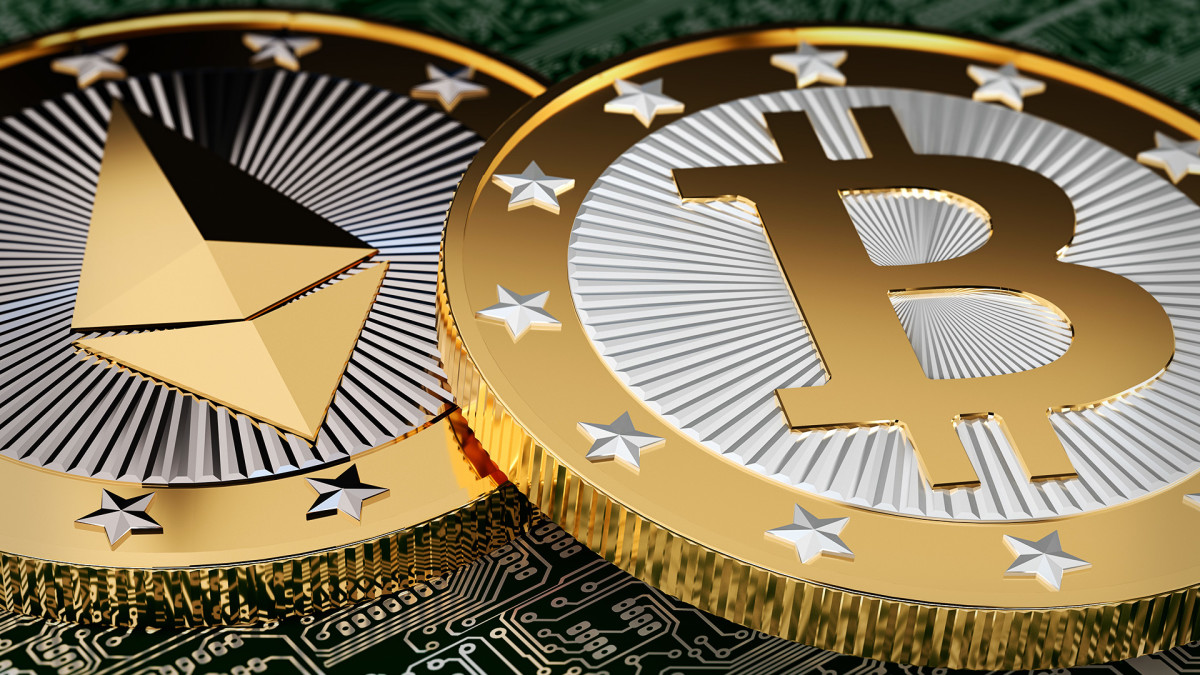 TheStreet 04 May, 2021 - 07:59am
The S&P Bitcoin Index will measure performance of the world's biggest cryptocurrency, S&P Dow Jones said, with an S&P Ethereum Index designed to track Ether, the digital token used for transactions on the Ethereum blockchain. A third index, the S&P Cryptocurrency MegaCap Index, will measure the performance of both Bitcoin and Ethereum digital assets.
The indices will use price data from Lukka, a crypto software and data provider, as part of the determining process, with the aim of creating a digital market that will "mitigate some of the common risks associated with this traditionally speculative market.
"Traditional financial markets and digital assets are no longer mutually exclusive markets," said Peter Roffman, global head of innovation and strategy at S&P Dow Jones Indices. "As cryptocurrency becomes more mainstream, investors now have access to reliable and transparent benchmarks backed by institutional quality pricing data."
"We look forward to further expanding our new family of Digital Market Indices and bringing much needed transparency to this exciting market," he added.
Bitcoin prices were marked 2.25% lower on the session at $56,220 each, but have risen more than 93% so far this year, and is more than six times higher than it was in May of 2020.
The Grayscale Bitcoin Trust  (GBTC) - Get Report, the cryptocurrency's biggest trust provider and a benchmark for tracking institutional investor activity, is up 47% so far this year and has a market value of more than $32.7 billion. 
Ethereum, meanwhile, had its biggest single-day gain on record yesterday when it reached an all-time high of $3,457 each, cryptocurrency's year-to-date gain at around 350%.
Bitcoin's mainstream adoption has also paralleled its extraordinary price increase, with PayPal unveiling plans last month that will allow its customers the ability to buy goods and services with cryptocurrencies at more than 29 million merchants around the world in what may be the biggest single effort to normalize digital purchases.
Bitcoin's use in goods and services transactions remains remarkably small, however, with a 2018 study suggesting monthly volumes of less than $60 million.
The heavy environmental cost of bitcoin's complicated settlement procedure is also a factor in its slow transaction processing speed, a recent study from Bank of America noted, with just 14,000 transactions per hour. Visa V, by contrast, processes more than 236 million each hour.
Still, with companies such as Tesla TSLA, Square SQ and Twitter TWTR adding to their bitcoin investments and retail investors pouring into to the cryptocurrency world at a record pace, JPMorgan's decision to facilitate its client's interests does make commercial sense.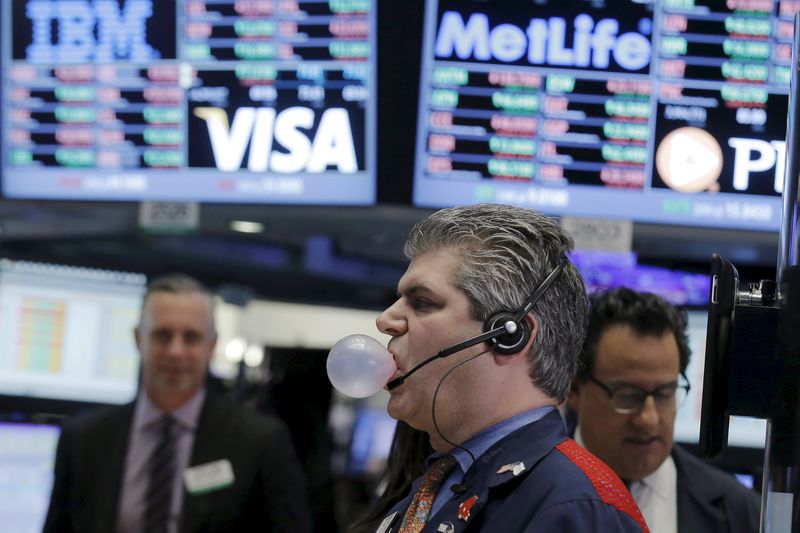 Investing.com 03 May, 2021 - 12:00am
Investing.com – The Dow closed higher Monday as signs of a faster reopening of the economy pushed cyclicals corners of the market including energy and materials higher.  
The Dow Jones Industrial Average ended up 0.70%, or 239 points, the S&P 500 was up 0.27%, and the Nasdaq Composite was down 0.44%.
Energy led the broader market higher, underpinned by rising oil prices as investors renewed bets on a recovery in global demand despite Covid-19 cases in India that continue to mount.
"Support from the economy's reopening is being reinforced by aggressive fiscal and monetary stimulus, the release of pent-up demand, and the drawdown of sizable household savings," Wells Fargo (NYSE:WFC) said in a note.
Halliburton (NYSE:HAL), HollyFrontier (NYSE:HFC) and Baker Hughes (NYSE:BKR) were among the best performing energy stocks on the day, with the latter up 8%. Baker Hughes rallied after Barclays (LON:BARC) upgraded the stock overweight from equal weight and lifted its price target to $28 from $25, citing optimism on oilfield services and equipment stocks.
In a sign of progress on the reopening, New York and New Jersey are set to begin lifting all restrictions from May 19, New York Gov. Andrew Cuomo announced Monday. 
In tech, meanwhile, Apple Inc (NASDAQ:AAPL) is in the spotlight as the tech giant entered a court battle in the Northern District of California with game developer Epic Games over alleged anti-competitive practices in its App Store. Apple removed Epic Games' Fortnite from its App Store after the latter attempted to circumvent Apple's 30% fee.  
Some on Wall Street believe that Apple will ultimately win the legal battle against Epic.  
"This week Epic Games, the maker of Fortnite, will officially begin its much anticipated court battle royale with Apple in Northern District of California that we ultimately believe Cupertino will win while defending its golden jewel App Store ecosystem," Wedbush said in a note.
Other megacap tech stocks traded lower. Google-parent Alphabet (NASDAQ:GOOGL), Microsoft (NASDAQ:MSFT), Facebook (NASDAQ:FB) and Amazon.com (NASDAQ:AMZN) fell.
Sentiment on stocks was also lifted by ongoing signs the economic recovery is gathering momentum even as the manufacturing activity for April fell short of investor expectations.
"[D]espite coming in below expectations, the reading suggests that activity in the sector is still expanding at a solid pace," Jefferies (NYSE:JEF) said.
On the economic front, weaker-than-expected manufacturing activity was largely shrugged off as the underlying data "suggests that activity in the sector is still expanding at a solid pace," Jefferies said.
Still, despite the strong day of gains, there are some on Wall Street who caution that stocks could be set for a short-term correction.
"[W]e would note that for the most part, equities remain overbought / extended on a short-term basis […] this to us implies we are still vulnerable to a correction ahead," Janney Montgomery Scott said. "The S&P 500 could correction by 10-to-15%, though will main its long-term uptrend," it added.
Investing.com – France stocks were lower after the close on Tuesday, as losses in the Foods & Drugs, Gas & Water and General Financial sectors led shares lower. At the close in...
Investing.com – France stocks were lower after the close on Tuesday, as losses in the Foods & Drugs, Gas & Water and General Financial sectors led shares lower. At the close in...
By Manas Mishra and Michael Erman (Reuters) -Pfizer Inc on Tuesday raised its forecast for 2021 COVID-19 vaccine sales by more than 70% to $26 billion and said demand from...
We encourage you to use comments to engage with users, share your perspective and ask questions of authors and each other. However, in order to maintain the high level of discourse we've all come to value and expect, please keep the following criteria in mind:
Perpetrators of spam or abuse will be deleted from the site and prohibited from future registration at Investing.com's discretion.
Are you sure you want to block %USER_NAME%?
By doing so, you and %USER_NAME% will not be able to see any of each other's Investing.com's posts.
%USER_NAME% was successfully added to your Block List
Since you've just unblocked this person, you must wait 48 hours before renewing the block.
I feel that this comment is: