Read full article at HipHopDX
ABC7 11 July, 2021 - 12:30pm
E! News 11 July, 2021 - 12:30pm
inTouch Weekly 11 July, 2021 - 12:30pm
Drake must be serious about his rumored new love interest, Johanna Leia, as he went completely over the top to impress her on a date. The 34-year-old reportedly rented out Dodgers Stadium in Los Angeles so the two could have a private and romantic dinner together.
In images circulating on Twitter, the 56,000 seats in the venue remained empty, as the pair sat side by side at a white dinner table on the playing field near the dugout. A bartender was stationed nearby for any of their cocktail needs. Drake and Johanna's date might have remained a secret, until a KABC-TV helicopter reporter managed to snap photos of the couple's date from above while flying over the empty stadium. Drake's rep did not immediately respond to In Touch's request for comment.
Johanna is a model who might be best known to Lifetime audiences as a cast member on the series Bringing Up Ballers. Her son Amari Bailey is one of the best high school basketball players in the country. His dad is former Indianapolis Colts player Aaron Bailey.
The 17-year-old plays alongside LeBron James' son Bronny James on Sierra Canyon High School's elite basketball squad. He's already committed to playing for UCLA after he graduates in 2022 and is regarded as a top future NBA prospect.
Drake has joined LeBron at Sierra Canyon's games to watch his 16-year-old son play. The rapper sat next to Johanna and pal Michael B. Jordan while watching Amari play in the CIF State Open Division Regional Semifinal game on June 17, as seen in the photo below:
Johanna is extremely proud of her son's accomplishments. In a July 6 Instagram photo, she was sitting with Amari at a gym before one of his practices. She noted that it was the "Only place you'll see me out…," possibly hinting that she wasn't taking her relationship with Drake public at any restaurant or club.
The mama bear gushed over her son being named Player of the Year by two prominent L.A. newspapers and the California Interscholastic Federation in a June 29 Instagram post, where she referred to her son by his jersey number.
"Congratulations 10 @cifss @latimes @ladailynews Player of the Year. You didn't leave a ball unturned. You put a team on your back no matter the climate and made it look like magic. I'm amazed play, by play, by your work and drive. Love, your FOREVER REBOUNDER," Johanna wrote. Drake gave the post a "like," as he has with several of her other Instagram photos.
When Johanna isn't sharing photos of her future NBA star son, she's modeling swimwear for Fashion Nova's Curve brand. She has an incredible hourglass figure and stunning curves that have helped earned her over 219,000 Instagram followers. Drake pops up as her top "Followed by," along with Rob Kardashian and Zendaya's stylist Law Roach.
In Touch Weekly has affiliate partnerships so we may receive compensation for some links to products and services.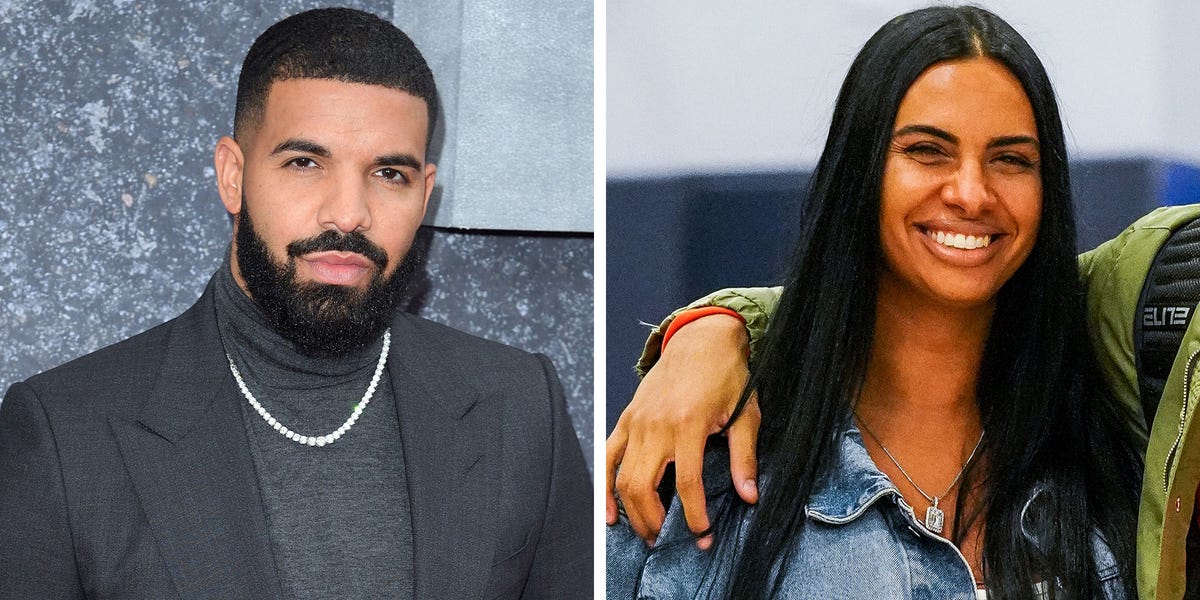 ELLE.com 11 July, 2021 - 12:30pm
Drake's heart is taken, and he'll pull out a grand public gesture to show it. On Thursday, July 8, the 34-year-old rapper took over an empty Dodger Stadium to have an intimate dinner with 40-year-old model Johanna Leia. The relationship isn't brand, brand new though, TMZ reported on Saturday, July 10: It turns out Drake and Leia have been secretly dating for months.
Here, what to know about Leia and her romance with Drake.
Leia is no stranger to the spotlight. In 2017, she starred on Lifetime's Bringing Up Ballers reality TV series. Per the show's IMDB synopsis, the series followed Leia and four other Chicago-area entrepreneurs "who will stop at nothing to ensure that their businesses are successful and their boys are on track to make it to the NBA. These ladies are anything but benchwarmers as they balance their households and businesses, while managing their sons' daily practices and games. Together they are the ultimate Hoop Moms and are not afraid to call foul on each other as they fight to ensure their kids make it to the top."
Leia was born in Los Angeles but grew up in the Chicago area and started businesses there. She made the move to L.A. recently with her mom, son, and daughter, she explained to longtime friend Simeon Henderson in a 2019 interview, in order to grow more. "I think it was an easy decision," she said of the choice to leave Chicago for Los Angeles. "Life is about growth, and life is about change." She called the move emotionally hard though, as "I started businesses here. I'm rooted here."
Leia boasts 296,000 followers on her Instagram and has worked with brands like Fashion Nova. Her feed is a combination of hot-girl model shots and posts about her family.
Leia spoke to Henderson in 2019 about her provocative public image and how she feels about those critical of her posting more revealing shots.
"I'm very much a homebody. I like who I like," she started. "Do I go out? Yes, I do, I go out, but I'm not your girl in the club every week. That's never been who I am. I get depicted as that and because I'm a little more explicit on Instagram, I'm definitely judged in a certain fashion, but I modeled for 17 years [before this]…so being naked, being in front of the camera, I mean, at my 21st birthday, I'll never forget, at 5 A.M. I'm on Fort Lauderdale beach, shooting for a Canadian company, making really good money, and it's freezing and it's the crack of dawn because we have to catch the light right as it comes up. So I have that background, and I think now because I have a teenage son [Amari Bailey], and because he's in a very top position right now, basketball, you know, I'm supposed to cover myself up or be a different person, and you know, it's funny because I thought about it for, I don't know, 45 seconds and then I was like, 'Wait, what? Like I get paid for that. I got paid for years. I supported my family like that.' So as long as–I had a conversation with Amari, he was okay with it as much as he could be okay with it, then I knew I was all right. And at the end of the day, I also don't believe kids make household decisions. I also believe kids are kids. I don't care how successful you are, I don't care who you become, kids are children."
Drake isn't just getting to know Leia as their romance continues; he's mentoring her son too. Leia's son, Sierra Canyon high school student Amari Bailey, plays basketball with LeBron James' son Bronny James.
Bailey is extremely talented (it may just be in his genes, as Leia said she played basketball too), and he has already committed to play basketball at UCLA after the university recruited him. He's ranked #3 in ESPN's class of 2022 recruitment list, meaning he's one of the best teen players in the nation.
TMZ was told by its sources that Bailey and Drake "hit it off" and have developed a close relationship, with Drake giving Bailey advice "on finances, fame and life, in general."
One source explained that Drake was teaching Bailey "how to handle all the attention and pressure that comes with being a star player." Drake and Bailey have spent one-on-one time together, the outlet reports, and he, Drake, and Leia have spent time together at Drake's house, too.
TMZ reported on July 10 that Drake's romance with Leia is a couple months old—and started on the high-school basketball court. Multiple sources close to Leia and Drake told TMZ that "they first met months ago through high school basketball." Drake was notably seen with Leia in June, watching Bailey play during a Sierra Canyon game.
Drake was able to take over an empty Dodger Stadium to host Leia on a dinner date on July 8 as the team's thank you for his big Los Angeles Dodgers Foundation donation, TMZ reports. ABC7's helicopter got footage of Drake and Leia dining there, which exposed their date night. It was their first romantic public sighting together.
Drake and Leia aren't Instagram official yet, and Drake has so far kept his relationship with Leia off line. The two do follow each other though (Drake from his @champagnepapi handle), and Drake hasn't been shy about liking Leia's Instagrams. He notably liked two about her son Bailey and one featuring her looking sultry that she shared on July 2:
Mother and daughter also modeled together for Fashion Nova in a June 2 shot:
Larry Brown Sports 11 July, 2021 - 12:30pm
Rapper Drake went all-out with a baseball-themed VIP date during the week.
Drake took Johanna Leia out on a private date at Dodger Stadium Thursday night. The Los Angeles Dodgers were away at Miami that day and began a homestand against Arizona the following night, leaving the stadium available.
With the stadium available, Drake took advantage by arranging a dinner in front of the home dugout. He and Leia were captured by ABC 7 cameras sitting next to each other at a table, with a server standing at a private stand nearby. Both of them had custom Dodger jerseys for the occasion.
.@DRAKE ON A DATE? Randomly just flew over this cozy couple enjoying a private dinner along the third base line at an empty Dodger Stadium from #Air7HD @ABC7 #Drizzy pic.twitter.com/SjMR1UOgbo
— Chris Cristi (@abc7chriscristi) July 9, 2021
ABC 7 reported that Drake made a sizable donation to a Dodgers charity to make the date happen.
Leia, 40, is the mother of Amari Bailey, who is a highly-touted basketball prospect. Bailey plays on Sierra Canyon's basketball team with Bronny James, the oldest son of LeBron James.
That's a pretty nice VIP date and not too bad if you can arrange it.
Want more great sports stories? Subscribe to our free newsletter
You can unsubscribe anytime. For more details, review our Privacy Policy.
You have successfully joined our subscriber list.
HOLA USA 11 July, 2021 - 12:30pm
Drake and Johanna Leia were recently spotted on a date. The couple was seen having dinner in an empty Dodger Stadium, which, according to TMZ sources, Drake had access to thanks to his sizeable donations to the team.
The couple was located in the third baseline of the stadium and were photographed by a helicopter, capturing their private moment.
.@DRAKE ON A DATE? Randomly just flew over this cozy couple enjoying a private dinner along the third base line at an empty Dodger Stadium from #Air7HD@ABC7#Drizzypic.twitter.com/SjMR1UOgbo
Drake and Johanna have been hanging out for months, having met in one of Amari's basketball games. Amari plays for Sierra Canyon, a high school basketball team where LeBron James' son, Bronnie James, also plays.
Sources close to the couple say that Amari is approving of Drake and Johanna's relationship and appreciates Drake's advice. The basketball player will soon be joining UCLA and Drake has been providing guidance for his finances, fame, and his life overall.
Johanna Leia is the first woman to be romantically linked with Drake in a while. The rapper has been previously linked with a variety of stars, including Jennifer Lopez, Rita Ora, and more.
One much-discussed relationship is the one that exists between Drake and Rihanna, which included many song collaborations and a dramatic declaration of love atop the MTV stage.
While this relationship dragged on for years, it now appears to be over. "We don't have a friendship now, but we're not enemies either. It is what it is," she said in an interview with Vogue. Rihanna is now happily dating A$AP Rocky.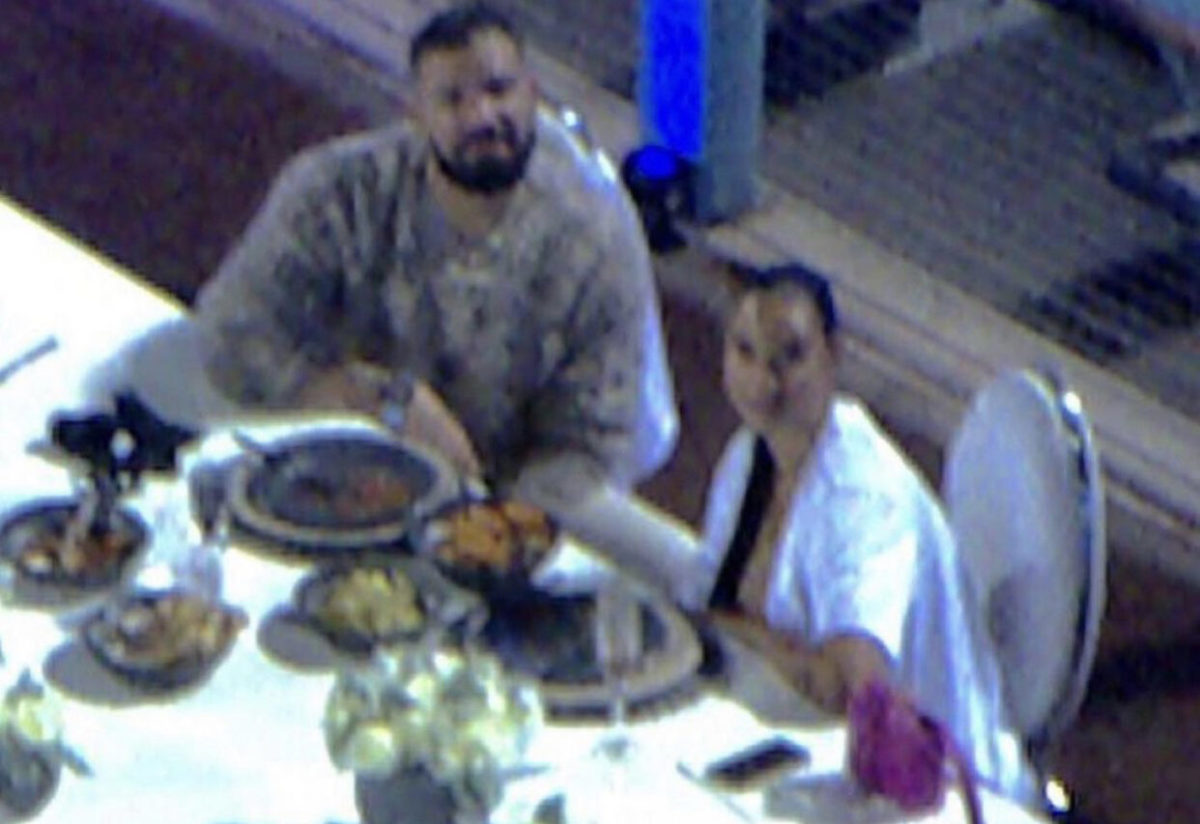 Fadeaway World 11 July, 2021 - 12:30pm
A helicopter camera caught the artist while chatting with Ms. Leia; he noticed the device and looked directly at it, followed by the woman. 
According to TMZ, the 34-year-old made a "substantial to the Los Angeles Dodgers Foundation," which cleared the path for him to take the lady on a date. 
He found more than he was looking for at that game, as the global icon placed his attention on one of the players he watched. Drizzy shared a touching moment with Bronny's teammate, Amari Bailey, telling him some encouraging words after losing that match.
A couple of days later, we found out that Bailey's mom was a model after getting a lot of attention across social media. With Drake and Michael B. Jordan attending another game, people wondered if the rapper had secret reasons to keep attending these matches.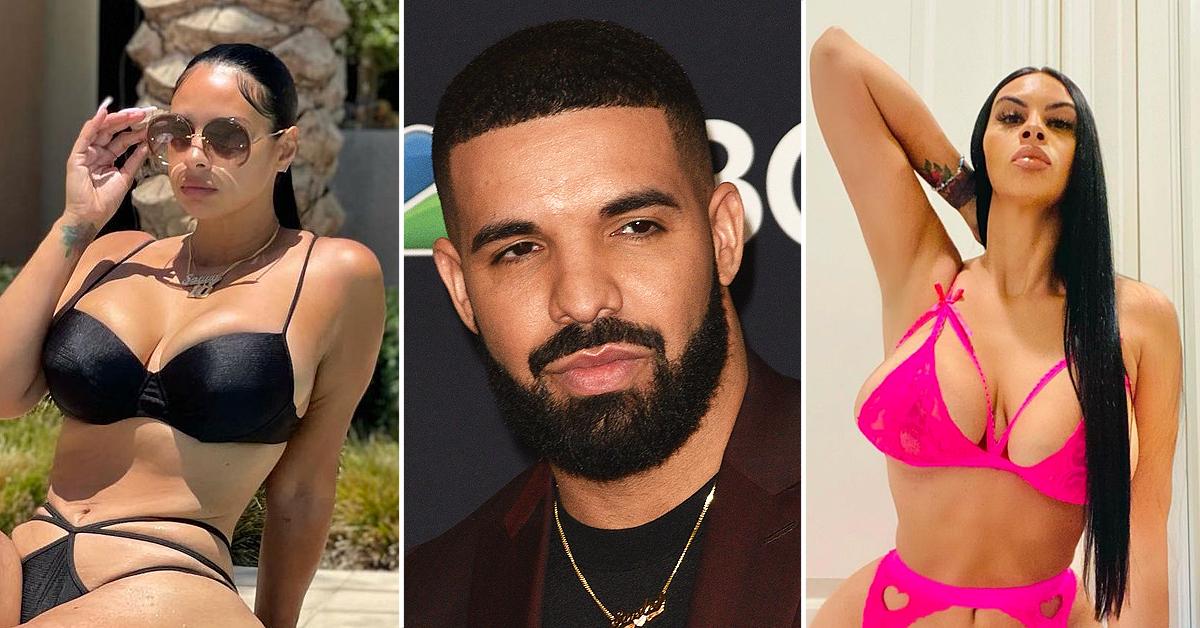 Radar Online 11 July, 2021 - 12:30pm
Jul. 10 2021, Published 11:15 a.m. ET
In case it wasn't crystal clear before, it surely is now: Drake has a type.
Though he's been linked romantically to a few different women in recent months, the Certified Lover Boy just set his own bar extraordinarily high.
Taking a page out of his own playbook, the 34-year-old rapper decided to wine and dine a new love interest in the most over-the-top way possible – by renting out Dodger Stadium for a candle-lit dinner for two.
While the Los Angeles Dodgers (minus currently embattled pitcher Trevor Bauer, whose sexual assault investigation has just taken a drastic turn) weredown in Miami playing the Marlins, an ABC7 helicopter caught the Canadian hitmaker using the empty arena as the backdrop for a romantic date with curve model Johanna Edelburg (who goes by Johanna Leia).
But who even is this brunette bombshell?!
Johanna is the mother of one of LeBron James' son's high school basketball teammates.
Leia's son is star player and UCLA commit Amari Bailey, who hoops for Sierra Canyon High School alongside Bronny James.
Last month, fans lost their minds when photos of Drake sitting in between Johanna and actor Michael B. Jordan at one of the team's basketball games went viral.
Though not much is known about Leia, we do know she's a "Greek [and] Sudanese" mother of two who's a Fashion Nova partner. She also previously dated 28-year-old Los Angeles Lakers star Alfonzo McKinnie.
In addition to her 17-year-old son – whose father is 49-year-old Louisville Cardinals and Indianapolis Colts retiree Aaron Bailey – Johanna is also mom to 7-year-old daughter Savanna, who goes by Savvy.
It's unclear whether Aaron is also Savvy's dad.
But back to Drake's over-the-top date for his new leading lady!
On Thursday, Drizzy and Johanna were posted up at a beautifully set table – complete with a white table cloth, flowers, and fancy dishes and cutlery – near the dugout on the third-base side of the field.
Aside from their own personal bartender, who was set up close by with his own ornate station, the musician and the model mom had the whole 352-acre stadium all to themselves.
The two also reportedly got personalized Dodgers jerseys for the occasion, as Leia was spotted wearing hers right at the table!
After being accused of breaking up singer-songwriter Naomi Sharon's engagement earlier this year, Drake was rumored to be dating his hair and makeup artist, Luisa Duran, which Radar confirmed was "absolutely BS."
Then, just last month, the rapper was spotted hitting up an event in Hollywood, followed inside the venue shortly afterward by a gorgeous mystery woman who is said to have hung out with him during the evening's festivities.
But this...this feels different. You wouldn't rent out an entire arena for just anyone!
© Copyright 2021 Radar Media Group LLC. Radar and RadarOnline are registered trademarks. All Rights Reserved. People may receive compensation for some links to products and services on this website. Offers may be subject to change without notice.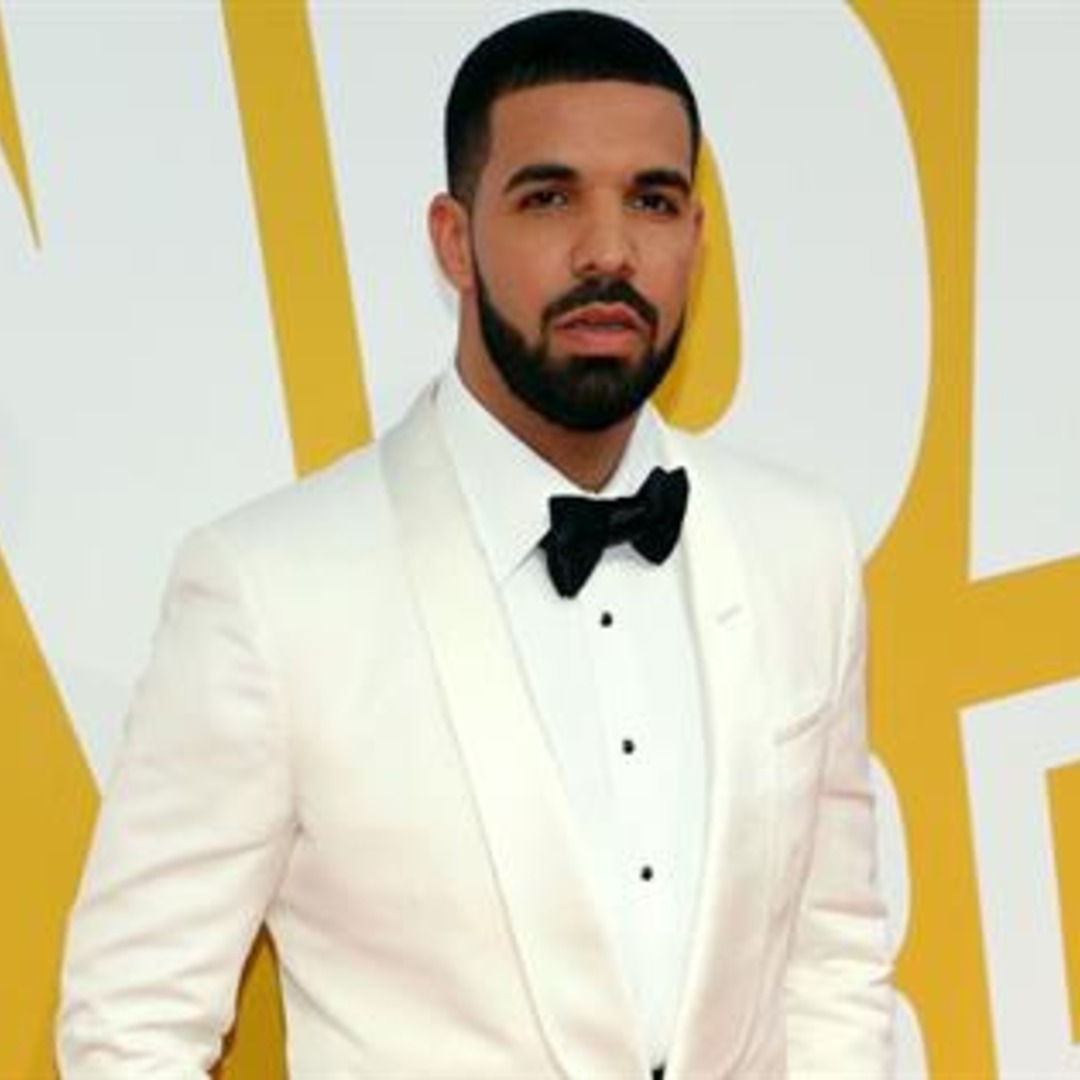 E! Online 11 July, 2021 - 12:30pm
Your source for entertainment news, celebrities, celeb news, and ​celebrity gossip. Check out the hottest fashion, photos, movies and TV shows!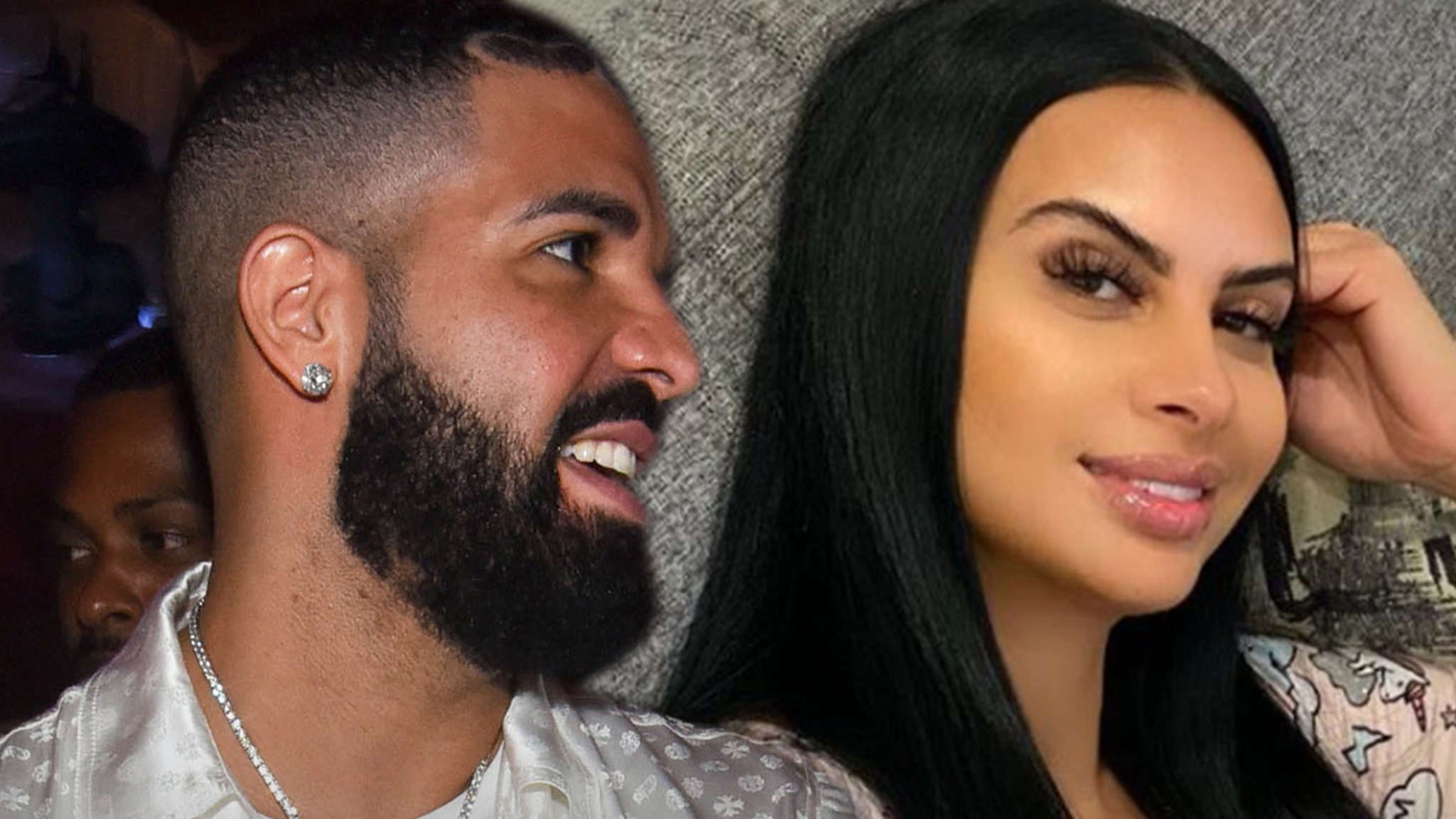 TMZ 11 July, 2021 - 12:17pm
Sources close to the pair tell us they first met months ago through high school basketball -- Johanna's son, Amari Bailey, is a top prospect -- and the relationship grew from there. We're told Drake and Amari hit it off, and Drake's offered the kid advice on finances, fame and life, in general.
Our sources say prior to Drake, Johanna was with NBA'er Alfonzo McKinnie -- who helped Amari build his skills on the court -- so it looks like he's more than ready for the next level.
As we reported, ABC7's chopper spotted Drake and Johanna as they had Dodger Stadium to themselves for a date night, complete with a table on the first baseline. A Dodgers source told us the whole thing was a thank you for a sizeable donation Drake made to the team's charitable foundation.