What's trending in the sports world today.
The ongoing feud between Bryson DeChambeau and Brooks Koepka has dominated the headlines heading into this week's Open Championship. It's been such a huge topic that even Dustin Johnson was asked to comment on it during his latest press conference.
Johnson, who is searching for his third major championship, decided to stay in his lane when asked about the DeChambeau-Koepka rivalry.
"I'm down the middle," Johnson said when asked if he's 'Team Brooks' or 'Team Bryson' on Wednesday. "I don't really care."
This is a smart answer from Johnson. It allows him to avoid this drama without affecting his relationships with DeChambeau and Koepka.
— Matt Barrie (@MattBarrie) July 14, 2021
Earlier this week, Koepka opened up about his rivalry with DeChambeau in an interview with ESPN's Bob Harig. Koepka said that criticizing DeChambeau is "fair game" because he didn't stay true to his word at the 2019 Northern Trust.
"He didn't like that I had mentioned his name in slow play, so we had a conversation in the locker room. And then I guess we said something else in the press conference but didn't mention his name in it, and he walked up to [Koepka's caddie] Ricky [Elliott], said something. It was, 'You tell your man if he's got something to say, say it to myself.' I thought that was ironic because he went straight to Ricky. Ricky told me when I came out, hit a few putts, and then just walked right over to him, we had a conversation.
"We both agreed we'd leave each other out of it and wouldn't mention each other, just kind of let it die off, wouldn't mention each other's names, just go about it. So then he decided I guess he was going on that little, whatever, playing video games online [on Twitch in which he made light of Koepka appearing in ESPN's The Body Issue] or whatever and brought my name up and said a few things, so now it's fair game."
Maybe, just maybe, we'll see DeChambeau and Koepka paired together this weekend at The Open.
Chris is a writer at The Spun.
Copyright © 2021 The Spun · All Rights Reserved · Powered by BizBudding Inc.
Read full article at The Spun
Sports Illustrated 14 July, 2021 - 10:07pm
Another salvo was fired on Tuesday at the 149th British Open at Royal St. George's Golf Club when Koepka arrived in the interview room and took a swipe at what seems to be his favorite piñata.
Not long into the interview session, Koepka was asked about the Ryder Cup in less than 70 days and, more specifically, if he needs to find a way to be friendlier to DeChambeau?
"It's only a week," Koepka said. "I mean, look, I can put it aside for business. If we're going to be on the same team, I can deal with anybody in the world for a week."
Koepka was taking a much more adult attitude, a much different tact than at the Memorial Tournament earlier this summer. Then, Koepka was on social media promising cases of beer to anyone in the Memorial Tournament crowd who would heckle DeChambeau.
"I'm not playing with him," Koepka continued in discussing the Ryder Cup. "I'm pretty sure we're not going to be paired together, put it that way. I think it's kind of obvious."
What started with Koepka making a broad statement about slow play on a Golf.com podcast before the 2019 Saudi International has grown into something much larger. And it appears there is little chance of this blowing over any time soon.
"I just don't understand how it takes a minute and 20 seconds, or a minute and 15 to hit a golf ball—it's not that hard," said Koepka in the 2019 interview. "It's always between two clubs: there's a miss short, there's a miss long. It really drives me nuts especially when it's a long hitter because you know you've got two other guys or at least one guy that's hitting before you, so you can do all your calculations, you should have your numbers. Obviously if you're the first guy you might take 10 extra seconds, but it doesn't take that long to hit the ball, especially if it's not blowing 30 [mph]."
At the Northern Trust Open at Liberty National in Jersey City, N.J., later that year, DeChambeau approached Ricky Elliott, Koepka's caddie, and made clear that if his boss had a problem, Koepka should come speak to DeChambeau directly. Of course, it's odd that DeChambeau didn't go to Koepka directly.
According to Koepka, he and DeChambeau talked in the locker room later that week and agreed to not discuss the issue publicly or mention the other by name again.
In DeChambeau's press conference later Tuesday afternoon at Royal St. George's, he seemed to corroborate Koepka's version.
"He can say whatever he wants," DeChambeau said of Koepka. "I think he said something back at Liberty National about not upholding something. I don't know what he's talking about in that regard. Maybe that's on me. Maybe I didn't. I really don't remember anything about that. We just had a conversation that I really don't know what happened, because we haven't really bantered back and forth until now, so it's like why is that happening now."
Koepka asserts DeChambeau did not live up to his end of the bargain. According to Koepka, DeChambeau referenced the four-time major champion's appearance in ESPN's Body Issue while playing a video game on online. As a result, Koepka now says "it's fair game."
Koepka , especially if the two happened to be paired together on the weekend.
"I would enjoy it," said Koepka of being paired together. "I'll be close to the final group come Sunday. I always feel like I play well in the big events, the majors. I think there would be a lot more people tuning in, with everything that's gone on over the last two years, something like that, three years. So yeah, I think there would be a lot of people tuning in."
DeChambeau does not seem to agree.
"Well, I think it makes it emotionally a little more difficult to, I would say, resolve that because, in my heart of hearts, I really think I'm a great person and a really good person to be around, a kind person to be around," DeChambeau said. "It's sometimes difficult, but at the end of the day you can just keep doing what you're doing, and I think that's why, for me, I've done a lot on social media, done a lot of YouTube series to showcase myself in a different light because I want people to see that side."
Daily Mail 14 July, 2021 - 10:07pm
By Bernhard Langer For The Dailymail
What will happen this week? I think Bryson DeChambeau is going to have a hard time. I hear the rough is bad in places and I'm not sure he hits it straight enough to do well.
You can't hit it at the sky at Sandwich.
Even if you hit it 350 yards, you still can't control a wedge from that rough because it wraps itself around the club shaft and the club face. I'd be looking for someone with a lower ball flight who can shape shots.
Bryson DeChambeau tees off the 9th during the practice day at The Royal St George's course
After winning the Senior Open last year I was exempt for this week and it was a very difficult decision to miss the Open. The problem is that it would have meant four majors in five weeks — and the US Senior Open last week was on the hilliest course I have ever played in my life.
It was also in Omaha, with no flights out on Sunday night, which meant I wouldn't have got to Kent until Tuesday afternoon. Terrible preparation and a lot of golf, so I thought it was best not to overdo it. But I would have loved to be there.
Veteran Bernhard Langer has decided not to compete in this year's Open Championship
I had three top-three finishes at Royal St George's but I always thought it the course on the rota where you could get the most unfair bounces. There were numerous times where I hit a wonderful tee shot and then you get down to the ball and find it is in the thick rough.
You're thinking, 'Oh, how did it get there?' and then you find it hit a slope in the middle of the fairway. At St Andrews you hardly ever get that, if at all. There are also a lot of uneven lies. You can say it is links golf and, yes, it is — but most people would say if you hit a good shot it should be rewarded.
DeChambeau of The United States plays a shot from the rough at the first hold in practice
Langer came close to Open success in 1981
As you might imagine, I have some lasting memories of the times I almost won the Claret Jug at Sandwich. In 1981, I played really well but I was 23 and I don't think I was ready to win and finished second to Bill Rogers.
Four years later, when Sandy Lyle won, is the one when I think I really had a good chance. I was joint leader with David Graham going into the final round but missed a 4ft par putt on the first green and that really shook me up. It made me nervous and worried about my putting all day and I ended up shooting 75 when a 73 would have won me the tournament.
In 1993 I had another chance, playing with Greg Norman in the final round. I played well but he delivered flawless golf that day and would have been hard for anyone to catch.
It Is seven years now since Rory McIlroy won a major and there is no question the pressure builds. I went eight years between my Masters wins and it does get to you. The good thing for Rory is that he won his majors at a young age and he's still young. I have no worries for Rory.
What I don't understand is him changing his swing a few months ago in an effort to hit it further. He was already one of the longest, what's another 10 yards going to do? Thankfully, he looks like he is on his way back. For him, going forward, it should be all about focusing on the right stuff, like his short game.
Rory McIlroy has not won a major since 2014, when he won the Open at Royal Liverpool
I loved Phil Mickelson's age-defying win at the US PGA. Can something similar happen at the Open? Absolutely it can. I have been saying it for years.
It is not about hitting it out of oblivion, it is about punch shots and manoeuvring the ball and an imaginative short game. Lee Westwood has a real chance if he has a good putting week, he is such a good ball striker — Padraig Harrington as well.
Langer has backed Lee Westwood to impress at Sandwich if he can master his putting game
I know it has been a long time since an Englishman won the Open and I'm not surprised in one sense. When you play in your home Open, expectation and emotion is always running high and it does make it harder.
Now imagine if it's the biggest Open of all! Having said that, there have been so many good Englishmen since Sir Nick Faldo won the last of his three Open titles, it is strange that none have won. How many candidates must there be this time? You could probably name 10 who could win. Maybe this is the year they will finally get that bit of luck.
No Englishman has won the Open Championship since Nick Faldo back in 1992
The favourite? Who is the man who can do what Tom Watson used to do, who can move the ball left and right in the wind and be fearless on the greens?
I like players like Xander Schauffele and Justin Thomas. But if I had to pick one it would be Jon Rahm.
Langer has tipped Jon Rahm to achieve success at this year's Open Championship
There is a lot at stake at the Open this week with regard to the Ryder Cup. I'm a firm believer in backing current form when it comes to the match against the Americans and it is a definite benefit having the Open champion in your team.
Any time you win any tournament it gives you confidence. Imagine the huge boost you get from winning the Claret Jug, six weeks before the Ryder Cup!
The Ryder Cup in September will take place at the Whistling Straits course in Wisconsin
It Is going to be hard for Europe in Wisconsin in September. It is always harder at an away game than a home one and the American team looks very strong. Having said that, I like our captain Padraig Harrington and I know he is going to do a great job.
For the sake of the game, I'm hoping it will be a close match because that does wonders for the sport and I hope Europe can pull it off. I will certainly be cheering for them.
Padraig Harrington will be Europe's captain for the Ryder Cup in the USA this September
Finally, I'm looking forward to defending my Senior Open title at Sunningdale next week. It will bring back a lot of good memories for me. I won the European Open there way back in the day and I was in contention for a Senior Open there a few years ago. It is a beautiful area and one thing I can say for certain — if I'm lucky enough to win the Senior Open again, I will definitely be at St Andrews next year for the 150th Open!
Following the cancellation of the tournament in 2020 due to Covid, Bernhard Langer is still the current champion of the Senior Open following his 2019 success
Bernhard Langer, who is an ambassador for Mercedes-Benz, an official patron for the Open, was talking to Derek Lawrenson
The comments below have been moderated in advance.
The views expressed in the contents above are those of our users and do not necessarily reflect the views of MailOnline.
By posting your comment you agree to our house rules.
Do you want to automatically post your MailOnline comments to your Facebook Timeline?
Your comment will be posted to MailOnline as usual.
Do you want to automatically post your MailOnline comments to your Facebook Timeline?
Your comment will be posted to MailOnline as usual
We will automatically post your comment and a link to the news story to your Facebook timeline at the same time it is posted on MailOnline. To do this we will link your MailOnline account with your Facebook account. We'll ask you to confirm this for your first post to Facebook.
You can choose on each post whether you would like it to be posted to Facebook. Your details from Facebook will be used to provide you with tailored content, marketing and ads in line with our Privacy Policy.
Part of the Daily Mail, The Mail on Sunday & Metro Media Group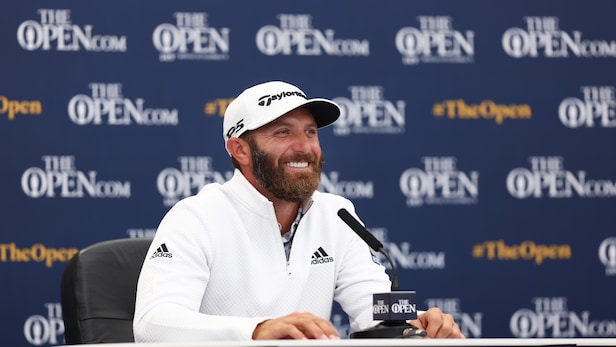 Golf Digest 14 July, 2021 - 10:00am
Despite what any party-spoiler tries to tell you, the Brooks Koepka vs. Bryson DeChambeau saga remains the most polarizing story in golf. Who better to ask about such a topic than ... Dustin Johnson?
OK, so maybe DJ isn't the best guy to get a controversial opinion from, but that doesn't mean his answers won't be entertaining. The perfect example came on Wednesday, when he weighed in on the "British Open or Open Championship" debate as only DJ can.
"It was the British Open growing up," said Johnson. "But now I call it the Open Championship." DJ was asked why the change, to which he responded "because that's the name of it." Cased closed.
As for Brooks vs. Bryson, the World No. 1 didn't bring as much fire, though his answer was as on brand as ever.
"I'm in the middle," Johnson said. "I don't really care."
Smart answer, though you have to wonder if part of Johnson leans in the Bryson camp considering A. He and Brooksy don't seem to be the besties we all thought they were and B. Johnson was out playing a practice round with DeChambeau and Phil Mickelson on Wednesday at Royal St George's. Things that make you say "hmmm..."
© 2021 DISCOVERY GOLF, INC. ALL RIGHTS RESERVED
World Sports Network 14 July, 2021 - 02:55am
The odds for this tournament are provided by bet365. Click on the odds below to head to bet365 and place a bet.
Xander Schauffele has a superb record in the majors, including a second place in the 2018 Open at Carnoustie. Back the Californian to win at +1800 with bet365.
Brooks Koepka is the man for the majors and can beat Louis Oosthuizen, who has a modest Open record outside St Andrews, over 72 holes at -120 DraftKings Sportsbook.
Lucas Glover is coming in off a win at the John Deere and has three top 20s in his last six majors. Also T12 here in 2011, he can post a top 20 at +900 DraftKings Sportsbook.
From July 15 through July 18 log in to BetRivers or SugarHouse and get a 20% Open Championship live profit boost!
The nine-year wait for Royal St George's to host another Open Championship was extended to 10 due to the global pandemic. But, finally, two years on since Shane Lowry sent the Irish crowds wild at Royal Portrush, the tournament returns to England's south coast.
Royal St George's has staged the event twice this century, the first when Ben Curtis caused a 500/1 shock in 2003. That began to look less of a fluke when Curtis added two more Open top 10s in 2007 and 2008.
The most recent was in 2011 when Darren Clarke scored an emotional victory, the Northern Irishman holding off American duo Phil Mickelson and Dustin Johnson. Clarke was ranked 111th at the time and Curtis 396th in 2003 and that's led some to believe that this is the Open venue for shocks.
However, the top five in the world all made the top 10 here in the 1993 edition (won by Greg Norman) while Masters winner Sandy Lyle also hoisted the trophy in 1985 so the big names have had plenty of joy too. In truth, it's rare to find a golfer who mentions Royal St George's in their top three Open tracks although that's partly because the others are so good.
Brooks Koepka summed it up with this blunt assessment in his Tuesday press conference:
It's not my favourite venue that we've played. Quite a few blind tee shots, kind of hitting to nothing. Fairways are quite undulating.
Those fairways have also been accused of kicking well-struck tee-shots left or right into rough, several players saying that it bugs them. Others accept it as the vagaries of links golf. The course is actually a few yards shorter than it played in 2011, measuring up as a 7,211-yard par 70 although some tee boxes could be moved. For its 15th staging,
Royal St George's should get its fair share of wind while improving weather during the week will see the course dry out and those quirky bounces get a little more pronounced. The greens are also undulating and it takes a sharp short game to save par.
After his US Open win, Jon Rahm is the clear favorite for victory while, due to a poor Open record, Bryson DeChambeau (MC-51-MC) is only joint-10th in the betting.
Here's Xander Schauffele on links golf: "I think it's just so different for Americans to play overseas, and I think it's sort of that bit of adversity that sort of makes you think outside the box and maybe tap more into your imagination.
I think I really enjoy that challenge of trying to think a little bit more. Your search for perfection that you can kind of get stuck into on parkland golf sort of disappears for me".
I sort of fall in love with hitting shots and trying to hit different shots versus trying to work on my swing or anything like that. I've always enjoyed playing golf over here, different style of play obviously and I just look forward to colder weather, windier weather.
Words are great but can he back it up with tangible results?
Schauffele posted 20th on his Open debut at Royal Birkdale in 2017 and then finished runner-up at Carnoustie on his second attempt. He made the cut at Royal Portrush last time but didn't get in a blow. His above quotes were taken from the Scottish Open last week where he enjoyed an excellent links tune-up by shooting 66-67 on the weekend to finish 10th.
That followed a tied seventh in the US Open in his native San Diego. Ah, yes, Schauffle and majors: they seem to go together extremely well. The 27-year-old has played in just 17 but already has nine top 10s to his name: that includes two seconds, two thirds and two further top fives.
On first glance, it could look foolish to take on Louis Oosthuizen in an Open match bet. After all, he won the event in 2010 and was runner-up in 2015. In addition, he's finished second in the last two majors.
However, those two great Open performances came on the same course, St Andrews. A look at the rest of his Open record reveals this: MC-MC-MC-54-19-WD-36-MC-MC-28-20. That's hardly stellar stuff.
Brooks Koepka has won four majors on American soil since the start of 2017 but has also shown his ability to adapt to links golf with some strong performances in The Open Championship.
Email: [email protected]
Insider 13 July, 2021 - 12:00am
Given the Ryder Cup format, there is even the possibility that Brooks and Bryson could find themselves playing together as partners for a round in the event, putting aside their differences for the greater good of American golf.
Speaking with the press ahead of the British Open, DeChambeau seemed entertained by the potential partnership.
"I think it'd be kind of funny, actually. I'd love it," DeChambeau said when asked of a potential partnership with Brooks at the Ryder Cup. "I think we would do well, to be honest. It'd create a little interesting vibe for the guys we're playing against."
But unfortunately for golf fans, Koepka was decidedly against the idea.
"I'm not playing with him," Koepka said when asked about a partnership at the Ryder Cup. "I'm pretty sure we're not going to be paired together. Put it that way. I think that's kind of obvious."
While Koepka clearly didn't plan on pairing up with DeChambeau, he was confident that their ongoing mutual grudge would not be an issue for the team at large.
"You realize it's only a week, right?" Koepka said when asked of potential tensions between him and DeChambeau on Team USA.
"It's only a week. I can put it aside for business. If we're going to be on the same team, I can deal with anybody in the world for a week.
"We're not going to be high-fiving and having late-night conversations. I do my thing, he does his thing. Yeah, we're on the same team, but it's not an issue at all. I don't view it as an issue. I don't think he does. Like I said, I can put anything aside for a team, business, whatever, just to get the job done. No problem with that."
While the potential pairing between Brooks and Bryson would make for highly compelling theatre on the golf course, Koepka sounds pretty confident it won't happen.
There are still months to go before the Ryder Cup tees off this November, but unless there's a drastic change in their relationship, don't expect Koepka and DeChambeau to be taking on the tournament together.