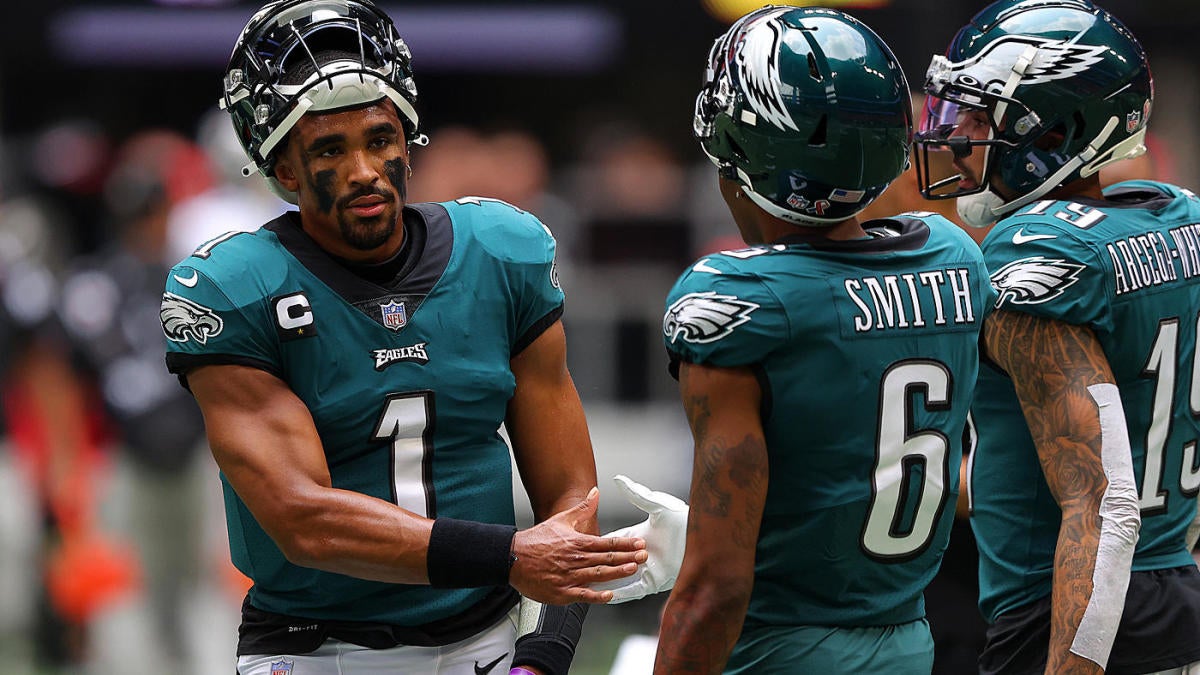 The Philadelphia Eagles couldn't have asked for a more dominant performance in a Week 1 win over the Atlanta Falcons, scoring 30 points in a game for the first time since Week 17 of the 2019 season and racking up 434 yards of offense. The defense shut down the Falcons after the first two possessions of the game, holding them to 114 yards on the final 37 plays and just one play in opposing territory.
Philadelphia is alone in first place in the NFC East, as it was the only team to win in the division over the weekend. Carson Wentz also played every offensive snap for the Indianapolis Colts in a loss. (The Eagles need Wentz to play 75% of the snaps to get a first-round pick from Indianapolis for the offseason trade of Wentz). It was an excellent weekend for the Eagles, one that couldn't have went any better for the organization.
There's plenty of stock to invest in this Eagles team this week, but there are also some players to sell after just one game. Here's this week's stock report:
What else could be said about Hurts that hasn't already? Hurts finished 27 of 35 passing for 264 yards with three touchdowns and no interceptions while also rushing seven times for 62 yards. The second-year signal-caller has the last two games where an Eagles quarterback has thrown for at least 250 yards with three touchdowns, no interceptions and 60 rushing yards.
Only three times has a quarterback accomplished those numbers in a single game in NFL history in his first five starts, and Hurts is responsible for two of them. Hurts is the only player since 1950 with at least 1,100 pass yards and 250 rush yards in his first five starts.
The Eagles are going to use all of 2021 to evaluate Hurts, but the early returns indicate he could be their franchise quarterback.
Smith lived up to the hype in his debut, showcasing that instant chemistry with Hurts that was discussed the entire offseason. Smith finished with six catches for 71 yards and a touchdown, tying DeSean Jackson for the most catches in franchise history for a player in his first-career game. He's the first player in Eagles' history to record five catches and a touchdown in his first-career game.
Smith's first-career catch was for a touchdown, an 18-yard pass from Hurts where he beat Fabian Moreau on a basic corner route. The Eagles appear to have a No. 1 wide receiver for the first time in years.
Kelce is still really, really good. His highlight reel block on Deion Jones was just the icing on the cake on how great the Eagles' Pro Bowl center was against the Falcons.
Kelce allowed just one pressure in 41 pass blocking snaps and set the tone for an Eagles offense that rushed for 173 yards on the day. Not bad for a player beginning his 11th year.
Mailata signed a four-year, $64 million extension less than 24 hours before the Eagles' season opener, then proceeded to show why Philadelphia chose him as its franchise left tackle.
Mailata allowed just two pressures in 41 pass-blocking snaps (both hurries) and didn't allow a sack. He also had this monster block on Jalen Reagor's fourth-quarter touchdown.
Hargrave was a force on the defensive line, welcoming Jalen Mayfield into the NFL by finishing with six pressures, two sacks and three quarterback hits on the afternoon. Philadelphia finished with nine quarterback hits and 23 pressures in the game, the majority of which came in the fourth quarter.
Hargrave had four run stops as well to cap a dominant performance.
Ridgeway was a force in Sunday's win, tying Hargrave with three quarterback hits on Falcons quarterback Matt Ryan. He had one sack and should have finished with two if the official didn't rule Ryan for intentional grounding.
Hassan Ridgeway manhandles Matt Ryan resulting in an intentional grounding!#Eagles #FlyEaglesFly pic.twitter.com/VxfeYHxvg8
Ridgeway finished with four pressures and a run stop, which is impressive for a player that logged just 36% of the defensive snaps.
The Eagles couldn't have asked for a better debut from Siposs, who averaged 47.3 yards per punt -- three of which landed inside the 10-yard line and were downed inside the 20-yard line. The Falcons were buried deep in their own territory the entire second half because of Siposs.
Scott didn't log a single offensive snap in Sunday's win, making it clear he's the No. 3 running back on this roster. Kenneth Gainwell surpassed Scott as the No. 2 back, finishing with nine carries for 37 yards and a touchdown in his NFL debut.
Gainwell logged 25 snaps (35%) in the win -- snaps Scott would have received heading into training camp. Scott is a special teams player at this point, while Gainwell is the one who backs up Miles Sanders.
The Eagles will certainly use Scott at some point this season, but he's third on the depth chart as of now.
Wilson missed a lot of tackles for the Minnesota Vikings and continued that trend in Philadelphia, leading the Eagles with four missed tackles -- many of which came early when the Falcons were able to get inside the Eagles' 10-yard line on their first two possessions.
The Falcons targeted Wilson three times, and the linebacker allowed 33 yards in coverage. Wilson was solid against the pass, but his tackling ability is a concern for the Eagles going forward. And it doesn't get any easier with the San Francisco 49ers coming into town this week.
Ward played 16 offensive snaps but didn't receive a single target. J.J. Arcega-Whiteside would have logged more snaps than Ward, but he left Sunday's game early with an ankle injury.
Arcega-Whiteside was great as a run blocker and almost got his hands on a punt. Ward wasn't even the top option at punt returner, as Reagor lined up as the first teamer on that unit.
Ward is the veteran wideout on this roster. Outside of that, who knows what role he'll have with this team going forward.
The starting SAM linebacker on the depth chart played 22 snaps but showcased why he deserves less playing time. Avery just can't stop the run, whiffing badly on tackle that led to a Mike Davis big run -- one of only three run stop attempts he had.
was #58 Genard Avery blocked by a ghost? pic.twitter.com/s7Fy2DHfdo
Avery is clearly a pass-rushing specialist, which is why he plays. He finished with two pressures and a quarterback hit, but the Eagles run defense is in serious trouble when Avery and Wilson are both on the field.
© 2004-2021 CBS Interactive. All Rights Reserved.
CBS Sports is a registered trademark of CBS Broadcasting Inc. Commissioner.com is a registered trademark of CBS Interactive Inc.
Images by Getty Images and US Presswire
These cookies are essential for the proper functioning of our Services. Essential cookies cannot be switched off in our systems. You can set your device to block or alert you about these cookies, but some parts of the Service will not work.
These Cookies allow us to collect information about how visitors use our properties. Some examples include counting visits and traffic sources, so we can measure and improve the performance of our services. If you do not allow these Cookies we will not know when users have visited our properties and will not be able to monitor performance.
These Cookies enable the services to provide enhanced functionality and personalization. They may be set by us or by third party providers whose services we have added to our services. If you do not allow these Cookies then some or all of these services may not function properly.
These Cookies may be set by us or through our services by our advertising partners. They may be used by those companies to build a profile of your interests and show you relevant advertising on this and on other properties. If you do not allow these Cookies, you will still see ads, but you will experience less relevant advertising.
These Cookies are set by a range of social media services that we have added to the services to enable you to share our content with your friends and networks. They are capable of tracking your browser across other sites, building up a profile of your interests to show you relevant content and advertisements on the relevant social networks. If you do not allow these Cookies you may not be able to use or see these sharing tools.
Read full article at CBS Sports
The Falcoholic 14 September, 2021 - 10:30pm
NJ.com 14 September, 2021 - 10:30pm
Atlanta Falcons 14 September, 2021 - 10:30pm
The Falcoholic 14 September, 2021 - 09:00am
The 2021 season opener for the Falcons produced a clunker.
Instead, a 32-6 showing at the hands of the Philadelphia Eagles was the head-scratching result. Today, we will highlight five things that we learned from the season opening loss for the Falcons.
There was very little argument that the biggest question marks coming into the season were the offensive and defensive fronts. That was absolutely the case again on Sunday as the Falcons were outplayed on the offensive and defensive lines all game.
The run game for the Falcons was able to produce 4.8 yards per carry, however, quarterback Matt Ryan never caught a groove and was sacked three times and knocked down another nine. Meanwhile, the Eagles established their rushing attack early and the defensive front was only able to muster one sack and gave up 179 rushing yards. The organization took a risk coming into the season banking on unknown names to stand as starters and produce, and Sunday showed that they may need to find reinforcements in the form of available free agents in order to trek through the season.
He is already widely credited as the best kickoff returner in the NFL, but the addition of Patterson this offseason intrigued me based on the versatility that he can provide to the Falcons offense. Patterson saw early action in the backfield with three carries on the team's second drive that totaled 35 yards.
On the day, he led the team in rushing yards with 54 and also hauled in a couple of passes. I think Patterson established himself as the clear RB2 as of now, but don't be surprised to see a little more of Patterson in the offensive huddle as the season progresses.
Credit should be given to the Eagles defense, however, for keeping Pitts a non-factor in this one. Pitts was only able to produce 31 total receiving yards on the day on just four catches. The Falcons tried on occasion to get the ball in the hands of Pitts, but penalties played a factor in the play becoming non-existent or he was simply bottled up by the Eagles defense.
Pitts will be a good one. I have plenty of confidence in that statement. But the Falcons may be tasked with being a tad bit more creative in getting the ball in the hands of the young stallion.
Very few teams, if any, can win games with 14 total penalties. A number of them coming on the promising drives that could have ended in points for the offense. Going back to the preseason, the team produced 11 penalties against Tennessee.
Based on last season however, the team ranked 10th in the league in total penalties with just 83. Showcasing a game with that many penalties can be seen as a reflection of the coaching staff. Head coach Arthur Smith placed the unpreparedness of the team on himself and this can absolutely be seen as a result of the lack of preparation, something the team absolutely has to fix before they play their next game.
Even with a new coaching staff, one constant problem that has plagued the Falcons in recent seasons was seen once again on Sunday. Red zone scoring, touchdowns in particular, has been below average at best for the Falcons in recent seasons.
Arthur Smith and company were supposed to fix that, but they were 0-for-2 in red zone touchdown scoring opportunities against the Eagles and they are also coming off a season in which they were 20th in the NFL in the same category. Play calling was likely culprit here and it kept points off the board in a game in which the Falcons drastically needed some. While Smith enjoyed considerable success in Tennessee, he is going to have to roll the sleeves back a little more and construct an offense that is able to take advantage of prime scoring opportunities, even if the situation is unfavorable.
Crossing Broad 14 September, 2021 - 05:00am
No teams in your favorites yet.
PHILADELPHIA -- Eagles quarterback Jalen Hurts turned a lot of fans into believers with his stellar performance in Sunday's NFL Week 1 opener against the Atlanta Falcons.
Hurts' jersey sales saw the largest one-day spike of any NFL player on Sunday with an increase of more than 500%, according to Fanatics, a leader for licensed sports merchandise. His green, No. 1 jersey is currently the No. 2 best-selling NFL product behind the jersey of New England Patriots quarterback Mac Jones, putting a pair of former Alabama Crimson Tide signal-callers at the top of the list.
Hurts sold more merchandise on Sunday alone than he did the previous six days combined after going 27-of-35 for 265 yards with three touchdowns in a 32-6 pounding of the Falcons, while adding 62 yards rushing.
"He's the leader," Eagles rookie wide receiver DeVonta Smith said. "When things go wrong, he's the guy that's picking everybody up. When things are right, he's the one telling us, 'Keep pushing.'"
Smith's jersey is flying off the shelves as well. He enjoyed a 166% increase in merchandise sales from Saturday to Sunday. Smith, the reigning Heisman Trophy winner and the Eagles' first-round draft pick out of Alabama, scored on his first career reception and finished with six catches for 71 yards while leading all Eagles wide receivers in playing time with 58 snaps.
Smith's jersey was the top-selling non-quarterback rookie jersey over the previous two days behind Jones and quarterback Trey Lance of the San Francisco 49ers.
This spring, the Eagles announced Hurts would be switching his jersey number from No. 2 (the number he wore his rookie season with the Eagles) to No. 1. Hurts wore No. 1 at Oklahoma after wearing No. 2 in high school and at Alabama.
The Eagles and Niners meet up Sunday (1 p.m. ET, Fox) in a matchup of 1-0 teams.