Markets Insider 21 August, 2021 - 11:50pm
During a Thursday presentation on artificial intelligence (AI) hosted by Tesla, Musk said he is working on creating a "Tesla Bot," or a robot that would do "dangerous, repetitive, and boring tasks" so humans don't have to. But Musk recognized that the creation of this robot might take the place of jobs that people are currently getting paid for, which is why he said a guaranteed income will likely be necessary in the future.
"Essentially, in the future, physical work will be a choice," Musk said during the presentation. "This is why I think long term there will need to be a universal basic income," he added.
Musk said that the robot will be "friendly," standing at a height of 5'8'' and reaching speeds up to five miles per hour. But if its creation goes to plan, it will take many people's jobs.
While Musk's robot has not yet taken over, businesses across the country have turned to automation rather than paying humans for work. For example, Insider previously reported that restaurants struggling to hire workers for months, they have turned to QR codes where diners can view menus, rather than having a waiter bring them one.
In addition, Cracker Barrel rolled out a mobile app that lets customers pay for meals; McDonald's started testing automated drive-thru ordering at 10 Chicago locations; and Dave & Buster's plans to expand its contactless ordering, effectively getting rid of many restaurant jobs humans once did.
If this trend continues, it's likely that universal basic income will become a larger part of the conversation. Some cities have already started testing out pilot universal basic income programs for targeted groups of residents, and California recently launched the nation's largest statewide universal basic income program prioritized for pregnant people and those aging out of the foster system.
And after the pandemic spurred Congress to approve three stimulus checks for Americans, some Democrats called to continue those checks well beyond the end of the pandemic, and in late March, amid infrastructure negotiations, 21 Democratic senators urged President Joe Biden in a letter to include recurring direct payments in his infrastructure plan, saying that when checks ran out after the CARES Act, poverty rose.
Even with the concern that rising automation will take people's jobs, though, economics writer Noah Smith wrote in a June 13 blog post that it could optimize job growth given that people who were taking orders and busing tables could develop more valuable skills.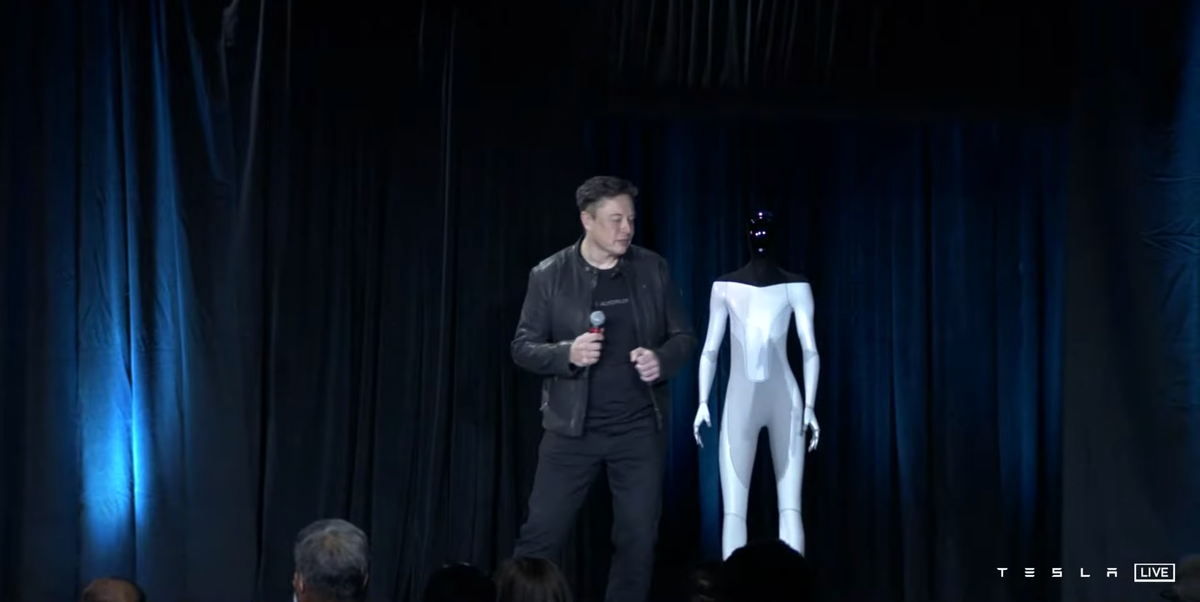 Republic World 21 August, 2021 - 11:50pm
Tesla held an event on Thursday to show off its self-driving technology, tease future upgrades, and announce plans to build a humanoid robot.
During the event, which is available to view on Tesla's YouTube channel, Tesla showed footage of its self-driving software in action, made big promises about future improvements to the technology, and promised to develop a prototype of a humanoid robot within the next year. All against the backdrop of a new National Highway Traffic Safety Administration (NHTSA) investigation into 11 incidents in which Teslas have crashed into parked emergency vehicles while the Teslas had either the Autopilot or Traffic Aware Cruise Control features engaged.
Tesla CEO Elon Musk said that the hardware currently available in Teslas is capable of being "at least 200 percent to 300 percent better" than a human driver, and that a new hardware setup will be even more proficient. Musk said the new hardware is slated to debut in the Cybertruck "in a year or so," giving us our first hint of when Tesla's pickup might hit the roads after its production timeline was quietly pushed back earlier this month.
All of that capability will rely on Tesla's supercomputer, called Dojo, and the proprietary microchip Tesla has developed to run said supercomputer. Tesla developed its own chip partly in hopes of avoiding the kind of supply-chain problems that have regularly forced automakers to pause new car production over the course of the last year. Musk said on an earnings call earlier this year that Tesla engineers had to rewrite their own software so it would function on the alternate microchips Tesla sourced when its preferred chips were unavailable.
At the conclusion of the event, just before the question and answer session during which he referenced his "alien dreadnought" factory concept, Elon Musk appeared on stage with a dancer in a robot costume and announced that Tesla is working on a humanoid robot prototype that will be able to deadlift 150 pounds and run at 5 mph. Musk promised the robot would be friendly, but also said it was designed so that humans would be able to overpower it and outrun it. Maybe Musk is in better shape than the rest of us, but we'd be more comfortable with a robot that can't run at all.