What is Polygon Crypto?
Polygon (MATIC) is an Ethereum token that powers the Polygon Network, a multichain scaling solution for Ethereum. Polygon aims to provide faster and cheaper transactions on Ethereum using Layer 2 sidechains, which are blockchains that run alongside the Ethereum main chain. coinbase.comPolygon (MATIC)
Ethereum futures data suggests that pro traders believe $3,500 ETH is the next stop for the top altcoin.
Some analysts might dismiss Ether derivatives, considering CME's future has $355 million in open interest compared to Bitcoin's $2.4 billion. However, Ether contracts were only launched a couple of months ago. Both FTX and Deribit require 100% full-KYC for their clients, and these markets hold a combined $2 billion in ETH open interest.
To this in perspective, the open interest on silver futures currently stands at $22.6 billion. The precious metal has decades of trading history and a $1.4 trillion market capitalization. However, a simple analysis of the number of outstanding contracts isn't really helpful as these can be used for hedging.
To assess whether the market is leaning bullish, there are a couple of derivatives metrics to review. The first one is the futures premium (also known as basis), which measures the price gap between futures contract prices and the regular spot market.
The 3-month futures should usually trade with a 10% to 20% annualized premium, which should be interpreted as a lending rate.
As the above chart depicts, ETH's futures premium went berserk in mid-April, peaking at 45% annualized. Although traders' FOMO played a role, this also signaled extreme optimism. While professional traders most frequently use monthly futures contracts, perpetual contracts are the go-to instrument of retail investors.
Perpetual contracts are also known as inverse swaps, and these contracts have a funding rate usually charged every 8 hours. This fee increases as longs (buyers) use higher leverage, so their accounts get drained little by little. When a retail buying frenzy occurs, the fee can reach up to 5.5% per week.
As the above chart displays, the 8-hour funding rate recently peaked at 0.18% on April 14, equivalent to 3.8% per week. While this certainly contributed to the highly optimistic monthly futures' basis, the impact has completely faded as the funding rate has been negligent over the past couple of days.
This data suggests that, compared to retail investors, professional traders are more bullish on Ether as the 3-month basis currently stands at 25% per year. This rate is higher than most stablecoin lending services offer, meaning longs (buyers) are willing to pay a premium to keep their positions open.
Read full article at Cointelegraph
The Daily Hodl 01 May, 2021 - 02:04am
Popular trader and analyst Elliot Wainman is naming two altcoins that he says have a chance to break into the top 10 crypto assets by market cap.
In a new video, Wainman addresses the explosion of new transactions on the Polygon (MATIC) platform.
MATIC is an Ethereum token that powers the Polygon network, which is a multichain scaling protocol that provides faster, cheaper transactions on the Ethereum network. According to Wainman, Polygon's explosion resembles the meteoric rise of the Binance Smart Chain (BSC).
The other coin that the analyst believes could break into the top 10 is Solana (SOL). Wainman posits that Solana might be providing as much or more value than Cardano or Polkadot, yet has a significantly smaller market cap, signaling that SOL may be undervalued.
Wainman believes crypto users are finally waking up to the upside potential of Solana and Polygon as viable Ethereum competitors, finding a solid user experience on those platforms.
Cryptocurrency news and analysis, covering Bitcoin, Ethereum, Ripple, XRP, altcoins and blockchain technology
COPYRIGHT © 2017-2021 THE DAILY HODL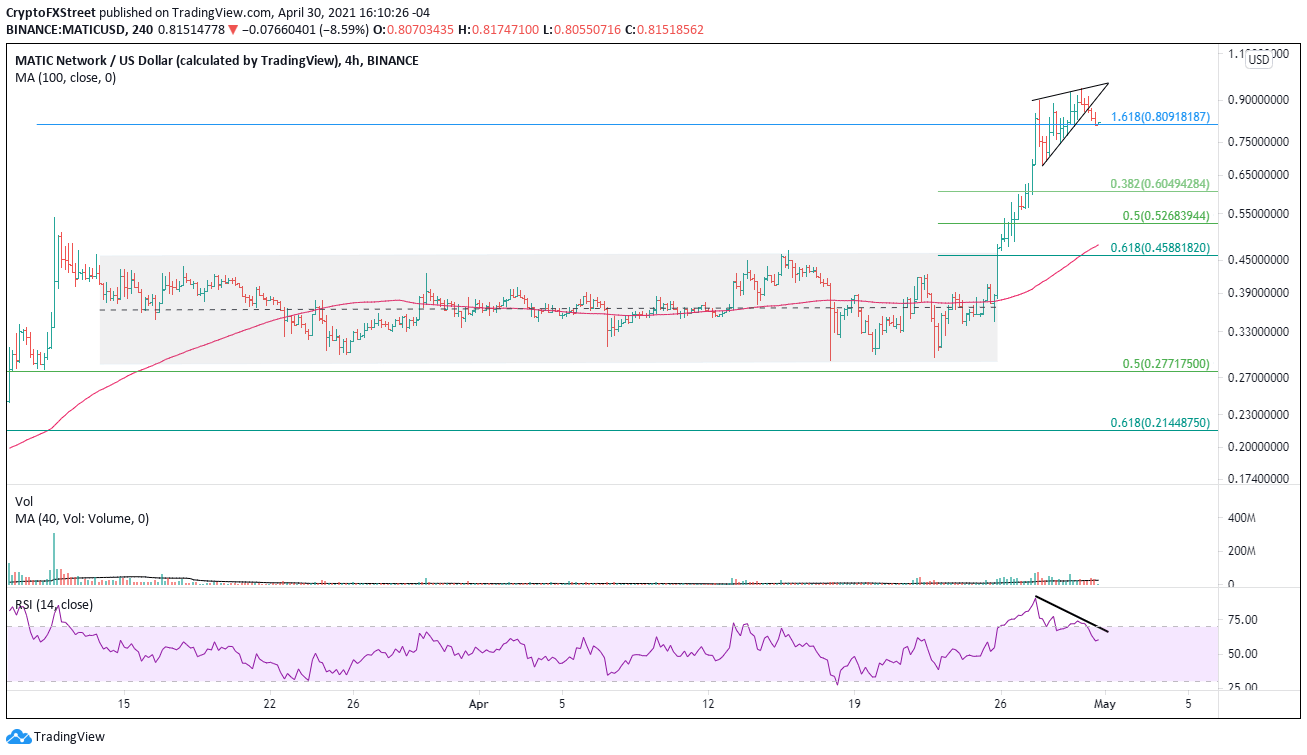 Forex Crunch 30 April, 2021 - 04:56pm
MATIC price decline below the lower trend line cues market operators for a much-needed consolidation in the hurried race for new highs. The downside should be limited as late arrivals search for a cheaper entry.
Polygon is a layer 2 scaling solution for Ethereum by creating side chains that run along the main Ethereum blockchain and aggregate transactions to bypass ETH's steep transaction fees and slow speed. Essentially, the side chains increase the throughput of the system, as measured by transactions per second, enabling decentralized finance to attract more users.
From March 14 to April 25, Polygon traveled in a sideways range of approximately 60%, with the weekly closes occurring between $0.360 and $0.385 for seven of the eight weeks. It was a rare formation, but the price contraction motivated by indecision on both sides of the trade generated the energy to carry the altcoin over 200% higher.
Today's bearish reversal above the rising wedge's upper trend line has carried through with a break of the lower trend line and a loss of 7.50%. The Polygon reversal was foreshadowed by a bearish momentum divergence on the 4-hour chart, as the Relative Strength Index (RSI) failed to confirm the price highs of yesterday or today.
MATIC price will encounter support at the 161.8% Fibonacci extension of the March-April decline at $0.809, but a more legitimate level of support is $0.675. A collapse below $0.675 alters the Polygon outlook and broadcasts an acceleration of the correction to the 38.2% retracement of the recent rally at $0.605.
In light of the superior momentum of the rally, it is conceivable that MATIC undergoes a correction in time versus price, forcing the patience of speculators waiting for a deeper correction to engage the cryptocurrency, leading to a new thrust higher for Polygon.
Forex Crunch is a site all about the foreign exchange market, which consists of news, opinions, daily and weekly forex analysis, technical analysis, tutorials, basics of the forex market, forex software posts, insights about the forex industry and whatever is related to Forex.
Foreign exchange (Forex) trading carries a high level of risk and may not be suitable for all investors. The risk grows as the leverage is higher. Investment objectives, risk appetite and the trader's level of experience should be carefully weighed before entering the Forex market. There is always a possibility of losing some or all of your initial investment / deposit, so you should not invest money which you cannot afford to lose. The high risk that is involved with currency trading must be known to you. Please ask for advice from an independent financial advisor before entering this market. Any comments made on Forex Crunch or on other sites that have received permission to republish the content originating on Forex Crunch reflect the opinions of the individual authors and do not necessarily represent the opinions of any of Forex Crunch's authorized authors. Forex Crunch has not verified the accuracy or basis-in-fact of any claim or statement made by any independent author: Omissions and errors may occur. Any news, analysis, opinion, price quote or any other information contained on Forex Crunch and permitted re-published content should be taken as general market commentary. This is by no means investment advice. Forex Crunch will not accept liability for any damage, loss, including without limitation to, any profit or loss, which may either arise directly or indirectly from use of such information.
DeFi Rate 30 April, 2021 - 09:17am
This week, Polygon (formerly Matic) has broken away from the pack of competing Layer 2 solution providers for the Ethereum Network, with DEX like Quickswap that live on Polygon surging to hundreds of millions in transaction volume each day.
L2 DEX trading volume in the last 24hrs:
— L2_Dex_Wars (@L2Wars) April 27, 2021
Faced with such success in a sector of the industry that has been seen as critical to the continued success of DeFi on Ethereum, Polygon also announced an allocation of $150 million in MATIC tokens as the #DeFiForAll Fund, designed to bring the benefits of DeFi to a far larger audience.
1/ 🔥Pleased to announce a 150M$ DeFi Fund to make DeFi more accessible and cost-effective and bring the next million users to DeFi.
🌏 The #DeFiforAll Fund was set up to bring the benefits of DeFi to a larger user base that was earlier priced out.https://t.co/S1dF5aDjV2 pic.twitter.com/NGjzFIrP56
— Polygon (previously Matic) (@0xPolygon) April 28, 2021
Details on exactly how fund recipients are selected are scarce for now, but big players like Curve and Aave have already become some of the most notable success stories using Polygon, with Aave already locking more than $12 billion in the Polygon L2.
Speaking of Aave, decentralized governance for one of DeFi's most popular protocols also approved liquidity mining rewards for the first time this week, for users who make the jump to Polygon's L2.
— Aave (@AaveAave) April 14, 2021
Rewards are paid in MATIC tokens, and close to a million dollars are slated to be paid out by the end of July 2021. Given the size of the war chest now associated with the DeFiForAll Fund, more Polygon-based liquidity mining programs could be soon to follow.
Balancer and Gnosis announced the Balancer-Gnosis Protocol, a hybrid non-custodial DEX with professional market makers, batched auctions, and off-chain order placement with access to on-chain liquidity.
Introducing the crossover event of the summer 💥
Balancer x @gnosisPM are teaming up to deliver the best experience to DEX traders . ⚖️🦉
Here's what you need to know⬇ https://t.co/AanDBSUKPE
— Balancer Labs (@BalancerLabs) April 28, 2021
BGP is to lower gas fees for DEX transactions by simplifying smart contract architecture and taking advantage of professional market makers, while also providing protection against MEV extraction, where miners are able to front run or otherwise use blockchain data to extract maximum value from everyday participants and traders. The BGP train is getting started via Cowswap, a proof-of-concept alpha build where gas prices are 90% subsidized for the time being.
The Opyn on-chain options protocol is teaming up with DeFiDollar to introduce Opeth, a synthetic asset combining yield farming with put options to maximize capital efficiency.
DefiDollar 🤝 @opyn_
Capital efficient Stablecoin loans with Opeth! 🤩
Opeth is a synthetic asset – fusing a put option with the underlying collateral. Opeth thus has a lower bound and can be used as collateral to issue stablecoins.
Learn More: https://t.co/384MoT1BXH
— DefiDollar (@defidollar) April 27, 2021
Using Opeth, put option contract writers can put their collateral to work farming yield across various DeFi platforms, then either exercise the option for a profit or let it expire if out of the money, while only paying the option premium. From the bottom to the top, DeFi protocols of every size are generating creative new ways to improve earnings on user capital.
Gas prices on Ethereum have been at their lowest level in recent memory this past week after hiking the gas limit to 15 million per block. It's a huge relief, but the gas limit has been increased several times over the past year, only to be quickly filled to capacity again within just days. This time is different because much of the DeFi demand has found its way into other parts of the ecosystem, from BSC and Optimism to the now seemingly dominant Polygon solution.
DeFi is moving through challenges and attracting capital and top-tier talent more quickly than any other industry in human history. It's exciting and at times hard to believe, and not without pitfalls, but do your best to stay grounded, and we all might just make it after all…
Highest Yields: Nexo Lend at 10% APY, Fulcrum at 9.78% APY
Cheapest Loans: Compound at 7.23% APY, Aave at 7.99% APY
MakerDAO Updates
DAI Savings Rate: 0.00%
Base Fee: 0.00%
ETH Stability Fee: 5.50%
USDC Stability Fee: 0.00%
WBTC Stability Fee: 4.50%
Highest Yields: Fulcrum at 11.63% APY, Celsius at 10.39% APY
Cheapest Loans: Celsius at 9.35% APY, Compound at 9.67% APY
pNetwork and Algorand link up to deliver more cross-chain capabilities.
Hashflow raises $3.2 million from investors including Dragonfly Capital and Alameda.
RenVM helps Badger make better Bitcoin bridges.
Impermax brings yield to your yield so you can farm while you farm.
Total Value Locked: $76.91B (up 33% since last week)
DeFi Market Cap: $124.23B (up 11.27%)
DEX Weekly Volume: $16.08B (down -16.25%)
Total DeFi Users: 2,058,200 (up 8.16%)
[Owen Fernau – The Defiant] – Yearn Finance Q1 Report Reveals Rising Profits Thanks to Vaults and Yield Farming
Alex is a Content Writer at Circle, with previous experience at tech startups, Fortune 500 corporations, and as a freelance writer and analyst. Interests include cutting-edge technologies in blockchain, energy, supply chains, transportation, urban living, and more and he has been in the crypto community since 2014.
CoinDesk 30 April, 2021 - 05:59am
"The ongoing capital rotation into all things Polygon is showing no signs of abating," one research analyst said.
MATIC reached a new record high of $0.9459 early today, surpassing the previous lifetime high of $0.92 reached on Thursday, according to data provided by CryptoCompare. Messari puts the cryptocurrency's daily high at $1.05.
The token has rallied by 150% this month, outperforming ether's 45% rise. 
"The ongoing capital rotation into all things Polygon is showing no signs of abating," Denis Vinokourov, head of research at Synergia Capital said. "The layer 2 scaling solution is attracting capital inflows at an astronomical rate, as evidenced by the recent sharp rise in the total value locked through $1.5 billion."
Scaling refers to increasing the throughput of the system, as measured by transactions per second.
Derivatives market data shows the focus has shifted to Ethereum-based scaling solutions in recent weeks from rival blockchains like Solana.
"Non-ethereum based solutions, such as Solana, may suffer in the short term due to Polygon's growth," Vinokourov said. "The dominance of Polygon will most likely strengthen going forward, and its positioning as an aggregator could boost interest in the sector as a whole and support a wide variety of Ethereum-scaling solutions."
Indeed, Ethereum's scalability could improve, bringing transaction fees down once the sharding upgrade is implemented. However, Polygon's Sandeep Nailwal doesn't foresee Ethereum's improved scalability affecting demand for sidechains.
"Ethereum 2.0 will become 64 times more scalable than Ethereum is now, but the demand is 1,000 times than where we are. You will need L2 scalability," Nailwal told CoinDesk.
Ethereum's founder Vitalik Buterin plans to implement the sharding upgrade after the completion of the switch to proof-of-stake mechanism by early next year.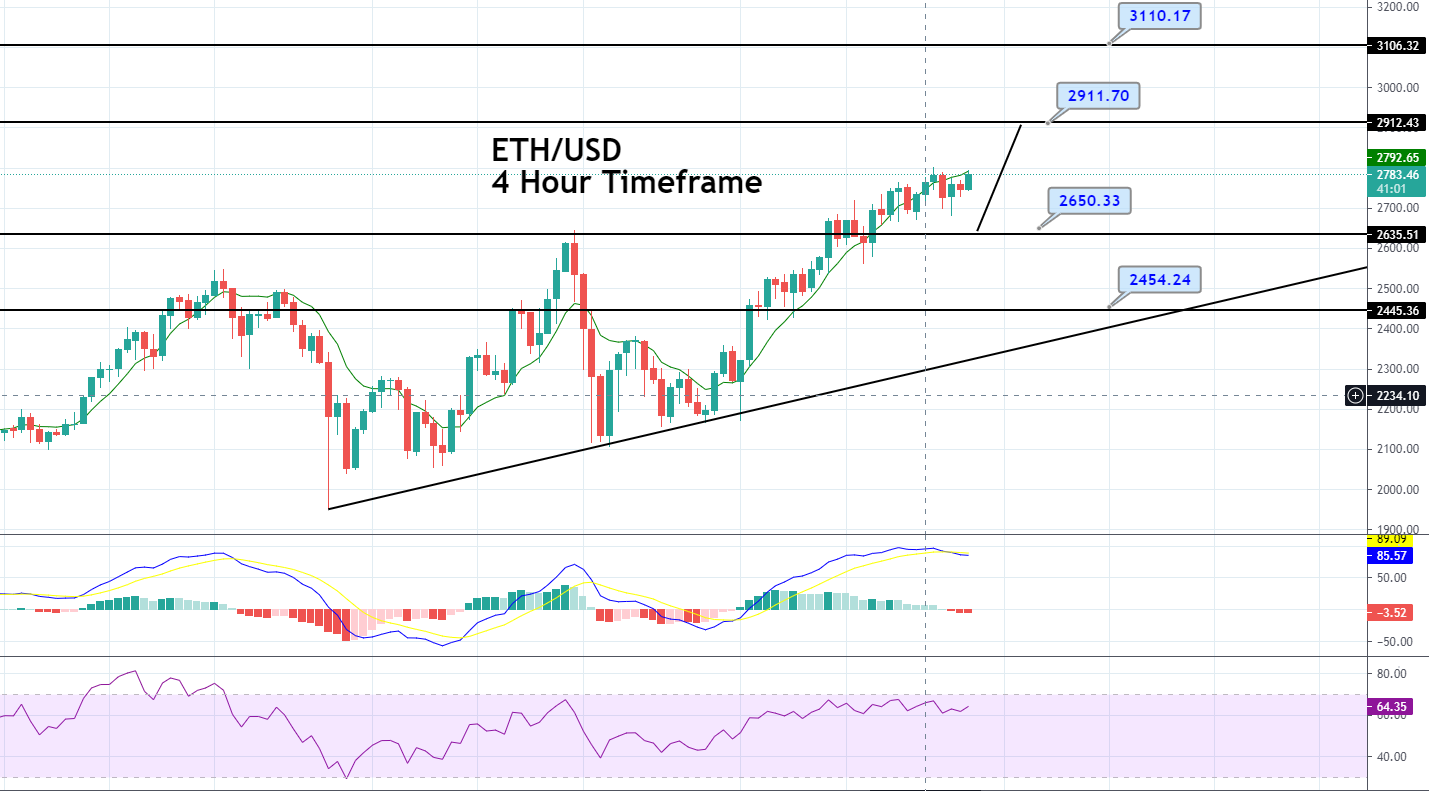 FX Leaders 30 April, 2021 - 03:10am
ETH/USD closed at $2755.61 after placing a high of $2755.61 and a low of $2716.59. ETH/USD continued putting new all-time high levels for the third consecutive session and reached above the $2755 level. On Thursday, JP Morgan, a U.S. banking giant, turned highly bullish on Ethereum and noted that it had beaten BITCOIN in terms of gains this year. During April, Ethereum prices gained about 45%, whereas, Bitcoin which has market dominance due to huge market capitalization, has declined by 9% over the same period.
Analysts at JP Morgan gave three reasons that drove Ethereum prices higher and helped it to outperform Bitcoin. The first reason that was cited was a liquidity shock that hammered Bitcoin. Second, the liquidation by leveraged traders resulted in a correction of 27% and drove Bitcoin prices even lower. Third, the increased activity on DeFi and other platforms supported Ethereum prices as its network has a higher pace of transactions on public blockchain than Bitcoin. These comments from JP Morgan added strength to Ethereum and pushed it to a new all-time high near the $2800 level.
InvestingCube 29 April, 2021 - 09:40pm
The Polygon price has continued its blistering move higher, boosted by Ethereum's network congestion.
Polygon (MATIC) aims to solve the Ethereum network's scaling issues by providing a lightweight, second layer adjacent to the Blockchain. The market is betting that Polygon will be a primary beneficiary as the rise of DeFi could make Ethereum a victim of its own success.
Polygon, previously known as Matic (Hence the ticker), has seen a considerable increase in investor demand over the recent trading sessions, sending the price to an all-time high and more than doubling its valuation.
Speaking to Coindesk, founder and COO, Sandeep Nailwaz, explained the problems facing the Ethereum network;
'Do you think if Ethereum is going to become the fundamental settlement layer of the world that even 3,200 tps is a good enough scalability?'
It's clear from the price action; the market sees Polygon as a viable solution to Ethereum's scaling issues.
Looking at the 4-hour chart, we see that a break above the descending trend line at $0.444 (in place from the 12th of March high at $0.543) triggered the recent parabolic move higher. In the period that followed, only 4 out of the last 25 candles have registered a decline.
The recent rate of ascent has pushed the Polygon price deep into overbought conditions, with the Relative Strength Index (RSI) registering a lofty reading of 75.61.
After posting an impressive +2700% rally since the February lows of $0.033, it may prove dangerous chasing this move higher in the short term. With the risk of a sharp pullback growing, investors may want to see a normalization of trading conditions before jumping on board.
A break below the recent, steep ascending channel at $0.848 may trigger lower prices. Alternatively, a continuation of the move cannot be discounted, with a break above the recent high of $0.9479 putting Polygon on the path to an even higher valuation.
Don't miss a beat! Follow us on Telegram and Twitter.
Don't miss a beat! Follow us on Telegram and Twitter.
Awarded and global FX/CFD broker. Well-regulated in multiple jurisdictions. Offers great spreads and liquidity for FX, Indices, and Commodities trading.
Cryptocurrency exchange with over 150 coins. As of Jan 18, Binance was the world's largest cryptocurrency exchange per volume.
Elliott Laybourne is an accomplished Hedge Fund sales and Investment bank trading specialist. Elliott also started a successful Base Metals Brokerage business in partnership with ABN AMRO clearing bank. He worked on the open outcry trading floors at the London International Financial Futures Exchange 'LIFFE' and the London Metal Exchange 'LME.' He also provided research and execution services for Goldman Sachs, JP Morgan, Credit Suisse, Schroders Asset Management, and Pennsylvania State Public School Employees Retirement System, as amongst others. Today, he focuses on providing trading consultancy and business development services for family office and brokerage clientele.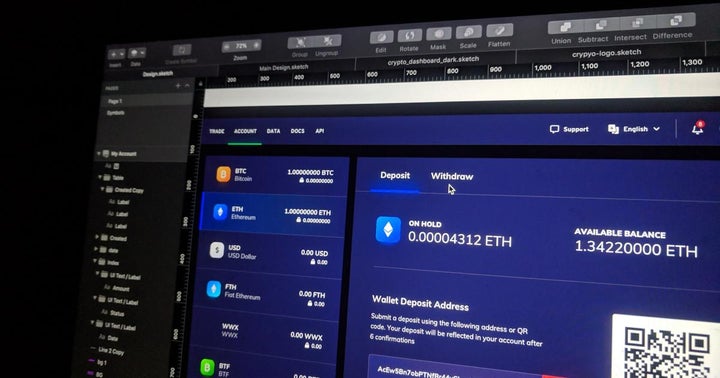 Benzinga 29 April, 2021 - 09:39pm
Ethereum (ETH) is markedly volatile over 24 hours while the joke cryptocurrency Dogecoin (DOGE) has found stability around the 30 cent level on Thursday.
What Happened: ETH touched an intraday low of $2,672.11 in the 24-hour period leading up to press time and a high of $2,797.97 — the latter is also its all-time high.
At press time, the second-largest cryptocurrency by market cap was trading 1.49% higher at $2,749.84.
DOGE hit an intraday low of $0.30 and a high of $0.32 in the 24-hours leading up to press time, when it traded 2.59% lower at $0.31.
The cryptocurrency shot beyond the 30 cent mark on Wednesday after Tesla Inc. (NASDAQ:TSLA) CEO Elon Musk and "Dogefather" hinted on it making an appearance in his SNL episode and has found stability above the mark.
Meanwhile, the apex cryptocurrency Bitcoin (BTC) traded 1.9% lower over 24 hours at $53,522.12.
Why It Matters: Decentralized Finance (DeFi) associated cryptocurrencies in competition or complementary to Ethereum have been soaring lately.
On Thursday, some such cryptocurrencies like Venus (XVS), Polygon (MATIC), and PancakeSwap (CAKE) hit new all-time highs.
XVS touched an all-time high of $123.63 and traded 48.56% higher at $110.34. The cryptocurrency was the top gainer on a 24-hour basis in the list arranged by CoinMarketCap.
Venus Protocol announced Thursday in a tweet that Binance and holders of Binance debit cards carrying Visa Inc's (NYSE:V) brand can now spend XVS and Vai (VAI) stablecoin by transferring them from their cryptocurrency spot wallets to their card wallet.
MATIC traded 16.89% higher at $0.91 at press time and hit an all-time high of $0.94 on Thursday night. The cryptocurrency has gained 177.49% on a seven-day trailing basis.
CAKE traded 7.56% higher at $42.03. On Wednesday, it reached an all-time high of $44.02.
DeFi coins are buoyant as Ethereum's blockchain suffers from congestion resulting in higher transaction costs — known as "Gas."
Click here, or sign up for our newsletter to explore more of Benzinga's Cryptocurrency market coverage, in-depth coin analysis, data, and reporting.
© 2021 Benzinga.com. Benzinga does not provide investment advice. All rights reserved.
What you'll get: a deep dive into relevant crypto projects, exclusive insights into alt coins from the pros & more!
© 2021 Benzinga | All Rights Reserved