Santiment
santimentfeed
🥳 On a day that saw history be made with #Ethereum surpassing #Bitcoin in daily active addresses for the first time, #altcoins came to play. $KSM, $COMP, and $ZIL were among many projects to make an imprint on the markets, while $BTC ranged around $34.5k. app.santiment.net/screener/all-santiment-projects-3560?charts=%7B%22isPriceChartActive%22%3Atrue%2C%22isPriceTreeMap%22%3Atrue%2C%22isVolumeTreeMap%22%3Afalse%2C%22isMovement%22%3Afalse%2C%22priceBarChart%22%3A%7B%22interval%22%3A%2224h%22%7D%2C%22socialVolumeTreeMap%22%3A%7B%22interval%22%3A%2224h%22%7D%2C%22priceTreeMap%22%3A%7B%22interval%22%3A%2224h%22%7D%7D&utm_source=twitter&utm_medium=post&utm_campaign=twitter_altcoiners_party_brian_062821/&fpr=twitter pic.twitter.com/3AFQ0MHbcT
Oli White
OliWhiteTV
I get a lot of questions about what I do when the crypto market is "boring" and things are looking bearish. Simple answer, I always have a bag of USDC on @swissborg earning me a daily yield of up to 15%. $CHSB $ETH $BTC pic.twitter.com/CFDDyEroSs
Jon Erlichman
JonErlichman
Value today of $1,000 invested at start of the year: Telcoin: $144,922 Dogecoin: $50,416 Cardano: $7,863 Binance Coin: $7,776 Decred: $3,587 THETA: $3,239 Ethereum: $3,026 XRP: $3,016 Neo: $2,568 TRON: $2,499 Polkadot: $1,675 Chainlink: $1,620 Bitcoin: $1,188 Litecoin: $1,069

Gillian Tett
gilliantett
Is crypto-finance and Ethereum a ponzi scheme...or salvation/future of finance? Is it the Kim Kardashian of money? I chatted with Joe Lubin, co-founder of Ethereum, this week and found it fascinating. aspenideas2021plenaryday5.splashthat.com/
Crypto trader and influencer Lark Davis says four catalysts could ignite a major Ethereum rally in the near future.
In a new video, Davis explains why he believes ETH is set to take off, first noting that last month Ethereum had about 200,000 more daily active addresses than Bitcoin. The popular crypto analyst also highlights the slow but steady uptrend in the number of Ethereum's daily active addresses.
Davis says the surging on-chain activity can be attributed to Ethereum having a large number of use cases relative to other crypto assets.
The analyst also points out that Twitter is now using the Ethereum network to mint NFTs, even though the company's CEO Jack Dorsey has long been known as a Bitcoin maximalist.
Another catalyst that may spark a serious Ethereum run, says Davis, is the approval of an Ethereum exchange-traded fund (ETF) by the U.S. Securities and Exchange Commission (SEC).
Finally, Davis notes that nearly six million Ethereum has been staked on the Ethereum 2.0 deposit contract, meaning that a huge chunk of the ETH supply is locked up.
Check your inbox for confirmation email.
Cryptocurrency news and analysis, covering Bitcoin, Ethereum, Ripple, XRP, altcoins and blockchain technology
COPYRIGHT © 2017-2021 THE DAILY HODL
Read full article at The Daily Hodl
Markets Insider 05 July, 2021 - 09:57am
© 2021 Insider Inc. and finanzen.net GmbH (Imprint). All rights reserved.
Registration on or use of this site constitutes acceptance of our Terms of Service and Privacy Policy.
Markets Insider 05 July, 2021 - 08:18am
© 2021 Insider Inc. and finanzen.net GmbH (Imprint). All rights reserved.
Registration on or use of this site constitutes acceptance of our Terms of Service and Privacy Policy.
Cointelegraph 05 July, 2021 - 07:36am
The latest CME futures gap is filled within hours on Monday, with an attractive gap nearer $50,000 providing a frame of reference for bulls.
Data from Cointelegraph Markets Pro and TradingView showed BTC/USD reversing bullish performance at $35,900 to drop just over 5% on the day.
The U-turn leaves Bitcoin firmly within its established trading range, with traders mindful of various hurdles to overcome before continuation can take place.
For Michaël van de Poppe, these hurdles come in the form of Bitcoin futures gaps.
On Friday, CME futures closed the week at around $33,285, a full $2,700 below Sunday's local high.
As a result, the temptation was there for spot price action to fall in order to "fill" the resulting gap between the end of one week's trading and the start of the next.
This is exactly what happened — BTC/USD bounced at around $33,300, hovering at $33,600 at the time of writing.
"I'm expecting a corrective move to $33,400 with the CME Gap getting filled, and then we can start continuing," Van de Poppe said prior to the event taking place.
He added that the CME gap higher up at $46,500 is also apt to act as a bullish target should upside enter the picture.
"If we get a rally, I'll not be surprised that we get a rally towards this CME gap in general," he commented.
The past seven days have been broadly kinder to altcoins, meanwhile, with many tokens up versus the same time last week while Bitcoin remains lower.
Ether (ETH), the largest altcoin by market capitalization, was in the red on Monday but still up 11% over the course of the week, trading at $2,213.
As Cointelegraph reported, Ether's price is also showing strength against Bitcoin, with ETH/BTC targeting a popular range high of 0.075.
Only two of the top 50 cryptocurrencies by market cap saw positive price movements on the day, however, as Bitcoin's sudden reversal took its toll.
Slightly declining Bitcoin dominance provides a potential benefit to altcoins, which tend to perform best during periods of middling BTC action following major dips.
The views and opinions expressed here are solely those of the author and do not necessarily reflect the views of Cointelegraph.com. Every investment and trading move involves risk, you should conduct your own research when making a decision.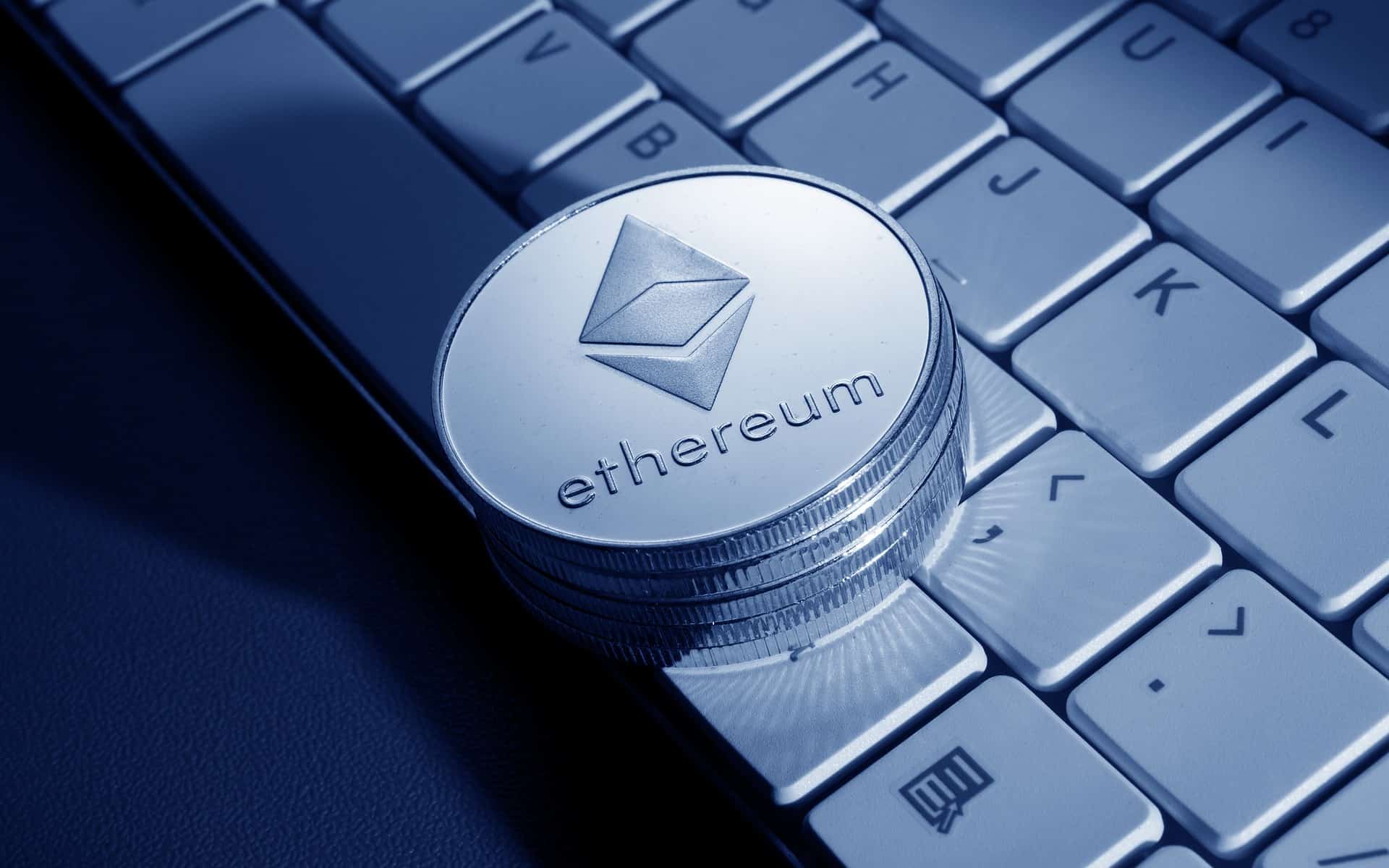 Forkast News 05 July, 2021 - 04:40am
Ether — the native cryptocurrency of the Ethereum blockchain — saw its price jump to a two-week high of around US$2,390 this morning, according to CoinGecko data.
Ether's rally comes as Ethereum edges closer to its London update this month. The London upgrade will incorporate the Ethereum Improvement Proposal 1559 (EIP-1559) and change Ethereum's fee mechanism to usher in a more predictable base fee for transactions. The London upgrade is expected to be deployed to mainnet after its successful release to its three testnets — Ropsten, Goerli and Rinkeby. The Rinkeby testnet release is scheduled for July 7.
Work on Ethereum's 2.0 upgrades has also been under way as it transitions from a proof-of-work to a proof-of-stake consensus mechanism. The Beacon Chain upgrade, implemented in December, was the first Ethereum 2.0 upgrade, and brought staking to the Ethereum ecosystem. "The Merge" — Ethereum mainnet's merge with the Beacon Chain's proof-of-stake system — will mark the end of proof-of-work Ethereum and is scheduled to take place later this year or next year.
According to a recent blog post by Ethereum software company ConsenSys, more than 170,000 validators have staked over 5.4 million ETH on the Beacon Chain, with an annual percentage return of 6.6%. Investment bank J.P. Morgan predicted in a recent report that Ethereum's shift to proof-of-stake could drive crypto adoption and help the staking industry grow from US$9 billion currently to US$40 billion by 2025.
See related article: Vitalik Buterin: Why Eth2 will propel Ethereum's use in enterprise
Justin d'Anethan, head of exchange sales at Nasdaq-listed cryptocurrency exchange Eqonex told Forkast.News that although investors are looking at the positive developments on the Ethereum blockchain, "most of the capital is simply cycling from different assets within the crypto space."
"While BTC is rising and feeling stronger, traders are more interested in alts, which tend to be more volatile but so generate higher returns when things feel well supported and headed higher," d'Anethan said. "So what we're seeing is crypto investors gaining confidence and re-entering altcoins, including — but not limited to — ETH."
Ether, which had a market cap of about US$265 billion at press time, is the second-largest cryptocurrency by market value after Bitcoin, and the vast majority of decentralized finance protocols and stablecoins operate on the Ethereum network. The total value locked in DeFi protocols on the Ethereum DeFi ecosystem has remained the largest, with a TVL of US$55 billion, according to DeFi Pulse.
"Price volatility is an ever-present fixture of crypto markets whilst in this early stage," Sidney Powell, CEO and co-founder of Maple Finance, an institutional capital marketplace built on Ethereum, told Forkast.News in an email. "What's changing is that it is no longer price alone which draws institutional interest."
"What we are seeing is … institutions being drawn to the space by the potential of products such as on-chain lending, [exchange-traded funds] and options and swaps," Powell said. Maple Finance will launch its second lending pool at US$20 million on July 7, led by Maven 11, a global digital asset investment firm that will act as the pool's delegate.
Despite recent institutional outflows from Ether investment products, market analysts believe there may be some upside momentum for Ether.
"Technically, following its impulsive rally from the March 2020 low near US$88.20 to the May 12 US$4,380 high, Ethereum commenced a pullback," wrote Tony Sycamore, City Index's senior market analyst for APAC, in a recent market analysis. "The pullback neatly tagged uptrend support near US$1,700 in late June coming from the 2020 low and notably, the pullback unfolded in three waves, usually a good sign of a correction rather than an impulsive move lower."
Sycamore predicts that "a positive bias is in place looking for the rally in Ethereum to extend towards US$2,900 in coming weeks, provided Ethereum holds above the US$1,730/00 support region."
Sign up to receive weekly insights on blockchain & crypto in Asia.
Yahoo Finance UK 05 July, 2021 - 03:47am
Bitcoin (BTC-USD), the largest cryptocurrency, was trading around 3.6% lower at $34,231 (£24,716) by 9am in London. The cryptocurrency retreated after a small rally over the weekend, having sunk to a low of around $33,000 on Friday.
After reaching an all-time high above $64,000 in April, bitcoin has been largely range bound in the last few weeks. The world's biggest cryptocurrency has mostly traded above $30,000 while struggling to break above $40,000.
Naeem Aslam, chief market analyst at Avatrade, said bitcoin was at risk of falling lower.
"New retail investors who have been involved in Bitcoin price are still feeling shaky and very few institutional investors understand the long term perspective of Bitcoin price," he said. "This means that the threat of Bitcoin price touching the 25K is still on the table.
"However, those odds aren't that strong as they were last week. The Bitcoin price must continue to respect the 30K support level."
Ethereum (ETH-USD), the second most popular token, was also falling on Monday morning. Ethereum was around 3% lower at $2,272. The token had traded above $2,350 on Sunday — its highest point in two weeks.
By 9am in London, the broader cryptocurrency market had lost more than 2.8% of its value over the last 24 hours, according to data provider CoinMarketCap.com.
Read more: European markets latest: FTSE 100 muted as Morrisons takeover battle brews
The crypto market has struggled to recapture the momentum seen earlier in the year. A record high for bitcoin spurred the broader market to reach a value of more than $2tn. Today the cryptocurrency market is worth $1.4tn.
Bitcoin's high was driven by increased institutional adoption and boosterism from the likes of Tesla's (TSLA) Elon Musk. Stalling momentum coincided with a crackdown in China, growing concerns about bitcoin's energy use, and waning enthusiasm from Musk.
"Bulls are still not out of the woods yet because bitcoin price has a long way to go before we can really see that any downward move threats are over," said Aslam.
'The police bill is wiping out a culture': New Travellers take a standIf it becomes law, residing on land without permission would be a criminal offence, threatening a way of life for communities across the UK Amy (left) and Jess, Travellers in the west of England, are both alarmed that the new policing bill puts their right to live on the road in jeopardy. Photograph: Alicia Canter/The Guardian
Bob Guiney and wife Jessica Canyon are already parents to 2-year-old son Grayson Robert
Roger Federer weathered a first-set storm to become the oldest man in the Open Era to reach the Wimbledon quarter-finals with a 7-5 6-4 6-2 win over Italian 23rd seed Lorenzo Sonego on Monday. The Swiss, who will turn 40 next month, was deadlocked at 5-5 in the first set when a torrential downpour sent the players back into the locker room with Sonego down break point. The 20-minute disruption, during which the roof was closed over a soggy and windswept Centre Court, did Sonego no favours as he immediately produced a double fault under the floodlights to surrender his serve.
Novak Djokovic breezes past Cristian Garín into Wimbledon quarter-finals
Iceland celebrated its 50th anniversary last year and recently opened its 1,000th store.
The mandatory requirement to wear a face mask is expected to be dropped in England from 19 July. Joanna Whitehead speaks to people who will be continuing wearing coverings even if it becomes voluntary
Major League Soccer was unable to corroborate an allegation that a racial comment was directed at Portland Timbers midfielder Diego Chara during a game against Minnesota United. The league said Monday that while its investigation found the allegation was made in good faith, it "could not corroborate or refute the allegation." Timbers coach Giovanni Savarese said after Portland's 1-0 loss to Minnesota on June 26 that a "discriminatory word" had been used by a Loons player toward Chara, who is Black and from Colombia.
A teenage boy has been stabbed to death after a high road fight in Woolwich in south east London. The victim was found with fatal knife wounds in Woolwich New Road at 5.23pm this evening. The stabbing happened on the busy shopping street in front of shocked onlookers, according to reports.
Heavy rains expected to bring 'significant flooding and mudslides' to country before entering Gulf of Mexico towards west Florida
Find Apple, Ninja, Skechers and more at this something-for-everyone blowout.
There are still 118 people unaccounted for following the Champlain Towers South Condo collapse in Surfside, Florida, according to officials
Gay television presenter Darren Kennedy has called out "everyday homophobia" after he was called a "f****t" on Camden Street in Dublin.
CHICAGO, July 05, 2021--Saint Anthony Hospital in Chicago recently expanded its community outreach program as part of Chicago City Council's efforts to vaccinate people from some of the city's most deprived neighborhoods where adoption had been low. This meant doubling daily capacity. It was the use of an innovative planning tool, offered free of charge from simulation experts Simul8, that helped to make this possible.
Boris Johnson to scrap most of England's Covid rules from 19 July. PM will make England most unrestricted country in Europe despite saying cases could soar to 50,000 before date is reached
The Bank of England has asked its staff to work at least one day a week from its offices from September, an official said on Monday as Prime Minister Boris Johnson announced England was set to end social and economic COVID-19 restrictions from July 19. Joanna Place, the BoE's chief operating officer, said the central bank was expecting that over time staff would spend three or four days a week on average in their workplaces, and one or two days working from home. "My own personal view is that the pull of the office might be a bit bigger than we anticipate," Place said in a speech given to the Investment Association.
Jennifer Lopez dropped her new song, "Cambia El Paso," with Rauw Alejandro on Monday
OSLO, Norway, July 05, 2021 (GLOBE NEWSWIRE) -- Ultimovacs ASA ("Ultimovacs") (OSE ULTI), a clinical stage leader in immune stimulatory vaccines for cancer, today announced the publication of a review of telomerase-based therapeutic cancer vaccines including the Company's universal cancer vaccine, UV1. The article in Frontiers in Immunology examines the broad relevance of telomerase as an attractive cancer target and examines opportunities for optimizing anti-telomerase vaccine performance both
The singer said the event had been 'forced to become something else'.
The 2018 champion returned to the scene of her greatest triumph to show Coco Gauff who was the Centre Court boss.
State has tried to incentivise jabs with cash giveaways
Finance Magnates 05 July, 2021 - 01:08am
Still, according to CoinTelegraph, trading volumes remained 'characteristically' low over the weekend, reaching just over $18 billion. At press time, Ethereum's total market capitalization was nearly $265 billion.
Part of ETH'S positive price movement could also have something to do with the expiry of $230 million in options contracts on Friday. ETH bulls and bears had spread their expectations all over the spectrum; however, ETH bulls began to gain a solid lead around the $2,200 mark.
The London hard fork, which is expected to be fully implemented on the Ethereum network later in July, is anticipated to impact the price of ETH on several levels.
A number of analysts are suggesting that exposure to ETH will increase as the implementation of the hard fork draws nearer. CoinTelegraph reported that this already seems to be happening: on-chain data shows that Ethereum registered over 750,000 active addresses last week, surpassing Bitcoin's number of active addresses.
At the time, analytics firm Santiment said that the moment was historic: "On a day that saw history be made with #Ethereum surpassing #Bitcoin in daily active addresses for the first time, #altcoins came to play. $KSM, $COMP and $ZIL were among many projects to make an imprint on the markets, while $BTC ranged around $34.5k."
🥳 On a day that saw history be made with #Ethereum surpassing #Bitcoin in daily active addresses for the first time, #altcoins came to play. $KSM, $COMP, and $ZIL were among many projects to make an imprint on the markets, while $BTC ranged around $34.5k. https://t.co/cwjGvrLLeX pic.twitter.com/3AFQ0MHbcT
— Santiment (@santimentfeed) June 29, 2021
Meanwhile, the price of Bitcoin is continuing to trade sideways within the $30K-$40K range, where it has been for more than a month.
Yahoo Finance 04 July, 2021 - 08:29pm
After a mixed start to the week, Bitcoin rose to a Tuesday intraweek high $36,600.0 before hitting reverse.
Falling short of the first major resistance level at $37,302, Bitcoin slid to a Friday intraweek low $32,700.0.
Steering clear of the first major support level at $30,717, Bitcoin moved back through to $35,000 levels to deliver the upside for the week.
4 days in the green that included a 4.14% rally on Tuesday delivered the upside for the week.
Bitcoin would need to avoid a fall back through the $34,859 pivot to support a run the first major resistance level at $37,017.
Support from the broader market would be needed for Bitcoin to break out from last week's high $36,600.0.
Barring an extended crypto rally, the first major resistance level would likely cap any upside.
In the event of an extended breakout, Bitcoin could test resistance at $40,000 before any pullback. The second major resistance level sits at $38,759.
Failure to avoid a fall back through the $34,859 pivot would bring the first major support level at $33,117 into play.
Barring another extended sell-off, Bitcoin should steer clear of sub-$30,000 levels. The second major support level at $30,959 should limit the downside.
At the time of writing, Bitcoin was down by 1.11% to $34,883.0. A bearish start to the week saw Bitcoin fall from an early Monday high $35,280.0 to a low $34,773.0.
Bitcoin left the major support and resistance levels untested at the start of the week.
A mixed start to the week saw Ethereum fall to a Monday intraweek low $1,957.24 before making a move.
Steering clear of the 62% FIB of $1,725 and the first major support level at $1,703, Ethereum struck a Sunday intraweek high $2,389.22.
Ethereum broke through the first major resistance level at $2,263 to end the week at $2,300 levels.
6-days in the green that included a 5.10% rally on Wednesday delivered the upside for the week.
Ethereum would need to avoid the pivot at $2,223 to bring the first major resistance level at $2,489 into play.
Support from the broader market would be needed, however, for Ethereum to break back through to $2,400 levels.
Barring an extended crypto rally, the first major resistance level and resistance at $2,500 would likely cap any upside.
In the event of an extended breakout, Ethereum could test resistance at the 38.2% FIB of $2,740 before any pullback. The second major resistance level sits at $2,655.
A fall through the pivot at $2,223 would bring the first major support level at $2,057 into play.
Barring another extended sell-off in the week, Ethereum should steer clear of sub-$2,000 levels. The second major support sits at $1,791.
At the time of writing, Ethereum was down 0.25% to $2,317.30. A mixed start to the week saw Ethereum fall to an early Monday low $2,303.44 before rising to a high $2,324.44.
Ethereum left the major support and resistance levels untested at the start of the week.
This article was originally posted on FX Empire
It's been a bearish start to the day for the majors. Failure to revisit early highs would leave support levels in play.
BeInCrypto presents our daily morning roundup of crypto news and market changes that you might have missed while you were asleep.
The unnamed employee created copies of Cryptopia's private keys and saved them to a USB affording access to over $100 million in crypto.
It's been a bearish start to the day. A fall through the day's pivot levels would bring support levels into play.
UK-based charity the Children's Heart Unit Fund (CHUF) has reportedly received more than £100,000 in cryptocurrency donations in the last 12 months. Donations that equate to around $137,560.
It's a bearish start to the day for Bitcoin and the broader market. A Bitcoin move back through to $36,000 would signal a breakout, however.
Despite good long-term growth prospects for memory demand, Micron trades at an enormous discount to the market and especially other tech stocks – even peers in the volatile semiconductor sector. Case in point: Micron's recent earnings report, in which the company posted stellar numbers across the board, while also giving solid guidance. Memory crashes tend to happen when the industry overinvests in supply when demand is good and memory prices are rising, only to have too much capacity when demand hits an air pocket and pulls back.
The 2011 NBA draft wound up having a good amount of high-level talent in it, though it came from places not many were expecting. Overall, that class has had seven players turn into All-Stars, but interestingly enough, only one of them was taken ...
Blockchain data shows wealthy investors are coming back to the bitcoin market.
Making the Olympics and eventually medalling has been Canada's stated goal for over a decade, and still it eludes them.
The Packers and quarterback Aaron Rodgers remain at odds, with the next tangible development coming in roughly three weeks, when Rodgers does or doesn't show up for training camp. Looming over the relationship continues to be the possibility that the Packers will decide to pull the plug and give Rodgers the trade he wants, with [more]
When the pandemic struck in 2020, few imagined that the single-family housing market would have the surge we've seen over the past year. From home sales, homebuilding and price skyrocketing, the...
The Russian-based ransomware group is now demanding bitcoin in exchange for a decrypter for the infected machines.
(Bloomberg) -- The hackers behind a mass ransomware attack exploited multiple previously unknown vulnerabilities in IT management software made by Kaseya Ltd., the latest sign of the skill and aggressiveness of the Russia-linked group believed responsible for the incidents, cybersecurity researchers said Sunday.Marcus Murray, founder of Stockholm-based TrueSec Inc., said his firm's investigations involving multiple victims in Sweden found that the hackers targeted them opportunistically. In thos
It's a bearish start to the day. Dogecoin would need to move through the day's pivot to avoid heavier losses on the day.
Cybersecurity teams worked feverishly Sunday to stem the impact of the single biggest global ransomware attack on record, with some details emerging about how the Russia-linked gang responsible breached the company whose software was the conduit. An affiliate of the notorious REvil gang, best known for extorting $11 million from the meat-processor JBS after a Memorial Day attack, infected thousands of victims in at least 17 countries on Friday, largely through firms that remotely manage IT infrastructure for multiple customers, cybersecurity researchers said. REvil was demanding ransoms of up to $5 million, the researchers said.
The accelerating shift toward digital transactions over the past year was a boon for PayPal Holdings (NASDAQ: PYPL). The digital payments leader has experienced accelerating revenue growth over the last year. PayPal has been investing heavily in technology -- $2.6 billion in 2020 alone -- to develop new features for its growing base of active users -- 392 million at last count.
The little easter egg is found in the Google app on iPhones
Instagram CEO Adam Moserri recently released a video outlining the company's second half priorities for 2021. With that in mind, Instagram is experimenting with more full-screen recommended videos in the main feed. Over the last couple of years, TikTok has exploded in popularity.
Making a network called '%secretclub%power' completely disables WiFi on Apple's devices
Cointelegraph 04 July, 2021 - 11:30am
The second-largest cryptocurrency by market cap peaked north of $2,350 on Sunday, its highest reading since June 18. Bitcoin's price stability and anticipation of major protocol upgrades are fueling investors' appetite for ETH.
ETH rose more than 6.5% to $2,370 on Sunday, the highest in over two weeks, according to Cointelegraph Markets Pro. Weekend trade volumes remained characteristically low at just over $18 billion.
At current values, Ether has a total market capitalization of $274.8 billion.
The decentralized finance (DeFi) market, which is largely built on top of Ethereum, saw cumulative gains of 9% on Sunday. The total market value of DeFi coins is $67.3 billion, according to CoinGecko data.
Meanwhile, Bitcoin's price crossed $35,600, having gained 2.6%.
The battle between the bulls and the bears was on display in the options market last month, with both camps expecting extreme price fluctuations for Ether leading into the options expiry on Friday. As Cointelegraph reported, the $2,200 price level is where the bulls start to increase their lead, as evidenced by the ratio of call options to put options.
Ethereum's London hard fork, which contains the highly anticipated Ethereum Improvement Proposal 1559, launched on the Ropsten testnet on June 24, setting the stage for the full mainnet implementation later in July.
The hard fork is anticipated to have a positive impact on Ether's value thanks to several proposal upgrades, including the transition to the eco-friendly proof-of-stake consensus and a new "scarcity" feature that will reduce the number of tokens in circulation.
Related: A London tour guide: What the EIP-1559 hard fork promises for Ethereum
Analysts expect investors to increase their exposure to ETH leading into the hard fork. On-chain data suggests this is already happening, as Ethereum registered over 750,000 active addresses last week, exceeding Bitcoin by a considerable margin.
Analytics firm Santiment, which provided the data, described the active-address flippening as "historic."
On a day that saw history be made with #Ethereum surpassing #Bitcoin in daily active addresses for the first time, #altcoins came to play. $KSM, $COMP, and $ZIL were among many projects to make an imprint on the markets, while $BTC ranged around $34.5k. https://t.co/cwjGvrLLeX pic.twitter.com/3AFQ0MHbcT