LONDON — European markets were slightly lower on Tuesday, on track to extend losses after snapping a 10-day winning streak in the previous session.
The pan-European Stoxx 600 was around 0.3% lower during morning deals, with almost all sectors and major bourses in negative territory. Retail stocks led the losses, falling around 1%.
Shares in Asia-Pacific were mostly lower on Tuesday, with Chinese internet stocks in Hong Kong falling again as regulatory fears resurfaced. Tencent, Alibaba and JD.com were all seen trading lower, shortly after China's market regulator issued draft rules designed to prevent unfair competition on the internet.
On Wall Street, U.S. stock index futures were seen slightly lower after the Dow and S&P 500 on Monday closed at record highs during regular trading.
Nonetheless, the ongoing coronavirus pandemic and spread of the highly transmissible delta Covid-19 variant has rattled confidence. Oil prices erased earlier gains on Tuesday amid persistent worries about the outlook for global fuel demand.
International benchmark Brent crude futures traded at $68.93 a barrel on Tuesday morning, down 0.8% for the session, while U.S. West Texas Intermediate futures stood at $66.76, around 0.7% lower.
Investors are also monitoring the potential geopolitical implications following the Taliban's seizure of Kabul, the capital city of Afghanistan. U.S. President Joe Biden rejected blame for the scenes of turmoil and panic as thousands of people were seen at a Kabul airport desperately trying to flee.
Biden described the anguish of those trapped in the country as "gut-wrenching" and conceded the Taliban's lightning offensive had occurred more quickly than expected. His comments came amid mounting criticism of his administration's handling of the situation.
Back in Europe, U.K. jobs data showed the number of employees on British company payrolls rose month-on-month by 182,000 in July. The U.K.'s Office for National Statistics said the headline unemployment rate for the second quarter came in at 4.7%, slightly lower than economists polled by Reuters had anticipated.
Euro area inflation rate figures for July will follow at around 10 a.m. London time.
Looking at individual stocks, the U.K.'s BHP Group said on Tuesday it would sell its petroleum assets to Woodside Petroleum in an all-stock deal, Reuters reported. The announcement comes as the mining company reported its best annual profit in nearly a decade. Shares of the London-listed firm rose to the top of the European benchmark on the news, jumping more than 9%.
Meanwhile, Dutch technology investor Prosus slipped toward the bottom of the index shortly after HSBC cut its target price for the stock. Shares of the company dipped 3%.
Got a confidential news tip? We want to hear from you.
Sign up for free newsletters and get more CNBC delivered to your inbox
Get this delivered to your inbox, and more info about our products and services.
Data is a real-time snapshot *Data is delayed at least 15 minutes. Global Business and Financial News, Stock Quotes, and Market Data and Analysis.
Read full article at CNBC
SpaceNews 17 August, 2021 - 03:10am
WASHINGTON — The Government Accountability Office offered more details about its decision to reject protests filed by two companies of NASA's Human Landing System (HLS) award to SpaceX.
The GAO released Aug. 10 a 76-page decision denying protests filed in April by Blue Origin and Dynetics of NASA's decision to make a single HLS award, valued at $2.9 billion, to SpaceX. The GAO announced its decision July 30 but withheld the formal decision memo until a version suitable for public release, with redactions, was available.
The GAO rejected claims by the protesting companies that NASA erred by making a single award when it discussed its desire to make multiple awards. The "plain terms" of the solicitation, the GAO concluded, "unequivocally put the protesters on notice that NASA could make multiple awards, a single award, or no award at all."
The GAO decision provides new details about the financial constraints NASA faced when assessing the HLS proposals. NASA received $850 million from Congress in fiscal year 2021 for the HLS program and identified an additional $96 million from other programs that could go to HLS. However, $389 million of that funding was already committed to the "base period" awards NASA made to Blue Origin, Dynetics and SpaceX in 2020, and $202 million reserved for internal and other costs for the program. That left $355 million available for the new HLS awards.
All three companies requested initial milestone payments more than that amount, although the exact numbers are redacted in the public GAO document. NASA requested SpaceX, the lowest bidder, revise its payment structure to address that. The document does not disclose the new value of that initial milestone payment, although government contracting records show NASA paid SpaceX $300 million on July 30, the day the GAO rejected the protests.
Blue Origin and Dynetics, the GAO concluded, "did not submit proposals priced in a manner that NASA could make multiple awards with the available funding for the HLS program." While the questions about the importance of multiple competitors, the GAO added in its decision, "may merit further public debate, they do not establish that NASA has violated any applicable procurement law or regulation."
The GAO also rejected claims by Blue Origin and Dynetics that their proposals were unfairly evaluated in comparison with SpaceX's proposal. These range from Blue Origin's criticism of how its lander's communications system was assessed to the mass of Dynetics's lander that "far exceeds" its allocation.
The GAO dismissed those claims, concluding that "the record adequately supports NASA's evaluation of the protesters' proposals and was consistent with applicable procurement law, regulation, and the terms" of the solicitation.
However, the GAO did agree with one claim that the protestors made about how NASA evaluated SpaceX's proposal. SpaceX's concept of operations for its Starship lunar lander requires 16 launches: one of the lander itself, 14 "tanker" Starships to fuel it and another whose purpose is redacted. The protestors argued that NASA erred in not requiring a flight readiness review (FRR) for each launch.
The GAO agreed that, under the terms of the solicitation, an FRR is needed before each launch, rather than one for the entire series of launches. NASA requested SpaceX amend its proposal to include two additional FRRs, but the GAO said that still fell short of the requirements in the solicitation.
However, the GAO also concluded that this oversight did not have a material impact on the competition, stating in the document that "the record reflects that NASA's evaluation was largely reasonable, and the relative competitive standing of the offerors under the non-price factors would not materially change."
Dynetics did not comment on the GAO report, and in a July 30 statement said that "while disappointed, we respect the GAO's determination." Blue Origin, though, offered no concessions even after the release of the report.
"The GAO report confirms NASA's desire for multiple awards and confirms that there were significant issues with how NASA conducted this procurement process," the company said in an Aug. 11 statement. "We stand by our assessment that SpaceX received preferential treatment by conducting exclusive negotiations with them."
The company said it urged NASA to select a second provider, something agency officials said they support but lack the funding to do so currently. "Two providers ensure greater safety and mission success, promote competition, and control costs."
SpaceX did not comment on the report beyond tweets from company founder and chief executive Elon Musk addressing one aspect of the report regarding the need for 16 launches to support a single Starship lunar lander mission. "16 flights is extremely unlikely," he said, estimating a "max of 8" flights to fill the tanks given the projected payload capacity of Starship, and possibly as few as four.
2021 Spacenews, Inc. All Rights Reserved
The Week Magazine 17 August, 2021 - 03:10am
Jeff Bezos' Blue Origin will see NASA in court.
The Amazon founder's space company filed a complaint against NASA in federal court on Monday, taking issue with the agency for awarding a $2.9 billion contract to SpaceX earlier this year, CNBC reports.
"This bid protest challenges NASA's unlawful and improper evaluation of proposals," Blue Origin lawyers reportedly said in the court filing.
NASA previously announced that Elon Musk's SpaceX had been selected for "development of the first commercial human lander that will safely carry the next two American astronauts to the lunar surface" in a nearly $3 billion contract. Originally, NASA pledged to offer more than one contract, CNN notes. In response to complaints from Blue Origin over the decision, the Government Accountability Office said in July that NASA "did not violate procurement law or regulation when it decided to make only one award," noting that the agency concluded "it only had sufficient funding" for one.
But Blue Origin said it filed its lawsuit to "remedy" alleged "flaws in the acquisition process," per Axios, adding, "We firmly believe that the issues identified in this procurement and its outcomes must be addressed to restore fairness, create competition, and ensure a safe return to the Moon for America." This lawsuit, The Verge wrote, could potentially result in a "new lengthy delay to NASA's race to land astronauts on the Moon by 2024."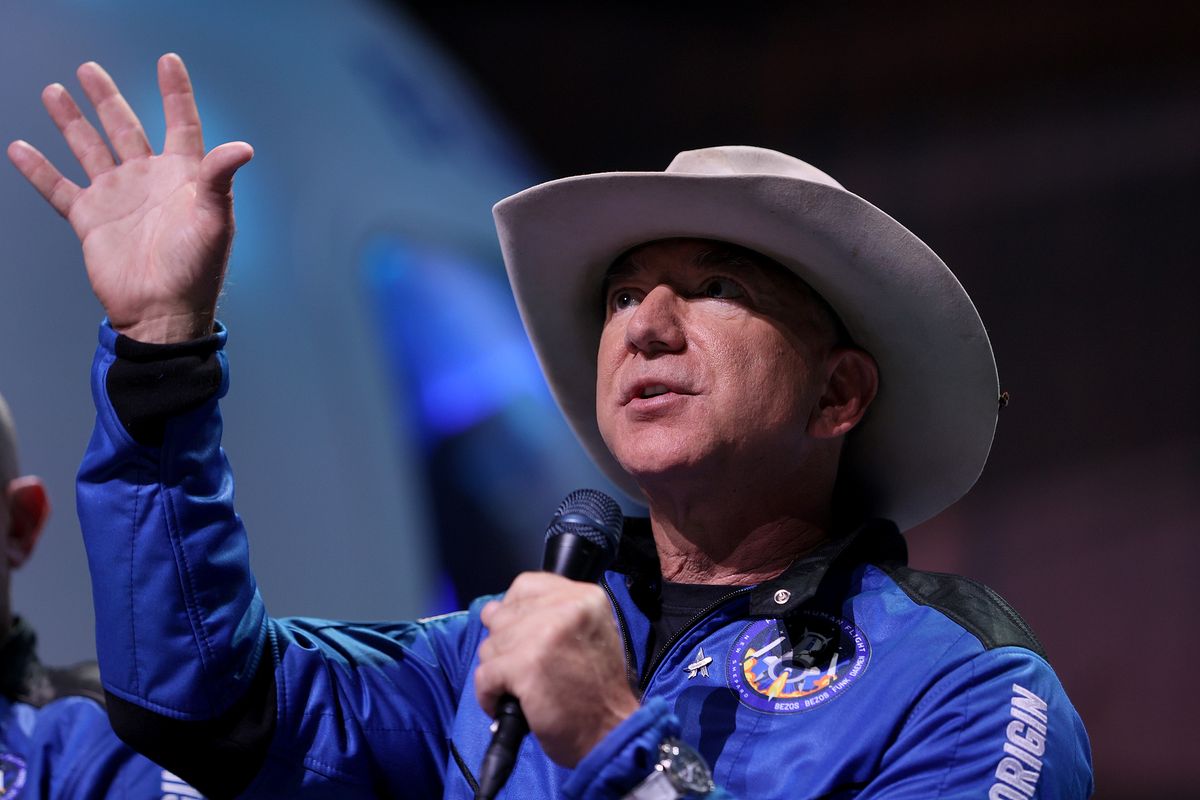 Space.com 17 August, 2021 - 03:10am
Blue Origin is upping the ante.
Blue Origin filed the lawsuit on Friday (Aug. 13) in the Court of Federal Claims, which has jurisdiction over protests that have already been reviewed by the GAO. In-depth details about the lawsuit are not yet publicly available because the documents were sealed after Blue Origin was granted a protective order today (Aug. 16).
In April, NASA awarded the HLS contract to SpaceX for its $2.9 billion bid that would see a version of the company's Starship spacecraft used to land NASA's next astronauts on the moon as part of the Artemis 3 mission targeting launch in 2024. This was a surprising move, as most expected NASA to choose two of the three companies in the running (in addition to Blue Origin, Dynetics was also being considered) to both fuel the fires of competition and have a backup lander ready in case one was needed.
During the GAO investigation, Bezos also published an open letter to NASA Administrator Bill Nelson detailing his issues with the agency's decision and naming the reasons why they should reconsider. In this letter, Bezos even offered to permanently waive up to $2 billion in payments for their lander, among other cost-saving offers, should NASA change its mind.
Since these formal protests, the company has also published a number of infographics comparing its lander design to SpaceX's, with one recent infographic calling SpaceX's Starship "immensely complex & high risk."
The GAO announced it had denied the protests by Blue Origin and Dynetics on July 30, and NASA has remained steadfast in its decision to go ahead with solely SpaceX. The GAO published a public version of its decision on Aug. 10 that provided more detail behind the agency's decision.
In this 76-page document, office representatives wrote that they found no evidence that NASA improperly evaluated the three companies' proposals, as Blue Origin accused, and that the agency was within its rights to make a single HLS award.
However, the contract remains solely with SpaceX.
Thank you for signing up to Space. You will receive a verification email shortly.
There was a problem. Please refresh the page and try again.
© Future US, Inc. 11 West 42nd Street, 15th Floor, New York, NY 10036.