JoBlo Streaming & TV Trailers 01 September, 2021 - 01:50am
Netflix 01 September, 2021 - 01:50am
The Tab 31 August, 2021 - 08:14am
Somehow Joe Goldberg has the entire world in a chokehold. Some people quite literally, whilst the majority of us are just hooked on his psychopathic ways. So hearing the news that Netflix has finally given us a release date for season three of YOU is music to our ears, and my deeply Joe Goldberg obsessed soul is exploding.
In just over a month the show is returning, and it promises us some of the wildest storylines yet, a whole new bunch of cast members and how could we forget – Love is having a mini murderer baby! So strap in and prepare yourself, because here's everything we know about season three of YOU on Netflix – plus a first look at some of the pictures.
In case you missed the big release date reveal, season three is dropping on Netflix on October 15th. Filming ended a few months ago, and as it did the show's creator and writer, Sera Gamble, shared loads about it. In the thread, Sera began: "Today is our last day of shooting season 3 of #YouNetflix. Can I brag to you for a hot second?" She went on to praise the resilience of the cast and crew throughout the pandemic, but also added that the "the episodes are fucking bonkers and the performances are insanely good".
The new season will have 10 episodes, the first titled "And They Lived Happily Ever After". Love and Joe appear to have moved to a much quieter town in the suburbs and his new "obsession" is their next door neighbour. The series is based on the third book in Caroline Kepnes book series, which is called You Love Me.
The book synopsis reads: "Joe Goldberg is done with the cities. He's done with the muck and the posers, done with Love. Now he's saying hello to nature, to simple pleasures on a cosy island in the Pacific Northwest. For the first time in a long time, he can just breathe.
"He gets a job at the local library—he does know a thing or two about books—and that's where he meets her: Mary Kay DiMarco. Librarian. Joe won't meddle, he will not obsess. He'll win her the old-fashioned way…by providing a shoulder to cry on, a helping hand. Over time, they'll both heal their wounds and begin their happily ever after in this sleepy town.
"The trouble is…Mary Kay already has a life. She's a mother. She's a friend. She's…busy. True love can only triumph if both people are willing to make room for the real thing. Joe cleared his decks. He's ready. And hopefully, with his encouragement and undying support, Mary Kay will do the right thing and make room for him."
The show is never completely faithful to the books, but the characters and plots are usually roughly based on what happens in them. "Joe is still Joe in a way that's not going to be great for Joe," Sera Gamble told Hollywood Reporter.
Of course one of the biggest cliffhangers from season two was that Love was expecting her and Joe's child. Netflix has since announced the birth of Henry Quinn-Goldberg! The teaser trailer for the new episodes is voiced by Joe, who says their new child won't be "without challenges" and he hopes the baby will "do as I say, not as I do". "For you I can change, I'll be a man you can look up to," Joe says. "A man you can be proud to call dad." The teaser then reveals they have chosen a "strong but not intimidating", "classic but not basic" name for their child. Welcome to the world, Henry.
Penn Badgley and Victoria Pedretti will be returning as Joe and Love, and Ellie (Delilah's sister from season two) is said to "still be in Joe's life", so she will likely feature too. Saffron Burrows, who plays Love's mother Dottie, will also return.
Netflix revealed the full new cast list for season three of YOU, having added a huge 14 fresh faces to the show. Dylan Arnold and Tati Gabrielle have both joined the cast in regular roles, whilst Michaela McManus, Shannon Chan-Kent, Ben Mehl, Christopher O'Shea, Christopher Sean, Bryan Safi, Mackenzie Astin, Ayelet Zurer, and Jack Fisher will all appear as recurring guest stars. Netflix had also announced three new names earlier this year, being played by Scott Speedman, Shalita Grant and Travis VanWinkle.
They will play a whole host of new characters, including a college student, a librarian, a whole new clique of local friends and a therapist. Shalita Grant will play Sherry, a 'Mom-fluencer' who appears down to earth, but is actually a mean girl who only pretends to welcome Love into her social circle. Travis VanWinkle will play the wealthy Cary, who invites Joe into his inner circle. Scott Speedman is set to play Matthew – a successful CEO, husband, and uncommunicative father. He's reserved, mysterious, and has a tendency to be withdrawn, all of which masks a deep well of emotion underneath.
Michaela McManus plays Natalie, finally giving us the identity of Joe's new obsession and the mysterious neighbour from the end of season two. Natalie is described as: "Married to a powerful man, Natalie is a professional and social success. But she sees through the shallow, Stepford-esque vibe that surrounds her, and beneath her wry exterior, she leads a secret life. One that Joe is willing to work hard to learn more about."
• How well do you actually remember season one and two of You? Take this quiz to find out
• You season three full cast: Meet the 15 new people joining the Netflix show
• New 'silly' Netflix thriller Clickbait is a bit awful, but everyone is obsessed with it
Through old-fashioned snail mail, Leo has managed to gather the secrets to success from the most powerful figures in the world
Bringing you all the primary school disco nostalgia you could ever ask for
I think you know what we're going to say about grown adults who go to Reading
Finally something to fill the Love Island shaped hole in my life
It's Addison Rae throwing horse poo for me💀
What am I supposed to do with my collection now then?
She got her finger trapped in between two of the fences while watching Aitch
'Tents are one of the worst things to try and recycle,' says festival sustainability manager
He's known as Aldi's 'hunky hot cross bun man' and went to Bournemouth uni
That's enough to fill Newcastle University alone
'How many wheels are there in Barcelona?'
How well do you really know Gunther?
Tommy Fury and Curtis Pritchard morphed looks like a club promoter loool
Warning: If you watch one episode you will HAVE to watch till the end
This film made you think you could be a footballer and don't even try to deny it
I demand a Movie Night 2.0 where we see all of this
You can actually stay at Tranquillum House
Now you finally have something to do at 9pm every night x
One student said if they knew they were going to catch Covid, then they probably wouldn't have gone
CNET 30 August, 2021 - 11:15pm
Victoria Pedretti and Penn Badgley in You.
The release date announcement trailer for season 3 of Netflix's hit creepy series You has dropped, so prepare for a whole lot of grammatically confusing sentences like, "Have you seen You yet?" or "Where are you up to in You?"
The trailer debuts with the show's signature voiceover style, as Penn Badgley's murderous stalker Joe Goldberg addresses the audience as if we are his unborn child, revealed at the end of season 2. He does so while slicing a cake with a large, frankly intimidating knife dripping with vivid red icing.
Joe discusses what name to give his son, throwing back to iconic moments from season 2 before deciding on Henry -- and revealing that he didn't expect a boy, let alone one to follow in his footsteps. Well, hopefully not too carefully -- ideally Henry will not prove himself to be a sociopathic murderer/stalker with a penchant for dramatics.
"A boy is not what what we expected and I would be lying if I said the thought of mini me was purely exciting and not without challenges," Joe says himself. "Let's just say, I hope you'll do as I say, not as I do, but for you I could change. I'll be a man you look up to, a man you will be proud to call dad."
The trailer reveals the official release date for season 3, which is set to drop on Netflix on Oct. 15. Plenty of time for you to remind yourself of the chaos that was seasons 1 and 2 -- and to maybe rethink your attraction to Joe. He's a psycho, folks. C'mon.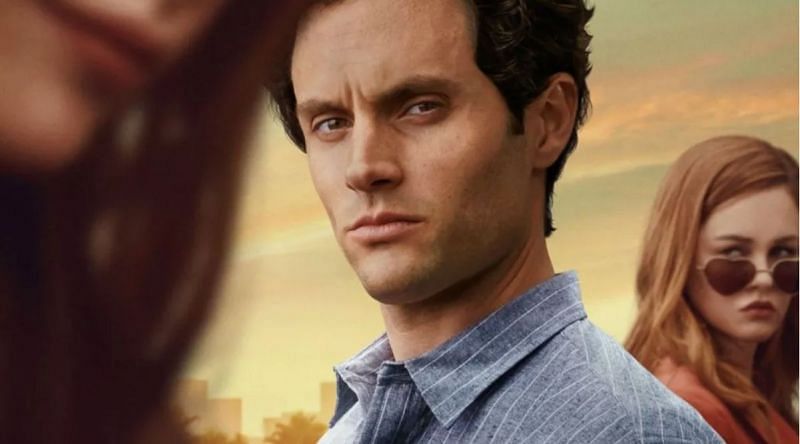 Sportskeeda 30 August, 2021 - 05:49pm
You is back for a third season. The second part of Joe and Love's romance is more complicated than ever in this new season.
The Netflix original series follows Joe Golberg's toxic obsession with romance after following madly in love with aspiring writer Guinevere Beck in season one.
After moving to Los Angeles to forget his failing relationship with Guinevere, Joe and Love became acquainted with one another. Now in season 3, Joe and Love welcome a baby into the mix. This is what to expect in the new season of You.
Season three of You comes after a year-long hiatus. Netflix announced that season three will premiere on October 15. The platform has also just released a new trailer for the upcoming season:
The season begins with a focus on Love's new pregnancy and Joe's fears about raising a son.
"A boy is not what we expected, and I would be lying if I said that the thought of a mini-me was purely exciting and not without challenges," Joe says in the trailer.
Although there is a focus on the baby announcement, the trailer is filled with blood and mystery. This stays true to what the show is known for.
You Season 3 premieres October 15 — FIRST LOOK: pic.twitter.com/suxue8ODeh
While Joe expresses that he is attempting to stray from his old ways, he is scared to be tied to someone who might mimic his old habits. It's a suspense to look forward to in season three.
The trailer goes on to depict Joe's reasoning behind naming his son Henry. Joe also talks about providing a better future for his son.
With the release of season 3, also comes the news about recurring guest stars. There will be flashbacks of young Joe and the continued ghost of Guinevere, while Love's mother is also back in a regular role.
The additional cast for this season of You also include Scott Speedman, Travis Van Winkle, Shalita Grant, Shannon Chan-Kent, Ben Mehl, Chris O'Shea, Christopher Sean, Bryan Safi, Mackenzie Astin, Ayelet Zurer, Jack Fisher and Mauricio Lara (per US Weekly).
Fans need to make sure to catch You exclusively on Netflix this October.
Please join your completely normal neighbors for a special announcement 🍼🧑‍🍼 YOU Season 3 arrives October 15 👀 pic.twitter.com/hJXhb4vYpP