July 12, 2021 | 2:07pm | Updated July 12, 2021 | 2:10pm
Jemaine Clement and Taika Waititi are putting a little more bite into their cult-favorite vampire universe.
Their latest addition is "Wellington Paranormal" (Sundays at 9 p.m. on the CW), a comedy-horror show created by the "What We Do in the Shadows" duo. It follows the adventures of incurious police officers Minogue (Mike Minogue) and O'Leary (Karen O'Leary) as they investigate supernatural incidents around the titular New Zealand capital.
"The basic idea for the show came about one minute into watching Karen and Mike work together [while filming 2014 movie 'What We Do in the Shadows']," Clement, 47, told The Post on a call from Wellington, where he's based.
"If you watch the scenes in the movie where the police are talking to us, if you look at our faces, we're all hiding smiles. It's the most we laughed making that movie, being told off by the police."
"Wellington Paranormal" is the second spinoff of the original "Shadows" film, a mockumentary following the lives of vampire roommates, which Clement and Waititi wrote, directed and starred in. FX's ongoing spinoff series of the same name (Season 3 premieres Sept. 2) is set in the same world and follows different vampire roommates living on Staten Island.
"There's a show here called 'Police Ten 7,' which follows real police and they're often talking to drunk people. So that was another big influence [on 'Wellington']. When this show originally aired, it was on after three New Zealand reality police shows … I used to like hearing stories of people telling me about their moms being confused when they turned on the cop show and there'd be some alien plants chasing the cops. Like, 'What? Why has this happened?' Because they were watching real cops just 10 minutes earlier."
While the "What We Do in the Shadows" franchise is expansive today, it had humble beginnings, starting as an onstage sketch by Clement and Waititi, frequent collaborators and longtime friends (they met as students at Victoria University of Wellington).
"Taika gets up and tells some vampire jokes and then I get up and heckle him," said Clement of the early version of their premise. "I play this vampire heckler that's been heckling his stand-up comedy for 200 years. And he can't get through a set, because the same heckler follows him all around the world."
But turning that sketch into a film and then two spinoff shows "actually took us a long time," he said.
"We made a short film [in 2005] as a prequel concept with $180, I think. And at the same time, things started happening for us. 'Flight of the Conchords' got picked up as a show and Taika was nominated for an Oscar for a short film [2004's 'Two Cars, One Night']. So, we were busy. So about 10 years later, we finally made the low-budget movie for less than 1 million US dollars. We thought, 'We might be able to make this money back!' And it's still going on with at least two shows."
Aside from "Wellington Paranormal," Clement is working on another show with Waititi. "That's going to be our next thing," Clement said. "I can't tell you about it yet — I'll tell you in about a year's time." And he's also back in front of the camera on the big screen, acting in the "Avatar" movies, the long-awaited sequels to the 2009 James Cameron blockbuster, which are filming simultaneously.
"I've just been writing and directing for the last few years, so it's good to do some acting," he said. "It just happens to be on this massive budget film. So, whenever I turn up to work, it's like, 'I hope I remember how to act!'" 
Read full article at /FILM
Nerdist 13 July, 2021 - 07:02am
Wellington Paranormal comes from the same duo behind both What We Do in the Shadows, Taika Waititi and Jemaine Clement. (Another reason for my high hopes.) The show features two New Zealand police officers, first introduced in the film, working paranormal cases. No surprise, the show has some of the same comic sensibilities as Shadows. They all treat their absurd subject matter and plots with complete sincerity. There's no winking at the camera or meta comedy in this cinematic universe. These are "real" stories of ridiculous situations, told documentary style. (Like if Christopher Guest believed in ghosts.) And in all three the humor can be both sharp and blunt, often at the same time. Like how an officer can ask if a spotted UFO instantly becomes an "FO" all while an alien plant sits two feet away.
But Shadows' main characters, primarily vampires and vampire enthusiasts, are far more over-the-top than Wellington Paranormal's stars. Centuries old blood-sucking monsters who lack all self-awareness are inherently more preposterous than polite blue-collar cops trying to do their job as best they can. The two spinoff series also have opposite perspectives. Shadows is a firsthand look at the world of mythical creatures; Wellington Paranormal provides an outsider's glimpse into that world. With guides who don't fully understand they are even in a strange place.
Both approaches provide plenty of opportunities for silly fun. Whether it's a cursed witch's hat driving the plot on Shadows, or Paranormal's possessed talking dog. But Wellington Paranormal's humor is much drier than Shadows. Viago, Vladislav, Deacon, Laszlo, Nadja, and Nandor are farcical versions of famous monsters. Their very existence is funny. That they carry themselves with the grace and gravitas of their classic brethren, without having an ounce of either, only makes them funnier. In comparison, Officers Minogue and O'Leary are quiet, well-mannered, down-to-earth humans. The show thrusts them into hilarious circumstances. But they don't create the inherent comedy of the world they inhabit like the vampires do.
Instead, the two partners are funny in a different way. They're competent enough to not be total idiots. Professionals who take their job seriously and try to do it well. But they aren't smart enough, or prepared enough, for dealing with the paranormal. They care. But they're dumber versions of Mulder and Scully without any qualifications.
That dichotomy—earnestness combined with ineptitude—produces incredible comedy ranging from totally surreal to quietly hilarious. Like the pair running from alien plants who are mocking them in one scene. To them trying to make sense of what's happening by theorizing a tree grew up around a lazy cow. And yet they might be at their funniest having a normal conversation. As exemplified by O'Leary's polite attempts to correct the slightly dumber Minogue. What We Do in the Shadows' dialogue frequently pulls humor from insults or biting, unsympathetic observation. Wellington Paranormal's dialogue gets laughs by dryly commenting on what's happening without an ounce of cynicism. Even if both shows' main characters lack any self-awareness.
And that tone is why Wellington's officers are not like vampires. They're like Bret and Jemaine from HBO's Flight of the Conchords. Which Clement also co-created and starred in. And which Waititi directed multiple episodes. The fictional Bret and Jemaine were just competent enough to not be total embarrassments professionally. But inept enough they weren't actually good. And like Minogue and O'Leary, the Conchords didn't realize they were overmatched. If Bret and Jemaine had joined the force, they too would have believed they could pull off an exorcism after watching a 30-second YouTube clip. That same type of lovable naivety made the band eminently likable too.
The similarities between the two shows go well beyond their main characters and dry comedic sense though. The third main figure on Flight of the Conchords was the band's manager, Murray. Rhys Darby's character tackled his job with the confidence and zeal of someone who knew what they were doing. Despite not knowing what was going on. He also constantly met with Bret and Jemaine in a tiny office that was itself a great recurring joke. But despite his failures, Murray was easy to love too because he cared about the band.
All of which applies to Wellington Paranormal's third main character, Sergeant Maaka. He's emotionally invested in his job and his own employees. But he has the same kind of incomplete understanding of the paranormal as Murray did of the music industry. The relationship between each show's main duos and their boss are so familiar I was waiting for Maaka to call roll during his meetings.
Flight of the Conchords also had its own surreal universe full of ridiculous characters. Instead of demons and talking plants with unsettlingly large genitalia, it had Mel and Dave. Both just as silly as any paranormal creature. And on Conchords one week a racist grocery cart owner might show up, or a new friend who asked too many questions. Each time it would upend the world of the band. They'd have to solve whatever new crisis came up as a result. Same as Wellington's polite, unprepared cop duo. And instead of fountains of blood, the Conchords adventures of the surreal involved imaginary songs well beyond their capabilities.
All of which might sound like a criticism. It might seem like I think Wellington Paranormal borrows too much from Flight of the Conchords, in terms of structure, characters, and tone. But it's the opposite. I can't think of a higher compliment than saying the show takes some of the best ideas from Jemaine Clement's other creations to create something fun and original.
I waited three years to see this show. But if someone had told me Wellington Paranormal wouldn't just remind me of What We Do in the Shadows, but also one of my all-time favorite shows, I definitely wouldn't have been able to wait that long as a viewer to say "present."
The post WELLINGTON PARANORMAL Is FLIGHT OF THE CONCHORDS' Successor appeared first on Nerdist.
Lisa Rinna of the 'Real Housewives of Beverly Hills' shared a selfie of herself in a swimsuit
The top-rated shoes have over 11,000 five-star reviews — and they're on sale!
The track and field star on self-confidence and supporting young athletes.
PrettyLittleThing, Sports Illustrated Swimsuit and Boohoo were among the most celebrated catwalks.
The 28-year-old rapper loves spoiling her daughter.
Grab this super-comfortable walking sneaker, available in 33 colors—on sale right now.
With more than 8,300 rave reviews, these luxury sheets are a steal—but the sale ends tonight.
The singer and actress split from Mike Caussin this spring, citing "inappropriate marital conduct, irreconcilable differences and adultery."
The Oscar winner is wowing fans with her workout video aboard a yacht.
The retired tennis star on raising two kids with wife Brooklyn Decker why his foundation is teaching children how to express their emotions.
Internet scams on the rise. Here's how you can protect yourself and your information while shopping online.
'Full bars!': Score $15 off and instantly speed up and spread out your home Wi-Fi!
Juice up everything from your cellphone to your Subaru — but act fast, this sale ends at midnight.
The 23-year-old athlete announced her new Barbie Role Model doll on Monday.
LED lights ensure no dust bunny is unseen; Powerfins make sure they're stirred up and sucked out.
At prices this low, you can snag a few.
Decider 13 July, 2021 - 07:02am
Stream It Or Skip It: 'Frankie Quinones: Superhomies' On HBO Max, A Sketchy Showcase For And About L.A. Natives
Stream It Or Skip It: 'Pete Lee: Tall, Dark, and Pleasant' On Showtime, A People-Pleasing Comedian For Divisive Times
Stream It Or Skip It: 'Barb and Star Go to Vista del Mar' on Hulu, in Which Kristen Wiig Takes The Joke Too Far
'Basic Instinct' Director Says Sharon Stone "Knew Exactly What We Were Doing" In Film's Infamous Nude Scene
Stream It Or Skip It: 'Human Capital' on HBO Max, a Drama About Some People Who Live and Struggle in America in Medium-Interesting Ways
'Slacker' at 30: Richard Linklater's Breakthrough Let JFK Truthers, Elderly Anarchists, And UFO Enthusiasts Co-Mingle In Austin
Quentin Tarantino's 'Once Upon A Time In Hollywood' Book Is Narrated By Jennifer Jason Leigh
Stream It Or Skip It: 'Song of the Shark' on Discovery+, Where No V.O. Lets These Iconic Fish Speak For Themselves
Stream It Or Skip It: 'Stray' on Hulu, An Immersive Doc With A Powerful D-O-G POV
New Movies On Demand: 'The Library That Dolly Built,' 'Marathon' + More
Questlove's 'Summer of Soul' Documentary Is Two Hours of Pure Joy
7 Florence Pugh Movies To Watch If You Loved Yelena in 'Black Widow'
Stream It Or Skip It: 'How I Became a Superhero' on Netflix, Where A Detective Discovers Enhancements Have Become A Dangerous Street Drug
Will There Be A 'Black Widow 2'? Maybe, But Not With Scarlett Johansson
Jason Momoa Fights Big Pharma to Avenge His Wife in 'Sweet Girl' Trailer
Olivia Rodrigo's 'Sour Prom' Finds Pop's New It Girl Performing Her Hits And Having Fun
Stream It Or Skip It: 'Summer of Soul' on Hulu, A Musical And Cultural Doc About A Pivotal 1969 Concert Series
'Ariana Grande: Excuse Me, I Love You' Mixes Pop Perfection, Horny Dance Moves, And The Singer's Girl Next Door Appeal
'Biography: KISStory' on A&E Is An Exhaustive Tale Of Determination, Egotism, And Face Paint
Where to Watch 'The Sleepless Unrest: The Real Conjuring Home'
When Does 'Fear Street Part 3: 1666' Come Out on Netflix?
Stream It Or Skip It: 'Fear Street Part Two: 1978' on Netflix, the Collection-of-References Series Continuing its Stalking of Slasher-Movie Tropes
Where Was 'Fear Street Part 2: 1978' Filmed?
'Monsters at Work' Continues Pixar's Trend of Insightful Workplace Examinations
Stream It Or Skip It: 'The Boss Baby: Family Business' on Peacock, a Hyper-Overplotted Sequel Balancing Capitalist Critique With Diaper Jokes
Where to Watch 'The Boss Baby: The Family Business'
Celebrate 'Space Jam: A New Legacy' with the New Bloomingdale's Pop-Up Shop
'Rick and Morty': Who Voices Kathy Ireland?
'Rick and Morty': 5 Things You Missed in Season 5, Episode 4
When Will 'Rick and Morty' Season 5 Episode 5 Premiere?
How to Watch 'Rick and Morty' Season 5, Episode 4
'Loki': 10 Burning Questions the Finale Needs to Answer
Stream It Or Skip It: 'Black Widow' on Disney+, a Rousing MCU Goodbye for Scarlett Johansson and Hello to Phase Four
'Loki' Composer Natalie Holt Has Been Seeding Clues to the Finale Since the Beginning
'Loki' Episode 5 Review: A Loquaciousness of Lokis
'Below Deck Med': Courtney Veale Talks Twerking, Tequila, and That Lazy Susan
'Below Deck Med': Watch Chef Mathew Completely Lose His Cool With Lexi
'Below Deck Med': Courtney Veale Is The Early Breakout Comedy Queen
'Below Deck Med' Recap: Lloyd's Story About His Car Dealership Days Is Quite A Doozy
'Evil' Paramount Plus Episode 4 Recap: "E Is For Elevator"
'Evil' Season 2 Episode 3 Recap: "F Is For Fire"
New On Paramount+ July 2021
'Evil' Season 2 Episode 2 Recap: "A Is For Angel"
Best TV Shows Of June 2021
Best TV Shows of 2021... So Far
'Mythic Quest's Megan Ganz and Danny Pudi Break Down That Shocking Season 2 Finale
'Mythic Quest' Delivered One of The Funniest TV Moments of 2021
'Fear the Walking Dead' Bosses Break Down the Explosive Season 6 Finale
'Fear the Walking Dead': Lennie James Teases Morgan's Season Finale Fate
The 10 Best TV Shows of May 2021
'Fear the Walking Dead': Alycia Debnam-Carey Teases The "Epic" Conclusion of Season 6
Opening Shot: Scenes of Wellington, the capital of New Zealand. There's pulsating music and the camera dashes around, like on Cops. A camera follows an officer as she notices a teenage girl standing alone. The graphic says "Cuba Street, 12:03 AM."
The Gist: Wellington Paranormal is shot in Cops-like documentary style, following Wellington Police officers O'Leary (Karen O'Leary) and Minogue (Mike Minouge) as they investigate the surprisingly common occurrences of paranormal phenomena (or as Minogue calls it, "Phemonema") in the capital city.
But when they encounter a teenage girl spewing vomit and calling herself "Bazu'aal of the Unholy Realm" in a guttural voice, O'Leary and Minogue are just regular patrol cops. And they somehow think this girl is just sick or maybe drunk. After she tosses Minogue about 20 feet, they take her to the station, completely ignoring the fact that she's glowing in the back of their squad car.
When they report this arrest to Sergeant Ruawai Maaka (Maaka Pohatu), he takes them to a "secret" back room (protected by a one-digit code), which has every paranormal case in the city dating back almost 70 years. Maaka is starting to see an increase in paranormal cases, and has been thinking of starting a paranormal unit. Minogue likens him and O'Leary to Mulder and Scully because she's analytical like Scully and he's a dark-haired guy like Mulder.
When the girl stops being possessed just long enough to distract the cops, and she escapes, climbing up walls and doing crab walks. When Minogue and O'Leary go to the girl's house, they see that her dad is now possessed and is calling himself Bazu'aal, too. Then the mom gets possessed and runs. When she flips over Minogue's head, he says "you shouldn't be running in a playground in those shoes." The officers think there are a number of Bazu'aals out there, until Maaka tells them that Bazu'aal moves from host to host at will.
By the time Bazu'aal leaps into a dog, all bets are off. A homeless guy on Cuba Street, a public art fountain spewing molten blood and an exorcism learned via YouTube video all factor into the unit disposing of Bazu'aal. It's then that Maaka officially forms the Wellington Paranormal unit.
What Shows Will It Remind You Of? Cops mixed with The X-Files and the dry humor of What We Do In The Shadows.
Our Take: Wellington Paranormal debuted in New Zealand in 2018, and has already run three seasons and a holiday special in its home country; they even created 20 COVID-19 awareness spots with the real New Zealand Police. Suffice to say, the show is a hit in New Zealand, and for good reason; it's plenty strange and generates big laughs as well as tiny snorts of funniness along the way.
Just like in What We Do In The Shadows, the characters in Wellington Paranormal have no idea they're being craven or stupid or oblivious. Minogue and O'Leary seem to be equally unaware that these paranormal suspects are highly dangerous; they comment on them — to the camera, each other, or Sgt. Maaka — like they're normal perps. Of course, that's where the funny comes from.
It's not like Maaka is any better; he's generally a half step ahead of Minogue and O'Leary because he "researches" (i.e. Googles things), and he doesn't seem to have much control over the officers in his squad. The bumbling Constable Parker (Thomas Sainsbury), for instance, never seems to come to work wearing standard-issue uniform pants.
What strikes us as the best part of this show is just how purposefully low-budget it is. In the second episode, where the partners investigate a replicating alien who has left crop circles on a farm out in the country, the pods that are dropped grow into aliens that look like they were made for a bad episode of Lost In Space — the '60s original, that is. But, through movement and sound, the aliens are comedically creepy nonetheless.
In the first season, we'll also see a '70s disco ghost party, zombie cops, a young woman who's also a werewolf, and a bootleg blood operation. Along the way, they may or may not encounter characters from What We Do In The Shadows. Sounds like it's going to be a hell of a lot of fun.
Sex and Skin: None, aside from a naked farmer in episode 2. The pod-like aliens have blurred out parts, too, though we're not sure what they are.
Parting Shot: Maaka thinks they've banished Bazu'aal back to hell, but Constable Parker indicates otherwise.
Sleeper Star: We'll give this to the show's visual effects team for making the paranormal look cheesy, creepy and funny all at once.
Most Pilot-y Line: Much of the dialogue is spoken fast and under the characters' breaths. Combined with the Kiwi accent, it feels like we missed a lot of chuckleworthy asides.
Our Call: STREAM IT. If you're missing What We Do In The Shadows, you should be satisfied with Wellington Paranormal, even if it makes its cousin show look normal by comparison.
Yahoo Entertainment 13 July, 2021 - 07:02am
By contrast, "Wellington Paranormal," a series executive produced by Clement and Waititi, plays according to a relatively elastic set of rules. (The series is launching this month on the CW, and available to stream the next day on HBO Max, after a run on TV in New Zealand in 2018.) Its central two cops — played by Karen O'Leary and Mike Minogue, of the "What We Do in the Shadows" film — face down threats in New Zealand's capital from across the spectrum of the supernatural, from zombies to aliens. Its diffuse sense of infinite possibility, though, exposes a certain simplicity in the show's writing: "Wellington Paranormal" is both a show on which anything could happen and one on which too little that's surprising does.
That goes for the writing as well as the plot. Minogue's character, for instance (named Minogue, as O'Leary's character is named O'Leary), has his memory erased by a vampire. Told that that's the case, he replies, "No, I think I'd remember something like that." This is an elegant enough one-liner the first time, but it does not really hold up to repetition. Part of the comic engine of the show is the pair's inability to see or understand what's going on right in front of them, including multiple sight gags involving something of real consequence happening just beyond our central cops' notice. Dealing with a major theft from a blood bank, O'Leary suspects "high-performing sports people" seeking unfair advantage; her cluelessness here isn't un-charming, but it also feels a little underwhelming. In a situation when a character is so clearly in denial about what's going on, the viewer wants that denial to express itself either more credibly or more creatively. Fecklessness alone isn't enough to hang a character on.
Minogue and O'Leary have an easy chemistry, and Maaka Pohatu, as their supervisor, is an appealing presence. In all, though, the series seems to brush up against the limits of what this creative universe can do. "Wellington Paranormal's" loose relationship with reality ends up lending the project a certain airlessness — if absolutely anything can happen, nothing has much weight at all.
Subscribe to Variety Newsletters and Email Alerts!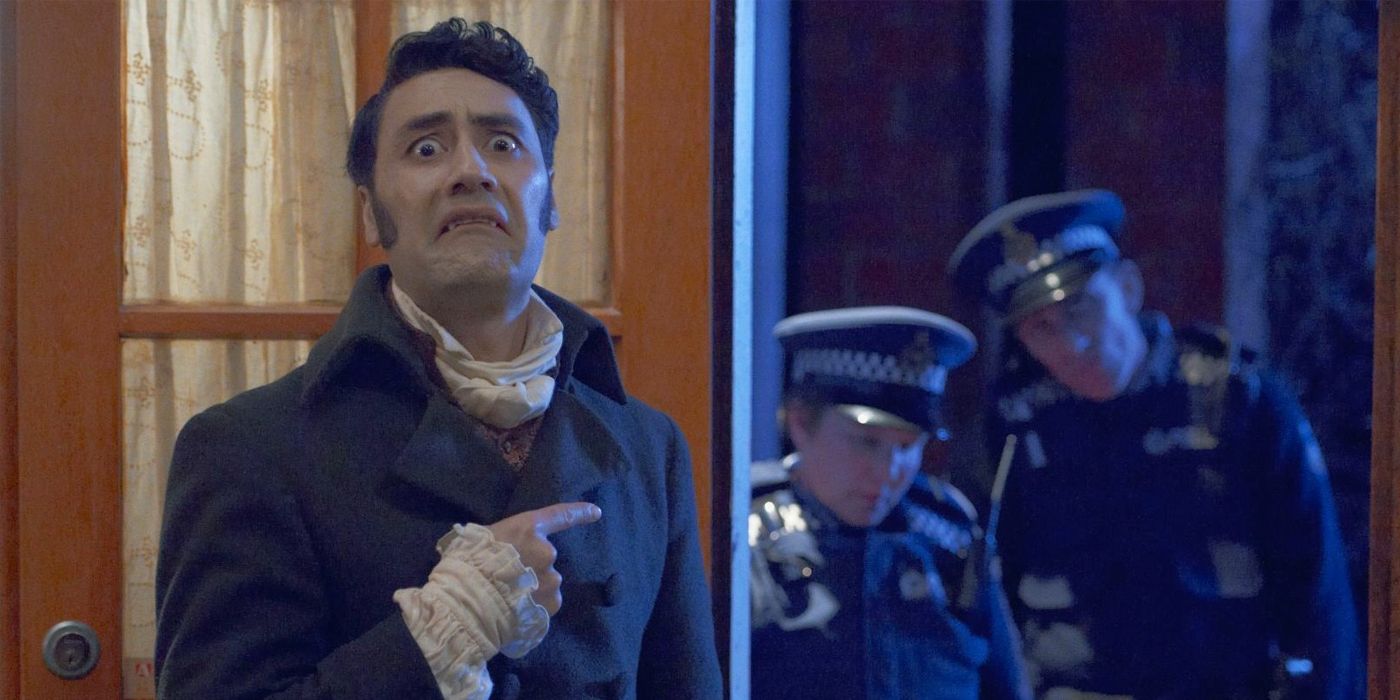 Screen Rant 13 July, 2021 - 07:02am
Wellington Paranormal is a supernatural procedural filmed as a documentary. Like the cult film What We Do In The Shadows, Wellington Paranormal uses an absurd, deadpan approach to comedy, contrasting the fantastic elements of its supernatural characters with the mundanity of life. Episode 1 shows Officer Minogue and Officer O'Leary stumble upon the existence of demons, and are assigned to the supernatural division of the police force. Their superior officer, Sergeant Ruawai Maaka, is an enthusiastic believer — but as a whole, the situation is not very glamorous.
It makes sense for CW to air Wellington Paranormal — after all, it shares much in common with FX's What We Do In The Shadows. Both were created by Clement and Waititi, and both are rooted in the 2014 comedy. The supernatural-themed What We Do In The Shadows is FX's most important show: it may be lagging in the ratings behind American Horror Story, but AHS is entering season 10, and its ratings have been on the decline since season 3. WWDITS, on the other hand, has been growing in popularity. But this begs the question: how are Wellington Paranormal and the TV show version of What We Do In The Shadows related?
The TV show What We Do In The Shadows is, however, set in America. It was picked up by FX in 2018, just before Wellington Paranormal debuted in New Zealand. WWDITS has been a critically acclaimed series for the network, and was one of the best TV shows of 2020. At this time, it's unclear if the two shows exist in the same universe — although there is strong evidence that they do. Clement and Waititi reprise their roles from the movie in the vampire-based TV show, so it stands to reason that they could, theoretically, show up in Wellington Paranormal — especially since Minogue and O'Leary have met them before.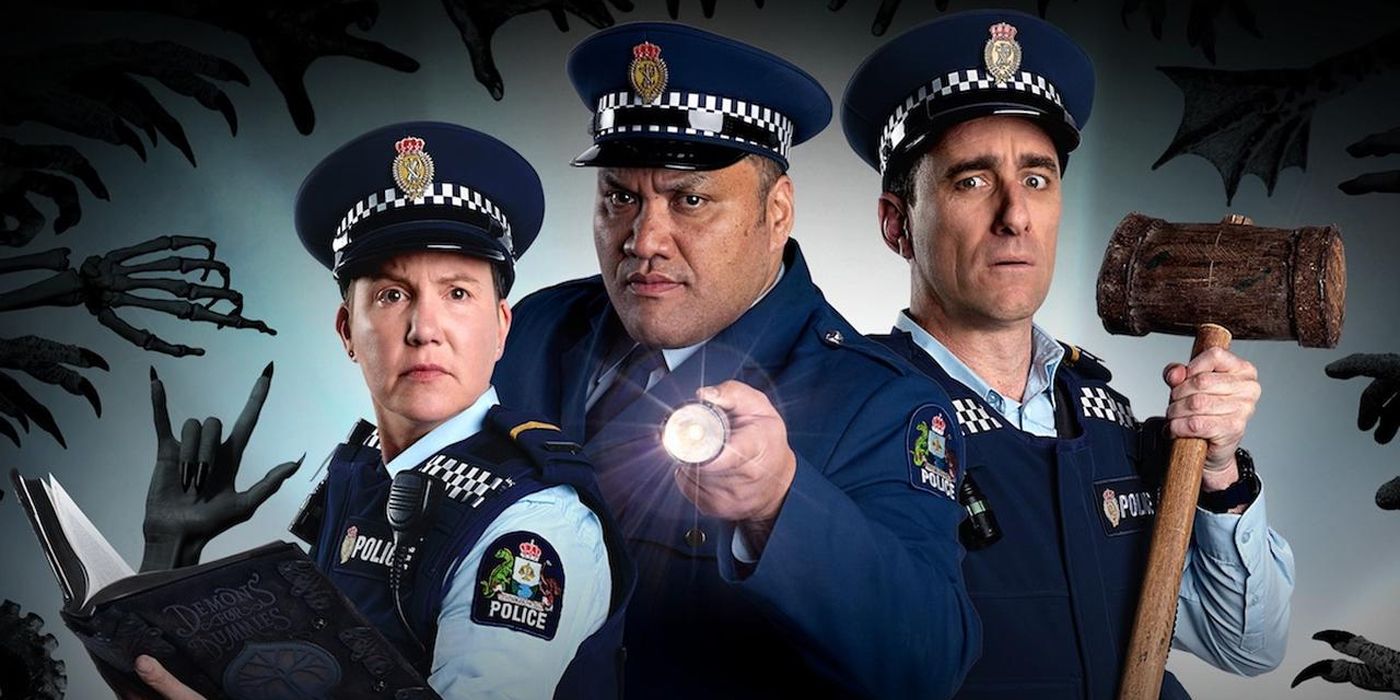 Screen Rant 13 July, 2021 - 07:02am
Wellington Paranormal opens with Officers Minogue and O'Leary be assigned to the paranormal unit of their police force after apprehending a teenage girl who has been possessed. The show is similar in tone to What We Do In The Shadows, using a deadpan, absurdist approach to comedically contrast the unbelievable and supernatural action. Neither Clement nor Waititi are regulars in their follow-up show, Wellington Paranormal, and instead, take behind-the-scenes roles in production. In addition to being the show's creators, both serve as Executive Producers — and Clement writes and directs several episodes in season 1.
In general, the franchise as a whole follows the misadventures of vampires and other supernatural beings existing in the 21st century. Wellington Paranormal is distinct from WWDITS though, as it focuses on normal everyday police officers encountering supernatural events. Here are all of the main actors who appear in the New Zealand mockumentary comedy horror television series.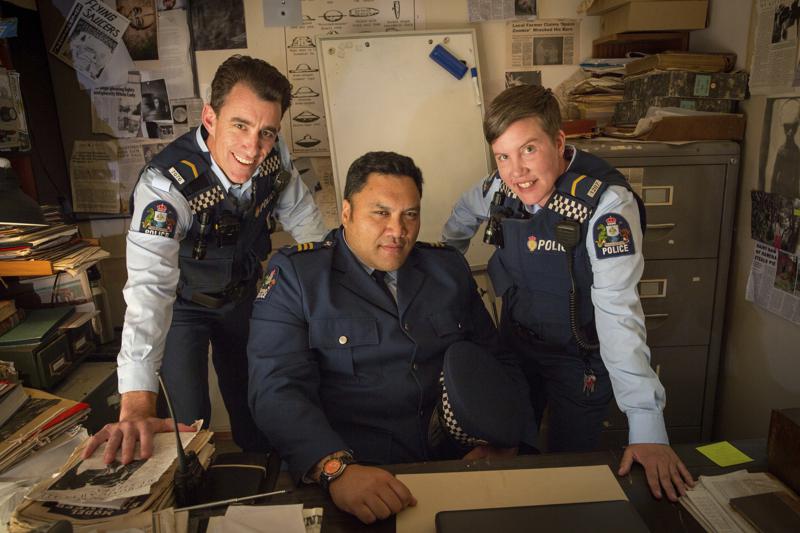 The Cinemaholic 11 July, 2021 - 05:33pm
When paranormal occurrences begin to grow drastically in New Zealand's capital city, leading to widespread fear and paranoia, officer Minogue and O'Leary are given the responsibility to take on the case by Sergeant Ruawai Maaka of the Wellington Police. Now the two cops must shoulder the responsibility of investigating horrific cases that includes demon possessions and monsters. However, there is one crucial twist to the tale; the two kiwi officers are incompetent and are able to tackle all sorts of supernatural beings just with sheer luck.
As they embark on one mission after another in which they are up against vampires, zombies, ghosts, werewolves, and other horrifying supernatural beings, their ineptitude surprisingly comes to their aid as they cannot even truly comprehend the danger that they are in. Their hilarious dumb decisions somehow always work in their favor, and the officers always come back triumphantly after every mission. The comical misadventures of Minogue and O'Leary can intrigue anyone. If you are also interested in watching the show, then here's all the streaming information you are going to need.
Netflix's otherwise impressive catalog of horror-comedy series does not include 'Wellington Paranormal' as of now. But we do recommend our readers watch other shows like 'Crazyhead' or 'Reality Z.'
You can live stream 'Wellington Paranormal' on Hulu + Live TV. However, people with a basic subscription can stream 'Ash vs Evil Dead' or 'Stan Against Evil.'
'Wellington Paranormal' is not going to arrive on Amazon Prime as video-on-demand anytime soon. People with a subscription can alternatively stream horror-comedy shows like 'A Fantastic Fear of Everything,' 'Sharknado,' or 'The Monster Squad.'
You can stream 'Wellington Paranormal' on the CW's official website. The series is also going to be accessible for next-day streaming on HBO Max. People who have a subscription can head here to their website to watch the show. Live TV streaming platforms such as FuboTV, YouTubeTV, and DirecTV also include the series in the catalogs.
FuboTV, Hulu + Live TV, and DirecTV come with a 7-day free trial, while YouTubeTV offers a 14-day free trial. So, you can stream the show for free, provided you do so in the trial period. However, we recommend our readers pay for the content they wish to consume online.
© 2021 Cinemaholic Inc. All rights reserved. Powered by WordPress.com VIP.