Elon Musk
elonmusk
Review of Model S Plaid by Dan Neil www.wsj.com/articles/2021-tesla-model-s-plaid-feel-the-force0-60-in-2-seconds-11624562135?st=vklnm3wu9ls1d4x&reflink=article_copyURL_share
Elon Musk
elonmusk
Some light reading with lil X pic.twitter.com/MHj4gtyPdo
Alain Vadeboncoeur
Vadeboncoeur_Al
Don't you think @elonmusk that March's climate crisis is a bit more advanced than Earth's and so could require more work to solve it?

davidshepardson
davidshepardson
From the May 6 @FAANews letter to @SpaceX www.reuters.com/business/aerospace-defense/faa-warns-spacex-it-has-not-approved-new-texas-launch-site-tower-2021-07-14/ pic.twitter.com/jH2POFBYPi
The Federal Aviation Administration warned Elon Musk's SpaceX in a letter two months ago that the company's work on a launch tower for future Starship rocket launches is yet unapproved, and will be included in the agency's ongoing environmental review of the facility in Boca Chica, Texas.
"The company is building the tower at its own risk," an FAA spokesperson told CNBC on Wednesday, noting that the environmental review could recommend taking down the launch tower.
The FAA last year began an environmental review of SpaceX's Starship development facility, as Musk's company said it planned to apply for licenses to launch the next-generation rocket prototypes from Boca Chica. While the FAA completed an environmental assessment of the area in 2014, that review was specific to SpaceX's much-smaller Falcon series of rockets.
SpaceX has conducted multiple short test flights of Starship prototypes over the past year. However, the company needs the FAA to complete the environmental review and issue a license to take the next step in the rocket's testing. Company leadership has set ambitious goals for the Starship program, with President Gwynne Shotwell last month saying SpaceX is "shooting for July" to launch the first orbital spaceflight of its Starship rocket.
SpaceX did not immediately respond to CNBC's request for comment on the FAA letter.
The company in May revealed its plan for the flight, which would launch from the company's facility in Texas and aim to splash down off the coast of Hawaii.
Starship prototypes stand at about 160 feet tall, or around the size of a 16-story building, and are built of stainless steel – representing the early version of the rocket that Musk unveiled in 2019. The rocket initially launches on a "Super Heavy" booster, which makes up the bottom half of the rocket and stands about 230 feet tall. Together, Starship and Super Heavy will be nearly 400 feet tall when stacked for the launch.
SpaceX is developing Starship to launch cargo and people on missions to the moon and Mars.
The FAA's letter on May 6 came in response to SpaceX saying in a prior letter that the launch tower in Boca Chica should not be a part of the environmental review because the company "only intends to use the integration tower for production, research, and development purposes and not for FAA-licensed or -permitted launches."
"However, SpaceX's project description in the administrative draft Programmatic Environmental Assessment provided to the FAA on May 5, 2021 indicates otherwise," FAA safety authorization division manager Daniel Murray wrote in response.
The FAA further emphasized that the "480-foot-tall integration tower is substantially taller than the water tower and lightning towers assessed in the 2014" environmental review.
Musk earlier this month shared photos of work SpaceX had done on both a Super Heavy booster and the launch tower.
Got a confidential news tip? We want to hear from you.
Sign up for free newsletters and get more CNBC delivered to your inbox
Get this delivered to your inbox, and more info about our products and services. 
Data is a real-time snapshot *Data is delayed at least 15 minutes. Global Business and Financial News, Stock Quotes, and Market Data and Analysis.
Read full article at CNBC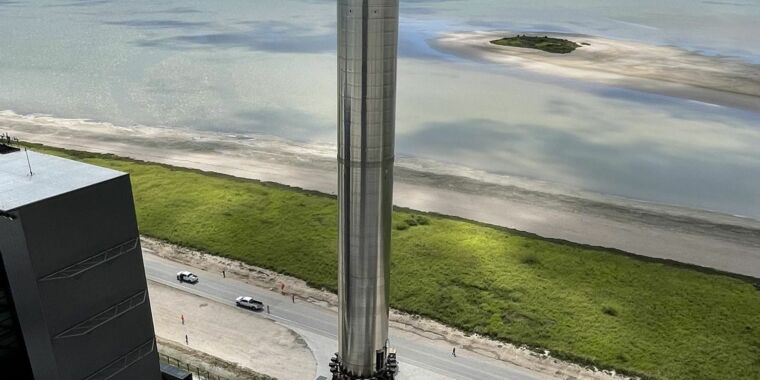 Ars Technica 14 July, 2021 - 10:28pm
Sign up or login to join the discussions!
SpaceX seems to have gone a long time without launching—or blowing up—a rocket at its South Texas launch site. A little more than two months have passed since the company launched its SN15 Starship prototype to an altitude of 10 km before safely landing the vehicle on May 5.
The SpaceX engineering team apparently got the data it needed from that test flight, because the company scrapped plans to fly its next prototype (the SN16) in favor of moving toward higher flights. Accordingly, activity at the so-called "Starbase" facility near Boca Chica, Texas, has focused on building up capabilities for an orbital launch attempt of the Starship system.
During the last two months SpaceX has constructed a massive launch tower to support a full stack of the Super Heavy booster and the Starship upper stage. The company has also built several new large tanks as part of the ground-support equipment that fuels the massive vehicles with liquid oxygen and methane.
Starbase Production Diagram - 13th July 2021 pic.twitter.com/1H5Bf3Gqdm
— Brendan (@_brendan_lewis) July 13, 2021
Finally, SpaceX technicians and engineers have been assembling the Super Heavy boosters themselves, and the company rolled "Booster 3" to the launch pad at the beginning of July. This is the first full-scale booster prototype to actually undergo testing, and it has passed cryogenic pressure tests of its fuel tanks.
This week, the company added three Raptor rocket engines to Booster 3 and told area residents it may conduct a static fire test of the vehicle as soon as Thursday, July 15. The road closure schedule indicates a potential test window from noon, local time, to 10 pm (17:00 UTC Thursday to 03:00 UTC Friday).
In parallel, SpaceX has been building "Ship 20." (SpaceX has abandoned the SN nomenclature for Starship prototypes and now calls them "Ships.") This is the first of a new generation of Starship prototypes with features that will allow them to ascend into space and then return to Earth. Much of the Ship 20 rocket is already complete in a high-bay facility in Boca Chica, Texas.
All of this work—on rockets, the tower, and ground systems—is in preparation for the test launch of Super Heavy and Starship later this summer. SpaceX wants to make this test flight—which will see the Starship vehicle travel most of the way around Earth before making a controlled re-entry into the ocean north of Kauai—as early as August.
However, regulatory hurdles remain. In addition to all of the technical work and testing to be done, SpaceX still needs to obtain launch permission from the Federal Aviation Administration, which is reviewing the environmental status of the launch facility in South Texas. The FAA said, as of May, it has yet to make a decision on whether to allow SpaceX to launch orbital Starship missions from South Texas.
You must login or create an account to comment.
Join the Ars Orbital Transmission mailing list to get weekly updates delivered to your inbox.
Universe Today 14 July, 2021 - 10:28pm
At their South Texas Launch Facility, just outside of the village of Boca Chica, SpaceX is gearing up to test the Super Heavy, the booster element of their Starship launch system. This massive reusable first stage rocket will be responsible for sending the Starship orbital vehicle to space, where it will deliver satellites to orbit, payloads and people to the Moon, and (if all goes as planned) the first human settlers to Mars.
According to a recent statement issued by SpaceX founder Musk Musk, the Starship could also be used to "chomp up debris" in Earth orbit. As usual, the statement was issued via Twitter, where Musk was once again addressing questions posted by followers and fans. The topic arose after Musk shared the latest updates about Starlink, one of a handful of satellite constellations that are bringing broadband internet services to every corner of the planet.
Yes, we can fly Starship around space & chomp up debris with the moving fairing door
Specifically, Musk was sharing the latest artwork that will adorn the Starlink satellite covers, the visor-like appendages that make Starlink satellites less visible in orbit. Henceforth, these covers will feature a diagram of a transfer orbit from Earth to Mars, a clear reference to Musk's long-term vision of colonizing the Red Planet. This is not unlike the terms of service for Starlink's public beta test back in Nov. 2020, where participants had to acknowledge Mars as a "free planet."
In any case, a user who goes by the Twitter handle Hide yo memes (@REQNews) asked if SpaceX had any other mitigation measures in mind to reduce the problem of space debris. Specifically, the user referenced the Kessler Syndrome (named for NASA space debris expert Don Kessler) which states that once orbital debris reaches a certain critical mass, it will create a chain reaction of collisions and more debris.
According to their initial FCC filing (issued in Nov. of 2016), SpaceX requested a license to operate a constellation of 4425 non-geostationary satellites (NGS) in orbits of between 1100 and 1300 km (680 and 800 mi). By Nov. of 2018, SpaceX announced that they were adjusting this plan and now wanted to send their first 1600 satellites to an altitude of 550 km (350 mi), where they would deorbit and burn up in the atmosphere sooner.
As of June 30th, when the latest batch was launched, SpaceX has sent 1,740 Starlink satellites to space (1635 are currently active) which orbit Earth at altitudes of 540 to 570 km (335.5 to 354 mi). However, lowering the orbit of satellites is hardly a long-term solution. At present, the ESA indicates that satellites are being deployed at a rate of 70–90 launches a year, with a growing number of launches injecting 30 or more small satellites at a time.
Musk's solution, as offered, would be to utilize the Starship's fairing, the clamshell-like structure the payload is integrated into. In its standard configuration, the payload fairing measures 9 m (29.5 ft) in diameter, which allows for a greater cargo volume than any other launch vehicle (past or present). As it states in the Starship User Guide:
Naturally, the Twitterverse responded with their usual mix of jibes and feedback (my favorite being that SpaceX should paint these Starships to look like Pacman!). In any case, a space junk-clearing Starship could be an innovative idea and a potential solution to the space debris crisis. Given Musk's high-profile involvement in the broadband satellite market, a solution that comes from his corner also makes good business sense.
You must be logged in to post a comment.
This site uses Akismet to reduce spam. Learn how your comment data is processed.
Yahoo News 14 July, 2021 - 04:29pm
WASHINGTON (Reuters) -The U.S. Federal Aviation Administration (FAA) has warned Elon Musk's space company SpaceX that its environmental review of a new tower at its Boca Chica launch site in Texas is incomplete and the agency could order SpaceX to take down the tower.
An FAA spokesman said on Wednesday that the agency's environmental review underway of SpaceX's proposed rocket assembly "integration tower" is "underway," and added that "the company is building the tower at its own risk."
A May 6 letter from the FAA to SpaceX seen by Reuters said recent construction activity on one of the two proposed towers "may complicate the ongoing environmental review process for the Starship/Super Heavy Launch Vehicle Program." The FAA letter said the tower could be as high as 480 feet.
Based on the environmental review, the FAA could order SpaceX to take down the tower. "It is possible that changes would have to be made at the launch site, including to the integration towers to mitigate significant impacts," the May 6 letter said, adding the FAA learned of the tower's construction "based on publicly available video footage."
SpaceX did not respond to a request for comment but Musk has repeatedly criticized the FAA and the U.S. regulatory system.
SpaceX told the FAA in May that it did not believe the review was necessary because it only intends to use the "integration tower for production, research, and development purposes and not for FAA-licensed or -permitted launches," the FAA said.
But the agency said description in documents "indicates otherwise."
The FAA cited a SpaceX document that the towers would be used to integrate the Starship/Super Heavy launch vehicle. "Super Heavy would be mated to the launch mount, followed by Starship mated to Super Heavy," the FAA letter said quoting SpaceX's May 5 submission.
The FAA and Musk have clashed on several occasions.
On June 29, Musk lamented the delay of the launch of Transporter-2 mission in Florida. He tweeted "an aircraft entered the 'keep out zone', which is unreasonably gigantic. There is simply no way that humanity can become a spacefaring civilization without major regulatory reform."
Earlier this year, the FAA said SpaceX's December launch of Starship SN8 violated its license requirements. Effective March 12, the FAA began requiring an agency safety inspector at all SpaceX launches to "ensure compliance with federal regulations to protect public safety."
FAA Administrator Steve Dickson spoke with Musk on March 12 for 30 minutes to stress "the FAA's role in protecting public safety by ensuring regulatory compliance. He made it clear that the FAA expected SpaceX to develop and foster a robust safety culture that stresses adherence to FAA rules," the agency said in April.
(Reporting by David Shepardson; Editing by Leslie Adler and David Gregorio)
With aims to reduce China's dependency on foreign technology, the People's Republic has unveiled Comac, its debut passenger jet
Jeff Bezos may have been beaten to space by rival Richard Branson, but the billionaire American businessman is poised to make history next week aboard what would be the world's first unpiloted suborbital flight with an all-civilian crew. Bezos, the former CEO of Amazon.com Inc, is due to be part of a four-person crew for a planned 11-minute ride to the edge of space on Tuesday inside his company Blue Origin's New Shepard spacecraft, another milestone in the nascent and potentially lucrative space tourism sector. He is set to be joined by his brother and private equity executive Mark Bezos, trailblazing octogenarian woman aviator Wally Funk and an as-yet-unidentified person who paid $28 million for a spot aboard the spacecraft, scheduled to launch from a West Texas site.
NASA releases animated images from the Juno space craft's closest-ever flyby of Jupiter's icy moon, Ganymede. The post NASA Animates Images Of Jupiter and Its Moon, Ganymede appeared first on Nerdist.
Billionaire Jeff Bezos's rocket company received full approval for its crewed flight into space on Monday.
The 2020 CARES Act enabled Americans who had been affected by the COVID-19 pandemic to withdraw up to $100,000 from their retirement savings without having to face the usual 10% early withdrawal...
LG is done skirting around the price of its rollable OLED R TV.
A sociology professor at Penn State University picked one student out of hundreds of undergraduates to instruct the class on how his white skin benefits him, a recently published video lecture shows.
Stock futures opened little changed Wednesday evening as investors digested a host of mixed corporate earnings results and reassurances from top central bank officials that the latest spike in inflation would likely prove temporary.
A New York federal judge on Wednesday nullified the suspension of horse trainer Bob Baffert, finding that the New York Racing Association acted unconstitutionally by failing to let him adequately respond to claims made against him after Kentucky Derby winner Medina Spirit failed a postrace drug test. In her written ruling, Brooklyn Judge Carol Bagley Amon said a prompt post-suspension hearing where Baffert could refute the claims was required to meet constitutional muster. Attorney W. Craig Robertson III, who represented Baffert at a Monday hearing before Amon, said the ruling confirms that "following the Kentucky Derby, there was an improper rush to judgment and Mr. Baffert has been treated unfairly."
The season finale of "Loki" has big implications for Phase 4 of the MCU.
The Strong Museum of Play recently obtained the demo as part of a larger donation.
CRYPTO Dogecoin was made as a joke, but Jackson Palmer really doesn't think it's funny anymore. Palmer, who co-created the mock cryptocurrency in 2013 with Billy Markus, took to Twitter on Wednesday ...
Seattle-based Ultra Safe Nuclear Technologies and its partners are among three teams winning $5 million contracts from NASA and the Department of Energy to develop reactor designs for space-based nuclear thermal propulsion systems. USNC-Tech's partners include its parent company, Ultra Safe Nuclear Corp., and Amazon founder Jeff Bezos' Blue Origin space venture — as well as General Electric Hitachi Nuclear Energy, General Electric Research, Framatome and Materion. The team will work under the di
(Bloomberg) -- Amundi SA is seeking to attract as much as $250 billion in assets from the Greater China region, pledging to build a secondary home base in one of the world's fastest-growing wealth markets.The Paris-based firm is planning to more than double assets under management in China, Hong Kong and Taiwan by 2025, from its current level of $120 billion, said Zhong Xiaofeng, chairman of Amundi Greater China. Amundi wants to bolster its China footprint by offering more products, hiring staff
The Angels two-way star has become the face of baseball in 2021.