Jake Ciely
allinkid
#FantasyFootball Draft Kit is LIVE!!! Yes, Christmas is here! 🔢 So, kick it off with my 2021 RANKS theathletic.com/2700101/2021/07/14/jake-cielys-2021-fantasy-football-rankings-updated-july-14/ 😴 Staff Sleepers too! theathletic.com/2701156/2021/07/14/2021-fantasy-football-sleepers-phillip-lindsay-devonta-smith-darnell-mooney-and-more-early-expert-picks/ (Customizable Cheatsheet/Projections now tmw morning! We have the macro/security issue fixed) pic.twitter.com/yCra23IqEC

Chris Meaney
chrismeaney
Here's a look at a few players who have seen their ADP in @TheNFFC #FantasyFootball drafts fall and rise over the last four weeks @FTNFantasy www.ftnfantasy.com/articles/ChrisMeaney/27528/stock-watch-fantasy-football-adp-movement pic.twitter.com/1K6x2MVhBo

Michael Salfino
MichaelSalfino
We should be drafting rookies far more aggressively in fantasy football. I lay out the reasons why @TheAthleticFS as part of our Draft Kit. theathletic.com/2703936/2021/07/14/fantasy-football-2021-a-significant-number-of-rookies-each-year-return-value-why-arent-we-drafting-more-of-them/
Kyle Yates
KyleYNFL
Who is your favorite fantasy football draft pick of all time?
Ladies and gentlemen, we're on the cusp of actual, real-life American football. In just a few short weeks, we'll be heavily scrutinizing the Hall of Fame, sorting through every play for the next great training camp and preseason star, and reading as much of what we can before that sweet paywall on several sites for "research." That's right. We're almost there.
Since we're almost there, it's time to start getting a sense of how your fantasy football draft will go before you draft your squad. The perfect tool is right here at FantasyPros, as the FantasyPros Draft Wizard lets you draft teams repeatedly with so many personalized settings and things to tinker with.
For this mock draft exercise, the settings are:
After randomizing my landing spot, I have the 1.11 pick. Also, the draft board I'll be referencing for this mock is at the bottom of the article.
Jones had his choice of landing spot this offseason but chose to stay with the Packers on a long-term deal. We know what Jones is, somebody whose efficiency and reliability pushes him into the upper echelon of running backs in fantasy. New for 2021 is the absence of Jamaal Williams from the Green Bay backfield, which could push even more receiving work in Jones' direction.
In this particular draft, Jones was my highest-ranking running back available, and even as a #ZeroRB truther, I can't justify a high-end wide receiver in the first round. Two were already selected, which made this pick MUCH easier.
Curiously ahead of Aaron Jones in FantasyPros' Expert Consensus Rankings in PPR, Chubb is one of the best real-life running backs in the game. Still, his true potential is held back by an annoying thorn named Kareem Hunt for fantasy purposes. He's Derrick Henry-lite, but imagine if Chubb could even get a small portion of Hunt's targets? He'd be in the front half of the first round in fantasy without any questions asked.
Now we're getting froggy. Dobbins has RB1 in his range of outcomes, but he's not going to do that without the passing work heading his way. We know what Greg Roman means to a running back room; look at Frank Gore's receiving totals during Roman's tenure in San Francisco:
These are Frank Gore's career stats. The four years that are highlighted were the four years that Greg Roman was the 49ers offensive coordinator.
Notice anything different about the receiving stats in those years? pic.twitter.com/HAOyNyLS2k
— Andrew Cooper (@CoopAFiasco) May 11, 2021
That said, 3.11 is a good price point to take a shot on Dobbins, as he has volume from the Ravens' rushing attack headed his way.
After taking three straight running backs to start our draft, we take four pass-catching options with the volume potential we're looking for. Cooper should be one of the passing game focal points in Dallas. Hockenson could be the only game in town for a hapless Detroit Lions, so he could amass upwards of 140 targets with pure volume.
Sutton's breakout in 2019 seems like so long ago, but only because he got hurt in Week 2 last season, and now it seems that people forgot about him. Don't make that same mistake. Teddy Bridgewater made many pieces fantasy relevant last season in Carolina, and he should do the same this season in Denver. Last but not least, Samuel should slot right in as the second target in the Washington offense with Ryan Fitzpatrick at the helm. There's a bankable 100+ targets here for Samuel with a much higher upside in a more explosive offense.
Safety. Consistency. Wilson gives you all of that and then some. We're talking about a quarterback who has never finished below QB11 in a season. We're also talking about a quarterback who has finished in the top-12 in just over half of his games. He cooks just fine in the grand scheme of things.
Right now in Los Angeles, it's Keenan Allen and… who else? The only proven option among wide receivers for the Chargers is Williams. Add in a young stud quarterback in Justin Herbert, and Williams could finally be unlocked as a fantasy mainstay this season.  He's a big-bodied receiver who hasn't lived up to his top-ten draft pedigree fully, so with this offensive ecosystem in place, Williams is a solid bet to return a bit more than his current tenth-round value. If he puts it together? Watch out.
Suppose you believe in Lamar Jackson taking the next step as a passer and just the general talk around the Ravens, who could be passing more in 2021. In that case, Bateman is a player who should be the primary beneficiary of that hype outside of Mark Andrews. So there's triple-digit target upside here and in the twelfth round? Sign me up.
You're banking on the extreme upside at this price point in drafts, and Davis has that. Sure, the Bills added Emmanuel Sanders this offseason, but the upside for Davis, who made the most of his 62 targets by catching 35 of them and just shy of 600 yards receiving as the primary deep threat in this offense. If Davis gets more of a well-rounded receiving role in this offense, then Davis should smash his ADP in 2021.
Most Yards Per Reception by a TE since 2018 (min 12 starts):
— Cody Manning (@CodyTalksNFL) June 25, 2021
Cook comes off the board as TE25 and is a screaming value now that he has a young quarterback able to get him the ball and an offensive coordinator (Joe Lombardi) who has used him creatively in New Orleans. That combo alone should get you excited for #LateRoundTE here.
More target potential? In this economy? Well, I could have the top-two targets in the vaunted Detroit Lions' offense here in the earlier pick of Hockenson and the final pick of my mock in Perriman. The wide receiver room in Detroit is barren, so as a dart throw, why not?
Read full article at FantasyPros
The Athletic 15 July, 2021 - 03:00pm
The 2021 fantasy football draft kit: Rankings, sleepers, projections, cheat sheets, mock drafts and more
Welcome to fantasy football 2021! What you see below is an ever-growing link-fest to our fantasy football draft coverage. Think of it as a menu you can peruse as you work toward draft day.
Rankings, projections and cheatsheets will be updated frequently, we'll have regular chats and mailbags, and your feedback isn't just welcome — it's encouraged. If you see something missing, drop it in the comment section and if we can do it, we'll get on it.
One big thing we'd like to point out that is new in 2021 is Jake Ciely's customizable cheat sheet. It's a tool Jake built (with the help of hockey cheat sheet guru Dom Luszczyszyn) over the last few months that allows you input your league settings and have his award-winning projections spit out a customized series of rankings. And that's just the beginning. You can tweak Jake's projections and the sheet will auto-adjust your personalized rankings. You can adjust a team's pass/run percentages. You can give D'Wayne Eskridge as much of the Seattle target share as you'd like. Subscribers have been asking for this since we launched; we are excited to deliver it in 2021.
We expect this kit to hit about 100 columns by September — with strategy, mock drafts, projections, rankings, deep analytics and everything in between. We even brought back IDP expert Gary Davenport! We'll have new content coming nearly every day in August (here's a look at last season's draft kit, for an idea of what to expect). And if you aren't already a subscriber, we've unlocked this page so you can get a taste of what to expect. As a quick reminder from your fantasy pals, you don't just get this draft kit (and the full season…and offseason) with a subscription — you get the entire site. (And here's a way to get a free year from our partners at BetMGM, for those of you who enjoy placing the occasional sports wager.)
Now let's get moving on the road to a fantasy title…
Jake Ciely's dynasty/keeper league rankings (coming soon)
Brandon Funston's Big Board: Top 50 fantasy players (coming soon)
Scott Engel's expert mock drafts coming soon!
17 ways the new 17-game NFL schedule affects fantasy football (coming 7.16)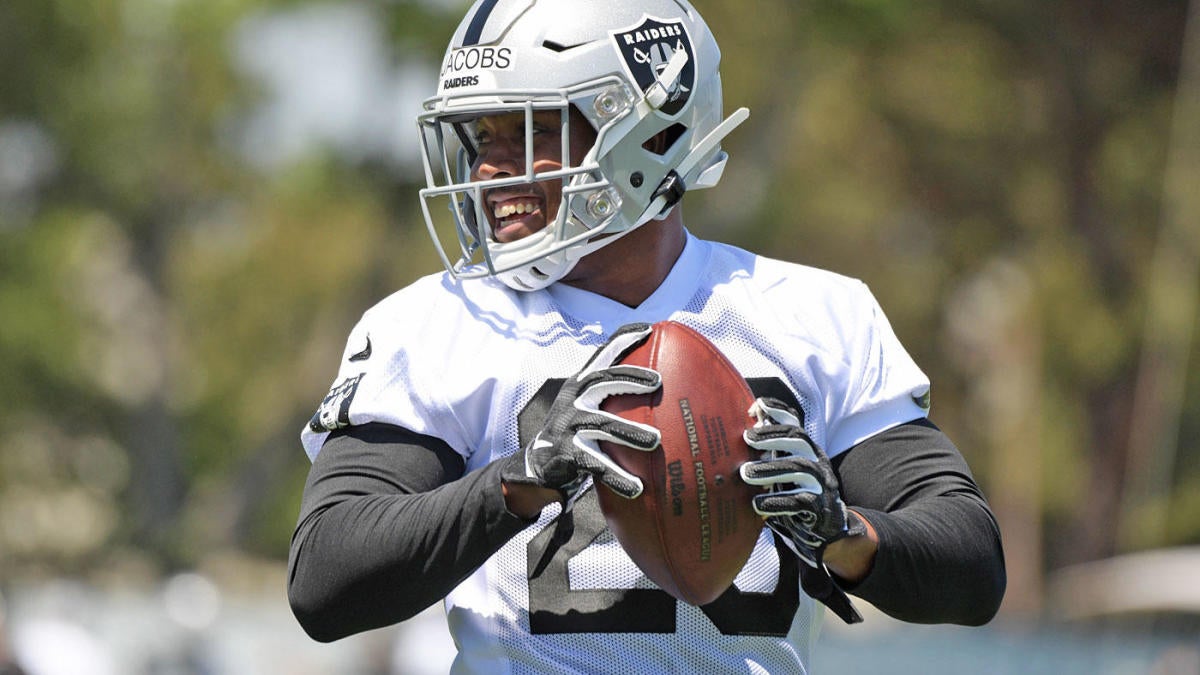 CBS Sports 15 July, 2021 - 01:00pm
During the offseason, owners direct plenty of attention to players who were traded, free agency acquisitions, and 2021 Fantasy football rookies. However, oftentimes the players who make the largest impact are players who are stepping into larger roles. Calvin Ridley has already established himself as a viable WR1 in Atlanta, but with Julio Jones being traded to the Titans this offseason, can the Falcons' new undisputed No. 1 option vault into the upper echelon of the 2021 Fantasy football rankings?
Meanwhile, with Kenyan Drake moving on during the offseason, Chase Edmonds appears to be in line for a larger role with the Cardinals, although he'll have to battle with former Steelers running back James Conner. A reliable set of Fantasy football rankings 2021 can help you figure out where to target players like Ridley, Edmonds and even Conner as well as lead you to all the other 2021 Fantasy football sleepers, breakouts and busts who will define the season. Before setting your 2021 Fantasy football draft strategy, be sure to check out the 2021 Fantasy football cheat sheets from the proven computer model at SportsLine.
Last year, the model accurately predicted that Bills quarterback Josh Allen was being drastically undervalued. His Fantasy football ADP was barely in the top 70, but the model pegged him as a top-five Fantasy quarterback, a QB1 who would finish well ahead of players like Kyler Murray, Tom Brady and Drew Brees. Allen ended up being the No. 2-scoring Fantasy QB, outscoring all three of those other quarterbacks and even surpassing Patrick Mahomes. Fantasy players who followed SportsLine's advice reaped plenty of value with that pick. 
The same model has a proven track record providing Fantasy football tips, also identifying A.J. Brown as another sleeper in 2020 and players like Devin Singletary and JuJu Smith-Schuster as busts last season. Additionally, it's called past Fantasy football sleepers like Derrick Henry in 2019, Christian McCaffrey and Alvin Kamara in 2018, and Davante Adams in 2017. Anybody who banked on players like those made a run at their league title.
The model is powered by the same people who generated projections for all three major Fantasy sites, and it beat human experts last season when there was a big difference in ranking. The projections update multiple times daily, so you're always getting the best Fantasy football advice.
Now, SportsLine has simulated the entire NFL season 10,000 times and released its latest Fantasy football rankings 2021, along with plenty of sleepers, breakouts and busts. Head to SportsLine now to see them. 
One of the 2021 Fantasy football sleepers the model is predicting: Jaguars receiver Laviska Shenault. As a second-round rookie last year, Shenault had 58 grabs for 600 yards and five touchdowns. At 6-foot-1, 227 pounds, Shenault is built like a running back and was used as one, rushing 18 times for 91 yards.
New Jags coach Urban Meyer loves flex players like Shenault who can line up all over the field, similar to his success with Percy Harvin at Florida. But Shenault will primarily see time out wide, as he displayed a dependable set of hands last year with a 73.4 catch percentage. That ranked 10th in the NFL among receivers with at least 58 catches. SportsLine's model has him outperforming receivers such as DeVonta Smith and Jaylen Waddle.
The model is also projecting Rams running back Cam Akers as one of its top 2021 Fantasy Football breakouts. As a second-round rookie, Akers led the team with 625 rushing yards despite starting just five games. He only received carries in 11 games and averaged 68 yards from scrimmage in those contests.
Rams coach Sean McVay has spoken glowingly of Akers this offseason and called him an every-down back. Thus, Akers won't have to cede carries to Darrell Henderson or Malcolm Brown, the latter of whom is now in Miami. Akers showed what he can do when given a full slate, as he averaged 136 scrimmage yards and scored two touchdowns in the Rams' two postseason games last year.
Add in the upgrade at quarterback for Los Angeles and Akers won't see as many looks with eight men in the box. He should run wild in the Rams' retooled offense, so the SportsLine model has Akers among the top 12 running backs after he finished last year outside the top 40 at his position.
As for players to avoid, the model lists Raiders running back Josh Jacobs as one of its top 2021 Fantasy football busts. The Alabama product has proven himself capable in an early-down role, rushing for 2,215 yards and 19 touchdowns during his first two seasons. However, he's left a lot to be desired as a receiver, catching just 53 passes for 404 yards and no scores during that time frame.
That prompted head coach Jon Gruden to sign Kenyan Drake away from the Cardinals during the offseason. Even if Jacobs maintains a leading role on early downs and near the end zone, Drake figures to cut into his overall workload by dominating on passing downs and spelling him on the occasional series. That's a big reason why the model sees Jacobs' fifth-round price tag as too high, ranking seventh-round options like Leonard Fournette and Myles Gaskin ahead of him and even giving the nod to Chase Edmonds, an eighth-round option.
SportsLine is also extremely high on a surprising quarterback you aren't even thinking about being drafted in the middle rounds of 2021 Fantasy football drafts. This quarterback is listed as a shocking top-five option ahead of superstars like Patrick Mahomes and Lamar Jackson. You can only see who it is, and the 2020 Fantasy football rankings for every player, at SportsLine.
© 2004-2021 CBS Interactive. All Rights Reserved.
CBS Sports is a registered trademark of CBS Broadcasting Inc. Commissioner.com is a registered trademark of CBS Interactive Inc.
Images by Getty Images and US Presswire
RotoBaller 15 July, 2021 - 01:00pm
The All-Star Break is almost over, and we're excited for some MLB action again. We're going to be kicking off the 2nd half of the season with another juicy contest on OwnersBox!
In case you're not yet familiar, OwnersBox, is a fantastic new weekly fantasy sports platform that offers plenty of game setups to fulfill your desire to draft throughout the season. Over at OwnersBox, you can participate in snake drafts - and for the first time ever you can also select tournament-style salary cap contests. The contests are at least one week long, and some even longer.
In this article, I will be providing you with my weekly fantasy baseball lineup picks on OwnersBox for this freeroll contest which runs for one week (Friday July 16th through Thursday July 22nd). Read my picks below, and then join us in this tournament as we battle it out for the cash prizes!
OwnersBox is hooking up RotoBaller readers to celebrate the launch of their new salary-cap style contests, so be sure to take advantage of these promo offers!
You can enter up until Friday, July 16th at 7 pm ET, and the week-long contest runs from July 16th through July 22nd.
On OwnersBox, you select two Pitchers, and need three games from these two pitchers. Any game you go over after the third, best ball mode is activated - meaning the lowest score is dropped. So a good approach is obviously looking for affordable two-start pitchers for the week with at least three solid matchups in mind.
Manaea has a nice price tag and a couple of solid matchups this week. First, he will be facing an Indians squad that is striking out at a rate of 25.8% vs. left-handers over the previous 10 days prior to the All-Star break, which is ranked sixth-worst in the league over that span. Seattle is not far behind the Indians as they are posting a 21% rate over that same span. Both teams are posting an average wRC+ mark, with Cleveland posting a mark of 104 and Seattle posting a mark of an even 100. Manaea has also been sharp over the previous month as he has posted a 3.45 ERA with 35 strikeouts across 28 2/3 innings pitched.
I would not normally recommend Hendricks, but his price and matchups across these two starts are something we cannot ignore. He will first be going up against the Diamondbacks who are posting a wRC+ of just 77 against right-handers over the previous 10 days and are also striking out at a rate of 24.8%. St. Louis is doing a bit better with a mark of 110, but Hendricks has allowed just five earned runs across 19 innings pitched vs. the Cardinals this season while also earning the win in each of his three starts against them.
The Infield is my favorite position on Ownersbox. You only need 28 games from the five players. Simple math tells you if you average six games per infielder, you are already at the two lowest scores dropped from the lot. That way you can utilize five-game studs as long as you pair them eventually with a seven-game player also to maintain that 30 total games. The Outfield is much more difficult to take advantage this way, so don't waste the opportunity with your infielders!
Lowrie is too cheap given his recent success and matchups this week. Over the previous 14 days, Lowrie is hitting .341 with three home runs and eight RBI. He will be going up against the Indians and Angels who have both struggled with starting pitching and their bullpens at various points this season. Currently, the Indians have the 10th-worst bullpen ERA over the previous 15 days and also have a makeshift starting rotation with Shane Bieber and Aaron Civale on the shelf.
I am going to stick with the Oakland theme again with this pick against the Indians and Angels. Olson has also been hot over the previous 14 days as he has hit three bombs with seven runs scored, six RBI, and seven walks. He should be able to come out of the gate strong vs. the Indians in this upcoming weekend series.
As I mentioned previously, filling the three Outfield slots is more difficult than the five Infielders on OwnersBox. You need 17 games from the three hitters, so that means you mostly want to stay away from five-game hitters. I try to get at least one seven-gamer if possible and aim for at least 19 total games for two lowest score drops.
While Vaughn does have a bit of a tough matchup out of the gate vs. the Astros, he has seven games to work with and we will enter best ball mode at some point with him in the lineup. In his second series, he will be facing the Twins and that is what we really want to take advantage of as they have a pen that is posting a 5.57 ERA and has allowed 19 home runs over the previous 15 days. Vaughn has also hit four home runs, driven in nine RBI, and scored nine runs over the previous 14 days.
Bryant has been swinging a pretty hot stick lately as he has a .370 average with one home run, five RBI, and five runs scored over the previous two weeks. His teammates should be able to take advantage of the pitching in Arizona and St. Louis this week, which should help him improve on his counting stats. He has seven games against those opponents, both of which have bullpens ranked in the bottom half of the league over the previous two weeks. The seven games are especially important as best ball will be activated as well.
Fantasy football leagues are not won in the draft alone, but having a strong draft makes winning the league that much easier. Part of having a great draft is finding players that simply have an ADP lower than they should. But, if you read my strategy article, you know I prioritize upside and not just... Read More
It happens every Draftmas without fail, usually a few picks after someone reaches for a kicker too soon. You know not to do that, but you start looking at the non-kicker options and all you can think is "Blech". Sure, you could grab that "shiny new thang" that seems to be hyped as a "late-round... Read More
Show me a tight end, and I'll show you a rolling dice. And most probably, one with way more than six faces. Fantasy football is not new. We are not new to fantasy football either. Everybody goes by the strategy of drafting RB/WR, RB/WR, RB/WR (ad infinitum), QB, TE, rest of the bunch. There are... Read More
Kev Mahserejian (@RotoSurgeon) and DLF Football Senior Writer Peter Howard (@pahowdy) discuss wide receivers to target in 2021 fantasy football drafts. Be sure to also tune into RotoBaller Radio on SiriusXM (channel Sirius 210, XM 87) - every weekday morning between 6-7 AM ET, Saturdays from 8-10 AM, and Sundays from 7-9 PM. You can also find new... Read More
After every NFL season, NFL teams take the time to evaluate not only the players but also the coaching staff and front office as well. While many teams choose to retain the same head coach, offensive coordinator, and defensive coordinator, a few other teams opt to go in a new direction with their coaching staff.... Read More
Training camps are in progress, and many of you are participating in drafts as Week 1 kickoffs approach. You will develop a strategy before you begin building each roster. But it is recommended that you remain flexible in your decision-making based upon the flow of each draft. Your treatment of the running back position will... Read More
This month, the Fantasy Sports and Gaming Association (FSGA) kicked off the 2021 Fantasy football season with their expert drafts. I teamed up with RotoBaller's Anthony Aniano to draft against 13 other top Fantasy analysts in the industry in the FSGA's Central Conference. Running a team with another person isn't always ideal, as I have... Read More
Fantasy Football Mock Draft Tool and Draft Assistant Here at RotoBaller HQ we're constantly looking to add more tools and resources to help our readers win their fantasy football drafts. In case you haven't heard, we'll be releasing some cool new free fantasy football tools this year and we're really excited about it! First up... Read More
We all want to draft the rookie running back that comes out in Year 1 and produces at a top-24 pace. Sadly, that's just not how things go. It's rare that you have a season like 2020 where five first-year running backs turn in RB2 or better seasons. In fact, going back to 2012, there... Read More
Host Anthony Aniano of RotoBaller Radio discusses the 2021 fantasy football season and keeps you updated with all the latest news and analysis as he discuses the fantasy football draft prep season by breaking down each position. Today he takes a look at some quarterbacks to consider drafting in the later rounds of drafts. Be sure to also tune... Read More
In this episode of The King and Pockets Aces, RotoBaller's Scott "The King" Engel and Anthony "Pocket Aces" Aniano share their highly charged Fantasy insights. They look at the latest and upcoming NFL player moves, NFL player rankings and draft strategy to best prepare you for the 2021 fantasy football season. In episode 14 of... Read More
The tight end position has been top-heavy for many years and it's no different in 2021. Travis Kelce and Darren Waller have led their respective teams in targets the last two seasons, while George Kittle has averaged 8.1 targets per game the last three seasons. Meanwhile, Kyle Pitts out of Florida has already been dubbed... Read More
GiveMeSport 15 July, 2021 - 01:00pm
FantasyPros 15 July, 2021 - 01:00pm
RotoWire 15 July, 2021 - 01:00pm
Pro Football Focus 15 July, 2021 - 01:00pm
FantasyPros 15 July, 2021 - 01:00pm
If you were to sit down and do a Google search for any of Sleepers, Breakouts, Busts, etc. for fantasy football in 2021, you might find hundreds of different results. However, there's not a ton of content out there for people that play in the 14+ team leagues.
First off, you all are crazy. I played in my first 14-team league last year and it was pure chaos. I was not prepared for how different the draft was and how quickly the depth dried up. I went into the league with the incorrect mindset and I needed a valuable resource that would point up some depth options that I could scoop up in the later rounds.
That's the purpose of this article. For the fantasy managers that play in 12-team leagues or fewer, these players most likely aren't worth taking the shot on. However, if you're in a deep league and you need some players that could break out and serve as valuable rotation options for your lineup, this is the article for you.
Let's take a look at some players that are worth selecting when you're on the clock late.
Wilson has the draft capital to his name and he's got a pretty solid receiving corps surrounding him, but we need to see how he adjusts to the NFL game before we feel completely confident in rolling him into our starting lineups. He's worth drafting as a low-end QB2 in Superflex formats this year that has some upside if he can progress as the season goes along, but we shouldn't be looking his way during our 1QB drafts.
The Patriots drafted Jones in the first-round and he's about as different from Newton as you can possibly find. While he does fit what Josh McDaniels has found success with in the past, he might not be ready to step onto the field and dominate right away. He's going to be given a heavy dose of reality as soon as he steps onto the field and discovers that the receiving corps he's playing with in the NFL isn't as talented as what he had at Alabama. Jones is the type of QB that can be great if the surrounding situation is perfect and that's not the case here in New England. With players like Agholor, Bourne, and Meyers leading the WR room, that's not going to be enough to lead to top-tier fantasy success from Jones in year one. If you're in a deep SF league and need a QB to take a flier on, Jones is worth the investment to see if he can exceed my expectations though.
Are we 100% sure that Myles Gaskin is the clear starting RB in Miami this season? While Gaskin performed well in his starting opportunities last season, Ahmed was equally as impressive. In all honesty, I expect Gaskin to be the main option in this backfield for 2021, but we should see Ahmed involved enough to have some FLEX value some weeks. Additionally, what happens if we're wrong and Ahmed comes out as the starting RB in Week 1? There's enough potential there to indicate that Ahmed's being slept on heading into fantasy draft season.
Don't be shocked if you start to hear this name more and more as the season gets closer. Rountree certainly doesn't have the draft capital to his name (6th round pick in 2021), but there's absolutely a path for him to carve out a significant role in this offense. With players like Justin Jackson – who can't stay healthy – and Joshua Kelley – who proved very little last season – the starting RB role opposite of Ekeler is absolutely up for grabs. Rountree impressed me on tape coming out of Missouri and he could be a late-round steal if he does end up getting the opportunity in this dynamic Chargers offense. Keep an eye out for the name as preseason rolls around.
Looking across the fantasy landscape, there are certain backup RBs that get elevated due to their potential if something were to happen to the start ahead of them. However, no one seems to be talking about Perine and his upside if we see Mixon deal with injury again in 2021. There's no one else on this depth chart that can step in and take over a significant workload. In a high-powered offense, Perine doesn't have to be ultra-efficient with his opportunity because scoring opportunities will be available on a weekly basis. I'm typically not a proponent of drafting insurance RBs, but if you do select Mixon early on in your draft, doubling back and snagging Perine with your last pick is a very smart move.
A player that I'm keeping a close eye on throughout OTAs and training camp is Byron Pringle in Kansas City. The Chiefs let Sammy Watkins walk in free agency due to his unavailability, which leaves a major opening on this roster for someone else to step up. While some people hope that Mecole Hardman can take that next step, there's a ton of buzz growing about Pringle and his potential involvement in this offense. Right now, he's simply a flier pick in the last round of your drafts. However, if he comes out and plays with the starters in Week 1 of the preseason – and puts together a solid showing – we're going to see his ADP absolutely take flight. If you have the ability to secure him up now, I'd recommend taking the shot on him.
One of my favorite deep sleepers this season is Devin Duvernay. Duvernay was very high in my 2020 WR Rankings coming into the NFL and he showed off his speed and athleticism in his limited opportunities last year. Now, all reports are glowing coming out of OTAs and we could actually see this offense turn more towards the passing game in 2021. The off-season additions that Baltimore has made signifies to me that they may be more pass-happy of a team this upcoming season and Duvernay should make a strong case to be the starting slot receiver. He's not going to receive 10+ targets per game, but he has the speed to take any pass to the house. Just simply keep an eye on him throughout training camp and the preseason. You may end up liking him as much as I do when the time comes to draft.
Fulgham was a waiver wire darling for a good part of 2020, but the offense capsized quickly and Fulgham was no longer featured as a part of the game plan. With a new coaching staff, and a clear vacant role at outside WR, Fulgham could step right back into fantasy relevance in 2021. We know what he can do for fantasy football when he gets the opportunity, so it's worth closely monitoring this situation as we move throughout training camp and the pre-season.
We've seen flashes from Everett when he's been the lone option at the TE position in LA previously, but those instances were few and far between. He's now moved over into Seattle and is reuniting with Shane Waldron, who was with the Rams last season and is now the Offensive Coordinator for the Seahawks. Everett knows this scheme and he should easily take the lead role on this depth chart. He'll obviously take a clear backseat to DK Metcalf and Tyler Lockett, but there could be some games where Everett is on the streaming radar. He's most likely not worth drafting in your typical redraft leagues – unless we get some glowing reports out of training camp – but he's someone worth watching if you're planning on streaming the position.
Last season, Jarwin was hyped up as a potential breakout candidate. Unfortunately, his injury early on in the season prevented us from getting to see what he could be in this offense. With that being said, he does have the contract to his name that should ensure him the starting role and this team is going to put points up on the board. If you wait on TE this season and want to double down with a couple of dart throws later on, Jarwin's a perfect player to take a shot on and see what he can become.
Kyle Yates is a featured writer at FantasyPros. For more from Kyle, check out his archive and follow him @KyleYNFL.
The Fantasy Footballers 15 July, 2021 - 05:05am