Matthew Gertz
MattGertz
Please don't do this. Provincetown has one of the highest vaccination rates in the country. As vaccination rates increase the percentage of cases that are in vaccinated people NECESSARILY increases. pic.twitter.com/23DurW6xfa

Ben Wakana
benwakana46
Let's be clear. If 10 vaccinated people walk into a room full of COVID, about 9 of them would walk out of the room WITH NO COVID. Nine of them.
Cyrus Shahpar
cyrusshahpar46
Big Friday just in: +857K doses reported administered over yesterday's total (vs. 600K last Friday)! This includes 563K newly vaccinated, highest since July 1. Over 190M Americans with at least one dose. 69.6% of adults with at least one dose. Let's do this!
Matt Jones
KySportsRadio
The Covid Delta surge is important and dangerous. And everyone should be vaccinated, both for themselves and their neighbors But it is important as we set policy to understand it in broader context and not freak out. This article is well done on subject nymag.com/intelligencer/2021/08/the-u-k-s-delta-surge-is-collapsing-will-ours.html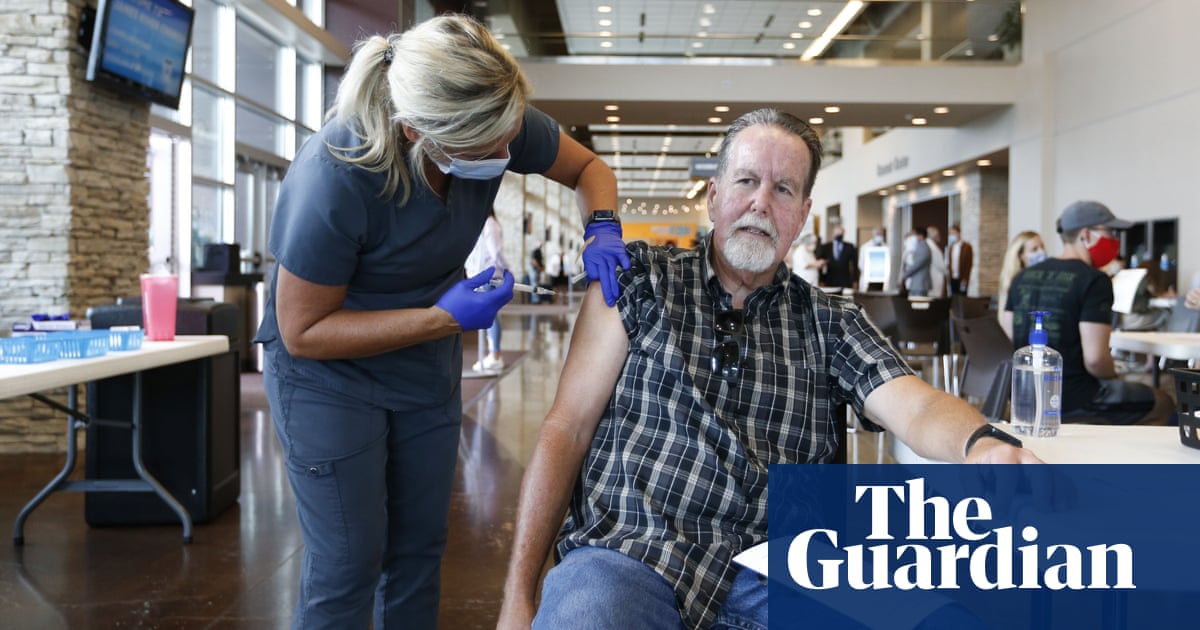 On Friday, an unnamed senior Biden administration official told CNN the press was reporting misleadingly on federal data indicating the Delta variant spreads among vaccinated as well as unvaccinated people.
The official said a focus on "breakthrough infections" might lead to people being more hesitant to get vaccinated, and said the White House had asked news organisations to tone down coverage.
"The media's coverage doesn't match the moment," the official was quoted as saying. "It has been hyperbolic and frankly irresponsible in a way that hardens vaccine hesitancy. The biggest problem we have is unvaccinated people getting and spreading the virus."
One NBC News story on new data from the federal Centers for Disease Control and Prevention (CDC) was first headlined "Breakthrough Covid cases: at least 125,000 fully vaccinated Americans have tested positive".
That figure, however, represents a fraction of a percentage point of vaccinations in the US this year. NBC changed the headline to "Breakthrough Covid cases: data shows how many vaccinated Americans have tested positive".
Separately, reports indicated that concern over the Delta variant, which the CDC says appears to cause more severe illness than earlier variants and to spread as readily as chickenpox, is helping overcome vaccine hesitancy.
More than 4.7 million people have been vaccinated in the US in the past two weeks and more than 856,000 doses were administered on Friday, the highest daily figure since 3 July, according to the Washington Post.
Louisiana, one of several southern states with low vaccination rates, has reportedly seen a 114% increase in shots, Arkansas a 96% increase, Alabama 65% and Missouri 49%. Last week, Texas reported its highest single-day vaccination rate in a month.
Senior Republicans have began urging residents to accept vaccines. Writing in the Washington Post this week, Alabama governor Kay Ivey said those "pushing fake news and conspiracy theories about this vaccine are reckless and causing great harm". Ivey also invoked a famous fictional Alabamian's maxim on life being like a box of chocolates, as you never know what you're going to get.
"That was true in 1994 when Forrest [Gump] said it, and it's true today," she said of Robert Zemeckis's Oscar-winning film, starring Tom Hanks. "We have a weapon today to battle Covid-19 that we didn't have a year ago. It's up to you to use the good common sense God gave you to do what is best for you and your loved ones."
In Arkansas, Governor Asa Hutchinson reimposed a state of emergency on Thursday and reported that all pediatric intensive care beds were full. He has sought to dispel fears that the vaccines are a "bioweapon".
"We have had to bring in more vaccine," Robert Ator, head of the Arkansas vaccine drive, told the Post. "For the first time in two and a half months, we are making a new large-scale order. People are scared."
In Kentucky, Senator Mitch McConnell was preparing public service messages to broadcast on more than 100 radio stations.
"These shots need to get in everybody's arms as rapidly as possible, or we're going to be back in a situation in the fall that we don't yearn for – that we went through last year," McConnell told reporters this week. "This is not complicated."
Figures show less than half of adult Americans are fully vaccinated. Many researchers have said that the goal of herd immunity has become unreachable. But the release this week of a CDC document recommending a reversal on guidance concerning masks – which it said on 13 May were no longer necessary indoors or outdoors – may have helped to underscore the threat from the Delta variant.
"Given higher transmissibility and current vaccine coverage, universal masking is essential to reduce transmission of the Delta variant," the CDC document said.
In an official release, the CDC recommended that fully vaccinated people should now wear a mask "in public indoor settings in areas of substantial or high transmission".
It added that fully vaccinated people "might choose to wear a mask regardless of the level of transmission, particularly if they are immunocompromised or at increased risk for severe disease from Covid-19, or if they have someone in their household who is immunocompromised, at increased risk of severe disease or not fully vaccinated."
Not all Republicans are looking to take politics out of the push for vaccinations and to end the resurgent pandemic.
Kevin McCarthy, the House minority leader, used the change in CDC guidance about masks to attack the Biden administration.
"They broke their word," he said. "They broke their own rules. And now they've broken the trust of the American people."
Read full article at HuffPost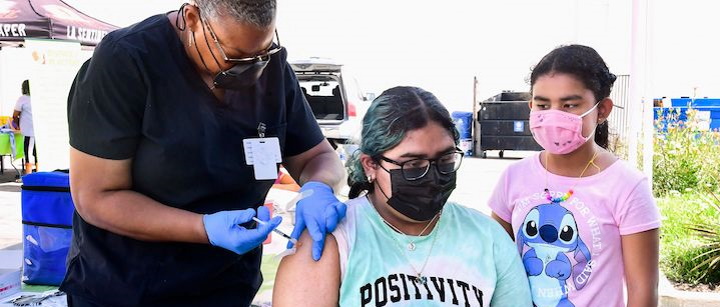 FactCheck.org 01 August, 2021 - 02:10pm
All of the authorized vaccines are effective at preventing symptomatic disease.
Johnson & Johnson's phase 3 trial began in late September, nearly two months after the Pfizer and Moderna trials and shortly before a new variant of the coronavirus emerged in South Africa. Globally, J&J reported an efficacy of 66.1% in preventing moderate to severe COVID-19 and an efficacy of 85.4% in preventing severe or critical COVID-19. But efficacy was higher in the U.S. population (72% efficacy in preventing moderate to severe disease and 85.9% efficacy in preventing severe or critical disease) than in South Africa (64% and 81.7% efficacy in preventing moderate to severe or severe/critical disease, respectively).
Data from the Moderna trial also demonstrate that the vaccine protects against severe COVID-19. The Pfizer/BioNTech vaccine probably does as well. But because so few participants in that trial developed severe COVID-19, this hasn't yet been conclusively shown. The J&J trial showed 100% efficacy in preventing COVID-19 that would require medical intervention — meaning hospitalization, ICU admission, mechanical ventilation or a life support machine.
Efficacy is a measure of how well a vaccine performs in a clinical trial. It specifically refers to a relative reduction in infection or disease when comparing the vaccinated group to the placebo (or control) group.
For instance, both the Pfizer/BioNTech and Moderna vaccines were primarily evaluated for their ability to prevent symptomatic COVID-19, with the former having a 95% efficacy and the latter having a 94% efficacy. This means your risk of getting sick is cut by 94% or more if you are vaccinated.
Other vaccines may report efficacy figures for infection or for moderate or severe disease.
It's important to note that efficacy is the measure used in a clinical trial, and real-world performance, called effectiveness, could be somewhat lower. That will be measured in observational studies. One such study by the Centers for Disease Control and Prevention found the Pfizer/BioNTech and Moderna vaccines were 90% effective in real-world conditions, two weeks after the second dose, and 80% effective two weeks after the first dose.
Many of these types of studies show that most fully vaccinated people produce so-called neutralizing antibodies that work against delta, but at a lower level than with ancestral versions of the coronavirus — and in negligible amounts if immunized with only one dose of the two-dose vaccines.
Multiple other studies have identified small or moderate decreases in neutralization against delta after vaccination with the Pfizer/BioNTech or Moderna vaccines, suggesting that they retain most of their effectiveness against the variant.
One concern with delta is that if vaccinated people do become infected with the variant, they may still be able to transmit the virus to others. The CDC has said this is suggested by data showing that the amount of virus in vaccinated people infected with delta is approximately the same as those who weren't vaccinated.
The agency cited the new evidence in its rationale to change its mask recommendations on July 27 to have fully vaccinated people wear masks indoors in areas with "substantial" or "high" transmission. Vaccinated people, however, would still be less likely to spread the virus than unvaccinated people because they're less likely to be infected in the first place. (See our SciCheck article, "A Guide to the CDC's Updated Mask Recommendation.")
Moreover, McCullough's version of early treatment is with a combination of therapies that includes several drugs that the National Institutes of Health recommends against using, including hydroxychloroquine with azithromycin. Another of the drugs, dexamethasone, has been shown to help COVID-19 patients, but only in specific circumstances in hospitalized patients — not during early treatment, which the NIH advises against.
WJZ 01 August, 2021 - 02:10pm
Washington Post 01 August, 2021 - 02:10pm
KSDK News 01 August, 2021 - 02:10pm
It remains an unknown factor as to how the universe was formed, but the Kepler Telescope has recently discovered how a planet forms surrounding a "young star." Particles like ice, hydrogen, dust and other components form and become something that orbits that ball of plasma, eventually, a planet.
According to EarthSky, Saturn will be visible from August 1 and 2 for humans to see, as it would be in the perfect position from the planet, and this is known as the "opposition." Apart from that this so-called "opposition" is when planets line up with each other, and in this case, the Earth will be right in the middle of the Sun and Saturn.
This only means that humans would have the chance to fully bask in the beauty of Saturn and its seven visible rings from afar (Saturn has more than seven rings when seen up close). This one is a treat for most stargazers, as it would be a rare sighting for a Saturn opposition, due to its slower move in orbiting the Sun.
Saturn would be at its brightest at the beginning of August, and its peak would be at August 1, 11:30 PM PT, and August 2, 2:30 AM ET. People on the West Coast would be fortunate as that would be the peak hours to view the planet at its brightest.
However, worry not, the planet may still be available for sightseeing for the entire month of August.
Saturn would also be close to Jupiter and that would be the main reference point in spotting the planet with rings. The position of the ringed planet is just west of Jupiter, and users would only need to face that way to see the sixth planet.
According to the Farmer's Almanac, Saturn is only visible when using a telescope, and this means that users need to bring out their equipment when they camp out for the night or proceed to a spot.
Also, Saturn may be seen towards the west, and it would be between the constellation of Capricornus — the Sea Goat.
Related Article: Saturn Probe Cassini Spacecraft Finds Methane in Enceladus
Sign up for our free newsletter for the Latest coverage!