Kaitlan Collins
kaitlancollins
CDC Director Walensky tells Congress that the Delta variant now makes up 83 percent of sequenced cases in the US, "a dramatic increase" that she warns is likely higher in areas with low vaccination rates.
Weijia Jiang
weijia
Federal COVID officials repeated the *current* mask guidance when pressed about if the @CDCgov is considering revising it. We have not gotten a yes or no answer about whether they are debating whether to recommend vaccinated people wear masks in response to the Delta variant.
Dave Epstein
growingwisdom
Wastewater numbers definitely on the rise showing the increase in covid cases. #DeltaVariant pic.twitter.com/QFEJITZOPw

Eric Feigl-Ding
DrEricDing
CHANGE IS COMING—Top White House aides and Biden administration officials are now debating whether they should urge vaccinated Americans to wear masks in more settings as #DeltaVariant surges, according to insiders. ➡️We needed this yesterday! #COVID19 🧵 www.washingtonpost.com/politics/biden-masks-delta-covid/2021/07/21/cba29774-ea3a-11eb-8950-d73b3e93ff7f_story.html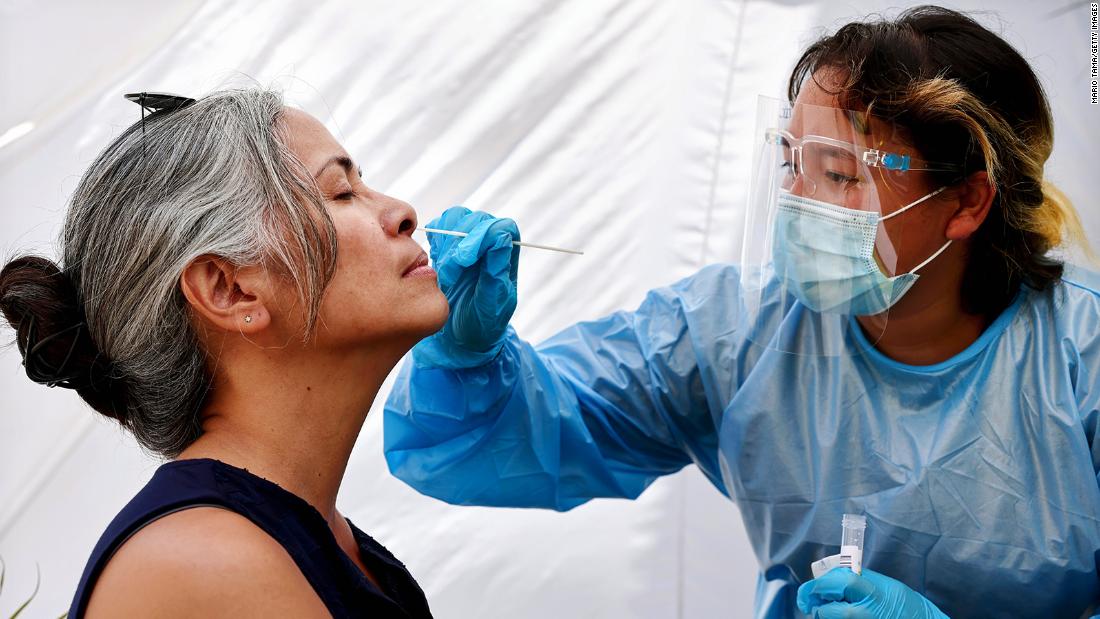 Updated 8:19 AM ET, Thu July 22, 2021
Sign up here to get The Results Are In with Dr. Sanjay Gupta every Tuesday from the CNN Health team.
Read full article at Business Insider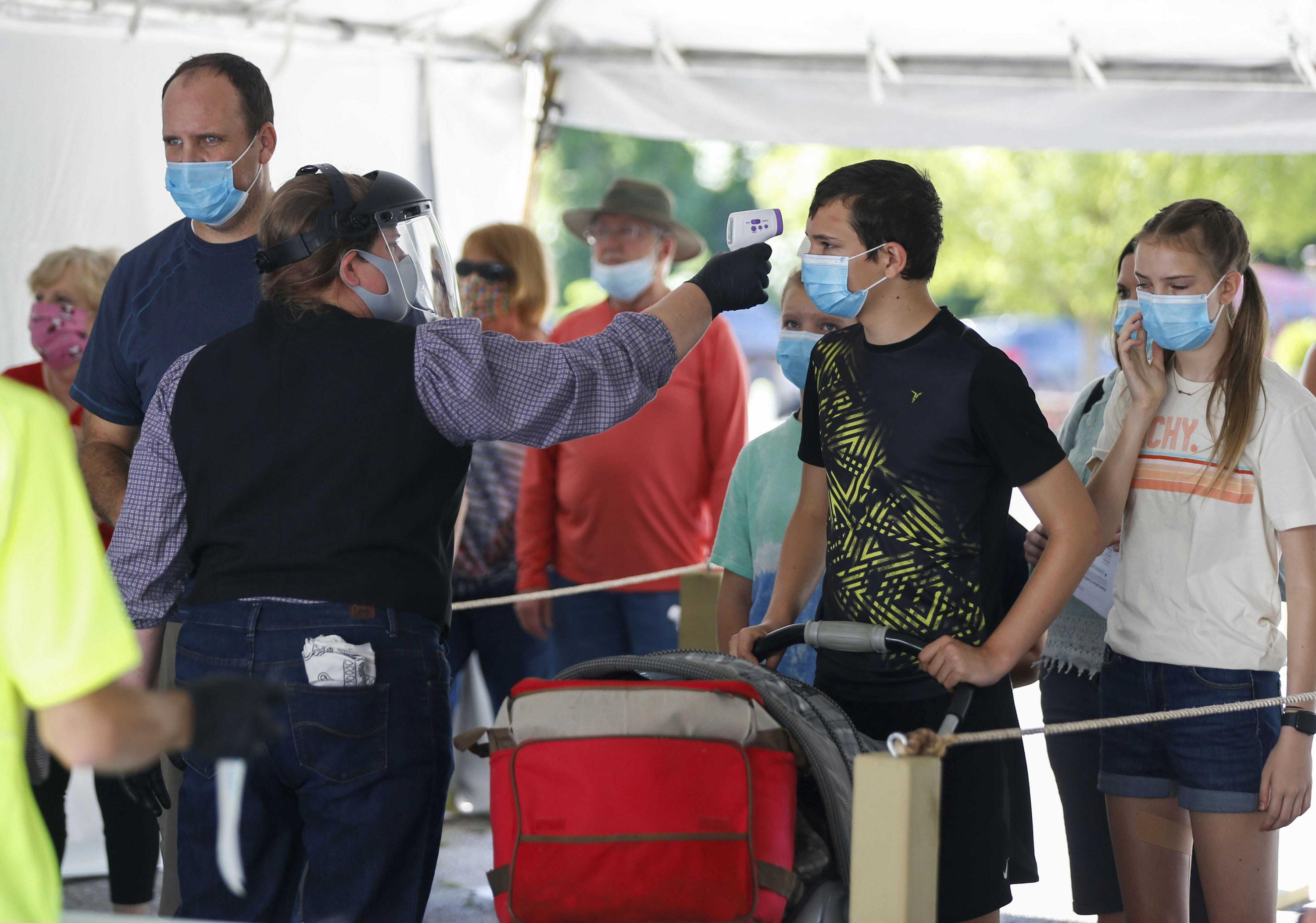 Yahoo Singapore News 22 July, 2021 - 12:01pm
MISSION, Kan. (AP) — COVID-19 cases tripled in the U.S. over two weeks amid an onslaught of vaccine misinformation that is straining hospitals, exhausting doctors and pushing clergy into the fray.
"Our staff, they are frustrated," said Chad Neilsen, director of infection prevention at UF Health Jacksonville, a Florida hospital that is canceling elective surgeries and procedures after the number of mostly unvaccinated COVID-19 inpatients at its two campuses jumped to 134, up from a low of 16 in mid-May.
"They are tired. They are thinking this is déjà vu all over again, and there is some anger because we know that this is a largely preventable situation, and people are not taking advantage of the vaccine."
Across the U.S., the seven-day rolling average for daily new cases rose over the past two weeks to more than 37,000 on Tuesday, up from less than 13,700 on July 6, according to data from Johns Hopkins University. Health officials blame the delta variant and slowing vaccination rates. Just 56.2% of Americans have gotten at least one dose of the vaccine, according to the Centers for Disease Control and Prevention.
In Louisiana, health officials reported 5,388 new COVID-19 cases Wednesday — the third-highest daily count since the beginning of the pandemic in early 2020. Hospitalizations for the disease rose to 844 statewide, up more than 600 since mid-June.
Utah reported having 295 people hospitalized due to the virus, the highest number since February. The state has averaged about 622 confirmed cases per day over the last week, about triple the infection rate at its lowest point in early June. Health data shows the surge is almost entirely connected to unvaccinated people.
"It is like seeing the car wreck before it happens," said Dr. James Williams, a clinical associate professor of emergency medicine at Texas Tech, who has recently started treating more COVID-19 patients. "None of us want to go through this again."
He said the patients are younger — many in their 20s, 30s and 40s — and overwhelmingly unvaccinated.
As lead pastor of one of Missouri's largest churches, Jeremy Johnson has heard the reasons congregants don't want the COVID-19 vaccine. He wants them to know it's not only OK to get vaccinated, it's what the Bible urges.
"I think there is a big influence of fear," said Johnson, whose Springfield-based church also has a campus in Nixa and another about to open in Republic. "A fear of trusting something apart from scripture, a fear of trusting something apart from a political party they're more comfortable following. A fear of trusting in science. We hear that: 'I trust in God, not science.' But the truth is science and God are not something you have to choose between."
Now many churches in southwestern Missouri, like Johnson's Assembly of God-affiliated North Point Church, are hosting vaccination clinics. Meanwhile, about 200 church leaders have signed onto a statement urging Christians to get vaccinated, and on Wednesday announced a follow-up public service campaign.
Opposition to vaccination is especially strong among white evangelical Protestants, who make up more than one-third of Missouri's residents, according to a 2019 report by the Pew Research Center.
"We found that the faith community is very influential, very trusted, and to me that is one of the answers as to how you get your vaccination rates up," said Ken McClure, mayor of Springfield.
The two hospitals in his city are teeming with patients, reaching record and near-record pandemic highs. Steve Edwards, who is the CEO of CoxHealth in Springfield, tweeted that the hospital has brought in 175 traveling nurses and has 46 more scheduled to arrive by Monday.
"Grateful for the help," wrote Edwards, who previously tweeted that anyone spreading misinformation about the vaccine should "shut up."
Jacob Burmood, a 40-year-old Kansas City, Missouri, artist, said his mother has been promoting vaccine conspiracy theories even though her husband — Burmood's stepfather — is hospitalized on a ventilator in Springfield.
"It is really, really sad, and it is really frustrating," he said.
Burmood recalled how his mother had recently fallen ill and "was trying to tell me that vaccinated people got her sick, and it wasn't even COVID. I just shut her down. I said, 'Mom, I can't talk to you about conspiracy theories right now.' ... You need to go to a hospital. You are going to die."
His mother, who is in her 70s, has since recovered.
In New York City, workers in city-run hospitals and health clinics will be required to get vaccinated or get tested weekly as officials battle a rise in COVID-19 cases, Mayor Bill de Blasio said Wednesday.
De Blasio's order will not apply to teachers, police officers and other city employees, but it's part of the city's intense focus on vaccinations amid an increase in delta variant infections.
The number of vaccine doses being given out daily in the city has dropped to less than 18,000, down from a peak of more than 100,000 in early April. About 65% of all adults are fully vaccinated, but the inoculation rate is around 25% among Black adults under age 45. About 45% of the workforce in the city's public hospital system is Black.
Meanwhile, caseloads have been rising in the city for weeks, and health officials say the variant makes up about 7 in 10 cases they sequence.
"We need our health care workers to be vaccinated, and it's getting dangerous with the delta variant," de Blasio told CNN.
Back in Louisiana, New Orleans officials weighed a possible revival of at least some of the mitigation efforts that had been eased as the disease was waning.
Mayor LaToya Cantrell and the city's top health official, Dr. Jennifer Avegno, were expected to make an announcement later Wednesday. On Tuesday, Cantrell spokesman Beau Tidwell said "all options are on the table."
KREM 2 News 22 July, 2021 - 12:01pm
Rappler 22 July, 2021 - 12:01pm
Daily Mail 22 July, 2021 - 09:43am
By Emily Goodin, Senior U.S Political Reporter For Dailymail.Com
Federal government workers, who were supposed to return to their offices this fall, are balking at in-person work with the Delta variant causing COVID cases to spike in the United States.
The Biden administration, in June, released a memo outlining the goals for the large-scale return to in-person work across the government. Federal agencies were asked to respond with a detailed plan for their office buildings by July 19.
That plan included hundreds of thousands of employees returning to the office after Labor Day, with a full return planned by the end of the year.  
But now there is rising concern among Biden administration officials and unions representing federal workers about returning to in-person work for the more than 2.1 million federal employees, The Washington Post reported. 
It comes as the U.S. recorded 52,032 new cases on Wednesday with a seven-day rolling average of 39,939, which is a 268 percent increase from the 10,834 average recorded three weeks ago.
Every single state and the District of Columbia is reporting either infections rising or holding steady in the last week, according to a DailyMail.com analysis of Johns Hopkins data.
Additionally, 333 COVID-19 deaths were recorded on Wednesday with a seven-day rolling average of 264.
Fatalities, which are a lagging indicator, have not dramatically risen but instead have slightly increased by 10 percent from the average of 238 recorded three weeks prior.
Federal government workers are balking at in-person work with the Delta variant causing COVID cases to spike
It comes as the U.S. recorded 52,032 new cases on Wednesday with a seven-day rolling average of 39,939, which is a 268 percent increase from the 10,834 average recorded three weeks ago
The detailed plans submitted to the White House for the agencies reopen do include COVID provisions, including office cleaning, testing, staggered work schedules and having desks social distanced. Also some jobs will remain eligible for continued full- and part-time telework. 
But rising COVID cases across the country have some federal employees worried that won't be enough. 
Meanwhile, several aides on Capitol Hill have had breakthrough COVID - testing positive after being vaccinated - while the White House admitted there have been more COVID breakthrough cases among staff than publicly announced.
Many White House staff are working back in the complex after starting off the Biden administration teleworking due to the COVID restrictions.  
President Joe Biden is considering recommending that all Americans, regardless of vaccination status, go back to masking up, another Post report revealed, as the top doctor on Capitol Hill advised congressional staff to consider doing the same.
The Centers for Disease Control and Prevention (CDC) relaxed its mask guidance back in May, saying fully vaccinated Americans could go without masks in almost all indoor and outdoor settings, with the exception of public transport.
But since then, the Delta variant has spread rapidly, now accounting for 83 percent of all new infections on US soil and sending COVID-19 cases soaring 244 percent in the last three weeks.
Some federal workers had to continue in person work, such as Post Office employees. But there were delays in mail service due to the combo of more people doing their shopping online and the Postal Service implementing COVID protective measures to keep staff safe. 
TSA staff and Customs and Border Protection staff also had no choice but to work in-person.  
Other government services have been impacted, such as passport applications, which are taking up to 18 weeks to process.
The State Department has an application backlog of between 1 and a half million to 2 million.  
About 60 per cent of federal workers teleworked during the height of the COVID pandemic.  
House Republican Leader Kevin McCarthy and other GOP leaders are pushing for the federal work force to return to the office. 
The comments below have not been moderated.
The views expressed in the contents above are those of our users and do not necessarily reflect the views of MailOnline.
By posting your comment you agree to our house rules.
Do you want to automatically post your MailOnline comments to your Facebook Timeline?
Your comment will be posted to MailOnline as usual.
Do you want to automatically post your MailOnline comments to your Facebook Timeline?
Your comment will be posted to MailOnline as usual
We will automatically post your comment and a link to the news story to your Facebook timeline at the same time it is posted on MailOnline. To do this we will link your MailOnline account with your Facebook account. We'll ask you to confirm this for your first post to Facebook.
You can choose on each post whether you would like it to be posted to Facebook. Your details from Facebook will be used to provide you with tailored content, marketing and ads in line with our Privacy Policy.
Part of the Daily Mail, The Mail on Sunday & Metro Media Group
Eat This, Not That 22 July, 2021 - 06:34am
RELATED: 5 Ways to Prevent Dementia, Says Dr. Sanjay Gupta
Lack of sleep can permanently affect your brain.
© 2020 Galvanized Media. All Rights Reserved. EatThis.com is part of the AllRecipes Food Group
The Mercury News 21 July, 2021 - 07:30am
With COVID-19 case rates rapidly multiplying, we are witnessing in California and the Bay Area the start of another surge that will hospitalize and take the lives of the unvaccinated and those who are immunocompromised.
It's doubtful our governor will meet this moment as he should with the steps necessary to prevent the highly contagious Delta variant from exponentially spreading. Gavin Newsom suffers from political paralysis, frozen from doing the right thing because of a recall led by those who resist any restrictions on movement or requirements to wear masks.
It's up to us — individuals, business leaders, school officials and local government leaders — to fill the leadership void with the tools we have available:
• Get vaccinated. The shots are now easily available. If you haven't gotten yours, now is the time. If you know someone who hasn't, talk to them and explain why it's so important.
• Wear a mask. Eight Bay Area health officers united last week to urge everyone, vaccinated or not, to cover their faces in indoor public places. It's a simple request. For the good of the community, please honor it.
• Sign up for digital verification. Newsom last month rolled out a vaccine verification system. Everyone who has been inoculated should enroll. And, for the sake of their employees and customers, businesses and entertainment venues should use the system as a requirement for entry.
• Mask school kids. Newsom has mandated masks when K-12 schools reopen next month. This is common sense. Sixty percent of students ages 12-17 have yet to be vaccinated, and younger children are not even eligible. They need to get back to school. But we don't want them getting sick, with potential long-haul health effects, nor infecting older, more-vulnerable members of their households.
• Require vaccination of college students. All college and university students should be inoculated, as the University of California is mandating. Higher-education sites are potential super-spreaders.
For those in doubt about the urgency of the moment, consider this: If California were still using its color-coded system for ranking counties by infection rates, at least a dozen, including Los Angeles, Alameda, Contra Costa and Solano, would now be in the most-restrictive purple tier. Most of the rest of the Bay Area would be just one step below.
That sobering finding comes from data analysis by Bay Area News Group reporters John Woolfolk and Harriet Blair Rowan. The issue is not the absolute number of cases, it's the trajectory. If we've learned anything from the past 16 months, it's how quickly coronavirus cases can multiply.
With the new, far-more-contagious Delta variant, cases have tripled nationally in the last two weeks.  In California, they have quadrupled, the 11th worst state-increase rate in the nation. Contra Costa and San Mateo counties have seen more than a doubling in cases during that time. Santa Clara County cases have nearly tripled, and Alameda County has seen more than a fourfold increase.
California numbers are still way below the surge levels we saw over the winter. But the current slope of the curve is sharply up, similar to the trend we saw during last summer's surge. Hospitalized COVID patients in intensive care have doubled in the past month.
This, even though about half the state is fully vaccinated. It's not enough. Worse, the inoculation rate has slowed to a trickle.
But that's not our reality now. It's up to each of us to meet the challenge.  Our quick collective and individual actions can make a difference.
Get Morning Report and other email newsletters