Hamilton and Verstappen had been battling hard for the lead in the opening stages of the Silverstone race, having gone to wheel to wheel for the first half of the lap.
On the blast down to Copse, Hamilton had managed to get a run on his Red Bull rival, and, after briefly jinking to the left, he went for the inside as he drew alongside the Dutchman.
But Verstappen held his ground and, as he turned through the right hander, he was tagged by Hamilton's left front wheel.
That pitched Verstappen into a spin and he smashed in the barriers on the outside of the corner at high speed. He has since been taken to hospital for precautionary checks.
The incident was investigated by the FIA and it ruled that Hamilton was to blame, handing him a 10-second time penalty.
In a document explaining their reasons for the sanction, the stewards explained that Hamilton could have done more to avoid the incident, as he had room on the inside of Copse to avoid a collision.
"The Stewards reviewed video and telemetry evidence," the stewards said. "Cars 33 [Verstappen] and 44 [Hamilton] entered turn 9 with Car 33 in the lead and Car 44 slightly behind and on the inside.
"Car 44 was on a line that did not reach the apex of the corner, with room available to the inside.
"When Car 33 turned into the corner, Car 44 did not avoid contact and the left front of Car 44 contacted the right rear of Car 33. Car 44 is judged predominantly at fault."
Hamilton battled back from the 10-second time penalty to take a win in the British Grand Prix that put him firmly back in the championship battle.
Speaking after the race, Hamilton had been clear that he felt that Verstappen had not given him enough room in the incident.
"Of course, I always try to be measured in how I approach things, particularly with battling with Max," he said. "You know he's very aggressive.
"And then today, I mean I was fully alongside him, and he didn't leave me space."
Hamilton: Verstappen didn't leave me enough F1 racing space
Read full article at Motorsport.com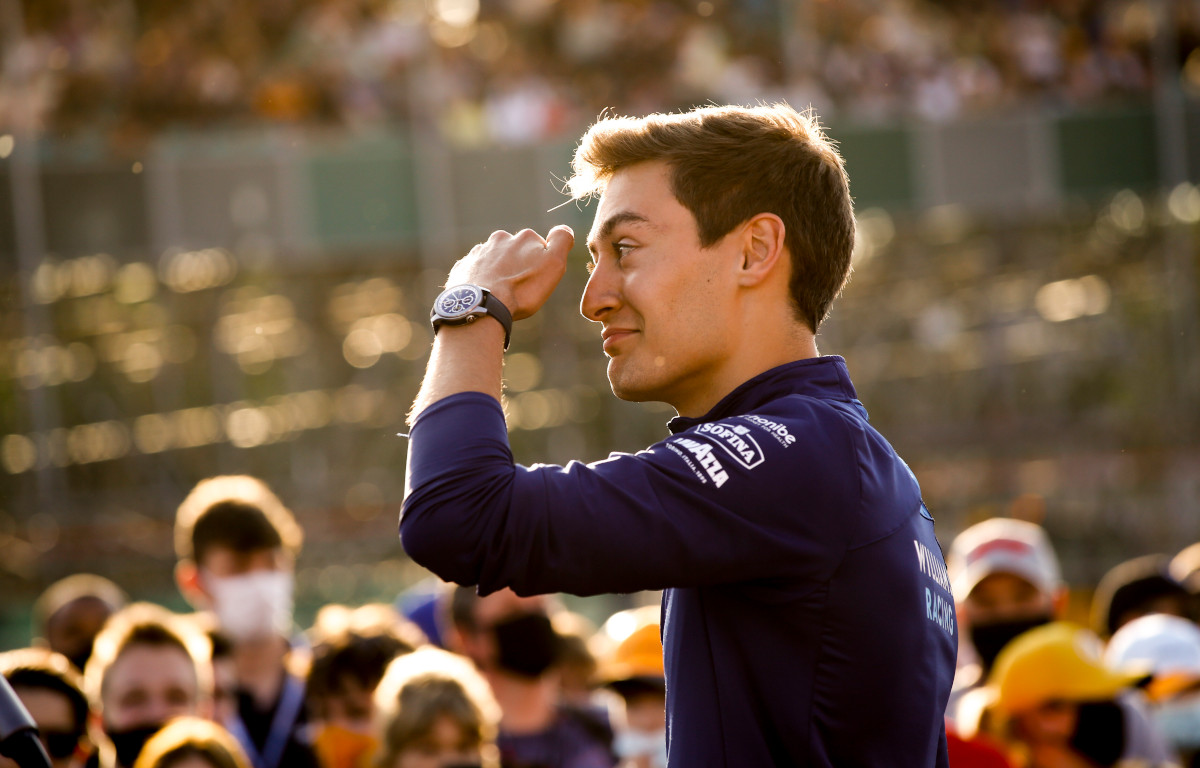 PlanetF1 18 July, 2021 - 01:00pm
Date published: July 18 2021
Russell is, according to F1's rumour mill, just weeks away from being confirmed as a 2022 Mercedes driver.
The Brit will, if the rumours are correct, form one half of an all-British line up alongside seven-time World Champion Hamilton, with Valtteri Bottas given his marching orders.
But while Bottas has been the perfect number two to Hamilton's team leader role, Coulthard reckons Hamilton could have a tougher time against Russell.
Not because he is as quick as his compatriot, but because the 23-year-old's "passion" and "hunger" mean he won't be afraid to take the fight to Hamilton.
"We saw George's hunger and racing spirit when he came together with Valtteri in Imola," Coulthard told The Mirror. "He probably overreacted there, which is just an opinion..
"But what we did see was his passion behind the wheel and that's the sort of passion he's going to need to beat Lewis.
"He's not going to beat Lewis with pure speed, Lewis is one of if not the fastest drivers of the last decade, George I believe has the talent to match that speed.
"So, where's he going to beat Lewis? He's going to beat him with that passion, that hunger, that 'you might be Lewis Hamilton but when we go on track, I don't care who you are'.
"Which is exactly what Max Verstappen delivers when he's in the race car."
Russell has already had one audition with Mercedes, replacing Hamilton at the 2020 Sakhir Grand Prix where he qualified P2 behind Bottas, challenging the Finn throughout the race, and would have won the grand prix had it not be a dismal day for Mercedes pit stop crews.
Despite everything but his own ability going against him, Russell still finished the race in ninth place and scored an extra point by setting the fastest lap of the race.
"I think George Russell is the real deal," former driver Coulthard said. "I don't know this for sure but it seems just a matter of time for George Russell getting announced as a Mercedes driver.
"He's a coming talent, he showed what he could do when he was in the car in Bahrain. No disrespect to Valtteri who is a very good racing driver and is a grand prix winner, but sport is about momentum.
"Whether it's motor racing, football or whatever sport you're following, there's a time when that talent needs to be given the opportunity. I've no doubt that he has the skills to deliver."
Mercedes motorsport boss Toto Wolff has implied he will make a decision regarding Hamilton's team-mate during the summer break.
ESPN.co.uk 17 July, 2021 - 04:15pm
Lewis Hamilton promised fans he would bring his 'A-game' to Sunday's British Grand Prix after being beaten by Max Verstappen in Formula One's first ever Saturday sprint race and falling further behind in the title battle.
Mercedes' seven-times world champion, who has won his home race a record seven times already, warned, however, that it would be tough.
"I need everyone to bring their energy again tomorrow and I'll come with my A-game," the Briton told the 105,000-strong crowd at Silverstone.
A capacity attendance of more than 140,000 is expected on Sunday in the biggest sporting event in Britain since the COVID-19 pandemic led to closed doors last year.
Most will still be hoping to see Hamilton, the most successful Formula One driver of all time, celebrate a 99th career victory.
Hamilton had qualified at the front of the grid for the experimental sprint race but lost out at the start as Red Bull's Verstappen, alongside on the front row, made the quicker getaway.
"Tomorrow's going to be tough. If I can try somehow to keep up with them through the stints, maybe we can apply pressure through strategy -- but we're not going to be overtaking them on the track: they're just too fast."
Verstappen will start with a 33-point advantage over his closest rival and every chance of chalking up a sixth win in 10 races.
Saturday's sprint was a 17-lap affair without pitstops while the grand prix will allow more opportunities through strategy.
Hamilton recognised he needed to make a better start, however.
He said he had done everything correctly but for whatever reason the clutch did not deliver and he suffered a lot of wheelspin.
"Their starts are really great this year and we have lost a bit of performance on our starts, so we've got to try to work a bit harder to try to improve that because losing positions is never a great thing," he said.