WPXI Pittsburgh 16 September, 2021 - 08:26am
Kickoff is scheduled for 1 p.m. The gates at Heinz Field open two hours prior to kickoff, meaning you'll be able to get into the stadium starting at 11 a.m.
Severe Weather Team 11 Chief Meteorologist Stephen Cropper says the weather should be terrific for kickoff, although a little warm. Right now, the forecast calls for mostly sunny skies with temperatures in the 80s. Be sure to keep hydrated and consider sunscreen if you're going to be sitting on the sunny side of the stadium.
Season ticket holders were emailed last month before the first preseason game that all guests, staff and vendors at Heinz Field, regardless of vaccination status, must wear a mask while visiting all indoor areas of the stadium. That email also said masks were not required in the upper and lower seating bowls of the stadium, outside club seating and concourse areas. People who are unvaccinated must wear a mask at all times. This is the same policy in place for games this regular season.
To that end, if you're not feeling well or know you've been exposed to COVID-19, you're urged to stay home.
The FedEx Great Hall is located on the East Side of Heinz Field and features plenty of Steelers and Pitt memorabilia. Fans can see the Steelers' six Super Bowl trophies as well. On Sunday, this space will feature live entertainment prior to kickoff along with live radio and tv pregame shows.
If you haven't been down to the North Shore in some time, you'll be surprised to find a new parking garage. The "Champions Garage" is located at 643 W. General Robinson St. It features 445 spaces.
READ MORE: New parking garage opens on North Shore
You can always check the latest traffic conditions on our WPXI Traffic page. CLICK HERE before heading out on gameday.
Yahoo Sports 16 September, 2021 - 08:10am
NBC Sports 16 September, 2021 - 08:10am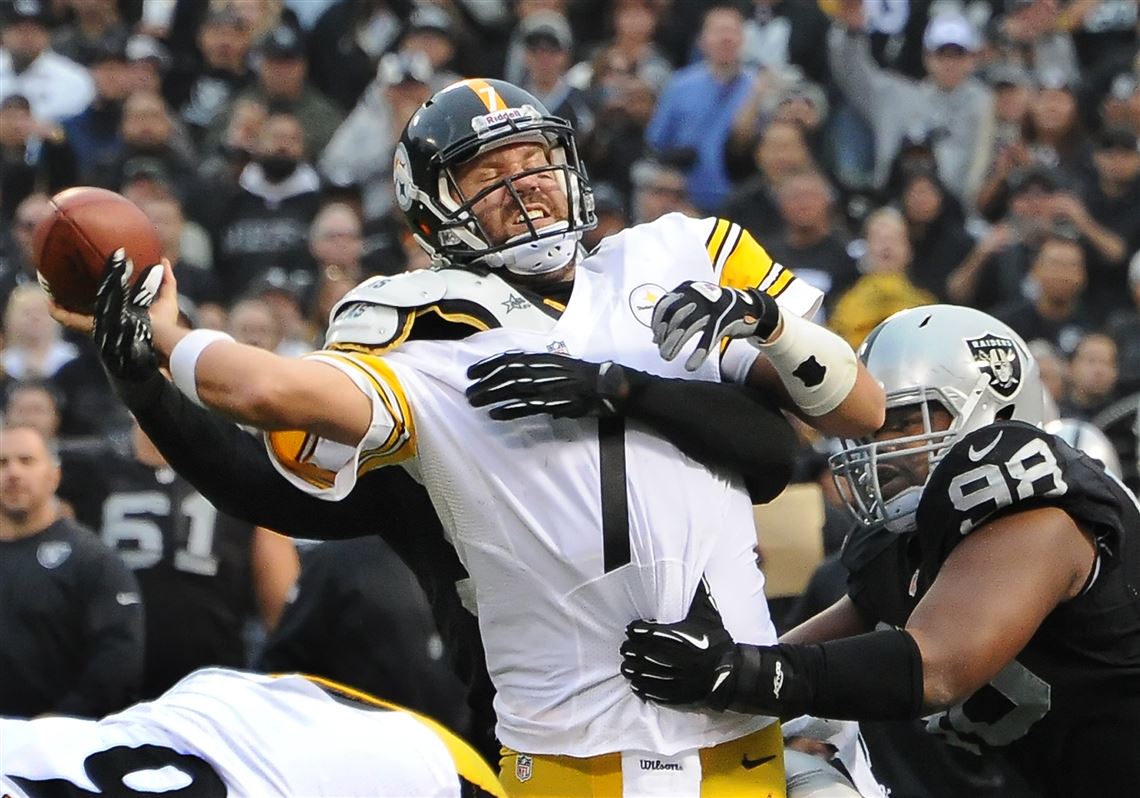 Pittsburgh Post-Gazette 15 September, 2021 - 09:07am
I've never performed one, but as a favor to you — as an attempt to clear all the bad juju before the Las Vegas Raiders invade Heinz Field on Sunday — I'll give it a shot.
It's a terrible story, actually, a chilling tale that includes a quarterback attack, a haunted X-ray machine, the ghost of Guy Whimper, the face of Tom Cable, a runaway gazelle and maybe scariest of all, a pass to Limas Sweed.
Mike Tomlin and Ben Roethlisberger win a lot. You know that. Just last season, they surpassed Don Shula and Dan Marino as the third-winningest coach-quarterback duo in NFL history.
And yet, somehow, they become unrecognizable when they face the Raiders, who appear to be decent this season but have mostly been tragic since Tomlin and Roethlisberger joined forces in 2007. The two have seen more than one season blow up in Oakland, where the Coliseum has often become the Steelers' mausoleum.
Roethlisberger is 2-5 against the Raiders. That's his worst record against any AFC team (he's 4-7 against New England). Tomlin is 2-4, his worst record against any AFC team not named the Patriots.
All of the losses have been comically ridiculous. So have the two wins, come to think of it.
In one of them — a 35-3 shellacking in 2010 — Raiders defensive lineman Richard Seymour was ejected for punching Roethlisberger in the face, prompting Tomlin to say, "I've never seen a quarterback get punched since I've been in this league."
In the other Steelers win, 38-35 in 2015, they blew a two-touchdown lead in the fourth quarter and saw Roethlisberger depart with an injured ankle. You might remember that injury setting up his legendary shred-the-Browns-in-relief-of-Landry-Jones game the following week.
If the wins were brutal, the losses were something far beyond. So let's process this. Let's summon each loss, in all its tortured horror, and thereby evoke the demons in an attempt to evict them. Or something like that. (Did I mention I've never done this before?)
Let us find some wisdom from each ...
History: Roethlisberger was coming off a concussion the previous week, an emergency appendectomy the previous month and a motorcycle accident the previous summer. He played arguably the worst game of his career, throwing four interceptions, including one for a 100-yard touchdown. He even threw one to a guy named Fabian (Washington) against the 1-5 Raiders.
Words: "It just seems like one guy makes mistakes, and that's me. In my wildest dreams, I didn't think I'd be playing this bad." — Roethlisberger.
Wisdom: Don't play a guy who might still be concussed from the previous game.
History: You might remember this as the low point of Tomlin's "Unleash Hell" campaign. Tom Cable's 3-8 Raiders scored three fourth-quarter touchdowns behind one Bruce Gradkowski and waltzed out with an unfathomable win. Gradkowski had posted a 1.0 passer rating in his previous visit to Heinz Field. Oh, and Roethlisberger nearly completed a miracle pass to Sweed at the buzzer — 17 days shy of the 37th anniversary of the Immaculate Reception.
Words: "Our receivers coach [Sanjay Lal] gave us a message, and he brought up the Miracle on Ice, Buster Douglas knocking out [Mike] Tyson, and things that were just unbelievable but the people that did it believed they could." — Raiders receiver Todd Watkins.
Wisdom: Never give up three fourth-quarter touchdowns to a backup quarterback on your home field — and never lose to Tom Cable.
History: Roethlisberger was incredible (36 of 49, 384 yards, four TDs), but the defense decidedly was not, playing without Troy Polamalu and James Harrison. Carson Palmer went wild, and the Raiders — who would finish 4-12 — outscored the Steelers 13-0 in the fourth quarter for coach Dennis Allen's first NFL win.
Words: "I'd like to tip my cap to the Oakland Raiders." — Tomlin
Wisdom: Pray your star defensive players stay healthy — and never lose to Dennis Allen.
History: On the very first play, Terrelle Pryor ran 93 yards untouched for the longest quarterback touchdown run in NFL history. The rest is a blur, other than Shaun Suisham missing easy field goals. The Raiders would finish 4-12.
Words: "I don't think anybody was close to catching him. He's like a dad-gum gazelle out there." — Raiders guard Mike Brisiel on Pryor (surely a quote that would make Keith Butler proud).
Wisdom: Tackle the quarterback.
History: Tomlin inexplicably kept a sort-of injured Roethlisberger on the sidelines as the Steelers were losing a lead, then put him in when the Raiders went ahead. The two later blamed an antiquated X-ray machine for their troubles, saying the images were not readable. A hook-and-lateral to JuJu Smith-Schuster set up a tying field goal attempt, but Chris Boswell fell flat on his rear end on the approach.
Words: "(Roethlisberger) probably could've come in a series or so sooner, but we were in a rhythm and flow of the game." — Tomlin, who was apparently watching a different game than the rest of us.
Wisdom: If your franchise quarterback is available, use him. And check the X-ray machines before every game.
Hope that helps. And it's true the Steelers might have begun to reverse the curse by foisting Mr. Big Chest upon the Raiders, where he subsequently tried to fight their general manager and was kicked off the team.
Lastly, you might be wondering where Guy Whimper fits into all this. He doesn't, really. I just happened to notice he was listed among the inactives for the Pryor debacle in 2013.
First Published September 15, 2021, 2:07pm