Senator Ron Johnson
SenRonJohnson
The economy was roaring back to life before Biden became President. The biggest problem businesses face now is finding people willing to turn down government subsidies and go back to work. #JobsReport

AprilDRyan
AprilDRyan
Black America's historic and consistently higher unemployment rate is being targeted by the #WhiteHouse. My latest for @theGrio Biden administration touts jobs plan to stimulate economy of Black America thegrio.com/2021/05/07/biden-jobs-plan-economy-black-america/

Mohamed A. El-Erian
elerianm
Re today's release of the monthly US #jobs report. Median expectations are for: 1 million new #jobs, though accompanied by an unusually wide range of estimates, and a decline in the #unemployment rate to 5.8%. Wage data will remain noisy. Look also for labor force participation
Scott Moe
PremierScottMoe
SK once again has the lowest unemployment rate in Canada. This is coming off of 9,500 jobs being added to our workforce in April – an increase of 1.7%, the strongest growth of any province. Our gov't has a plan to get everyone vaccinated, our economy re-opened & jobs back to SK. pic.twitter.com/a06x7sAeZt
The report found U.S. businesses added just 266,000 new jobs in April instead of the roughly 1 million that economists had projected.
The figure would be solid in the midst of a strong economy, but was tremendously disappointing for a nation emerging from a pandemic in which 9.8 million people remain unemployed.
Here are five takeaways to make some sense of the report.
Any recovery from the depths of the coronavirus recessions is unlikely to be a straight ride.
"I think this signals that we're in for a rockier road that we thought," said Robert Frick, corporate economist at Navy Federal Credit Union.
Frick predicted there will be a recovery and better reports in the future, but said the expectations of a booming report were too optimistic.
"Given the fundamentals, with so much money that's been banked and all the good things that have come so far — strength in hiring, manufacturing, and so on — I think things are generally headed in a good direction, but there's going to be friction coming," he said.
But he acknowledged the bad report in April was still a surprise.
"Nobody expected it would be this early," he said.
The jobs report shed light on some of the current trouble spots, though economists say more data is needed to know exactly what's going on.
For example, even as overall employment rose, female employment dropped by 8,000, while female labor force participation dropped by 64,000.
An obvious explanation, says Frick, is child care, which disproportionately falls on the shoulders of women.
"There are preschools and kindergartens and child care and schools that are fractured and not open, so there are a lot of women who are forced to stay home," he said.
While local government education jobs increased 31,000, they were still 611,000 lower than pre-pandemic levels.
Another problem is that despite the significant uptick in vaccinations, a large proportion of the population is still unvaccinated, and the pandemic, though greatly reduced from its winter surge, is far from over.
"There are a lot of people that don't want to go back to work in closed quarters because of COVID, and 5,000 Americans died of COVID in the last week, so we can't dismiss that," Frick said.
An analysis from survey company Morning Consult noted data showing that losses in pay remained elevated, and that a growing share of workers thought they would lose pay in the coming month.
Kate Bahn, director of labor market policy at the left-leaning Washington Center for Equitable Growth, says the problems in the labor market reflect long-standing inequalities and divisions that will persist.
"Broadly speaking we went into the crisis with a really uneven and fragile economy," she said. "Without having policies that are really intentionally targeting inequality, the recovery will be slower."
But, she added, the April data was more confounding than previous swings in employment during the pandemic, which could often be tied to a specific event such as severe weather or a spike in COVID-19 cases.
"When we've seen fluctuations, there's usually a reason we've seen to understand the fluctuation," she said."This month did not have any of those obvious reasons, and it will take a couple of months of data to get the full picture."
Republicans and conservative groups have zeroed in on generous unemployment benefits as the culprit behind the slowdown.
"Government paying people more to stay home than to work has crushed the ability of businesses to get workers back, and this jobs report is evidence of that," said Adam Brandon, president of the conservative FreedomWorks advocacy group. 
The U.S. Chamber of Commerce called for repealing the additional $300 weekly unemployment benefit that is in place until September.
Republican governors of Montana and South Carolina both said they would withdraw the federal benefit to boost employment.
But debate remains fierce among economists as to whether or how much additional unemployment is holding back the labor force.
"What is causing these supply constraints in the job market? Is it unemployment benefits that are too high? Schools that are still closed for full-time in-person instruction? A skills mismatch between available jobs and available workers? A lack of business startups?" Nationwide Chief Economist David Berson asked in response to the report.
"All of these probably are playing a role," he concluded.
Frick said there's little evidence to back up the idea that expanded benefits are keeping people from working.
"You can look at states with higher and lower unemployment benefits and there's no correlation with their unemployment rates," said Frick, who suggested a lack of child care, transportation issues are among the reasons why low-income workers might face greater challenges in getting back to work.
She said the evidence shows that women and working families need the enhancements to child care, education and other issues provided by Biden's proposals, and that this would in turn create jobs and help the economy.
Vice President Harris echoed the call for furthering such investments. "There are still two million fewer women in the workforce today," she said. "More action is needed."
President Biden said the report proved critics of the $1.9 trillion coronavirus relief bill wrong for suggesting that the economy didn't need that level of stimulus.
"Today's report just underscores, in my view, how vital the actions we're taking are," he said.
While the April jobs report was universally seen as a disappointment, economists by and large agree that one month does not a trend make.
As more data becomes available, analysts will be able to sharpen their views as to what is causing the labor market to hold back.
Updated data on job openings and labor turnover is expected next week, which could shed light on the question of labor shortages.
And monthly jobs reports are often the subjects of revision, with even hundreds of thousands of jobs sometimes added or subtracted from reports.
Beth Ann Bovino, chief U.S. economist of S&P Global Ratings, noted that there was also plenty of good news hiding underneath the somber headline numbers in the jobs report.
It showed that 430,000 people rejoined the labor force, average weekly hours climbed, and average hourly earnings spiked to 0.7 percent month-over-month.
The Hill 1625 K Street, NW Suite 900 Washington DC 20006 | 202-628-8500 tel | 202-628-8503 fax
The contents of this site are ©2021 Capitol Hill Publishing Corp., a subsidiary of News Communications, Inc.
Read full article at The Hill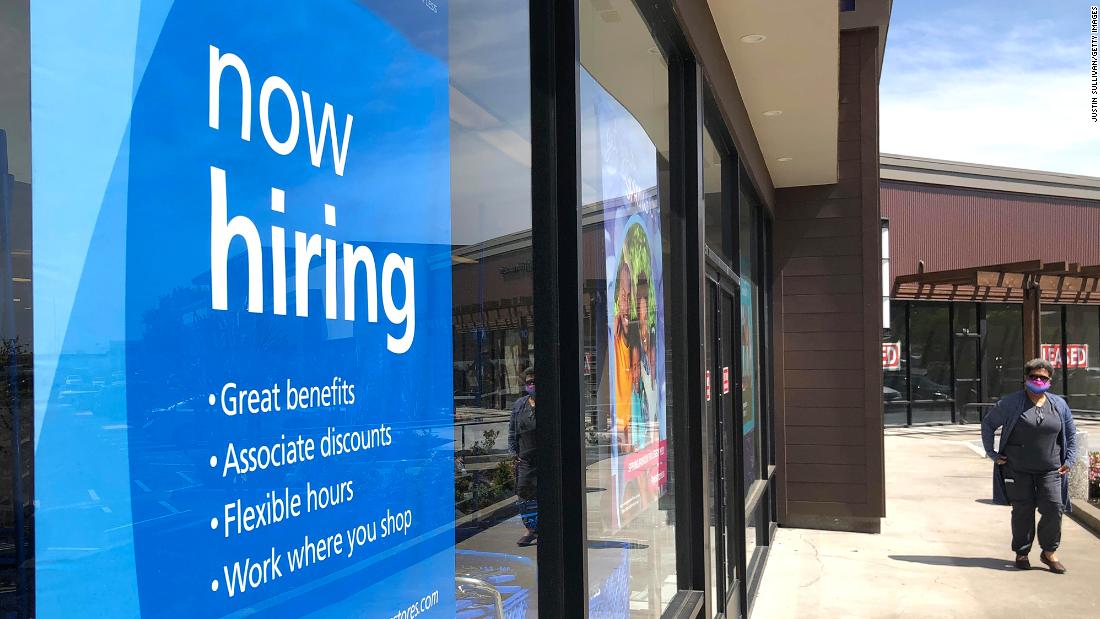 CNN 07 May, 2021 - 06:00pm
Updated 10:24 AM ET, Fri May 7, 2021
Bloomberg Quicktake: Now 07 May, 2021 - 06:00pm
ABC News 07 May, 2021 - 06:00pm
Good Morning America 07 May, 2021 - 06:00pm
The Washington Post 07 May, 2021 - 11:20am
One way to make sense of this weak jobs report is to do what Wall Street did and shrug it off as an anomaly. Stocks still rose Friday as investors saw this as a blip. They think there is just a lag in hiring and more people will return to work as they get vaccinated. And they point out oddball months have occurred before, especially with some weird quirks in the Labor Department's seasonal adjustments.
"With the U.S. economy rapidly reopening, and news of pockets of labor shortages emerging, the markets should treat today's number as an anomaly in a generally positive upward trend," wrote Seema Shah, chief strategist at Principal Global Investors, to clients.
But another way to look at this is there is a great reassessment going on in the U.S. economy. It's happening on a lot of different levels. At the most basic level, people are still hesitant to return to work until they are fully vaccinated and their children are back in school and day care full time. For example, all the job gains in April went to men. The number of women employed or looking for work fell by 64,000, a reminder that child-care issues are still in play.
There is also growing evidence — both anecdotal and in surveys — that a lot of people want to do something different with their lives than they did before the pandemic. The coronavirus outbreak has had a dramatic psychological effect on workers, and people are reassessing what they want to do and how they want to work, whether in an office, at home or some hybrid combination.
A Pew Research Center survey this year found that 66 percent of the unemployed had "seriously considered" changing their field of work, a far greater percentage than during the Great Recession. People who used to work in restaurants or travel are finding higher-paying jobs in warehouses or real estate, for example. Or they want to a job that is more stable and less likely to be exposed to the coronavirus — or any other deadly virus down the road. Consider that grocery stores shed over 49,000 workers in April and nursing care facilities lost nearly 20,000.
Economists describe this phenomenon as reallocation friction, the idea that the types of jobs in the economy are changing and workers are taking awhile to figure out what new jobs they want — or what skills they need for different roles.
"Clearly, there are industries in both manufacturing and services that are eager to beef up staff as the pace of economic activity accelerates. But those efforts are being frustrated. In some cases, the problem is a mismatch in skills. You can't train a one-time courier on a bike to become an IT specialist overnight," said Bernard Baumohl, chief global economist at the Economic Outlook Group.
Tim and Sara Wojtala are a young couple completely rethinking their careers due to the pandemic. Tim worked for years as a manager at major retailer. Last year, he was frustrated by what he felt were lax safety conditions at work and having to deal with irate customers who didn't want to wear masks. He quit in the fall as the virus surged again. Now he's going to school to become a wind turbine technician through a program backed by the government. Sara also spent many years in retail and wants to do something more meaningful now.
"The problem is we are not making enough money to make it worth it to go back to these jobs that are difficult and dirty and usually thankless. You're getting yelled at and disrespected all day. It's hell," said Sara, who is 31. She added that with two young kids, finding child care has also been a huge issue lately.
The couple have decided to sell their suburban Detroit home and buy a camper van to travel the country. They hope to home-school their kids and spend more time as a family.
"During the pandemic, I grew to really appreciate my family," said Tim, who is 37. "We always thought we were a middle-class family that would do the same plan as our parents. Now we're both just excited at the prospect of a different way of living life."
Wage data from April is also telling. When companies, especially fast-food restaurants, complain they can't find workers, the common retort is, "Why don't these companies raise pay?" In fact, there is evidence that restaurants are raising pay. The average hourly rate in the hospitality sector is up roughly $1 compared to the pre-pandemic going rate. But the bigger issue appears to be that warehouses have hiked wages by more than a dollar and now pay $26 an hour on average — far more than the roughly $18 average in hospitality.
Even among those who have jobs, people are rethinking their options. Front-line workers are reporting high levels of burnout, causing some to seek a new career path. There's also been a wave of retirements as workers over 50 quit because they don't want to return to teaching, home health care or other front-line jobs. More affluent Americans say they are retiring early because their retirement portfolios have surged in the past year and the pandemic has taught them that life is short. They don't want to spend as much time at a desk, even if it is safe.
Alison Detrick used to clean houses in New Orleans. She cut her hourly rate in half last summer to lure clients back. But she lost nearly an entire month of work in the fall when two of her clients contracted the coronavirus. Detrick didn't get the virus, but she had to get tested and quarantine, losing much needed pay.
Today, Detrick works at a call center. It's not as flexible of a job, but she says it pays well and she can do it from the safety of her home. She transitioned quickly, but others will take time.
Companies are also doing a reassessment of how many workers they need and in what capacities. Economists have been warning for months that some jobs won't come back, especially jobs like hotel check in desk workers, valets, toll booth collectors and some serving jobs that can be automated. There's also an ongoing decline in employment of administrative support staff. Temporary office help declined by 115,000 in April.
Two supposedly hot areas of the economy — manufacturing and construction — also had surprisingly weak hiring, with manufacturing shedding 18,000 jobs and construction flat. Supply chain holdups are forcing factories and construction sites to slow down or even shut down for a while. But it's notable that the manufacturing sector has bounced back strongly, yet the industry has only added back about 60 percent of the jobs lost. This suggests many factories are ramping up automation in a way that allows them to do more with fewer workers.
The overall expectation is still for hiring to pick up this summer as the economy reopens fully and more people are vaccinated. But the past year has fundamentally changed the economy and what many Americans want in their working life. This big reassessment — for companies and workers — is going to take awhile to sort out and it could continue to pop up in surprising ways.
Burlington Free Press 07 May, 2021 - 09:07am
The series comes as the state's labor department moves to reinstate its work search requirement beginning on May 9.
A link has been sent to your friend's email address.
A link has been posted to your Facebook feed.
To find out more about Facebook commenting please read the Conversation Guidelines and FAQs
Welcome to our new and improved comments, which are for subscribers only. This is a test to see whether we can improve the experience for you. You do not need a Facebook profile to participate.
You will need to register before adding a comment. Typed comments will be lost if you are not logged in.
Please be polite. It's OK to disagree with someone's ideas, but personal attacks, insults, threats, hate speech, advocating violence and other violations can result in a ban. If you see comments in violation of our community guidelines, please report them.
Job loss numbers skyrocketed during the COVID-19 pandemic, but not everyone was counted as unemployed. Here's how the unemployment rate is measured. USA TODAY
An upcoming virtual town hall will assist unemployed Vermonters to adjust to a forthcoming change to the state's unemployment insurance guidelines.
The series comes as the Vermont Labor Department moves to reinstate its work search requirement beginning on May 9.
Laid-off workers will be required to conduct three job contacts each week they are filing for insurance, and be able to "accept work that is offered" to them, according to the Department of Labor's website.
The decision will impact people receiving benefits under the state's regular unemployment insurance program, as well as federal extended benefits programs.
As of May 1, over 20,000 ongoing claims through both programs, with an additional 10,000 claims filed through the Pandemic Unemployment Assistance (PUA) program for freelance and contracted workers.
The work search requirement was temporarily suspended last year following Gov. Phil Scott's enactment of the "Stay Home, Stay Safe" executive order.
Therefore, many claimants may not be familiar with this requirement or the changes made to account for pandemic-related reasons for being unemployed. Each session will focus on questions and topics claimants may have, or want to learn about to be more prepared for their work search efforts. 
Starting May 7 and through the week of May 9, the state's labor department will host hour-long workshops overviewing the work search requirement, how Vermonters can enter their work search job contacts, requirements, and exemptions for specific types of work.
© 2021 Burlington Free Press, a division of Gannett Company, Inc.